San José is the largest city and the capital of Costa Rica. The city is the center where all the political and economic activities of the country are gathered. It is also the travel center of the Central American country.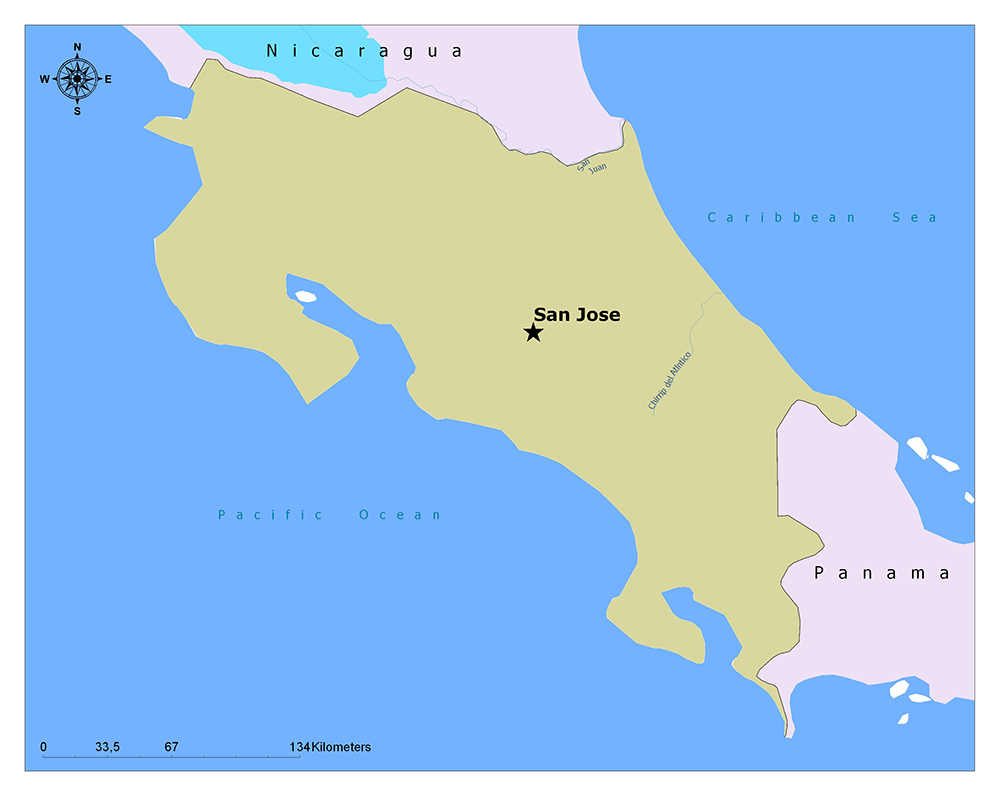 The number of people living in the city's center is relatively low, but this is the most important working area in the country. More than a million people come here on business for a day. San José is one of Central America's safest and least violent cities.
Where is San José?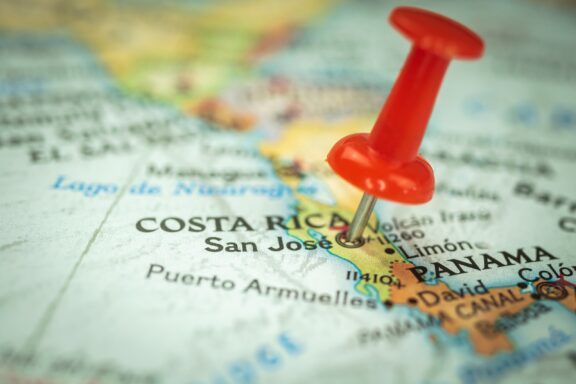 Located in the heart of Costa Rica, San José sits amidst the Central Valley, a plateau region nestled by mountains and volcanoes. Its central position within the country makes it an ideal hub for venturing out into other regions of Costa Rica.
History of San José
San José was founded in 1738 but remained a small, relatively insignificant village for many years. During the Spanish colonial period, Cartago was the capital of Costa Rica, and San José was populated mainly by the mestizo (mixed indigenous and Spanish ancestry) population. The region's fertile volcanic soil attracted farmers, and by the late 18th century, tobacco plantations had become an essential part of the local economy.
San José became the capital of Costa Rica in 1823, replacing Cartago in the aftermath of the country's independence from Spain in 1821, amid a power struggle between different factions in Costa Rica.
The two main cities, Heredia and Alajuela, favored a joint-capital system, while Cartago and San José preferred a rotating capital. San José was eventually selected as the capital after a short civil war known as the Battle of Ochomogo.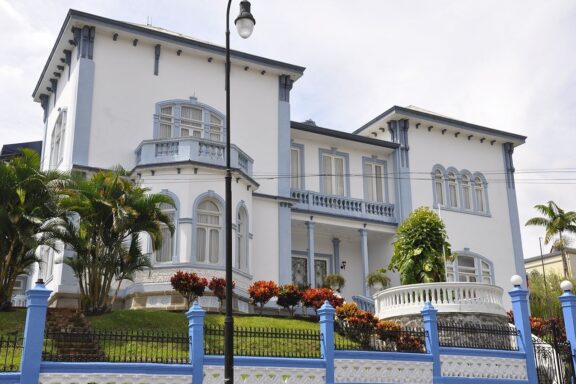 During the mid-to-late 19th century, Costa Rica experienced significant economic growth due to coffee exports, and San José benefited greatly from this. The city modernized, adopting European fashions and technologies.
The country's first railroad, connecting San José to the Caribbean port of Limón, was completed in 1890, and this period of growth and development shaped San José into a significant city.
In the 20th century, San José continued to grow and modernize. However, this was also a period of political turmoil. In 1948, the city was the center of a 44-day civil war triggered by a disputed presidential election. The war ended with the victor, José Figueres Ferrer, abolishing the country's army, which remains a point of pride for many Costa Ricans today.
In the latter half of the 20th century and into the 21st, San José has grown into a bustling city with a significant cultural and economic impact in Central America. Today, it's known for its high quality of life, environmental sustainability, and vibrant culture.
Features of San José
San José is a bustling city full of exciting contrasts and offers a mix of architectural styles, reflecting the city's historical and cultural development.
The city has several important museums and a vibrant art scene, with galleries, street art, and music performances. In addition to that, San José is also home to many green spaces and parks and bustles with lively markets where you can immerse yourself in the local cuisine, artisanal crafts, and rich culture.
Geography and Climate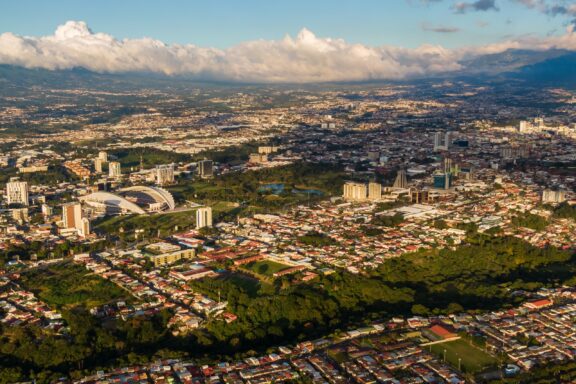 San José is located in the Central Valley of Costa Rica, a plateau surrounded by mountains and volcanoes. The city sits around 1,160 meters (3,800 feet) above sea level, giving it a temperate highland tropical climate.
There are distinct wet and dry seasons; the dry season typically runs from December to April, and the wet season from May to November. Average temperatures range from 20-25 °C (68-77 °F), naturally cooler in the evening.
Population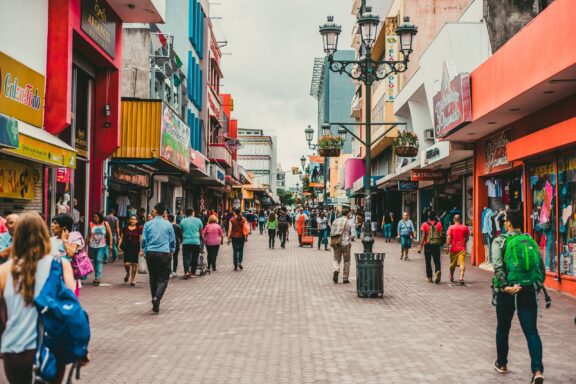 San José has a population of around 1.5 million people. The Greater Metropolitan Area of San José and several other cities contain over a third of the country's population.
San José is a multicultural city, with a mix of people from different ethnic backgrounds, including mestizo (mixed indigenous and European), European, African, and Asian.
Costa Rica is one of the 20 Spanish-speaking countries. While Spanish is the official and most widely spoken language, you will also find English speakers, especially in tourist areas and among younger generations.
Economy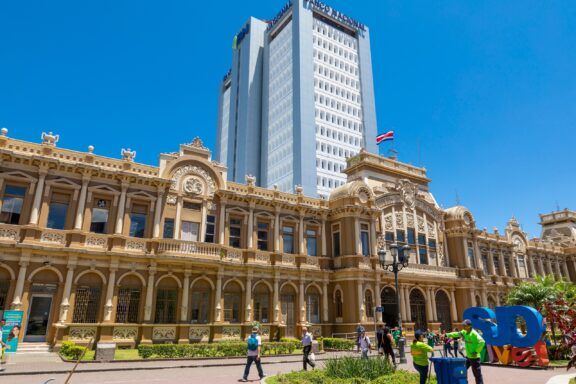 San José plays a crucial role in Costa Rica's economy, serving as the country's political, economic, and cultural hub. Traditionally, Costa Rica's economy was based on agriculture, with coffee, bananas, and pineapple as crucial exports.
While agriculture remains important, the economy has diversified over the years. San José's services sector, including tourism, is strong.
The city is also a center for finance and commerce, with many banks and businesses headquartered in San José. The technology and electronics industries have grown recently, with several multinational tech companies operating in Costa Rica.
Moreover, San José has a thriving cultural and creative industry, with artisans, performers, writers, and other creative professionals contributing to the local economy.
Despite the city's economic strengths, like many urban areas worldwide, it faces challenges such as unemployment and income inequality.
Things to Do and Places to See in San José
San José offers a diverse range of experiences and sights to explore. Here are some of the most sought-after attractions and locales within this vibrant city:
1. Explore the Central Market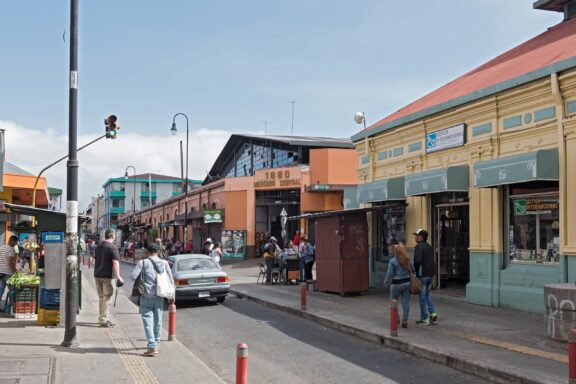 Delving into the Central Market of San José, or "Mercado Central," is akin to embarking on a sensory journey into the heart of Costa Rica's culinary, artistic, and cultural heritage. The market, dating back to 1880, bustles with more than 200 shops, stalls, and small restaurants known as "sodas."
As you weave through the labyrinth of vendors, you'll discover a vast array of goods, from fresh produce, meats, and spices, to traditional crafts, medicinal herbs, and even ornamental plants.
Sampling the local cuisine at one of the sodas is a must – try "casado" (a plate typically featuring rice, beans, plantains, salad, a tortilla, and a choice of meat) or "Gallo pinto" (a traditional breakfast dish of rice and beans).
2. Visit Rio Celeste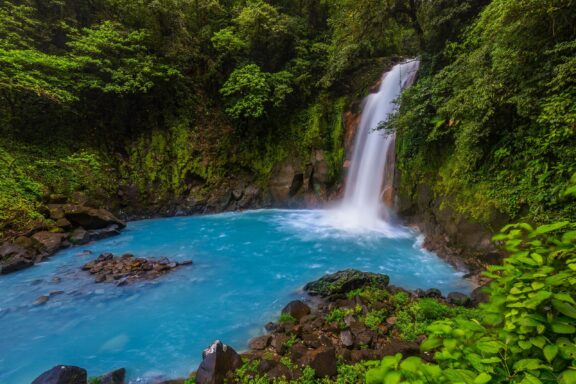 Despite being a three-hour journey from San Jose, a day trip to Rio Celeste is well worth the effort. It's renowned for its strikingly bright blue waterfall and river, nestled within the confines of Tenorio Volcano National Park.
The main attraction in this area is a roughly 3.7-mile hike through the rainforest leading to the waterfall. This hike allows you to witness the region's unique flora and fauna. The trail can be steep and muddy sometimes, so wearing suitable footwear is essential.
While swimming is not allowed at the waterfall's base, you can dip in the river further downstream, where the park's hot springs are located.
3. Walk around La Sabana Park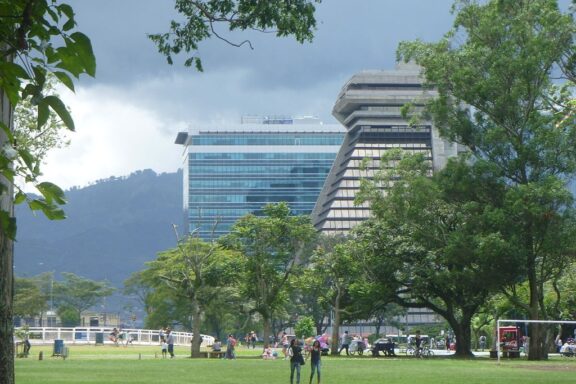 Covering 72 hectares, La Sabana Metropolitan Park is the largest and most significant urban park in San José. Often described as the "lungs of the city," the park offers a refreshing respite from the urban bustle, with abundant green spaces, a large lake, sports facilities, and picnic areas.
The park is also home to the Costa Rican Art Museum, featuring various contemporary and historical works by Costa Rican artists. A walk around La Sabana offers exercise and a glimpse into local life as you observe families picnicking, people playing sports, or simply enjoying the tranquil, natural surroundings.
4. Visit the National Theater of Costa Rica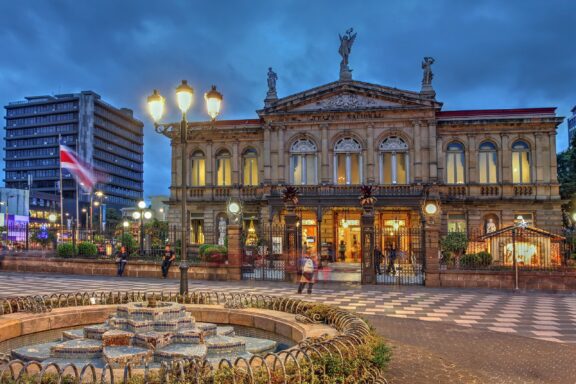 An emblem of Costa Rica's cultural pride and architectural heritage, the National Theater in San José is a masterpiece in its own right. The theater was inaugurated in 1897, and its design features an exquisite neoclassical facade that gives way to an interior rich with lavish furnishings, opulent marble staircases, and frescoed ceilings.
The auditorium is a sight with its plush red velvet seats and stunning ceiling mural. The theater continues to host a variety of performances, from classical music and ballet to contemporary dance and drama. Whether you catch a performance or take a guided tour, visiting the National Theater is a step back to Costa Rica's 19th-century high society.
5. Explore Barrio Escalante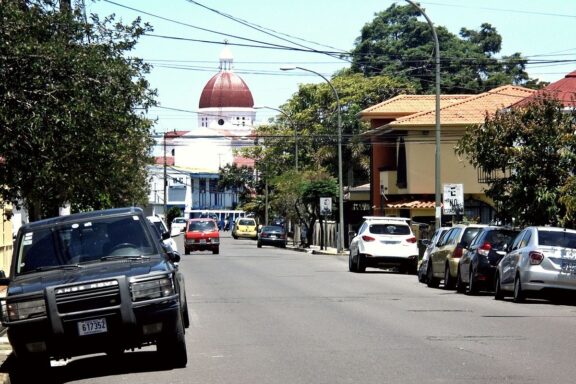 Just east of downtown San José, the district of Barrio Escalante has emerged as the city's gastronomic hotspot. Once a quiet residential neighborhood, its historic homes and buildings have been transformed into many innovative restaurants, bars, and cafés, attracting food lovers from across the city and beyond.
You can find everything from traditional Costa Rican cuisine to gourmet international fare, vegetarian, and fusion food. The neighborhood's tree-lined streets and colorful murals make it a pleasant area to wander and soak up the laid-back, artistic vibe.
6. Take an Art City Tour
Art City Tour is a cultural event that transforms San José into a sprawling, open-air museum several times a year. These free evening tours invite visitors to explore the city's museums, galleries, cultural centers, and design shops, all of which open their doors to the public.
Transportation between the various sites includes walking, biking, or taking a shuttle. The Art City Tour is a fantastic way to experience San José's thriving arts scene, allowing you to discover works from pre-Columbian times to contemporary creations.
7. Pre-Columbian Gold Museum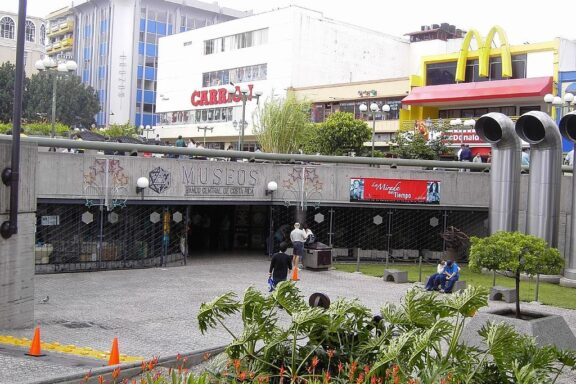 Located beneath the Plaza de la Cultura in the heart of San José, the Pre-Columbian Gold Museum is a truly dazzling testament to the region's rich and ancient history. Managed by the Central Bank of Costa Rica, the museum boasts an extensive collection of over 1,600 artifacts of pre-Columbian gold dating back to AD 500.
Exhibitions beautifully showcase the intricate craftsmanship and artistic proficiency of pre-Columbian societies. Each artifact provides insight into these early civilizations' social, political, and religious life, from delicately fashioned figurines and amulets to ceremonial objects and intricately crafted jewelry.
8. Metropolitan Cathedral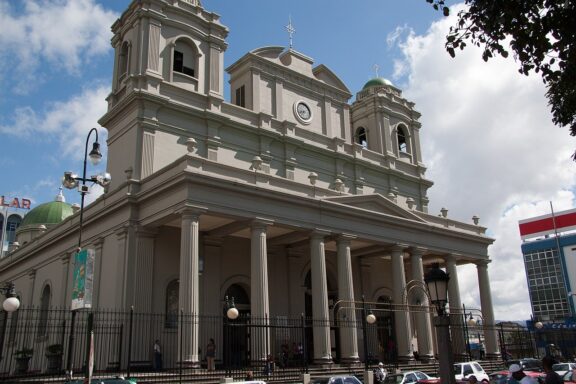 The Metropolitan Cathedral, or "Catedral Metropolitana," is the largest church in San José and a significant religious and historical landmark. Situated near the city center, the cathedral dates back to the 19th century, and its architecture is a blend of various styles, including neoclassical and baroque influences.
The church's impressive facade is met with an equally remarkable interior, characterized by ornate stained-glass windows, beautifully decorated altars, and an imposing pipe organ. Notably, the cathedral houses an array of religious artworks and historical artifacts, including antique bells and a wood-carved statue of Christ from the 17th century.
Frequently Asked Questions
What is the currency in San José, Costa Rica?
The currency of Costa Rica is the Costa Rican colón (CRC).
When is the best time to visit San José, Costa Rica?
The best time to visit San José, Costa Rica, is typically during the dry season, which runs from mid-December to April. During these months, you'll have less rain and more sunshine, which is ideal for sightseeing and other outdoor activities.
What is traditional food like in San José, Costa Rica?
Costa Rican cuisine is typically wholesome and hearty, focusing on rice, beans, fresh fruits, vegetables, and meats. Some traditional dishes include:
• Casado: a plate with rice, beans, vegetables, plantains, and meat or fish
• Gallo pinto: a breakfast dish with rice and beans
• Tamal: a cornmeal dough filled with meats, rice, and vegetables, wrapped in a banana leaf
Is it safe to visit San José, Costa Rica?
San José is generally safe for tourists, but like in any major city, staying alert and aware of your surroundings is essential. Common sense precautions should be taken, such as not displaying expensive items, being wary of pickpockets in crowded places, and avoiding less safe areas at night.
How can I get around in San José, Costa Rica?
San José has several options for getting around the city. A comprehensive public bus system, taxis, and ride-sharing services like Uber exist. The city is quite walkable for shorter distances, especially downtown. Renting a car is another option, though traffic can be heavy in the city.
What cultural customs should I know when visiting San José, Costa Rica?
Costa Ricans, or 'Ticos,' are generally friendly and polite. When meeting someone, it's customary to shake hands. It's also polite to say 'Buenos días' (Good day), 'Buenas trades (Good afternoon), or 'Buenas notches (Good night) when entering shops or restaurants. Tardiness is common and generally accepted in social settings – it's known as 'Tico time.'
How can I respect the local culture and environment during my visit to San José, Costa Rica?
Respecting the local culture starts with understanding and appreciating their customs and way of life. Try to learn a few phrases in Spanish and show interest in their traditions and cuisine. As for the environment, Costa Rica is renowned for its commitment to sustainability and nature conservation.
You can do your part by minimizing waste, avoiding single-use plastics, respecting wildlife, and considering sustainable tour operators.
Final Thoughts
San José uniquely blends a rich history, vibrant culture, and natural beauty. While it may not have the same allure as the country's famous beaches and rainforests, it still has charm and attractions.
From exploring the historical landmarks and museums to indulging in the local cuisine and bustling markets, San José provides a glimpse into the heart and soul of Costa Rica. Whether you're a history enthusiast or simply seeking an authentic urban experience, visiting San José can be worthwhile.