Best Luxury, Surf, and Yoga Resorts
When a vacation is on the itinerary with plans to visit where the Pacific coast is an integral part of the landscape, travelers need to look no further than Santa Teresa and Nantipa Costa Rica. The small beach village is a hidden gem for surfers, health enthusiasts, nature lovers, and travelers who want to stay relaxed in a luxurious paradise amid a spectacular landscape of sugar-white beaches and lush jungle canopies.
Best Luxury Hotels in Santa Teresa, Costa Rica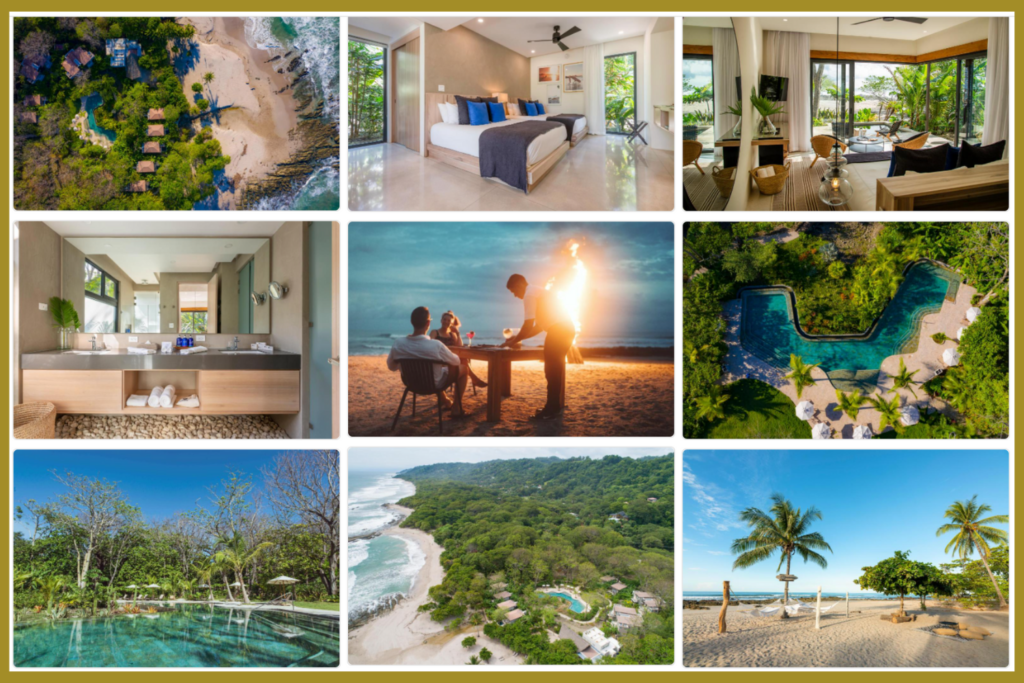 Hotel Nantipa offers luxury across the board, from its luxurious setting along the unspoiled beauty of the beach to the elegance of its suites, bungalows, and villas.
The boutique hotel offers a private setting while having access to nearby shopping, dining, and things to do. Guests enjoy beachfront or pool views while relaxing in bright and airy upscale accommodations designed to provide the optimum comfort.
Attention to detail ensures a memorable vacation with features, such as luxury bathrooms with dual rain showers, a minibar, an outdoor shower, and a plunge pool.
Dining is its own experience at Manzu Beachfront Restaurant. Savor international flavors in exquisitely created cuisine by the chef.
Whether you're planning a romantic getaway, family adventure, or special event, the dedicated staff can provide information on: tours, hikes, fishing, horseback riding, and more activities to ensure each day of your stay is a complete package of fun, excitement, and entertainment.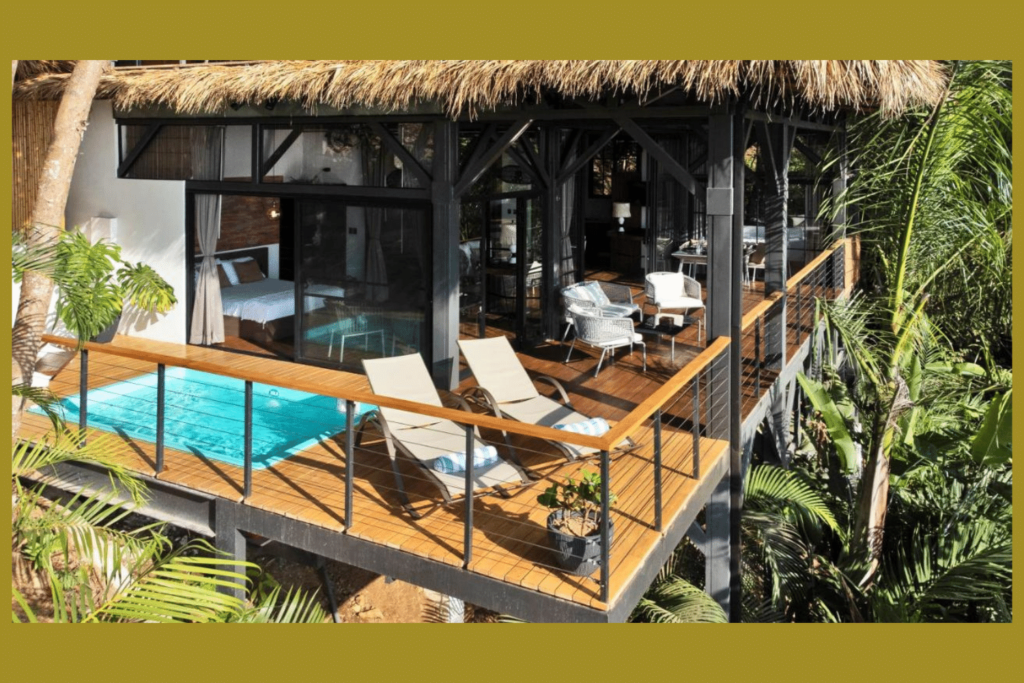 A stay at Selva Boutique Resort puts guests in the heart of everything that makes a vacation special, such as nearby upscale shopping and international dining, while maintaining privacy in a quiet and secluded location overlooking the Pacific.
Luxury accommodations exude sophisticated elegance inspired by Asian culture. The five beautifully designed villas feature modern and stylish furniture, comfortable bedding and accessories, fully equipped kitchens, availability of chef services, barbecue facilities to create private dining for friends and family, daily housekeeping, and an infinity pool.
A stay at Selva provides a relaxing and entertaining oasis where guests have access to personal concierge services, yoga classes, and private surfing lessons. Luxuriate in one of the private spa rooms set amid the forest landscape where guests become one with nature while receiving a replenishing massage and spa experience. Guests at the resort in Santa Teresa can expect exceptional service, immaculately maintained villas, stunning views, and romantic sunsets.
For travelers who have a love for luxury and nature, Ohana Villas offers both in abundance. Become immersed in the peace, and beauty of the surrounding jungle and gardens where relaxation and privacy are a daily reminder to guests that they are staying in a piece of paradise. Whether the stay is for a couple, a family, or family and friends, the choice of villas offers features and amenities to suit each situation.
Villas are ultra-modern and simplistic in their decor and feature upscale accessories, the convenience of a kitchenette, and a private deck to relax while taking in colorful garden views. With help and input from the staff, plan a day's itinerary with sport fishing, horseback riding on the beach, exploring the beach, surfing, ziplining through the jungle, or visiting natural reserves. After a day of participating in local activities, unwind with a refreshing dip in the pool or jacuzzi.
Among the best hotels in Santa Teresa Costa Rica, Casa Marbella lives up to its reputation as a luxury destination that pays attention to every detail. Situated near the main road amid a lush, treed landscape where resident monkeys make their home, guests have access to all that Santa Teresa offers with local shopping, dining, and the beach just a short walk away.
With its hillside location, guests can relax on their private balcony and enjoy spectacular ocean views and amazing sunsets away from the busy street below. Throughout their stay, guests can expect one-on-one service and beyond the norm in hospitality from the staff to ensure each guest feels as though their needs are a priority. From luxury condos and suites to standard rooms with an optional kitchenette, each accommodation at Casa MarBella is beautifully decorated, offers ocean views, has access to the infinity pool, and features assorted amenities.
As part of a private condominium, the one-bedroom second floor apartment provides accommodation for up to three guests in a comfortable and well-maintained setting while exploring and experiencing Santa Teresa. Situated on a hillside overlooking the Pacific, guests enjoy a serene atmosphere and panoramic views from the private furnished balcony without being in the hustle, bustle, and noise of the city.
The spacious apartment has a stylish living area, a fully equipped kitchen, supportive bedding fitted with quality linens, Wi-Fi, a modern bathroom with a rain shower, and a Smart TV. Guests also have access to the pool. A housekeeper cleans the apartment every day so that guests can enjoy every minute of their vacation without worrying about cleaning. Personal laundry service is also available. A stairway leading down the steep hill from the apartment provides access to the main road and the beach, which is only three minutes away.
A luxury hotel Santa Teresa Costa Rica destination can ensure a memorable vacation, especially when the choice of hotel is La Luxuria. Surrounded by the lushness and quietude of the rainforest and protected by a gatehouse, guests enjoy privacy. The lavish interior design, modernistic furnishings, expressive landscaping, and refreshing pool make each day a pleasure to wake up to.
The executive villa is luxury personified from its tastefully decorated three bedrooms and fully equipped European kitchen to the elegant lounge and indoor/outdoor pool for relaxing. No details are left unattended by the staff, which ensures each guest's expectations of what a luxury vacation should include are exceeded.
When looking for things to do in Santa Teresa, along with sandy beaches for sunbathing and turquoise waters for surfing, take a canopy tour, down a mountainside, book a deep-sea fishing excursion, or soak up the culture at local shops and cafes.
For travelers who prefer peace and quiet, a family-friendly atmosphere, attention to detail, and a hostess that goes above and beyond to satisfy every guest's needs, plan to stay at Natura Loft Garden. The newly built accommodations constructed in 2020 are an oasis of beauty, comfort, and convenience. Each loft radiates calm with soothing interior design and decor.
Guests can relax and stay in for the day watching TV, connecting with Wi-Fi, preparing a meal in the fully equipped kitchenette, or relaxing with a beverage by the pool. For information about places to go and things to do in Santa Teresa, the loft's host is readily available to point guests in the most entertaining direction.
While the lofts are centrally located near local venues and the beach, guests can expect to stay in a home-like and peaceful atmosphere that will take their vacation time to a level not possible at crowded hotels.
Nestled among the hills and the treetops of the surrounding jungle, the three houses – the Mint, Moss, and Myrtle – that make up The Green House provide a unique experience.
From their simplistic architectural style with glass walls to hand-crafted designer furniture and decks providing magnificent views, guests can feel as though they are one with nature at the home or one of the two studios. Each is fitted with a kitchenette with a fridge, coffee machine, toaster, and kitchen table. The decor includes a ceiling fan, modern bathroom fixtures, subdued lighting, a hammock, comfortable bedding, Wi-Fi, and sliding wooden doors that provide additional privacy.
Guests have access to the plunge pool, daily housekeeping, concierge service, and help with ATV rentals. With its steep hillside location deep in the jungle, be prepared to arrive at the houses via a 4×4 vehicle.
Best Bungalow/Resort Style
One of the best places to stay in Santa Teresa Costa Rica for a truly natural experience is Buena Onda. Comprised of six exceptional bungalows, guests experience a 'close to nature' vacation in private accommodations surrounded by the jungle.
Each bungalow is constructed with sustainable resources, such as bamboo, local wood, fronds, and leaves, giving each its own distinct personality. Two accommodate two people and the others accommodate up to four.
The bungalows have what's needed for a cozy stay, including amenities, such as a private patio, private terrace, kitchen, private outdoor shower, garden area, and wireless internet access.
Whether a romantic getaway is on the agenda or a quiet vacation away from the crowd. The bungalows are a magical paradise where monkeys play outside the terrace in the trees. The shimmering waters for surfing and the sandy beach for lounging is just a few minutes from the tropical oasis.
Four world-class accommodations await travelers looking for a quiet respite at Makanas Beach Bungalows. – The Private Bungalow, King Bungalow, Queen Bungalow 1, and Queen Bungalow 2. Situated along the Pacific coastline, guests enjoy all that the area has to offer from the comfort of a stylish bungalow that blends elegance and vintage European design with the colorful palate of the jungle.
Just steps away from the secluded beach, guests can enjoy multiple water activities during the day, then fall asleep to the soothing sounds of the waves greeting the sandy beach.
Bungalows are beautifully furnished with creatively inspired features and accessories, such as a mini-refrigerator, in-room safe, and Wi-Fi. Beach towels and chairs are provided, maid and laundry service are included in your stay, and a Continental breakfast is served. With the on-site management team readily accessible, guests will always have answers to their questions about things to do in Santa Teresa.
Awake each morning to the soothing sounds of the ocean at one of the best hotels in Santa Teresa Costa Rica where relaxation is the main word of the day. At Hotel Tropico Latino, this is the vibe guests can expect. Each beachfront bungalow is an individual haven of comfort and privacy, allowing guests to unwind at their leisure whether choosing to swim in the ocean, take a dip in the bungalow's private pool, or refresh in the Jacuzzi.
Guests also have access to the wellness center where invigorating exfoliations, wraps, and massages are administered by professional staff. To get in touch with one's inner self, experience the natural healing energy at one of the yoga classes. When it's time to dine, include an inspired meal rich in fresh ingredients and flavors at Shambala, where delectable cuisine is served daily along accompanied by ocean views and stunning sunsets.
One of the best hotels in Santa Teresa Costa Rica to ensure a positive experience is at Playa Cielo Hotel Santa Teresa, winner of the Certificate of Excellence Award. Four enchanting luxury villas offer a quiet haven for relaxing. Each eco-friendly studio villa was specifically constructed using natural materials and is designed with privacy in mind.
Three of the villas – Villa Ranita, Villa Tucan, and Villa Mariposa – can accommodate two adults and two children. Family Villa accommodates four adults and two children. Each villa features the comfort of an orthopedic California king bed, a sofa that converts into two beds, a private bathroom, open-air shower, TV, Wi-Fi, and kitchenette. The villa features two bedrooms, a full kitchen, and a living room. Outside, villas provide a hammock and furnishings for relaxing. Amid the lush garden landscape, guests are steps away from the beach or the swimming pool. Guests also have access to the 5-Star Habanero restaurant.
Best for Surf & Yoga
The question of where to stay when surfing in Santa Teresa is easily answered: Book a reservation at Funky Monkey Surf & Yoga Lodge. The luxury lodge is also one of the best yoga retreats in Santa Teresa. At Funky Monkey, guests have a choice of their room selections and prices, whether booking for two, four, or a group of friends vacationing together.
With its ideal location just a few strides from the beach, guests have choices in things to do, such as learning how to surf or hone skills plus participate in daily yoga classes at the jungle studio. Choose Intensive Surf for personalized lessons, Surf & Yoga for both surf and yoga lessons, or Yoga & Aerial for daily yoga classes and a private aerial silk dance class. Enjoy dining from morning to night at the onsite restaurant or take advantage of the fully equipped municipal kitchen where guests can prepare their own meals.
A luxury hotel in Santa Teresa, Costa Rica that goes beyond the typical setting is the Nautilus Boutique Hotel perched along the sugar sand coastline of the Costa Rican jungle. The hotel offers one- or two-bedroom villas, each with a private terrace and hammock, and a fully equipped kitchen. The beautifully landscaped tropical gardens add the perfect touch to a swim in the cool waters of the swimming pool.
Relaxation and unwinding are important when vacationing, and at Nautilus, guests can fully enjoy their time away from home and focus on themselves with yoga and meditation classes offered each day. For a vigorous day of fun and sun, show off your surfing skills or take an available class. Guests can count on well-maintained and clean villas, friendly staff, excellent service from arrival to departure, good food, educational and enriched classes, and a free breakfast to start the day.
At Santa Teresa Surf Vista Villas, guests can sit back on their private terrace and look out over the canopy of treetops of the jungle below and on to the turquoise blue waters of the waves rolling their way onto the sugar-sand beach. Six extraordinarily creative and colorful suites provide guests with a visually pleasing environment.
The Nicoya Suite and the Mar Azul Suite provide two queens and one single bed. For larger groups, the Sunset Reef Suite and Roca Mar Suite have three queen beds. For single travelers or couples, the Birdcage Apartment features one queen bed.
For those who enjoy star gazing, the Rooftop Penthouse provides uncluttered views.
Some of the amenities include fully equipped kitchens, an outdoor waterfall shower, Wi-Fi, a safe, BBQ grills, free parking, swimming pool and deck, and concierge services. For guests' entertainment and convenience, ATV and assorted types and styles of surfboards are available for guests to rent.
The oceanfront villas at Pranamar stand out as an exceptional destination for those who want to experience a variety of environments. From stretches of inviting sandy beaches and the lull of ocean waves to the canopies of the jungle landscape and its wildlife inhabitants. Situated on the water, guests can access the Pacific or please their senses in the saltwater pool.
A variety of choices of accommodation are designed to suit all preferences. Choose an ocean front villa equipped with a kitchen for those preferring an intimate and quiet setting. For accommodation for four, the Poolside Villa has two bedrooms and two baths. Larger groups with up to seven people can reserve the two-story Kula House.
Travelers whose preference is comfort and simplicity have a choice among three bungalows with assorted amenities. Guest amenities include in-house yoga classes each day, spa treatments, surf lessons, a juice bar, and Pranamar's Restaurant serving innovative cuisine.
One of the places to stay in Santa Teresa Costa Rica that surrounds guests with nature, simplicity, and a sense of adventure and excitement is Selina Santa Teresa North. At the pet-friendly destination, nature is everywhere, with forests and beach views all around. Simplicity is in the different accommodations available.
Choose a private or private shared room with shared bathroom, private plus with its own bathroom, or share space in the community room with an individual bed and shared bathroom. For the adventurous, which include surfing enthusiasts and those who want to learn how to "ride the waves," the professionals at Selina Surf Club provide classes for beginners and seasoned surfers.
Yoga lessons are also available to learn how to support the mind, body, and spirit. Selina also provides a swimming pool, massage room, library, tour desk, Wi-Fi, restaurant, and bar. For a complete vacation experience, Selina has everything for travelers searching for a piece of paradise.
The beauty and tranquility of Santa Teresa's beaches and jungle landscape make it a destination not to be missed. Add to that a reservation at one of the best exclusive beach resorts to stay in Santa Teresa, and it becomes a vacation of a lifetime that won't be forgotten.
Check Current Availability of Hotels in Satan Teresa