Chile is located in the South America region at latitude -35.675147 and longitude -71.542969 and is part of the South American continent.
The DMS coordinates for the center of the country are:
35° 40' 30.53'' S
71° 32' 34.69'' W
You can see the location of Chile on the world map below: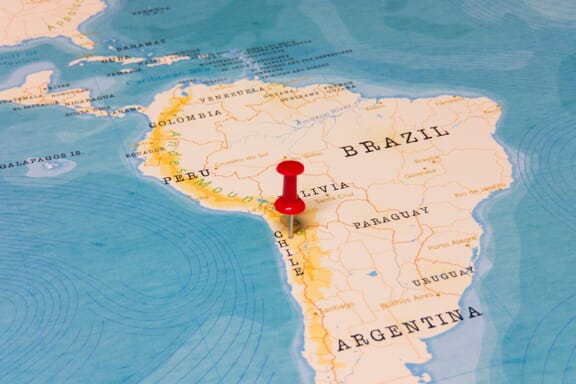 Chile Neighboring Countries
The neighboring countries of Chile (CL) are:
Argentina (AR)
Bolivia (Plurinational State Of) (BO)
Peru (PE)
Maritime Borders
Chile borders with the Pacific Ocean.
Chile Related Content
Chile Key Facts
Country
Chile
Coordinates
Latitude: -35.675147
Longitude: -71.542969
Country Codes
Alpha 2: CL
Alpha 3: CHL
Country Flag Emoji
🇨🇱
Int. Phone Prefix
+56
Capital city
Santiago
Continent
Subcontinent
South America
South America
Country Area
756,102 sq km
Population 2021
19,212,362
World Rank: 61
Median Age
34.9
Life expectancy
78.9
Major languages
Spanish 99.5% (official), English 10.2%, indigenous 1% (includes Mapudungun, Aymara, Quechua, Rapa Nui), other 2.3%, unspecified 0.2% (2012 est.)
UTC/GMT Time
Number of time zones: 3


UTC−06:00 — Easter Island
UTC−04:00 — main territory of Chile
UTC−03:00 — Magallanes and Chilean Antarctica

Internet TLD
.cl
Biggest Airport
Arturo Merino Benítez International Airport (SCL)
Average temperature
8.45 °C
47.21 °F
Administrative Divisions
16 regions
Political system
Presidential representative democratic republic
Chile Economy Facts
World Bank Income Group
High income
World Bank Region
Latin America & Caribbean
Currency
Chilean Peso (CLP)
GDP in 2020
$252.7 (billions of USD)
World Rank: 43
GDP per capita in 2020
$13,221
World Rank: 57
Major Industries / Economic Sectors
Mining, agriculture, manufacturing, energy
Top 5 Import Countries
China, United States, Argentina, Brazil, Japan
Top 5 Export Countries
China, United States, Japan, South Korea, Brazil
Biggest Cities in Chile
Here are the largest cities in Chile based on 2021 data:
City
Population
Santiago
7,026,000
Puente Alto
573,935
Maipu
521,627
La Florida
366,916
Antofagasta
348,517
Vina del Mar
332,875
San Bernardo
301,313
Valparaiso
296,655
Temuco
282,415
Las Condes
249,893
Map of Chile with the Largest Cities
Other Countries in the South America Region
Chile: Overview
Population: 19,068,597 (March 2020) [1]
Capital: Santiago
Language: Spanish
Bordering Countries: Peru, Bolivia, Argentina
Land Area: 292,183 square miles (756,950 square km) [2]
Coastline: 6,435km (3,998 miles)
Highest Point: Nevado Ojos del Salado at 6,880m
Latitude & Longitude: 35.6751 Degrees South, 71.5430 Degrees West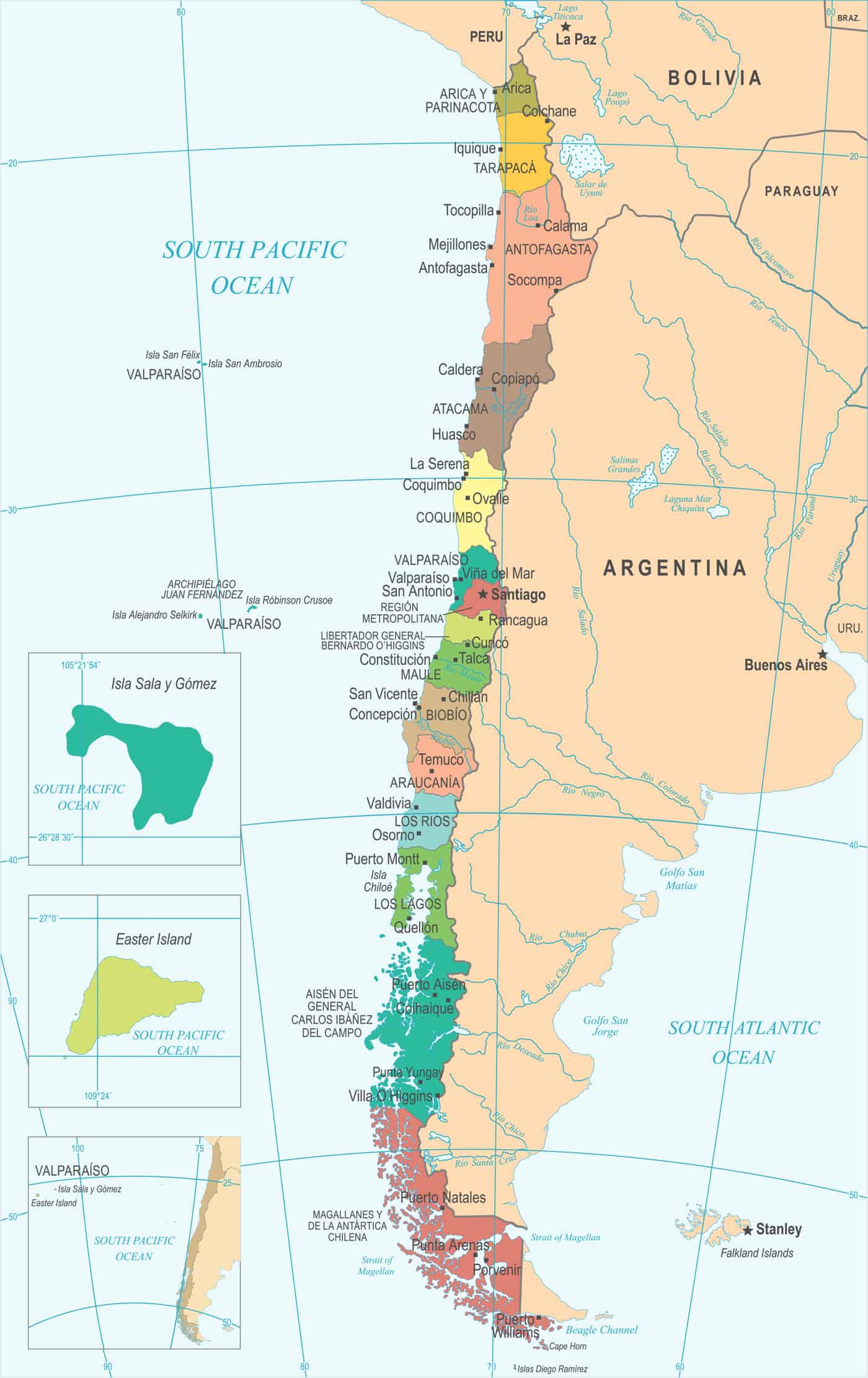 Important Sites
Chile has 6 UNESCO World Heritage Sites, all of which are cultural. It also has 17 sites that have been considered for nomination. The following are the current UNESCO World Heritage Sites in Chile
Sites listed for consideration include La Moneda Palace, San Pedro de Atacama, and Torres del Paine National Park. You can see the full details of Chile UNESCO information here.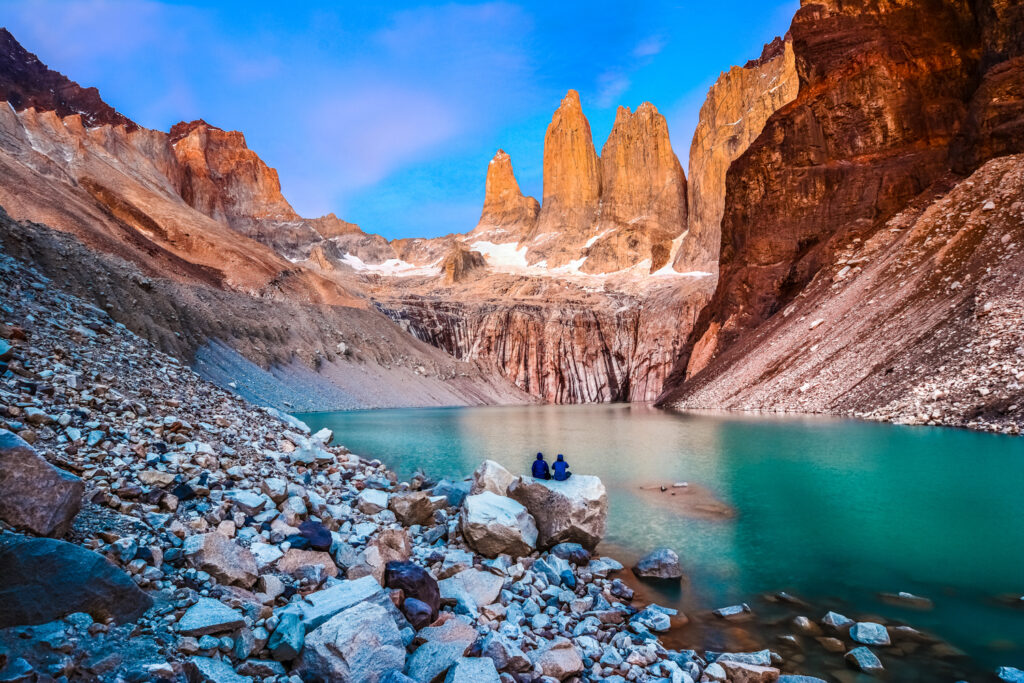 Transport Systems
The main transport method in Chile is the roads. Chile used to have an extensive rail network, but this has largely been abandoned. Due to its irregular shape and immense distance between major cities (as seen on the above map of Chile), air travel is also highly important.
Roads – Chilean roads are mainly highways and freeways. There are 79km of highways that connect major cities. It is important to note that central Chile is not connected by road to the southern part of the country – you can see this on the above Chile Map. Freeways are smaller roads that connect regional and local areas.
Chile has hundreds of airports that are used to make travel possible between the northern, central, and southern regions of the country. The main international airport is located in Santiago and accommodates over 2.4 million passengers per year. Other notable airports include Punta Arenas, Puerto Montt, and Antofagasta.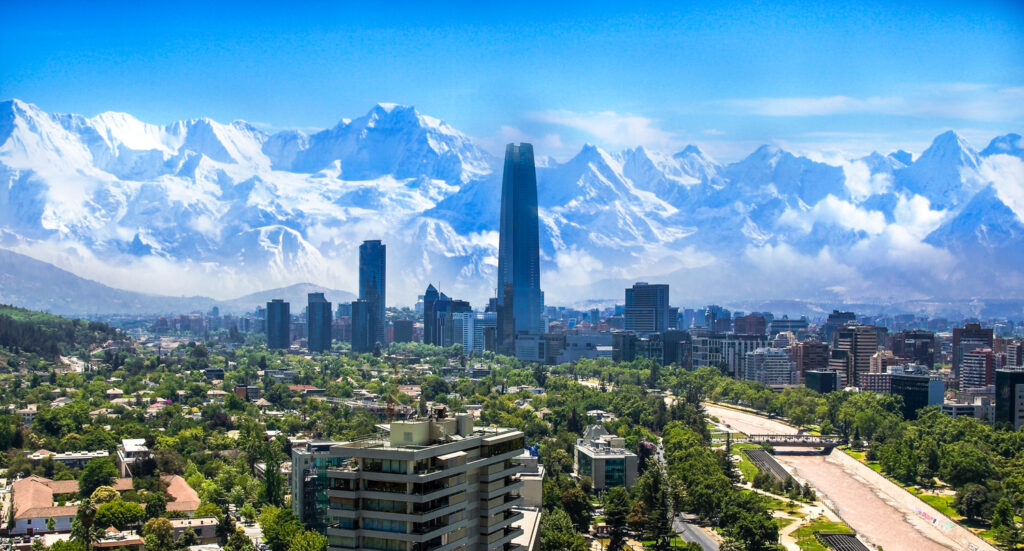 Famous Tourist Attractions
Chile is quickly becoming a popular tourist destination. It draws explorers and adventurers from around the world who want to delve into its breathtaking landscapes and rich cultural heritage. Cities like Santiago and Valparaiso are fantastic places to visit, whilst Chile also has a host of gorgeous national parks. The following are famous tourist attractions in Chile [5]:
Atacama Desert
Easter Island
City of Santiago
Valparaiso
Torres Del Paine National Park
Lauca National Park
Valle Nevado
Mylodon Cave Natural Monument
Cochamo Valley
The Torres Del Paine National Park and Patagonia draw thousands of tourists and those who love hiking and the outdoors. Locations like Santiago and Chiloe Island also cater to those who love culture and history.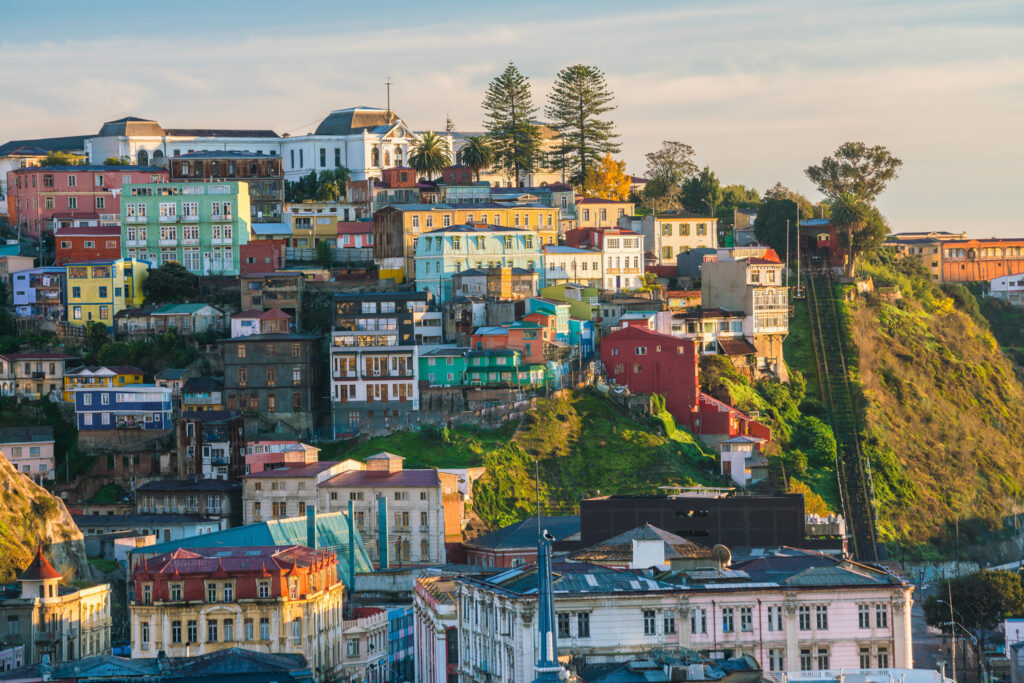 Currency
The official currency of Chile is the Chilean peso. The main unit of currency is 1 Peso, and the subunit is 100 centavos. Issued banknotes include 1000, 2000, 5000, 10000, and 20000 pesos. Coins are issued too, but these are not often used – coins include 1, 5, 10, 50, 100, and 500 pesos – there are no centavos coins or notes. The Peso was first introduced in the 1800s and has remained the national currency of Chile since (except between 1960-1975 where the Escudo was used). The Banco Central de Chile is responsible for inflation, interest rates, and the issue of the Chilean Peso.
Political System & Economy
Chile is classed as a representative democratic republic – the president of Chile is both the Head of State and the Head of Government. The government is formed via a multi-party system and general elections. Government powers are split into three main sections:
Executive Power: President & Cabinet
Legislative Power: Cabinet & National Congress
Judicial Power – Independent Judiciary
The current constitution was formed in 1981 by dictator Augusto Pinochet and has since been revised to reflect modern society.
The administration of Chile is primarily split into 16 regions. The regions of Chile are divided into 56 provinces, which are then further divided into 346 individual communes. Regional governments are led by an intendant who is chosen by the President. In terms of economy, Chile is highly developed – it has a stable economy, and is considered to be high-income. It has a relatively low unemployment rate for South America of less than 7%. Moreover, it has a high HDI of 0.847. The main industries and services of Chile include:
Agriculture
Forestry
Wine
Mining
Services
Tourism
Copper mining is extremely important, as is salmon fishing, and the Chilean forestry industry which exports Radiata Pine, and Eucalyptus.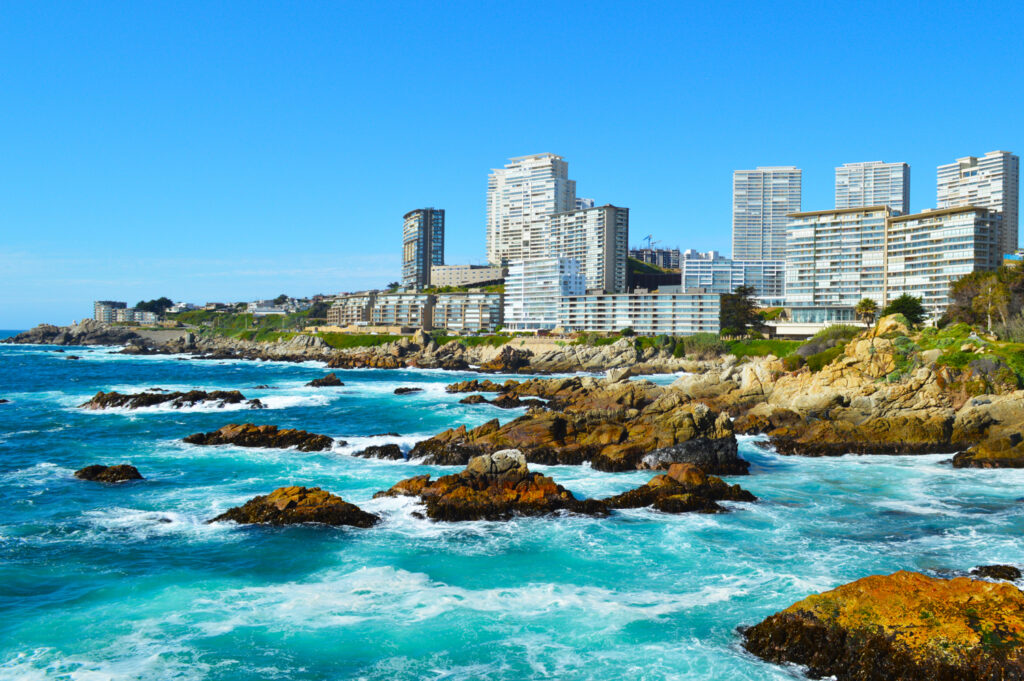 Geography
Due to its extreme length, and long, narrow borders, the geography of Chile is diverse. In the southern regions, you can find snow-capped mountains and the rugged terrain of Patagonia, leading to Antarctica.
Alternatively, Chile also has expanses of desert – such as the Atacama region and Norte Grande.
Chile also has land located on three separate continents. Easter Island, in the Pacific Ocean, is located in Oceana. The main part of the country is located in South America, but Chile also has territory in Antarctica. Its diverse landscape includes the epic Andes mountains, stunning glaciers, active volcanoes and more.
Sources
Chile FAQs
What is Chile most famous for?
Chile is possibly best known for its amazing landscapes – from Patagonia to the Andes, and the Atacama Desert. Furthermore, it is widely known for its excellent beer and wine. Perhaps most of all, although people may not know it, Chile is famous for Easter Island and the mysterious Napa Rui statues.
Is Chile the longest country in the world?
Chile is a country in South America – it is located on the western coast of South America and stretches from Peru in the north, down to the southern tip of South America. It has a long land border with Argentina.
Is Chile the longest country in the world?
No – Russia from east to west has a distance of over 9,000km in comparison to Chile which runs for 4,270km from north to south. It is the second-longest country running north to south – first place is taken by Brazil which is longer at 4,395km.
What food is popular in Chile?
Chilean food is heavily influenced by Spanish cuisine. It does have a variety of traditional dishes, however, including Pastel de Choclo, Empanadas, Cazuela, Asafo, Renata, and Locos.