Santiago is the capital of Chile. Located in the country's central valley, Santiago is Chile's cultural, political, and financial center and home to the regional headquarters of many multinational corporations.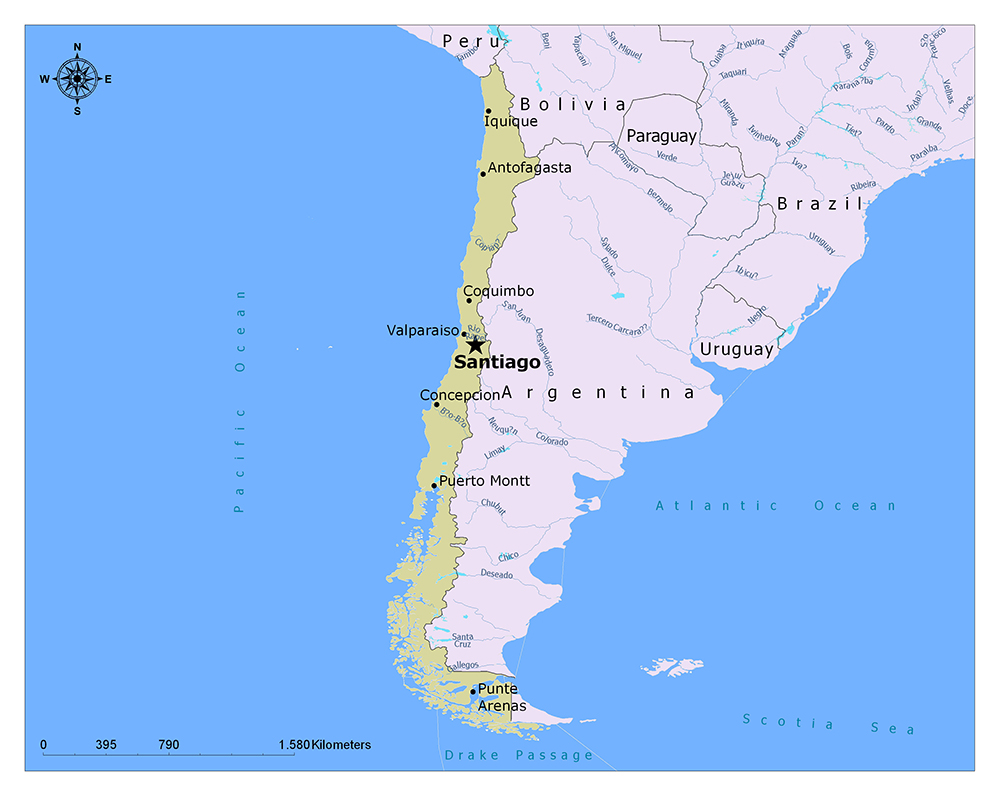 Santiago is situated on the banks of the Mapocho River, and as much as 40 percent of Chile's total population is concentrated in Santiago and its vicinity. For this reason, the city is called Centro Santiago Centro.
Where is Santiago?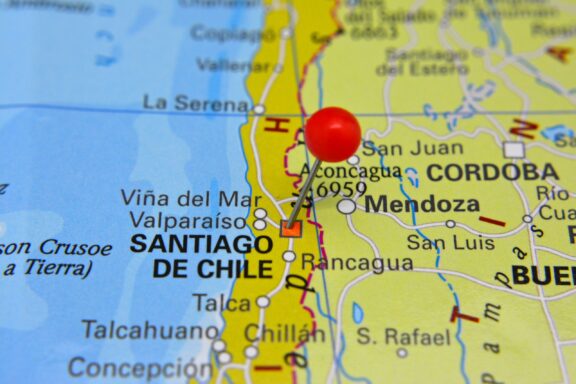 Santiago is located in central Chile, in the Santiago Basin, nestled between the coastal Andes Mountains to the east and the Chilean Coastal Range to the west. This position places it relatively close to the Pacific Ocean to the west and the Argentina border to the east.
The Santiago Basin is part of the Intermediate Depression geographic region. This location allows Santiago to enjoy a Mediterranean climate with four distinct seasons.
History of Santiago
Santiago was founded by Spanish Conquistador Pedro de Valdivia on February 12, 1541, and named Santiago de Nueva Extremadura. Initially, Santiago was a small settlement with few inhabitants, but its location in the fertile valley made it an ideal spot for expansion.
The city has endured numerous challenges throughout history, including attacks by indigenous peoples, pirate incursions, earthquakes, and floods. However, it continued to grow and develop. By the 18th century, Santiago had become a burgeoning city with public buildings, churches, and a burgeoning population.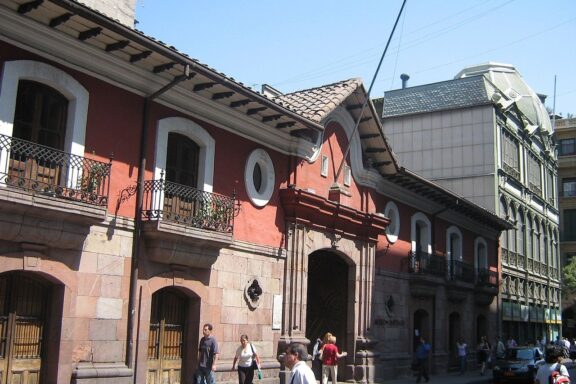 During Chile's struggle for independence from Spain in the early 19th century, Santiago became the epicenter of activity. The city was often the site of battles and political maneuvering. It was after the Battle of Maipu, on April 5, 1818, near Santiago, that Chile's independence was secured. After the Chilean War of Independence, Santiago began to modernize.
During the latter half of the 19th century, the development included new infrastructure such as railways, telegraphs, and a proper sanitation system. This period also saw the construction of many of the city's iconic neoclassical buildings.
The 20th century saw continued growth and modernization, with challenges including the 1962 earthquake and political upheaval, especially during the military dictatorship of General Augusto Pinochet from 1973-1990. Despite this, Santiago continued to expand and develop into the bustling metropolis it is today.
Santiago has been the capital of Chile since the country's foundation. Valdivia chose it as the capital when he founded the city in 1541 due to its favorable location in the country, its mild climate, and its defensibility.
Features of Santiago
Santiago, Chile, is a city that offers a blend of modern architecture and historic charm and boasts a rich cultural heritage, visible in its architecture, including colonial-era churches, grand plazas, and the neoclassical Palacio de La Moneda, the presidential palace.
Geography and Climate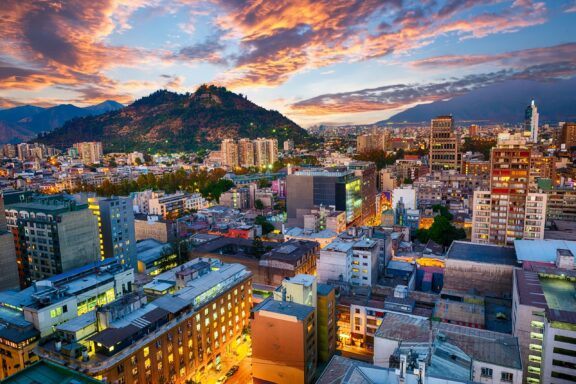 Santiago has a Mediterranean climate, characterized by hot, dry summers (November to March) with temperatures reaching up to 35 °C (95 °F) and mild, wet winters (June to August) with temperatures dropping to around 3 °C (37 °F). However, due to its location in a valley, Santiago often experiences thermal inversion, leading to significant air pollution, especially during winter.
Population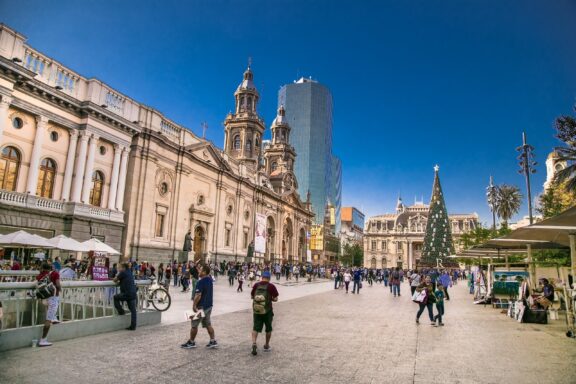 Santiago has a population of more than 7 million people in the Greater Santiago area, making it the most populous city in Chile and one of the largest cities in South America.
This population is diverse, with roots tracing back to the indigenous
peoples, Spanish colonists, and recent immigrants from various European, Middle Eastern, and Latin American countries.
The official language is Spanish, and Roman Catholicism is the predominant religion, although there are also significant Protestant and non-religious populations. Santiago is also known for its educational institutions, with a high literacy rate and several well-respected universities in the city.
Economy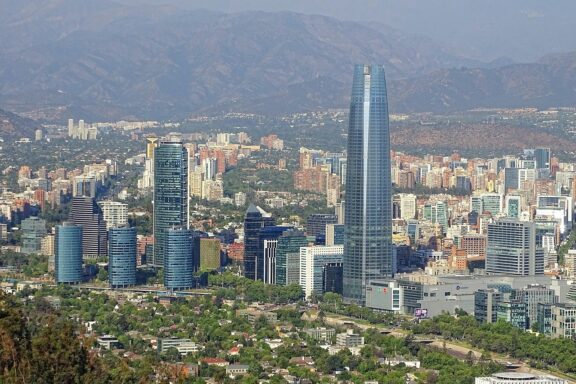 Santiago serves as Chile's economic center. The city is considered one of Latin America's most important financial hubs, serving as the regional base for numerous corporations. The Chilean peso is the official currency.
Key industries in Santiago include financial services, retail, telecommunications, and real estate. It is home to the Santiago Stock Exchange, the third-largest stock exchange in Latin America. The city also hosts numerous national and international technology, construction, and manufacturing businesses.
Santiago's economy is also boosted by tourism, as visitors come to explore its cultural heritage, beautiful surroundings, and cuisine. Furthermore, the surrounding regions support agriculture, including wine production, and mining, especially copper mining, which are integral to Santiago's and Chile's economies.
Things to Do and Places to See in Santiago
Santiago is teeming with diverse activities and notable destinations. Let's explore some of the most frequented attractions and points of interest in this vibrant city:
1. Ski in the Andes
Outside Santiago, you'll find some of the best ski resorts in the Southern Hemisphere, nestled in the majestic Andes Mountains. The mountains are transformed into a winter sports paradise during the winter months (June to September).
Resorts like Valle Nevado and Portillo offer a range of slopes catering to all skill levels, from beginners to experienced skiers and snowboarders. Many of these resorts provide equipment rental and ski schools. The stunning snow-covered peaks offer a picturesque backdrop, making skiing in the Andes an unforgettable experience.
2. Tour La Moneda Palace (Presidential Palace)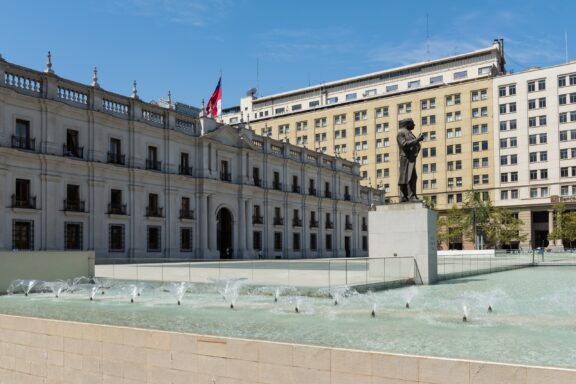 The La Moneda Palace is an iconic neoclassical building that serves as the seat of the President of the Republic of Chile. Its elegant architecture and historical significance make it a must-visit. You can take guided tours to explore its grand halls and beautiful courtyards, learn about its history, and witness the elaborate changing of the guard ceremony.
The palace, which was initially a colonial mint (hence its name, "La Moneda," meaning "The Coin"), also hosts a cultural center in its underground levels, showcasing various exhibitions of art and history.
3. Shop in Providencia
Providencia is a bustling district in Santiago known for its diverse shopping scene. You'll find everything from high-end boutiques and fashionable department stores to artisanal craft shops and bookstores here.
One of the highlights of Providencia is the Costanera Center, the largest shopping complex in South America. Along with its plethora of stores, the complex features a food court, cinema, and the Sky Costanera observation deck, which offers panoramic views of the city from the top of the tallest building in Latin America.
4. Cerro San Cristóbal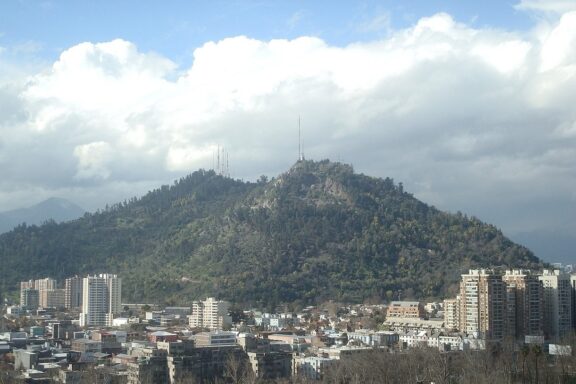 Cerro San Cristóbal is a hill located in Santiago's Parque Metropolitano, offering some of the best views over Santiago. You can reach the top by a funicular, cable car, or a hearty hike. Once at the summit, you'll find a giant statue of the Virgin Mary, a chapel for worship, and breathtaking city vistas set against the backdrop of the Andes.
The park also features a zoo, Japanese-style gardens, swimming pools, and picnic areas. Whether looking for a stroll, a challenging hike, or just the perfect photo opportunity, Cerro San Cristóbal is a must-visit.
5. Visit the Vineyards Near Maipo Valley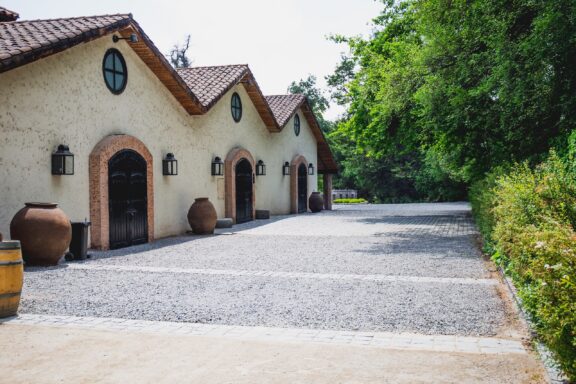 The Maipo Valley is one of Chile's most essential and historic wine-producing regions, particularly renowned for its high-quality red wines, such as Cabernet Sauvignon. The valley's vineyards, set against the backdrop of the snow-capped Andes, offer a picturesque environment for wine lovers.
Many vineyards, including famous ones like Concha y Toro, Santa Rita, and Cousiño Macul, provide guided tours. These tours allow you to taste exceptional wines and educate you on the wine-making process. Some vineyards also feature elegant restaurants where you can pair local cuisine with the vineyard's wines. This makes for an enriching and enjoyable day trip from Santiago.
6. Explore Barrio Bellavista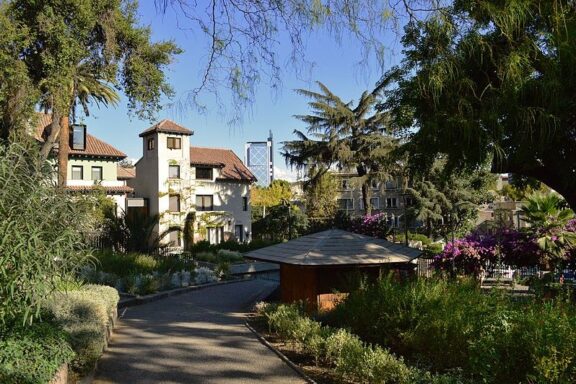 Barrio Bellavista is one of Santiago's most vibrant neighborhoods, known for its colorful architecture, Bohemian atmosphere, and bustling nightlife. This area is filled with street art, hip boutiques, cultural centers, and a wide variety of restaurants and bars offering everything from traditional Chilean food to international cuisines.
The district comes alive in the evening with music and entertainment venues catering to all tastes. Bellavista is also home to "La Chascona," the former house of the famous Chilean poet Pablo Neruda, now a museum dedicated to his life and work. Walking through Barrio Bellavista provides a feast for the senses and a glimpse into Santiago's artistic soul.
7. Museum of Memory and Human Rights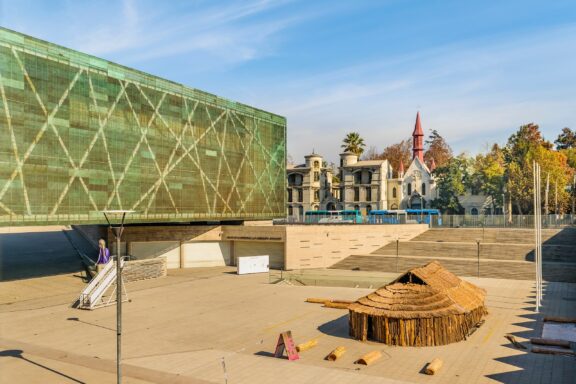 The Museum of Memory and Human Rights is a powerful and poignant museum dedicated to documenting the human rights violations committed by the Chilean state between 1973 and 1990 during the military dictatorship of Augusto Pinochet.
Through its exhibits, the museum aims to reflect on and engage in dialogue about this critical period of Chile's history. It features a variety of media, including photographs, letters, testimonies, and artifacts, which all tell the stories of the victims and survivors.
8. Museo Chileno de Arte Precolombino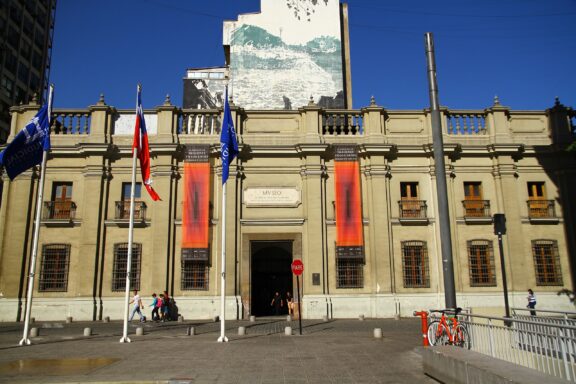 Located in the heart of Santiago, the Museo Chileno de Arte Precolombino is a renowned museum dedicated to the art and culture of pre-Columbian civilizations of Central and South America.
The museum's collection spans over 10,000 years of history, with artifacts from indigenous cultures, including pottery, textiles, and sculptures, and includes artwork from pre-Columbian civilizations across Central and South America, including the Maya, Aztec, Moche, Mapuche, and Diaguita cultures. It's an essential visit for those interested in the rich history of the Americas before the arrival of Europeans.
9. Sky Costanera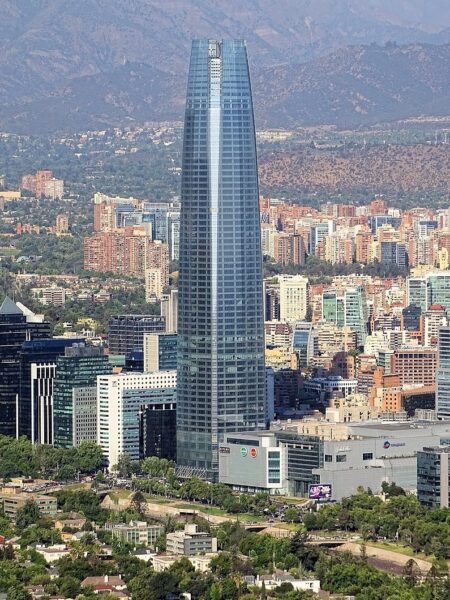 Sky Costanera is an observation deck located at the top of the Gran Torre Santiago, the tallest building in Latin America. At 300 meters high, the Sky Costanera offers a 360-degree panoramic view of Santiago and its surrounding mountains, providing an unparalleled view of the city's landscape. There are telescopes to enhance the viewing experience, and digital screens provide information about the landmarks below.
10. Bicentenario Park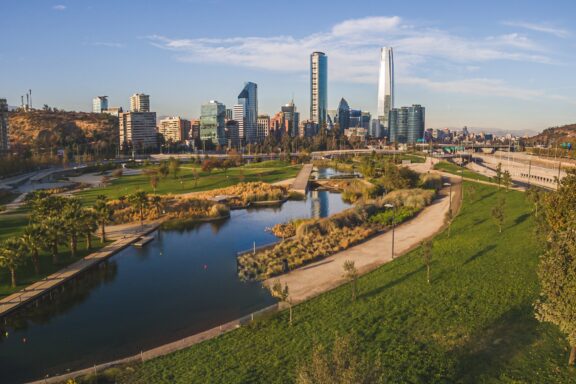 Bicentenario Park is a large, modern park in the upscale Vitacura neighborhood. It offers vast green spaces perfect for picnics, jogging trails, playgrounds, and even two artificial lagoons where flamingos and swans can be spotted. The park is also home to several modern sculptures and installations. It's an oasis of tranquility amidst the bustling city, making it a popular spot for locals and tourists.
11. Santiago Metropolitan Cathedral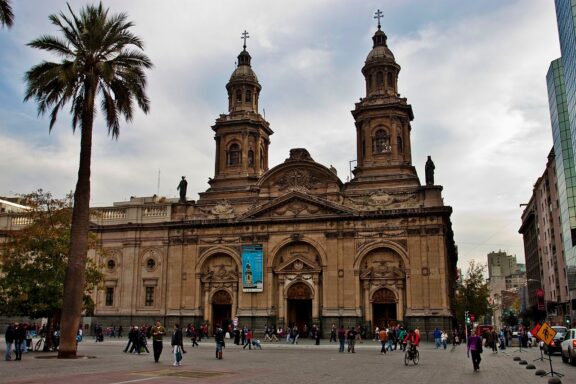 Located on the west side of the Plaza de Armas, the Santiago Metropolitan Cathedral is an iconic religious building with impressive architecture. Inside, the Cathedral is just as magnificent, with beautifully detailed frescoes, ornate chapels, and a stunning altar. Regardless of your religious beliefs, the Cathedral is worth a visit for its artistic and historical significance.

12. Plaza de Armas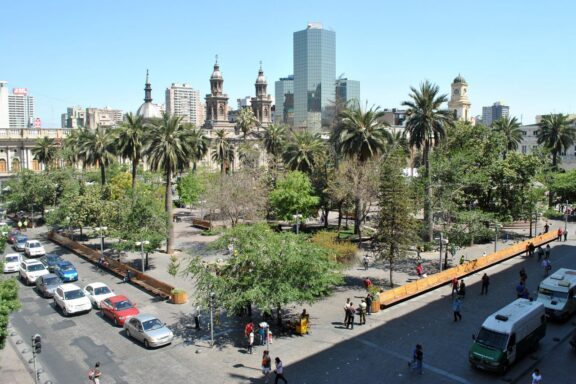 Plaza de Armas is the main square of Santiago and is often called the city's heart. Historically, it served as the centerpiece of the city's grid layout, which was adopted during Spanish colonial times. Today, it is surrounded by important historical buildings, including the Metropolitan Cathedral and the Central Post Office.
The square is also filled with sculptures, fountains, palm trees, and benches, providing a lively atmosphere where locals and tourists mix. Street performers, artists, and chess players often populate the area, adding to the plaza's vibrant ambiance.
Frequently Asked Questions
What is the best time to visit Santiago?
The best time to visit Santiago is during the spring (September to November) and fall (March to May). During these times, the weather is mild, and the city is less crowded with tourists.
What is traditional food like in Santiago?
Santiago's traditional food reflects Chile's diverse geography and its mix of indigenous and Spanish influences. Here are a few dishes that are emblematic of the city's cuisine:
• Empanadas: Perhaps the most famous Chilean dish, these baked or fried pastries are typically filled with a mixture called "Pino," which consists of diced beef, onions, raisins, black olives, and a slice of hard-boiled egg. During Easter, seafood empanadas are particularly popular.
• Pastel de Choclo: This is a type of corn pie with a filling that includes beef, chicken, olives, and boiled eggs. The top layer is made of sweet corn, giving it a distinctive and delightful flavor.
• Cazuela: A hearty stew made with beef or chicken, corn, rice, potato, pumpkin, and carrots. This dish is a staple in many households, especially during colder months.
• Curanto: Although it originates from the Chiloé Archipelago, this dish can also be found in Santiago. It's a mix of seafood, meat, and potatoes, traditionally cooked in a hole in the ground using hot stones.
• Congrio Frito: A typical seafood dish, congrio (a type of eel) is breaded and fried, typically served with fries and a side of mayonnaise.
• Mote con Huesillo: This traditional Chilean summer-time non-alcoholic drink is made from wheat (mote) and peaches (huesillos). It's often sold by street vendors and is considered a refreshing treat.
What's a must-try dish in Santiago?
One of Santiago's must-try dishes is the empanada de pino – a type of empanada filled with diced meat, onions, raisins, black olives, and hard-boiled eggs. For seafood lovers, visiting the central market, Mercado Central, for fresh seafood dishes like ceviche is highly recommended.
Is it safe to visit Santiago?
Santiago is generally safe for tourists. However, as in any large city, petty crimes such as pickpocketing can occur, particularly in crowded areas. Visitors should take standard safety precautions:
• Keep an eye on personal belongings.
• Avoid less crowded areas late at night.
• Be aware of your surroundings.
How can I get around in Santiago?
Santiago has an extensive public transportation system that includes buses and a subway system, the Santiago Metro, which is efficient and reaches many parts of the city. Taxis and ride-sharing services, such as Uber, are also widely available. Walking can be a pleasant and viable option for exploring the city center.
What currency is used in Santiago, Chile?
The official currency of Chile is the Chilean peso (CLP).
Final Thoughts
Santiago is undeniably a city worth visiting. Beyond the striking natural beauty, Santiago offers a rich blend of history and modernity, traditional and contemporary cultures. Its vibrant food scene allows visitors to delve into Chile's culinary heritage, while its thriving arts scene, fascinating museums, and lush parks offer countless opportunities for exploration and relaxation.