Both a continent and a country, Australia's relatively isolated location gives it a totally unique identity. It's part of the Australia and Oceania region and is home to a variety of landscapes and cultures.
Australia is divided into states and territories, which are the largest administrative divisions in the country. There are six states, three internal territories, and seven external territories. Each of these has its own unique landscape, history, and culture.
In this post, we'll take a closer look at each of the states and territories of Australia. Population data for each state is sourced from the Australian Bureau of Statistics, and land area data comes from the Australian Government.
Below is a map detailing the states and interior territories of Australia. The Australian Capital Territory can be seen where Canberra is marked on the map.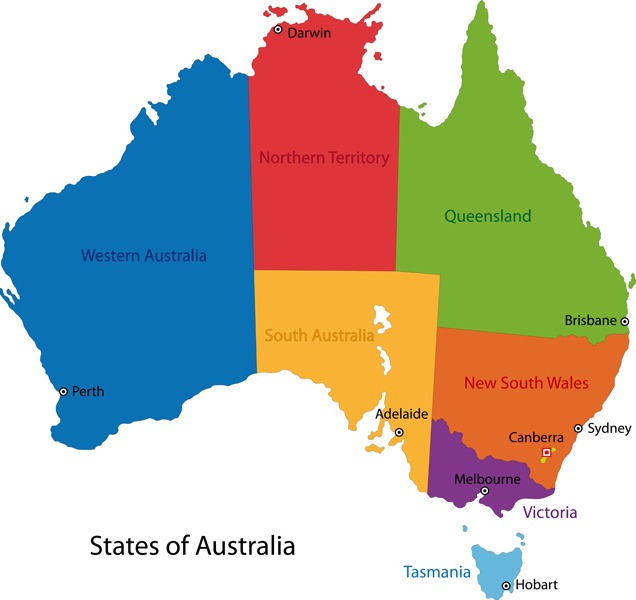 States of Australia
New South Wales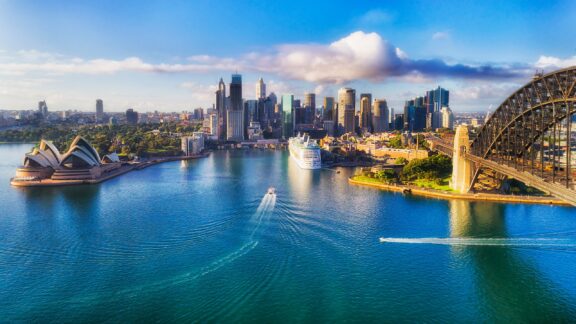 Capital: Sydney
Total Area: 801,105 km2 (309,308 mi2)
2023 Population: 8,293,965
New South Wales (NSW) serves as a microcosm of what Australia has to offer in terms of geography, culture, and economy. Established in 1788, it is the oldest state in Australia and is home to Sydney, the country's most populous city. It also has the largest population of Aboriginal and Torres Strait Islander people in the country.
Something that sets New South Wales apart from its neighbors is its diverse landscape, which ranges from coastal regions like the world-renowned Bondi Beach to the rugged terrains of the Blue Mountains. Moreover, the Snowy Mountains offer winter sports, making NSW a year-round tourist destination with plenty to do and see.
The state is a hub for culture and arts, boasting iconic landmarks like the Sydney Opera House and the Sydney Harbour Bridge. New South Wales also has a strong educational foundation, with several top-ranking universities that attract students from around the globe. Economically, NSW is the powerhouse of Australia, contributing significantly to the nation's GDP. The state leads in sectors such as finance, technology, and manufacturing.
NSW also shows dedication to environmental conservation. It houses multiple national parks and reserves, including the UNESCO World Heritage-listed Lord Howe Island Group, which is home to several rare species of flora and fauna.
Victoria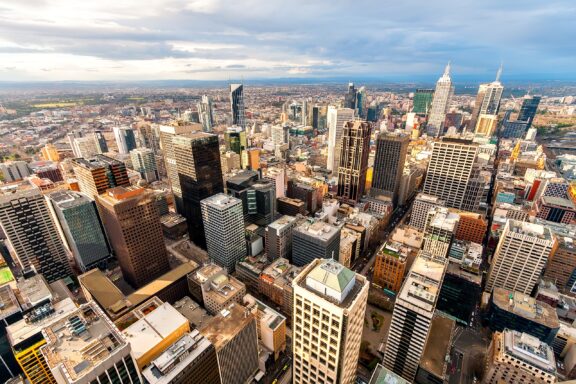 Capital: Melbourne
Total Area: 227,444 km2 (87,817 mi2)
2023 Population: 6,766,559
Distinct in its cultural richness and geographic variety, Victoria is the southernmost state in mainland Australia. While it is also the smallest mainland state in terms of area, its influence is great, particularly in the realms of sport, fashion, and the arts.
Melbourne, the state's capital, is often considered the cultural heartbeat of Australia, renowned for its dynamic food scene, cutting-edge architecture, and a plethora of museums and galleries such as the Melbourne Museum and the National Gallery of Victoria.
Unlike its neighbor, New South Wales, Victoria has a cooler climate that allows for unique agricultural opportunities, making it a major contributor to Australia's food and wine industry. The region of Yarra Valley is famed for its wineries, while the Great Ocean Road offers stunning vistas and serves as a gateway to several coastal towns, rainforests, and the striking limestone cliffs known as the Twelve Apostles.
Economically, Victoria stands out for its strength in the education and healthcare sectors. The state is home to several internationally acclaimed universities, including the University of Melbourne, which consistently ranks among the world's best.
Victoria also has a deep-rooted sports culture, often dubbed as the "sporting capital of Australia." The state hosts key events like the Australian Open tennis tournament and the Melbourne Cup horse race at the Victoria Racing Club, attracting global attention and providing significant economic contributions.
Queensland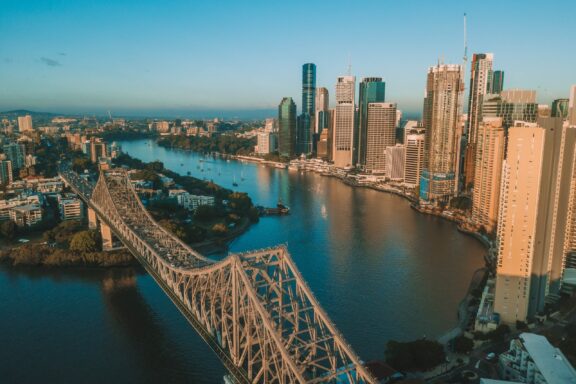 Capital: Brisbane
Total Area: 1,729,742 km2 (667,857 mi2)
2023 Population: 5,418,453
Queensland, the second-largest state in Australia, is often hailed as the country's vacation hub, and for good reason. With its warm climate, it has long been a prime destination for both domestic and international tourists, especially those looking to escape colder climates.
Brisbane, the state capital, is a bustling metropolis that manages to maintain a laid-back atmosphere, offering an appealing mix of urban sophistication and relaxed vibes.
One of Queensland's most unique attributes is its role as the gateway to the Great Barrier Reef, one of the Seven Natural Wonders of the World and a UNESCO World Heritage Site. In fact, Queensland is home to five of Australia's 20 UNESCO World Heritage sites, making it a state of considerable ecological and cultural importance.
Besides this, Queensland is a significant contributor to Australia's agricultural output, particularly in tropical fruits and sugarcane, benefiting from its warm, tropical climate in the north and more temperate conditions in the south.
In terms of culture, Queensland has made noteworthy contributions to Australia's music scene, producing renowned artists across various genres. Brisbane hosts the Brisbane International Film Festival, which has gained increasing prominence over the years, as well as a variety of other cultural events and festivals that enrich the state's social fabric.
Unlike other Australian states, Queensland does not observe Daylight Saving Time, a testament to its unique legislative approach and public opinion, which also extend to its progressive stances on various social issues.
Western Australia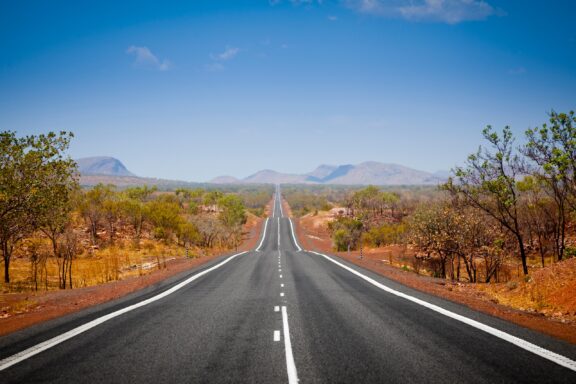 Capital: Perth
Total Area: 2,527,013 km2 (975,685 mi2)
2023 Population: 2,855,594
Western Australia occupies a unique position both geographically and culturally within Australia. As the country's largest state, it covers nearly one-third of the continent but is home to just about 10% of the population. The state's population density is just over one person per square kilometer (0.39 square miles).
This vast expanse of land includes arid deserts, fertile farmlands, and pristine coastlines. Mining is a cornerstone of its economy, with the state being a global leader in the production of iron ore, gold, and natural gas.
One of Western Australia's most striking features is its isolation, not just from the rest of the world but also from the other states of Australia. Perth, the state capital, is considered one of the most remote cities in the world.
The state is also home to some of Australia's most breathtaking natural wonders, such as the Kimberley region in the far north, known for its dramatic landscapes, and the unique Wave Rock formation. Another point of interest is Rottnest Island, famous for its quokka population, a small herbivorous marsupial that has become something of a local celebrity.
Western Australia's Indigenous culture adds another layer to its rich tapestry. The state has a large proportion of Aboriginal Australians, and their history, art, and spirituality are interwoven into the fabric of everyday life.
South Australia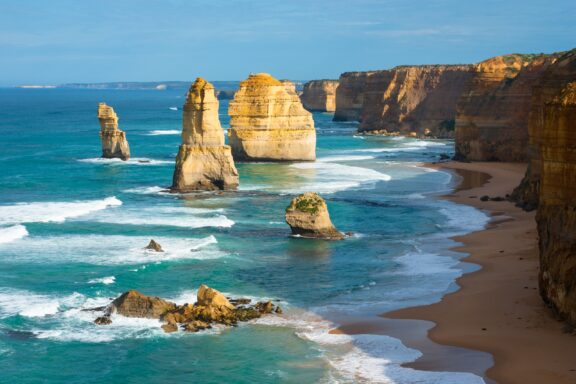 Capital: Adelaide
Total Area: 984,321 km2 (380,048 mi2)
2023 Population: a
South Australia holds a distinct position in the Australian federation through its emphasis on innovation and cultural contributions, rather than sheer geographic expanse or natural wonders. Known as the "Festival State," it has a long-standing tradition of supporting the arts, hosting numerous events such as the Adelaide Festival and WOMADelaide, making it a cultural focal point in Australia.
Adelaide, the state's capital, is known for its well-planned city design and high standard of living. The city is famous for its cuisine and wine, particularly from regions like the Barossa Valley and Clare Valley. These wine-producing regions also make a significant contribution to the state's economy.
From an economic perspective, South Australia has made strides in sectors such as advanced manufacturing, renewable energy, and information technology. The state has become a hub for defense industries, particularly naval shipbuilding and submarine construction.
Another unique feature of South Australia is its commitment to renewable energy. It aims to achieve net 100% renewable electricity by 2030, an ambitious target fueled by significant investments in solar and wind energy.
Furthermore, South Australia's coastline is dotted with natural wonders, such as Kangaroo Island, known for its unique ecology and wildlife. While not as expansive as those in some other states, these natural attractions add to South Australia's allure, blending seamlessly with its urban sophistication.
Tasmania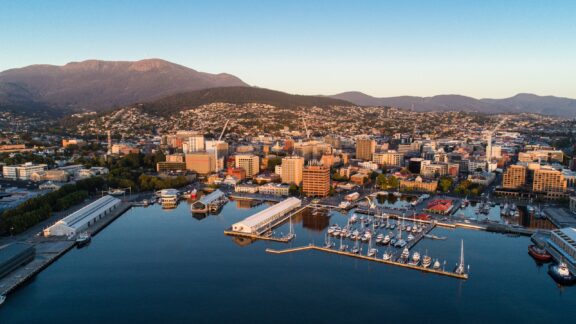 Capital: Hobart
Total Area: 68,401 km2 (26,410 mi2)
2023 Population: 572,660
Tasmania is an island state located 240 kilometers to the south of the Australian mainland. While it may be the smallest state in Australia, its influence on the nation's identity far surpasses its size.
Tasmania is globally renowned for its wilderness areas, nearly half of which are protected in national parks and World Heritage Sites. Among these are the Tasmanian Wilderness World Heritage Area and the stunning Freycinet National Park, places that offer incredible biodiversity and ecosystems different from those found on the mainland.
In terms of economy, Tasmania has a strong focus on sustainable industries. Fishing, particularly salmon and trout farming, plays a critical role, as does forestry, albeit amid ongoing environmental debates. The state is also gaining recognition for its burgeoning culinary scene, supported by organic farming and high-quality local produce.
The state's capital, Hobart, offers a stark contrast to the rugged landscapes that dominate much of the island. Rich in history, it is Australia's second-oldest capital city after Sydney, and its colonial past is evident in its well-preserved Georgian and Victorian architecture. The Museum of Old and New Art (MONA) in Hobart has brought a contemporary edge to the city, challenging traditional notions of art and attracting international visitors.
Interior Territories of Australia
Australian Capital Territory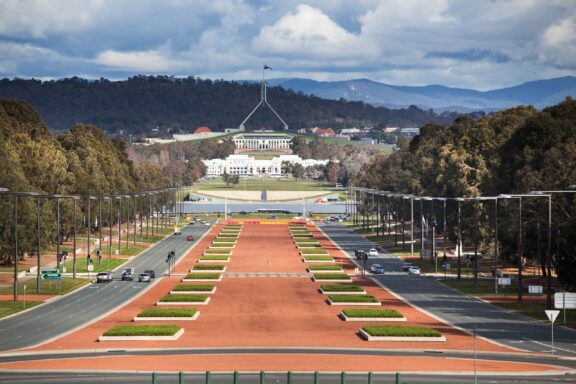 Capital: Canberra
Total Area: 2,358 km2 (910 mi2)
2023 Population: 464,601
The Australian Capital Territory (ACT) serves a specialized yet significant role in the Australian federation. Encompassing Canberra, the capital of Australia, the ACT is the political heart of the country. Unlike the other states and territories, the ACT was specifically created to house the federal government, and it remains deeply influenced by this purpose.
Canberra is a carefully planned city, designed by American architect Walter Burley Griffin, and is renowned for its organization, green spaces, and civic architecture.
Economically, the ACT is driven largely by public administration and services that support the federal government, including defense, diplomacy, and education. The territory is home to several esteemed educational institutions, including the Australian National University, which ranks among the top universities globally in various disciplines.
Culturally, Canberra offers a mix of Aboriginal heritage and modern Australian influences, hosting various national museums, galleries, and monuments such as the National Gallery of Australia and the Australian War Memorial. These institutions serve not just as attractions, but as repositories of the nation's collective history and culture.
The ACT also sets itself apart with its progressive policies; it was the first jurisdiction in Australia to legalize same-sex marriage, although the legislation was later overturned by the High Court. Marriage equality in Australia was eventually achieved in 2017.
Northern Territory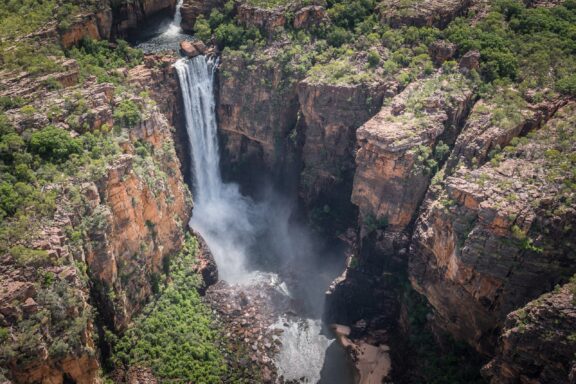 Capital: Darwin
Total Area: 1,347,791 km2 (520,385 mi2)
2023 Population: 251,654
The Northern Territory occupies a special position in Australia due to its distinct Aboriginal cultural heritage and complex natural ecosystems. Covering vast, sparsely populated areas, the region is known for iconic landmarks such as Uluru (Ayers Rock) and Kakadu National Park. These sites serve not only as major tourist attractions but also as significant cultural and spiritual locations for Indigenous Australians.
Economically, the Northern Territory is endowed with abundant natural resources, including significant reserves of oil, natural gas, and critical minerals. The resource-based economy is complemented by a growing tourism sector, capitalizing on the territory's natural beauty and cultural richness.
Darwin, the capital, serves as a critical gateway to Southeast Asia, given its geographical proximity. It has developed into a modern, multicultural city, with influences from Indigenous cultures as well as European and Asian immigrants. This diversity is evident in the city's culinary scene and community events such as the annual Darwin Festival.
Jervis Bay Territory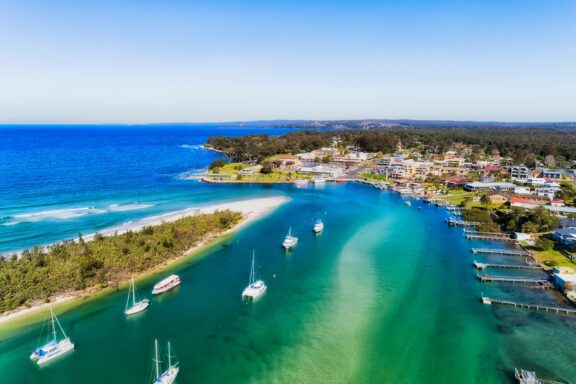 Capital: None
Total Area: 67 km2 (26 mi2)
2023 Population: 405
Jervis Bay Territory is an intriguing anomaly in Australia's territorial makeup. While not a state or a typical territory, it is a Commonwealth-administered region that is distinct from New South Wales, the state that surrounds it.
Occupying just 67.8 square kilometers, Jervis Bay was acquired by the Commonwealth in 1915 to provide the Australian Capital Territory with a maritime outlet, although it was later administratively separated from the ACT. The territory has a long history of Aboriginal Australian settlement.
Primarily known for its striking natural beauty, Jervis Bay boasts some of Australia's most pristine beaches, featuring fine white sand and crystal-clear waters. It is a popular destination for both domestic and international tourists, attracting visitors who are interested in snorkeling, scuba diving, and whale-watching.
Economically, Jervis Bay relies heavily on tourism, supported by a few small-scale businesses that cater to visitors. There are also Australian Defence Force facilities located within the territory, adding a unique dimension to its identity.
Governance in Jervis Bay is distinct; despite its small size, it maintains its own set of laws and governance structures, separate from those of New South Wales and the ACT.
Exterior Territories of Australia
As implied by the title, the seven external territories of Australia are separate from the mainland, and some are located quite far from the rest of the country. Some of the territories are uninhabited, while others have small populations.
In addition to their geographic separation from the mainland and their relatively small populations, these territories also differ from Australia's other administrative divisions in that they are not self-governing and are instead overseen by federal departments.
In this section, we'll do a basic overview of Australia's external territories.
Norfolk Island
Located in the South Pacific, Norfolk Island is known for its lush pine trees and rugged cliffs. It has a unique legislative arrangement, with local and federal laws coexisting, though this arrangement was controversial. Tourism is a significant part of the economy.
Christmas Island
Situated in the Indian Ocean, Christmas Island is renowned for its annual red crab migration. It has a diverse ecosystem and serves as a national park. The island has also been used as an immigration detention center.
Cocos (Keeling) Islands
Also in the Indian Ocean, this group of coral islands is known for its stunning beaches and marine life. The territory has a diverse population that includes ethnic Cocos Malays.
Ashmore and Cartier Islands
These uninhabited islands in the Indian Ocean are important for their rich biodiversity. They are designated marine reserves and are primarily accessed for research purposes.
Coral Sea Islands
A collection of small, uninhabited islands and reefs in the Coral Sea, this territory is of ecological and strategic importance. The only island with a human population is Willis Island, which is inhabited by Meteorological Bureau staff.
Australian Antarctic Territory
Covering a large part of the Antarctic continent, this territory is crucial for scientific research, particularly on climate change and ecology. The territory covers nearly 5.9 million square kilometers (2.3 million square miles).
Heard Island and McDonald Islands
These sub-Antarctic islands are uninhabited and covered mostly by glaciers. Known for their volcanic activity, they serve as a natural reserve, primarily for scientific study.