Singapore is both a city and a country, and the capital occupies the entire main island along with over 60 other smaller islands.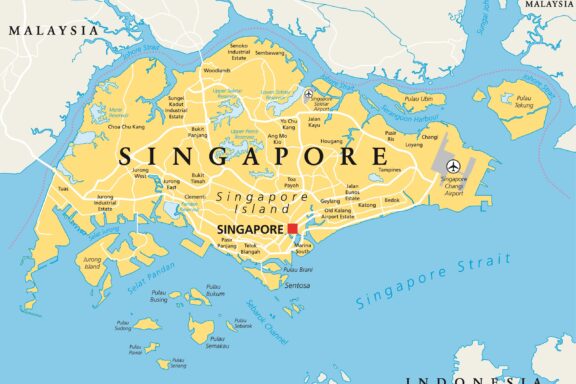 Singapore is one of the world's most globalized and economically significant cities. Known as a leading financial hub, it is home to a vibrant mix of cultures, and its cityscape combines modern skyscrapers and historical architecture.
Where is Singapore?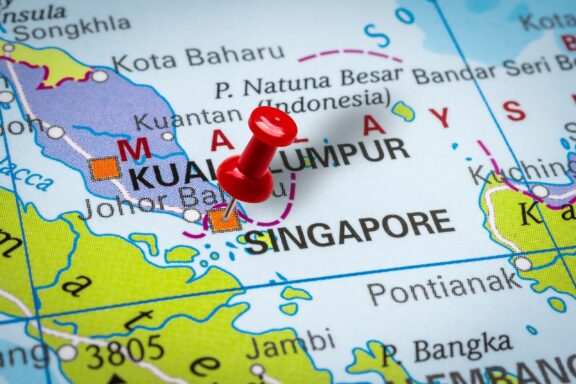 Singapore is located in Southeast Asia, at the southern tip of the Malay Peninsula. It's situated just north of the equator. It is separated from Peninsular Malaysia by the Straits of Johor to the north and from Indonesia's Riau Islands by the Singapore Strait to the south.
As a city and an independent sovereign state, Singapore covers a total area of about 722.5 square kilometers (279.0 square miles) which are divided into 5 regions. Its strategic location along major shipping routes has contributed to its prominence as a global financial and trade hub.
History of Singapore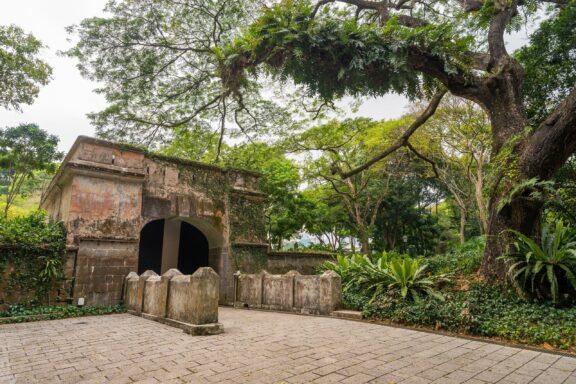 In the 14th century, the history of Singapore began to unfold with the establishment of a settlement known as Temasek, or "Sea Town." A Sumatran prince founded the Kingdom of Singapura, or "Lion City," around 1389.
During the 15th century, Singapura became part of the thriving Sultanate of Malacca, growing as a regional trading hub. However, by the 16th century, European influences from the Portuguese and Dutch began to overshadow Singapore, and its importance waned, with other regional trading ports taking precedence.
Colonial Period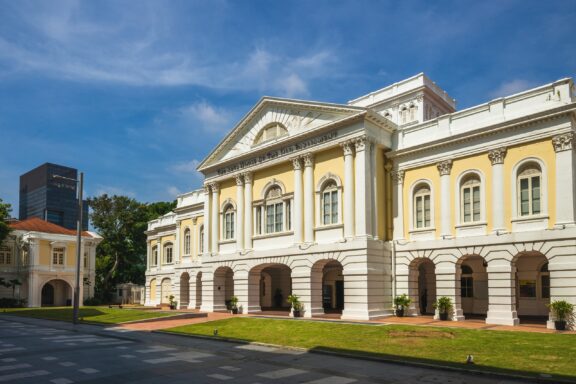 The colonial era of Singapore commenced with the arrival of Sir Stamford Raffles in 1819, who recognized the island's strategic potential and established a British East India Company trading post. By 1824, the British had formally acquired Singapore from the Sultan of Johor, and the island was subsequently grouped with Malacca and Penang as the Straits Settlements.
It came under British India's control in 1826, but by 1867, the Straits Settlements had become a British Crown Colony. During this time, the British laid down modern law, education, and governance systems that shaped Singapore's development.
World War II and Post-War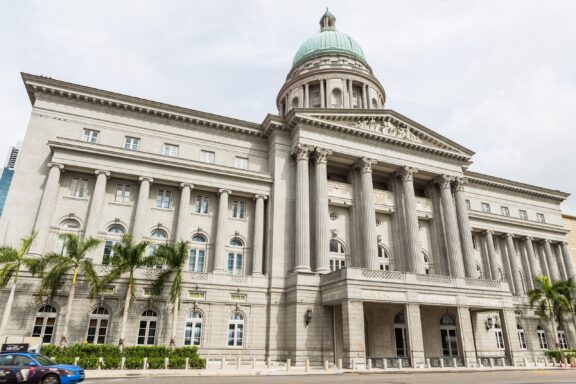 World War II marked a tumultuous chapter in Singapore's history. The threat of Japanese invasion grew palpable in 1941 as Japanese forces advanced through Southeast Asia. Despite its reputation as an impregnable British fortress, Singapore fell to the Japanese after a week-long battle in February 1942.
The Japanese occupation lasted until 1945, when Singapore was renamed Syonan-to, meaning "Light of the South." This period was characterized by severe hardships, including food shortages, forced labor, and targeted massacres, such as the Sook Ching, where the Chinese population was particularly affected.
A profound transformation marked the Post-War period in Singapore. After the hardships of Japanese occupation during World War II, Singapore faced a complex and turbulent path toward self-governance and independence. The British returned but struggled to restore pre-war conditions, and the push for local autonomy grew.
In 1959 Singapore achieved self-governance with Lee Kuan Yew as its first Prime Minister. A significant attempt at unification with Malaysia in 1963 eventually failed due to political and racial tensions, and in 1965, Singapore was expelled from Malaysia, becoming an independent republic on August 9, 1965.
Modern Singapore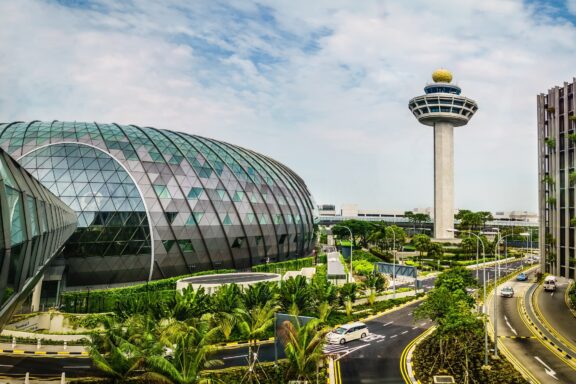 Starting in the 1960s, under the visionary leadership of Lee Kuan Yew and his successors, Singapore undertook ambitious industrialization and urbanization projects. Economic growth was rapid, and the focus shifted to technology, finance, and services by the 1990s.
Singapore's strategic planning, investment in education, and commitment to the rule of law made it an attractive destination for foreign investment, leading to further economic expansion. In the 2000s, Singapore also became a leader in sustainable urban planning, and technology and innovation became key drivers of its economy.
Today, Singapore's education system is renowned worldwide, and it plays a critical role in regional and global politics and the ongoing investment in technology, infrastructure, healthcare, and culture continues to shape Singapore as a global center of excellence.
Features of Singapore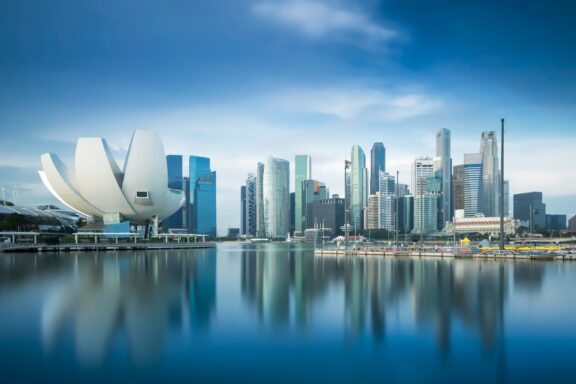 Singapore is known for its dazzling blend of tradition and modernity, seamlessly weaving together cutting-edge architecture with a well-preserved cultural heritage.
One of the city's most remarkable features is its multicultural fabric, where Malay, Chinese, Indian, and other ethnic communities coexist and thrive. This cultural diversity is vividly reflected in its culinary scene, where hawker centers offer various dishes from different traditions.
Geography and Climate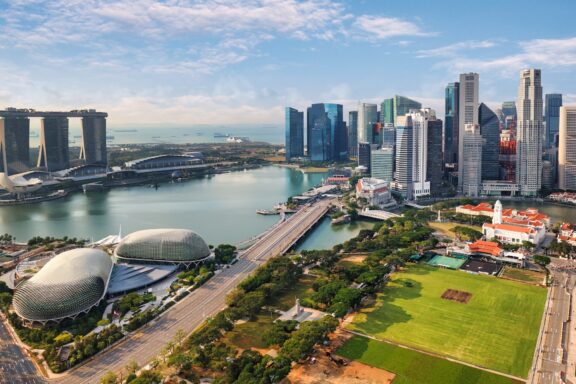 Singapore's geography is marked by its flat terrain and lack of natural highlands. Numerous parks and nature reserves preserve some tropical rainforests that initially covered the island. The city-state is surrounded by waters rich with mangroves and coral reefs.
As for its climate, Singapore has a tropical rainforest climate with no actual distinct seasons. The temperature usually ranges from 22 to 35 °C (72 to 95 °F), with high humidity throughout the year. Rainfall is relatively evenly distributed, but the monsoon season can bring heavier rain.
Population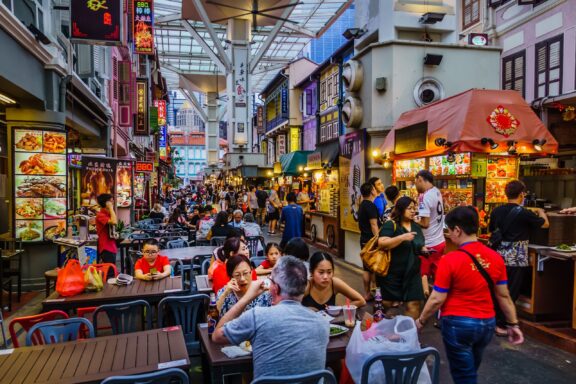 The population of Singapore is around 6 million. The population is made up of several ethnic groups, primarily Chinese (approximately 75%), Malays (about 13%), and Indians (around 9%), with other minorities making up the rest. This ethnic diversity has shaped the city's rich cultural tapestry, influencing everything from language to cuisine.
The official languages of English, Mandarin, Malay, and Tamil reflect the primary ethnic communities. Singaporeans are known for their emphasis on education, hard work, and community cohesion.
Economy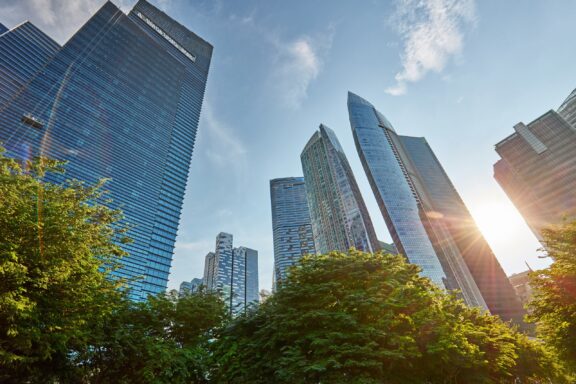 Singapore boasts a highly developed and booming free-market economy. It's one of the world's major commercial hubs, with the fourth-biggest financial center and one of the five busiest ports. Key industries include banking, biotechnology, manufacturing, and tourism.
The city's strategic location along major shipping routes, highly skilled workforce, and pro-business environment has attracted numerous multinational corporations. Singapore also serves as a gateway for foreign investors into Asia, and its economic policies have focused on fostering innovation and entrepreneurship.
Despite lacking natural resources, Singapore's economy thrives on technology, human capital, and a robust regulatory framework, maintaining its status as one of the world's most competitive and dynamic economic landscapes.
Things to Do and Places to See in Singapore
Singapore offers a diverse array of attractions and fun things to do. Here are some of the must-see tourist destinations in Singapore:
1. Marina Bay Sands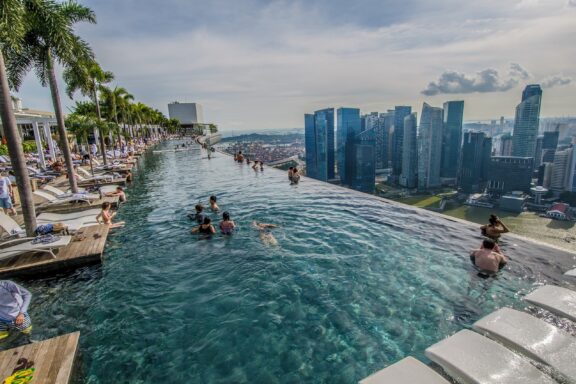 The complex was officially opened in June 2010 and consists of three 55-story hotel towers connected by a 1-hectare roof terrace called the Sands SkyPark. This SkyPark includes gardens, restaurants, and a 150-meter infinity swimming pool that offers breathtaking views of the Singapore skyline.
The architectural design, created by architect Moshe Safdie, was inspired by a deck of cards. The three towers are topped with a platform that resembles a ship, adding to the visual intrigue of the building.
The Marina Bay Sands complex includes a hotel with more than 2,500 rooms, a vast shopping mall with a canal running through it, the ArtScience Museum shaped like a lotus flower, a large exhibition center, theaters, celebrity chef restaurants, and one of Singapore's largest casinos.
2. Gardens by the Bay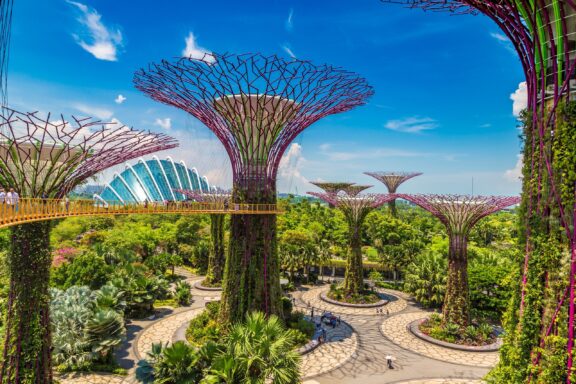 Gardens by the Bay is a nature park in Singapore that spans 101 hectares (250 acres) of reclaimed land adjacent to the Marina Reservoir. It's part of Singapore's strategy to transform the city from a "Garden City" into a "City in a Garden." It is located near the Marina Bay Sands resort, making the two landmarks often associated.
One of Gardens by the Bay's most iconic features is the Supertree Grove. These tree-like structures range from 25 to 50 meters in height and are home to vertical gardens featuring over 200 species of ferns, orchids, and other tropical plants. A suspended walkway, the OCBC Skyway, connects some of the Supertrees, providing visitors with a unique aerial walkway experience.
3. Sentosa Island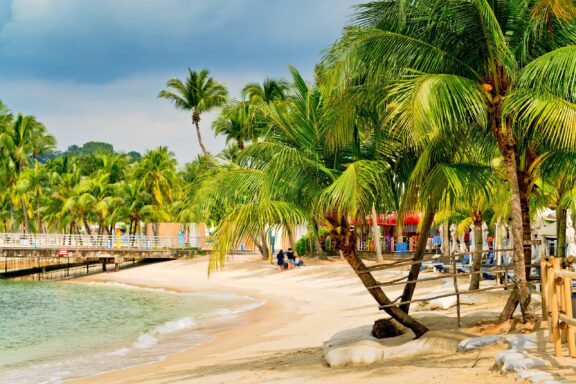 Sentosa Island is a popular resort destination known for its wide range of attractions, sandy beaches, and vibrant entertainment options. Located to the south of the Singapore mainland, Sentosa is easily accessible by road, cable car, pedestrian boardwalk, and monorail.
Sentosa Island is a place where fun, relaxation, and adventure meet, making it an essential part of any trip to Singapore. Whether you're traveling with family and friends or on a romantic getaway, Sentosa has something to cater to all tastes and interests. It plays a vital role in Singapore's tourism industry and continues to evolve with new attractions and experiences.
4. Singapore Zoo and Night Safari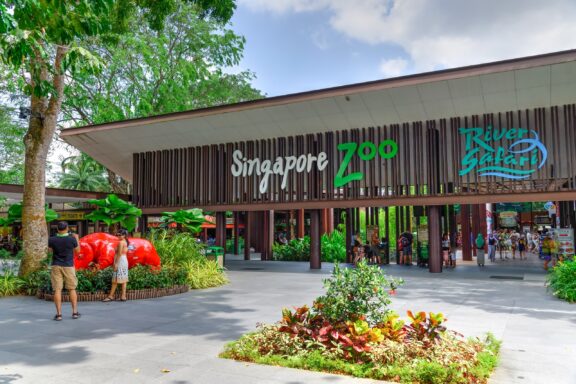 Singapore Zoo and the Night Safari are two renowned wildlife parks in Singapore, both operated by Wildlife Reserves Singapore. They offer unique experiences for visitors and are recognized for their commitment to conservation, research, and education.
Singapore Zoo
Singapore Zoo, also known as the Mandai Zoo, covers 28 hectares (69 acres) and is home to over 2,800 animals representing more than 300 species.
The zoo is famous for its "open concept," where animals are kept in spacious, landscaped enclosures that mimic their natural habitats. Instead of traditional cages, the zoo uses moats, glass walls, and other subtle barriers to separate animals from visitors.
Night Safari
Adjacent to Singapore Zoo is the Night Safari, the world's first nocturnal zoo, which opened in 1994. It spans 35 hectares (86 acres) and provides a unique opportunity to observe the behavior of nocturnal animals.
5. Chinatown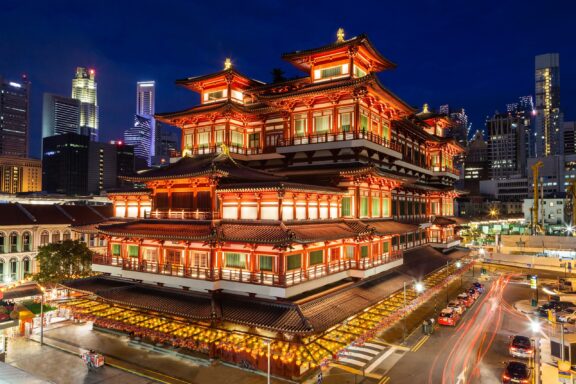 Singapore's Chinatown is a vibrant, culturally rich neighborhood that blends tradition and modernity. Known for its bustling streets, colorful shophouses, and rich heritage, Chinatown is a significant part of Singapore's multicultural fabric.
Chinatown's historic shophouses, temples, and markets make it a great place to explore Singapore's Chinese heritage. The architecture is a blend of Baroque and Victorian styles with Chinese influence, creating a unique aesthetic.
Chinatown is not only a place to explore Chinese culture in Singapore, but it's also a microcosm of the city-state's multicultural diversity. A walk through its lively streets provides insights into history, food, shopping, and more, making it an essential destination for anyone visiting Singapore.
6. Orchard Road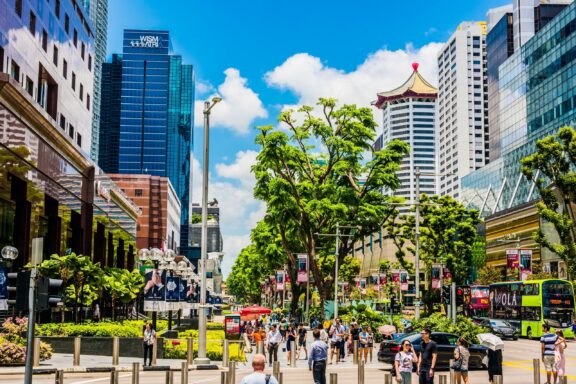 Orchard Road is Singapore's most famous shopping street and one of the city's key tourist attractions. Named after the fruit orchards that the road led to in the 19th century, it has since transformed into a bustling commercial boulevard known for its luxury retail, dining, and entertainment establishments.
Orchard Road has numerous shopping malls, ranging from high-end luxury malls like ION Orchard, Paragon, and Ngee Ann City, to more budget-friendly options like Far East Plaza. You can find many international brands, local boutiques, and everything.
7. Singapore River Cruise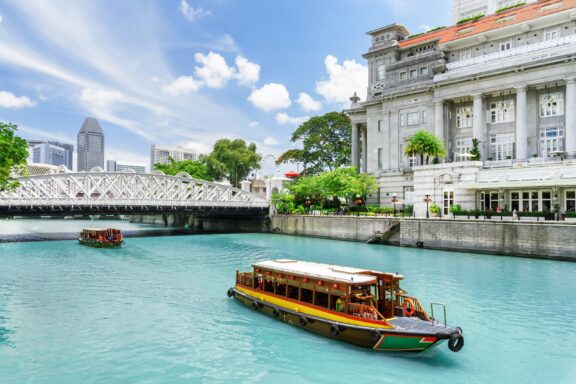 Take a leisurely cruise along the Singapore River, passing through historical sites and modern landmarks. The Singapore River Cruise is a popular tourist activity that offers a unique perspective of the city's skyline and historical landmarks.
As you cruise the river, you'll pass through various districts with their cultural flavor. From the lively nightlife at Clarke Quay to the historical shophouses at Boat Quay, the cruise showcases the diverse cultural landscape of Singapore.
8. Little India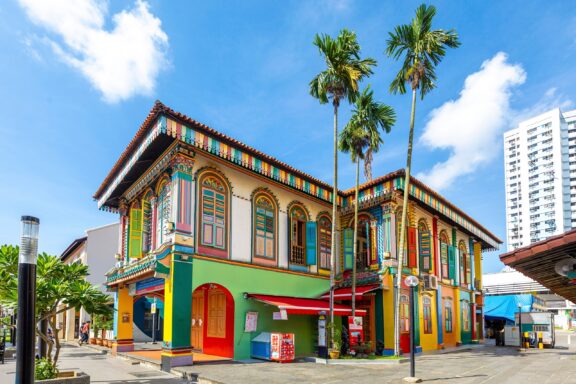 Little India is a vibrant and culturally rich Singapore district known for its strong Indian community influence. It's a place where traditional Indian culture blends with the urban environment of Singapore, creating a unique and colorful experience for visitors.
Little India is not just a place to shop and eat; it's a cultural experience that provides insight into the Indian community's contributions to Singapore's multicultural fabric.
Whether you're interested in history, art, food, or shopping, Little India has something to offer. It's a lively and colorful part of Singapore worth exploring, immersing visitors in sights, sounds, and smells that are distinctly Indian.
9. Clarke Quay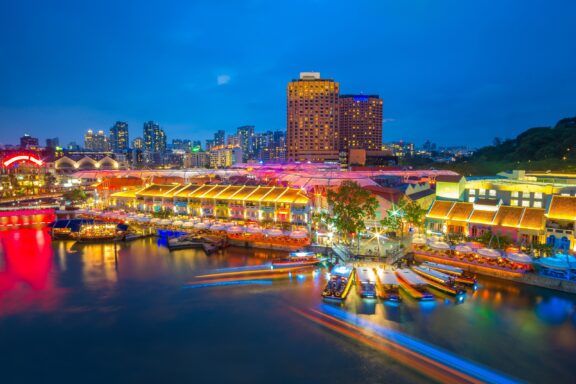 Clarke Quay is a place where Singapore's past and present come together. It's an area that offers something for everyone, whether you're interested in history, food, shopping, or simply enjoying the lively atmosphere along the riverside.
Its transformation from a commercial hub into a modern entertainment district is a testament to Singapore's continuous growth and innovation, and it remains a must-visit location for tourists and locals.
Clarke Quay is known for its diverse dining options, from local cuisine to international fare. You can find a mix of upscale restaurants, casual eateries, and waterfront dining spots that provide beautiful views of the Singapore River.
10. Merlion Park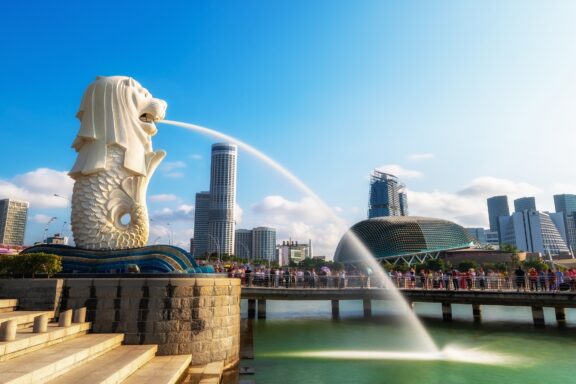 Merlion Park is one of Singapore's most iconic landmarks near Marina Bay. The park is home to the original Merlion statue, a mythical creature with the head of a lion and the body of a fish, symbolizing Singapore's origins as a fishing village and its original name, Singapura, meaning "Lion City."
Merlion Park is a place to see one of Singapore's most famous symbols, a venue to enjoy beautiful views, and a convenient starting point for exploring some of the city's other attractions. Whether visiting during the day or night, the park offers a unique glimpse into Singapore's identity and is a must-visit location for first-time travelers to the city.
11. ArtScience Museum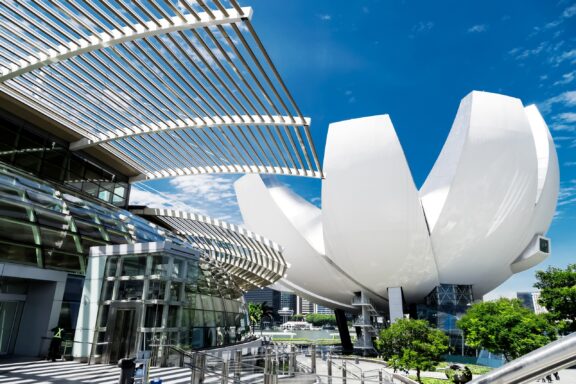 The ArtScience Museum is a remarkable cultural institution within the Marina Bay Sands complex in Singapore. With its distinctive lotus-inspired architecture, the museum has become an iconic landmark in the city's skyline. It serves as a symbol of the fusion between art, science, technology, and culture.
The museum hosts a variety of exhibitions that blend art, science, design, media, architecture, and technology. These exhibitions often change, featuring collaborations with other renowned museums, art organizations, and scientists worldwide.
12. Singapore Flyer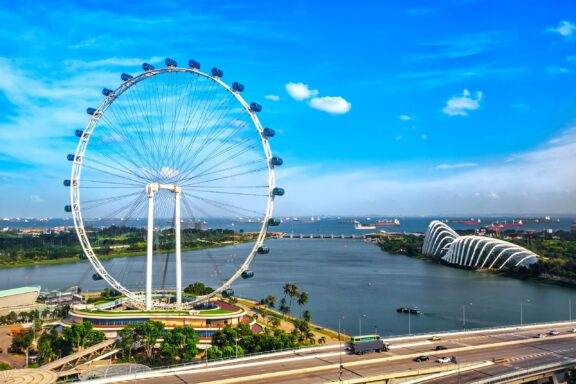 The Singapore Flyer is a giant observation wheel in Marina Bay, Singapore. Standing at a height of 165 meters (541 feet), it was the world's tallest Ferris wheel until surpassed by the High Roller in Las Vegas in 2014. The Flyer offers breathtaking panoramic city views and is one of Singapore's most popular tourist attractions.
The Flyer is accessible to visitors with mobility challenges, and the staff is trained to assist as needed. It's also easily reached by public transport, including the Promenade MRT station. At the base of the Flyer, you'll find shops, restaurants, and cafes. You can shop for souvenirs or enjoy a meal before or after your ride.
13. East Coast Park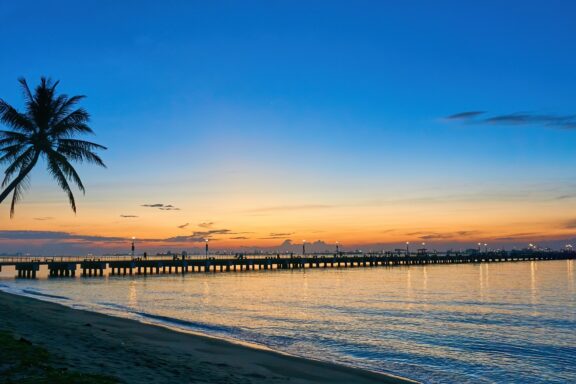 East Coast Park is one of Singapore's most cherished urban getaways, offering a blend of recreational facilities, dining options, and outdoor activities. Stretching over 15 kilometers along the southeastern coast of Singapore, the park covers 185 hectares and attracts families, sports enthusiasts, and those seeking relaxation near the sea.
With dedicated cycling and skating paths, the park is a favorite spot for these activities. You can rent bicycles, skates, or even tandem bikes from rental shops within the park. You can also enjoy beach volleyball, sandcastle building, or simply relaxing on the sandy shores and engage in various water sports like kayaking, wakeboarding, or windsurfing.
14. Bukit Timah Nature Reserve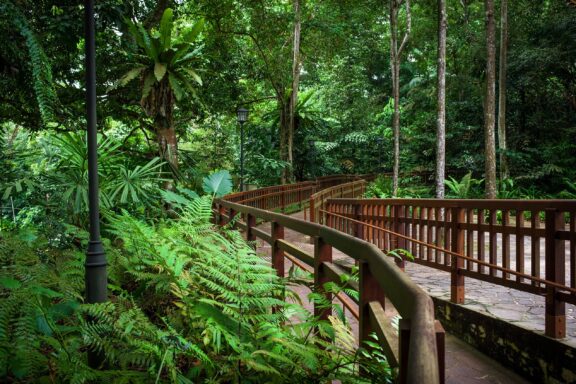 Bukit Timah Nature Reserve is a treasured green oasis in Singapore, located on Bukit Timah Hill, the highest point in the city-state at 163.63 meters (537 feet) above sea level. The reserve is home to various flora and fauna, making it a popular destination for nature enthusiasts, researchers, and those looking to escape the urban hustle and bustle.
The reserve is home to more than 40% of Singapore's native flora and fauna, including rare species of plants, insects, birds, and mammals. With several trails of varying difficulty, visitors can choose a path that suits their fitness level.
The Main Road is a paved, gradual ascent to the summit, while other trails might include steep climbs and rugged terrain. Guided tours are often available for those interested in a more educational experience.
15. National Museum of Singapore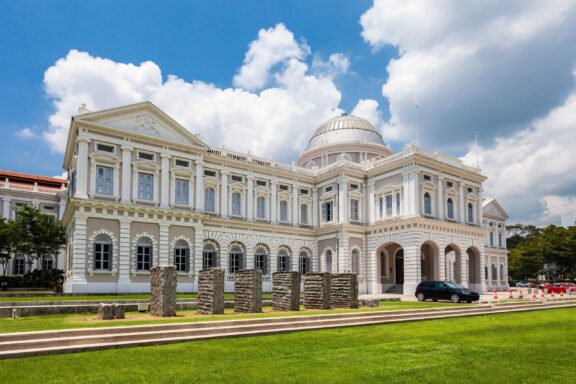 The National Museum of Singapore is the oldest museum in the country and a well-respected cultural institution. Established in 1887, it is a custodian of Singapore's history and cultural heritage. Located on Stamford Road, the museum's elegant neo-Palladian and Renaissance style contrasts the modern cityscape.
The diverse exhibits and innovative approach to storytelling make it appealing to locals and tourists alike, offering insight into the nation's past, present, and future. Whether you're a history buff, a student, or simply curious about Singapore's heritage, the National Museum provides an enriching and engaging experience.
Frequently Asked Questions
What's the best time to visit Singapore?
Singapore has a tropical climate, so it's warm and humid year-round. However, December to June is the best time to visit to avoid the monsoon season.
What currency is used in Singapore?
The Singapore Dollar (SGD) is the official currency.
Is Singapore expensive to visit?
Singapore is known for its high living standards, and some things can be pricey. However, there are plenty of budget-friendly options for accommodation, food, and attractions.
What are the must-try foods?
Singapore's culinary scene is diverse. We recommend trying Hainanese Chicken Rice, Laksa, Char Kway Teow, and Hawker Centre dishes when visiting Singapore.
What's the public transportation like in Singapore?
Singapore has an efficient and extensive public transportation system that includes buses, trains (MRT), and taxis. It's a convenient way to get around the city.
Are there any dress codes to be aware of in Singapore?
Singapore is fairly liberal with dress codes, but it's wise to dress modestly when visiting religious sites.
Is Singapore safe for tourists?
Singapore is known for its low crime rate and is generally considered one of the safest cities in the world for tourists.
Can I drink tap water in Singapore?
Yes, tap water in Singapore is safe to drink.
What are the unique laws I should be aware of?
Singapore is known for its strict laws. Littering, chewing gum, jaywalking, and failing to flush public toilets can be fined.
What's the healthcare system like in Singapore?
Singapore has excellent healthcare facilities, but it's recommended to have travel insurance as healthcare can be expensive for non-residents.
What are the Emergency numbers in Singapore?
The emergency numbers are 999 for Police, 995 for Fire and Ambulance.
Final Thoughts
Singapore is a testament to human ingenuity and cultural richness, seamlessly blending modernity with tradition. Its vibrant mix of architectural marvels, culinary delights, lush green spaces, and bustling markets offers something for every type of traveler.
With a reputation for safety, cleanliness, and efficiency, Singapore makes not only a convenient travel destination but an enriching one. For those seeking a unique blend of East meets West, tradition meets innovation, and nature meets urban sophistication, Singapore is unquestionably worth a visit.