Bucharest is the capital of Romania. Known for its wide, tree-lined boulevards and beautiful Belle Époque buildings, Bucharest is the country's largest city and most important industrial and commercial center.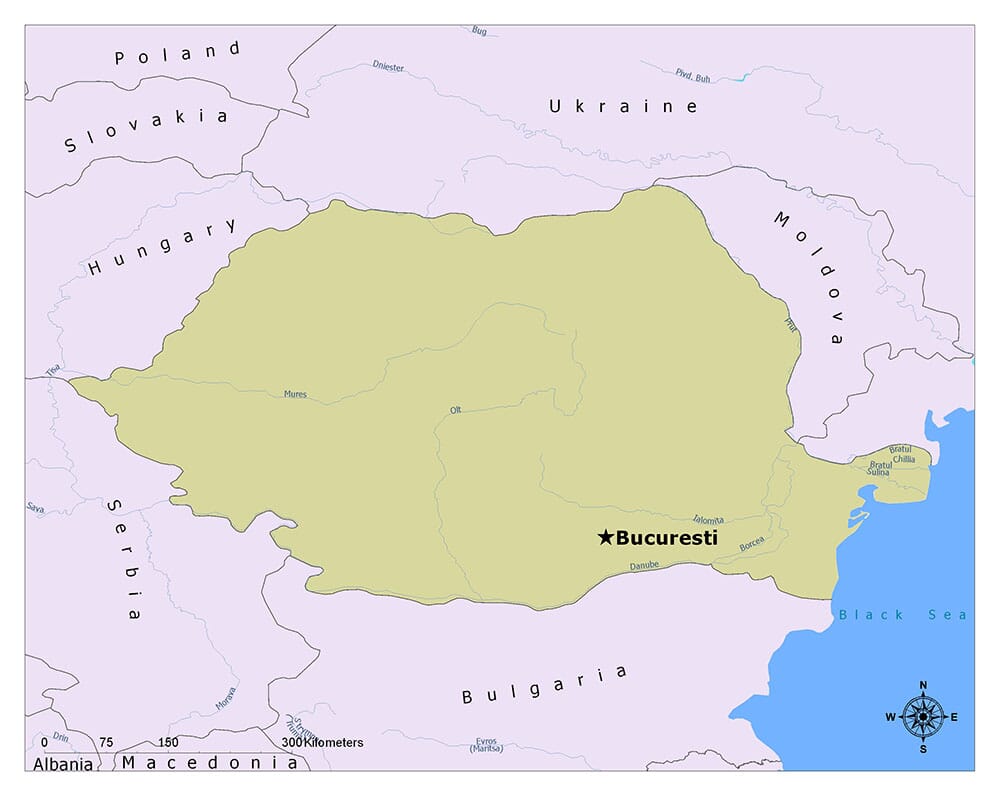 Bucharest is home to several landmarks, architecturally impressive buildings, and the third-largest administrative building in the world after the Pentagon and Surat Diamond Bourse. Bucharest also hosts many parks and gardens and is known for its vibrant cultural scene, with many museums.
Where is Bucharest?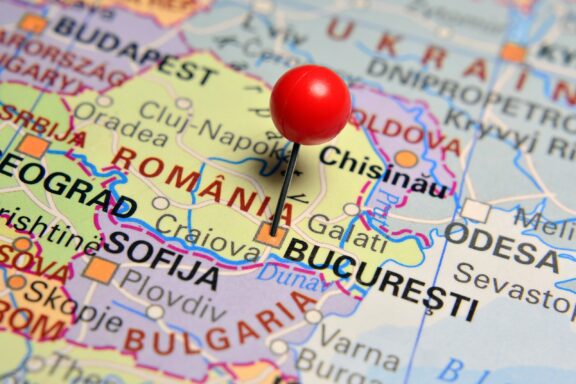 Bucharest is located in the southeastern part of Romania. It lies on the banks of the Dâmbovița River, a tributary of the Danube River, less than 70 kilometers north of the Bulgarian border.
Geographically, Bucharest is situated in the Romanian Plain, characterized by flatlands and low hills. The city is approximately halfway between the Carpathian Mountains to the north and the Black Sea to the east, providing a strategic position in the country.
The city coordinates approximately 44.4 degrees north latitude and 26.1 degrees east longitude.
History of Bucharest
Bucharest's early history is shrouded in mystery, originating in the Middle Ages. The city's first mention was in a document dating from 1459, signed by Vlad III the Impaler, the ruler of Wallachia, a historical and geographical region of Romania. He constructed a palace in Bucharest, the beginning of the city's development as a significant location in Romania.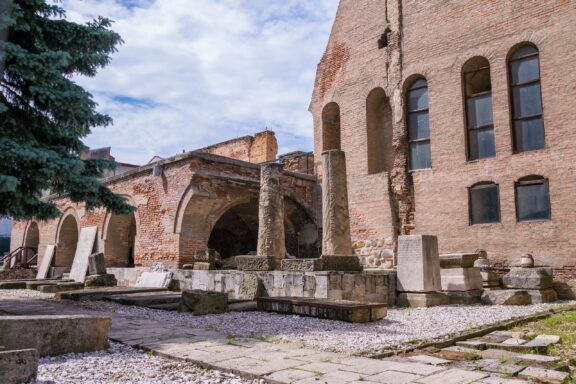 Bucharest developed and expanded steadily from the late 15th century onward. As it became more important as a trading post along the route between Constantinople and the rest of Europe, the city grew and became the summer residence of the Wallachian princes. By the 17th century, Bucharest was the full-time residence of the Wallachian princes, and in 1659 under the reign of Gheorghe Ghica, it became the capital of Wallachia.
The city flourished in the 17th and 18th centuries, despite facing several hardships, including Ottoman and Austrian invasions, a catastrophic plague outbreak, and major fires. The architecture of Bucharest began to take shape during this period, with churches and princely palaces being constructed in the Byzantine style.
The 19th century was a period of significant transformation for Bucharest. In 1862, following the unification of Wallachia and Moldavia, Bucharest was established as the capital of the newly formed state of Romania.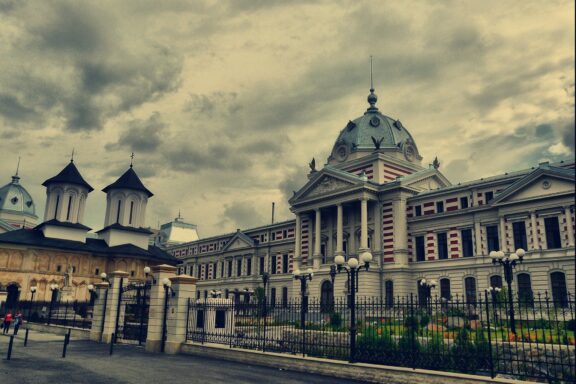 Bucharest was modernized under the reigns of several forward-thinking monarchs like Carol I and his successors, who were inclined towards Western European ideals. This period saw the city's first hospital, school, bank, and the National Theatre built. The city's architecture underwent a significant shift, with French architectural styles becoming the norm, making Bucharest dubbed the "Little Paris."
In the latter part of the century, Bucharest saw the construction of its most iconic buildings. One of those is the Athenaeum, a concert hall now home to the "George Enescu" Philharmonic and an enduring symbol of the city's cultural life.
However, the city also faced challenges during the 19th century. It was partially destroyed by the Great Fire of 1847, and later in 1868, the city was hit by an earthquake. Despite these setbacks, by the end of the 19th century, Bucharest had established itself as a vibrant city with a unique blend of Eastern and Western influences.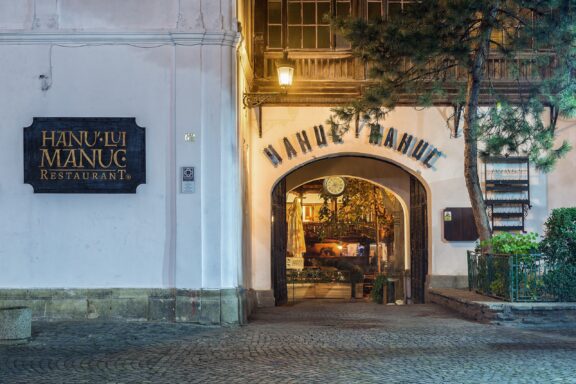 During World War II, Romania initially aligned itself with Nazi Germany and was thus a part of the Axis powers. This alliance resulted in Bucharest facing several bombings from Allied forces. One of the most devastating was on April 4, 1944, when the American bombers targeted the city's industrial area but also ended up causing significant damage to residential and other non-industrial sectors.
In 1944 following a coup, Romania changed sides and joined the Allies. The city was then occupied by Soviet forces, marking the start of the Soviet influence over Romania that would lead to the establishment of a communist government.
After World War II, Romania came under the influence of the Soviet Union and became a socialist republic in 1947, with Bucharest as its capital. The city underwent significant changes during this time, mainly due to the policies of Nicolae Ceaușescu, who ruled Romania from 1965 to 1989.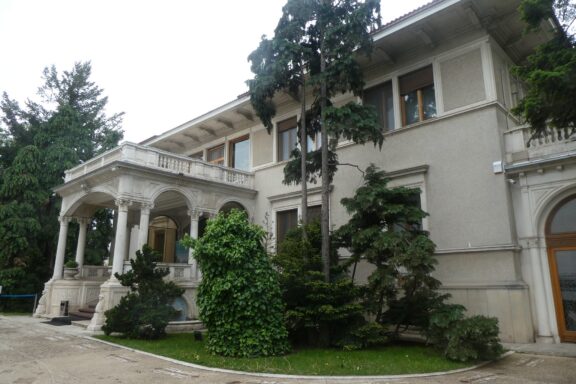 Ceaușescu had ambitious plans for Bucharest, including systematization policies that destroyed many historic parts of the city, including churches, synagogues, and traditional houses. In their place, large-scale buildings and boulevards were constructed, following a specific architectural style known as Socialist Realism.
The most notable project was the Palace of the Parliament (then named the House of the Republic), now one of Bucharest's most iconic landmarks. This massive structure, the world's third-largest administrative building after the Pentagon and Surat Diamond Bourse, symbolizes Ceaușescu's autocratic rule.
The last years of Ceaușescu's rule were marked by severe rationing and austerity to repay the national debt, causing significant hardship for the citizens of Bucharest. His regime ended in December 1989 during the Romanian Revolution, an uprising partly sparked by deteriorating living conditions in Bucharest.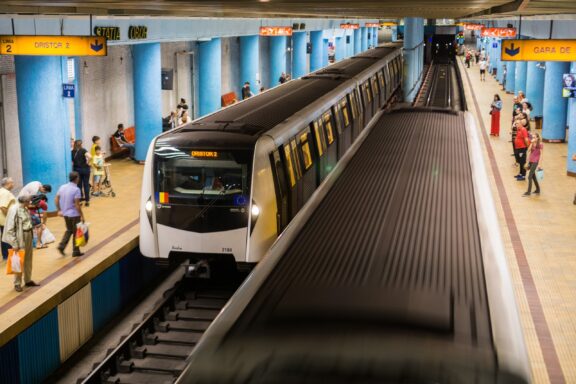 Bucharest has since become an economic powerhouse, leading the country's growth with an influx of foreign investment and rapid development. The city has experienced a construction boom, developing a modern skyline, including high-rise office towers and residential apartments.
Significant efforts have also been made to restore and preserve historic sites and neighborhoods that survived the communist-era destruction. The historic center, Lipscani, has been transformed into a vibrant area filled with restaurants, bars, and boutiques, becoming a popular spot for locals and tourists.
The city's cultural scene has thrived with the establishment of new museums, art galleries, and music festivals. Bucharest has also become known for its bustling nightlife, with numerous clubs, pubs, and music venues offering various entertainment options.
Features of Bucharest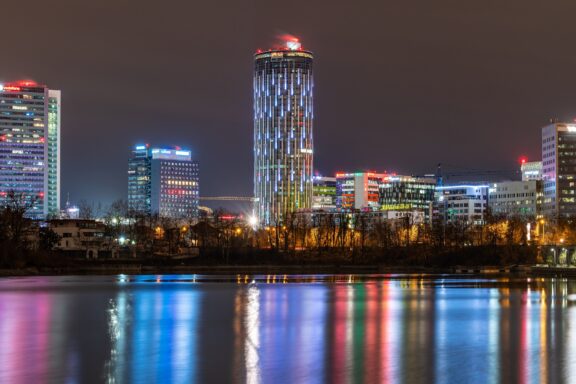 Bucharest is an intriguing mix of old and new, characterized by an eclectic architectural style that blends its rich history with modern influences. Its wide, tree-lined boulevards are reminiscent of Paris, earning the city the nickname "Little Paris," while its imposing concrete edifices hark back to its communist past.
Geography and Climate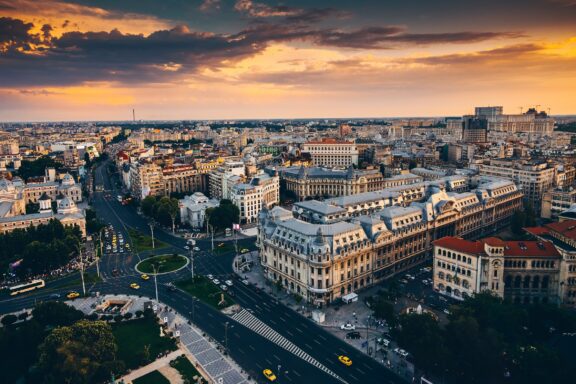 Bucharest covers an area of 228 square kilometers and is characterized by a flat topography as it is situated in the Romanian Plain. Various waterways crisscross it, the most significant one being the Dâmbovița River. Other smaller rivers and lakes also dot the landscape, adding to the city's charm.
The city experiences a humid continental climate. It has hot summers and cold winters, a characteristic weather pattern for southeastern Europe. The average high temperature in summer (July) is around 29 °C (84 °F), but it can reach up to 35 °C (95 °F) or more.
Winters can be pretty harsh, with average temperatures in January hovering around -3 °C (27 °F) and occasional cold snaps, dropping the temperature even further. Snowfall is common in winter months. Bucharest also experiences moderate levels of rainfall throughout the year.
Population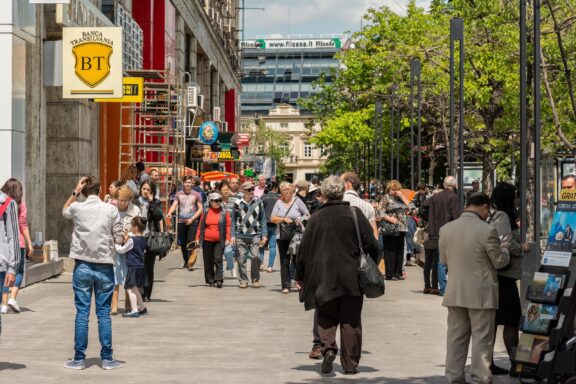 Bucharest has a population of over 1.8 million, making it the most populous city in Romania and the ninth-largest city in Europe. The population is predominantly Romanian, but there are also small communities of Italians, Turks, Germans, Hungarians, and Roma.
Bucharest is known for its diversity, reflected in its cultural scene, food, and lifestyle. Romanians are known for their hospitality, evident in the city's lively atmosphere and vibrant social life. The city is also a significant educational hub, home to many universities and institutes, attracting students from all over the country and abroad.
Economy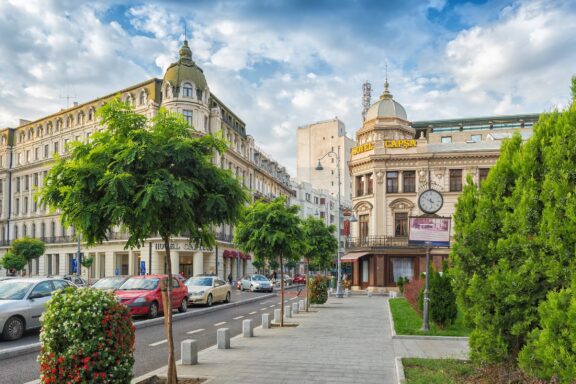 Bucharest is the economic heart of Romania. It contributes about a quarter of the country's GDP and is one of Eastern Europe's main industrial centers and transportation hubs. The city's economy is diverse, with sectors such as manufacturing, retail, IT, and real estate playing significant roles.
Over the past few decades, Bucharest has seen significant growth in the service sector. It has become a major center for information technology and electronics industries. Many multinational companies have established their regional headquarters in Bucharest due to its strategic location and highly skilled labor force availability.
The city also has a thriving tourism industry, with its rich history, varied architecture, vibrant nightlife, and cultural attractions drawing visitors worldwide. In addition, Bucharest is a central hub for Romania's media and entertainment industry, hosting numerous film and music festivals.
Bucharest's economy is characterized by its dynamism and growth, and it plays a crucial role in the Romanian and the broader Eastern European economy.
Things to Do and Places to See in Bucharest
Bucharest offers a wealth of activities and sights to explore. Let's explore some of this vibrant city's most sought-after destinations and attractions.
1. Explore Lipscani, Old Town of Bucharest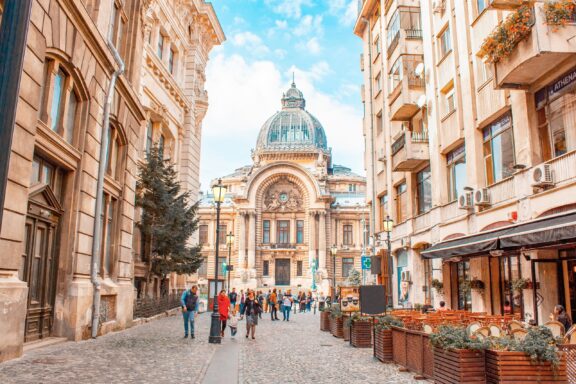 Lipscani, known as the Old Town of Bucharest, is the city's beating heart. This vibrant and colorful area is filled with narrow, cobblestone streets lined with beautifully restored buildings that date back to the 19th century and even earlier.
As you stroll through its streets, you'll find an array of shops, restaurants, cafes, and bars, each exuding its unique charm. The district also has several historic landmarks and churches, adding to its character. At night, Lipscani comes alive with locals and tourists flocking to its numerous entertainment venues, making it a central spot for Bucharest's lively nightlife.
2. Tour the Colossal Palace of the Parliament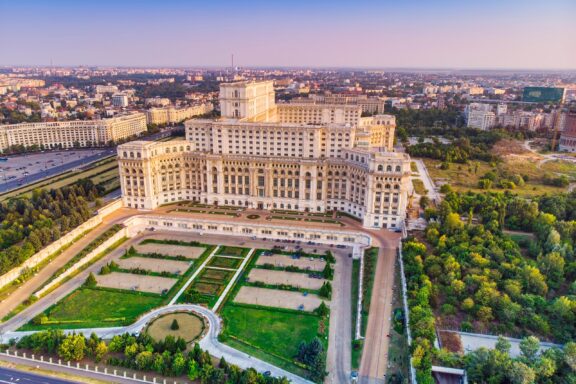 A tour of the Palace of the Parliament, or the People's House as often called, is a must-do in Bucharest. This colossal structure, built during Nicolae Ceaușescu's rule, is an impressive testament to communist-era architecture and ambition.
The Palace is known for its ornate interiors filled with crystal chandeliers, marble, and gold leaf. It houses the Romanian Parliament as well as the Museum of Communist Totalitarianism and the Museum of the Palace, both providing insight into Romania's past.
3. Relaxing in the City's Parks
Bucharest's city parks are a breath of fresh air, providing serene getaways amidst the city's hustle and bustle.
Here are some notable city parks:
A. King Mihai I Park (formerly Herăstrău Park)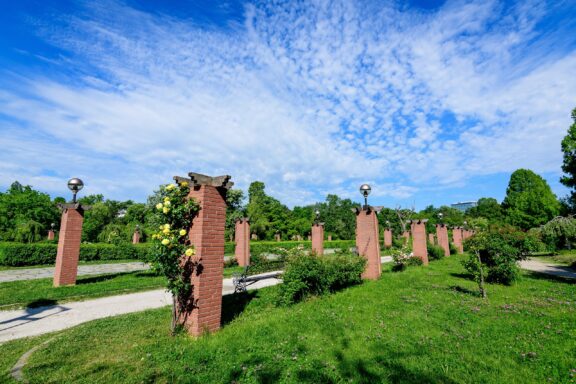 This vast green space is one of Bucharest's largest and most beloved parks. It surrounds a lake and offers various recreational activities. You can rent a boat, take a leisurely walk along the water, or explore the "Dimitrie Gusti" National Village Museum within the park. The park's beautiful landscapes make it a perfect spot for a picnic or relaxing in nature.
B. The Cismigiu Gardens (Grădina Cișmigiu)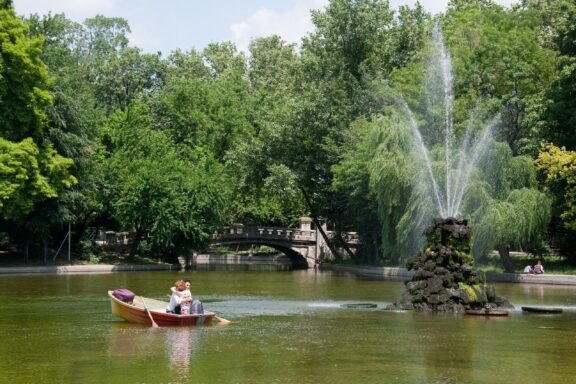 As the oldest park in Bucharest, the Cismigiu Gardens hold a special place in the city's heart. Its romantic landscape design features winding paths, benches tucked away in secluded spots, and a picturesque lake where you can rent small rowing boats. It's a perfect spot for a peaceful stroll or an afternoon rest.
C. Carol Park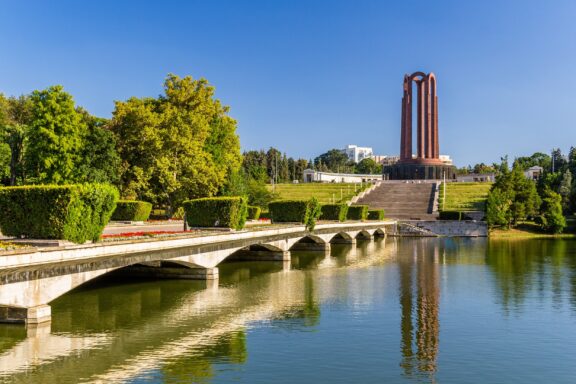 Carol Park offers a tranquil atmosphere with its lush greenery, beautiful monument, and picturesque lake. The park also features the Astronomical Observatory, the Roman Arenas, and a Mausoleum. It's a peaceful retreat and a great place to unwind or enjoy outdoor activities.
4. Romanian Athenaeum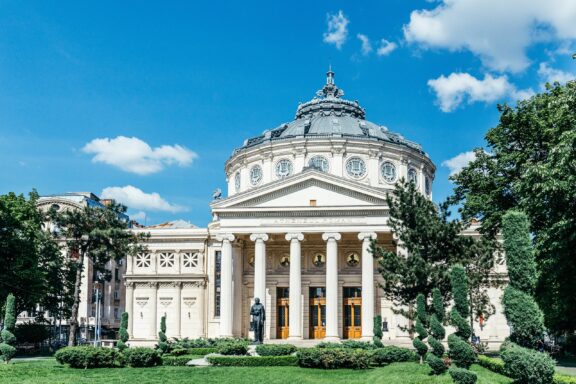 The Romanian Athenaeum, located in the city's heart, is an architectural jewel and an important cultural institution. With its stunning neoclassical design, this concert hall hosts the "George Enescu" Philharmonic and other music concerts throughout the year.
Inside, a fresco that spans the circular wall of the auditorium tells the story of Romania's history, adding to the venue's grandeur. Even if you don't catch a performance, the building is worth visiting for its striking architecture.
5. Stroll the Area Around The Triumphal Arch of Bucharest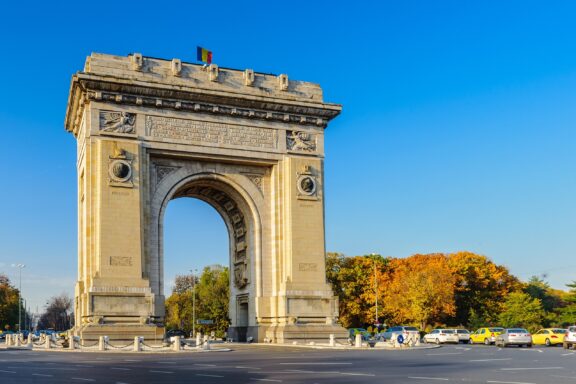 The Triumphal Arch of Bucharest, inspired by the Arc de Triomphe in Paris, is an iconic city symbol. Located in the northern part of the city, it's a perfect starting point for a stroll down the elegant Kiseleff Road, which is lined with beautiful old villas and leads you to King Mihai I Park.
The Arch, dedicated to the soldiers who fought in World War I, offers a panoramic view of the city from its top, which can be accessed during certain times.
6. National Museum of Art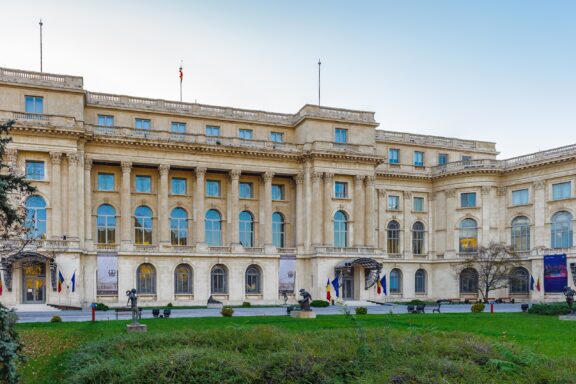 The National Museum of Art, housed in the former Royal Palace, is a must-visit for art enthusiasts. The museum holds an extensive collection of Romanian and European art dating from the Middle Ages to today.
Its Romanian Modern Art Gallery showcases the works of the country's most notable artists. At the same time, the European Art Gallery features pieces from prominent European artists like Rembrandt, Rubens, and El Greco.
7. National Museum of Romanian History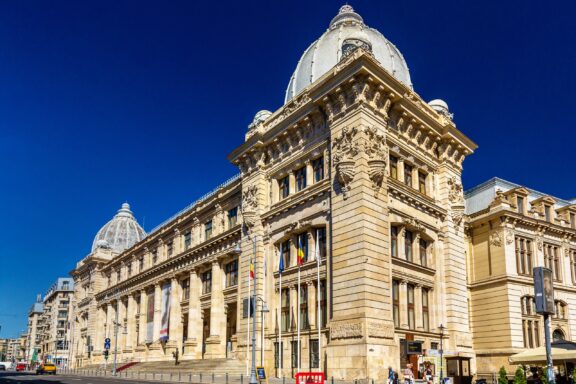 The National Museum of Romanian History offers a comprehensive overview of Romania's rich history, from prehistoric times to modern times. It houses many artifacts, including the Romanian Crown Jewels and the Pietroasele Treasure. The museum is known for its replica of Trajan's Column, which displays Roman scenes intricately carved in marble.
8. Dine at the Historical Caru' cu Bere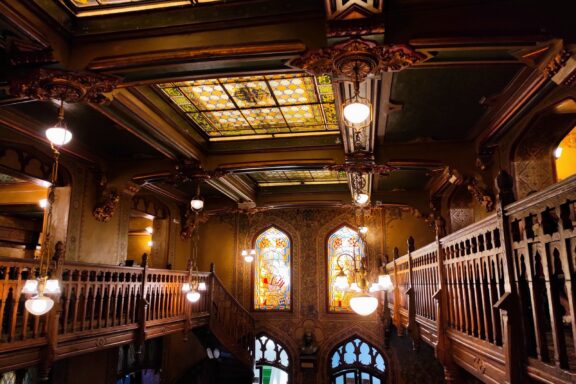 Caru' cu Bere, a historic beerhouse in the Old Town, is a culinary landmark. This 19th-century Gothic Revival restaurant serves traditional Romanian dishes accompanied by live folk music and dance performances. Its old-world ambiance, complete with stained glass windows and dark wooden interiors, is a charming backdrop for a meal, making it more than just a dining experience.
9. "Dimitrie Gusti" National Village Museum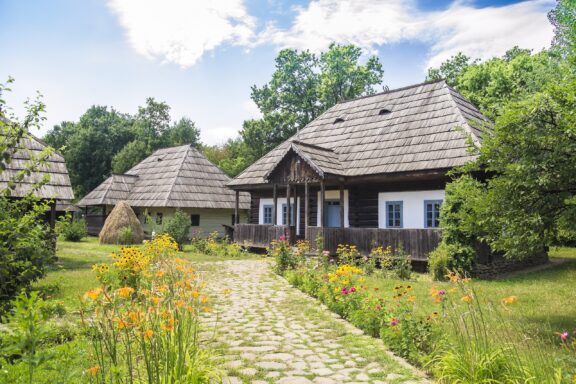 Located in King Mihai I Park, the "Dimitrie Gusti" National Village Museum is an open-air ethnographic museum. It displays over 200 traditional buildings from all over Romania, including houses, churches, and mills, all set in a natural environment with gardens and farm animals. This museum offers a unique opportunity to step back in time and explore rural Romanian life.
10. Stavropoleos Monastery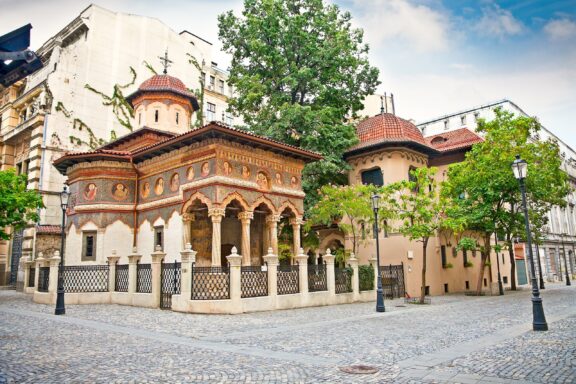 The Stavropoleos Monastery, also known as the Stavropoleos Church, is a small Eastern Orthodox monastery located in the historic center of Bucharest. The monastery is a remarkable example of the Brâncovenesc style, a fusion of Byzantine, Ottoman, and Wallachian architectural influences. It features intricate stone and wood carvings, ornate frescoes, and a combination of classical and Oriental motifs.
The monastery is centered around a peaceful courtyard adorned with a beautiful garden and a central fountain. The yard offers a tranquil space for contemplation and prayer. The monastery's main church, Stavropoleos Church, is a small but exquisite place of worship. Its interior is adorned with intricate woodwork, frescoes, and religious icons, creating a serene and spiritual ambiance.
11. Therme Bucharest
Therme Bucharest is a significant wellness and recreation complex located in Balotești, just outside Bucharest. The complex is built around natural thermal water sources that provide mineral-rich and geothermal-heated water for its pools and facilities. The water is said to have therapeutic properties and is believed to promote relaxation and well-being.
Therme Bucharest is divided into several zones, each offering a different experience. The Galaxy Zone is dedicated to families and features water slides, splash areas, and pools suitable for children. The Palm Zone is a tropical-themed area with palm trees, relaxation pools, and hot tubs. The Elysium Zone is an adults-only section for relaxation, with various saunas, steam baths, and tranquility pools.
12. Mogosoaia Palace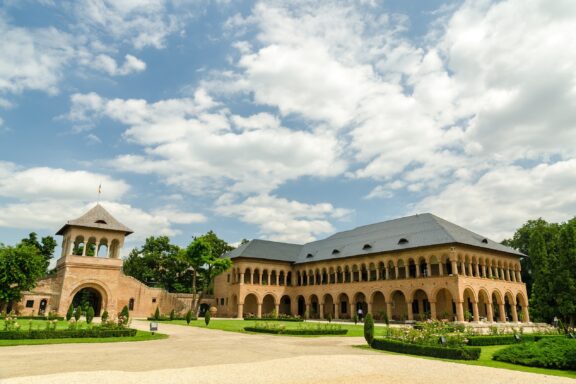 Mogosoaia Palace is situated in the village of Mogosoaia, approximately 15 kilometers (9 miles) northwest of Bucharest. It is an architectural masterpiece combining Romanian, Ottoman, and Venetian styles. The palace features a central building surrounded by wings and connected by elegant arcades.
The Mogosoaia Palace served as a residence for the Brâncoveanu family and later became a symbol of their legacy. The palace is associated with the Brâncoveanu style, a distinctive blend of Romanian and Oriental architectural influences.
Frequently Asked Questions
What is the best time to visit Bucharest?
The best time to visit Bucharest is spring (April to June) and fall (September and October) when the weather is mild and pleasant. The summer can be hot but is also a good time, especially if you want to experience Bucharest's vibrant outdoor scene.
Is it safe to visit Bucharest?
Yes, Bucharest is generally safe for tourists. Like any other city, it's advisable to stay alert, especially in crowded places and at night, and to keep your belongings secure.
What is traditional food and cuisine like in Bucharest?
Bucharest's traditional food is hearty and rich, influenced by its neighboring countries but with its unique flair. Typical dishes include:
• Sarmale (cabbage rolls filled with meat and rice)
• Mămăligă (a polenta-like dish)
• Mititei (grilled minced meat rolls).
• Ciorbă de burtă (tripe soup)
What's a must-try dish/food in Bucharest?
When visiting Bucharest, trying "sarmale," the national dish of Romania, is a must. It's made from minced pork, rice, onions, and spices, wrapped in pickled cabbage leaves, and typically served with mămăligă and a dollop of sour cream.
What souvenirs can I bring home from Bucharest?
Some popular souvenirs include Romanian wines, traditional painted eggs, handcrafted wooden items, and pottery. Local food products like honey, jam, and "ţuică" (a traditional Romanian spirit) can also make good souvenirs.
Which languages are spoken and understood in Bucharest?
The official language in Bucharest is Romanian. However, English is widely spoken, particularly among the younger population and in tourist areas. French, Italian, and Spanish are also spoken due to their similarity to Romanian.
How can I get around in Bucharest?
Bucharest has an extensive public transportation network, including buses, trams, and a metro system. Taxis and ride-sharing services are widely available. Biking is also becoming more popular, with numerous bike rental services throughout the city.
Is it expensive to visit Bucharest?
Compared to other European capitals, Bucharest is relatively affordable. The cost of food, accommodation, transportation, and attractions is typically lower than in Western Europe.
Which currencies are accepted in Bucharest?
The official currency of Romania is the Romanian leu (RON). Credit cards are widely accepted in most places, and ATMs are readily available.
Is Bucharest a good city to live in?
Bucharest offers a high standard of living with its vibrant culture, rich history, lively social scene, and relatively low cost of living. However, like any city, the quality of life can depend on personal circumstances like employment, lifestyle, and community.
Is it safe to drink tap water in Bucharest?
Tap water in Bucharest is generally safe to drink, but some locals and tourists prefer bottled water due to the taste of the tap water.
Are locals friendly in Bucharest?
Romanians are known for their hospitality and warmth. They are generally welcoming and helpful to tourists.
Which cultural customs should I be aware of when visiting Bucharest?
Romanians appreciate good manners and politeness. When entering churches, respectful attire is expected – this usually means covering your shoulders and not wearing short skirts or shorts. Also, tipping is common in restaurants, cafes, and taxis, generally around 10% of the bill.
How can I respect the local culture and environment during my visit to Bucharest?
Respecting local culture involves observing local customs, considering religious and historical sites, and behaving respectfully toward locals. As for the environment, try to minimize waste, avoid littering, and use public transport or other environmentally friendly transportation methods when possible.
Final Thoughts
Bucharest is undoubtedly a city worth visiting. With its eclectic mix of architecture, vibrant culture, rich history, and warm hospitality, the Romanian capital offers a unique experience that's hard to replicate elsewhere.
From strolling through the charming Old Town and exploring grand landmarks to immersing in the lively arts scene and enjoying the delicious local cuisine, there's something for everyone in Bucharest.
Its affordability compared to other European capitals adds to its appeal to travelers. So, whether you're a history buff, a foodie, a culture enthusiast, or a curious traveler, Bucharest's fascinating blend of past and present will surely captivate you.