Starbucks, the world's largest coffee chain, has about 28,000 branches worldwide by 2017. There are some Starbucks branches, they offer you more than a cup of coffee. Now let's look at the world's best Starbucks coffee restaurants.
1. Casablanca, Morocco
This Starbucks in Casablanca is not like a coffee shop, but it makes an impression like a spa lounge.
2. Amsterdam, Netherlands
Located on the Amsterdam flower market, this Starbucks is able to provide a unique coffee-tasting experience in its beautiful smells.
3. Istanbul, Turkey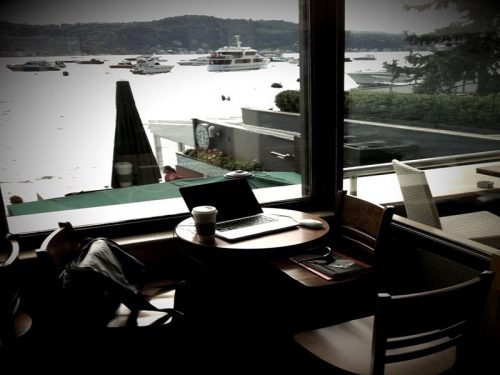 Being on the seaside and having a unique view of the Bosphorus, drinking coffee in the presence of the seagull sounds becomes quite enjoyable.
4. Chicago, United States of America
Located in Chicago, this Starbucks branch is home to magnificent illustrations.
5. Praha, Czech Republic
This branch in Prague Castle is almost a Starbucks property. You can enjoy a cup of cabbage followed by a bird's eye view of the city.
6. Paris, France
When it comes to Paris, it must be naturally stylish for this establishment. Indeed it did.
7. Kuwait
The interior is quite a stylish Starbucks branch.
8. Idaho, United States of America
This working room in Ketchum, Idaho province, was formerly used as a banking facility.
9. Seattle, United States of America
First branch of Starbucks.
10. Mexico City, Mexico
Located in Bosque de Chapultepec, the largest park in Latin America, this area has local hammocks. Once you have sipped your coffee, you can enjoy lying on these hammocks.
11. Copenhagen, Denmark
The city is located at the historic train station. It is a branch that should definitely be visited by those who are interested in architecture.
12. Phra Nakhon Si Ayutthaya, Thailand
Just as you know it is very popular to give artistic forms when preparing Latte. Here you can find the best version of it!
13. California, United States of America
This branch in Anaheim is very close to Disneyland. It is in a small and stylish garden and it should be pleasant to drink coffee and watch the greenery.
14. St. Gallen, Switzerland
St. This Starbucks in the city of Gallen serves a trend. Geneva – St. It is located in this train working on the Gallen line.
15. London, England
Just like the English, it is a branch that has managed to be simple and elegant.
16. Montreal, Canada
This building, which was previously a movie theater with a capacity of 1000 people, was later opened in Starbucks. Now you can both have a cup of coffee and watch a movie. Watching the cinema while sipping the cheesy pleases the ears.
17. New Orleans, United States of America
It's a Starbucks branch in New Orleans, the capital city of jazz music.
18. Dubai, United Arab Emirates
Located in Dubai's Ibn-i Batuta shopping center, this Starbucks is a bit different. Starbucks is not located in AVM, AVM is located in Starbucks.
19. Puebla, Mexico
Make sure you are in front of handmade mosaic visuals inside you want to attract selfie.
20. Guangzhou, China
A nice Starbucks branch that allows you to get relax as you wish.
Here is the answer of "Number of Starbucks Stores by Country". Starbucks, which opened its first branch in 1971, has become the largest coffee shop in the world, especially with its expansion in the last 10 years. The annual revenue of Starbucks, which was $ 4.1 billion in 2003, rose by nearly 400% to $ 16.46 billion during the period up to 2014. At present, around 165,000 people work full-time in Starbucks worldwide, which has about 23,700 branches serving 75 countries around the world.
---
Countries where Starbucks is
On the map you see many countries where Starbucks is not. In the future, Starbucks is considering opening a store in Italy, one of the most developed countries of coffee culture. In addition, there is no Starbucks shop in Israel, where Starbuck has previously been found.
Why did Starbucks closed the shops in Israel: It may not be right to say anything about it, but Starbucks is said to have closed its stores in Tel Aviv to appease an anti-Israeli market in the Arab world.
Number of Starbucks Stores by Country
Starbucks, an American company, is quite common in the United States and has its largest branch here.
After America, Canada is coming. China, United Kingdom, Mexico, Japan are the countries with the most Starbucks stores.
Starbucks facts
Starbucks was opened in 1971 by two teachers and one author at the Pike Place Market in Seattle, USA.
The idea of Starbucks comes from a novel character. It comes from the character of Starbucks, the second captain of Captain Ahab in the book Moby Dick.
Starbucks served as Cargo House until an advertising agency offered to use their current name.
Starbucks Grande Coffee contains 320 mg of caffeine. This is four times the Red Bull caffeine ratio.
An average Starbucks customer comes to Starbucks 6 times a month. This figure is up to 16 in 20 out of every 100 customers.
Starbucks spends more money on insurance for its employees than for the cost of the coffee it sells. Starbucks spends $ 600 million a year on its employees' insurance while spending $ 300 million on the cost of the coffee it sells.
In Starbucks, 93 million gallons of milk are consumed each year. That figure means 155 Olympic swimming pools are filled in one shot.
Starbucks consumes 2.3 billion paper cups each year. This number corresponds to 1 in 3 of the world's population.