Starbucks is the largest coffeehouse chain in the world. However, this mighty coffee empire has a humble beginning in Seattle, Washington.
The first Starbucks coffee shop opened near Pike's Place Market in 1971. About a decade later, Starbucks expanded and planted several chain stores in Chicago and Vancouver.
Eventually, more locations appeared in California, Washington DC, and New York. In 1996, the first international Starbucks coffee shop set its roots in Japan.
Today, Starbucks has millions of customers walking through its many locations each year. How many stores does Starbucks have, anyway? Here's what this coffee empire's presence on the map looks like today.
How Many Stores Does Starbucks Have?
Starbucks has over 33,833 locations worldwide, and more than half of its stores are in the United States. To date, there are about 15,521 stores nationwide. In the state of California alone, there are about 3,002 Starbucks locations.
You can find a Starbucks coffee shop in 3,089 US cities. The city with the most Starbucks stores is New York City, and it has 188 locations. Chicago follows closely with 178 stores, and Los Angeles and Las Vegas both have 164 locations each.
The company opened 538 net new stores in the fourth quarter of fiscal 2021, yielding 4% year-over-year unit
growth, ending the period with a record 33,833 stores globally, of which 51% and 49% were company operated and licensed, respectively.

Source: Starbucks Q4 2021 results
What's the Number of Starbucks Stores Worldwide?
The main three markets of Starbucks are the US, China, and Japan.
| Countries | Stores |
| --- | --- |
| United States | 15.334 |
| China | 5.358 |
| Japan | 1.546 |
| Canada | 1.376 |
| United Kingdom | 1.089 |
| South Korea | 1.611 |
| Turkey | 559 |
| Indonesia | 487 |
| Thailand | 425 |
| Mexico | 746 |
Countries with most Starbucks Stores (October 2021, Licensed and Operated Stores)
With over 33,000 locations, Starbucks far outruns its competitors in the number of sites. For example, Dunkin' Donuts has 10,000 locations, Tim Horts has 4,300, and Costa Coffee has 1,700 stores worldwide.
Starbucks continues to expand successfully and launched 538 new stores in the fourth quarter of 2021.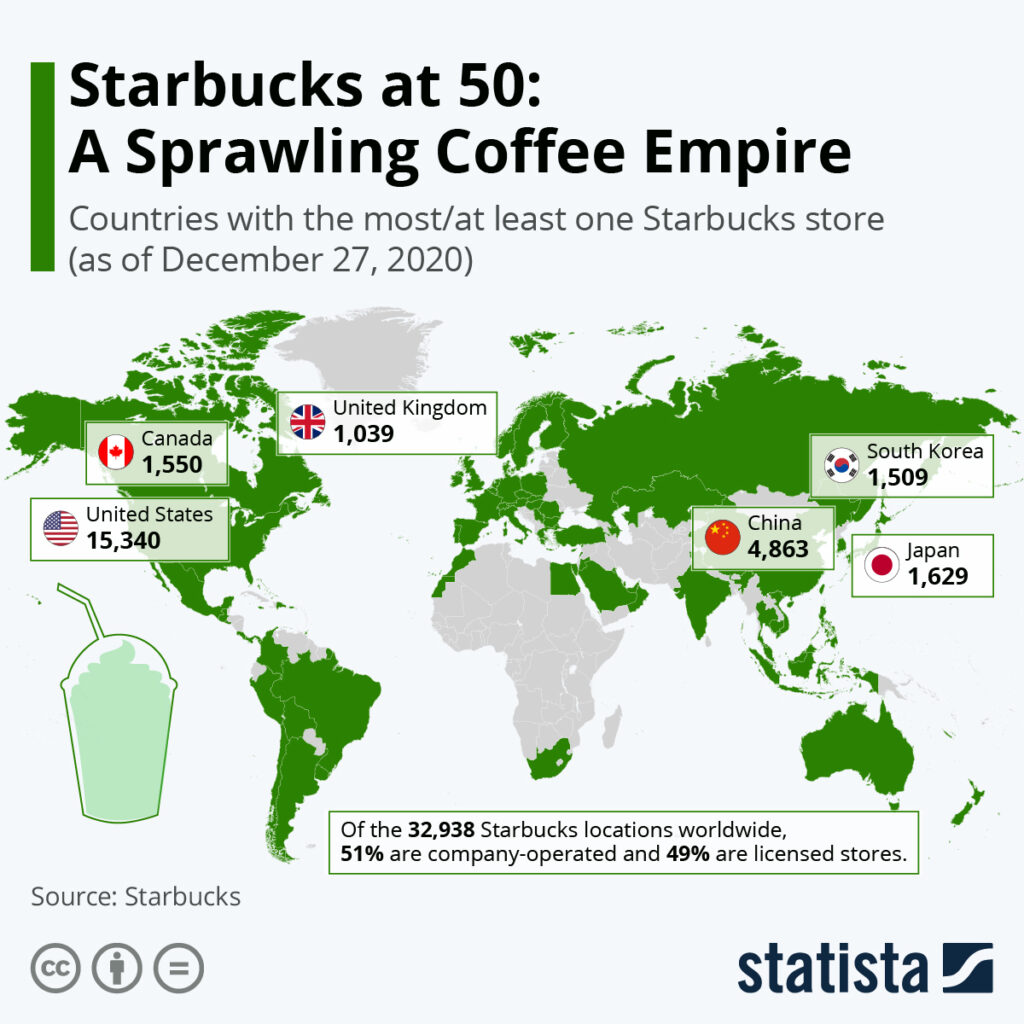 Which Locations are the Most Beautiful Starbucks in the World?
Although most Starbucks stores share a unified look, some stand out from the rest. Starbucks has several luxurious Reserve Roastery locations that feel more like art exhibits than a coffee shop.
Some locations that aren't special roasteries are also exceptionally beautiful and worth a visit. Here are some locations with the most beautiful Starbucks coffee shops.
Kyoto, Japan
One of the most iconic Starbucks locations is in one of Kyoto's most historic districts. While many stores boast the bright green emblem, this location has an emblem that's so subtle that you can easily miss it.
This location opened on June 30, 2017, and it took up space in a 100-year-old two-story building. Japanese architecture firm Kengo Kuma and Associates spearheaded the design of this store.
When you walk through the doors, you'll enter a beautiful zen Japanese garden. The second story has tatami mat seating and other traditional Japanese elements, such as silk cushions and scrolls decorating the walls. One of the most iconic pieces of this location is the cedarwood ceiling installation that has about 2,000 pieces that appear suspended in midair.
Dubai, United Arab Emirates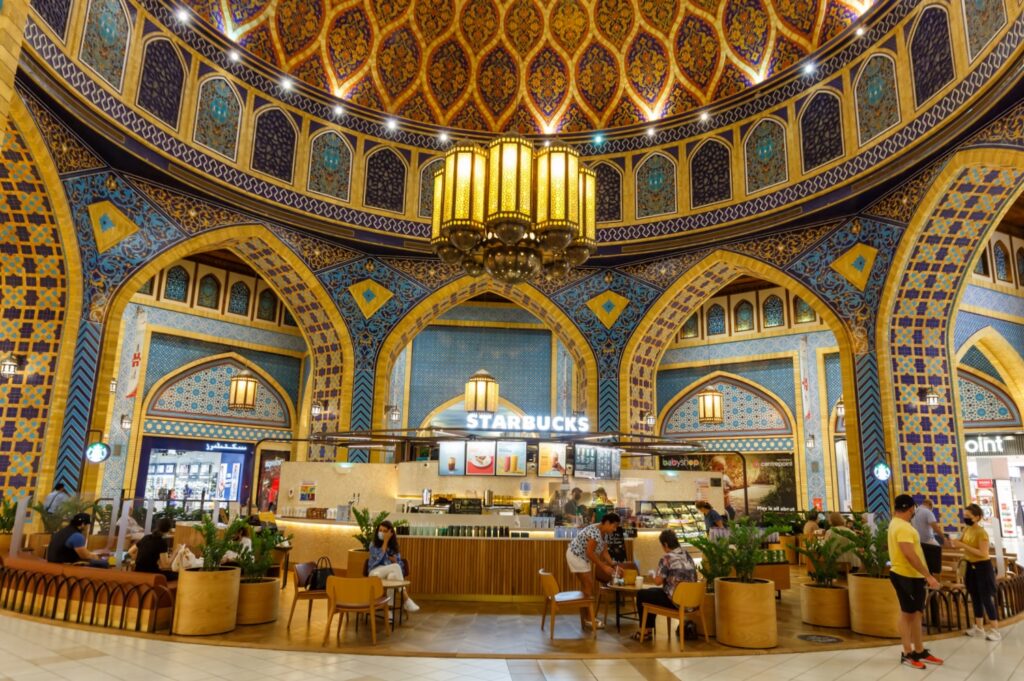 You might think that Starbucks stores located in malls are lackluster, but don't underestimate Dubai's extravagant Ibn Battuta Mall. This mall is an expansive theme mall with separate courts representing different places that the explorer, Ibn Battuta visited.
When you approach the Starbucks in this mall, prepare to have your breath taken away by the beautiful Persian design. The archways, walls, columns, and ceilings all have intricate Persian tile patterns, and there's a beautiful chandelier suspended at the center of it all.
You'll definitely have a breathtaking experience as you enjoy a familiar cup of coffee in a luxuriously unfamiliar location.
Casablanca, Morocco
This Starbucks location is in Franklin Roosevelt Villa, and it's another store that infuses cultural design elements. It has interior decoration that mixes Moroccan and French influences and modernist styles.
The bar is in the heart of the cafe. After you place your order, you can walk into different rooms with distinct styles that blend together harmoniously.
One of the more popular spots in the cafe is the outdoor garden. It has a Mediterranean vibe with plush seating areas and bubbling fountains. The European alfresco style arrangements encourage visitors to take a step back, relax, and enjoy a cup of coffee and desserts with friends.
Chicago, Illinois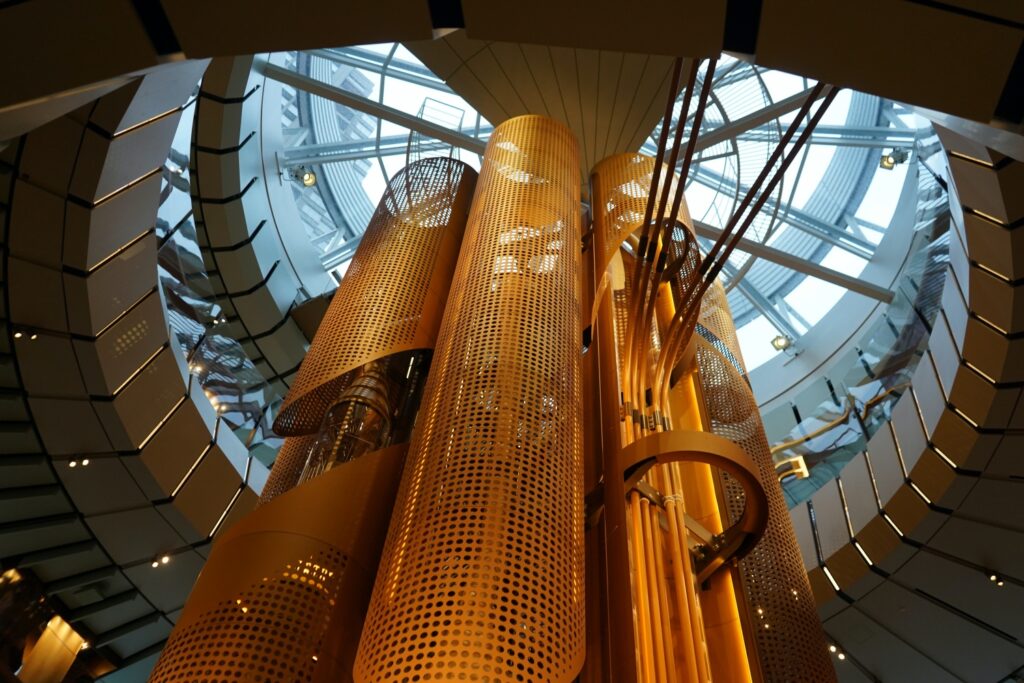 The Reserve Roastery in Chicago is one of the more recent roasteries established by Starbucks. It's the largest Starbucks in the world and is 35,000 square feet (ca. 3,252 m²) in size.
Each of its five floors displays a unique side of the coffee chain's persona. You can make a quick stop on the main floor for its usual selection of drinks and pastries. As you climb up the levels, you can experience exclusive reserve drinks and menu items and learn more about Starbucks' rich history.
Overall, this Reserve Roastery feels more like a museum than a coffee shop. There are different gadgets and coffeemaking tools and machines on every floor, and it's a fun experience just to watch the baristas craft the perfect drink for you.
Amsterdam, Netherlands
In 2012, Starbucks opened up this location to provide a new coffee experience for its patrons. It takes up 4,500 square feet (ca. 418 m²) of space in the historic bank vault on Rembrandtplein.
This location is one of several stores that marked the shift in Starbucks' coffee drinking culture. Also affectionately referred to as "the laboratory," this store aimed to be a spot that pushed coffee boundaries and encouraged innovation.
The design of the store contains Dutch and contemporary elements. Starbucks Concept Design Director, Liz Muller, worked with a team of more than 35 artisans to create a space with local flair using sustainable methods and materials.
Together, this team repurposed the original vault and marble flooring, used repurposed Dutch oak for the furniture, and incorporated used chairs and stools from local schools.
Wrap-Up
The next time a friend wonders aloud, "How many stores does Starbucks have?" you'll be able to provide an educated answer—but Starbucks continues to open new locations. With its low turnover rate and steady growth, we expect to see even more sites pop up worldwide in the years to come.