The European continent is remarkable because it is the continent where the most important and most developed countries in the world are located. Since it is one of the continents extending from ancient times, it is also the continent which attracts the most tourists in the world.
The European continent has an area of 10,523,000 square kilometers. (This magnitude corresponds to approximately 7% of the world's land)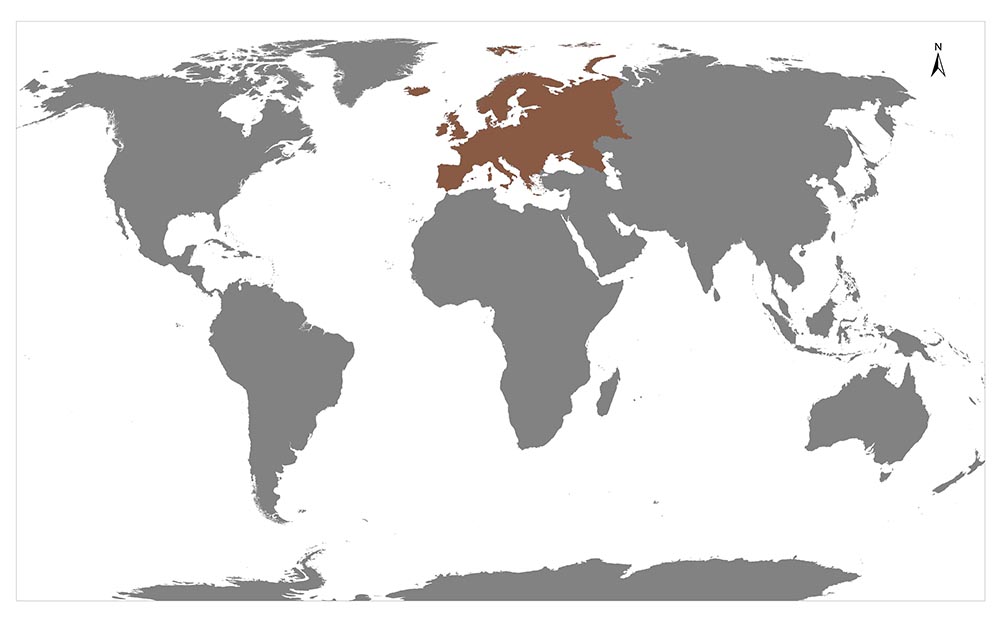 The Characteristics of the European Continent
Some interesting facts about the European Continent:
It's the second-smallest continent in the world.
The European name means "the side where the sunset is".
It has become one of the continents where the greatest empires of the world are founded.
It has the feature of being the first continent to be industrialized in the world.
Europe has the most educated people in the world. At the same time, the continent with the most qualified staff is still Europe.
Countries with the best standard of living are countries on the European continent.
Europeans are the inventors who have the biggest share in the scientific and technological developments in the world.
The Ural Mountains form the eastern border of Europe. The Ural River forms the southeast border. The Arctic Ocean sets the North border. The Mediterranean is the southern boundary of Europe. The northwestern boundary is the Atlantic Ocean.
The European continent is separated from Asia by the Bosphorus and the Dardanelles. Gibraltar separates the continent from the African continent.
It is a continent that is intertwined with the Asian continent.
The distance between the easternmost point and the westernmost point of the European continent is approximately 5,500 kilometers.
The highest point of the European continent is the Mount Elbrus in the Russian country with an altitude of 5,642 meters. The lowest point is the northern point of the Caspian Sea, 30 meters deep below sea level.
The largest island of the Europe continent is the Great British Islands.
1The largest lake is the Lake Ladoga with a surface area of 18,400 square kilometers.
The Largest Country: Russia
Russia is the largest and most populous country in the continent, covering 39% of the land area in the Europe continent. Russia is also the largest country in the world.
If we do not count Russia as part of Europe, then France would be the largest country of Europe.
Europe continent hosted two of the world wars in its history. Finally, after the second world war, European countries came together and peace has settled in Europe.
In 1951 the European Union was been established as the European Coal and Steel Community with 6 countries.
After then the union has become larger, many more countries have joined in. Today there are 28 countries in the European Union.
There are 19 countries in Eurozone and you can find the complete list in European Union Map. Eurozone is a region in order to support the economies of countries in the European Union.
The List of the Countries in Europe Continent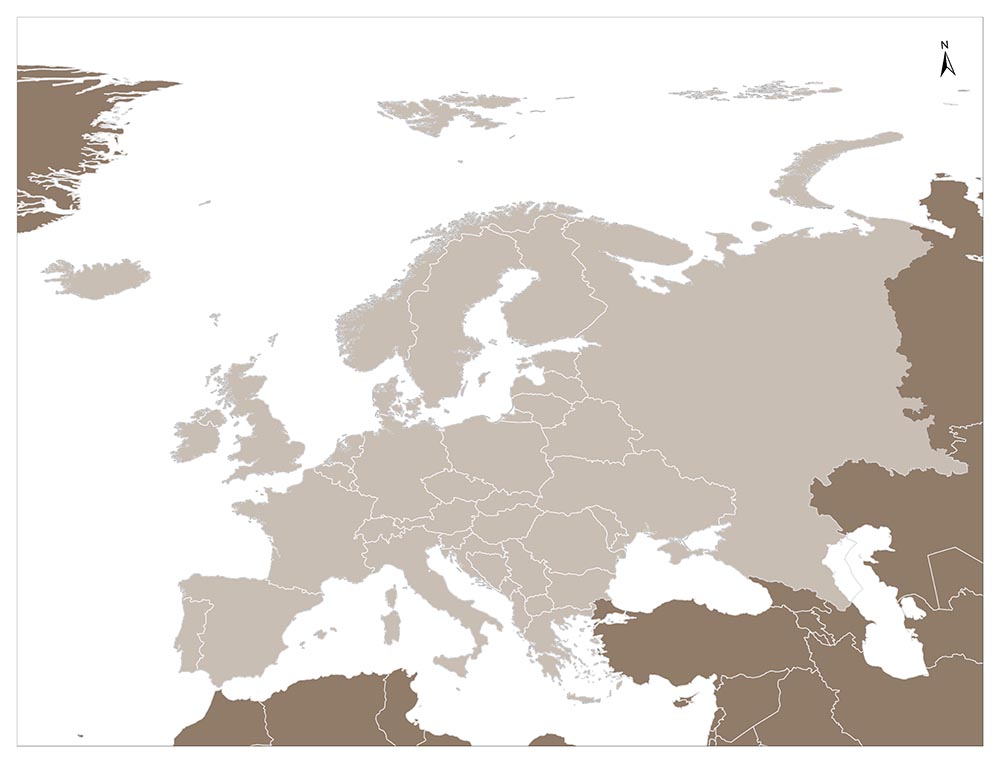 There are 50 countries in the European Continent. Here below you can find the list of the countries.
Defining the right boundary between the two continents (Asia and Europe) was a big question for geographers and politicians. Today, it is generally depicted by Russia, the Caspian Sea and the Ural Mountains in the Caucasus Mountains.
Europe has 51 independent states. Russia, Kazakhstan, Azerbaijan, Georgia, and Turkey, are part of the transcontinental country located in Europe and Asia. Armenia and Cyprus are politically considered European countries, although they are geographically located in the West Asian region.
| | |
| --- | --- |
| Albania | Latvia |
| Andorra | Liechtenstein |
| Armenia | Lithuania |
| Austria | Luxembourg |
| Azerbaijan | Macedonia (FYROM) |
| Belarus | Malta |
| Belgium | Moldova |
| Bosnia and Herzegovina | Monaco |
| Bulgaria | Montenegro |
| Croatia | Netherlands |
| Cyprus | Norway |
| Czech Republic | Poland |
| Denmark | Portugal |
| Estonia | Romania |
| Finland | Russia |
| France | San Marino |
| Georgia | Serbia |
| Germany | Slovakia |
| Greece | Slovenia |
| Hungary | Spain |
| Iceland | Sweden |
| Ireland | Switzerland |
| Italy | Turkey |
| Kazakhstan | Ukraine |
| Kosovo | United Kingdom |
Countries that make up the European Continent
Map of Europe with Countries
You might be surprised to know just how many countries are in Europe. From Albania to Vatican City, and all points in between, we'll take a brief look at each country.
Use this map to follow along as we trek around Europe and learn some interesting information about its people and places.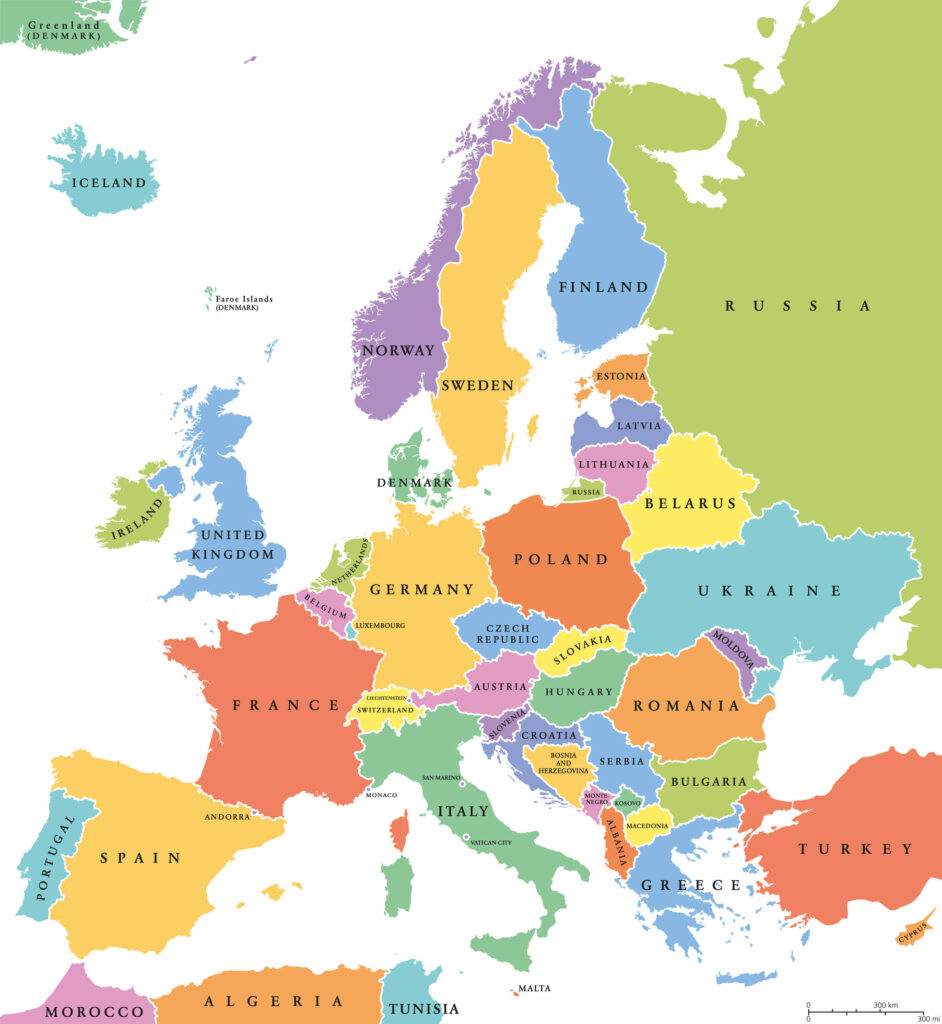 Albania
Albania is a rugged, mountainous country of almost 3 million, nestled on Southeasten Europe's Baltic Peninsula. While three-quarters of its geography is made up of hills and mountains, Albania also has low, fertile plains in the west.
The capital is Tirana, a modern century but with a rich history that is reflected in architecture dating back to the Ottoman Empire.
Andorra
Andorra is a tiny, sovereign principality of 77,000 people, in the Pyrenees Mountains. In the past, the economy of Andorra revolved around tobacco, rye, wheat, olives, grapes, and potatoes – crops suitable for mountainous and hilly regions.
Today, tourism is the mainstay of Andorra's economy.
Austria
The landlocked south European country of Austria boasts mountains, forests, and the Danube River. It is considered the geographic heart of Europe and has maintained its neutral status since the end of WWII.
Of the 9 million people that live in Austria, 1.7 million live in the capital of Vienna.
Belarus
Until 1991 when it gained independence, Belarus, formerly known as Belorussia or White Russia, was one of three Slavic republics included in Russia. Almost a third of its population of 9 million people live in the capital city of Minsk.
Belarus has an extremely low poverty rate compared to other European countries. Much of this country is still wild and natural, with natural vegetation covering 93% of the land.
Belgium
This democratic country of 11.5 million people is one of the smallest and most densely packed in Europe. The two predominant languages spoken in the country are French and Dutch. The capital city is Brussels and is mainly French-speaking.
Belgium has several claims to fame, including Audrey Hepburn and the co-inventor of the world wide web, Robert Cailliau.
Bosnia and Herzegovina
Located on the Balkan Peninsula in southeastern Europe, Bosnia and Herzegovina is a country rich in history. Its largely mountainous terrain features limestone plateaus, caves, forests, natural springs and rivers. 
Sarajevo is the capital city and is most famous for the assassination of Austrian Archduke Franz Ferdinand and his wife Spohie. It was an act that set off the chain of events that led to the start of WWI.
Bulgaria
Bulgaria was founded in the 7th century and is the oldest one of the oldest counties on the European continent. In this modern world, Bulgaria remains an attraction because of its mountains and its Black Sea resorts.
During the past decade, the population of Bulgaria has shrunk due to low birth rates and a steady migration flow of working-age people looking for better jobs and educational opportunities in other countries.
Croatia
Croatia is a crescent-shaped country in the Northwestern part of the Balkan Peninsula. Its geography features mountains, heavily forested areas, and 1,100 miles of coastline. Ethnically, 90% of the population are Croats and the rest are mostly Serbs.
Tourism is the base for most of Croatia's economy, helping to make it a high-economy country. Almost 20 million people visited Croatia in 2019.
Cyprus
This Mediterranean jewel is known for its excellent wines, produce, and outstanding views. Located in the eastern Mediterranean Sea, Cyprus has been settled for more than 10,000 years and currently has a population of 1.1 million.
It remains a popular tourist destination for historians, oenophiles, adventure seekers, bird watchers and beach enthusiasts alike.
Czech Republic
Czech Republic, also known as Czechia, was formerly known as Bohemia. The castles, manor houses, and ancient churches standing today are a testament to Czechia's long history. Ten million people live in the Czech Republic, with 1.3 million in its capital Prague.
Its woodlands are one of the main features of the landscape and Czechia has a wide variety of animals including bears, wolves, lynx, marten, otters, ducks, geese and pheasants.
Denmark
Denmark is located in the peninsula of Jutland and is one of three countries that make up Scandinavia. The Vikings from this region had a major impact on civilization as they marauded, traded, and colonized their way across Europe. Today, their descendants enjoy high rankings in economy, education, work environment, and health care.
Denmark is reported to be the happiest country in the world despite receiving, on average, 170 days of rain per year.
Estonia
Estonia, the northernmost of the three Baltic States, is a small country with a big heart. It has been dominated by foreign powers for most of its existence, including being under Russian authority for 51 years.
The capital of Tallinn was ground zero for the Singing Revolution where 300,000 Estonians gathered to sing patriotic songs and raise the banned flag in defiance of their Russian oppressors.
Finland
Finland is a remote Northern country that experiences harsh winters and intense summers. Dense woodland covers almost two-thirds of the country and it is seen as the symbolic northern border between Western and Eastern Europe.
Finns are described as fairly relaxed people who enjoy a high quality of life. Saunas are an essential part of the culture and there is one sauna for every 5 people in Finland.
France
If you look at a map of Europe, with its countries, you'll find France almost at the northwestern border. It has been inhabited since the paleolithic era and today it's home to 67 million people. Its primary industries are agriculture, tourism, with champagne and Bordeau wines being well-known around the world..
Germany
Germany is one of Europe's largest countries so it should be no surprise that it hosts a variety of landscapes – mountains, fields, forests, plains, rivers, and lakes. The 81 million people who live in Germany enjoy the 4th highest quality of life in the world.
Germany is one of the world's largest car producers.
Greece
Greece has been called the place where civilization. Of the 2,000 Greek islands, 170 are inhabited.
Greece, with a population of 10 million, is famed for its rich history, culture, and food. Over 30 million tourists visit Greece each year. Greece produces 2.2 metric tons of olives every year making it the 3rd largest producer in the world.
Hungary
Hungary, home to 10 million people, is a landlocked country in central Europe. The population is made up primarily of ethnic Hungarians and a fairly significant Romani minority.
Hungary is the largest producer of electronics in Central and Western Europe. The Hungarian language, with its 44 letters, is said to be one of the hardest languages to learn.
Iceland
Located in the North Atlantic ocean is the island of Iceland. Its population is only 370,000 people, which makes it the most sparsely populated country in Europe. Fully two-thirds of the people live in Reykjavik, the capital city.
Iceland meets almost all of its own energy needs through use of renewable and sustainable resources. Its hydroelectric and thermal energy power makes it the world's largest energy producer per capita.
Ireland
Ireland is an island located to the west of England and is divided into two countries. The Republic of Ireland is in the south and takes up five-sixths of the island. Northern Ireland, which is part of the UK, is to the north. The island is a place of lush vegetation, rugged coastlines, and low-lying hills.
Ireland's landscape is dotted with historic churches and castles and its history has been long and turbulent.
Italy
Italy is one of the most diverse countries in south central Europe. Its famous boot shape makes it easily identifiable on Europe's political maps. Its central location in Europe and the Mediterranean naturally attracted people from all regions and cultures.
Sixty million people enjoy Italy's high ranking in life expectancy, quality of life, health care, and education. The capital city of Rome is home to stunning ancient architecture including the Colosseum, the Pantheon, and Trevi Fountain.
Kosovo
The southeast European country of Kosovo declared its independence from Serbia in 2008. It's considered a developing country and the 1.8 million people who live in Kosovo enjoy an upper-middle-income economy.
Most of Kosovo's borders are dominated by rugged mountainous terrain. Due to wars and upheaval, Kosovo has struggled economically but there is potential for electricity to become a significant industry.
Latvia
Latvia, population 1.9 million, is in the middle of the three Baltic states. It declared its independence in 1991 after 51 years of Russian rule. Latvia is a country of lowlands and plains and generates their highest income from exporting peat, harvested from their numerous peat bogs.
They are still recovering from a financial collapse in 2008 but are building their economy on agriculture, woodworking, chemicals, and logistics.
Liechtenstein
Liechtenstein is a doubly landlocked country – it's surrounded by two other landlocked nations. With an area of just over 62 square miles and a population of 38,700, it's Europe's 4th smallest country. It was also once known as a billionaire tax haven but is no longer blacklisted as an uncooperative tax haven country.
German is the official language, but most people in Liechtenstein speak an Alemannic dialect that is much closer to Swiss Standard German.
Lithuania
Historically, Lithuania dominated eastern Europe in the 14th to the 16th century. In more modern times, this southernmost Baltic state was under Russian rule from 1940 to 1990, when it declared independence. Lithuania is mostly plains with impressive sand dunes on its coast.
Lithuania ranks highly in civil liberties, press freedom, and internet freedom. The three largest sectors in their economy are service, industry, and agriculture.
Luxembourg
Luxembourg, population 633,000, is among the smallest countries in the world. Lucilinburhuc, is the capital city and it's name means "Little Fortress."
Luxembourg has earned high marks on the world stage for environmental performance and it ranks in the top 10 of the world's most livable places. Its prime minister, Xavier Bettel, was the first European leader to marry someone of the same sex.
Macedonia
Macedonia, officially known as North Macedonia, is one of the Yugoslavian successor states that gained independence in 1991. The capital is Skopje and is home to one quarter of the country's total population. Ethnic tensions occasionally flare in this rugged, mountainous country and in the past there have been accusations of human rights violations.
Macedonia is fervently Orthodox Christian and has 1,000 churches, with 365 in one city alone.
Malta
Malta is a tiny island south of Italy and east of Tunisia. People have been living on Malta since 5900 B.C. and though it's small, it has been a significant naval base going back to Roman times.
Malta remains a prime tourist destination because of it's warm climate, historical architecture, and numerous recreation opportunities.
Moldova
Moldova is a landlocked eastern European country. If you look at a European political map, you will see Moldova is bordered by Romania to the west, and Ukraine to the east, north, and south. The population is 2.6 million.
The country has also struggled economically and there has been a steady mass emmigration, mostly illegal, to Russia and other areas by people looking for a better life.
Monaco
Located on the French-Riviera, Monaco is a city-state that is home to just under 39,000 people. Its balmy, dry summers and mild winters make Monaco a tantalizing tourist destination. Monaco has the lowest poverty rate and the highest number of millionaires and billionaires in the world. Every day, 48,000 people from France and Italy commute to work in Monaco.
It is under 1 square mile in size which makes it the most densely populated country in the world.
Montenegro
Montenegro, whose name means "Black Mountain" has peaks with some of the most rugged terrains in Europe. The country is one of the hot spots for European and world biodiversity. The economy of Montenegro is mostly service-based and the country is struggling to build roads that meet modern standards.
Tourism remains strong for Montenegro primarily because of its 117 beaches. This country is also a birdwatcher's paradise.
Netherlands
The Netherlands, informally known as Holland, is a flat landscape well known for canals, tulips, cycling, and windmills. Amsterdam, the capital city, is a mecca of art, history, and architecture. The official language is Dutch but several other languages and dialects like English, Yiddish, Limburgish, and Sinte Romani are unofficially recognized.
It has a long history of social tolerance and has legalized abortion, prostitution and human euthanasia.
Norway
Norway is a Scandinavian land of mountains, glaciers, and deep fjords. This country is an outdoors person's paradise, offering skiing, fishing, hiking, sailing, and mountain climbing.
The Nobel Peace Prize ceremony is held in Norway's capital of Oslo each year. And like the other Scandinavian countries, Norway ranks high in quality of life.
Poland
Poland, with its population of 38.5 million people, is a central European country. The first stone age humans settled on what would become Poland 500,000 years ago.
Poland's rich history can be seen in ancient architecture that has been carefully preserved. The Vikings used the country's lengthy waterways and the Vistula and Oder rivers served as transportation highways. Today, Poland has a strong domestic market, low private debt, and a low unemployment rate.
Portugal
If you look at a European political map, you will find Portugal located on the Iberian Sea, bordering Spain. The Atlantic Ocean has influenced Portugal for thousands of years. The Portuguese fed their families from the ocean and still do. Portugal is a high-income and developed country.
In addition to being a powerhouse in the fishing sector, Portugal is also ranked among Europe's copper producers.
Romania
Romania, with its capital of Bucharest, is the 6th most populated member state of the EU. It has a rich forested region called Transylvania and is ringed by the Carpathian Mountains.
Romania has managed to preserve many of its medieval structures including castles and churches. Since the year 2,000, Romania has made significant economic gains
Russia
Russia, also known as the Russian Federation, spans an enormous territory across Eastern Europe and Northern Asia. It is the largest country in the world, occupying 6.6 million square miles. It's also the most populous country in Europe with 146 million people. The capital of Russia is Moscow and the cultural capital is St. Petersberg.
From its universal healthcare system to free education to its massive military, Russia remains a great power on every front.
San Marino
San Marino is a rugged, mountainous micro-state that is surrounded by Italy. Its historic architecture reflects that it's among the world's oldest republics. The walled Old Town of San Marino, with its tight cobblestone streets are world renown.
Citadels keep watch over San Marino, which is among the richest places in the world. Tourism dominates here and stamps and coins from this city-state are highly collectible.
Serbia
Serbia sits, landlocked, in central and eastern Europe. Humans have continuously inhabited Serbia since the paleolithic age and have recovered well enough from civil war to be ranked an upper-middle income economy.
Serbia is rich in culture and history and is famous for its hospitality.
Slovakia
Slovakia, a central European country, is home to 5.4 million people. They have been able to transition from a market economy to privatizing industries, leading to financial stability for the country and its people.
Slovakia is a dream destination for outdoors people. It is well known for its mountains, caves, hiking, lakes, and UNESCO-protected sites. Slovakia is also home to more than 100 castles.
Slovenia
Slovenia is best known for its mountains, ski resorts, hos springs, and lakes. Located in central Europe, it's home to 2 million people. Slovenia has a rich culture and history going back thousands of years.
More than half of Slovenia is forested, and fast rivers wind speed their way across the countryside. Slovenia has been influenced by many cultures and this is reflected in their food and architecture.
Spain
Spain is located in southwest Europe and has some parts in the Mediterranean. Its major cities are Madrid, Valencia, and Barcelona. Forty seven million people live in Spain which makes it the 6th most populous country in Europe.
Spain is mostly known for its laid-back atmosphere, eclectic cuisine, and amazing scenery, including its beaches.
Sweden
The Scandinavian country of Sweden has thousands of coastal islands and inland lakes. Stockholm, its capital city, is built on 14 islands and has more than 50 bridges. It's the largest country in Northern Europe.
Sweden is well-known for its literature, and seven Nobel Prizes in Literature have been awarded to Swedes.
Switzerland
Switzerland, best known for the Alps, is a small, mountainous country of 8.6 million. Numerous lakes and villages dot the Swiss landscape, and tourists and citizens alike flock to the ski resorts.
Switzerland is rated as one of the most expensive countries in the world to live in.
Switzerland is also country is also known for its banking and finance.
Turkey
Turkey is one of the world's earliest permanently settled regions. Its human rights record has been subject to a lot of scrutiny. Turkey is newly industrialized and is slowly making its way onto the global market.
Turkey has an extraordinary ecosystem and the government has set many conservation protections in place. Turkey's national parks and wildlife refuges remain big for foreign tourists.
UK
England, Ireland, Scotland, Wales and Northern Ireland make up the United Kingdom. The capital of London is both a modern city with great international influence and a historic place where one can visit castles, ancient churches, and some of the oldest universities in the world.
The UK's most prominent exports since WWII have been in the form of literature, film, theater, television and popular music. Queen Elizabeth has been the ruling Monarch for 69 years.
Ukraine
Ukraine is a large country that covers an area of land that is second only to Russia. Ukraine gained its independence in 1991 with the dissolution of Russia. It is considered a developing country and has a very high poverty rate, fueled in part by government corruption.
Despite its struggles, Ukraine has rich farmland and is one of the largest grain exporters in the world.
Vatican City
Vatican City is a city-state surrounded by Rome, Italy. It functions as the headquarters for the Catholic church and it's where the Pope has his residence. Vatican City is where the Church keeps its trove of art, gold, diamonds and other wealth stores.
Vatican City has a population of 825 living on 121 acres. St Peter's Basilica, the Sistine Chapel, and the Vatican Museums can be found in the Vatican City.
---
Cold Winters, Hot Summers
Climate changes in Europe continent due to location. In the north and central Europe summers are hot and dry while the winters are cold and snowy. In addition, the Northern part is colder and snowier than the central part of Europe.
Furthermore, the southern part or with the other name Mediterranean part is extremely hot and dry in summer, and wet and rainy in winter.
The Gulf Stream is thought to be the heater of the continent.
The Highest Point: Mount Elbrus
Mount Elbrus is the highest point of the continent. Moreover, it is a dormant volcano in Southern Russia near the border with Georgia. However, there are different thoughts about the mountains continental borders. The stronger belief is it is in Europe continent due to its position on the northern side of Russia.
Animal Species in Europe
Europe continent is not rich in animal species. Europe's original fauna and flora were therefore mostly forest dependant or tolerant species, such as bears, boar, and badgers. As agriculture opened up the landscape, opportunities arose for other species.