Prague is the capital of Czech Republic. Prague, known as "Praha" in Czech, is a city of stunning architectural beauty and historical significance.
It's often called the "City of a Hundred Spires," a name it earns from its many stunning, Gothic-style buildings and towers. Despite its significant growth and development, Prague has maintained its unique charm, ensuring its place as one of the world's most beautiful and distinctive cities.
Where is Prague?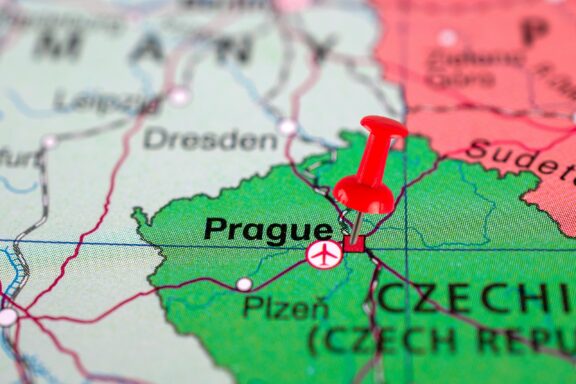 Prague is located in the northwestern part of the Czech Republic, in Central Europe. It is situated on the Vltava River, the longest river in the country.
The city has a latitude of approximately 50.0755 degrees north, roughly at the same latitude as cities like Frankfurt in Germany and Vancouver in Canada. Its longitude is about 14.4378 degrees east, similar to other cities in Central Europe.
Prague is centrally located in Europe, with Germany to the west, Austria to the south, Slovakia to the east, and Poland to the north. It's roughly 280 kilometers (about 174 miles) north of Vienna, Austria, 350 kilometers (about 217 miles) east of Munich, Germany, and 150 kilometers (about 93 miles) south of Dresden, Germany.
History of Prague
Prague has a prosperous and complex history that spans over a thousand years. It has served as a political, cultural, and economic center for various states and empires. The area that is now Prague was settled as early as the Paleolithic Age. The Celts had a settlement in the region by 500 BC, and the first Slavs arrived around the 6th century AD.
In the 9th century, the Prague Dynasty founded the Premyslid Castle. The Old Town of Prague was established in the 13th century, and the Charles University, one of the oldest in Europe, was founded in 1348.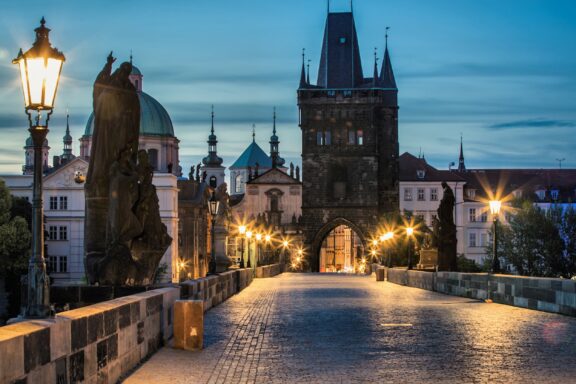 In the 16th century, under the rule of the Habsburgs, Prague flourished and became a center of the Protestant Reformation. Nonetheless, the city's population was drastically reduced following the Battle of White Mountain in 1620. This conflict saw the Protestant Bohemians fall to the Catholic Habsburgs, leading to the enforced reestablishment of Catholicism.
The National Revival in the 19th century reinvigorated the Czech language, culture, and national identity. Prague was an important city in the Austro-Hungarian Empire. Following the collapse of the Austro-Hungarian Empire after World War I, Prague emerged as the capital of Czechoslovakia, a newly created nation, in 1918.
During World War II, Prague was occupied by Nazi Germany. After the war, Czechoslovakia fell under the Soviet sphere of influence. The city experienced significant political events, like the Prague Spring in 1968, an attempt at liberalization that the Soviet Union suppressed, and the Velvet Revolution in 1989. This peaceful protest ended communist rule.
After the Velvet Revolution, Prague became the Czech Republic's capital following Czechoslovakia's peaceful dissolution on January 1st, 1993, in an event sometimes called the Velvet Divorce. Since then, Prague has become a modern city and is one of Europe's top tourist destinations.
The history of Prague has left it with a diverse collection of architecture, from Romanesque and Gothic to Renaissance, Baroque, Art Nouveau, and modern styles, reflecting the city's long past.
Features of Prague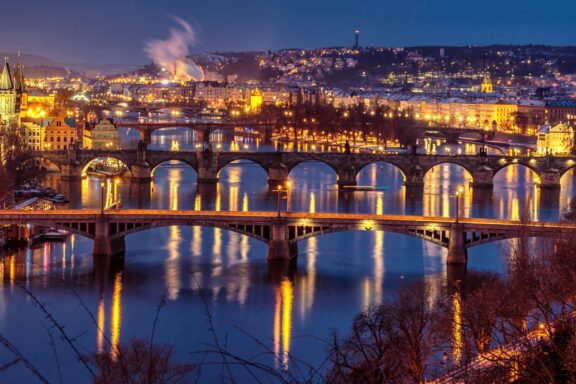 Prague is a city of immense beauty, offering visitors a wealthy tapestry of experiences. Prague is renowned for its diverse architecture that spans several periods, and it's a cultural hub with a myriad of theaters, galleries, cinemas, and music venues, as well as home to numerous parks and gardens, providing green, tranquil spaces within the city.
Geography and Climate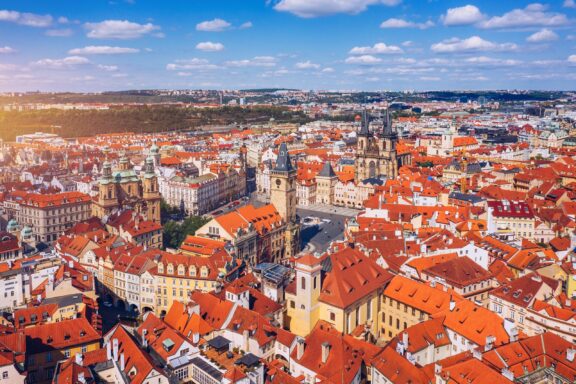 The city spans an area of 496 square kilometers. Its landscape is varied, with the river winding through the city, complemented by hilly areas, particularly in the west.
The city has a temperate oceanic climate with influences of the continental climate. The winters can be pretty cold, with average temperatures in January, the coldest month, hovering around freezing. Snowfall is very common in the winter months.
Summers are typically quite warm, with average high temperatures in the mid-20 °C (mid-70 °F) in July and August, but with occasional heatwaves where temperatures can rise above 30 °Celsius (86 °F). The city sees the most rainfall during the summer months.
Population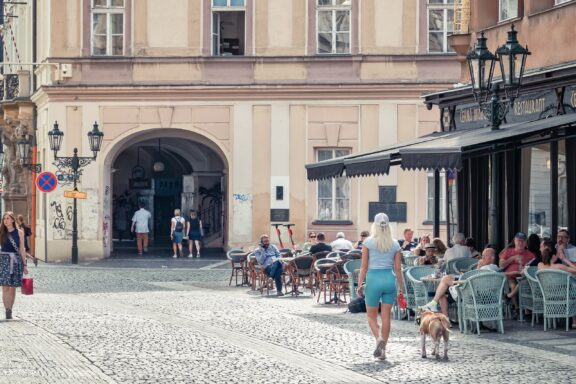 The population of Prague is over 1.3 million people. The population is relatively homogenous, with the vast majority being Czech. There are, however, sizeable communities of foreigners, including Ukrainians, Slovaks, Russians, Vietnamese, and Americans.
The city is known for its high standard of living, safety, and excellent education and healthcare systems. The residents of Prague, and the Czech Republic in general, are often recognized for their high level of secularism, with a significant portion of the population identifying as non-religious.
Economy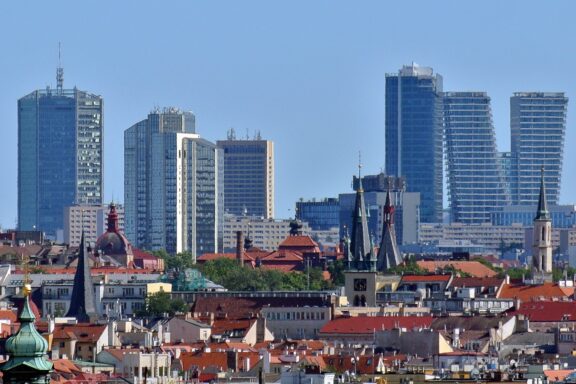 Prague is the economic heart of the Czech Republic, accounting for approximately a quarter of the country's GDP. Its economy is one of the most prosperous and stable in Central Europe. The city is highly diversified and is characterized by a wide range of industries.
As a service-based economy, key sectors include information technology, telecommunications, finance, and commercial services. Tourism plays a vital role, with millions of tourists visiting the city each year, drawn by its history and culture.
Prague is also a hub for many global multinational corporations and has a growing tech startup scene. Manufacturing still plays a role, with the automotive and engineering sectors being particularly important.
The city is also an important administrative center, one of Czechia's 13 regions, and is hosting many national and international institutions.
The high-quality universities in the city contribute to a well-educated workforce, further supporting the local economy.
Things to Do and Places to See in Prague
1. Visit Prague Castle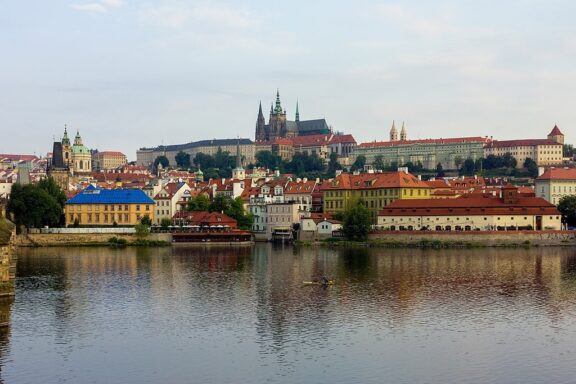 Prague Castle, an ancient symbol of the Czech lands, is one of the world's largest and most complex castle compounds. Constructed in the 9th century, the Prague Castle has been the seat of power for kings of Bohemia, Holy Roman emperors, and presidents of Czechoslovakia.
You'll find a collection of historic buildings, museums, and art galleries inside its walls. Its courtyards host markets and musical performances, and its gardens provide a peaceful retreat.
2. Walk Across Charles Bridge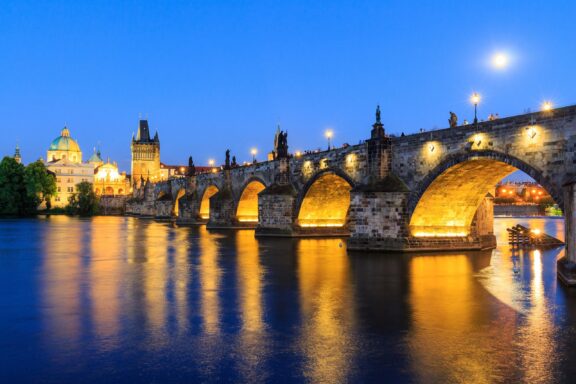 Charles Bridge is the oldest bridge still standing over the Vltava River in Prague and one of the city's most iconic landmarks. Built in the 14th century under the auspices of King Charles IV, the bridge is adorned with a continuous alley of 30 statues and statuaries.
Walking across the bridge offers stunning city skyline views, including Prague Castle and the Vltava River. It's particularly beautiful at sunrise and sunset.
3. Discover Old Town Square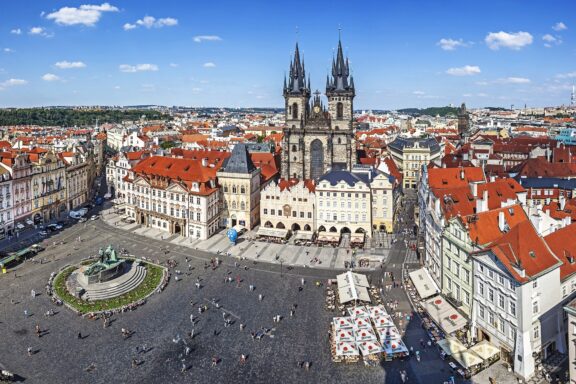 The Old Town Square is the historical heart of Prague, known for its beautifully preserved buildings representing various architectural styles. Key highlights include the Gothic Tyn Church and the Baroque St. Nicholas Church. The square is always bustling, filled with tourists, entertainers, and vendors.
4. Explore the Jewish Quarter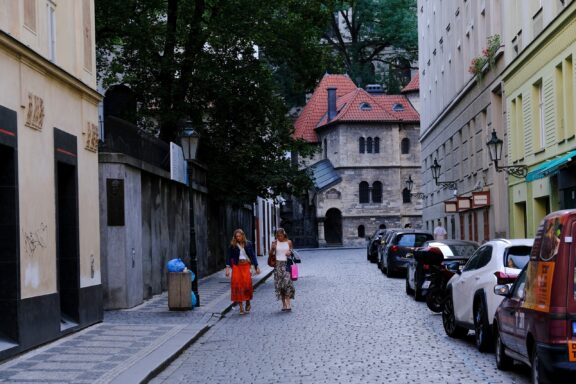 The Jewish Quarter, or Josefov, is a testament to the affluent and often tragic history of Prague's Jewish population. It houses Europe's oldest active synagogue (the Old-New Synagogue), the haunting Old Jewish Cemetery, and the Jewish Museum, which provides an in-depth look at the history of Jews in the region.
Apart from the Old-New Synagogue, there are five other synagogues, including the Spanish Synagogue, one of the most beautiful in Europe, noted for its stunning Moorish interior.
The Old Jewish Cemetery, one of the oldest in Central Europe, holds an estimated 12,000 visible tombstones, with many more burials layered underneath due to the lack of space.
5. St. Vitus Cathedral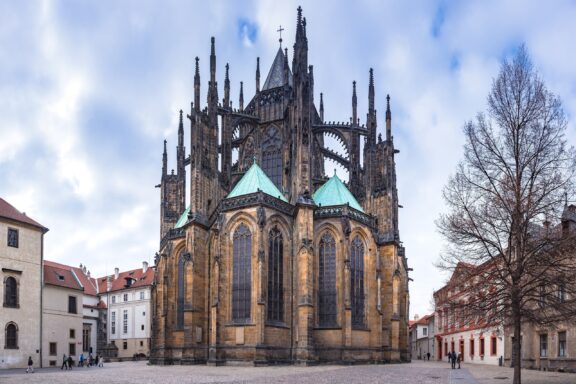 St. Vitus Cathedral is an excellent example of Gothic architecture situated within the Prague Castle complex. However, due to its lengthy construction period, it also features Renaissance and Baroque details and is the country's largest and most important church.
Inside, you can explore beautiful chapels, see the stunning stained glass windows, and view the tombs of many Bohemian kings and Holy Roman Emperors.
6. Prague Astronomical Clock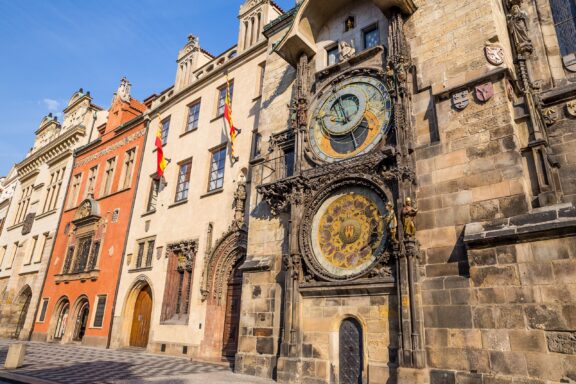 The Prague Astronomical Clock, or Orloj, located in the Old Town Hall, is one of the world's oldest and most intricate astronomical clocks. Every hour, crowds gather to witness the spectacle of the "Walk of the Apostles," a mechanical performance where the 12 apostles move past two windows above the clock.
7. Vyšehrad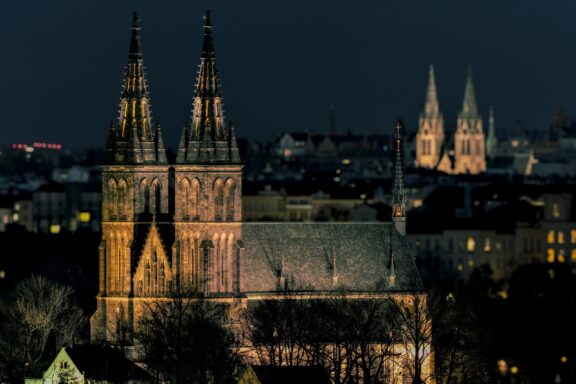 Often referred to as Prague's second castle, Vyšehrad is a historic fort located on a hill over the Vltava River. It offers panoramic views of the city, tranquil parks, and the Vyšehrad Cemetery, where many famous Czechs are buried, including the composers Antonín Dvořák and Bedřich Smetana.
8. Visit Petřín Hill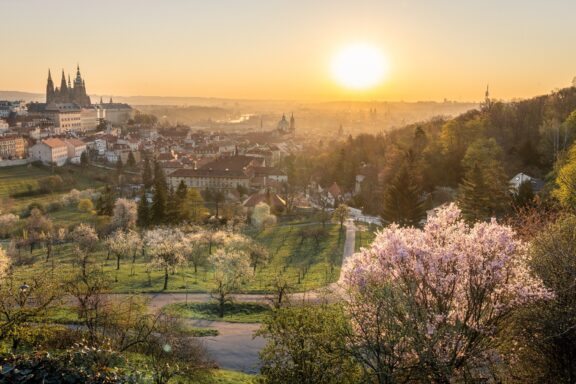 Petřín Hill, towering above the city, offers sweeping views of Prague. You can reach the summit via a funicular railway or by foot. At the top, you can visit the Petřín Lookout Tower, explore the Rose Garden, or lose yourself in the Mirror Maze. It's a perfect spot for a picnic or a leisurely walk.
9. Savor Czech Cuisine and Beer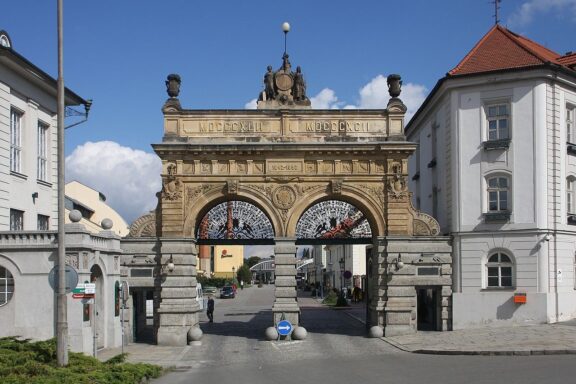 Czech cuisine is hearty and diverse, with dishes like goulash, svíčková, and trdelník. Pair your meal with Czech beer, regarded as some of the best in the world. Many breweries offer tours where you can learn about the brewing process and sample different varieties.
10. Cruise on the Vltava River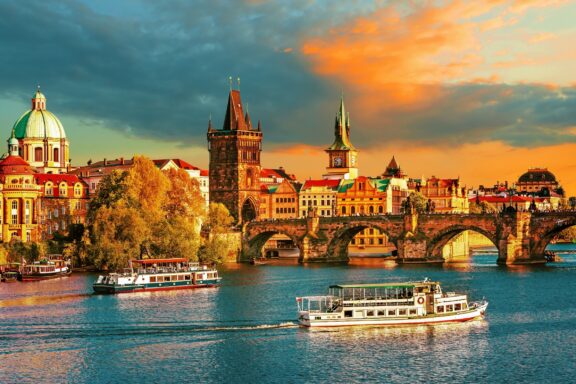 A river cruise offers a unique perspective of Prague's skyline and architectural beauty, taking you past significant landmarks like the Charles Bridge, Prague Castle, and the Dancing House. Evening cruises often include dinner and live music, adding to the enchanting experience.
11. Visit the Prague Zoo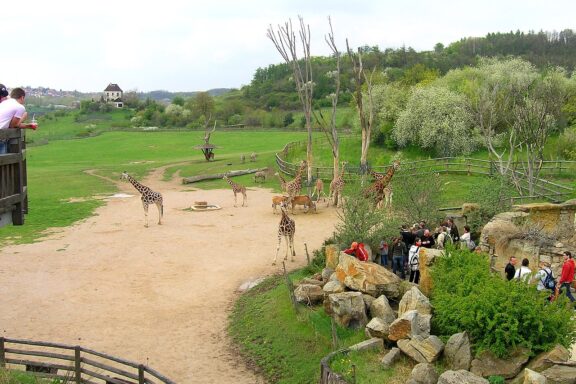 Ranked among the best zoos in the world, Prague Zoo is an excellent place for a family day out. The zoo is home to over 5,000 animals of 700 species, including gorillas, komodo dragons, polar bears, and elephants. The zoo actively engages in animal conservation and offers many educational and interactive exhibits.
Floods have significantly affected the zoo, especially in 2002 and 2013. The 2002 floods caused substantial damage, but the zoo has since recovered and even improved, with better flood protection and new exhibits.
12. Visit the National Theatre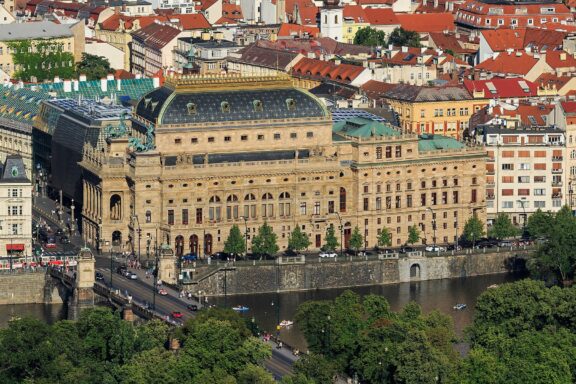 The National Theatre is one of the symbols of Czech national identity and a significant part of European cultural heritage. It serves as a monument to Czech history, art, and music.
Here, you can enjoy a variety of performances, including opera, ballet, and drama. The theatre itself is a masterpiece, boasting stunning architectural and artistic design.
Frequently Asked Questions
When is the best time to visit Prague?
The best times to visit Prague are spring (April to June) and fall (September to October), when the weather is pleasant, and the city isn't overly crowded. However, if you can bear colder temperatures, the city during winter, especially around Christmas, is quite magical, with festive markets and snow-dusted landscapes.
What is traditional food like in Prague?
Traditional Czech cuisine is hearty and features a lot of meat, potatoes, and dumplings. Popular dishes include:
• Goulash: Goulash is a hearty stew, originally from medieval Hungary, but has been a staple in Czech cuisine for centuries. Czech goulash usually consists of large pieces of slow-cooked beef (often shoulder or shank), cooked with onions and spiced with paprika, garlic, caraway seeds, and marjoram.
• Svíčková: Svíčková is a classic Czech dish and is often considered a part of the country's national culinary heritage. It is made from marinated sirloin steak cooked in a creamy sauce made from the meat's marinade, which typically includes vegetables like carrots, parsley root, onion, and spices.
• Trdelník: Trdelník is a sweet pastry that is very popular among tourists in Prague. It's made by wrapping dough around a stick, then grilling it and topping it with sugar and a mix of walnuts. The result is a sweet, flaky pastry with a hollow, cylindrical shape.
• Chlebíčky: Chlebíčky is a traditional Czech open-faced sandwich. The base is a slice of Czech white bread, and the toppings can include various ingredients, like ham, egg, pickles, cucumber, and mayonnaise-based salads.
Is Prague safe to visit for tourists?
Prague, one of Europe's safest cities, is an appealing beacon to travelers worldwide. This picturesque Czech capital has rapidly emerged as a popular tourist destination, attracting millions of visitors annually. Encouragingly, it also offers high levels of safety and ease of access for its guests.
Which language is spoken in Prague?
The official language is Czech. However, English is widely spoken in Prague, especially in restaurants, hotels, and tourist sites.
Which currency is used in Prague?
The official currency of the Czech Republic is the Czech Koruna (CZK).
How can I get around in Prague?
Prague has an excellent public transportation system consisting of metro, trams, and buses. The city is also very walkable, especially the historical center. Taxis and rideshares are widely available, and you can rent a bike or use an electric scooter for short distances.
What are some cultural customs I should be aware of when visiting Prague?
Czech people value politeness. Greeting people (Dobrý den in Czech) in shops and restaurants is customary. Tipping is common (around 10-15% is standard). Czechs also appreciate it when visitors try to learn a few words in Czech.
What should I learn to respect the local culture and environment in Prague?
1. Show respect for historical sites, monuments, and public spaces by not littering and following any posted guidelines.
2. Be respectful when photographing, especially in religious or culturally sensitive areas.
3. Try to support local businesses when you can.
4. Always ask before taking photographs of locals, and be aware of any local traditions or customs to avoid offending.
Final Thoughts
Prague's captivating blend of rich history, stunning architecture, vibrant culture, and welcoming atmosphere undeniably offers an unforgettable travel experience. Its status as a safe city and various activities make it a destination worthy of any bucket list.
Whether you're a history buff, a food lover, an art enthusiast, or appreciate the magnificence of well-preserved old towns, Prague holds something unique for you.