Mexico is located in the North America region at latitude 23.634501 and longitude -102.552784 and is part of the North American continent.
The DMS coordinates for the center of the country are:
23° 38' 4.20'' N
102° 33' 10.02'' W
You can see the location of Mexico on the world map below: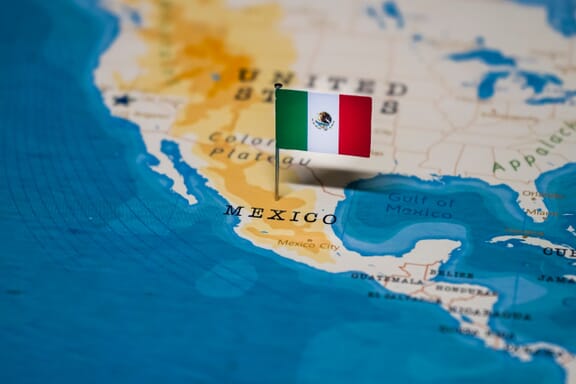 Mexico Neighboring Countries
The neighboring countries of Mexico (MX) are:
Belize (BZ)
Guatemala (GT)
United States of America (US)
The country has no neighboring countries/land borders.
Maritime Borders
Mexico borders with Pacific Ocean, the Gulf of Mexico, and the Caribbean Sea.
Mexico Related Content
Mexico Key Facts
Country
Mexico
Coordinates
Latitude: 23.634501
Longitude: -102.552784
Country Codes
Alpha 2: MX
Alpha 3: MEX
Country Flag Emoji
🇲🇽
Int. Phone Prefix
+52
Capital city
Mexico City
Continent
Subcontinent
North America
North America
Country Area
1,964,375 sq km
Population 2021
130,262,220
World Rank: 10
Median Age
29
Life expectancy
70.2
Major languages
Spanish only 92.7%, Spanish and indigenous languages 5.7%, indigenous only 0.8%, unspecified 0.8% (2005) note: indigenous languages include various Mayan, Nahuatl, and other regional languages
UTC/GMT Time
Number of time zones: 4


UTC−08:00 (Zone 4 or Northwest Zone) — the state of Baja California
UTC−07:00 (Zone 3 or Pacific Zone) — the states of Baja California Sur, Chihuahua, Nayarit, Sinaloa and Sonora
UTC−06:00 (Zone 2 or Central Zone) — most of Mexico
UTC−05:00 (Zone 1 or Southeast Zone) — the state of Quintana Roo

Internet TLD
.mx
Biggest Airport
Mexico City International Airport (MEX)
Average temperature
21.00 °C
69.80 °F
Administrative Divisions
31 states 1 federal district
Political system
Federal presidential representative democratic republic
Mexico Economy Facts
World Bank Income Group
Upper middle income
World Bank Region
Latin America & Caribbean
Currency
Mexican Peso (MXN)
GDP in 2020
$1087.1 (billions of USD)
World Rank: 15
GDP per capita in 2020
$8,432
World Rank: 75
Major Industries / Economic Sectors
Manufacturing, services, agriculture, energy
Top 5 Import Countries
United States, China, Japan, Germany, South Korea
Top 5 Export Countries
United States, Canada, China, Japan, Germany
Biggest Cities in Mexico
Here are the largest cities in Mexico based on 2021 data:
City
Population
Mexico City
21,505,000
Guadalajara
5,437,000
Tijuana
1,922,523
Ecatepec
1,857,188
Leon de los Aldama
1,579,803
Puebla
1,576,259
Zapopan
1,476,491
Juarez
1,321,004
Monterrey
1,135,512
Ciudad Nezahualcoyotl
1,109,363
Map of Mexico with the Largest Cities
Other Countries in the North America Region