There are many reasons to visit Mexico. Beautiful beaches, delicious food, a rich culture with a complex history, and friendly people are just some reasons the country attracts millions of tourists each year.
However, it's also true that there are places in Mexico that just aren't very safe. Some main reasons for unstable areas are the presence of drug cartels and unreliable law enforcement. Violent crime and kidnapping are some of the most worrying things to look out for, and some states are far worse than others.
The 16 Most Dangerous States in Mexico
In this post, we'll look at the most dangerous places in Mexico as defined by the U.S. Department of State and the travel notices it sets. We'll also examine the crime rates in Mexico and see how they compare to other countries.
Dangerous States in Mexico:
Mexico Travel Warning Map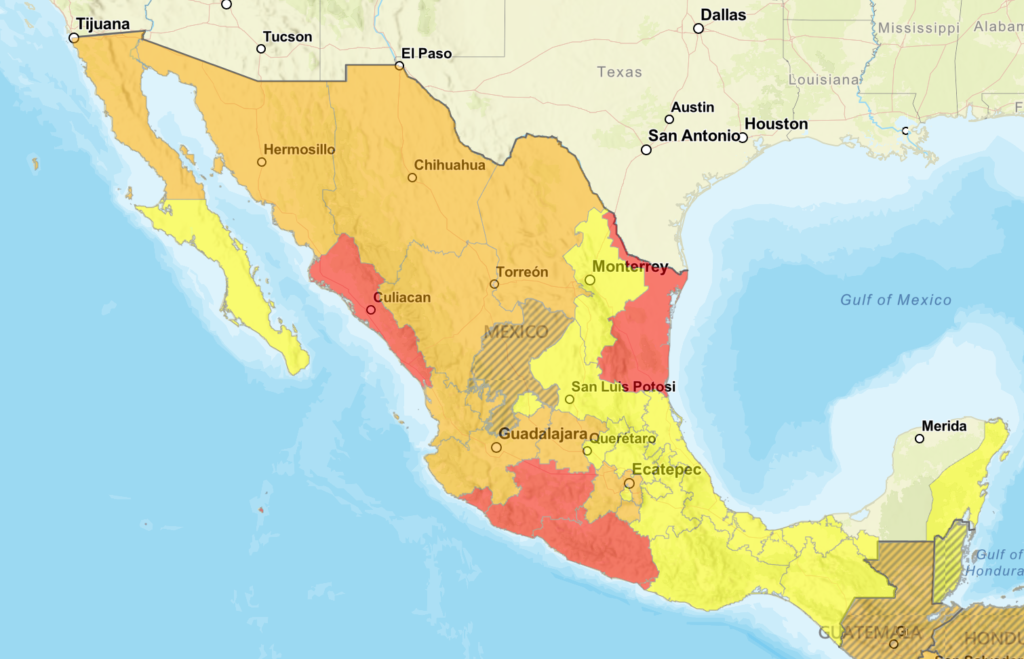 5 Do Not Travel States
"Do Not Travel" is the most severe travel notice that the U.S. Department of State issues, out of four possible travel advisory levels. It is what the department issues when there are greater, potentially life-threatening risks in an area.
There are currently five Mexican states with a "Do Not Travel" advisory:
Colima
Guerrero
Michoacán
Sinaloa
Tamaulipas
1. Colima
Colima is a small Mexican state on Mexico's Pacific coast and is the home of Manzanillo, a beach town with tourist resorts and consistently warm weather. It is posted as a "Do Not Travel" state because of the prevalence of violent crime, kidnapping, and gang activity, which are widespread.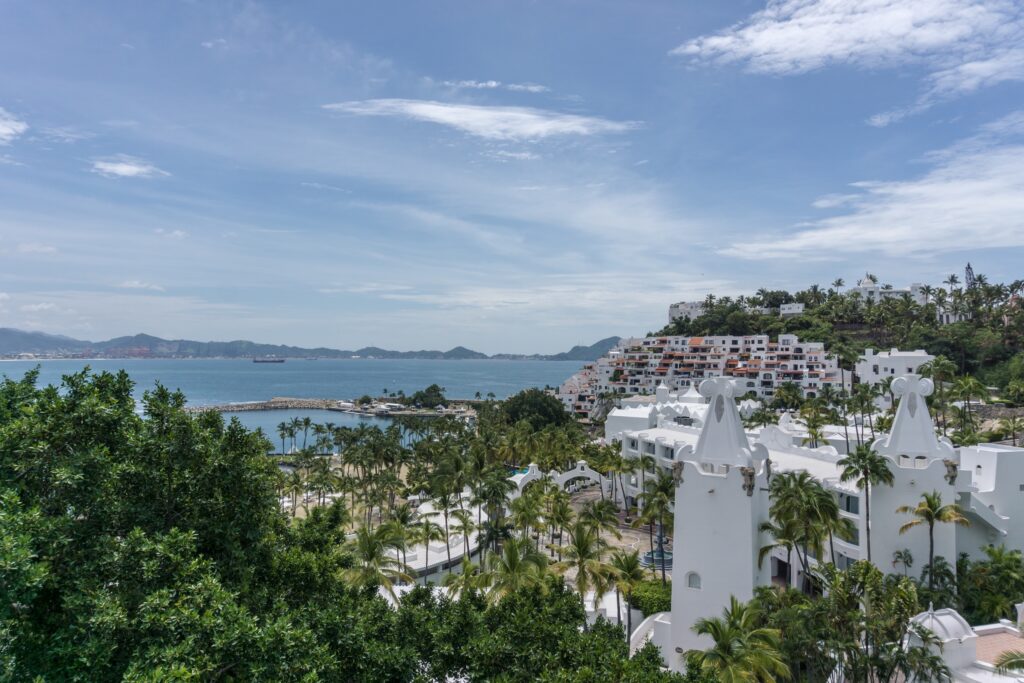 U.S. government employees are prohibited from traveling to the city of Tecomán, the Colima/Michoacán Border, and the non-tourist areas of Manzanillo.
2. Guerrero
Located between the states of Michoacán and Oaxaca, Guerrero is also listed as a state that should be avoided. The reasons for this are violent crime and kidnapping. There are several armed groups that act independently of the government in this state, and they have been known to set up roadblocks and to use violence toward travelers.
The very popular resort towns of Acapulco and Ixtapa are located in Guerrero. Both of these locations attract large numbers of tourists each year that are seeking sun and beautiful beaches. Agriculture and livestock breeding are other important parts of the state's economy.
Most of Guerrero is restricted for U.S. government employees, except for portions of Taxco.
3. Michoacán
Michoacán is situated between Colima and Guerrero, forming three neighboring states on Mexico's Pacific coast with a "Do Not Travel" designation. This is for the same reason as the other two: a high prevalence of crime and kidnapping.
Part of the Monarch Butterfly Reserve is located in Michoacán, as are many Spanish colonial towns that make it an attractive location for tourists.
4. Sinaloa
The Sinaloa Cartel is one of the most famous drug cartels in the world, and they are responsible for trafficking an immense portion of the illicit drugs that enter the United States. They are also one of the main reasons this state is so dangerous.
Mazatlán, a very popular resort destination for tourists coming to Mexico, is located in the state of Sinaloa, and it is one of the few places U.S. government employees are allowed to travel to.
5. Tamaulipas
Tamaulipas is located on the Gulf of Mexico and borders the US state of Texas to the north. It is an important center for Mexico's fishing industry.
The state is listed as "Do Not Travel" because of high incidences of violent crime and kidnapping. There are armed groups committing organized crime activities such as kidnapping, carjacking, armed robbery, murder, and more, especially along the northern border.
11 "Reconsider Travel" States
The states in this "Reconsider Travel" category are listed as such because of "serious risks to safety and security" as described by the U.S. State Department. The State Department provides additional, area-specific advice for these areas.
Baja California
Chihuahua
Coahuila
Durango
Guanajuato
Jalisco
Mexico
Morelos
Nayarit
Sonora
Zacatecas
In Mexico, the "Reconsider Travel" designation is usually due to increased levels of violent crime and kidnapping in the area. Most of the violent crime in these Mexican states takes place between members of criminal organizations, but these incidents sometimes take place in areas that are frequented by tourists. Collateral damage is often the greatest risk to visitors.
How Dangerous is Mexico?
It isn't easy to say exactly how dangerous Mexico is. The truth is that danger levels in the country vary by region, just as in any other country. Some people are more at risk than others, as well. For example, young males form the vast majority of homicide victims.
With that in mind, it's certainly true that it is important to take more precautions to stay safe in Mexico than it is in many other countries.
How Many Homicides are there in Mexico?
As demonstrated by the table above, the homicide rate is significantly higher in Mexico than it is in the United States or the United Kingdom.
Is Mexico Safe for Tourists in 2022?
There are plenty of places that are safe in Mexico for tourists in 2022, but it's important to exercise caution and carefully plan your destinations. Mexico is among the top countries worldwide for total tourist visitors — tens of millions come to the country each year, and the vast majority have a trouble-free stay.
However, there are occasionally tourist victims of violent crime. Sometimes this is because the tourists were engaged in illegal activity, and sometimes it is simply collateral damage from gang violence. Generally, resorts and popular tourist areas are safe. The Mexican government sometimes deploys marines to these areas to ensure the safety of visitors.
Some measures visitors can take to keep themselves safe include not traveling alone or at night, remaining aware of their surroundings, and taking extra care when using ATMs. Learning basic Spanish can also increase your level of safety.
Which Are the Safest States in Mexico in 2022?
The only states in Mexico that do not have a travel advisory from the U.S. State Department are Yucatán and Campeche. It is advised to exercise normal precautions that should be taken when traveling anywhere, but there isn't an elevated safety risk in either of these states. They are located on the Yucatán Peninsula, an area that constituted a large part of the Maya Civilization.
Yucatán
The Mexican state of Yucatán is a popular destination for many. It's known for beautiful beaches, tropical rainforests, cenotes, and for being the home of the ancient Maya people. The ruin of Chichen Itza is located here and is a UNESCO World Heritage Site. The pink lakes of Las Coloradas on the coast in the state of Yucatán are another attraction that draws many tourists.
The capital city of Yucatan is Merida, sometimes referred to as the "White City." It is the largest city on the Yucatan Peninsula and serves as the cultural capital of the state. It is also one of the safest cities in Mexico.
Campeche
The state of Campeche is located on the Yucatan Peninsula next to Yucatan, Tabasco, Quintana Roo, and Guatemala. Its capital city is San Fransisco de Campeche and it has one of the smallest populations of any Mexican state. Mining and oil production are the largest contributors to the state's economy.
One of the most popular tourist destinations in Campeche is the city of Ciudad del Carmen, which is on the coast. It boasts peaceful beaches and colonial buildings that make for a beautiful and relaxing atmosphere. While the coastal areas are noteworthy for being quiet in Campeche, the most beautiful beaches in Mexico are found elsewhere.
Other states that are generally considered safe include Mexico City, Oaxaca, Chiapas, Quintana Roo, and Puebla.
Crime Rates by State
Whereas the information regarding the most dangerous states in Mexico is mostly focused on violent crimes such as homicide, kidnapping, and violent robbery, the crime rates described below consider non-violent crimes as well. These types of crimes include petty theft, pickpocketing, and others that don't threaten your physical wellbeing.
Crime rate per 100,000 inhabitants in 2020, by state in Mexico.
| State | Crimes |
| --- | --- |
| Mexico City | 53,334 |
| State of Mexico | 39,539 |
| Morelos | 35,794 |
| Tabasco | 35,677 |
| Quintana Roo | 33,342 |
| Jalisco | 33,248 |
| Sonora | 33,038 |
| San Luis Potosi | 32,136 |
| Puebla | 31,685 |
| Queretaro | 31,664 |
| Guerrero | 30,769 |
| Aguascalientes | 29,984 |
| Guanajuato | 29,106 |
| Nuevo León | 29,064 |
| Baja California | 27,377 |
| Tlaxcala | 27,130 |
| Colima | 26,793 |
| Coahuilia | 26,383 |
| Chihuahua | 25,690 |
| Campeche | 25,390 |
| Hidalgo | 23,605 |
| Durango | 22,970 |
| Baja California Sur | 22,739 |
| Nayarit | 22,099 |
| Oaxaca | 22,060 |
| Sinaloa | 22,026 |
| Michoacan | 21,521 |
| Zacatecas | 21,510 |
| Yucatan | 21,348 |
| Tamaulipas | 20,594 |
| Veracruz | 18,778 |
| Chiapas | 15,689 |
The region in Mexico with the highest crime rate, by far, is Mexico City. But that doesn't mean that it's necessarily the most dangerous state. It's important to recognize just how massive Mexico City is when thinking about its safety. There are well over 20 million people in Greater Mexico City, and it ranks fifth among the most populous cities in the world.
The incredible size of Mexico's capital city means that there are many drastically different parts of the city, and the most dangerous parts aren't those that are usually visited by tourists and foreigners. It's common for residents of these safer parts of Mexico City to feel much safer in the city than when traveling to other parts of the country.
Also, evident in the above table is that the state of Tamaulipas has the third-lowest crime rate in the country. This could be misleading, as the state is listed as one of the five "Do Not Travel" states by the U.S. Department of State. While there may be lower levels of petty crime, higher instances of kidnapping and violent crime make it one of the least safe states in Mexico.
At least three of the five most dangerous states in Mexico are on the half of the list with the lowest crime rates. It is also possible that crime reporting in these states is not as comprehensive or effective as in states with higher reported crime rates.
FAQs
What is the Safest Place in Mexico?
Merida, the capital city in the state of Yucatán, is probably the safest city in Mexico. It has a low rate of homicides and is widely considered to be one of the safest places in Latin America. One reason for being safer is its geographic isolation, which makes it less appealing to drug cartels.
Is it Safe to Move to Mexico?
If you plan carefully and take basic safety precautions, yes, it is safe to move to some areas of Mexico. The most dangerous states and areas of the country should be avoided, and it's important to maintain good safety practices wherever you live in the country. Many foreigners move to Mexico each year and live safely in places like Mexico City, Merida, or Puerto Vallarta.
What is the Most Dangerous Country in Latin America?
The country with the highest homicide rate in Latin America is Venezuela. The political situation in Venezuela is highly unstable, and the economy has been in dire straits for several years, putting a strain on public services and basic safety. Honduras also has a high homicide rate in Latin America, and Mexico comes in as the third-most dangerous. The safest country in Latin America is Chile.
Is Mexico More Dangerous Than the US?
When looking at homicide rates, Mexico is clearly more dangerous than the US. But homicide rates don't paint the whole picture. The vast majority of homicides in Mexico take place between members of criminal organizations, and foreigners are not often the ones affected. The homicide rate for US citizens inside Mexico is significantly lower than for US citizens living within the USA.