Bogotá is the largest city and the capital of Colombia. It is one of the three highest-altitude cities in South America. The city is generally divided into North and South. The northern part of the city is more prosperous than the southern part.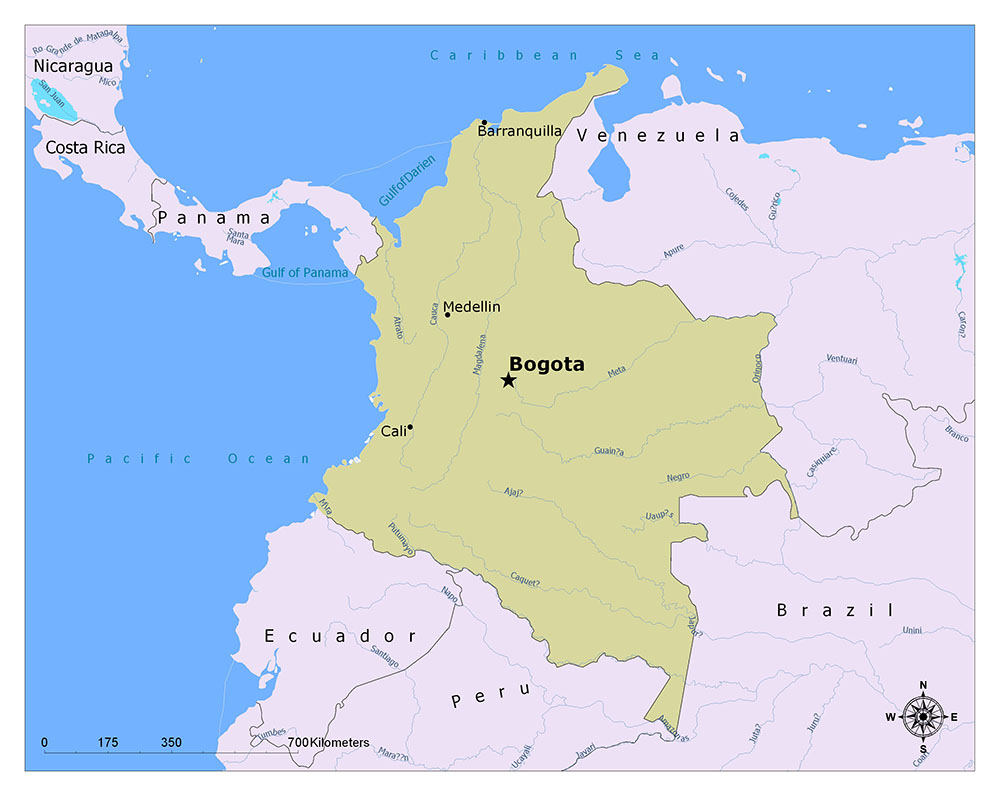 Despite its equatorial height, Bogotá has never been overwhelmed by its high altitude, reflecting a blend of modern and Spanish colonization architecture.
Where is Bogotá?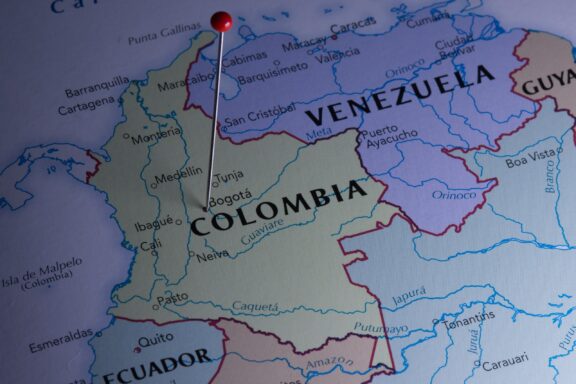 Bogotá is located in the central part of the Republic of Colombia, within the Andes Mountains in South America.
This is a high plateau in the Andes, and the city's elevation is about 2,640 meters (or around 8,660 feet) above sea level, which makes it one of the highest capital cities in the world. The city's exact coordinates are 4.7110° N latitude, 74.0721° W longitude.
History of Bogotá
The history of Bogotá stretches back thousands of years, with evidence of human settlement dating back to at least 8000 BCE. However, it started as a significant population center around 1538, when Spanish explorer Gonzalo Jiménez de Quesada founded the city as part of the New Kingdom of Granada. It was named Santa Fe de Bogotá, and Quesada intended it to be a central base for Spanish colonial expansion in South America.
Santa Fe de Bogotá became the capital of the New Kingdom of Granada and, later, the Viceroyalty of New Granada, which included present-day Ecuador, Panama, and Venezuela in addition to Colombia.
Bogotá played a crucial role in the struggle for independence from Spain, with significant events like the Rebellion of the Comuneros and the July 20th movement in 1810 marking the beginning of the independence process.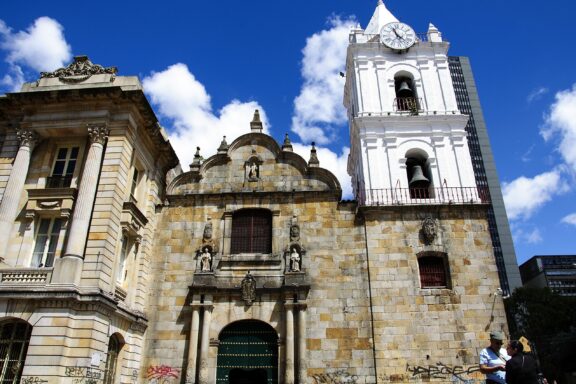 After independence in 1819, the Republic of Greater Colombia was created with Bogotá as its capital. This federation dissolved in 1831 and led to the formation of the Republic of New Granada.
The country underwent several more name changes (and constitutions) before becoming the Republic of Colombia in 1886, with Bogotá remaining the capital throughout these changes.
Bogotá has been the center of many significant historical events since then, including the Bogotazo in 1948 – a massive riot following the assassination of popular political leader Jorge Eliécer Gaitán, which marked the beginning of a violent period known as "La Violencia." Recently, Bogotá has played a pivotal role in the peace process with the Revolutionary Armed Forces of Colombia (FARC), and it continues to be the nation's political, economic, and cultural heart.
Throughout its history, Bogotá has grown from a small indigenous settlement to one of Latin America's most significant cities, undergoing periods of rapid expansion and modernization while retaining its rich historical and cultural heritage.
Features of Bogotá
Characterized by its distinct mix of old-world allure and contemporary amenities, Bogotá is a city of contrasts. The city's historical richness is particularly showcased in the district of La Candelaria, its well-preserved historical heart.
Complementing this historical ambiance, Bogotá pulses with a lively rhythm, offering a spectrum of nightlife experiences, from salsa clubs and casual pubs to upscale restaurants and rooftop bars, particularly in the districts of Zona Rosa and Zona G.
Geography and Climate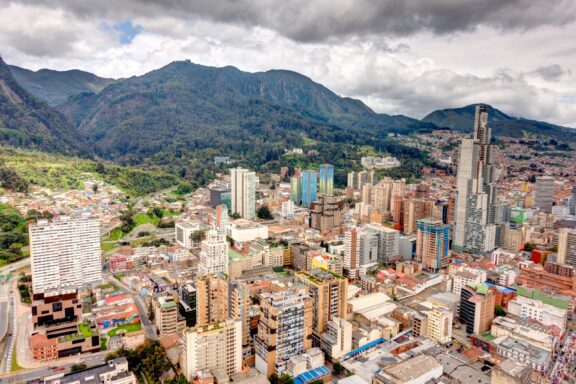 Bogotá is situated on a high plateau known as the Bogotá Savannah, part of central Colombia's larger Eastern Ranges of the Andes mountains.
Bogotá features a subtropical highland climate, and because of its proximity to the equator, the city has minimal temperature variation throughout the year. However, Bogotá typically has cool temperatures for a tropical location due to its altitude.
Average daily temperatures are around 14–20 degrees Celsius (57–68 degrees Fahrenheit), with cooler nights.
The city has two seasons based on rainfall: a dry season (December to February and July to August) and a wet season (April to May and September to November). However, rainfall can occur outside these periods, and the weather is unpredictable.
Population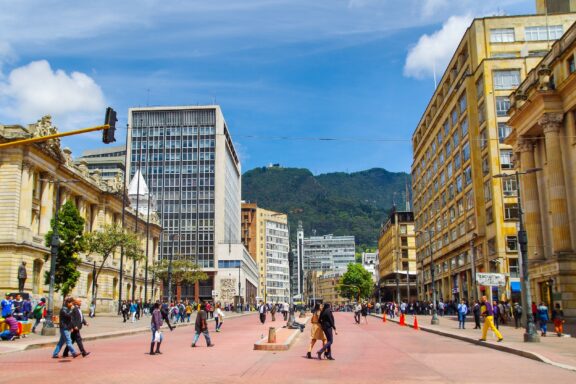 Bogotá has a population of around 8 million people. It's a melting pot of people around the country, offering diverse cultures.
People from Bogotá are often referred to as 'rolos' or 'cachacos,' and they're known for their distinct accent in Spanish, which is usually considered one of the clearest among Spanish-speaking countries. The city is also notable for its investment in education, with a literacy rate of over 90%.
Bogotá is a multicultural city, with indigenous communities, Afro-Colombians, and people of European descent living together. It also has a growing expatriate community due to the international companies and diplomatic corps stationed there.
Economy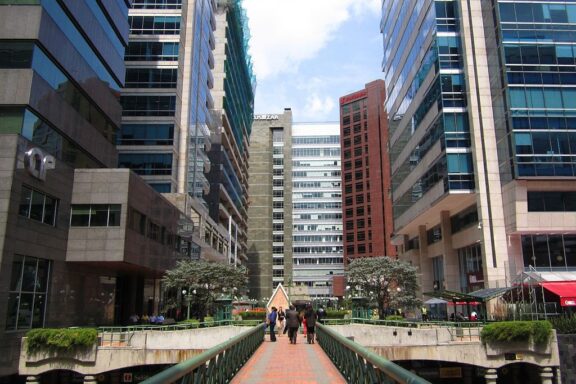 Bogotá is the economic powerhouse of Colombia, contributing over a quarter of the nation's GDP. The city has a diverse and robust economy, with key industries including financial services, information technology, hospitality and tourism, and construction. It's home to the Colombian Stock Exchange and numerous multinational corporations.
Bogotá is also an important center for commerce and trade, with many national and international companies choosing it as their base due to its strategic location and large market. Its modern infrastructure and transport systems make it a significant center for imports and exports.
Lately, Bogotá has positioned itself as a leader in the creative and digital industries, with initiatives to support startups and innovation. The city also hosts numerous trade fairs and business events, adding to its economic significance.
While Bogotá has significant economic strength, like many large cities, it also faces challenges, including a disparity in wealth distribution and unemployment. However, the city continues to focus on economic development and innovation to drive future growth.
Things to Do and Places to See in Bogotá
Bogotá is teeming with diverse attractions and activities. Here's an exploration of some of the city's most visited and beloved highlights:
1. Visit La Candelaria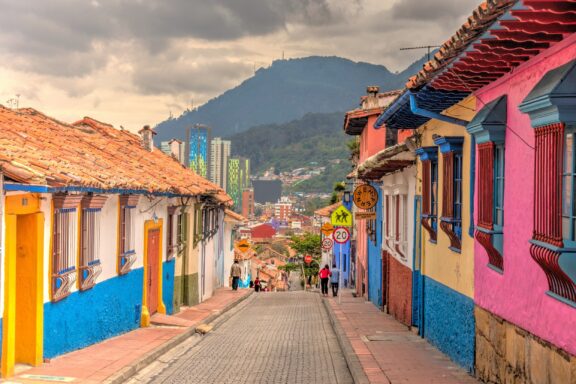 Step back in time as you stroll through La Candelaria, Bogotá's oldest neighborhood and the cradle of its cultural heritage. La Candelaria is meandering along narrow, winding cobblestone streets, and your senses will be immersed in the district's rich history and vibrant atmosphere.
It's painted in a kaleidoscope of colors and colonial-era houses with intricate woodwork, ornate wrought-iron grilles, and bougainvillea-draped balconies.
Iconic churches such as the Iglesia de la Candelaria and the Iglesia de San Francisco impart a sense of deep-rooted spirituality, while the district's numerous museums, including the Gold Museum and the Botero Museum, offer a deep dive into the country's cultural history and artistic traditions.
Universities and government buildings add a layer of institutional grandeur, with the Plaza de Bolívar acting as a central, lively hub filled with street performers, food vendors, and bustling local life.
2. Mount Monserrate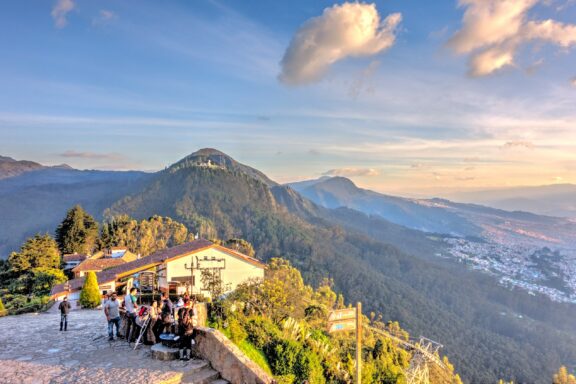 The journey to Mount Monserrate is as exhilarating as the destination itself. Standing majestically over Bogotá, this 3,152-meter-high mountain offers three pathways to its summit – a funicular, a cable car, and a picturesque hiking path. Each route provides a unique, thrilling experience, with sweeping vistas of the sprawling city unfolding beneath you.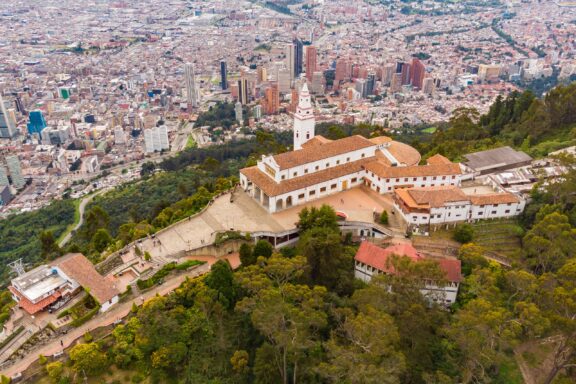 Once at the peak, you will be greeted by the calm presence of the 17th-century Church of Monserrate, a pilgrimage site adorned with a revered statue of El Señor Caído. A couple of high-quality restaurants also serve delicious Colombian cuisine, allowing you to dine with a view that stretches to the horizon. The artisan market selling local crafts and souvenirs is also worth a visit.
3. Cycle Around the City
Bogotá takes great pride in promoting environmentally friendly transport, boasting an extensive network of over 300 kilometers of cycling paths. The city offers an exhilarating experience to cycling enthusiasts with its weekly Ciclovía event, where a substantial portion of the city's roads is handed over to cyclists and pedestrians every Sunday and holiday.
It is a unique chance to explore the city at your own pace, enjoy the refreshing outdoors, engage with locals, and immerse yourself in its vibrant atmosphere. Bicycle rental services are available throughout the city, and guided bike tours offer an organized, insightful journey through Bogotá's streets.
4. Visit the Usaquén Flea Market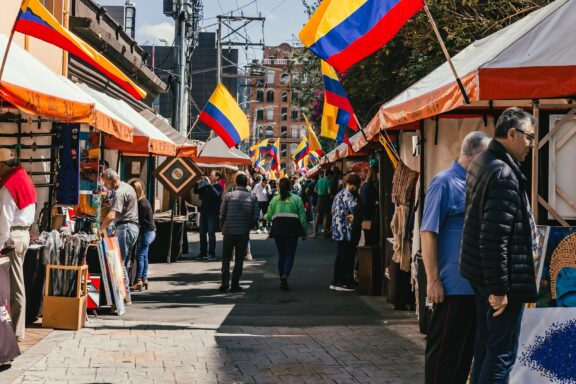 Every Sunday, the historic district of Usaquén transforms into a lively, colorful flea market teeming with treasures waiting to be discovered. Here, vendors lay out an array of goods that showcase the richness of Colombian craftsmanship and cuisine. Navigate the bustling stalls filled with handmade crafts, each carrying the imprint of the artisan's skill and creativity, or rummage through the antique section, where timeless pieces tell unique stories.
Local clothing designers showcase their latest creations, and gourmet stalls tantalize your taste buds with Colombian food delicacies. The market is not just a place to shop; it's a sensory experience infused with the essence of Colombia.
5. Walk in Simon Bolivar Park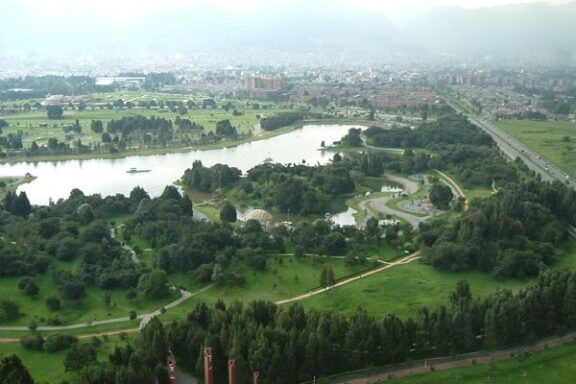 Simon Bolivar Park, the largest park in Bogotá, is a verdant urban retreat fondly referred to as the city's lungs. Spread over 113 hectares, the park offers a tranquil escape from the bustling town with its beautiful lake, open green spaces, and shaded walking paths that meander among trees and flower beds.
It is a haven for joggers, cyclists, and anyone seeking tranquility or a leisurely picnic. The park comes alive during the many events it hosts, including music concerts, cultural festivals, and sporting events, infusing the city's routine with a touch of vivacity.
6. Plaza de Bolívar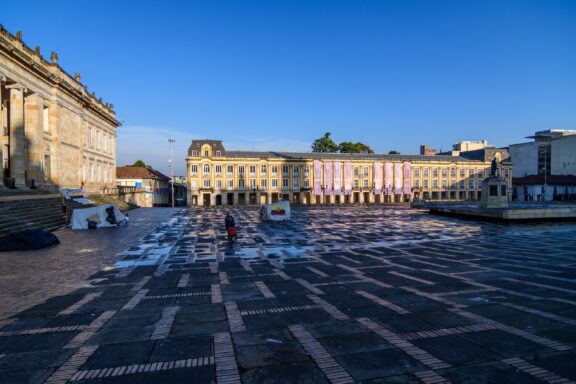 Plaza de Bolívar forms the beating heart of Bogotá, a vast square teeming with history and a hub of political, social, and cultural activity. As you step onto its stone-paved surface, you are standing at the epicenter of the city's colonial past and dynamic present.
Majestic buildings border the square, each with its rich backstory: the imposing neoclassical Cathedral Primada, the grand Capitolio Nacional, home to the Colombian Congress, and the stately Palacio de Justicia, housing the Supreme Court.
As you wander around the plaza, you'll encounter street vendors peddling everything from tinto (Colombian black coffee) to local snacks. At the same time, impromptu musicians and artists provide a charming street-side soundtrack.
7. Botero Museum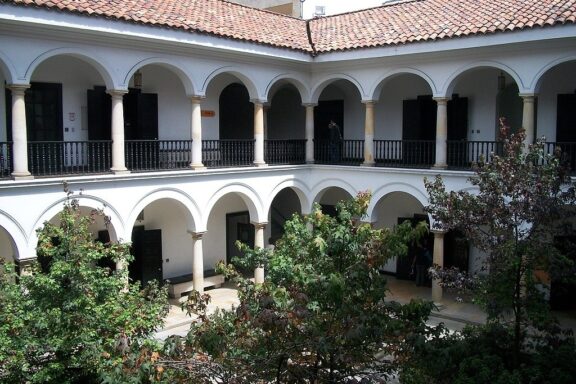 The Botero Museum is a tribute to Colombia's most well-known artist, Fernando Botero. It is a cultural gem nestled in the historic La Candelaria district. The museum boasts an impressive collection of Botero's work, who generously donated much of it.
His signature style, "Boterismo," depicts people and figures in exaggeratedly voluminous forms, challenging traditional norms of beauty and form. The collection includes sketches, sculptures, and paintings showcasing his unique approach.
In addition to Botero's works, the museum also houses pieces from Botero's private collection, which includes works by Picasso, Monet, Renoir, and Dalí, among others. The museum's tranquil courtyard offers a serene place for contemplation, and the free admission ensures that art is accessible to all.
8. Museo Nacional de Colombia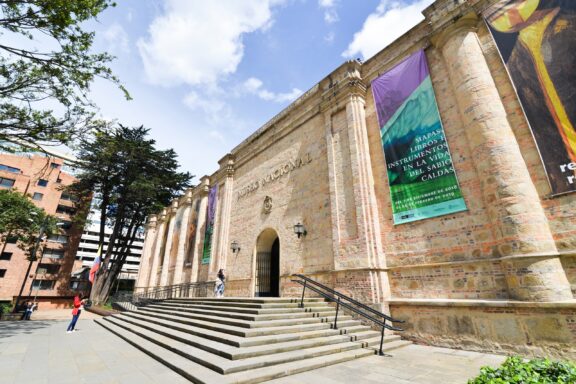 As the oldest museum in Colombia and one of the oldest in the Americas, the Museo Nacional de Colombia is a treasure trove of the country's historical and cultural heritage. Housed in a former prison, the building itself is a symbol of the nation's transformative journey.
Its collection spans over 20,000 pieces, including indigenous gold artifacts, pre-Colombian ceramics, colonial religious art, and contemporary works, weaving a comprehensive narrative of Colombia's rich history. The museum also has a robust program of temporary exhibitions, cultural events, and educational workshops.
A visit to the Museo Nacional de Colombia is an exploration of art and a journey through time, unveiling the stories and identities that make Colombia what it is today.
Frequently Asked Questions
What currency is used in Bogotá?
The official currency of Colombia, including Bogotá, is the Colombian Peso (COP). You'll find ATMs across the city, and credit cards are widely accepted in hotels, restaurants, and larger shops. However, carrying some cash for smaller establishments or street vendors is recommended.
What is the best time to visit Bogotá?
The best time to visit Bogotá is during the dry seasons, from December to March or July to August. However, due to Bogotá's high-altitude location, the city experiences an average mild temperature throughout the year, around 14 °C (57 °F).
What is traditional food like in Bogotá?
Bogotá is renowned for its traditional Colombian cuisine. Some local specialties include:
• Ajiaco: a hearty chicken and potato soup
• Bandeja Paisa: a platter with beans, rice, fried egg, avocado, and various types of meat
• Tamal: steamed parcels of masa or dough filled with meats, cheese, or fruits
What is a must-try dish in Bogotá?
If you're visiting Bogotá, you should try Ajiaco. This comforting soup, distinctive to Bogotá, is made with three types of potatoes, chicken, and guasca, a local herb. Most commonly, it's served with avocado, capers, and cream.
Is Bogotá safe for tourists?
Like any significant city, Bogotá has areas that are safer than others. It's generally safe for tourists, especially in popular sites such as La Candelaria, Zona Rosa, and Parque 93. However, travelers should always take standard precautions:
• Don't flash valuable items
• Be aware of your surroundings
• Avoid less crowded areas late at night
Which language is spoken in Bogotá?
The official language spoken in Bogotá is Spanish. English is also spoken in many tourist areas, hotels, and restaurants. However, learning a few basic Spanish phrases can enhance your interaction with locals.
How can I get around in Bogotá?
Bogotá has a variety of transportation options. The city boasts an extensive network of cycle routes, and the TransMilenio rapid transit system covers much of the city. Taxis and ride-hailing services like Uber are widely available. Walking can be an excellent way to experience the city for short distances.
What are some of the cultural customs I should get used to while in Bogotá?
Colombians are known for their warmth and politeness. When meeting someone, it's customary to give a firm handshake. If you're invited to someone's home, bringing a gift like flowers or wine is a nice gesture. Colombians often use formal titles (Señor, Señora) until a more informal relationship is established.
What should I learn to respect the culture and environment in Bogotá?
When visiting Bogotá, respect the local culture by learning a few Spanish phrases, observing local customs, and respecting religious and cultural sites. Be mindful of the environment by using public transport or cycling, avoiding single-use plastics, and not littering. Always remember the traveler's maxim: "Take only pictures, leave only footprints."
Final Thoughts
Bogotá is an enchanting city that effortlessly marries the old with the new, tradition with innovation, and tranquility with dynamism. It's a place where the past lives in harmony with the present, as seen in its historic neighborhoods adorned with colonial-era architecture and in its commitment to modernity with sprawling green parks and extensive cycling paths.
The city's vibrant culture, delicious cuisine, rich history, and warm, welcoming people make it a destination worth exploring. Whether you're an art enthusiast, history buff, foodie, or outdoor lover, Bogotá offers something for everyone. So, if you're contemplating a visit to Colombia, your itinerary should undeniably feature a journey to its capital city, Bogotá.