Colors and the Meaning of the Monaco Flag
The Monaco flag consists of two equal horizontal bands. The top strip is red and the bottom strip is white. Red and white are the dynasty colors of the Grimaldi family.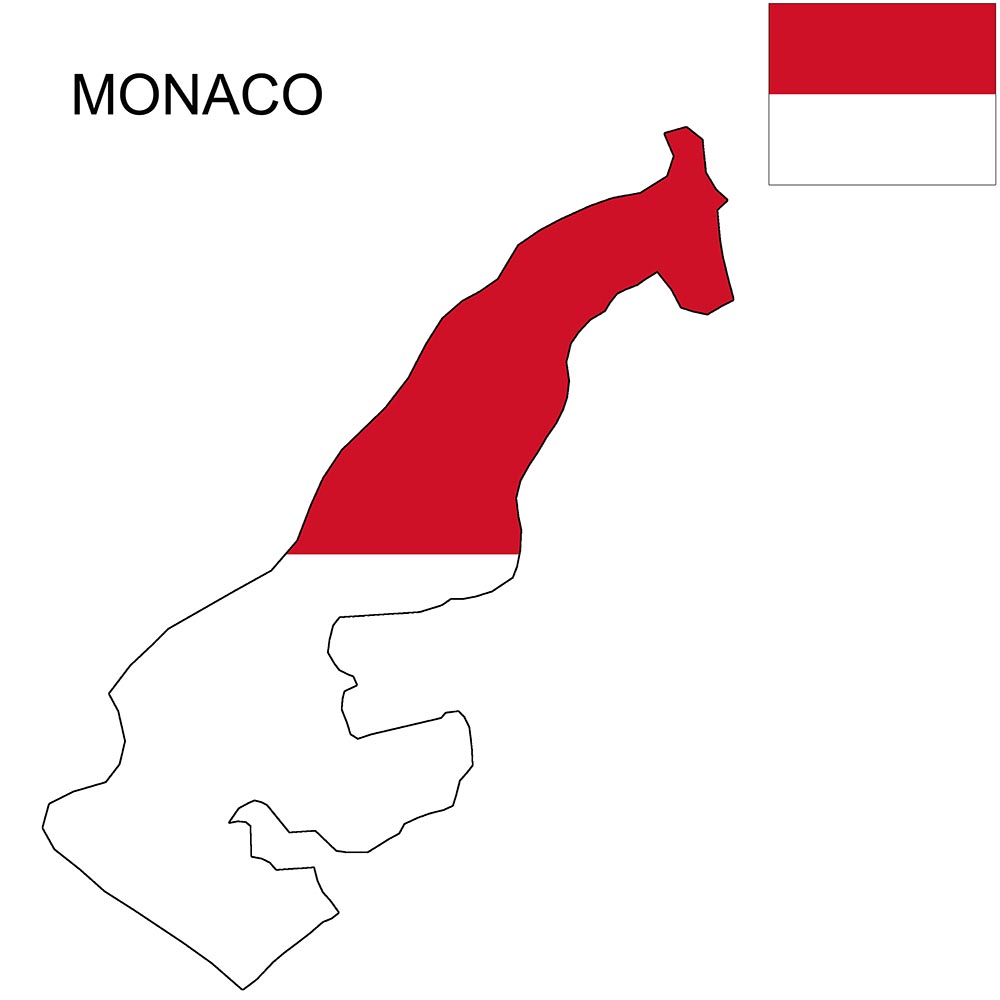 History of the Monaco Flag
The Principality of Monaco is the second smallest state in the world (the smallest Vatican), a country of 151 hectares and the most populous population density.
The history of Monaco is linked to the Genoese civil wars between the Guelph (supporting the Pope) and Ghibellines (supporting the German Emperor). In 1297, Guelph Rainier Grimaldi captured Monaco's territory from Ghibellines and could not hold Monaco for a long time, but he built a dynasty. In 1342, Charles Grimaldi of the same family proclaimed himself Master of Monaco, and in 1346 he acquired the principalities of Roquebrune and Menton. In the 16th century, Monaco was the first historical example of a patron. During the Spanish protectorate in 1525-1641, the Lords of Monaco raised their titles to Prince. In this period, Monaco used the St. George's flag. They allowed England to use their flags at sea and ports for a fee.
Monaco Coat of Arms represents the country as long as the Grimaldi dynasty has been in power since the beginning of the 15th century. Although the design has changed gradually over the years, the main elements have remained the same. The slogan 'Deo Juvante' means with the help of God. This rig now serves as the state flag. The colors in the shield are national colors, red and white, in a model known as 'lozengy argent and gules'. Only a flag with a red and white diamond pattern is widely used throughout Monaco's history to represent the Grimaldi family and country expansion. The rise of nationalism in Europe in the nineteenth century brought about the concept of the national flag. In order to contribute to the adoption of Monaco in Europe in 1881, Monaco changed the Grimaldi colors of the principality to a simple double-color design.
Neighboring Countries of Monaco
In Western Europe, on the Mediterranean coast, in the south of France, close to the Italian border. Surrounded by land borders France, the country consists of the old city of Monaco and later built areas.
Main Characteristics of Monaco
Monaco is the second smallest independent state in the world. The capital of the country is Monaco-Ville, which is attracted by tourists. The official language is French. Some sections speak Italian and English. Euro is used as currency.
The Mediterranean climate prevails. Summers are hot, winters are mild and rainy. The average temperature is 24-25 degrees in summer and 10 degrees in winters.
It is similar to French cuisine. Barbagiuan, which is a kind of dough filled with pumpkin and rice, and Fougasse, which is a dish decorated with almond, hazelnut, and anise, prepared with orange blossom and pancake with chickpeas are the most popular dishes of Socca.
| | |
| --- | --- |
| Country | Monaco |
| Code | MC (MCO) |
| Calling Code | 377 |
| Capital City | Monaco |
| Currency | euro (EUR) |
| Emoji Symbol | 🇲🇨 |
| Highest Point | Mont Agel (140 m) |
| Internet TLD | .mc |
| Population(2018) | 38,897 |
| Total Area | 2 km2 |