Malé is the capital of the Maldives. Despite its small size, Malé plays a crucial role as the political and economic center of the Maldives.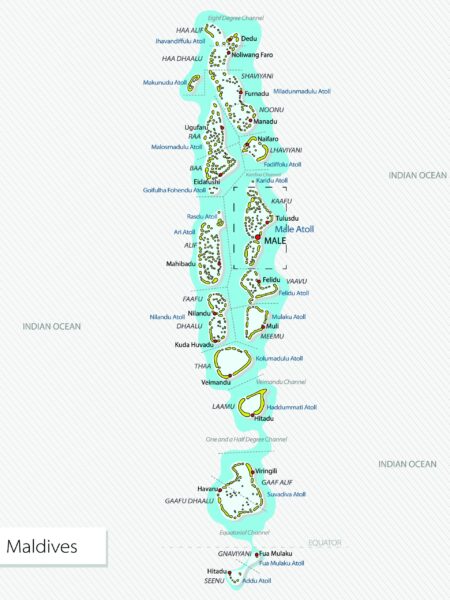 Malé is a compact city known for its modern architecture, historical mosques, and lively markets. With its mix of tradition and modernity, the city offers a unique glimpse into the life and culture of this island nation.
Where is Malé?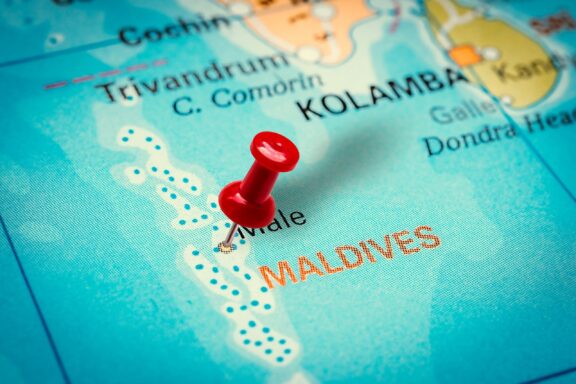 Malé is located in the North Malé Atoll, part of the larger chain of atolls that make up the Maldives. The city is situated in the Indian Ocean, southwest of Sri Lanka and India. It occupies one of the 1,190 coral islands in the Maldives archipelago.
Malé is not just the capital but also the main gateway to other islands, primarily through its international airport on a nearby island called Hulhulé. Given its location, Malé is a crucial hub for tourism, commerce, and governance in the Maldives.
History of Malé
The history of Malé is deeply intertwined with the broader history of the Maldives, a nation with a rich cultural tapestry influenced by various civilizations. Malé has been the political and cultural epicenter of the archipelago for centuries.
The early settlement of Malé's history is thought to go back over a thousand years. Initially, the island was primarily a fishing community and later became a key point for maritime trade routes in the Indian Ocean. It was influenced by various cultures, including Buddhist, Hindu, and Islamic traditions, before becoming a Muslim city in the 12th century.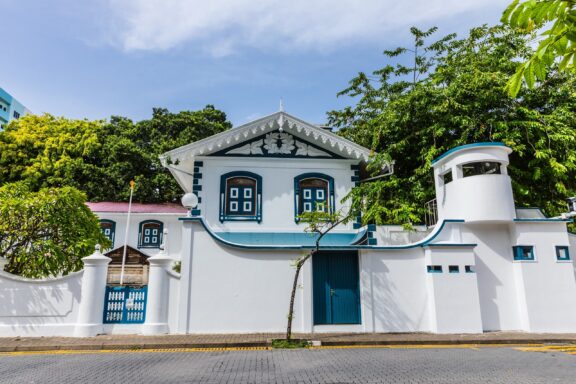 One significant chapter in Malé's history was the period of Portuguese rule from 1558 to 1573. This was a time of upheaval, as the Portuguese imposed their customs and religion on the native population. The rule ended when a Maldivian hero, Muhammad Thakurufaanu, led a successful rebellion to reclaim the city and the nation.
Though brief, Portuguese rule was significant for its impact on Maldivian society and governance. It was a dark chapter that nonetheless galvanized the people, leading to the strengthening of local traditions and governance systems.
After this Portuguese rule, in the late 19th century, the Maldives became a British protectorate, but Malé continued to function as the administrative and political hub. The British influence left a mark on the island's governance and infrastructure.
Unlike the Portuguese, the British adopted a more hands-off approach when establishing a protectorate over the Maldives in 1887. While they controlled the country's foreign policy and defense, internal affairs were largely left in the hands of the Maldivian Sultanate.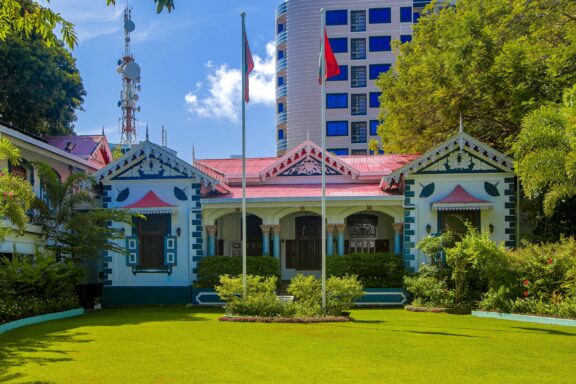 Malé continued to be the political and administrative center during this time. British rule brought some modernization efforts, including improvements in governance and infrastructure. However, the protectorate status also restricted the Maldives from freely conducting international relations, a condition that remained until independence.
In the late 20th century, after gaining independence in 1965, Malé has seen rapid development. Skyscrapers, modern bridges, and advanced transportation facilities dot the city, contrasting with historical sites like the 17th-century Hukuru Miskiy mosque.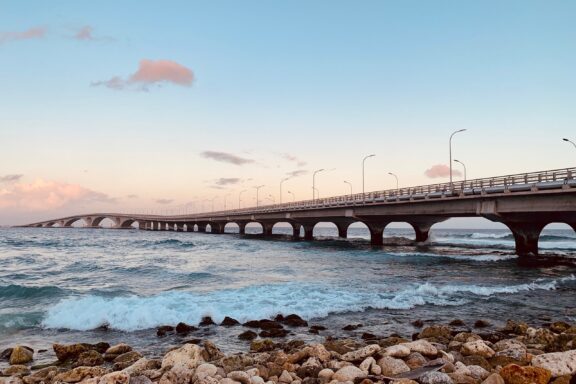 The city became the focus of global attention in 2004 when it was affected by the Indian Ocean tsunami, but it has since recovered and continues to advance. The tsunami caused flooding and infrastructure damage in Malé.
The city strengthened its sea walls and ramped up disaster preparedness measures in response. The event heightened awareness of the city's vulnerability to climate-related risks. The disaster claimed nearly 230,000 lives, ranking it among the most lethal catastrophes in recent history.
Today, Malé remains the heart of the Maldives, balancing its rich past with a rapidly evolving present. It serves as the country's administrative, economic, and cultural focal point.
Features of Malé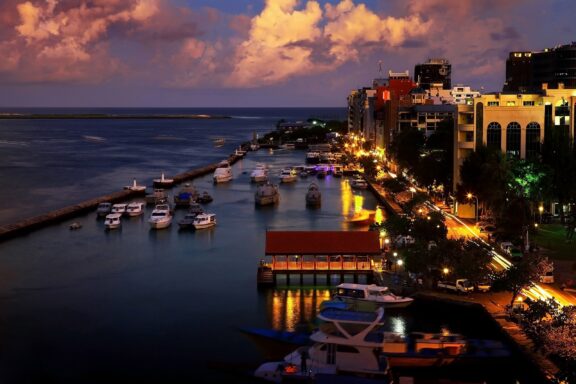 Malé is a city of contrasts that seamlessly blends the historic and contemporary, creating a unique atmosphere that captivates visitors and residents alike. Despite its relatively small land area and its status as the capital of the 9th smallest country in the world, this densely populated city punches above its weight regarding what it offers.
Tall modern buildings, including offices and residential apartments, tower over narrow streets that come alive with the hustle and bustle of daily life. Amid this current landscape, the city preserves its history through ancient mosques and traditional markets.
Its atmosphere is complimented by the friendliness of its people, making it a memorable destination for anyone interested in understanding the heart and soul of the Maldives.
Geography and Climate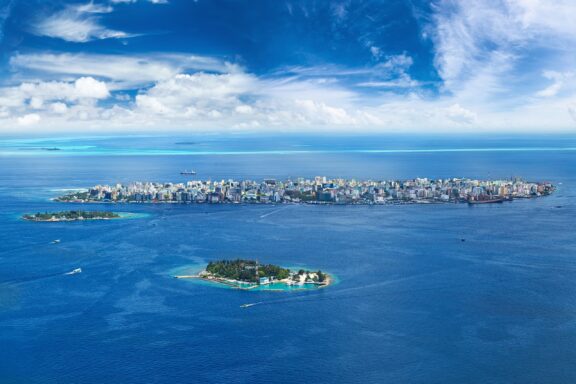 In Malé, the climate is consistently tropical with high humidity and warm temperatures throughout the year. While Malé itself is not located on the Equator, the Maldives holds the distinction of being one of the few countries that cross this global line. The city has two main seasons: the dry season from November to April, and the wet season lasting from May to October.
During the dry season, the city enjoys moderate temperatures, less rainfall, and plenty of sunshine, making it a popular time for tourism. Conversely, the wet season brings increased humidity and frequent showers, yet this period also rejuvenates the island with lush greenery.
Given its low elevation, Malé is particularly vulnerable to sea-level rise due to climate change, a concern that has led to various mitigation efforts.
Population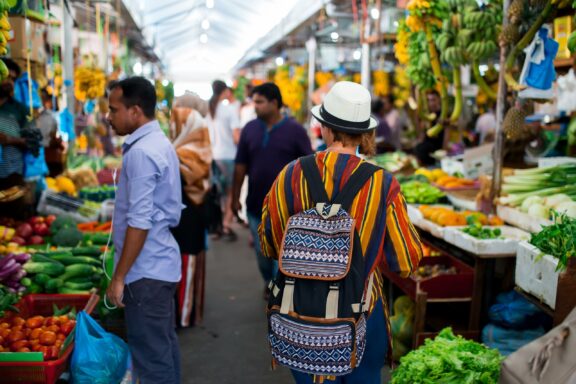 Malé is a densely populated city with a population exceeding 130,000 people. This density is remarkable, given the city's compact size. The populace is predominantly Maldivian, with a significant portion adhering to Islam, the state religion.
While Maldivian Dhivehi is the local language, English is widely understood, especially in professional settings. The city also hosts several expatriates, mainly from South Asian countries, who contribute to the local economy and culture.
Economy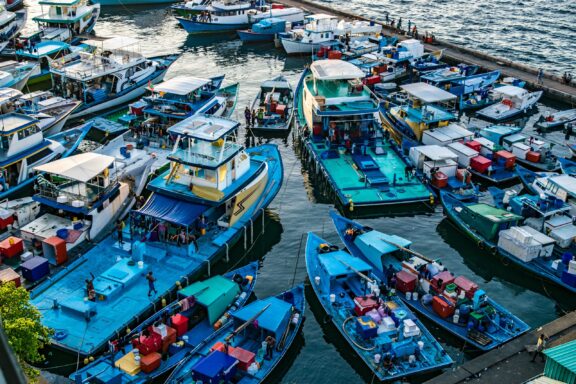 Malé is the financial and commercial hub of the Maldives. It is home to various government offices, businesses, and retail outlets, reflecting its role as the country's administrative and economic center.
The city's economy benefits substantially from tourism, a sector that trickles down to almost all other business areas. From high-end resorts to local guesthouses, tourism dominates the economic landscape.
Furthermore, Malé serves as the main port for the country, making it essential for import and export activities. Fishing also remains an important industry, with the Malé Fish Market standing as a symbol of its significance.
Beyond tourism and fishing, the city has grown in other sectors like construction, retail, and information technology, contributing to its overall economic health. Malé also hosts the headquarters of several banks and financial institutions, highlighting its role as the monetary nerve center of the Maldives, which is among the richest countries in Asia.
With a growing, diversified economy, the city thrives as the country's principal hub of activity and progress.
Things to Do and Places to See in Malé
A diverse range of activities and sights await visitors in the capital city. Here are some of the standout attractions and experiences in Malé.
1. Hukuru Miskiy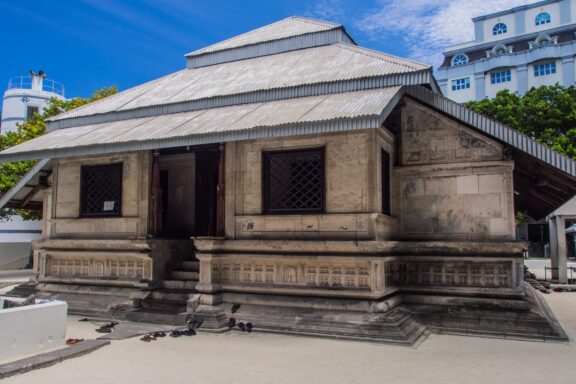 Hukuru Miskiy, commonly known as Friday Mosque, is a stunning testament to Maldivian heritage and Islamic architecture. It is a place of worship and a UNESCO World Heritage site. The mosque offers a serene, contemplative space amid Malé's fast-paced urban life.
The mosque's architecture features intricate wood carvings and elaborate Arabic calligraphy, setting it apart from modern structures. Made primarily from coral stone, the mosque includes a minaret, sundial, and an ancient cemetery. The coral stone walls have absorbed history, displaying carvings that date back centuries.
2. Hulhumalé Beach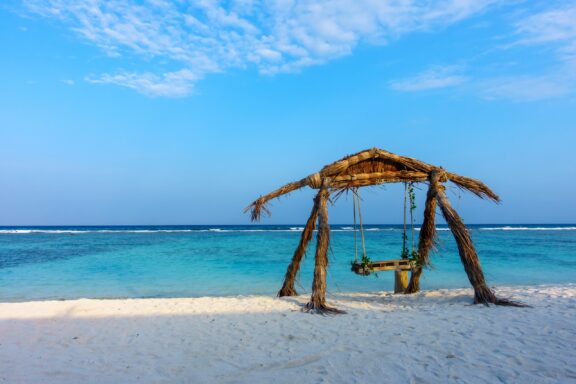 Adjacent to the bustling capital city of Malé, Hulhumalé Beach offers a remarkable contrast with its expansive sandy shores and relaxed atmosphere. The beach is characterized by its vast stretches of sand, perfect for sunbathing, and clear, shallow waters ideal for swimming. The area around the beach features modern architecture, local eateries, and a boardwalk providing fantastic sea views.
Visitors frequent Hulhumalé Beach for various water activities like snorkeling and jet-skiing. It's also a favored spot for romantic evening walks and family picnics. The laid-back atmosphere offers a break from the hustle and bustle of Malé, providing a more relaxed experience.
3. Malé Fish Market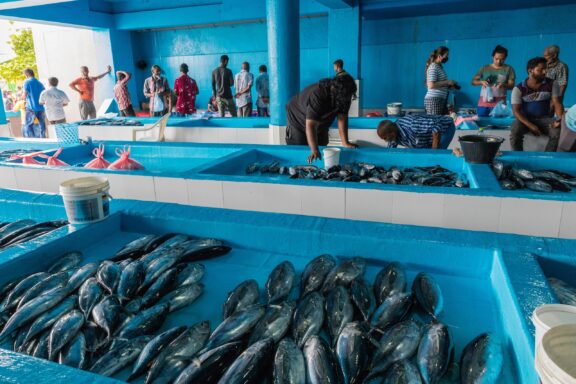 Situated near the inner harbor of Malé, the fish market is an open-air bazaar teeming with activity. Here, you can see a variety of fish displayed in neatly organized stalls. The market's atmosphere is lively yet orderly, reflecting the Maldivian's deep respect for the ocean's bounty.
While here, you can expect to be immersed in a sensory experience. The smell of fresh seafood, the chatter of vendors and buyers, and the skillful art of fishmongers at work offer a unique and authentic Maldivian experience.
Photography is generally welcomed, and you might even get a chance to witness the age-old Maldivian technique of tuna fishing through discussions with local fishermen.
4. Sultan Park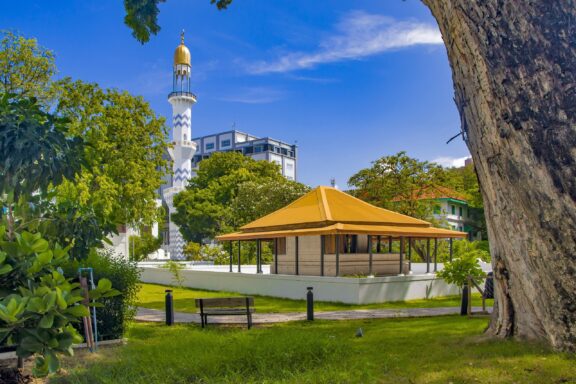 The Sultan Park is landscaped with various native and exotic plants, including palm trees and flowering shrubs. Pathways wind through the grounds, leading visitors to small ponds and shaded benches. Sculptures and art pieces dot the area, adding cultural flavor to the natural beauty.
Visitors will find Sultan Park a respite from the concrete and speed of Malé. It's an ideal place for a leisurely walk, casual photography, or even a peaceful afternoon reading a book. Occasionally, the park hosts cultural events and exhibitions, adding another layer of interest to this green space.
5. Islamic Centre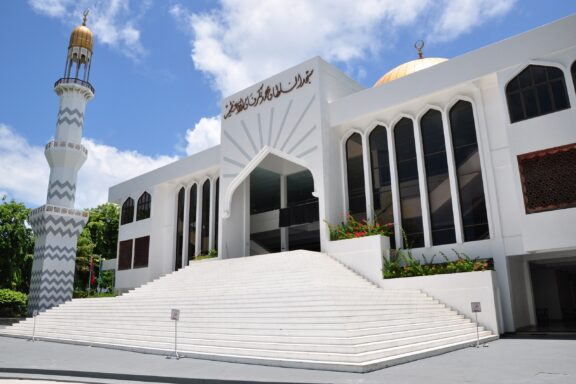 The Islamic Centre stands as a modern marvel in the middle of Malé. It's a place of worship and a hub for Islamic studies and community gatherings. Its towering golden dome is one of Malé's most iconic landmarks. It also houses an Islamic library, conference halls, and administrative offices.
The Islamic Centre is a focal point for religious and cultural activities. Visitors will find a wealth of information on Islamic history and art. Non-Muslims are generally allowed to visit outside prayer times and are asked to dress modestly. Photography is often allowed, and the view from the mosque's minaret is a must-see for a sweeping view of Malé.
6. Rasfannu Beach
Rasfannu Beach offers a pocket of paradise in Malé. Created to provide residents and visitors with a place to unwind, it's a popular destination for beach lovers in the capital city. It boasts soft, golden sand, calm, shallow waters, and palm trees that provide shade and create picture-perfect relaxing spots.
Nearby, you'll find amenities such as cafes and shops and rentals for water sports equipment. The beach is popular for swimming, beach volleyball, and water sports. Locals often use the area for jogging and exercise in the mornings. Its accessibility and well-maintained facilities make it an easy and enjoyable visit for anyone looking to catch some sun and surf without leaving the city.
7. Hulhumale Mosque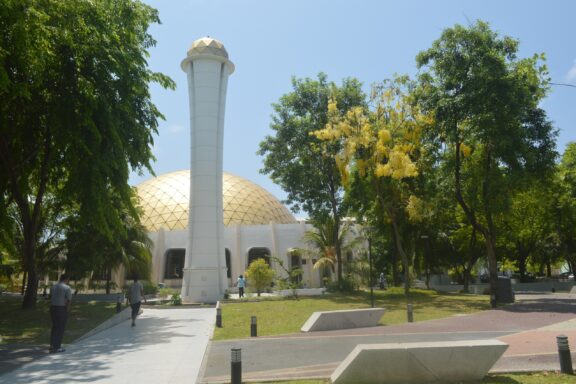 The Hulhumale Mosque serves a community that has been designed for the future. Its strikingly modern design represents the evolving face of religious architecture in the Maldives. The interior is just as impressive, with contemporary Islamic art and digital installations enhancing the traditional motifs and Quranic inscriptions.
8. Majeedhee Magu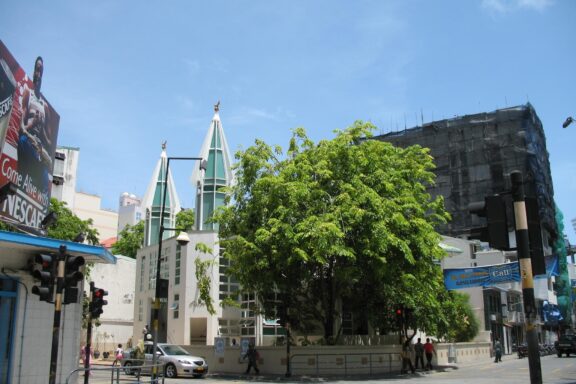 Majeedhee Magu is the pulse of commercial life in Malé, offering everything from high-end boutiques to local handicraft stores. As one of the main thoroughfares, it's a slice of daily life that shouldn't be missed by any visitor to the Maldives' capital.
Shopping at Majeedhee Magu is an experience in and of itself. Whether you're bargain-hunting or window-shopping, the street offers something for everyone. It's also a great place to find souvenirs and gifts uniquely Maldivian. The atmosphere is energetic, reflecting the diversity and vibrancy of life in modern Malé.
9. Tsunami Monument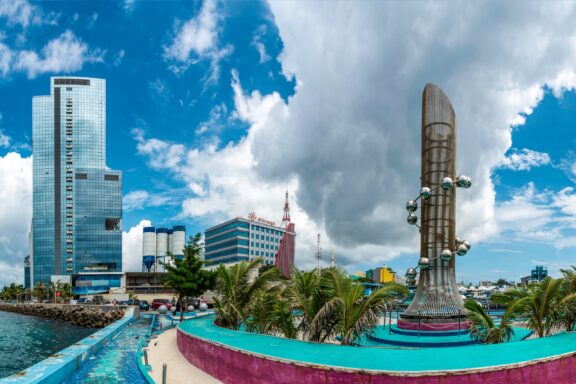 Designed with a series of vertical rods and spherical elements, the Tsunami Monument's structure symbolizes unity and strength. Plaques at the site display the names of those who perished, and the monument is illuminated at night, making it a striking visual element in the city landscape.
Visiting the monument offers an opportunity for quiet reflection and understanding of the impact of natural disasters on island communities. The memorial is usually less crowded, providing a tranquil environment for visitors. The site often serves as the focal point for annual memorial services, where locals gather to pay respects and remember the lives lost.
10. Trip to Villingili Island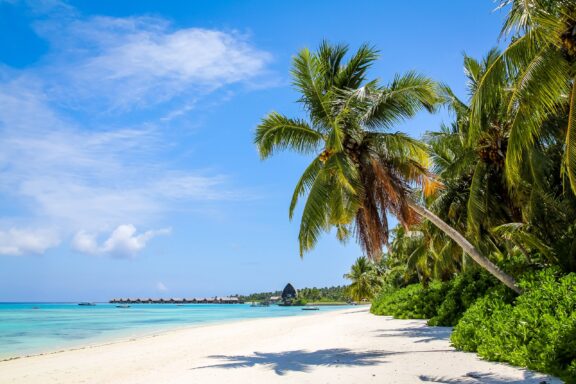 A mere 8-minute ferry ride from Malé, Villingili Island provides a delightful contrast to the urban setting of the capital. As the only resort island in the Maldives' administrative region of Male Atoll, it is an accessible escape for those wanting to experience the luxurious side of the Maldives conveniently.
Visitors to the island can expect a lavish experience with exceptional service and various activities. Whether it's taking part in water-based adventures like scuba diving and snorkeling or simply unwinding in a luxurious spa, the island offers something for everyone. It's an excellent choice for travelers wanting to combine high-end amenities and comforts with the Maldives' natural beauty.
Frequently Asked Questions
Is Malé safe for tourists?
Malé is generally considered safe for tourists. However, like any other city, it's advisable to take standard precautions, especially in crowded areas.
What is the best time to visit?
The dry season, from November to April, is the most popular time to visit, thanks to pleasant weather and lower humidity.
What authentic local foods should I try while in Malé?
The local cuisine in Malé is deeply influenced by its island setting, featuring abundant use of fish, coconut, and various spices. Seafood is often the centerpiece of Maldivian meals, complemented by savory and aromatic flavors.
Here are some of the best must-try dishes to try while in Malé:
• Garudhiya: This is a traditional Maldivian fish soup, often made with tuna. It's flavored with simple ingredients like lime, chili, and salt, allowing the freshness of the fish to shine. It's often enjoyed with steamed rice or roshi (a flatbread).
• Mas Huni: This dish consists of shredded smoked fish, usually tuna, mixed with grated coconut and spices. It's typically served with roshi and is a popular choice for breakfast.
• Bis Keemiya: This is a Maldivian-style pastry filled with cabbage, tuna, and hard-boiled eggs. It's similar to a spring roll and offers a delightful contrast of flavors and textures.
How do I get around Malé?
The city is compact, so walking is often the easiest way to get around. Public buses and taxis are also available for longer distances.
What currency is used in Malé?
The Maldivian Rufiyaa (MVR) is the local currency, and most places also accept major international credit cards.
Is Malé expensive to visit?
The cost of living in Malé can vary. While some goods and services are expensive due to import costs, affordable options are also available, especially for food and souvenirs.
Is Malé crowded?
Given its status as the country's capital and economic hub, Malé is densely populated, which can make it feel busy, especially during peak hours.
Are there beaches in Malé?
Malé itself does not have natural beaches due to land reclamation. However, there is an Artificial Beach for recreational activities.
Can I take a day trip to nearby islands?
Yes, taking a ferry to nearby local islands is popular, offering a different perspective on life in the Maldives.
Final Thoughts
Malé offers a compelling blend of history, culture, and modernity, making it a must-visit for anyone looking to experience the multifaceted nature of the Maldives. While it may not possess the idyllic beaches that the country is famous for, the city compensates with its rich historical landmarks, bustling markets, and vibrant local life.
Whether you are interested in history, shopping, or just soaking up the local atmosphere, Malé provides a unique experience that complements the more traditional resort-focused Maldivian vacation. Overall, Malé offers visitors a different lens to view this fascinating island nation, enriching your overall experience.