Vaduz is the cpaital of Liechtenstein. It's a small, picturesque city located along the Rhine River, serving as the political and financial center of the country.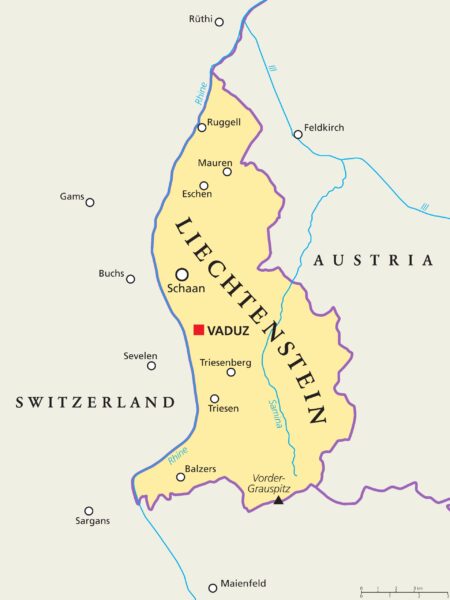 Vaduz, though not large, plays a vital role in the governance and economy of Liechtenstein. It's home to the royal family of Liechtenstein and serves as a hub for banking and finance, offering high levels of privacy for its international clientele.
Where is Vaduz?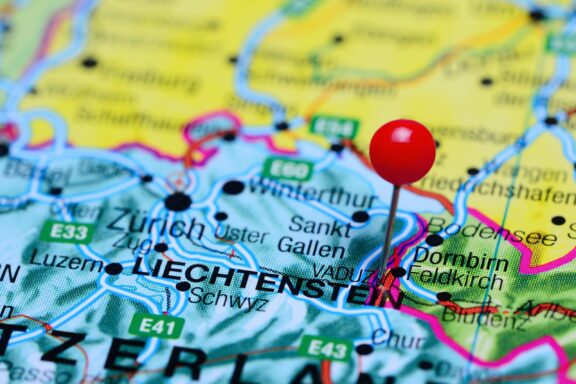 Vaduz is located in the western part of Liechtenstein, along the Rhine River's eastern banks. The city is near the border with Switzerland, specifically the Swiss canton of St. Gallen. The city's setting along the Rhine also places it in the Alpine Rhine Valley, surrounded by mountainous terrain.
Vaduz lies at an altitude of approximately 450 meters (about 1,476 feet) above sea level. The Alpine Rhine Valley, where Vaduz is situated, is characterized by its stunning natural landscapes, with the nearby Swiss and Austrian Alps providing a scenic backdrop.
History of Vaduz
During medieval times, Vaduz Castle was built as a fortification to protect the local community and provide a strategic point of defense. Its elevated location on a hilltop made it difficult for would-be invaders to conquer. Even in its early days, the castle also acted as the seat for the Counts of Vaduz, signifying the city's importance as a governing center.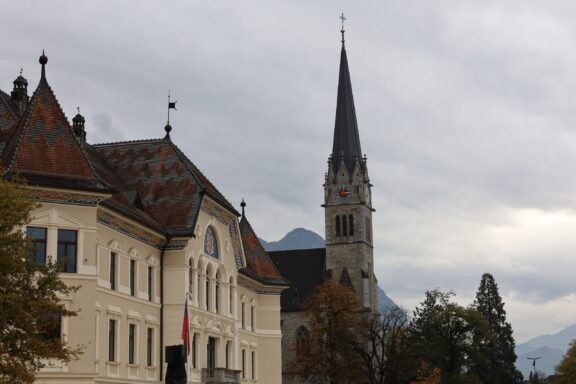 The 17th and 18th centuries were transformative for Vaduz as it became integral to the newly formed Principality of Liechtenstein. It received official recognition from the Holy Roman Emperor Charles VI in 1719.
This was a period of political consolidation, and linking Vaduz with Schellenberg led to administrative and economic synergies. Vaduz started to gain a reputation as a well-run and organized administrative center.
While the 19th century saw significant geopolitical upheavals in Europe, including the dissolution of the Holy Roman Empire, Vaduz remained relatively stable. As Liechtenstein retained its sovereignty, Vaduz remained an essential administrative point.
During this period, the city began laying the foundations for modern governance and public infrastructure, focusing more on public services and civic institutions.
Global conflicts marked the early to mid-20th century, but Vaduz largely remained untouched due to Liechtenstein's policy of neutrality. This stability allowed the city to concentrate on internal developments, including initiating its finance sector.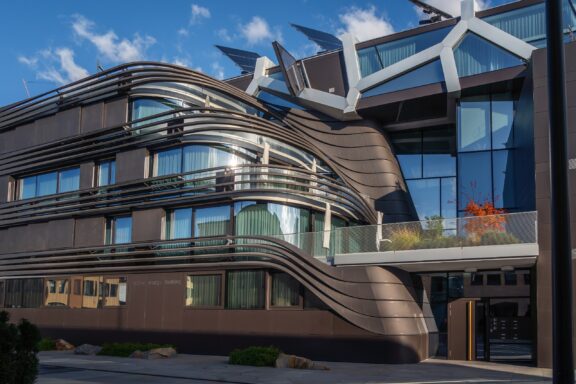 The political steadiness of Vaduz attracted international attention, making it an increasingly attractive location for banking and financial activities.
The late 20th century saw Vaduz undergoing a phase of rapid modernization. The finance sector boomed, attracting international businesses and investments. Meanwhile, the city also made efforts to preserve its history and culture.
Museums like the Liechtenstein Museum of Fine Arts were established, offering a blend of historical and contemporary works. At the same time, the city made improvements in public amenities and transportation, making it more accessible and visitor-friendly.
In summary, Vaduz has seen significant changes through each historical period, shaping it into its multifaceted capital today.
Features of Vaduz
Vaduz is a fascinating blend of history, modernity, and natural beauty, encapsulating many elements that make it unique among European capitals. The pedestrian-friendly Vaduz city center, with its well-maintained public spaces, offers a welcoming atmosphere.
Geography and Climate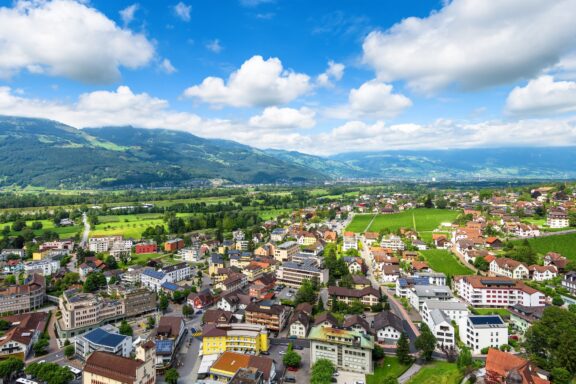 Vaduz experiences a temperate, continental climate with four distinct seasons. Summers are generally mild to warm, with temperatures ranging from 20 to 28 °C (68 to 82 °F). Winters are cold but not exceptionally so, with temperatures hovering between -2 and 7 °C (28 to 45 °F).
Snowfall is expected in winter, adding to the city's picturesque charm. Rainfall is evenly distributed throughout the year, contributing to the area's lush green landscapes.
Population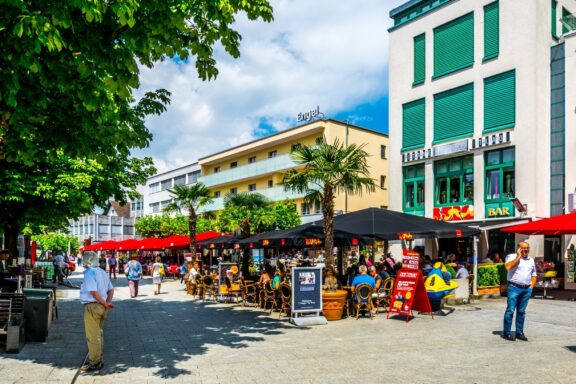 Vaduz has a population of approximately 5,500 residents. It's a culturally diverse city with a mix of native Liechtensteiners and international residents, mainly due to its status as a financial hub.
The city is cosmopolitan despite its small size, and you can find a variety of languages spoken, though German is the official language. The quality of life is high, with excellent healthcare, education, and public services.
Economy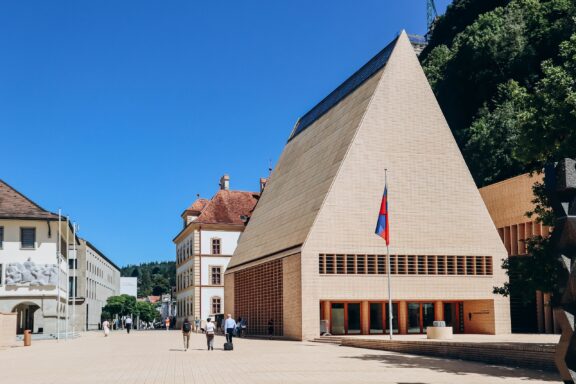 Vaduz serves as the economic heart of Liechtenstein, focusing on the banking and financial services sector. It is home to several banks offering a wide range of financial services, attracting domestic and international clientele.
Given the city's strong regulatory framework and political stability, many companies choose Vaduz as a base for their operations. Tourism is another key industry besides finance, owing to the city's scenic beauty and cultural landmarks.
Despite its small size, the economic health of Vaduz is robust, and it contributes significantly to the overall GDP of Liechtenstein.
Things to Do and Places to See in Vaduz
Oaduz offers an array of diverse activities and landmarks to explore. Here are some of the city's most frequented attractions and sites.
1. Vaduz Castle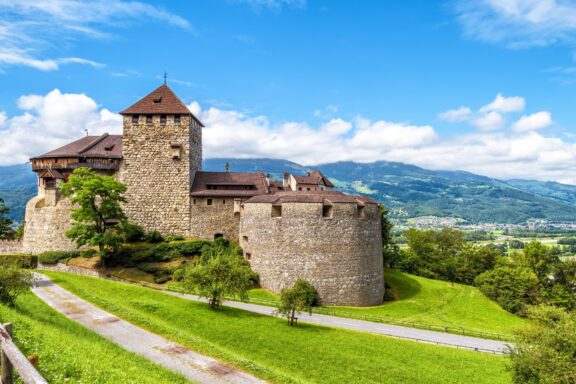 Vaduz Castle majestically overlooks at the capital of Liechtenstein. Although the main sections of the castle are not open to the public, the sight of this grand structure atop a hill is a must-see when visiting Vaduz.
The castle blends architectural styles, from medieval foundations to Renaissance expansions. Its towering walls and turrets can be seen from almost any part of Vaduz, making it an ever-present element in the city's landscape.
Visitors can take a leisurely hike up to the castle for panoramic views of Vaduz and the surrounding Alpine landscape. There's a sense of serenity coupled with the awe of being close to a place of such historical and current importance.
2. Kunstmuseum Liechtenstein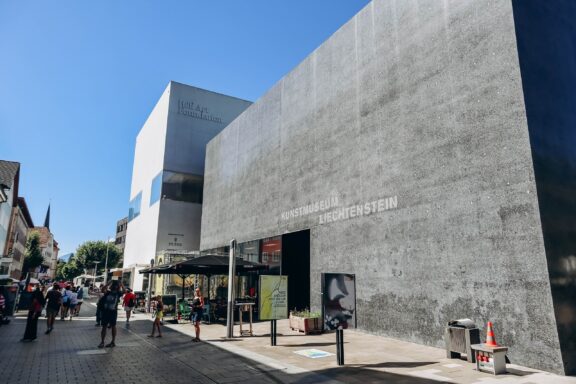 The Kunstmuseum Liechtenstein offers a cultural feast for modern and contemporary art lovers. Located in the heart of Vaduz, the museum has an architecturally striking building and is a key cultural institution in the city.
Visitors will find an expansive collection of artwork inside the museum, from paintings and sculptures to installations and multimedia pieces. The architectural design of the building itself is a work of art, featuring a black basalt exterior and spacious, well-lit galleries inside.
3. Liechtenstein National Museum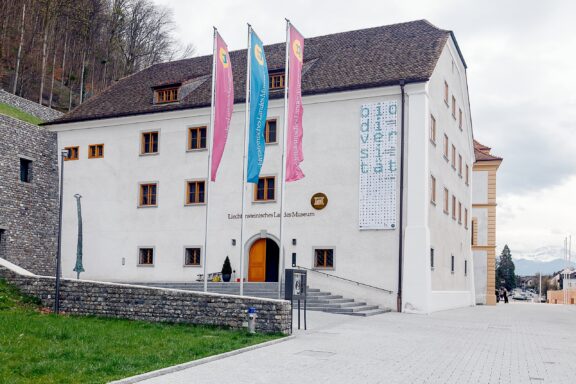 For those interested in delving into the heritage of Liechtenstein, the National Museum in Vaduz provides an invaluable experience. The museum offers an encyclopedic overview of the country's history, cultural practices, and natural environment.
The museum offers guided tours and interactive exhibits, making it a family-friendly destination. Specialized rooms focus on aspects like archaeology, folklore, and the princely family, offering an in-depth look at the multifaceted identity of Liechtenstein.
4. St. Florin Cathedral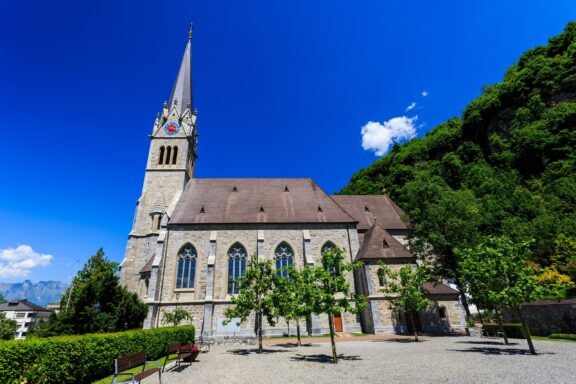 St. Florin Cathedral, also known as Vaduz Cathedral, is an architectural marvel. The cathedral's neo-Gothic architecture is immediately striking, with intricate stonework and ornate stained-glass windows, and it's one of the most visited religious sites in Liechtenstein.
Visitors are welcome to attend mass, participate in guided tours, or explore the cathedral at their own pace. The serenity of the atmosphere inside St. Florin Cathedral offers a quiet retreat from the busier parts of the city, making it a place of both spiritual and aesthetic enrichment.
5. Government Building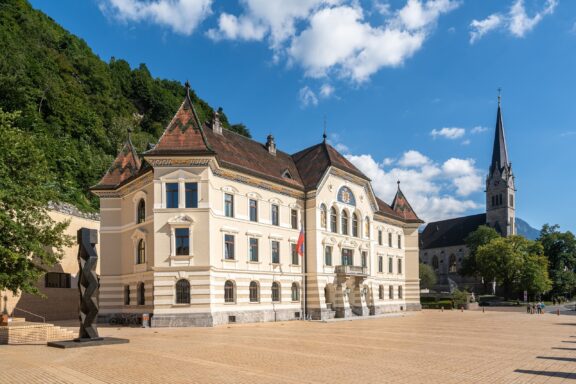 The Government Building in Vaduz is not just a hub of political activity; it's also a notable architectural landmark in the city. Situated close to the city center, this building is where decisions shaping Liechtenstein's policies and future are made.
While visitors generally can't enter the working spaces, the exterior of the Government Building is well worth a visit for architecture enthusiasts and those interested in the country's political workings.
There are usually informative plaques and sometimes exhibitions in the vicinity that offer insights into Liechtenstein's administrative system.
6. Postal Museum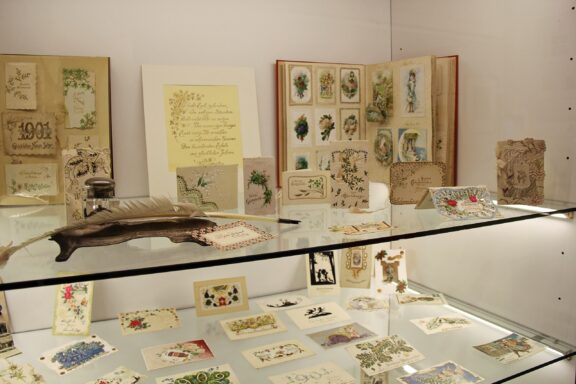 The Postal Museum offers a fascinating window into the world of postal history and the development of communication in Liechtenstein. It's a more specialized museum, making it a unique stop on any tour of Vaduz.
Here, you can explore a wide range of exhibits, including historical postage stamps, old mailboxes, and even antique postal vehicles. This museum offers an intriguing, detailed experience, making it a surprising highlight for history buffs or anyone interested in the nuances of communication.
7. Red House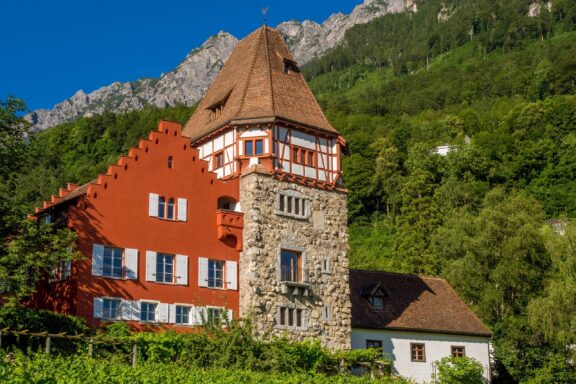 The Red House is not just a visually striking private residence; it's a piece of Vaduz's architectural tapestry. The structure, with its vivid hue and wooden turret, offers a glimpse into traditional Alpine architecture.
Since the Red House is a private residence, interior access is not permitted. However, visitors can admire its interior architecture and take photographs. The surrounding area is also notable for its scenic beauty, offering excellent views of Vaduz and the nearby mountains.
8. City Train Vaduz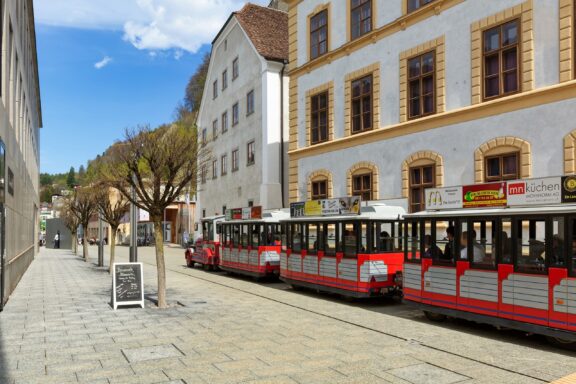 The City Train Vaduz provides a novel and convenient way to explore the capital city of Liechtenstein. Operated mainly during the tourist season, this small train offers a relaxed journey through Vaduz's main attractions.
Ideal for those who prefer not to walk long distances or are limited on time, the City Train has an audio guide that provides interesting facts and stories about the attractions along its route.
It's a laid-back and informative way to get your bearings and decide which sites to delve into more deeply during your stay.
Frequently Asked Questions
How do I get to Vaduz?
The nearest international airport is Zürich Airport in Switzerland. From there, you can take a train and bus to reach Vaduz.
Is Vaduz expensive to visit?
Vaduz is an exceptionally safe destination for tourists. The city benefits from Liechtenstein's low crime rate, making it a secure choice for all travelers, including solo female travelers.
Public transportation is safe and reliable, connecting Vaduz conveniently with neighboring countries. Authorities maintain safety through random checks, enhancing the city's secure environment. Overall, safety concerns are minimal for tourists to Vaduz.
What's the best time of year to visit Vaduz?
Summer (June to August) offers warm weather and outdoor activities, while winter (December to February) is excellent for winter sports.
What food can I expect in Vaduz?
The traditional cuisine of Vaduz is heavily influenced by its Alpine surroundings and German-speaking neighbors, particularly Switzerland and Austria.
Root vegetables, dairy products, and meats are staple ingredients. Over the years, the city's cosmopolitan nature has also introduced international flavors, but the core remains rooted in hearty comfort foods.
What are must-try authentic local dishes from Vaduz?
If you're visiting Vaduz, experiencing the local cuisine is a must. Here are the top 4 dishes you should try:
1. Käsknöpfle: This is a type of pasta dish, similar to mac and cheese, made with Alpine cheese.
2. Ribel: A traditional dish made of maize semolina, often served as a side.
3. Schnitzel: While it originated in Austria, schnitzel is extremely popular here, typically made from pork or veal and served with a slice of lemon.
4. Sürmel: A local sausage dish often served with potatoes and gravy.
Are guided tours available in the city?
Yes, guided tours are available, including walking and City Train Vaduz tours.
Are there any local festivals or events that I should be aware of?
Liechtenstein's National Day on August 15th is a major event featuring celebrations and fireworks.
Final Thoughts
Vaduz presents a unique blend of old-world charm and modern sophistication, set against the stunning backdrop of the Alps. Whether you're drawn to its historical landmarks, high-quality museums, or thriving financial district, Vaduz offers a multifaceted experience that defies its small size.
The city's high standard of living, safety, and accessibility make it a welcoming destination for travelers. If you're interested in experiencing a capital that beautifully marries tradition with modernity, all within a scenic setting, visiting Vaduz is undoubtedly worth your time.