Helsinki is the capital of Finland. It is also the most populous city and serves as the country's economic, political, educational, and cultural center.
Helsinki has a long and complex history, and over the centuries, it evolved into a modern and cosmopolitan city. However, it retains much of its historical charm, blending neoclassical and modern architecture.
Where is Helsinki?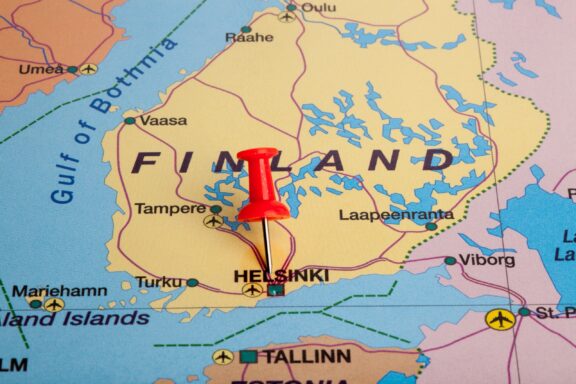 Helsinki is located in the southern region of Finland, nestled on the northern coast of the Gulf of Finland, an arm of the Baltic Sea. It lies approximately at a latitude of 60.1699 degrees North and a longitude of 24.9384 degrees East. The city is spread over a series of peninsulas and islands, making its geography somewhat complex.
Helsinki is relatively close to several other important cities in Northern Europe. It is about 90 kilometers (56 miles) to Tallinn, 390 kilometers (240 miles) west of St. Petersburg, Russia, and about 400 kilometers (310 miles) East of Stockholm, Sweden (though this requires a sea crossing).
History of Helsinki
The history of Helsinki is full of significant events and periods that have shaped it into the capital of Finland it is today.
From 1550 to 1808, Helsinki, or Helsingfors as it was initially named, was established as a trading town by King Gustav I of Sweden to rival the Hanseatic city of Reval (now Tallinn) in Estonia. However, Helsinki remained a relatively small and unimportant town for the first couple of centuries.
Following the Finnish War between Sweden and Russia, Finland was ceded to Russia in 1809, becoming the autonomous Grand Duchy of Finland within the Russian Empire. In 1812, Tsar Alexander I moved the Finnish capital from Turku, which was traditionally more aligned with Sweden, to Helsinki to draw it closer to Russia geographically and symbolically.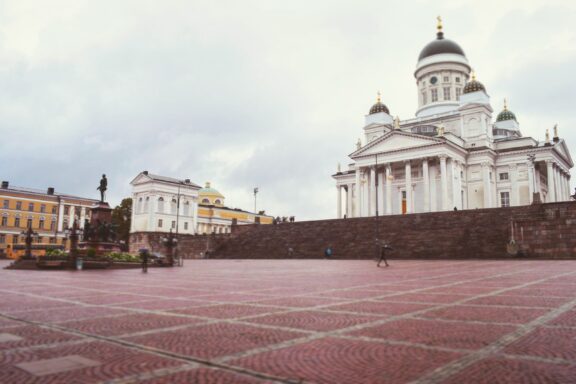 The city was primarily reconstructed under the guidance of Johan Albrecht Ehrenström and architect Carl Ludwig Engel, who designed a new city center in a neoclassical style, giving Helsinki its nickname, "the White City of the North." Landmarks like the Helsinki Cathedral, Senate Square, and the University of Helsinki were built during this period.
How and when did Helsinki become the capital of Finland?
After Finland declared independence from Russia in 1917 amidst the chaos of the Russian Revolution, Helsinki became the capital of the newly independent Finland.
During World War II, Helsinki was attacked several times by the Soviet Union in what became known as the Winter War (1939-1940) and the Continuation War (1941-1944). However, the city resisted severe damage and destruction, earning the moniker "Daughter of the Baltic."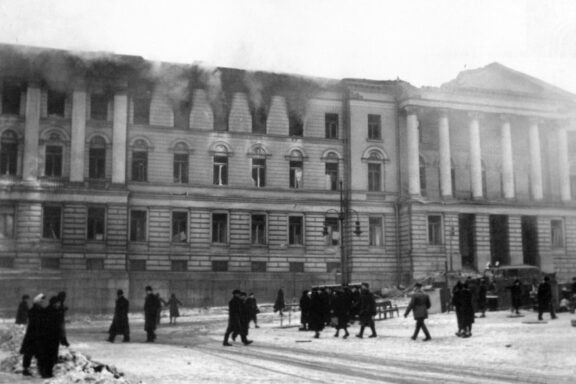 After the wars, Helsinki experienced rapid growth. The city hosted the Summer Olympics in 1952, which put it on the global map. The city's infrastructure was significantly modernized, and the economy grew with a focus on electronics and information technology, leading to urbanization and economic prosperity. Helsinki became a significant player in European politics, often hosting international negotiations during the Cold War era.
Today, Helsinki continues to flourish as a city known for its design, technology, and high standard of living. Its unique blend of historical architecture and modern design, along with its lively cultural scene, has made it a popular destination for visitors from around the world.
Features of Helsinki
Despite being known to feature bustling and vibrant city life, Helsinki also offers a beautiful natural landscape. The sea surrounds Helsinki, has an archipelago of around 330 islands, and is home to numerous parks.
Geography and Climate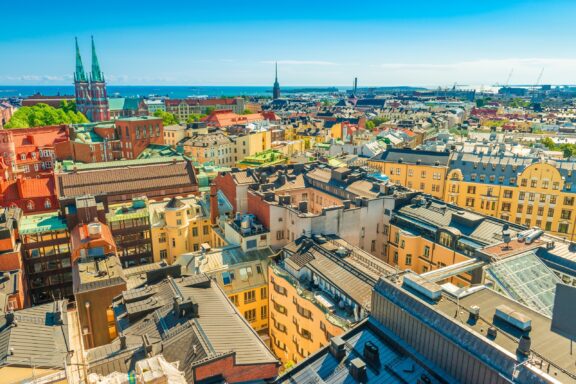 Helsinki's geography is complex and diverse, characterized by a series of peninsulas, bays, and islands. The city has a dense urban core, but it's surrounded by more sparsely populated suburban and rural areas.
Helsinki's climate is classified as a humid continental climate. However, its temperatures are higher than many locations at a similar latitude due to the moderating influence of the Baltic Sea and the North Atlantic Current.
The city experiences warm summers, with average high temperatures in July around 21 °C (70 °F), and cold winters, with average high temperatures in February around -1 °C (30 °F) making. Helsinki receives considerable snowfall during the winter months.
Population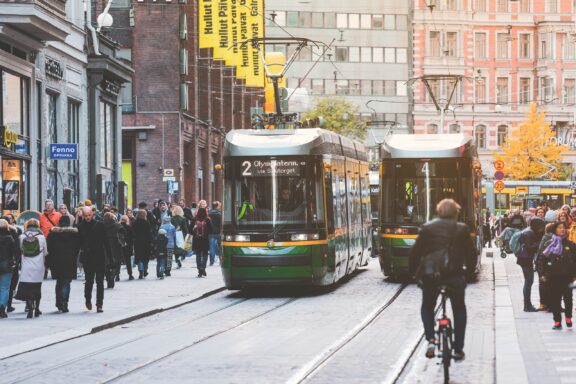 Helsinki has a population of over 1.2 million within the broader metropolitan area. Most people in Helsinki are Finnish, with Finnish and Swedish being the official languages. However, the city is quite international, with a growing number of residents from various countries worldwide.
Helsinki is known for its high standard of living, excellent education and healthcare services, and safety, attracting people from various backgrounds.
Economy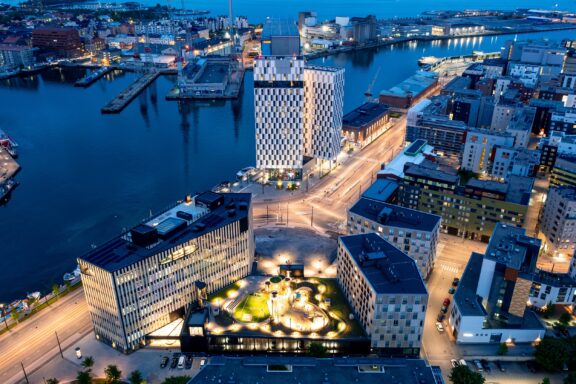 Helsinki has a diverse and robust economy. It is the economic center of Finland, contributing a significant portion of the country's GDP. The city is a hub for business services, including IT, digital services, and creative industries. Helsinki has a thriving startup scene and is home to many Finnish multinational companies like Nokia and KONE.
In addition to the service sector, other significant industries in Helsinki include logistics due to its seaport and airport; manufacturing, including machinery and electronic equipment; and healthcare, led by the robust biotech industry.
Helsinki is also known for its commitment to innovation and sustainability, which drive economic growth and attract investment. The city strongly focuses on research and development activities, with many institutions, like the University of Helsinki and Aalto University, collaborating with businesses to spur innovation.
Things to Do and Places to See in Helsinki
Helsinki and its surrounding regions present many sights to behold and activities to engage in.
Here's an overview of some of the most frequented attractions and landmarks:
1. Senate Square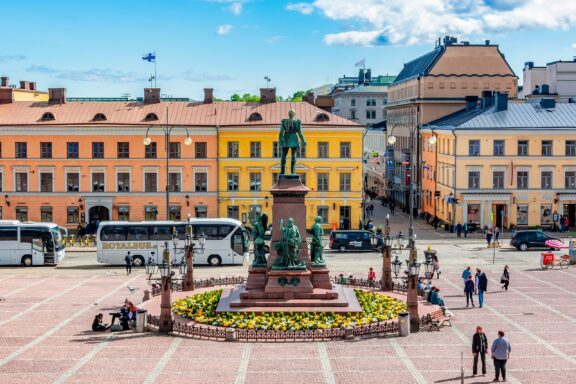 Senate Square, also known as Senaatintori, is one of the most iconic places in Helsinki. Centered around four main neoclassical buildings designed by Carl Ludvig Engel, it presents a captivating sight. The dominating Helsinki Cathedral, with its green domes and white façade, overlooks the square from the top of a flight of stairs. On the opposite side is the main building of the University of Helsinki.
The Government Palace and the National Library of Finland flank the square on the remaining sides. The statue of Alexander II stands as a reminder of Finland's past as an autonomous Grand Duchy within the Russian Empire. This historic square is a great place to absorb Finnish history and architecture.
2. Suomenlinna Sea Fortress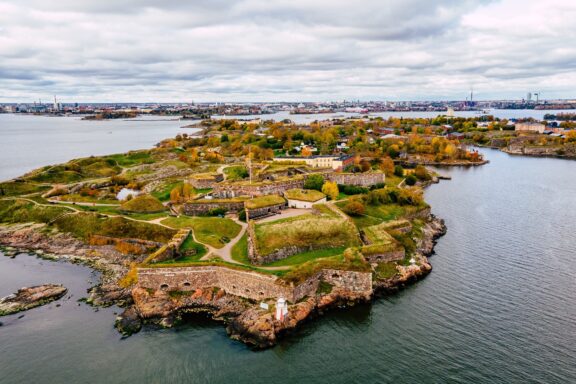 Suomenlinna is a UNESCO World Heritage site, a sea fortress built on six islands, offering a unique blend of military architecture and natural beauty. Constructed by the Swedish in the mid-18th century, the fortress has served military purposes under Swedish, Russian, and Finnish rule.
It is a popular site for tourists and locals, hosting museums, restaurants, and even a brewery. The journey to Suomenlinna by ferry offers stunning views of Helsinki and the surrounding archipelago.
3. Market Square (Kauppatori)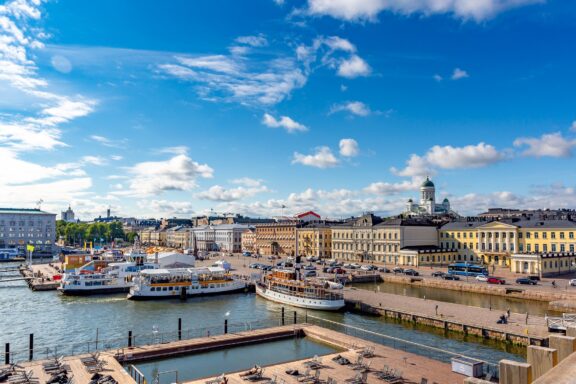 Market Square is a vibrant outdoor market located on the harbor side of the city. Vendors sell various products, including fresh Finnish produce, local handicrafts, and souvenirs. Food stalls offer traditional Finnish delicacies like smoked salmon, reindeer meat, and seasonal berries.
The atmosphere is buzzing, and the views over the harbor are splendid, especially during the warmer months. Nearby, you can find the Old Market Hall, where more delicacies await in a historical setting.
4. Oodi Central Library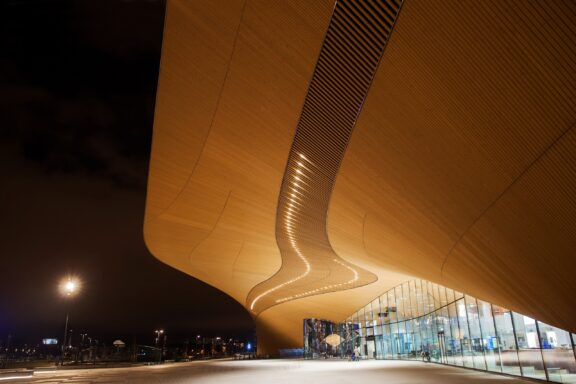 The Oodi Central Library, opened in 2018 to celebrate the centenary of Finnish independence, is a testament to Finland's commitment to literacy, democracy, and freedom of expression. The building is an architectural marvel, with its sweeping wooden façade and curved lines.
Inside, it is much more than a library: it houses a café, restaurant, cinema, and various workshop spaces, including 3D printers and sewing machines for public use. Its top floor offers panoramic views of Helsinki.
5. Seurasaari Open-Air Museum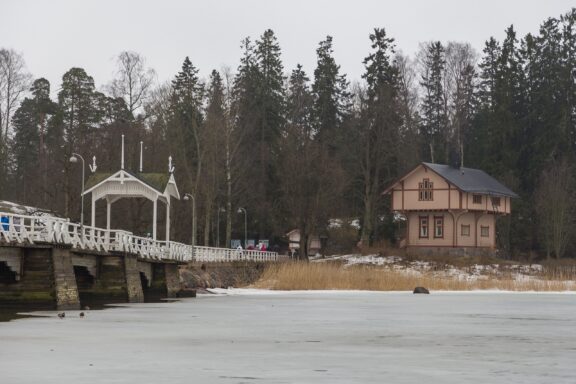 The Seurasaari Open-Air Museum is on a tranquil island just a few kilometers from the city center. The museum offers a glimpse into rural Finnish life, with authentic, preserved buildings from the 18th to the 20th centuries that have been relocated from all over Finland.
You can see traditional Finnish houses, farmsteads, and a wooden church as you stroll around. During summer, guides dressed in period costumes add to the authenticity, and there are demonstrations of traditional Finnish crafts.
6. Uspenski Cathedral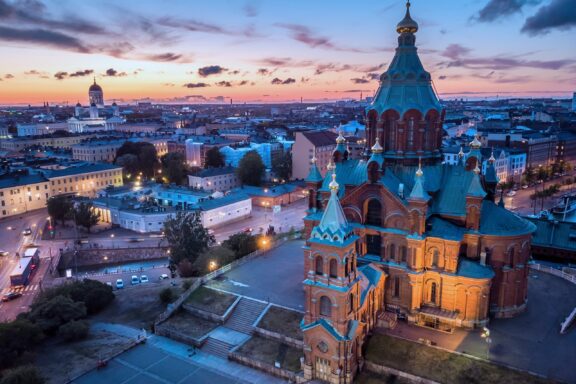 Overlooking the city from a hillside, the Uspenski Cathedral is the largest Orthodox church in Western Europe, symbolizing Helsinki's historical ties with Russia. The cathedral, built in the 19th century, is impressive with a red-brick façade and golden onion domes.
The cathedral houses a rich collection of icons and other Orthodox artifacts. The interior is beautifully adorned with chandeliers, mosaics, and frescoes. Visitors can enjoy panoramic views over Helsinki from the grounds of the cathedral.
7. Nuuksio National Park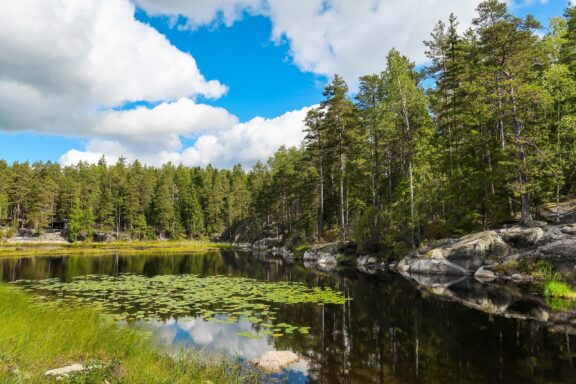 Just a short trip from the city center, Nuuksio National Park offers a refreshing immersion in Finland's beautiful wilderness. The park is a network of lush forests, scenic lakes, and walking trails suitable for various fitness levels.
You can engage in activities like hiking, birdwatching, berry picking, and camping in the park. Traditional Finnish saunas are also available for rent around some lakes, allowing visitors to experience this quintessential Finnish activity amidst nature.
8. Sibelius Monument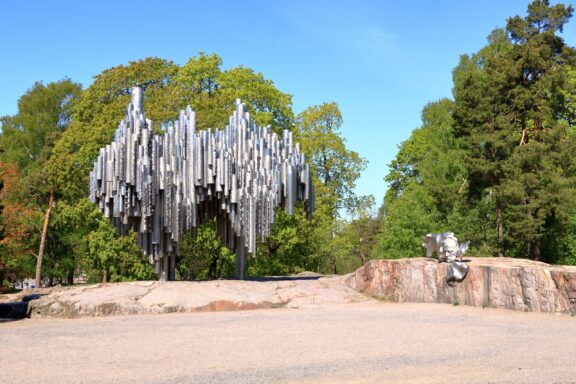 The Sibelius Monument is dedicated to the world-renowned Finnish composer Jean Sibelius in the tranquil Sibelius Park. Unveiled in 1967, the abstract monument, designed by Eila Hiltunen, consists of over 600 stainless steel tubes resembling a wave or a sound organ.
Nearby, a separate piece depicts Sibelius's face. The monument is a must-see for anyone interested in modern art or Finnish history and culture.
9. The National Museum of Finland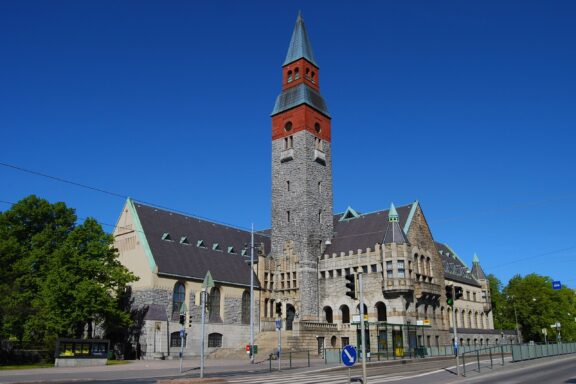 The National Museum of Finland provides a comprehensive overview of Finnish history from prehistoric times. Housed in a beautiful National Romantic-style building, the museum's exhibits cover archeology, ethnography, numismatics, and art history.
Highlights include the prehistoric section with items dating back to the Stone Age and the "Realm" exhibit, which takes visitors through Finland's history under Swedish and Russian rule to independence.
10. Art Museum Ateneum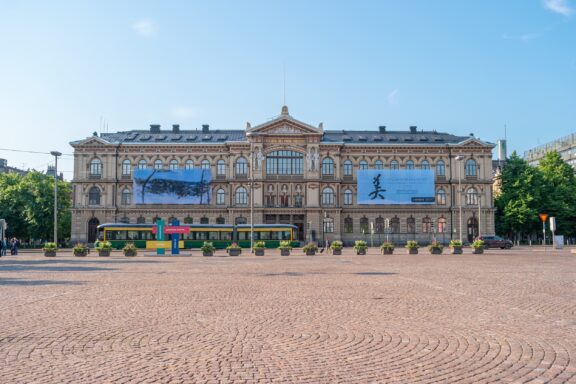 Part of the Finnish National Gallery, the Ateneum Art Museum houses the country's most important art collection. The collection includes Finnish and international art from the 19th century to the 1950s.
It is home to Finnish classics, including works by Albert Edelfelt, Akseli Gallen-Kallela, and Helene Schjerfbeck. The grand building in the heart of Helsinki is a sight worth seeing. The museum also hosts high-profile international exhibitions.
11. Temppeliaukion Church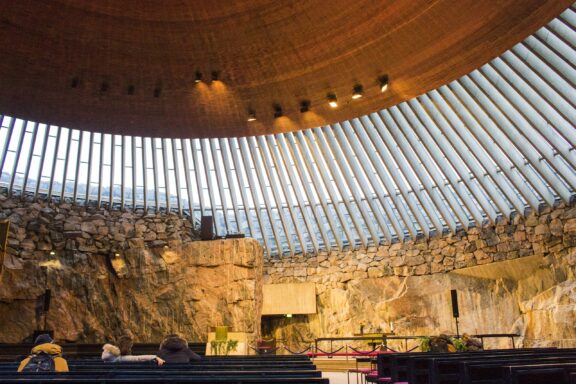 Tucked away in the residential area of Töölö in Helsinki, the Temppeliaukion Church, also known as the Church of the Rock, is one of the most popular attractions in the Finnish capital.
The unique architectural marvel was completed in 1969 following the designs of brothers Timo and Tuomo Suomalainen. Rather than a traditional steeple touching the sky, the church is a stunning display of modern architecture, excavated directly into solid rock.
Upon entering the church, you are immediately struck by the serenity surrounding you, undisturbed by the bustling city life just a few steps away.
12. Wander around Esplanade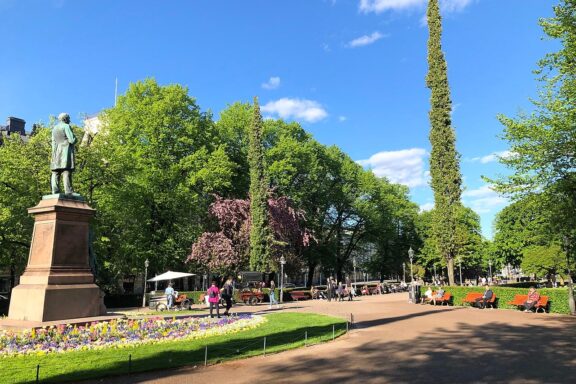 Esplanadi lies in the heart of Helsinki. Colloquially known as "Espa," Esplanade Park is a lively urban park and a cultural hub between Market Square and the Swedish Theatre. Designed in the early 19th century, Esplanade is more than just a park; it is a vibrant cross-section of the Finnish lifestyle, offering shopping, dining, entertainment, and nature all in one place.
The park itself is a delightful green oasis surrounded by the city's neoclassical architecture. With its meticulously maintained lawns, a wealth of blooming flowers, and majestic elm and maple trees, Esplanade is the perfect place to take a stroll or relax and people-watch. At the park's heart is a statue of Johan Ludvig Runeberg, Finland's national poet, a nod to the country's rich literary history.
Frequently Asked Questions
What is the best time to visit Helsinki?
The best time to visit Helsinki is during the summer (June to August) when the weather is warm and all attractions are open. However, winter can also be attractive if you are interested in winter activities or seeing the Northern Lights.
Is Helsinki expensive to visit?
Helsinki is one of Europe's more expensive cities, reflecting Finland's overall high standard of living. Accommodation, dining out, and attractions can be pricier than other locations. However, there are ways to travel on a budget, such as using public transportation, visiting free attractions, and self-catering.
How can I get around in Helsinki?
Helsinki has an efficient public transportation system, including buses, trams, metro, and ferries. Bikes are also available for rent during the warmer months. The city center is compact and walkable.
Is Helsinki safe to visit?
Helsinki, and Finland in general, is considered very safe for visitors. However, as in any major city, it is advised to exercise normal precautions.
What is the local cuisine like in Helsinki?
Finnish cuisine is hearty and uses local ingredients such as fish (especially salmon and herring), potatoes, and berries. Traditional dishes include:
• Karelian pies
• Finnish meatballs
• Salmon soup
Helsinki has a growing food scene with increasing gourmet and international restaurants.
What is a must-try dish in Helsinki?
In Helsinki, you must try "Karelian Pies" (Karjalanpiirakka), a traditional Finnish dish from the Karelia region.
Karelian pies are a type of savory pastry. The rye crust is traditionally filled with rice porridge, but there are also variations with mashed potatoes or carrots.
Karelian pies can be enjoyed as a snack or a light meal, often accompanied by egg butter (a mix of hard-boiled eggs and butter), cheese, or ham. You can find them in local bakeries and markets, including Helsinki's famous Market Square (Kauppatori).
Can I see the Northern Lights in Helsinki?
While it's possible to see the Northern Lights in Helsinki, it's quite rare, especially in the city center, due to light pollution. It would be best to head north, away from the city lights, during winter.
Final Thoughts
Helsinki, with its harmonious blend of historical and modern architecture, vibrant cultural scene, and accessibility to stunning natural landscapes, is indeed a city worth visiting. It offers a unique blend of experiences, making it stand out among European capitals. Whether you love design and architecture, are a history enthusiast, a foodie, or a nature adventurer, Helsinki has something to offer.
Its high standard of living and safety, coupled with the general efficiency of Finnish society, make the city a comfortable destination for many travelers. Although it can be expensive, the unique charm, innovative spirit, and captivating beauty of Helsinki make it a city that should be on your travel list.