Tallinn is the central port city and the capital of Estonia. Tallinn's history is rich and complex, with influences from various empires and cultures over the centuries.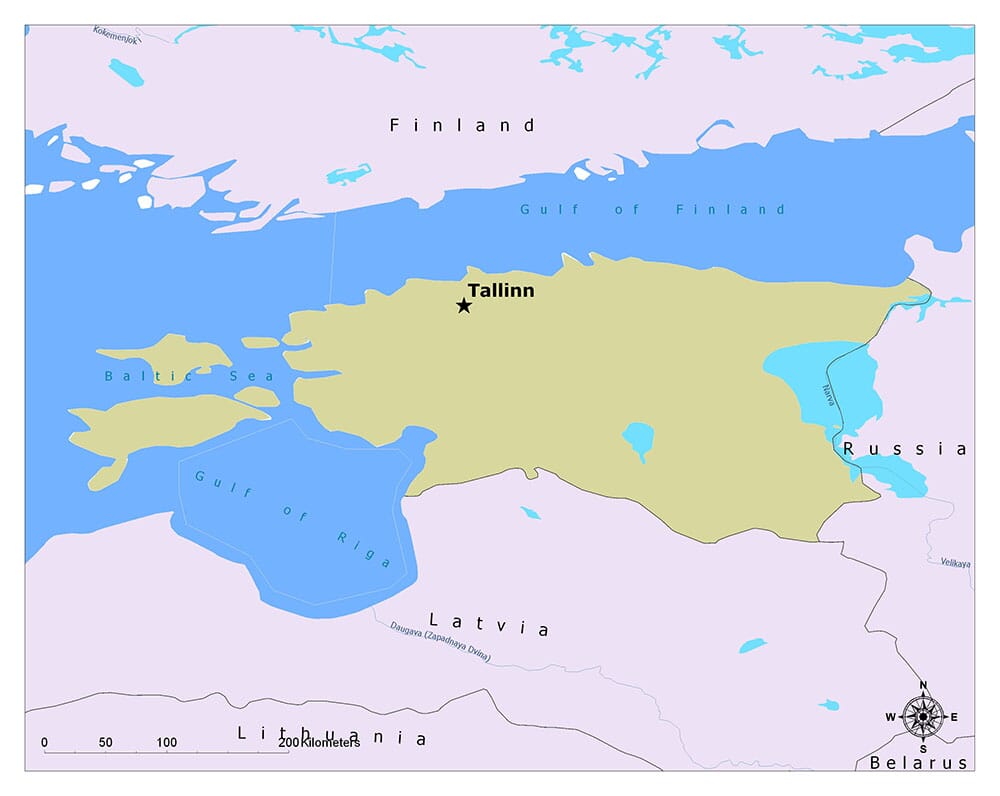 Where is Tallinn?
Tallinn is located in the northern part of Estonia, on the southern coast of the Gulf of Finland. Geographically, it lies at approximately 59.4 degrees North latitude and 24.7 degrees East longitude.
It lies 80 km south of the capital of Finland, Helsinki, on the shores of the Baltic Sea and about 320 kilometers west of St. Petersburg, Russia.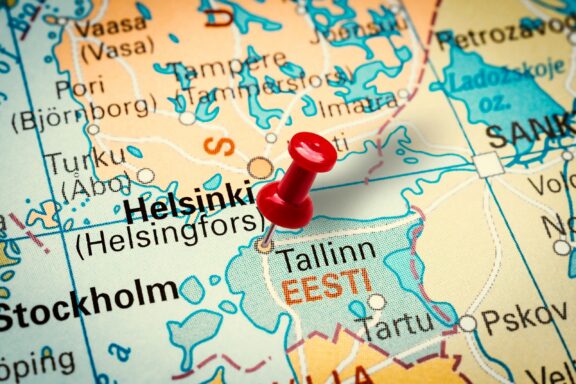 History of Tallinn
The area that is now Tallinn has been settled since at least 5000 BC, with the earliest human inhabitation traces found in the region dating from 3000 BC.
The city was first recorded in chronicles in 1219 after a successful raid by the Danish during the Northern Crusades, which was part of the Christianization of the pagan tribes living on the Eastern Baltic. The Danes built a fortress on Toompea Hill, which is still a central part of Tallinn today.
Tallinn, then known as Reval, was sold to the Teutonic Order in 1346 and became a major trade center as a member of the Hanseatic League, a powerful confederation of merchant guilds and their market towns that dominated trade along the coast of Northern Europe in the late Middle Ages.
Throughout the following centuries, control of the city changed hands many times. Sweden ruled it from the late 16th century until 1710, when it was surrendered to Tsar Peter the Great during the Great Northern War and became part of the Russian Empire.
During the era of Russian rule, Tallinn underwent significant development and modernization but also faced several hardships, including several plague outbreaks and the destruction of many historic buildings.
Tallinn first became the capital of Estonia when the country first declared independence from Russia on February 24, 1918, during the turmoil of World War I and the Russian Revolution. Tallinn was chosen as the capital, given its historical, economic, and geopolitical significance; however, it didn't last for long.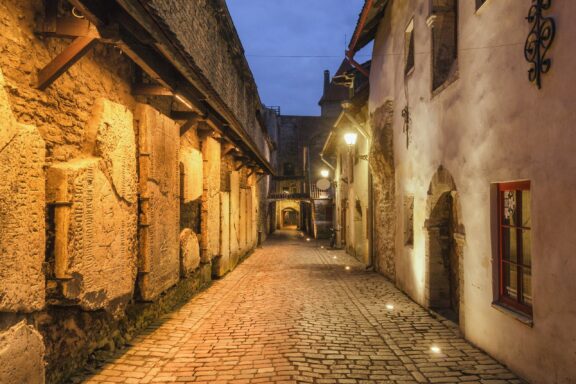 The country was forcibly incorporated into the Soviet Union in 1940 during World War II, was occupied by Nazi Germany from 1941-1944, and then reoccupied by the Soviet Union.
During the Soviet period, Tallinn became a strategically important port and industrial center. However, the Soviet period was also marked by repression, Russification, and the neglect of the city's historical heritage.
1991 Estonia regained its independence following the dissolution of the Soviet Union, and Tallinn continued to serve as its capital. Since then, Tallinn has rapidly modernized and developed into a vibrant, cosmopolitan city with a thriving economy. Its historic old town was added to the UNESCO World Heritage List in 1997 for its well-preserved medieval architecture.
In the 21st century, Tallinn has become known as a global hub for technology and startups, earning the nickname "Silicon Valley of Europe."
Features of Tallinn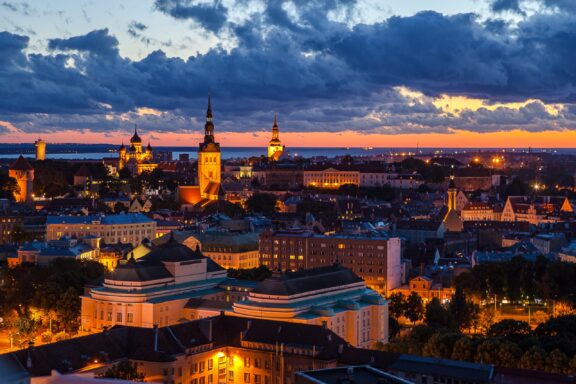 Tallinn, the capital of Estonia, is a fascinating blend of ancient and modern, showcasing a rich cultural tapestry shaped by a complex history.
Tallinn is home to one of the best-preserved medieval towns in Europe, known for its narrow alleyways, charming old houses, and the Raekoja Plats (Town Hall Square). Beyond its medieval core, Tallinn is a modern, vibrant city. You will find sleek skyscrapers, shopping centers, and contemporary architecture.
Geography and Climate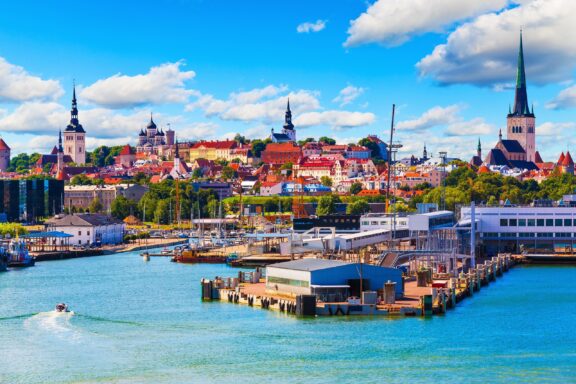 Tallinn's topography features a mix of coastal plains and plateaus, with several nearby lakes and forests. Tallinn has a humid continental climate influenced by its northern latitude and proximity to the Baltic Sea.
Winters in the city are cold, often with heavy snowfall and temperatures dropping below freezing.
Summers are mild to warm, with average high temperatures typically around 21-24 °C (70-75 °F).
The city also experiences long daylight hours in the summer due to its high latitude, with so-called "white nights" around the summer solstice.
Population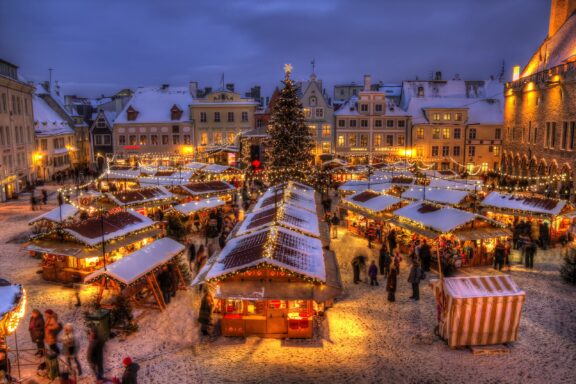 The population of Tallinn is around 437,000. This represents roughly a third of the total population of Estonia.
The city is quite diverse, with various nationalities and ethnic groups. Ethnic Estonians form the largest group, but there is also a Russian-speaking minority and smaller communities of Ukrainians, Belarusians, Finns, and others.
Estonian is the official language of Tallinn and is spoken by most residents, but Russian, English, and Finnish are also widely spoken.
Economy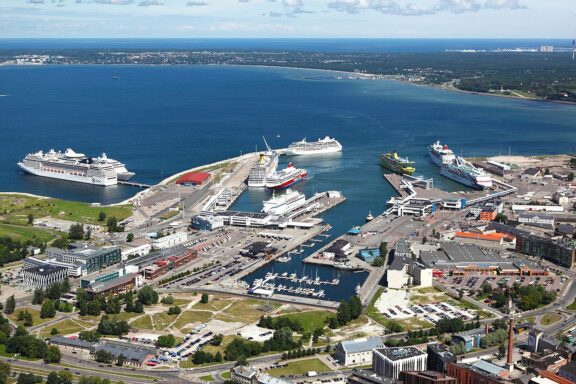 Tallinn's economy is diverse and well-developed. The city is recognized as Northern Europe's crucial and global economic center. Information technology is particularly strong. It is the birthplace of several international high-tech companies, most notably Skype.
Tourism also plays an important role in Tallinn's economy, with visitors drawn to its rich history, beautiful architecture, and vibrant culture. Its status as a UNESCO World Heritage Site has boosted its attractiveness as a tourist destination.
Furthermore, Tallinn's geographical location and extensive transportation infrastructure, including a significant seaport and international airport, make it an important logistics hub.
As of recently, Tallinn and Estonia, more broadly, have been recognized for their economic freedom, digital innovation, and ease of doing business. They have also demonstrated resilience and adaptability in global economic challenges.
Things to Do and Places to See in Tallinn
There is a wide variety of things to do and see in Tallinn. Here are some of the most popular sites and attractions to observe while in Tallinn:
1. Explore the UNESCO World Heritage Site Old Town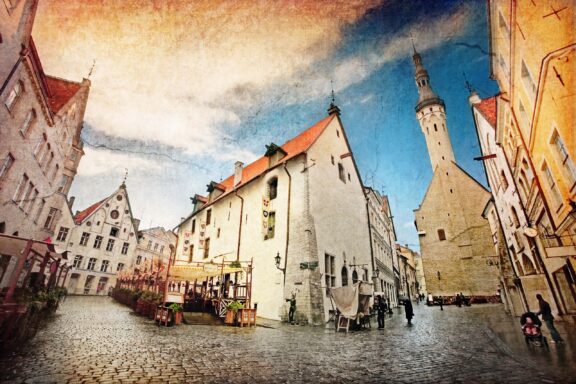 Tallinn's Old Town was recognized as a UNESCO World Heritage Site in 1997 for its well-preserved medieval structures and the unique blend of Gothic architecture it offers.
The Old Town is a beautifully preserved medieval city from the 13th century. Walking its narrow, winding cobblestone streets feels like stepping back in time. It is full of architectural delights, from quaint townhouses to gothic churches.
The heart of the Old Town is the Town Hall Square, which hosts markets and festivals throughout the year and is surrounded by charming cafes, shops, and restaurants.
Defensive walls surround the Old Town itself, and it has approximately 20 towers, the most famous of which is "Kiek in de Kök." The walls and towers were built over several centuries, and they have been largely preserved till today.
2. Visit Toompea Castle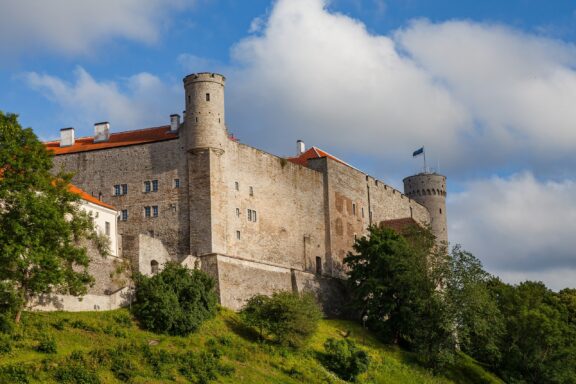 The Toompea Castle, as we know it today, started to take shape in 1219 when the Danish conquered Toompea. They built a fortress that laid the foundation for the current structure.
Now home to Estonia's Parliament, the castle combines architectural styles from medieval times to the present. Nearby is the Alexander Nevsky Cathedral, a stunning orthodox church whose onion domes dominate Tallinn's skyline.
ver the centuries, Toompea Castle has seen multiple renovations and rebuilds, each contributing a unique architectural style to its design. The castle thus showcases a blend of medieval fortress elements, Baroque structures, and modern additions.
3. St. Olaf's Church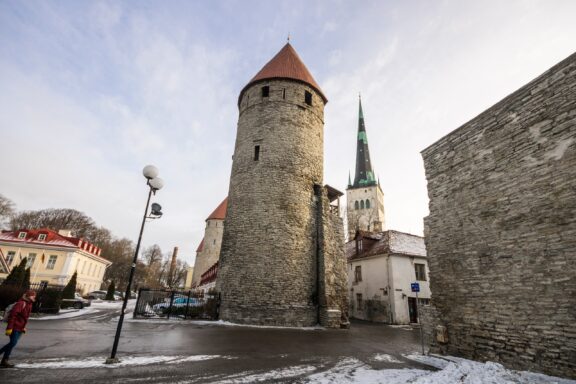 Once considered the world's tallest building from 1549 to 1625, this 13th-century church named after the patron saint of Norway offers a fascinating history and breathtaking panoramic views of Tallinn from its tower. Climb the 232 steps to the observation deck for a stunning 360-degree city view.
The St. Olaf Church was dedicated to King Olaf II of Norway (also known as Saint Olaf), a significant figure in the Christianization of Norway.
For many years, from the 16th to the early 17th century, the church's spire was the tallest building in the world, standing at an impressive height of 159 meters. The current height is 123.7 meters.
4. Kadriorg Palace and Park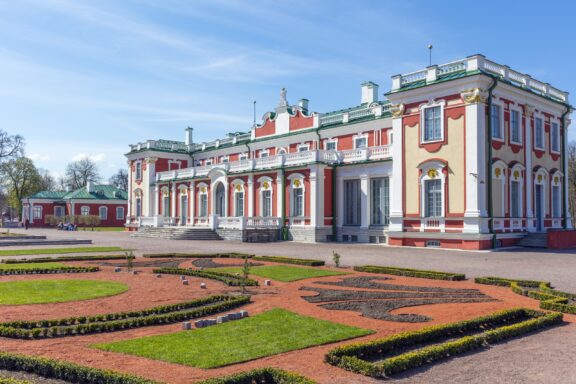 Peter the Great built the Kadriorg Palace, the Russian Tsar, for his wife, Catherine I, in the early 18th century. The palace was designed by Italian architect Niccolò Michetti and represented an artistic combination of Roman Baroque and Russian influences.
The palace houses the Art Museum of Estonia's foreign art collection, while the surrounding park, with its manicured gardens, fountains, and promenades, offers a peaceful retreat.
5. Kumu Art Museum (Eesti Kunstimuuseum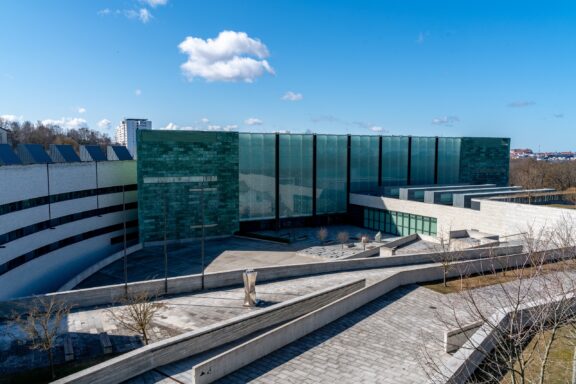 The Kumu Art Museum is the main branch of the Art Museum of Estonia and is located in the culturally rich Kadriorg area. The museum offers Estonian art from the 18th century onwards, including works from the occupation period (1940–1991) and a diverse collection of contemporary art.
The museum's building has several unique features, including a large auditorium in the form of an amphitheater and an innovative system of natural lighting in the main exhibition halls.
Beyond exhibitions, Kumu hosts various cultural events, including film screenings, concerts, educational programs, and more. It's a vibrant cultural hub within Tallinn.
6. Panoramic Views on Observation Deck in Tallinn TV Tower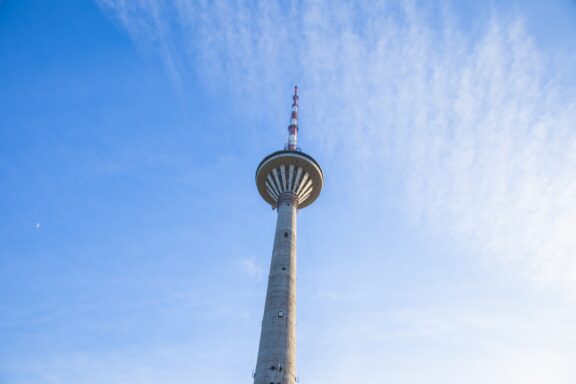 Standing at 314 meters (1,030 feet), the Tallinn TV Tower is the tallest building in Estonia. The observation deck, situated 170 meters high, provides a sweeping view of Tallinn, the coastline, and even Helsinki across the sea on clear days.
7. Patarei Sea Fortress and Prison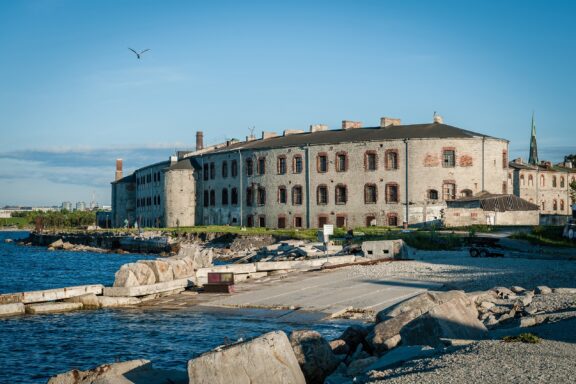 Patarei was initially built as a sea fortress under Nicholas I in the 19th century; its construction was completed in 1840. Patarei later served as a notorious Soviet prison symbolizing the oppressive communist regime.
Today,u can take a guided tour of the facility. It's open to the public during summer, offering visitors a firsthand stark and poignant insight into the somber history.
8. Seaplane Harbour (Lennusadam)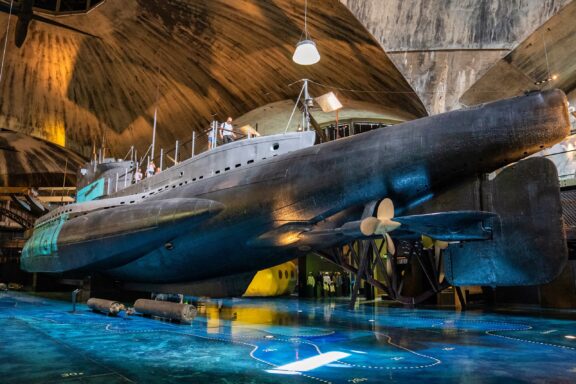 This extensive maritime museum is housed in an impressive seaplane hangar built during World War I. It is an excellent attraction for all ages, with over two hundred large-scale exhibits, including a British-built submarine from the 1930s and a life-sized replica of a WWI seaplane.
On the marina outside the museum, you can also visit the century-old steam-powered icebreaker 'Suur Tõll,' among the most potent icebreakers in the world.
Furthermore, the museum features a submarine simulator where you can get a feel of navigating a submarine underwater.
9. Kiek in de Kök Museum and Bastion Tunnels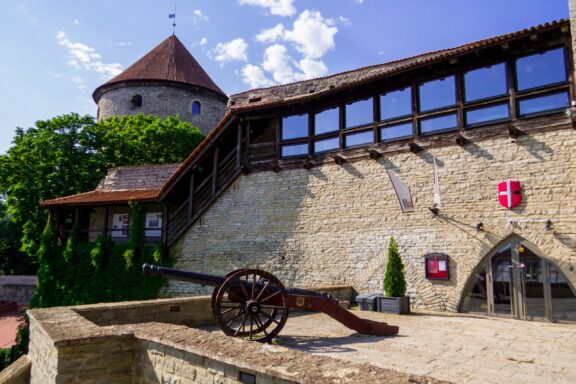 The Kiek in de Kök has an impressive collection of medieval firearms and cannons. The most famous is the "rat-mouth gun," a short-range, large-caliber cannon from the 16th century.
Kiek in de Kök also offers visitors exhibitions on medieval fortifications, the history of the town's defense system, and other historical and archaeological topics, and take a guided tour into the historic bastion tunnels underneath the city.
The tunnels date back to the 17th century and have been used for various purposes throughout history, including as bomb shelters during World War II.
"Kiek in de Kök" is derived from Low German, meaning "Peek into the Kitchen." The name was used for towers with a high vantage point over the surrounding houses, enabling the tower guards to look down chimneys and into kitchens.
10. Viru Gate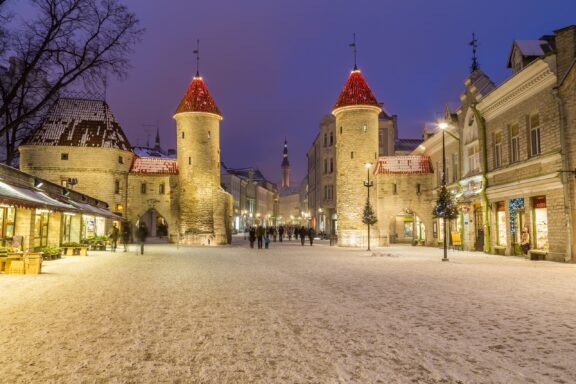 The Viru Gate, named after Virumaa, the main exit and entrance to the region in medieval times, was part of a more extensive fortification system built in the 14th century. Today, the twin towers of the Viru Gate mark the start of the city's main street, Viru Street, a bustling thoroughfare filled with shops and restaurants.
Initially, the gate consisted of a six-tower complex. However, in the 1880s, most of the gate was demolished to make room for traffic. Only the two corner towers, which are seen today, were preserved.
11. Pirita Convent Ruins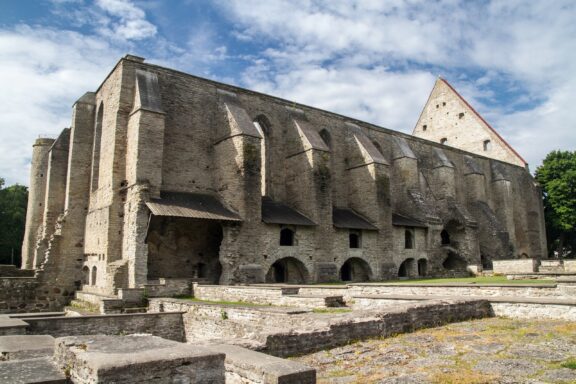 The Pirita Convent, or St. Bridget's Convent, was a monastery for both monks and nuns of the Bridgettine Order, founded by St. Bridget of Sweden in the 14th century. The convent in Pirita was one of the wealthiest convents in Old Livonia.
The St. Bridget's Convent ruins provide a hauntingly beautiful glimpse into Estonia's medieval history. Situated in the district of Pirita, the convent was once the largest nunnery in the region.
Today, visitors can wander through the ruins and enjoy the peaceful surroundings. The convent ruins also serve as a venue for open-air concerts and performances during summer, making it a fascinating combination of old and new experiences.
Frequently Asked Questions
Is Tallinn safe for tourists?
Tallinn ranks among the safest cities in Europe, providing a secure environment for visitors. While certain climate conditions and natural disasters may occasionally disrupt travel plans, the city boasts significantly lower crime rates than many other global destinations.
How many days do I need to visit Tallinn?
A two to three-day visit usually gives enough time to explore the city's highlights, including the Old Town, museums, and significant landmarks. You can explore the city's parks, suburbs, and coastline with more time.
What is the best time of year to visit Tallinn?
The best time to visit Tallinn is typically in the summer, from June to August when the weather is warmest, and the city is full of outdoor events and festivals. However, winter can also be a magical time to visit, especially in the run-up to Christmas when the Old Town is beautifully decorated.
What is traditional food like in Tallinn?
Tallinn offers a mix of traditional Estonian cuisine and modern international dishes. Classic Estonian dishes you might find include:
• Sült (jellied meat):
• Verivorst (black pudding)
• Smoked Herring
• Kohuke (a sweet curd cheese snack covered in chocolate)
• Kama (a grain-based dessert)
Rye bread is a staple in Estonian households and is served with most meals.
How Can I Get Around in Tallinn?
Tallinn has an efficient public transportation system, including buses, trams, and trolleys. Tickets can be purchased at newsstands or from the driver. The city also offers a smartcard system for public transportation called Ühiskaart. For more convenience, taxis and ride-sharing services like Bolt are also widely available.
What is the nightlife like in Tallinn?
Tallinn has a vibrant nightlife with various options for different tastes, including bars, pubs, clubs, and live music venues. The city is also known for its unique "Kalamaja" district, home to trendy bars and restaurants.
Is Tallinn a good place for shopping?
Yes, Tallinn offers a variety of shopping opportunities, from modern shopping centers to unique local boutiques and craft shops in the Old Town. It is a great place to buy amber jewelry, handicrafts, and Estonian design items.
What cultural customs should I be aware of when visiting Tallinn?
Estonians are typically reserved and value manners and respect for personal space. When meeting someone, a firm handshake is common. Saying "tere" (hello) is customary when entering shops or other establishments. Tipping is not obligatory but is appreciated for good service, typically around 10%.
Final Thoughts
Tallinn is a city that beautifully blends ancient history with modern charm; its architecture, charming cobblestone streets, and vibrant culture is a must-visit for any history or architecture enthusiast.
Whether you are a history lover, a foodie, a tech enthusiast, or simply someone seeking a unique travel experience, Tallinn, Estonia, has something to offer you.