Copenhagen is the capital of Denmark. Copenhagen is the largest and most populous city in Denmark. The city is known for its beautiful architecture, vibrant culture, and wealthy history.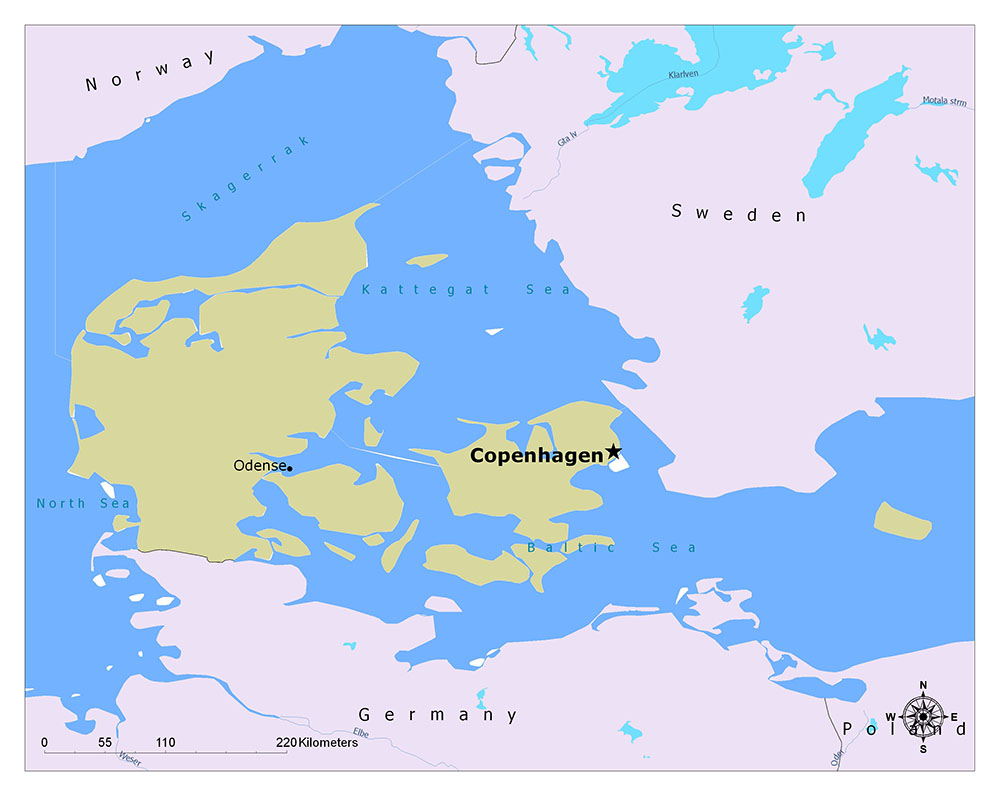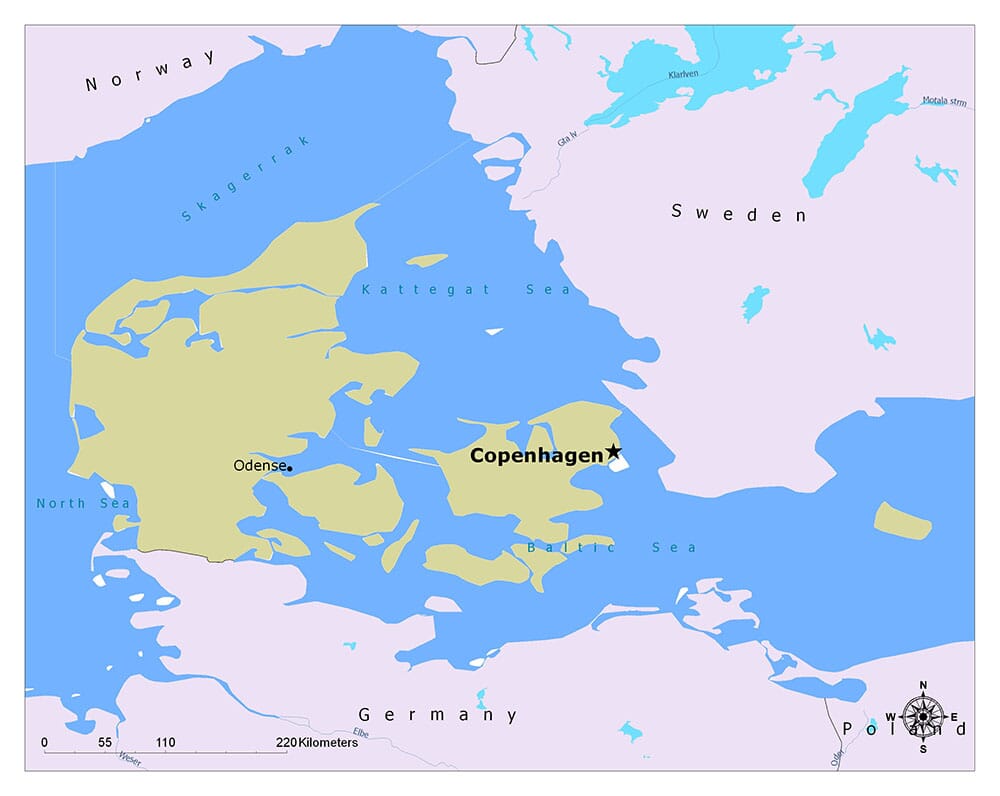 One of the key landmarks is the statue of The Little Mermaid, based on the famous fairytale by Hans Christian Andersen.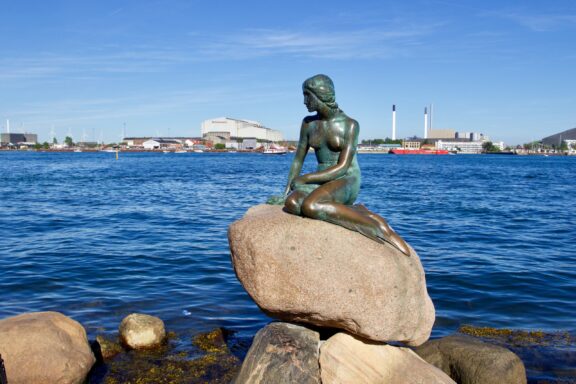 Copenhagen's historic city uniquely blends old-world charm and contemporary style. Its cityscape combines ancient castles, narrow cobbled streets, and modern architectural marvels.
Copenhagen is also known for its commitment to sustainability and is recognized as one of the world's most environmentally friendly cities.
Where is Copenhagen?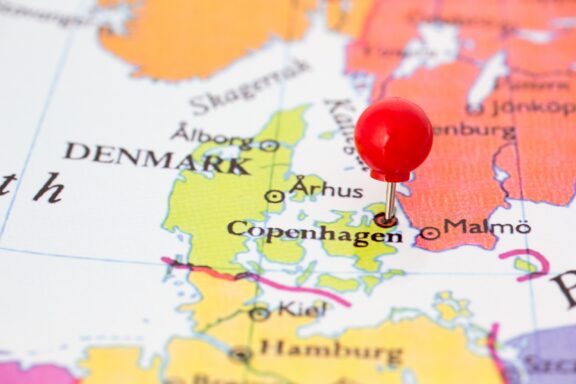 Copenhagen is located on the eastern coast of the island of Zealand (Sjælland) and partly on the island of Amager, in eastern regions of Denmark. The city is situated along the Øresund, a strait that forms the Danish-Swedish border, separating Denmark from Sweden.
Copenhagen faces directly onto the Øresund, opposite the Swedish city of Malmö, which is connected to Copenhagen via the Øresund Bridge. This combination of railway and motorway bridge has fostered effective regional integration and development.
History of Copenhagen
The history of Copenhagen dates back over a thousand years and has been shaped by a range of influences and events, including periods of expansion, trade, warfare, and cultural development.
The city's origins can be traced back to the Viking Age, around the 10th century, when it was a small fishing village known as "Havn," meaning harbor. During the 12th century, the city grew in importance due to its strategic location, fortified with a stone wall.
Copenhagen's status as a city was officially established in 1254 under Bishop Jakob Erlandsen, and it gradually grew as a center of commerce in the Baltic Sea. During the 15th century, it became Denmark's royal residence and capital, replacing the city of Roskilde.
One of the most significant periods in Copenhagen's history was the reign of King Christian IV from 1588 to 1648. Christian IV is famous for initiating architectural projects that shaped the city's landscape, such as the Round Tower (Rundetårn) and the Stock Exchange (Børsen).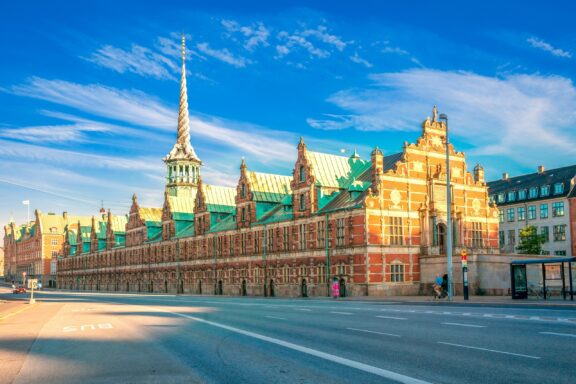 The city has also seen its share of hardships. The plague hit hard in 1711, killing a third of the population. In the early 19th century, Copenhagen suffered from British bombardment during the Napoleonic Wars, which resulted in widespread destruction. The city was again devastated by fires in 1794 and 1795.
During the 19th century, the city underwent significant expansions and modernizations. The fortifications were decommissioned, and new residential neighborhoods began to grow. By the late 19th and early 20th centuries, Copenhagen had established itself as a significant European capital, with continued growth in the arts, academia, and industry.
The city was occupied by Germany during World War II from 1940 to 1945 but avoided significant damage. Post-war, the city continued to grow and modernize, focusing on improving living standards and developing sustainable and efficient infrastructures.
Today, Copenhagen is known as a global leader in design, gastronomy, and sustainability, making it a popular destination for travelers worldwide. Its rich history and adaptation to modern times have shaped it into the vibrant, cosmopolitan city it is today.
Features of Copenhagen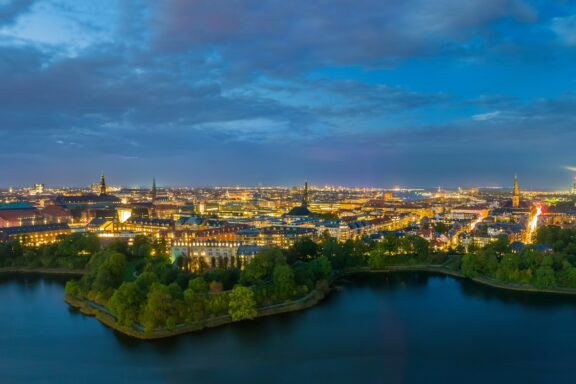 Copenhagen is home to several historical landmarks, and the city's architecture is a blend of historic buildings, classical architecture, and modern design, with works by renowned architects like Bjarke Ingels.
The city has numerous beautiful parks and gardens, offering a variety of attractions, gardens, and dining options, and is known worldwide for its bicycle culture. Copenhagen is designed with extensive and well-used bicycle lanes, and cycling is a common mode of transport for its residents.
Geography and Climate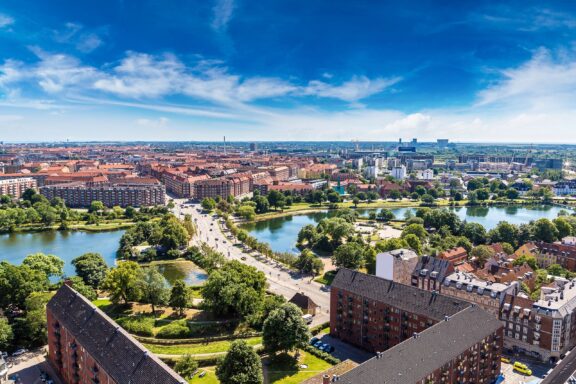 Copenhagen is relatively flat, with an average elevation of 14 meters above sea level, and includes several small islands and islets. The city faces the Øresund, the strait that separates Denmark from Sweden.
Copenhagen has an oceanic climate influenced by the North Atlantic Current, resulting in relatively mild temperatures throughout the year.
Summers are cool, with average high temperatures around 20-22 °C (68-72 °F). Winters are cold but not severe, with average high temperatures slightly above freezing and lows typically a few degrees below.
The city receives moderate precipitation throughout the year, with the possibility of snow in winter months.
Population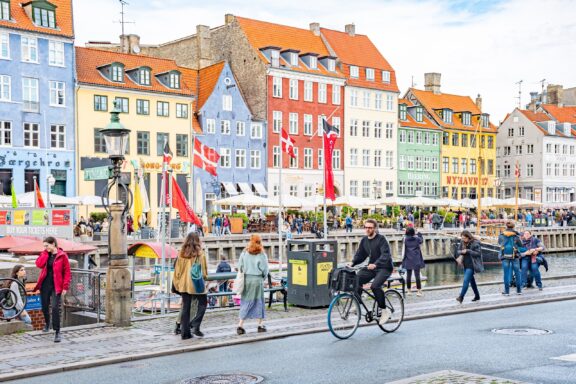 Copenhagen's metropolitan area has a population of over 1.3 million people. The city is quite cosmopolitan, with a diverse mix of residents from around the world. The majority are ethnic Danes, but there is a significant representation of immigrants and descendants from Turkey, Pakistan, Iraq, and Poland.
The people of Copenhagen are known for their high standard of living and emphasis on work-life balance. The city consistently ranks high in global quality of life surveys. Danish is the official language, but English is widely spoken, given the city's international outlook and significant expatriate population.
Economy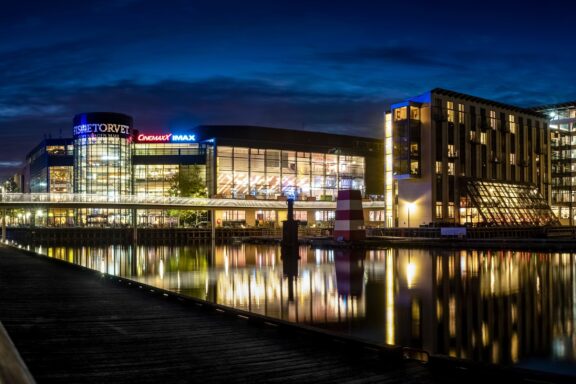 Copenhagen's economy is diverse and robust, with significant contributions from various sectors. The city is the economic hub of Denmark and one of Northern Europe's financial centers, hosting the headquarters of many international corporations and businesses.
The service sector dominates, particularly in information technology, pharmaceuticals, and clean technology. The life science sector is robust, concentrating on biotech firms and world-renowned research institutions.
Copenhagen also has a vibrant startup scene, particularly within technology-based industries. Creative sectors, such as film and design, also contribute to the economy, with Copenhagen recognized globally for its design heritage.
The city is a significant business and leisure tourism destination, boosting the hospitality, retail, and entertainment sectors. Notably, the culinary scene is renowned, with several high-profile, Michelin-starred restaurants, including Noma, known for its New Nordic Cuisine.
Copenhagen's port is one of the largest in Northern Europe, playing a crucial role in commerce for freight and cruise ships.
Today, Copenhagen's economy is resilient and growing steadily despite global economic uncertainties. This growth can be attributed to a highly skilled workforce, a solid educational system, and a well-developed infrastructure.
Things to Do and Places to See in Copenhagen
1. Visit Tivoli Gardens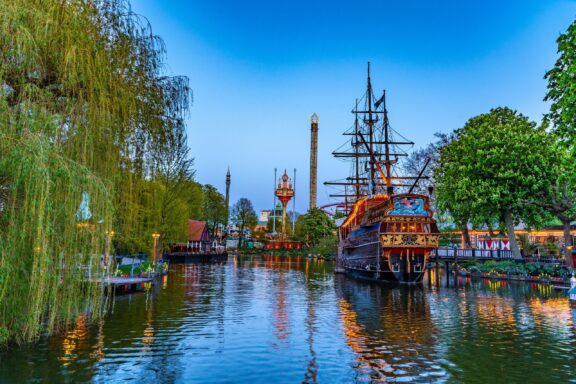 Located in the heart of Copenhagen, Tivoli Gardens is an enchanting amusement park that combines traditional rides with modern thrills, all nestled in a beautiful, historic garden setting. Opened in 1843, it's one of the oldest functioning amusement parks in the world.
Besides the roller coasters and other rides, Tivoli Gardens also offers various performances, including concerts, pantomimes, and puppet theaters. At night, the park is beautifully illuminated, creating a magical atmosphere.
2. Explore Nyhavn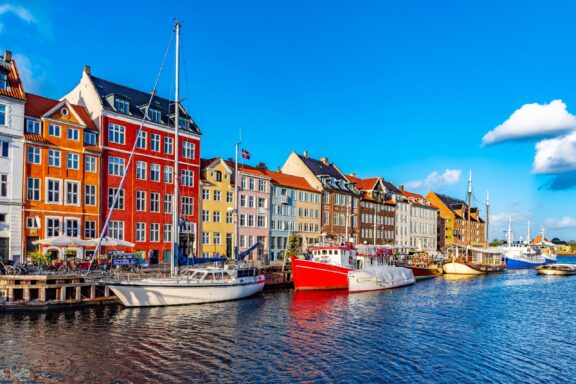 Nyhavn is one of Copenhagen's most iconic locations. This 17th-century waterfront area is known for its brightly colored townhouses and old sailing ships docked in the canal.
The harbor front of Nyhavn is one of the most photographed spots in Copenhagen due to its picturesque view with old sailing ships in the foreground and colorful houses in the background.
Originally a busy commercial port, it's now a popular spot for tourists and locals to enjoy a meal or drink in one of the many bars and restaurants that line the canal. You can also take a canal tour from here or enjoy the vibrant atmosphere.
3. Take a Canal Tour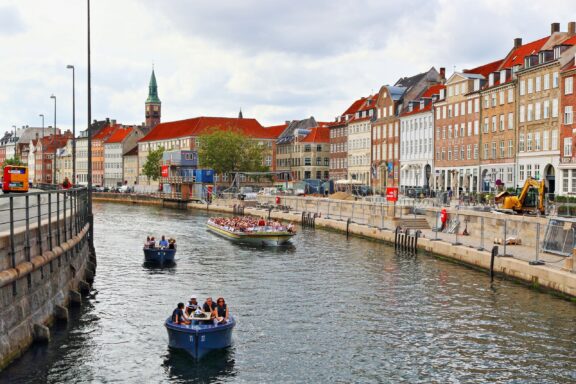 One of the best ways to see Copenhagen is from the water. Various companies offer boat tours that navigate the city's canals and harbor. On the tour, you'll pass many of Copenhagen's most famous landmarks, including The Little Mermaid statue, Amalienborg Palace, the Opera House, and Christianshavn.
The bronze statue of The Little Mermaid, inspired by Hans Christian Andersen's fairytale, is one of Copenhagen's most famous landmarks. Despite its small size, the statue attracts many visitors who see this iconic city symbol. It is located at the Langelinie promenade along the waterfront, providing a scenic photo backdrop.
4. Visit the National Museum of Denmark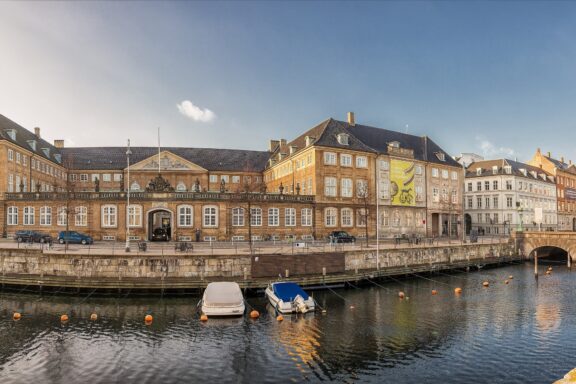 This museum is the main museum of Danish history and culture. It hosts a vast array of artifacts from all periods of Danish history, from the Ice Age to the modern era, and collections from around the world.
Highlights include the prehistoric collection featuring the Trundholm Sun Chariot, the Viking exhibits, and the impressive Middle Ages and Renaissance Danish artifacts.
The museum hosts a significant ethnographic collection, including many objects obtained in connection with the Danish colonization of Greenland, The Faroe Islands, and Iceland.
The museum contains a "Children's Museum" section where kids can explore a reconstructed school classroom from the 1930s, a Viking ship, and a 1920s apartment complete with a kitchen and toys, providing an interactive, hands-on experience of history.
5. Explore the Round Tower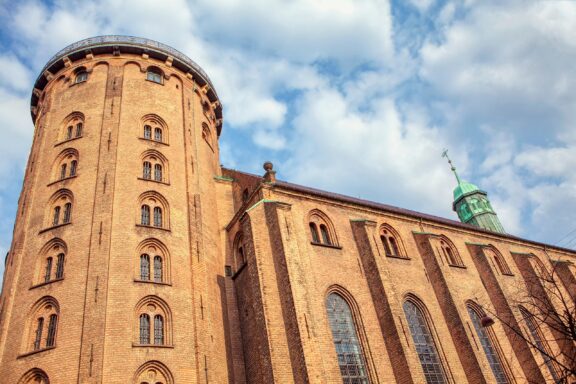 The Round Tower, or Rundetårn, is a 17th-century tower built as an astronomical observatory. The most notable feature of the tower is its 209-meter-long spiral ramp, which winds seven and a half turns around the hollow core of the tower. Once you reach the top, you'll be rewarded with panoramic views of Copenhagen.
6. Visit the Rosenborg Castle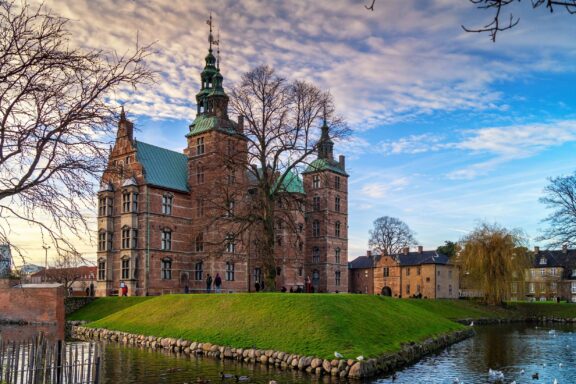 Constructed in the 17th century by King Christian IV, Rosenborg Castle is a beautiful example of Renaissance architecture. Rosenborg Castle houses the Royal Danish Collection. It includes royal artifacts from the last 400 years of Danish regal history, including the Crown Jewels and the Danish Crown Regalia.
The castle remains very much as it was when the last royal inhabitants left in the 1720s. This makes the castle a time capsule, offering a unique insight into royal life in the 17th century.
On the castle walls, you can find 17th-century graffiti left by soldiers. This includes the name "P. Rostgaard," who we know to be a high-ranking nobleman and soldier from the period.
7. Visit Christiansborg Palace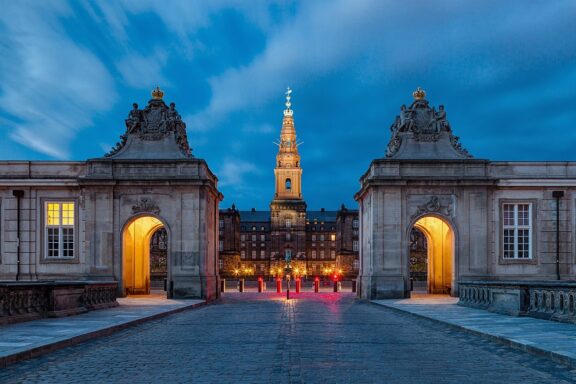 Christiansborg Palace, located on the islet of Slotsholmen in central Copenhagen, Denmark, is a significant structure with a rich and fascinating history.
The royal family uses parts of the palace for various functions and events. Visitors can tour the royal reception rooms, the chapel, and the ruins under the palace that date back to the earliest fortress on the site.
During the construction of the current palace, workers discovered the ruins of the original castle that was built on the site in 1167. These ruins can be visited today.
8. Stroll down Strøget
Strøget is a pedestrian, car-free shopping zone in the heart of Copenhagen. As one of Europe's longest pedestrian shopping streets, it offers a range of retail outlets, from budget chains to luxury brands.
Along with the shops, you'll find numerous cafes and restaurants where you can rest and people-watch. Strøget also boasts a vibrant presence of street performers, such as musicians, magicians, and artists, who contribute significantly to the bustling ambiance of the area.
9. Explore Freetown Christiania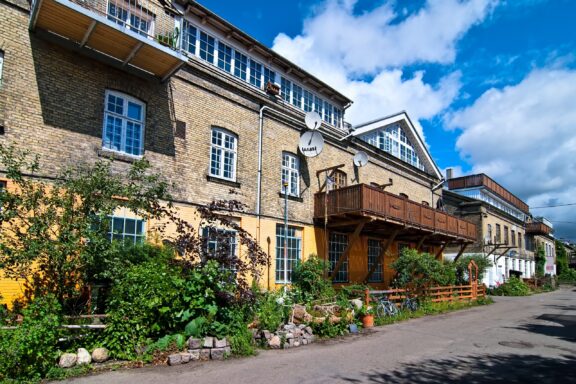 This unique neighborhood is a self-proclaimed autonomous district established in 1971 when a group of hippies took over an area of abandoned military barracks and declared it a free city.
Today, Christiania is a mix of homemade houses, workshops, art galleries, music venues, and organic restaurants. It's known for its relaxed atmosphere, creative spirit, and vibrant graffiti covering many buildings.
Christiania is renowned for its colorful murals, graffiti, and DIY houses, built by residents and often feature creative and sustainable designs.
10. Bike around the City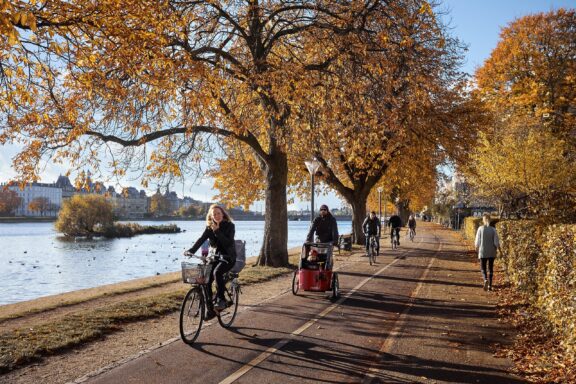 Boasting more than 400 kilometers of dedicated cycling routes and many bike-hire facilities, Copenhagen offers a highly bicycle-friendly environment.
Biking is not only a sustainable way to travel, but it also allows you to explore the city like a local. Cycle around the historic city center, visit the waterfront or explore the trendy neighborhoods of Nørrebro and Vesterbro.
In addition to traditional bikes, you'll see a lot of cargo bikes in Copenhagen. Parents often use these to transport children, and they are a common sight in the city.
11. Visit Carlsberg Brewery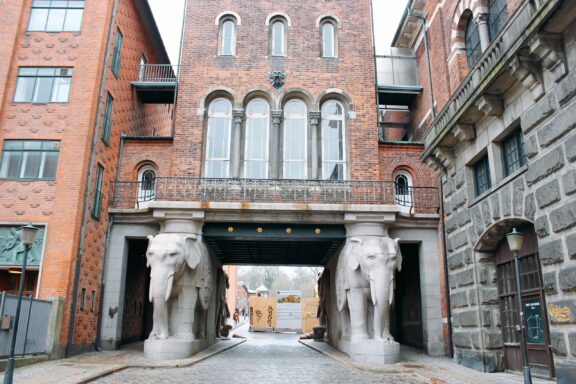 Visiting the Carlsberg Brewery is a must if you're interested in beer. Located in the district of Vesterbro, the Carlsberg Visitors Centre offers a look into the history of one of the world's most famous beers. You can learn about the brewing process, see the world's most extensive collection of unopened beer bottles, visit the old brewhouse and the stables with the brewery horses, and taste the Carlsberg beers.
12. Copenhagen Opera House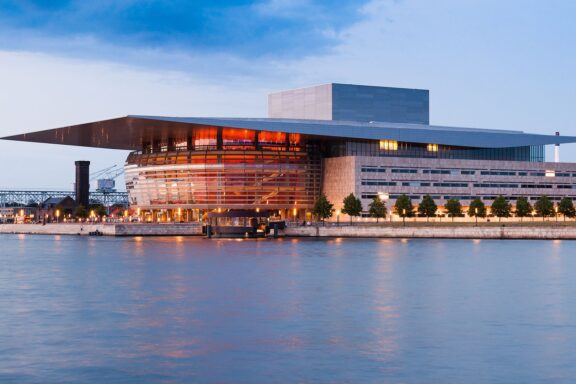 The Copenhagen Opera House, or Operaen, is a must-see attraction when visiting the city, both for its grandeur and the cultural experiences it provides. The Opera House hosts a variety of performances ranging from classical operas to contemporary musical dramas, concerts, and ballets. Check the schedule in advance to find a show that interests you.
Guided tours of the Opera House are also available, allowing you to explore the stunning architecture and learn about its history and the intriguing details of its design.
Frequently Asked Questions
When is the best time to visit Copenhagen?
The best time to visit Copenhagen is from March to May or between June and August when the weather is pleasant, and the city is at its liveliest. However, do note that these are also peak tourist seasons.
How many days should I spend in Copenhagen?
A three-day trip can cover the main highlights of the city. However, a week would be more appropriate if you wish to explore the city more thoroughly, including its less touristy neighborhoods.
What is the currency in Copenhagen?
The currency in Denmark is the Danish krone (DKK). Many places in Copenhagen accept credit cards, and there are numerous ATMs throughout the city if you need cash.
How good is public transportation in Copenhagen?
Public transportation in Copenhagen is excellent and includes the metro, buses, and trains. The city also has an extensive network of bike lanes, and cycling is a popular mode of transport.
What is the traditional food in Copenhagen?
Traditional Danish food includes dishes like "smørrebrød" (open-faced sandwiches), "frikadeller" (meatballs), and "stegt flæsk" (fried pork belly). The city is also famous for its pastries.
What cultural customs should I be aware of when visiting Copenhagen?
Danes value punctuality, so try to be on time for appointments or meetings. When greeting, a firm handshake is customary. It's also worth noting that Danes value their personal space, so keep an appropriate distance when interacting with others.
How can I respect the local culture and environment during my visit?
Be respectful of local customs and norms. Try to reduce your environmental impact by using public transportation or cycling, which is very popular in Copenhagen. Also, remember to recycle whenever possible, as Denmark is a very eco-conscious country.
What is the cost of living in Copenhagen?
The cost of living in Copenhagen is relatively high compared to many other cities. Accommodation, dining, and general expenses can be rather costly. However, many of the city's attractions are free or low-cost.
What power plugs and sockets are used in Copenhagen?
Denmark uses Type K sockets; the standard voltage is 230 V. Visitors may need a power plug adapter or voltage converter.
Is Copenhagen safe for tourists?
Copenhagen is generally very safe for tourists. Like any city, it's essential to be aware of your surroundings and take basic precautions, especially at night or in less busy areas.
Final Thoughts
With its captivating architectural structures, significant historical landmarks, dynamic food culture, and globally recognized museums, Copenhagen has many attractions catering to diverse tastes and interests.
With its high safety standards, excellent public transportation, and warm, English-speaking locals, Copenhagen welcomes tourists. Whether you're seeking a rich cultural experience, gastronomic delights, or the pleasure of exploring a beautiful, bike-friendly city, Copenhagen has it all.