Bridgetown is the capital of Barbados. The city is known for its historical sites, scenic waterfront, and diverse shopping opportunities.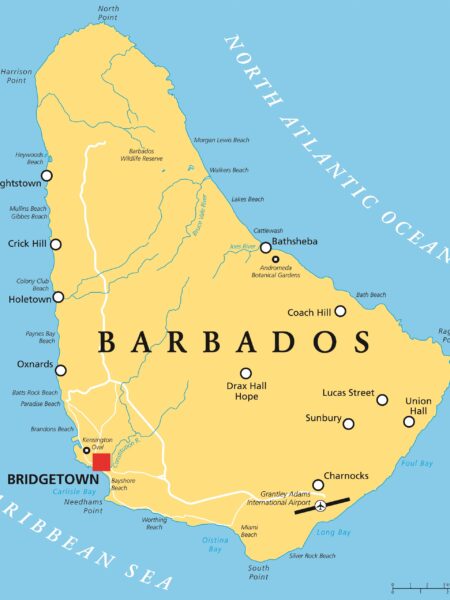 Bridgetown functions as the nerve center for politics, culture, and economics in Barbados. The city pulsates with cultural energy, showcased through its dynamic arts community, musical events, and lively streets. It acts as the main conduit for commerce, with Broad Street being the central artery for shopping.
Where is Bridgetown?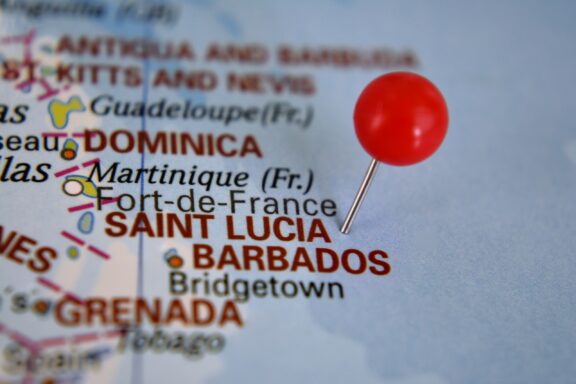 Located in the southwestern part of Barbados, Bridgetown is in the parish of Saint Michael. Its geographic coordinates are around 13.1 °N latitude and 59.6 °W longitude, situated closer to South America than most other Caribbean islands.
The city is nestled by Carlisle Bay's natural harbor, enabling convenient maritime access. Surrounded by urban and suburban neighborhoods, it is the island's primary transportation nexus.
History of Bridgetown
Before European arrival, indigenous Arawak and Carib peoples likely used the area for fishing and possibly small-scale agriculture. While only a little about the pre-colonial era is documented, these early inhabitants would have valued the region's natural resources, including its harbor.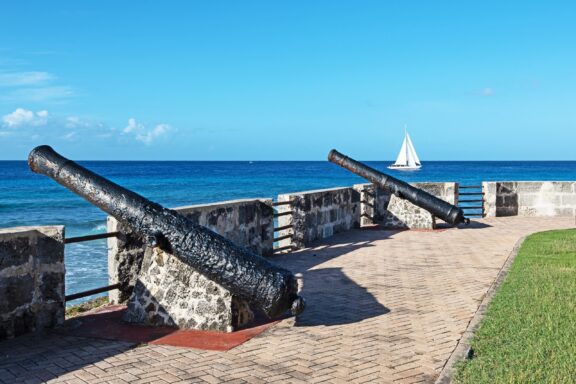 In 1628, Bridgetown was founded by British settlers led by Sir William Courteen. The city became a hub for colonial activity, primarily centered around sugar production, which involved extensive use of slave labor.
As the economy thrived, Bridgetown attracted merchants, artisans, and skilled laborers, establishing itself as a crucial economic center for the British Empire in the Caribbean.
During the 1700s, Bridgetown underwent major developments. Churches, government buildings, and trading posts were built, further reinforcing the city's importance.
However, this period was also marked by social unrest, with several impactful slave revolts. These events were symptomatic of the growing tensions between the slave population and the colonial rulers.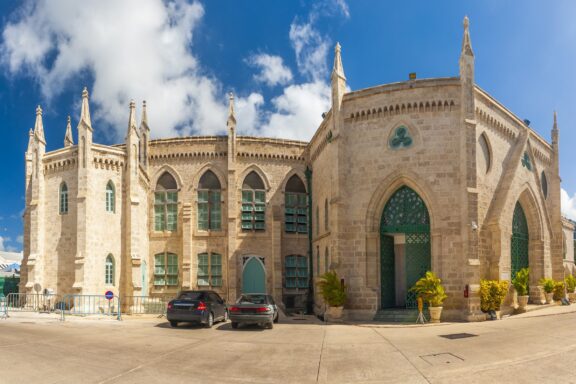 The early 1800s saw the abolition of the slave trade and, eventually, the emancipation of enslaved people in 1834. This led to a shift in Bridgetown's social and economic fabric as freed individuals began contributing to society in new ways.
Merchant guilds, newspapers, and educational institutions started emerging, making the city a more diversified and cultured locale.
The 20th century was pivotal for Bridgetown, as the city saw significant infrastructure and social services advancements. Tourism began to emerge as a critical industry after World War II.
Barbados achieved independence from the UK on November 30, 1966, making Bridgetown the capital of the newly independent nation. This was a period of rapid development, with investments in healthcare, education, and public transportation systems.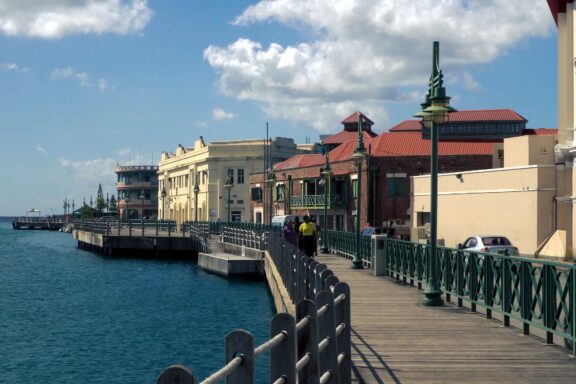 In recent years, Bridgetown has embraced modernity while preserving its rich history. The city has become a melting pot of cultures, attracting tourists and businesses alike.
Recognition of its historical sites by UNESCO in 2011 has elevated its status on the world stage. Despite challenges like climate change and economic shifts, the city continues to adapt and evolve, taking its storied history along as it looks toward the future.
Features of Bridgetown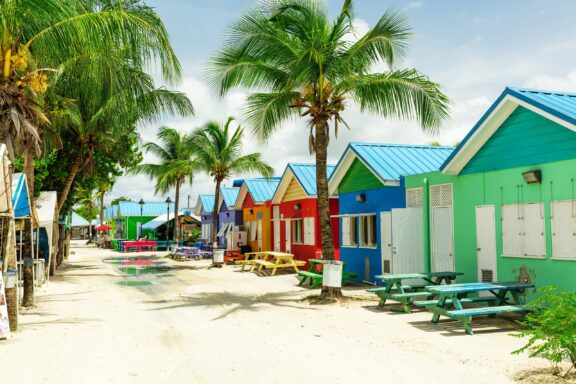 Bridgetown is a captivating blend of historical and contemporary, where history meets modernity. One of its most striking features is the natural harbor at Carlisle Bay, which serves as a picturesque backdrop to a cityscape that includes colonial-era buildings as well as modern architecture.
While strolling through Bridgetown, you'll notice a seamless blend of governmental structures and commercial spaces, emphasizing its role as a center for both governance and trade. Despite this bustling atmosphere, the city exudes a laid-back Caribbean vibe, complemented by the nearby sea and the melodies of calypso and reggae.
Geography and Climate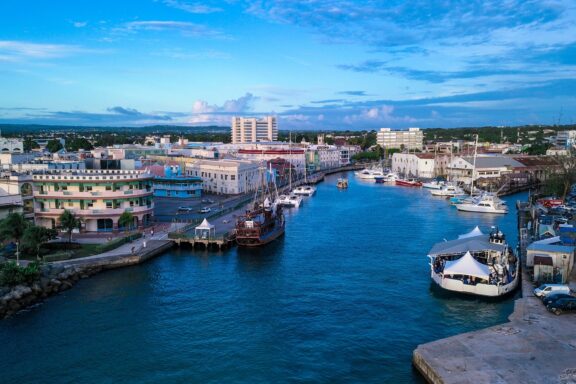 Bridgetown experiences a tropical monsoon climate characterized by hot, humid conditions year-round. Rainfall is more frequent from June to November, coinciding with the hurricane season.
The city's layout incorporates a mix of flatlands near the coast and gently rolling hills inland, offering varied landscapes within its urban confines. This topography influences the microclimates in the city, leading to localized variations in temperature and humidity.
Population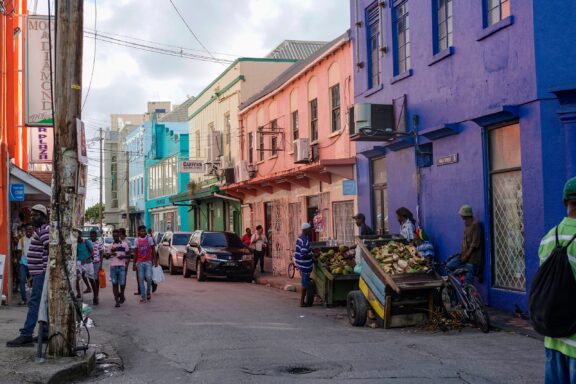 Bridgetown is a cosmopolitan city with a diverse population that reflects a range of ethnic backgrounds, including African, European, and Indian heritage. The population of Bridgetown is approximately 110,000, making it the most populous city in Barbados.
English is the primary language, though you may also hear Bajan Creole, a local dialect. The culture blends Caribbean, British, and African influences, and the city has a strong sense of community, evident from its numerous festivals, community events, and vibrant arts scene.
Economy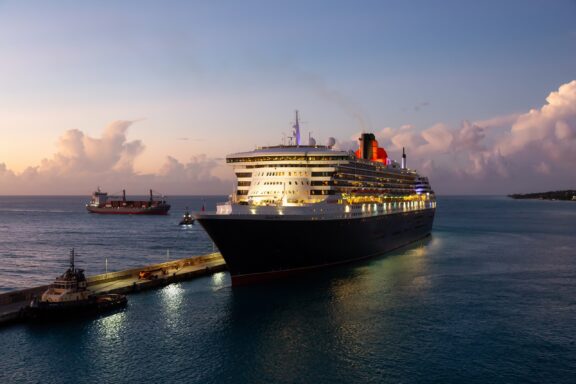 Bridgetown serves as the economic cornerstone of Barbados. It is a vital financial center in the Caribbean, housing multiple international banks and financial institutions.
Retail and trade are essential sectors, with Broad Street being a focal point for commerce, ranging from luxury stores to local markets. Tourism is another key industry, as the city attracts visitors with its historical landmarks, cultural events, and beautiful beaches.
Bridgetown's port plays a crucial role in trade and tourism, accommodating cargo and cruise ships. The city has demonstrated economic resilience over the years, adapting to global economic shifts and successfully diversifying its economic activities.
Things to Do and Places to See in Bridgetown
Numerous activities and attractions await visitors in Bridgetown. Here's a glimpse into some of the city's most frequented spots.
1. Carlisle Bay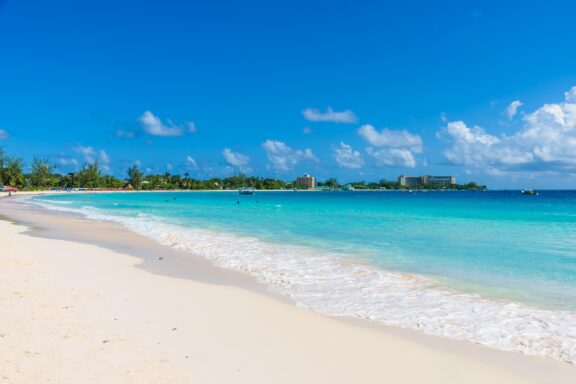 Carlisle Bay is an idyllic setting where natural beauty meets maritime history. Covering an area of about 2 square kilometers, Carlisle Bay features crystal-clear turquoise waters and pristine, white sandy beaches. The bay is replete with an array of shipwrecks, some dating back to the 17th century, making it a haven for divers and snorkelers.
Carlisle Bay offers an unparalleled experience for adventure-seekers and history buffs alike. The calm waters also make it ideal for paddleboarding and kayaking, attracting many water sports enthusiasts. For those who prefer to stay dry, catamaran tours offer an alternative way to enjoy the bay's underwater marvels.
2. Barbados Museum & Historical Society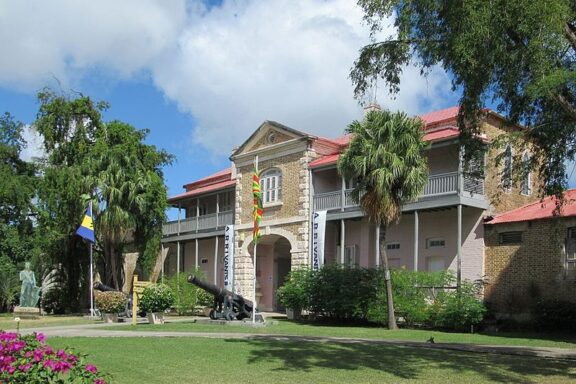 The Barbados Museum & Historical Society is a comprehensive repository of the island's multifaceted history. From indigenous peoples to modern-day Barbados, the museum captures the island's evolution over the centuries.
The museum complex has several halls and galleries showcasing artifacts, documents, and interactive displays. The exhibits span several topics, including natural history, art, and military history. Visitors can also explore the well-preserved cells of the former British military prison where the museum is located.
3. Mount Gay Rum Distillery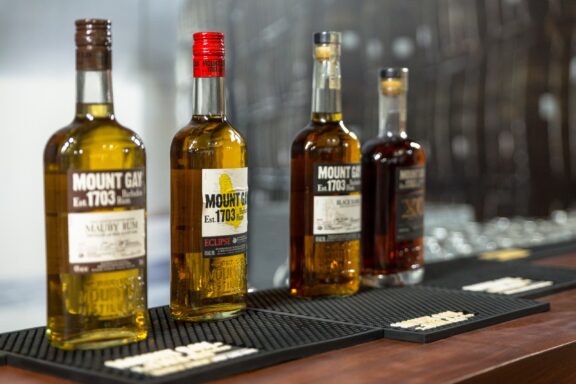 Mount Gay stands as a legendary name with deep roots in Barbados. Visitors stepping into the Mount Gay Rum Distillery are stepping into a living archive of rum production techniques refined over three centuries.
The distillery complex comprises fermentation tanks, aging barrels, and a visitor center showcasing the rum-making process from start to finish. Visitors can witness how sugarcane is transformed into rum, followed by tastings of different Mount Gay rum products.
4. St. Michael's Cathedral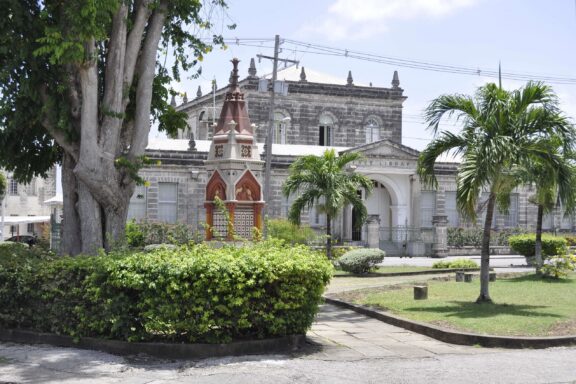 St. Michael's Cathedra invites travelers to explore its historical and artistic elements. Its stone facade is complemented by its elegant interior, featuring stained glass windows and an intricately carved wooden pulpit. An old pipe organ and a historic graveyard add to the cathedral's mystique.
Guests are also welcome to attend services or take a self-guided tour to admire the cathedral's art and history. Informational placards and friendly guides make it easy for visitors to delve into the site's rich background.
5. Harrison's Cave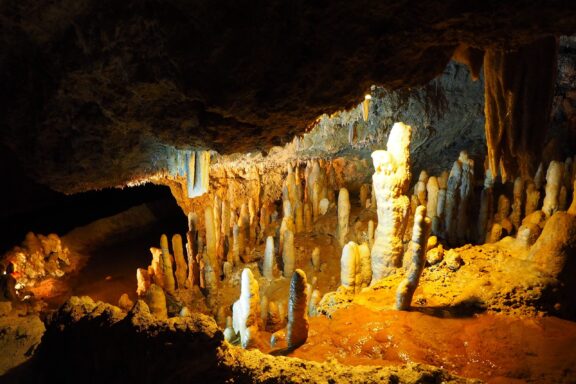 Harrison's Cave is a stunning geological wonder. This subterranean marvel is more than just a tourist attraction; it's a journey into the Earth's natural architecture, revealing the island's geological history.
Harrison's Cave offers an experience like no other on the island. Geology enthusiasts and casual tourists alike will be captivated by the dramatic stalactites, stalagmites, and crystalline formations.
The guided tram tours make it accessible for all ages, offering an educational and thrilling adventure into the heart of Barbados' geological history.
6. Chamberlain Bridge & Independence Arch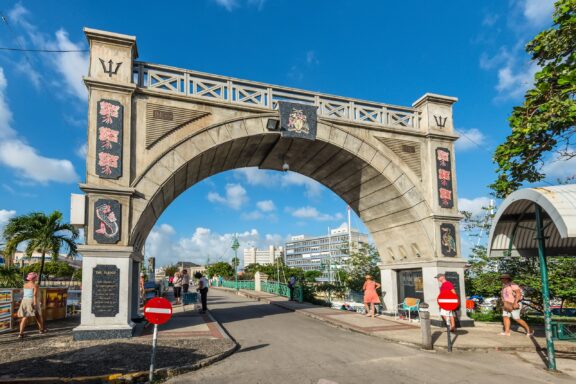 The Chamberlain Bridge and adjoining Independence Arch are symbols of Barbados' colonial past and subsequent journey to independence. This landmark complex serves as a functional crossing and a historical monument.
Here, you can witness the bridge's mechanical operations and take in the views from the arch, which offers panoramic vistas of the city and marina. The area around the landmarks is often bustling with cultural events and festivals, providing a lively atmosphere for tourists.
7. George Washington House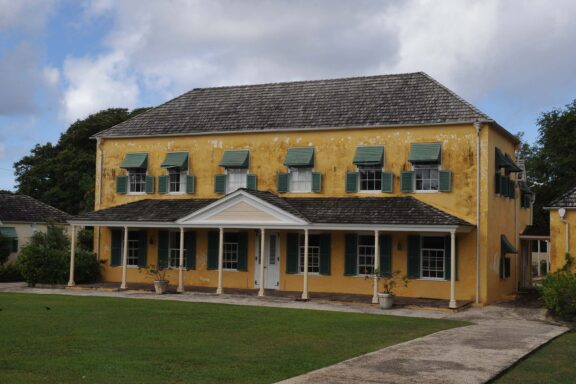 The George Washington House is a well-preserved colonial building featuring period-appropriate furnishings and decor. A museum on the property explores Washington's seven-week stay in Barbados and its influence on his later life and career.
Artifacts and informational displays bring this little-known chapter of Washington's life to the forefront. This is an unmissable site for history buffs and admirers of George Washington.
8. Explore Broad Street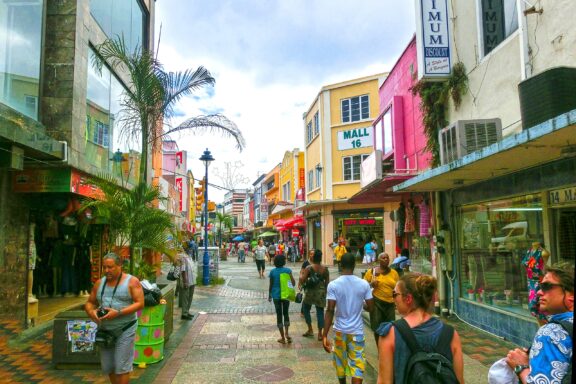 Broad Street is the commercial lifeline of Bridgetown, stretching through the city's heart. Walking down Broad Street, you'll encounter various retail outlets, from international brands to local artisans.
Broad Street is ideal for those looking to engage in retail therapy, enjoy local cuisine, or observe the hustle and bustle of daily life in Bridgetown. Seasonal sales and street festivals add a layer of excitement, making each visit unique.
Frequently Asked Questions
What is the best time to visit Bridgetown?
The dry season from December to May is generally considered the best time to visit.
Is Bridgetown safe for tourists?
Bridgetown is mostly safe, but visitors should remain vigilant as there have been robbery and petty fraud reports. Standard safety precautions are advised, especially in crowded areas and at night.
Where can I find local arts and crafts in Bridgetown?
Pelican Craft Centre and street vendors that offer a range of local arts and crafts.
Are there any notable festivals or events in Bridgetown?
Significant local events include the summer Crop Over Festival and the February Holetown Festival.
What is traditional cuisine like in Bridgetown, Barbados?
The traditional cuisine in Bridgetown is a fusion of African, British, and indigenous influences, primarily shaped by the island's history of colonization and trade.
Seafood is abundantly used, given the city's coastal location. Root vegetables, tropical fruits, and a variety of spices are also crucial components, adding to the complexity and richness of the local dishes.
What are must-try authentic local dishes in Bridgetown?
When you're in Bridgetown, you should definitely try:
1. Cou-Cou and Flying Fish: The national dish features cornmeal and okra cou-cou served with flying fish.
2. Fish Cakes: Deep-fried balls made from salted fish and dough, often spiced with scotch bonnet peppers.
3. Pudding and Souse: Pickled pork served with steamed sweet potato pudding.
4. Bajan Macaroni Pie: A Caribbean twist on mac and cheese, often flavored with local spices and sometimes topped with breadcrumbs.
Is Bridgetown a poor or rich City?
Bridgetown is generally considered a middle-income city.
What are top 3 fun facts about Bridgetown?
1. Bridgetown is one of the oldest cities in the Caribbean; it was initially named "Indian Bridge" for the primitive bridge built by the indigenous people over the Careenage River.
2. The city was a frequent haunt for pirates in the 17th century, including the notorious pirate Stede Bonnet.
3. Bridgetown is home to the world's third-oldest cricket ground, Kensington Oval, established in 1882.
What are some popular day trips from Bridgetown?
The Andromeda Botanic Gardens and Oistins Fish Fry are popular day-trip destinations.
Final Thoughts
With its blend of history, culture, and natural beauty, Bridgetown offers a compelling travel experience that caters to a wide range of interests. Whether you want to explore Caribbean history, indulge in local cuisine, or relax by the sea, the city has something for everyone.
Its commercial and cultural hub status also makes it a dynamic and convenient base for exploring the rest of Barbados. Overall, Bridgetown is worth visiting for those seeking adventure and relaxation in a captivating setting.