Bahrain is an island nation located in the Persian Gulf, just off the coasts of Qatar and Saudi Arabia. It consists of more than 80 islands, though the bulk of its territory is located on Bahrain Island. The capital and largest city of the country is Manama.
Tourism is a major part of the Bahrain's economy, and most of the country's visitors come from other Arab countries. Tourists come for Bahrain's incredible history, the UNESCO World Heritage Sites, the shopping, and a variety of tourist activities.
In addition to tourism, Bahrain's economy is supported by oil and gas ventures, which help to make it one of the richest Arab countries.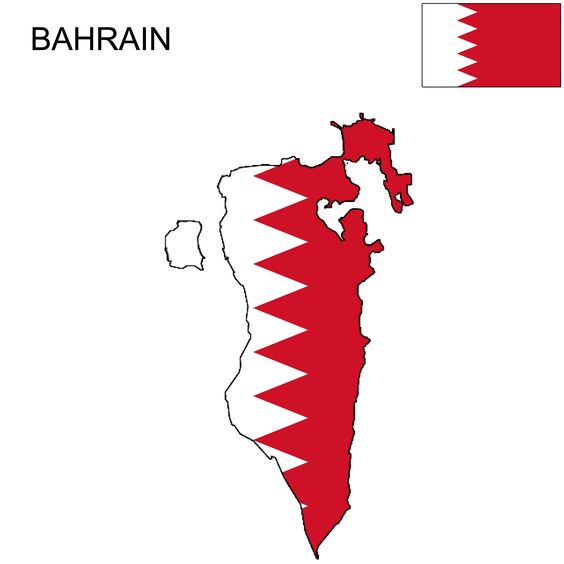 20 Reasons to Visit Bahrain:
20 Reasons to Visit Bahrain
1. Zallaq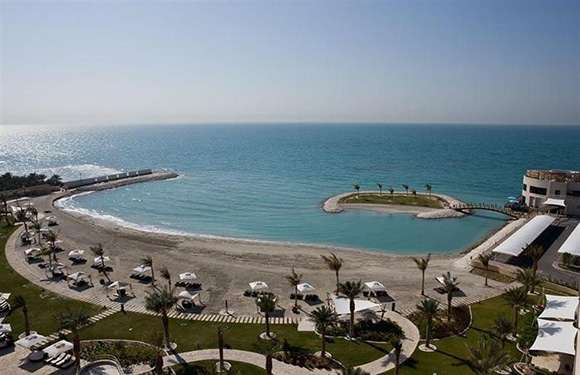 The most famous part of the village of Zallaq, located on the western coast of Bahrain Island, is Jazaer Beach. It's what makes this village a must-visit for anyone interested in relaxing by one of Bahrain's most beautiful beaches. The beach is made of white sand and is host to a variety of accommodation options: from luxury stays to more affordable digs. It's also possible to pay for shaded chairs on the beach here.
Also located near the village of Zallaq is the El Areen Natural Life Park. This natural reserve and zoo is a protected area in Bahrain and is home to a wide range of plant and animal species, including some from Africa and South Asia. Access to the park is restricted to tour groups and professionals or researchers.
2. Sitra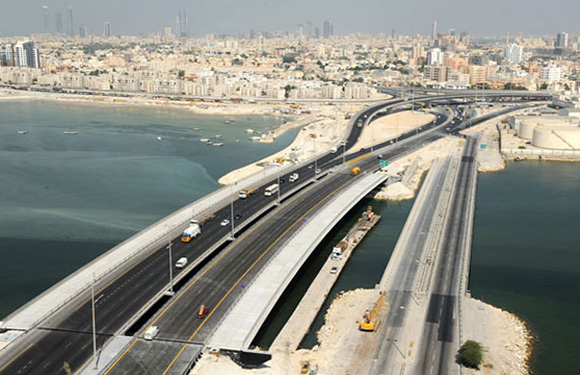 Sitra is a small island just off of Bahrain Island and about 5 km (3.1 mi) south of Manama. It's possible to access the island by car from Bahrain Island via the Sitra Causeway.
Historically, an island centered around agriculture and fishing, Sitra has more of a relaxed vibe than other places in Bahrain. It isn't visited as frequently as the capital city or Riffa, and this could appeal to some.
In addition to pleasant beaches, the island features historical buildings, mosques, and villages with interesting architecture. It's also possible to buy traditional products here, and there are modern comforts like international restaurants and commercial centers. Visitors can also visit museums and the Sitra Bridge.
3. Riffa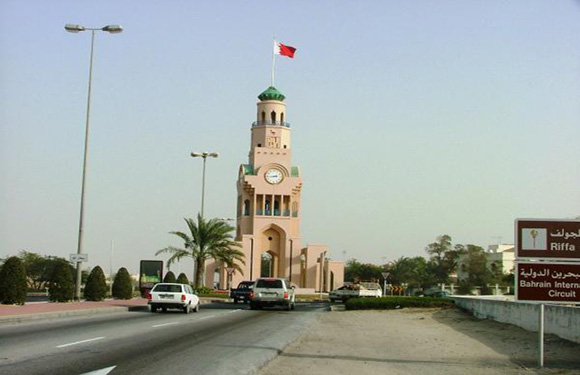 This is the second-largest city in Bahrain and one of the most visited cities in the country. It is a historical city, once the main settlement on Bahrain Island. Manama became the primary city on the island during the 19th century. There are roughly 200,000 people living in Riffa today.
There are many attractions in Riffa for tourists visiting Bahrain. One of these is Riffa Fort (Sheikh Salman Bin Ahmad Al Fateh Fort), which was built in 1812 and offers incredible views across a large valley. Other important tourist attractions in the city are shopping streets and centers, the Riffa Clock Tower, Riffa Palace, and natural springs.
4. Manama
A trip to Bahrain wouldn't be complete without spending some time Manama. It is the largest city in the country and also the capital. As the largest city, it also offers the most in terms of tourist attractions, infrastructure, and activities.
Some of the most popular attractions are Al Fateh Mosque, Bahrain Castle, Bahrain National Museum, Barbar Temple, Royal Cemetery, and the Museum of Pearl Diving.
Other notable points of interest are the modern architecture on display throughout the city as well as its interesting history as a port city.
5. Beit Al Quran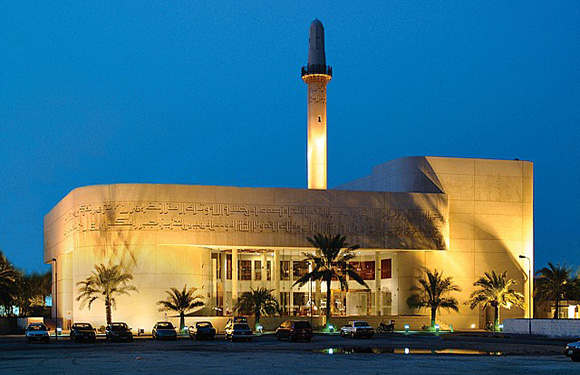 The Beit Al Quran, located in Manama's Hoora district and opened in 1990, is regarded as one of the world's most famous Islamic museums. It is famous because it exhibits some of the most important manuscripts of the Quran. Many other important works related to Islamic history are also exhibited here.
A multipurpose complex, the Beit Al Quran, which translates to the "House of Quran," also includes a library, mosque, madrasa, auditorium, and museum. There are over 50,000 books and manuscripts on site here, and there are works published in three different languages: English, Arabic, and French.
6. Muharraq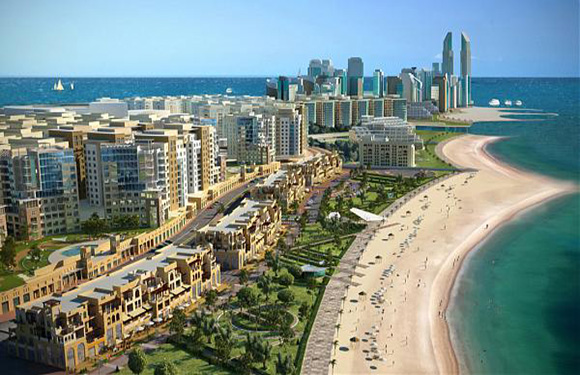 Muharraq is the third-largest city in the country and served as the capital of Bahrain until Manama became the capital in 1923. It is located on Muharraq Island, next to the Bahrain International Airport and close to Manama.
Muharraq was historically an important trade center in Bahrain and in the Persian Gulf. Today, it is where Gulf Air is headquartered, and it is the home of Muharraq Club, Bahrain's most successful football club. This is one of the most conservative areas of Bahrain, and it is also a center for the arts. It is an ideal city for visitors interested in history and art.
7. Amwaj Islands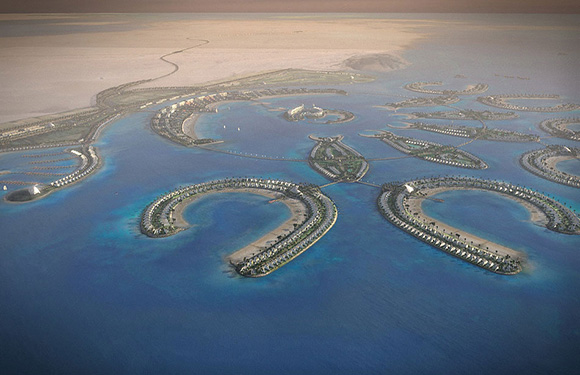 The Amwaj Islands are a group of six man-made islands in the Persian Gulf, near the northeastern coast of Muharraq Island. The islands are connected to Muharraq Island by two causeways and are just 4.5 km from the Bahrain International Airport. This makes them an exceptionally easy-to-visit destination in the country.
A relatively recent creation, the plan for the Amwaj Islands was devised in 2000. It is possible for foreigners to purchase and own land on the islands, and this has attracted numerous foreign investors. It's also possible to stay at one of the many luxury accommodation options on the islands and to enjoy the full range of services available during any length of stay.
8. Al Fateh Grand Mosque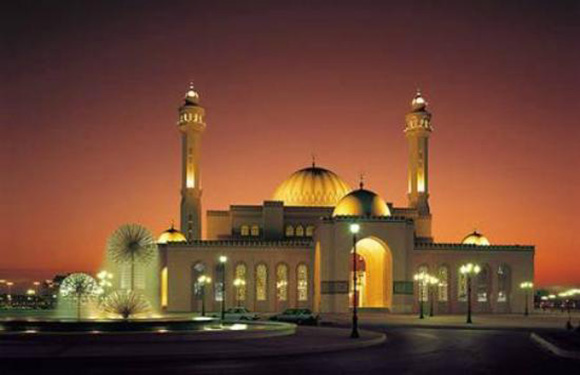 Al Fateh Grand Mosque is one of the largest mosques in the world. It was officially opened in 1998 and has the capacity to host more than 7,000 worshippers at a time. It is located in Manama next to the Al Fateh highway in Juffair, a district of the capital city.
One of the most impressive features of this mosque is its fiberglass dome, weighing more than 60 tons. It is the largest fiberglass dome in the world. There is also a library at the Ahmed Al-Fateh Islamic Center with over 7,000 books.
9. Bahrain Fort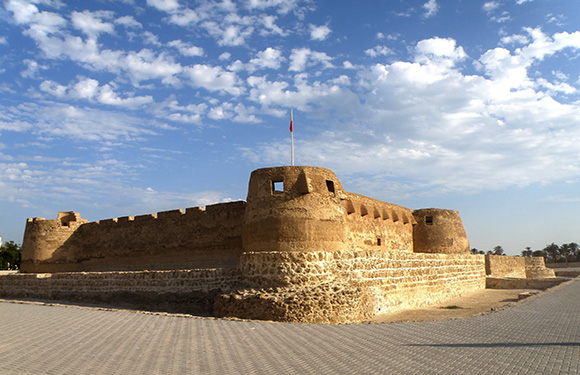 Also called Qal'at al-Bahrain, Bahrain Fort is an archeological site that was designated as a UNESCO World Heritage Site in 2005. The site is particularly amazing for the immense history that it is a part of.
The area has been inhabited for about 5,000 years, and many different civilizations have contributed to the fort, including the Greeks, Portuguese, Kassites, and Persians. It is thought to have once been the capital of the ancient Dilmun civilization.
Only about 25% of the site has been fully excavated, but various structures have been discovered. These structures point to the site's importance as a trading location over many years and for multiple civilizations. The site is a major attraction for history lovers.
10. Hawar Islands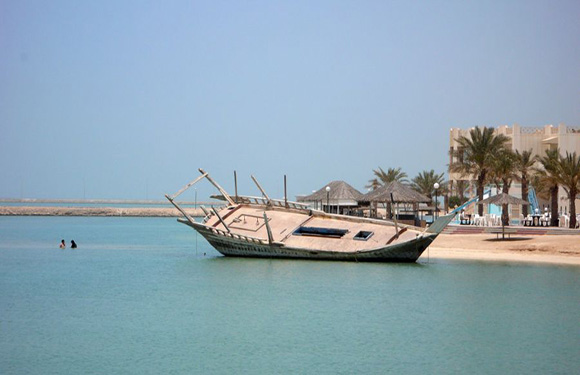 The Hawar Islands, south of Bahrain and closer to the coast of Qatar, are an archipelago of desert islands. There are seven large islands and 25 smaller islands in the archipelago, one of which is owned by Qatar. The largest of these islands is Hawar Island.
As well as being a great place to enjoy island life, the islands are a favorite of birdwatchers as well. One of the biggest colonies of Socotra Comorants, a threatened species of bird, can be found here. It is possible to stay on one of the islands and to organize a day trip from Bahrain Island.
11. The Bahrain International Circuit
The Bahrain International Circuit is a racecourse complex used for a variety of events, perhaps most notably for Formula One. The Bahrain Formula One Grand Prix is held here, which was the first Grand Prix event held in the Middle East when it started in 2004.
The inclusion of Bahrain in the Formula One Grand Prix Calendar has steadily increased the tourism draw in the country. Even if races are not being held at the venue during your time of visit, it's possible to take tours to see the grounds.
12. Manama Souq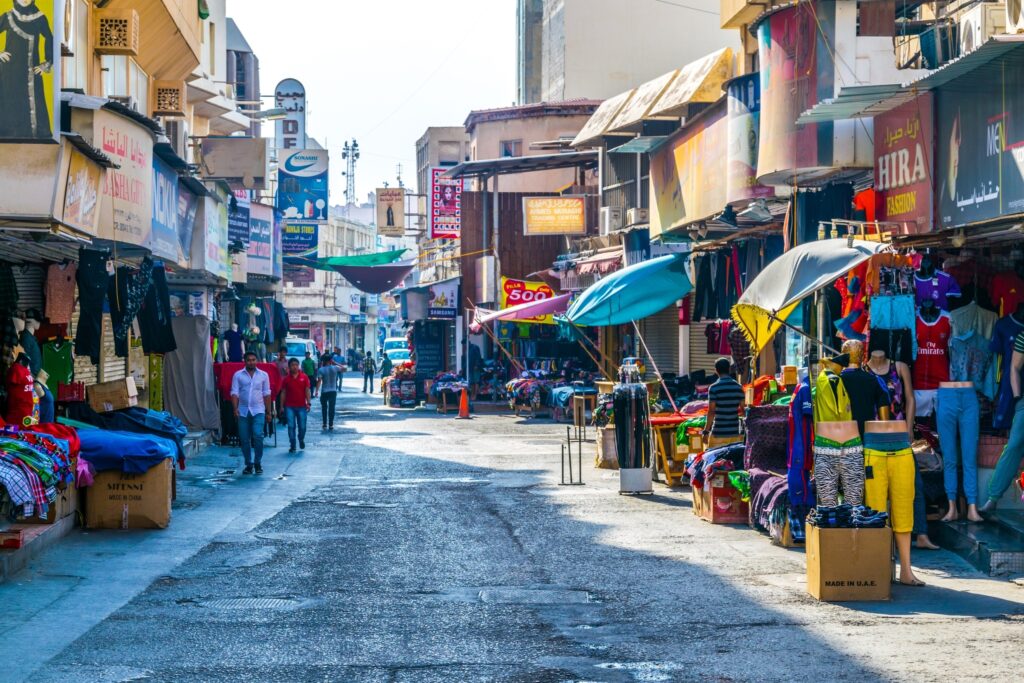 The Manama Souq is the old bazaar in Manama, and it's an ideal place to visit for anyone looking to experience Bahrain's culture. The range of items for sale here is huge. You could buy spices, souvenirs, clothing, local sweets like halwa, electronic goods, and much more. Prices are negotiable, so you'll have to employ your bargaining skills to get a fair price.
More than for what's actually on sale, visiting the Souq is an excellent opportunity to feel connected to the history of Bahrain and to experience a slice of daily life in the country.
13. Diving
The Middle East is full of great opportunities for divers, and Bahrain has its own historical connection to the activity. Long before oil and gas became the primary economic resources of the country, pearl diving was the main supporter of the economy. This was true for thousands of years, and Bahrain was even referred to as "The Island of Pearls."
Most pearls produced today come from farms, but you can still experience pearl diving for yourself with one of Bahrain's five licensed pearl-diving operators. With some, you can collect up to sixty oysters and can keep whatever you find.
There are other diving opportunities in Bahrain as well. Dive Bahrain has created an underwater theme park for divers, consisting of a submerged Boeing 747 that doubles as an artificial reef, sculptures, and other structures.
14. Al Dar Islands
For anyone looking to get away from it all, the Al Dar Islands are certainly worth consideration. They are a small group of resort islands near the island of Sitra. Accessing the islands involves taking a short boat trip from the fisherman's harbor at Sitra, and accommodation is available at one of several resorts.
Activities on the islands include jet skiing, water sports, snorkeling, relaxing on the beach, kayaking, dolphin watching, and more. It's also possible to rent a beach cabin for the day instead of staying overnight.
16. National Theater of Bahrain
Looking for an extra dose of culture? Check out the National Theater of Bahrain. It's the third-largest theater in the Middle East and has 1,001 seats, which is an homage to the work, One Thousand and One Nights (Arabian Nights).
Just being inside the theater is an experience, as the main auditorium is clad in wood and made to give visitors the feeling of being on a Dhow, a traditional sailing vessel. International acts perform at the theater, including singers, orchestras, and ballets.
15. The Tree of Life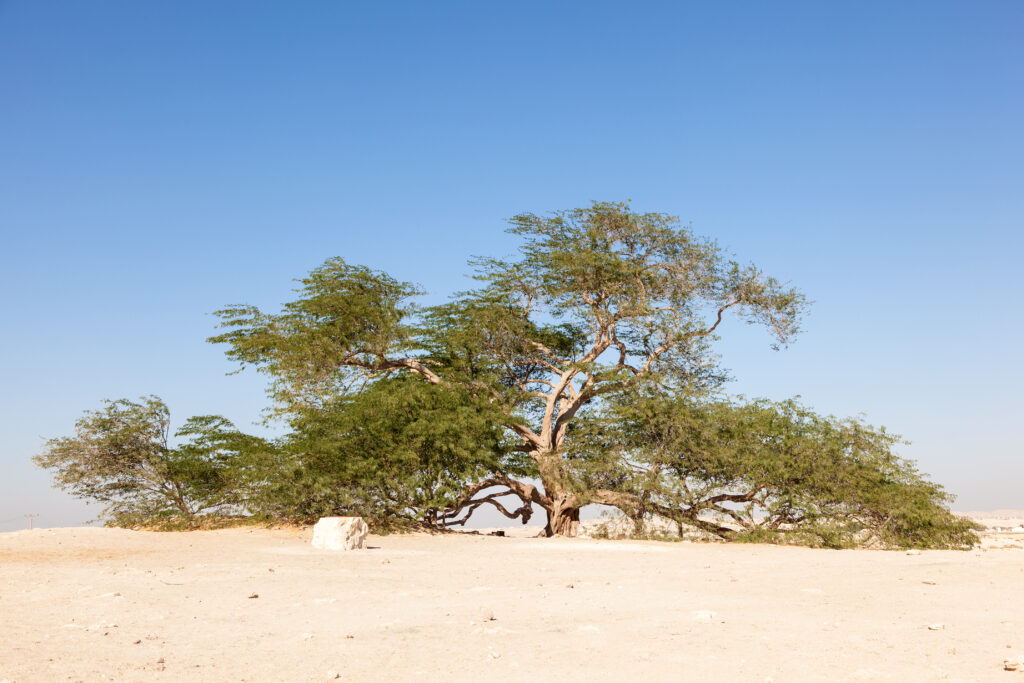 For those looking for something different on their trip to Bahrain, it may be worth visiting the Tree of Life. It is a famous 9.75 m (32 ft) tall tree that lives in an otherwise mostly lifeless area of the Arabian Desert. The tree is thought to be more than 400 years old, and it isn't known how the tree survives without any obvious water sources.
Some believe the tree's roots are simply long enough (about 50 m) to reach water, others believe the tree can extract water from grains of sand, and still others believe the tree is located where the Garden of Eden once was. About 65,000 tourists visit this tree each year, and camping near the tree is possible.
17. Royal Camel Farm
If beautiful beaches, historic cities, and diving aren't quite what you're after, a trip to Bahrain's Royal Camel Farm may be just the thing. The farm is large, with over 600 camels residing, and visitors can feed and take pictures with the animals. This is an activity that could especially appeal to children.
18. Water Parks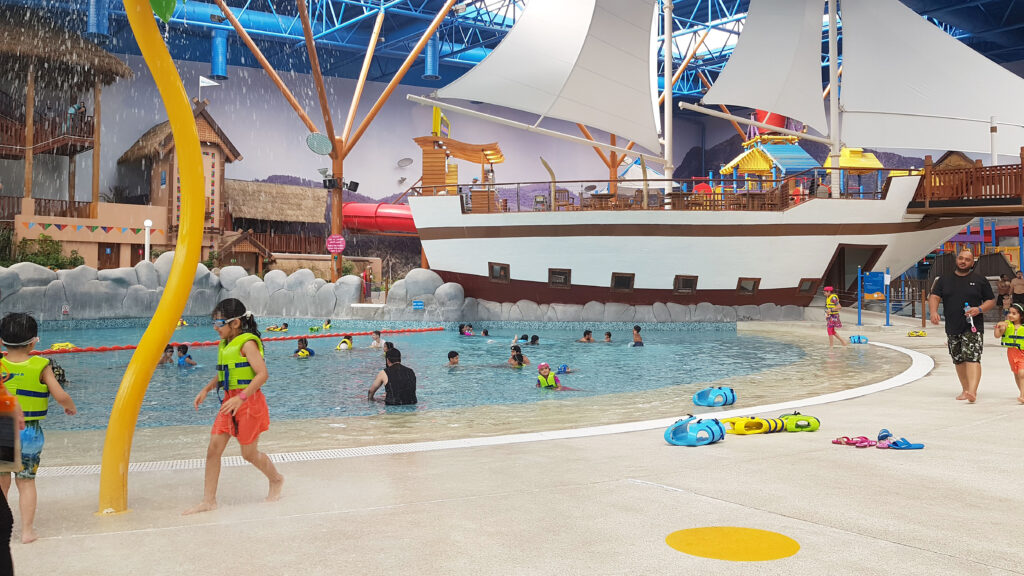 It gets hot in Bahrain. In the summer months, the average high temperature in the country is around 38°C or 100°F. Fortunately, there is plenty of water nearby. In addition to island hopping and beach going, the country has few water parks that offer a fun respite from the heat.
The largest of these parks is Lost Paradise of Dilmun Water Park, which features pools, fountains, and 18 water slides. There's also the Wahooo! park, located in the Center Mall of Manama for those looking for an option that's closer to the city.
19. Bahrain International Music Festival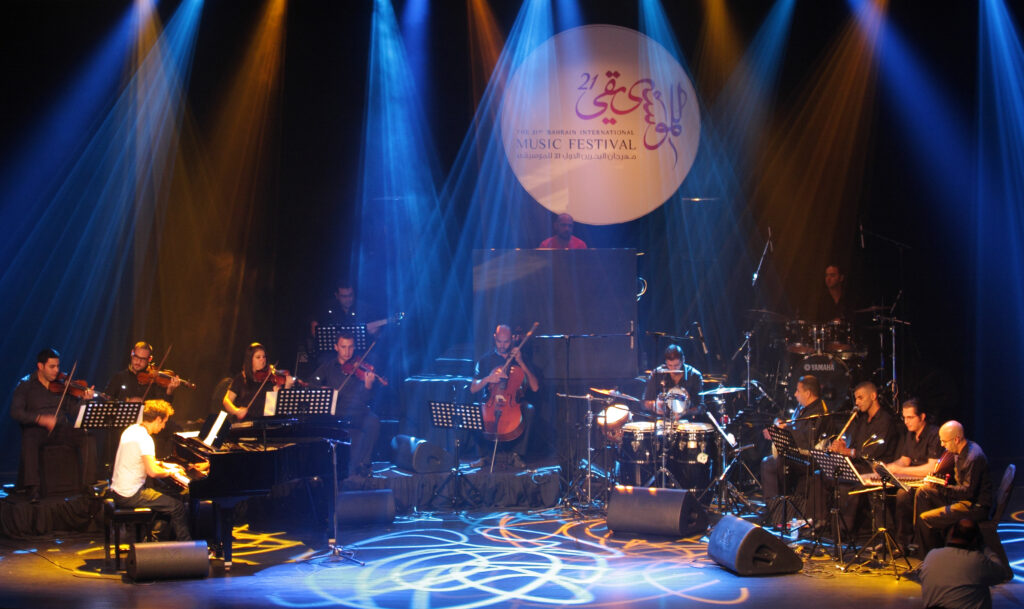 For anyone visiting Bahrain during the month of October, it could be worth checking out the Bahrain International Music Festival. The festival was founded in 1992 and is an effort to "promote the value of music in building peace and understanding among people."
There are musical acts of various genres that perform in the festival, and international as well as local artists perform.
20. Art Galleries
Another fascinating element of the culture of Bahrain is its many art galleries. Those interested in art will have no shortage of options when it comes to venues for appreciating works by painters, designers, and sculptors.
The Albareh Art Gallery, Bahrain Arts Society, and Bait Al Salmaniya are all great places to see art exhibitions. The Bait Al Salmaniya also features live music nights and hosts workshops for artists.
Other options include the Jehan Saleh Printmaking Studio, which offers printmaking classes for all levels and exhibits the work of local artists, and the La Fontaine Centre for Contemporary Art, which includes a spa and restaurant.
Visiting Bahrain FAQs
What is the most iconic place for tourists in Bahrain?
The Manama Souq is definitely one of the most iconic places for tourists to visit in Bahrain. It offers a link to the capital city's history, as well as the chance to sample and purchase many elements of Bahraini culture.
Is Bahrain safe for tourists?
Yes, Bahrain is safe for tourists. The biggest concern for most visitors is petty theft like pickpocketing, though it's important to take normal safety precautions. Since it is a Muslim nation, it is also important to be aware of clothing rules and to respect the local culture.
What are the best places to visit in Bahrain with kids?
The best places to visit with kids in Bahrain are the country's water parks and the Royal Camel Farm. There are several water parks available, and these can be a great respite from the heat as well as an exciting opportunity for children to play.
The Royal Camel Farm can also make a great novel experience for kids who are interested in animals. They'll have the chance to take pictures with the animals and even feed the younger ones.
What are the best places to visit in Bahrain at night?
There are a number of nightlife options for tourists in Bahrain. Whether you're looking for salsa dancing, karaoke, a talented DJ, ladies' night, or an English-style pub, you should be able to find what you're after.
Do I need a visa to enter Bahrain?
The answer to this question depends on your nationality. Citizens of most foreign countries do need a visa, but those from Kuwait, Qatar, Oman, Saudi Arabia. Citizen of the United Arab Emirates do not.
There are 116 countries, including the USA, that are eligible for a Visit eVisa, which can be obtained online.
Bahrain Tourism: Key Facts 2022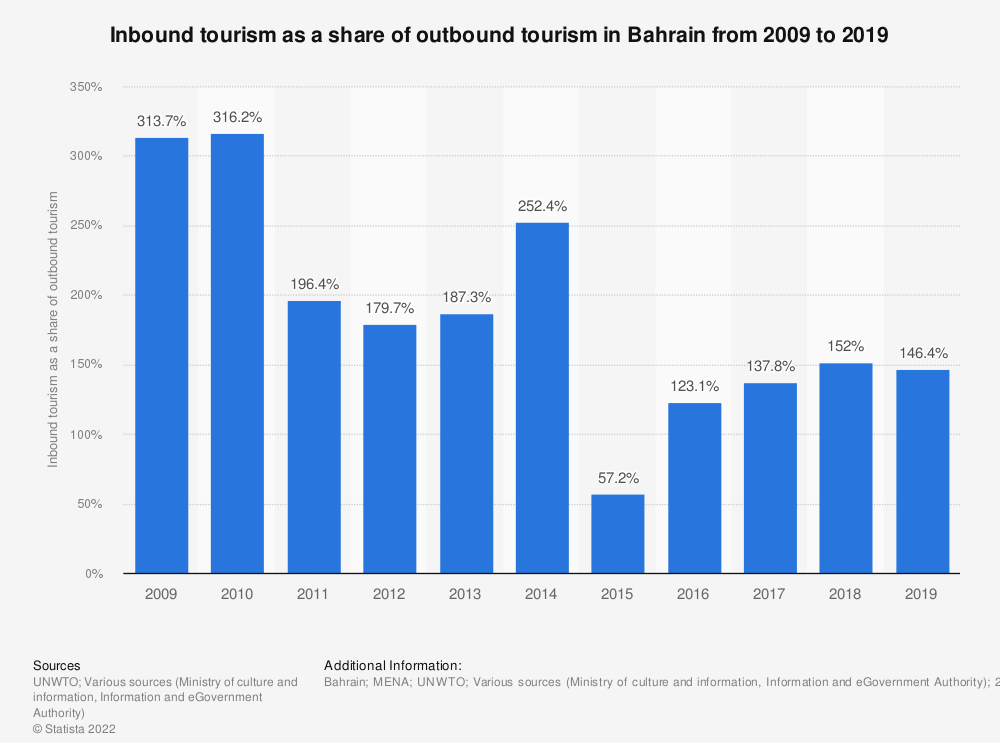 Tourism in Bahrain has been steadily increasing over the past several decades, especially since the addition of the country to the Formula One Grand Prix Calendar. Although the country saw a massive decrease in tourists in 2020 due to the COVID-19 Pandemic, the country is expected to continue to attract more visitors in the coming years.
Bahrain saw a 92% decrease in tourists in 2020 when compared to 2019, largely due to the pandemic.

2021 saw an increase in tourists coming to Bahrain, but nothing near pre-pandemic numbers.

In 2022, the number of incoming visitors to Bahrain increased from the previous year by as much as 750% when looking at month-to-month comparisons.