Manama is the capital of Bahrai. As the economic cornerstone of Bahrain, the city plays a pivotal role in business, commerce, and politics and serves as the cultural heart, enriching the nation with arts and traditions.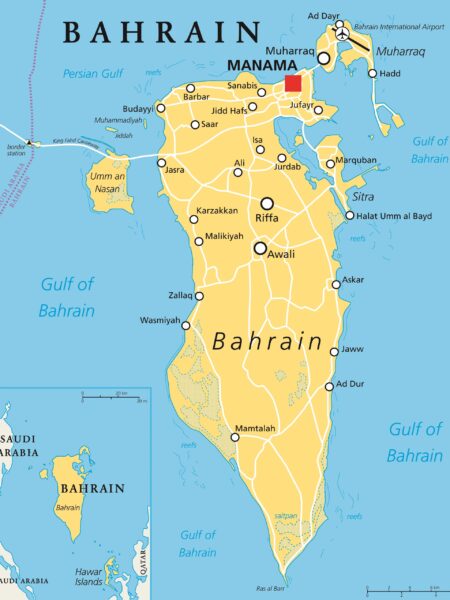 Manama is known for its modern architecture and a harbor filled with traditional dhows; it's a city that harmoniously blends the old with the new. Amid this modernity and complexity, traces of the past are ever-present. Historic landmarks offer glimpses into the city's prosperous history, providing a tangible connection to bygone eras.
Where is Manama?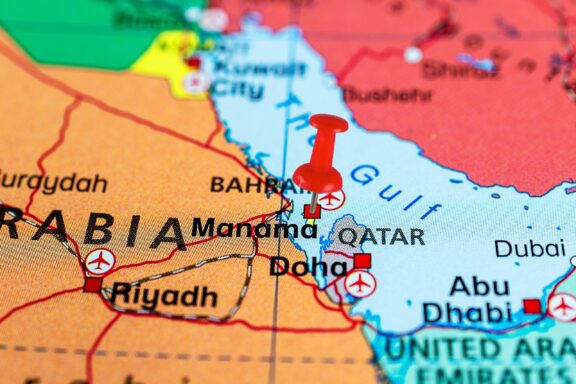 Manama is located on the northeastern coast of Bahrain, an island country in the Persian Gulf. Within the country, it is situated on Bahrain Island, which is the largest of the archipelago's 33 islands. It lies close to the western shores of the Arabian Peninsula.
Manama's position on Bahrain Island places it relatively close to the mainland of Saudi Arabia to the west and Qatar to the southeast. It is approximately 16 kilometers (around 10 miles) away from the King Fahd Causeway, a bridge connecting Bahrain and Saudi Arabia.
History of Manama
Originally part of the Dilmun civilization, Manama was a crucial point in ancient trade routes connecting Mesopotamia and the Indus Valley. The Dilmun civilization thrived on trade and maritime activity, and the now Manama area was no exception. It was an essential center for exchanging goods like copper, pearls, and dates.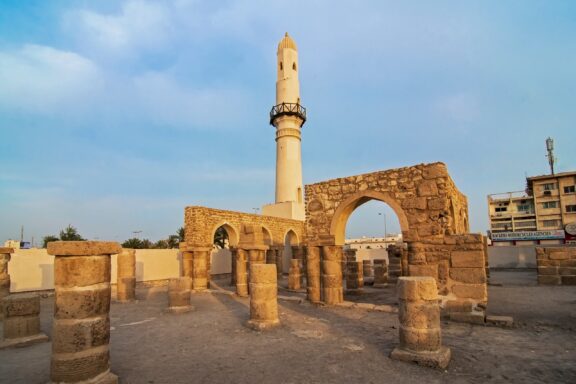 With the arrival of Islam in the 7th century, Manama gained significance as a center for Islamic scholarship and commerce. It became a part of successive Islamic empires, including the Umayyad and Abbasid Caliphates. The city was an important port and trade center, dealing in goods like spices and textiles from India and the Far East.
The Portuguese occupied Manama in the early 1500s, using the city as a strategic naval base to control the Persian Gulf's sea routes. They built forts and naval installations, significantly affecting the city's structure and society. This period of foreign rule brought European influence and led to internal strife.
The Persians took control after driving out the Portuguese in the 17th century. Manama became part of various Persian dynasties, most notably the Safavid empire. Under Persian rule, Manama remained an important trade and maritime center. The era is characterized by its influence on local architecture and governance.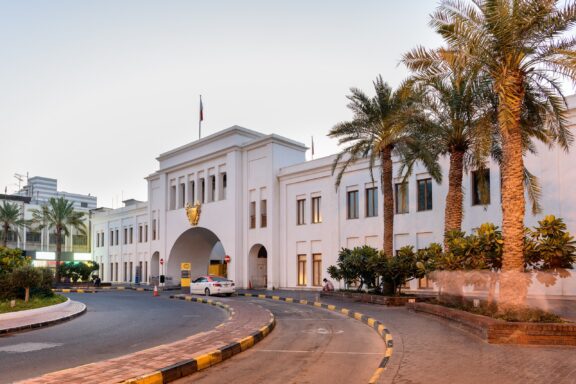 The Al Khalifa family, originally from Qatar, established control over Manama and made it part of their sheikhdom by the late 18th century. During the 19th century, Bahrain, including Manama, entered a protectorate agreement with the British. This brought stability, modern administrative methods, and the introduction of the pearling industry on an industrial scale.
Oil Discovery
Oil was discovered in Bahrain in 1932, making it the first place in the Arabian Gulf where oil was found. This led to rapid urbanization and development in Manama. The city became a magnet for job seekers and businesses as infrastructure such as roads, hospitals, and schools were rapidly built.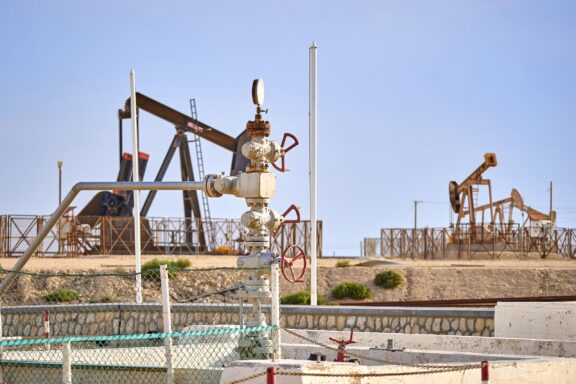 On August 15, 1971, Bahrain gained independence from British colonial rule, and Manama was designated the new nation's capital. This ushered in a new era of nation-building and modernization, focusing on making Manama a political and administrative hub.
From the late 20th century onwards, Manama became a financial and cultural center for Bahrain and the Middle East. The city became home to numerous banks, financial institutions, and cultural landmarks. It also began to host international events, increasing its global profile.
In 2011, Manama was a focal point of the Arab Spring protests in Bahrain. This period renewed the focus on civil liberties and political reforms, leading to a harsh government crackdown. The events greatly impacted Manama's social and political fabric and continue to be a point of discussion in its modern history.
Features of Manama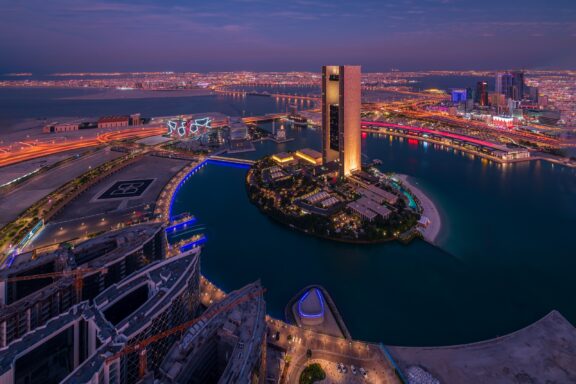 Manama is a city where ancient mosques and bustling souqs coexist with gleaming skyscrapers and state-of-the-art financial institutions. Its skyline, marked by innovative architectural feats, speaks to its role as an economic powerhouse in the Middle East.
Cultural richness is also evident throughout Manama, most notably in its museums and public spaces, while modern art installations and galleries showcase a burgeoning contemporary art scene. In terms of cuisine, Manama offers a delectable mix of local flavors and international delights, often found in the cosmopolitan dining spots that dot the city.
Geography and Climate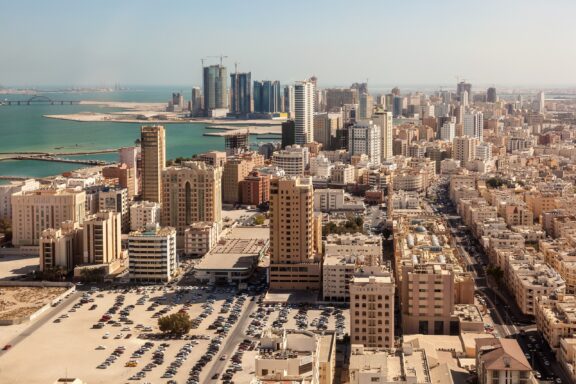 Manama experiences an arid climate characterized by hot summers and mild winters. Summer temperatures can soar well above 40 °C (104 °F), while winters are considerably milder, with temperatures ranging between 14 °C and 24 °C (57 °F–75 °F). Rainfall is scant, mainly occurring during the winter months. The city faces the challenge of frequent dust storms, especially in the summer.
Population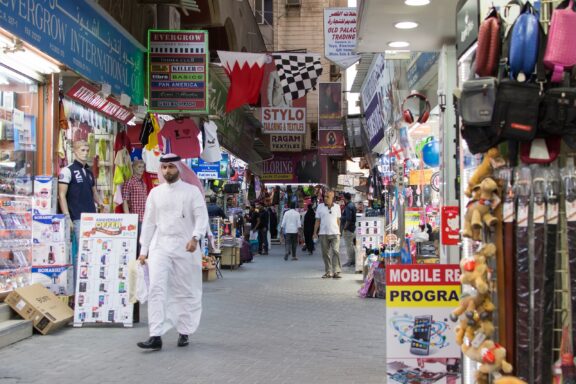 Manama has a diverse population comprising Bahraini nationals and many expatriates. The city is a melting pot of cultures, with people from various Middle Eastern, South Asian, and Western countries residing there.
Arabic is the dominant language, but English is widely spoken due to the international nature of the city. Although Islam is the predominant faith, Manama is also marked by religious diversity.
Economy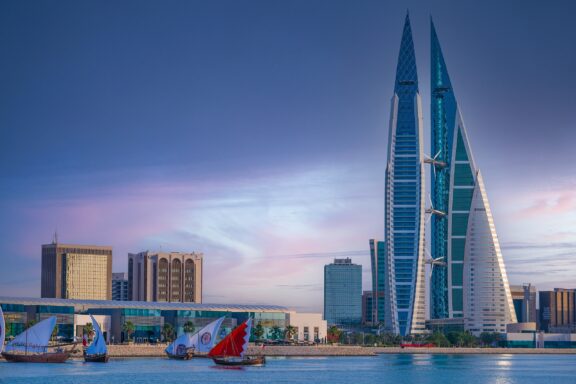 Manama is the economic heart of Bahrain. The city has become a leading financial center in the Middle East, hosting numerous banks, financial institutions, and the Bahrain Stock Exchange.
Beyond finance, tourism plays a vital role in the city's economy. Manama attracts travelers with its rich history, modern amenities, and diverse shopping experiences, from traditional markets to luxury malls. Other key industries include real estate, retail, and information technology.
Due to its strategic location as a port city, shipping and logistics also contribute to its economic activity. The city has been successfully diversifying its economy, reducing its reliance on oil revenue, resulting in a robust financial health.
Things to Do and Places to See in Manama
Manama offers a diverse array of activities and landmarks to explore. Here are some of the city's most sought-after attractions.
1. Bahrain National Museum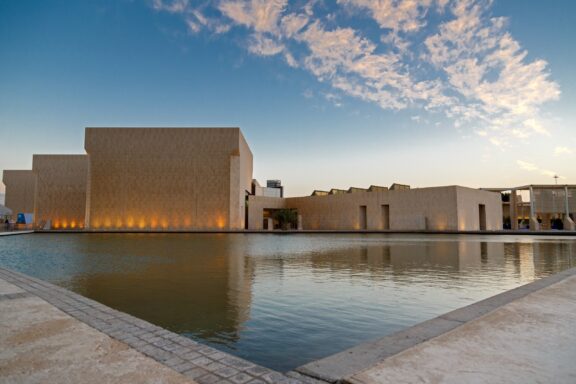 The Bahrain National Museum is a cultural cornerstone showcasing Bahrain's rich history and heritage. The museum is a critical educational facility and a must-visit for anyone looking to understand the country's complex past and diverse culture.
The museum is spread over 27,800 square meters and features nine main halls. Visitors can explore artifacts from the Dilmun civilization, Islamic art, historical documents, and exhibits showcasing Bahraini traditions. The building is a marvel of modern architecture, combining traditional Bahraini elements with a contemporary design.
2. Al-Fateh Mosque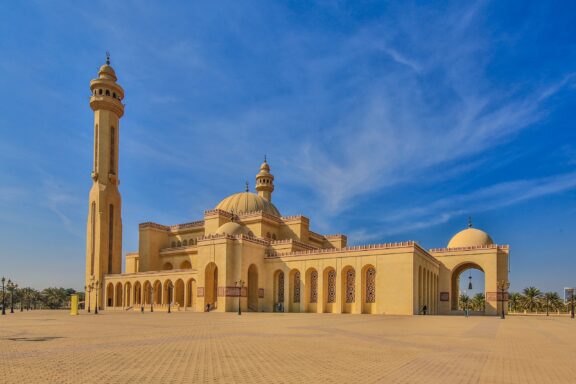 The Al-Fateh Mosque is a spiritual sanctuary and an architectural masterpiece. Its sheer size and intricate detailing make it a significant landmark in Bahrain. The mosque boasts Italian marble floors, Austrian glass chandeliers, and an enormous fiberglass dome, making it a melting pot of international influences.
The mosque houses a library rich in Islamic literature, adding another layer to its spiritual significance. The mosque is open to visitors of all faiths and offers guided tours where you can learn about Islamic traditions and the mosque's history.
3. The Avenues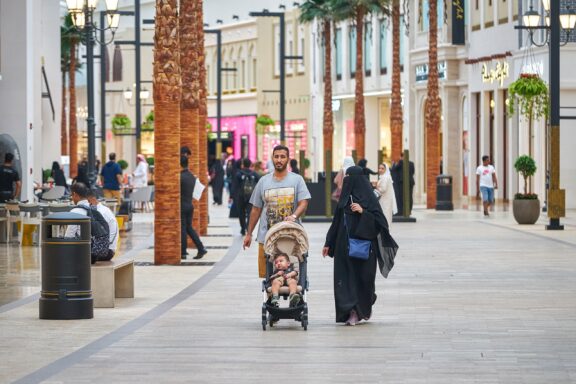 The Avenues Mall is a haven for shopaholics and foodies alike. It redefines the shopping experience by blending international brands with local flair. The mall spans a sprawling area and is divided into several districts, each with its theme and ambiance.
The mall offers a varied shopping experience, from high-end fashion to local crafts. The mall is not just about retail; it's a complete entertainment package. With its waterfront dining options, children's entertainment zones, and frequent events, visitors can expect an entire day of fun and relaxation.
4. Souq Bab Al Bahrain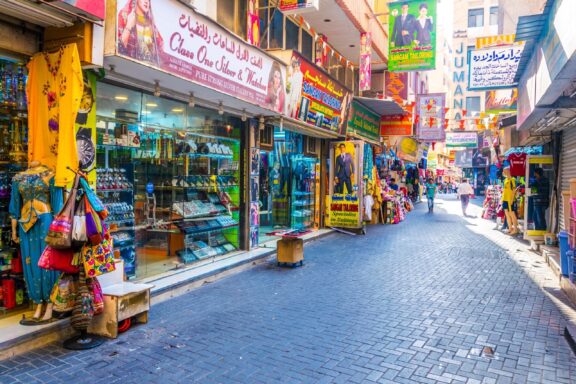 Narrow alleys are filled with shops that offer a range of products, from hand-woven fabrics to intricate jewelry. The fragrance of spices fills the air, and the chatter of vendors and shoppers adds a lively atmosphere.
This is the place to try authentic Bahraini food, haggle over goods, or observe the hustle and bustle of daily life. The evening hours bring musical performances and other events, adding a layer of entertainment to the shopping experience.
5. Arad Fort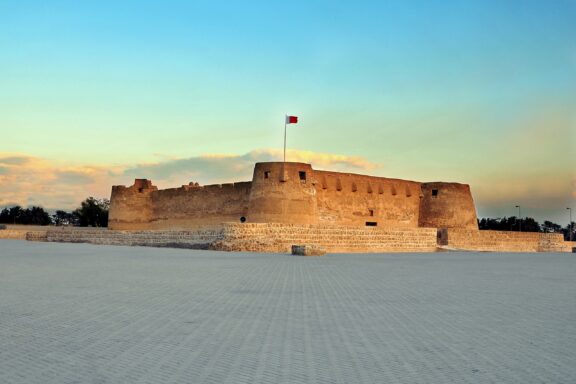 Arad Fort is a testament to Bahrain's strategic importance through the ages. The fort is built in a typical Islamic style, featuring rounded towers and thick walls made of coral and limestone. It has served multiple functions, from a defensive fortification to a residence.
Visitors can explore the fort at their own pace, climbing up to the ramparts for panoramic views or attending one of the regular cultural performances on the fort grounds.
6. Qal'at al-Bahrain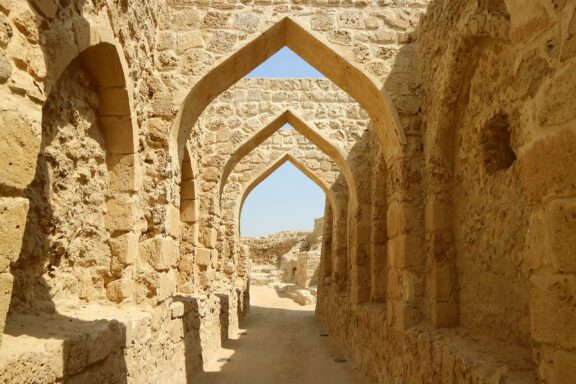 Qal'at al-Bahrain is a stunning testament to the island's varied history and role as a crucial trading port in antiquity. Spread over a 10-hectare area, this archaeological site reveals layers of human occupation going back to ancient times.
The fort features a mix of architectural styles due to its multiple past rulers, including the Portuguese and Persians. The site is a treasure trove for history enthusiasts. Guided tours are available, and a small museum on-site offers further context. The fort is particularly striking when its walls are bathed in golden light at sunset.
7. Beit Al Quran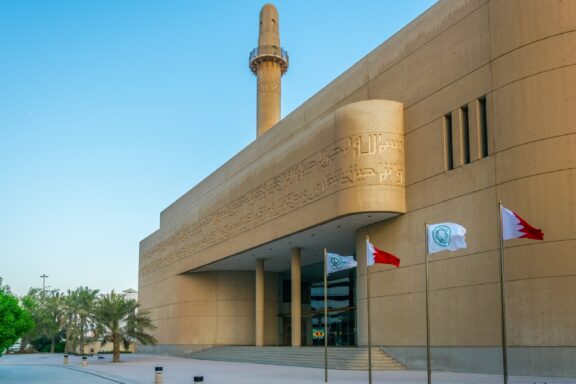 Beit Al Quran, located in Hoora, Manama, is a repository for Islamic art and calligraphy. The complex is a cultural institution dedicated to the Islamic arts and sciences.
Here, you can delve deep into the Islamic arts, viewing historical manuscripts and participating in educational programs. Even if you're not religious, the intricate artwork and historical context make a captivating visit.
8. Tree of Life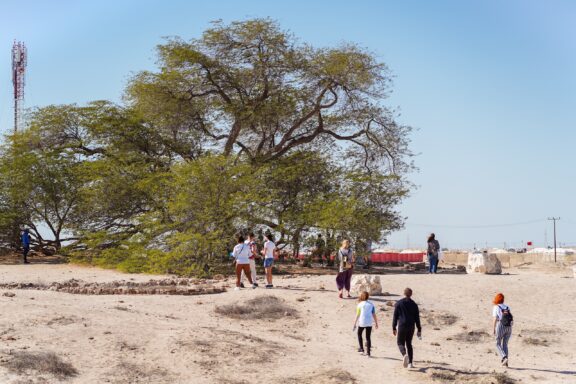 Standing alone in Bahrain's southern desert, the Tree of Life is a natural wonder that intrigues scientists and tourists alike. Its solitary existence in an arid landscape raises questions and piques curiosity.
The tree offers a quiet place for contemplation and photography. It's especially popular during sunrise and sunset when the lighting adds a magical quality to its solitary presence.
9. Royal Camel Farm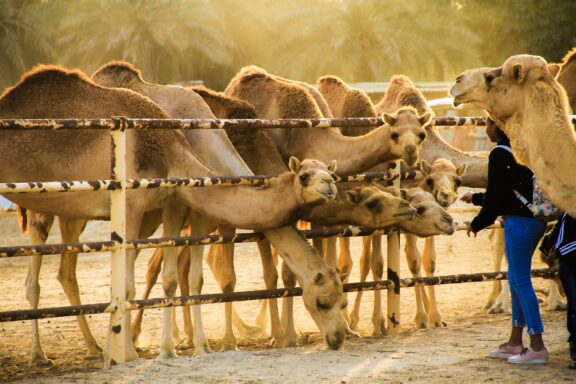 The Royal Camel Farm serves as a living museum of camel husbandry and a tribute to these magnificent creatures' role in Bahraini history. The farm is home to a diverse array of camel breeds. Informational boards and staff provide insights into the biology and history of camels and their cultural significance.
Besides the unique opportunity to get up close and personal with camels, visitors can learn about these animals' care and even witness feeding sessions. It's a family-friendly environment with educational undertones.
10. Bahrain National Theater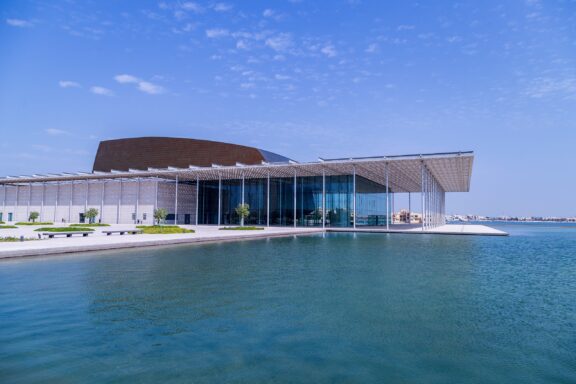 Bahrain National Theater is a focal point for the performing arts in Bahrain, emphasizing the country's commitment to cultural growth. The theater is an architectural marvel, blending modern design elements with traditional Bahraini features.
The interior is equally captivating, offering a luxurious setting for various performances. Whether you're a fan of classical music, contemporary dance, or traditional Bahraini performances, the theater offers a diverse lineup. The venue's acoustics and seating are designed for an immersive experience, making any show memorable.
Frequently Asked Questions
Is Manama safe for tourists?
Manama is generally considered safe for tourists, as crime is uncommon in most areas. However, visitors should exercise due care and use reputable taxi services for transportation.
What is traditional food like in Manama?
Manama's traditional cuisine is a rich blend of Arabian, Persian, and Indian influences due to its historical trade relations and diverse population.
Seafood plays a major role, given the city's coastal location. Spices like saffron, cardamom, and turmeric are commonly used, reflecting a confluence of cultures and trade routes.
What are some must-try authentic dishes while in Manama?
For an authentic taste of Manama, certain dishes stand out as must-tries:
1. Machboos: This is a traditional Bahraini dish featuring rice, meat, and a variety of spices, similar to biryani.
2. Muhammar: A sweet rice dish often served with dates or fish, showcases the local penchant for combining sweet and savory flavors.
3. Grilled Hammour: This local fish is usually marinated with spices and grilled, highlighting Manama's emphasis on seafood.
4. Shawarma: Though common throughout the Middle East, the shawarma in Manama has its unique blend of spices and is often served in local eateries.
What is the best time to visit Manama?
The best time to visit Manama is from November to March, when the weather is mild and pleasant, making it easier to explore outdoor attractions.
What currency is used?
The Bahraini Dinar (BHD) is the official currency. Credit cards are widely accepted, and ATMs are readily available.
How do I get around the city?
Manama has a range of transportation options, including taxis, buses, and car rentals. The city is also quite walkable in certain areas.
Is Bahrain friendly to foreigners?
Yes, Manama and Bahrain, in general, are considered to be friendly and welcoming to foreigners.
Can men wear shorts in Bahrain?
Men can wear shorts in Bahrain, especially in casual settings and tourist areas. However, wearing long pants is advisable when visiting religious or formal sites.
Can you drink alcohol in Bahrain?
Alcohol is legal in Bahrain and available in licensed bars, hotels, and private clubs. However, public drunkenness is not tolerated, and driving under the influence of alcohol is strictly prohibited in Bahrain, with penalties ranging from a fine of BHD 500 to BHD 1,000, along with a jail term of one month to one year.
Final Thoughts
Manama offers visitors a rich tapestry of experiences, blending cultural heritage with modern-day amenities. Its relatively low crime rate, friendly atmosphere, and diverse attractions make it a destination well worth exploring.
Whether you are interested in history, looking to experience Middle Eastern cuisine, or eager to explore its financial and artistic landscapes, Manama provides a compelling and enriching travel experience. Overall, it's a city worth visiting and must be explored deeply to be fully appreciated.