South Korea is located in the region at latitude 35.907757 and longitude 127.766922 and is part of the Asian continent.
The DMS coordinates for the center of the country are:
35° 54' 27.93'' N
127° 46' 0.92'' E
You can see the location of South Korea on the world map below: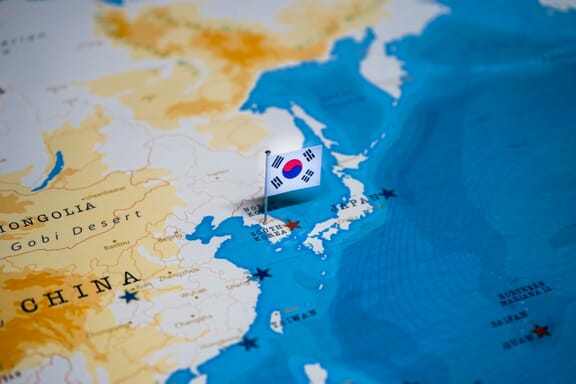 South Korea Neighboring Countries
The neighboring countries of South Korea (KR) are:
Korea (Democratic People's Republic of) (KP)
Maritime Borders
South Korea borders with the Sea of Japan, the Yellow Sea, and the East China Sea
Korea (the Republic of) Related Content
South Korea Key Facts
Country
Korea (the Republic of)
Coordinates
Latitude: 35.907757
Longitude: 127.766922
Country Codes
Alpha 2: KR
Alpha 3: KOR
Country Flag Emoji
🇰🇷
Int. Phone Prefix
+82
Capital city
Seoul
Continent
Subcontinent
Asia

Country Area
99,720 sq km
Population 2021
51,744,876
World Rank: 28
Median Age
43.4
Life expectancy
83.7
Major languages
Korean
UTC/GMT Time
Number of time zones: 1

Internet TLD
.kr
Biggest Airport
Incheon International Airport (Incheon)
Average temperature
12.50 °C
54.50 °F
Administrative Divisions
6 metropolitan cities 1 special city 1 special self-governing city 8 provinces 1 special self-governing province
Political system
Presidential representative democratic republic
South Korea Economy Facts
World Bank Income Group
High income
World Bank Region
East Asia & Pacific
Currency
Won (KRW)
GDP in 2020
$1637.9 (billions of USD)
World Rank: 10
GDP per capita in 2020
$31,598
World Rank: 29
Major Industries / Economic Sectors
Manufacturing, services, agriculture, energy
Top 5 Import Countries
China, United States, Japan, Saudi Arabia, United Arab Emirates
Top 5 Export Countries
China, United States, Japan, Vietnam, Taiwan
Biggest Cities in South Korea
Here are the largest cities in South Korea based on 2021 data:
City
Population
Seoul
22,394,000
Busan
3,453,198
Incheon
2,913,024
Daegu
2,461,002
Gwangju
1,490,092
Daejeon
1,475,221
Suwon
1,234,300
Ulsan
1,166,033
Goyang
1,061,929
Changwon
1,046,054
Map of South Korea with the Largest Cities
South Korea: Overview
Population: 51,845,612 (as of July 2019)
Capital: Seoul
Language: Korean (Korean script called Hangul)
Bordering Country: North Korea
Land Area: 38,502 square miles (99,720 sq km)
Coastline: 1,499 miles (2,413 km)
Highest Point: Halla-san at 6,398 feet (1,950 m)
Latitude & Longitude: Between latitudes 33° and 39°N, and longitudes 124° and 130°E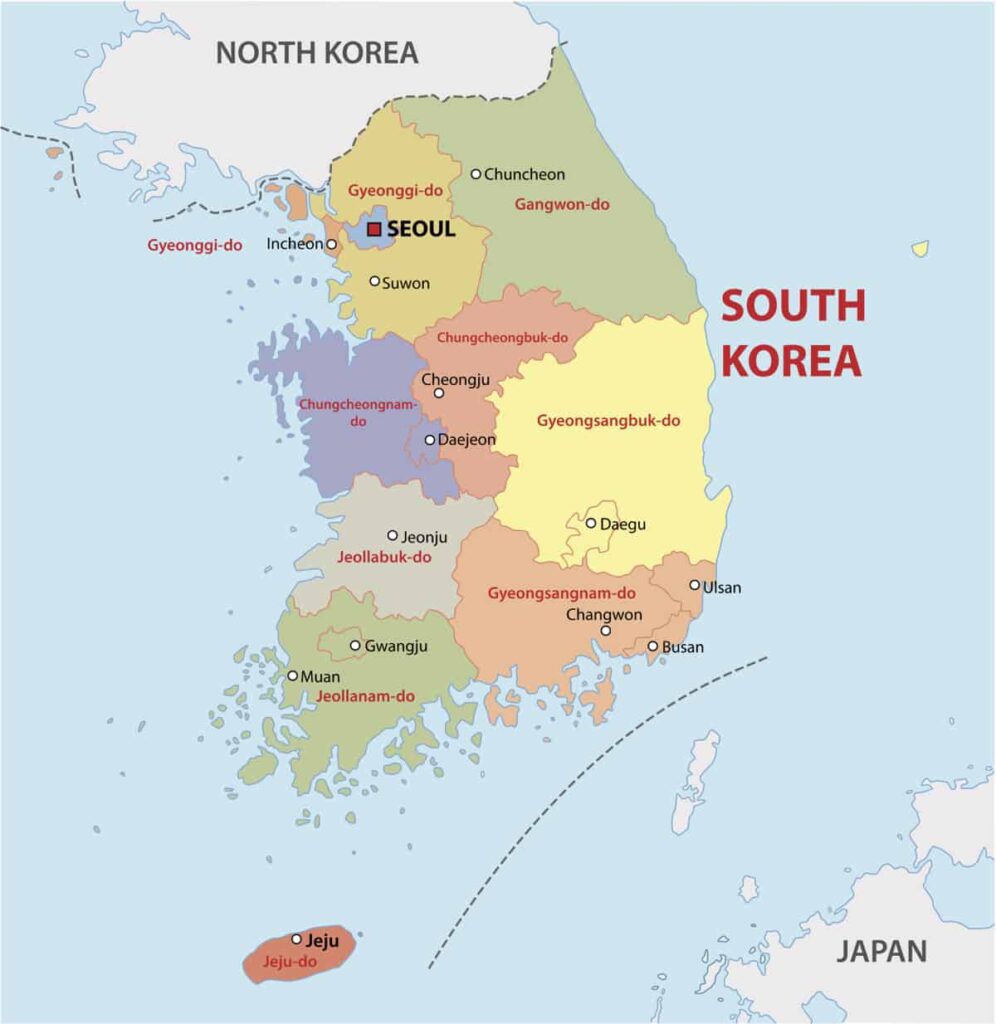 Important sites
UNESCO World Heritage has registered thirteen South Korean Cultural Heritage sites including:
And one UNESCO Natural Heritage Site, Jeju Volcanic Island and Lava Tubes (2007), significant for its ecological value and geological features.
Transport systems
South Korea caters to all kinds of travelers with ample opportunities for transport. With flights, ferries, trains, buses, subways and taxis, it is relatively easy to travel within the country and to its neighboring islands.
Road transport accounts for most passenger travel and movement of freight. The express highway network (classified as freeways) links most major cities and the bus transportation network, including many long-distance express lines. It is possible to travel between cities through the regional bus services (called gosok bus), which operate throughout most towns in South Korea. Shorter distances are reserved for suburban buses (called sioe bus), which are slower and have more stops.
The railways are largely government-owned and considered a more convenient way to travel between cities in South Korea above the regional bus service. Trains are classified into three tiers based on their speed and the amenities offered onboard including express trains (KTX and KTX-Sancheon), regular trains (ITX-Saemaeul and Mugunghwa) and tourist trains (KORAIL).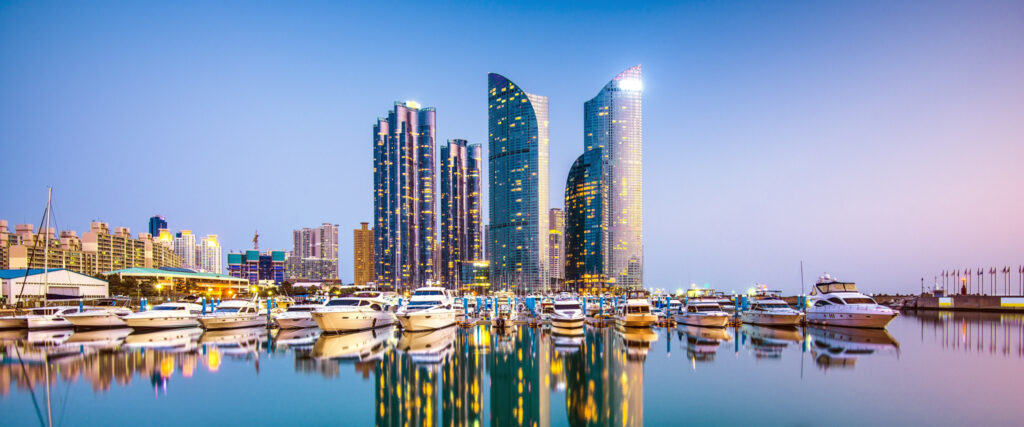 The six largest cities marked on this map of South Korea are Seoul, Busan, Daegu, Gwangju, Daejeon and Incheon and they all have subways with Seoul's and Busan's systems being the most heavily utilized. The extensive subway networks are the preferred way for locals and tourists to travel within a city.
There are several international airports within South Korea with main gateways in Seoul, Busan and Jeju-do as seen on the above map of South Korea. Incheon International Airport near Seoul is the country's main port of entry and serves as an air-travel hub for flights through Northeast Asia.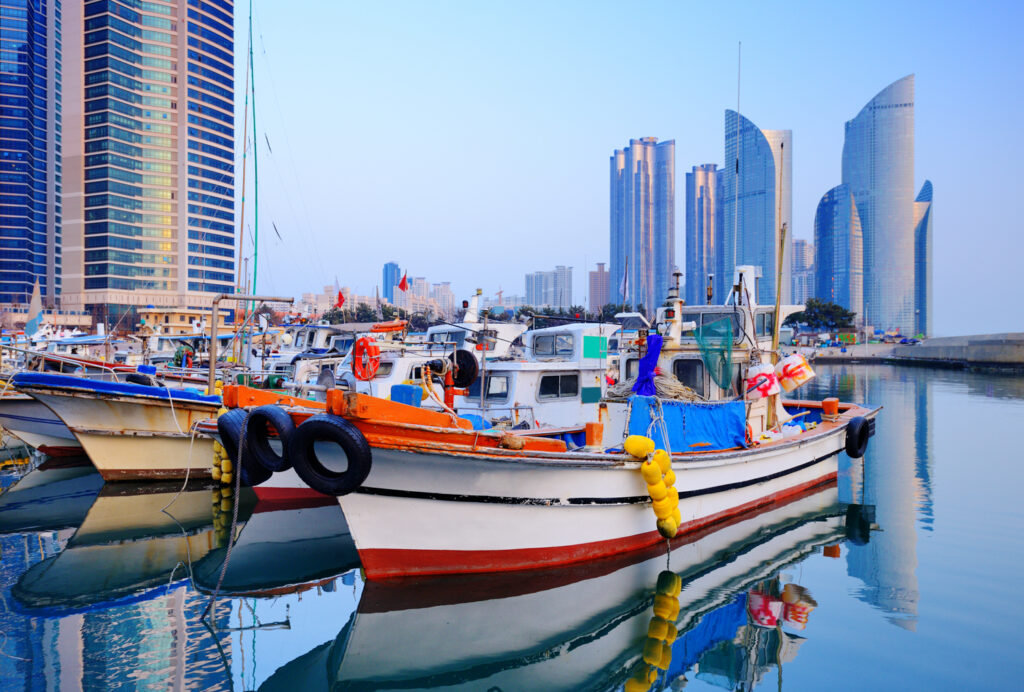 Ferries serve the larger islands of Jeju-do and Ulleung-do (the small unmarked yellow island on the eastern coast of the South Korea political map) as well as the smaller islands dotting the southern and western coasts. Major ports including passenger ferries include Incheon, Mokpo, Pohang, and Busan as well as international ports within China and Japan. [1]
Famous Tourist Attractions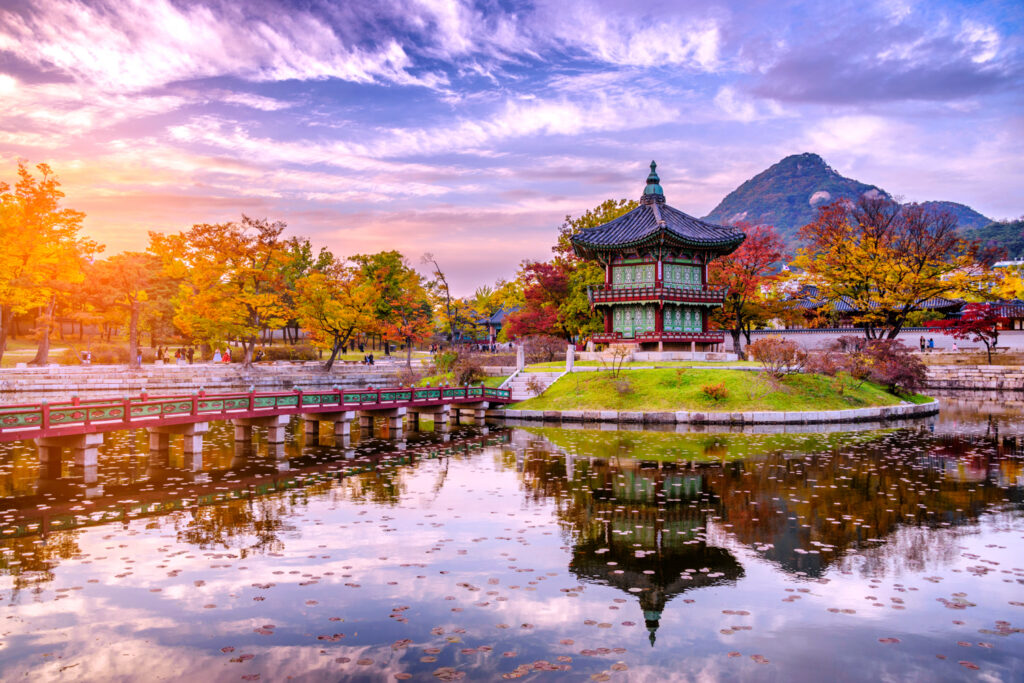 In 2016, 15.4 million foreign tourists visited South Korea, mostly coming from other parts of East Asia including Japan, China, Taiwan and Hong Kong. As the central hub of business, food and culture, Seoul is the main tourist destination for visitors. Tourists are apt to explore the Five Royal Palaces of Seoul to experience the history, tradition, culture, and beauty of Korea all in one place.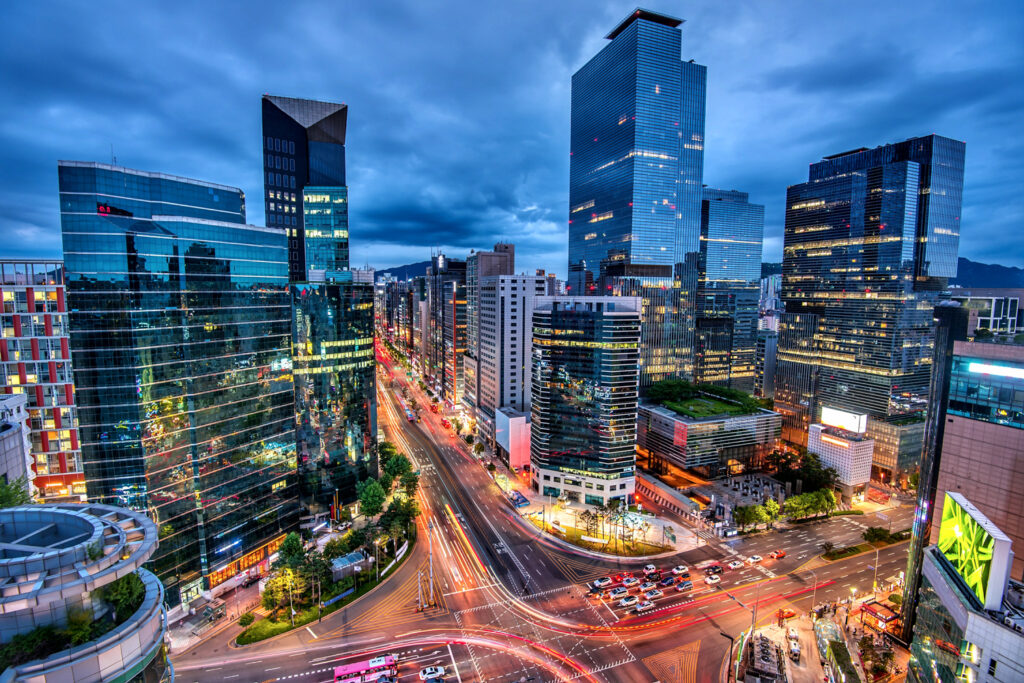 Popular destinations for foreigners to visit outside of the capital city can be seen above on the map of South Korea including: the historic city of Gyeongju and the volcanic island of Jeju-do.
Organized group tours to the demilitarized zone (DMZ) are increasing in popularity and although traveling to North Korea is difficult without special permission, in recent years organized group tours have allowed groups of South Korean citizens to visit Mount Kumgang.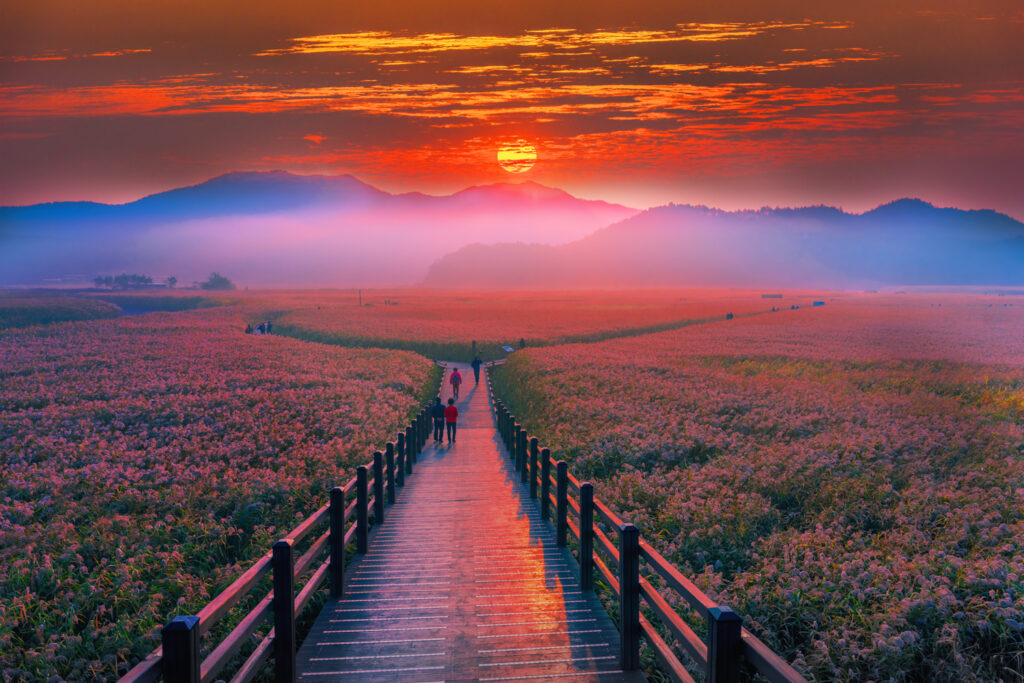 Popular natural attractions include:
Seorak-san national park,
the Baekdudaegan mountain range,
Danyang and Hwanseongul caves,
Suncheon Bay Ecological Park and
the white sand beaches of Haeundae and Mallipo.
Many small islands surround the mainland and excursion ferries are commonly found along the south and west coasts. Outside of Jeju Island, tourists also prefer to visit Saryangdo Island off the southern coast of Tongyeong (directly south on the map of South Korea).
Annual festivals held by local districts attract Koreans and tourists alike such as the Hwacheon Sancheoneo Ice Festival, the Boryeong Mud Festival and the Jeju Fire Festival. [2]
Currency
The official currency of South Korea is the Korean Won. The government-owned Bank of Korea is South Korea's central bank headquartered in Seoul, which oversees all banking activity. Although all banks were nationalized in the 1960s, they have since been widely returned to private ownership.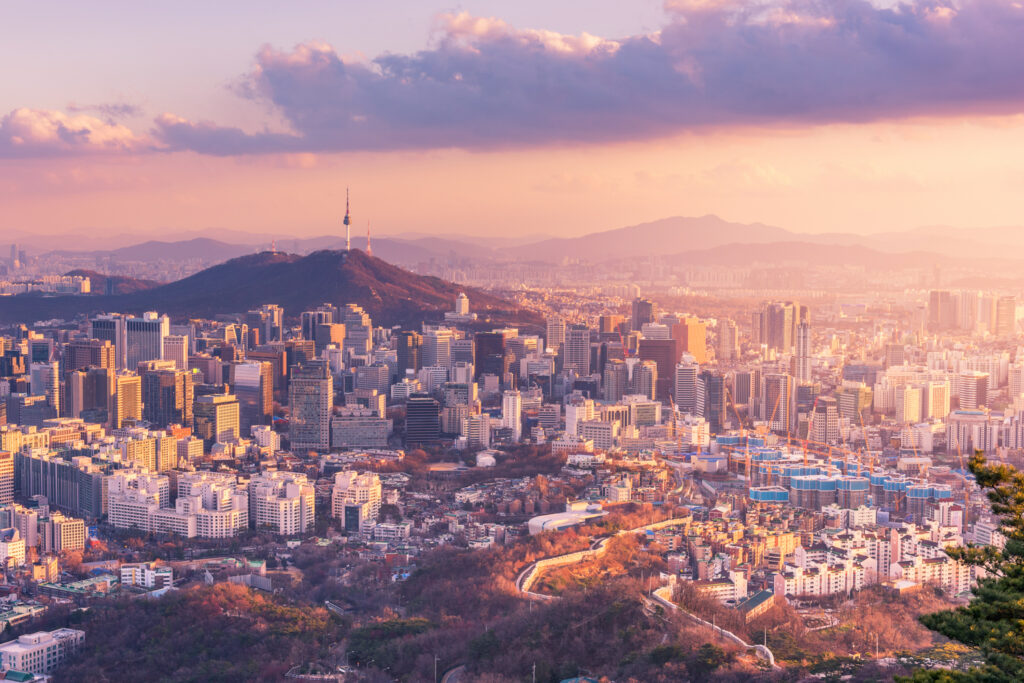 Branches of foreign banks have been allowed to operate in South Korea since the 1960s, and in 1992 foreigners began trading on the Korea Stock Exchange in Seoul.[3]
Political System & Economy
South Korea officially recognizes itself as the Republic of Korea (ROK) as the government does not recognize North Korea as separate. The government consists of an executive branch with a chief of state (the president) and a head of government (the prime minister) and a unicameral National Assembly with a judicial branch including a Supreme Court and Constitutional Court.
The country is divided into nine provinces and seven metropolitan or special cities (i.e. cities controlled directly by the federal government) for local administration.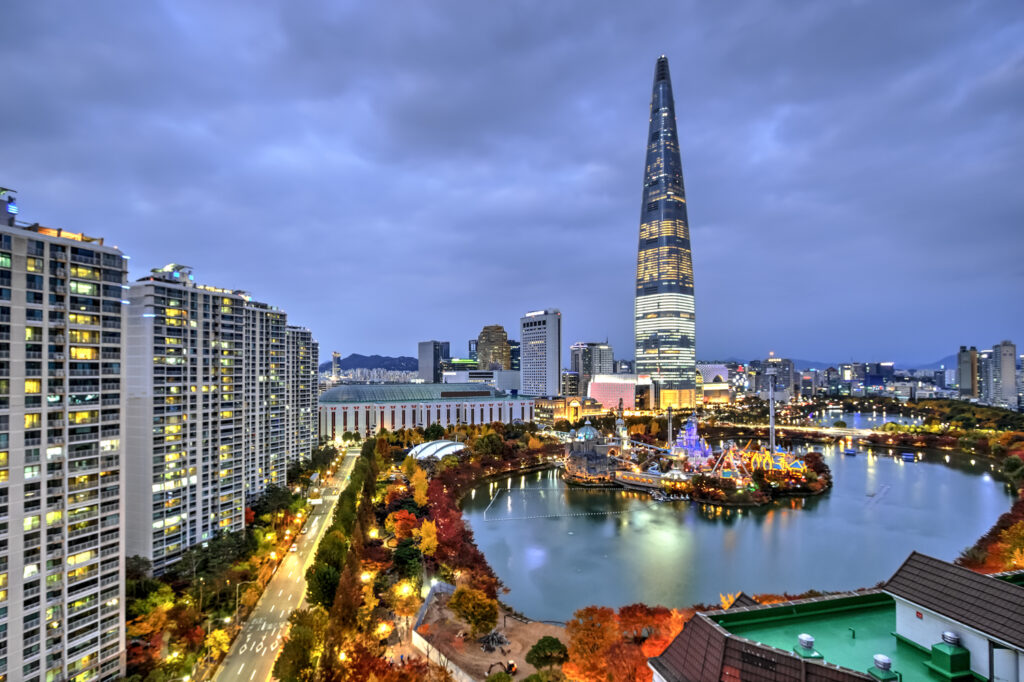 On the political map of South Korea, the border between North Korea (Democratic People's Republic of Korea) and South Korea (Republic of Korea) includes the "demilitarized zone," or DMZ, a temporary political boundary formed by the Korean Armistice of 1953, which ended the hostilities of the Korean Conflict (1950–53). The Korean Conflict began as a civil war, expanded into an international conflict fought on Korean soil between communism and capitalism, and has yet to be resolved after over fifty years. The DMZ is 2.4 miles wide and centers on a demarcation line that extends for 151 miles between the Yellow Sea and the East Sea (or Sea of Japan). Being off limits to soldiers and civilians, the zone has become an unintended wildlife sanctuary with thriving ecosystems untouched by humans and industry.[4]
South Korea has one of the strongest economies in Eastern Asia with the majority of its wealth in 2018 coming from the electronics, telecommunications, automobile production and chemicals industries with exports in electrical machinery, industrial machinery, and motor vehicles & parts. South Korea's top trade partners include neighboring countries China and Japan as well as the United States.[5]
Geography
As shown in the above map of South Korea, the country is located on the southern part of the Korean Peninsula. Bordered by the Sea of Japan, the Yellow Sea and North Korea, South Korea lies adjacent to China and Japan.
The South Korea map can be divided into four general regions:
an eastern region of high mountain ranges and narrow coastal plains;
a western region of coastal plains, river basins, and rolling hills;
a southwestern region of mountains and valleys;
and a southeastern region dominated by the broad basin of the Nakdong River.
South Korea has roughly three thousand islands, mostly small and uninhabited, which lie off the western and southern coasts. The largest island Jeju-do is about 100 kilometers (62 miles) off the southern coast. The smaller islands of Ulleung-do and Dok-do/Takeshima reside in the east, while Mara-do and Socotra Rock are in the south. [6]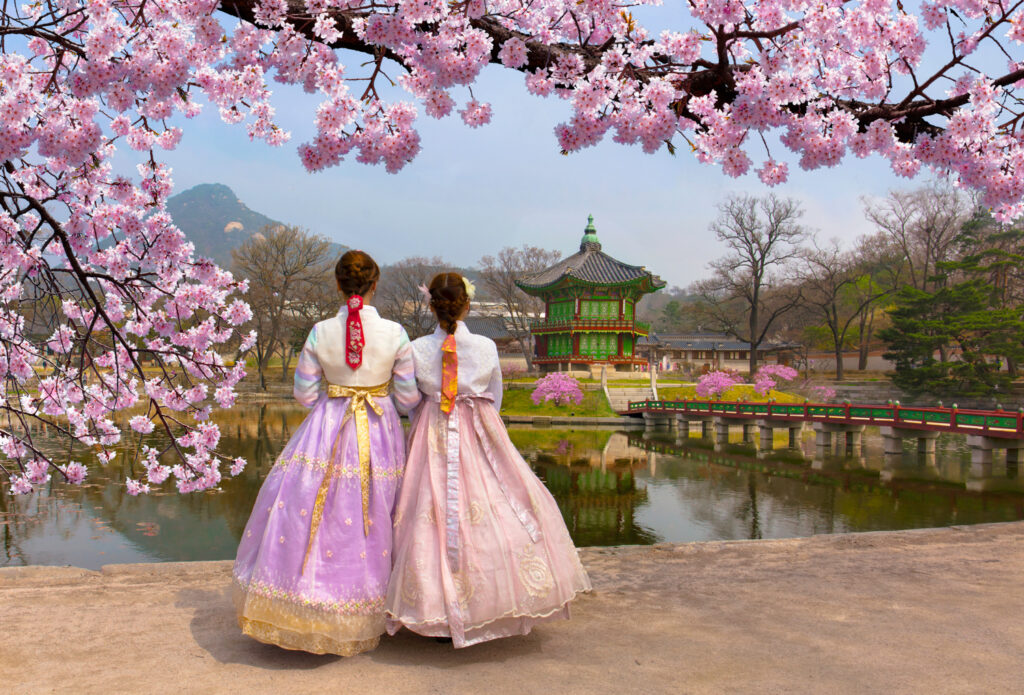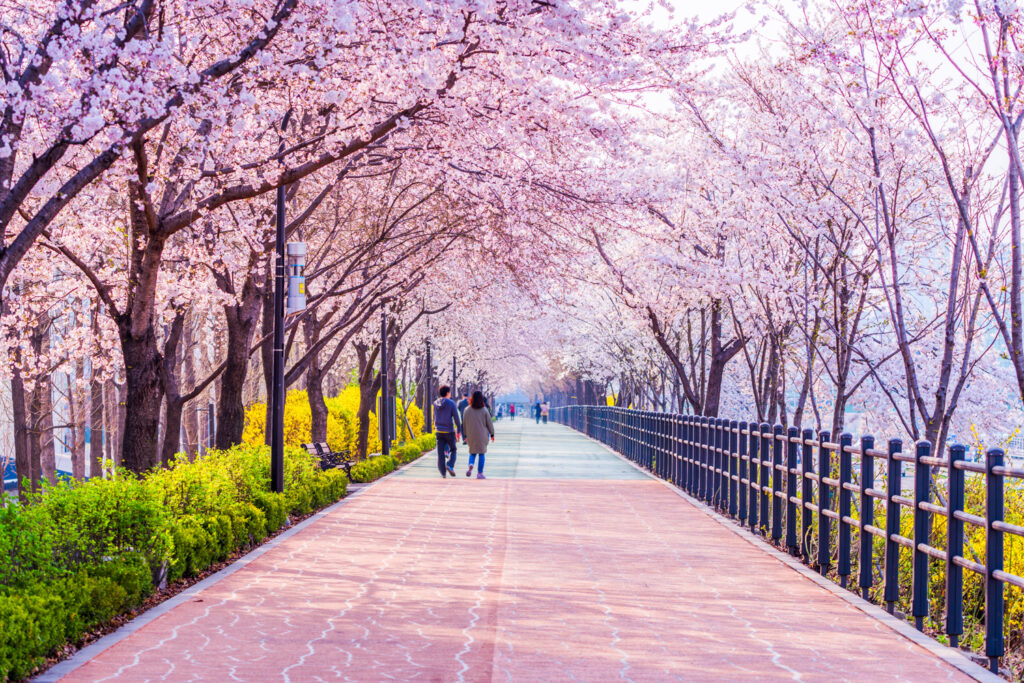 Sources
South Korea FAQs
What is the population of South Korea?
The population of South Korea as of July 2019 is 51,845,612.
What does the flag of South Korea look like?
The flag of South Korea is the Taegeukgi. It has three parts: a white background, a red and blue Taegeuk in the center divided into two equal parts, where the upper red symbolizes the positive cosmic forces of the yang and the lower blue section represents the negative cosmic forces of the yin, and four black trigrams one toward each corner characterizing continual movement, balance and harmony.
Who is the current President of South Korea?
The current president of South Korea is Moon Jae-in (president of South Korea since 2017). South Korea also has a prime minister – Chung Sye-kyun (prime minister since 14 January 2020).
What is the main airport in South Korea called?
The main airport of South Korea is the Incheon International Airport 
What is the currency used in South Korea?
The currency of South Korea is the The Korean Won.