Montevideo is the capital of Uruguay. Montevideo is Uruguay's largest city and primary commerce, culture, and education center.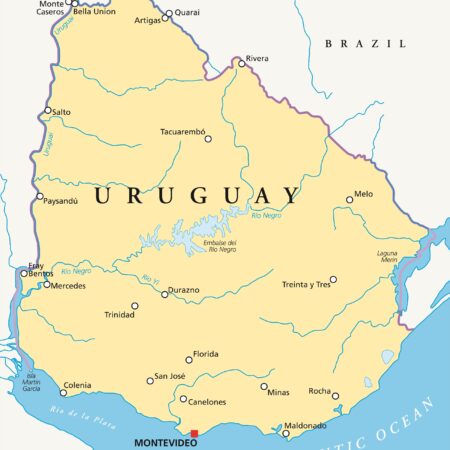 Montevideo is known for its scenic waterfront areas, historic architecture, and rich cultural heritage, including tango music and mate, a traditional South American tea. Montevideo is a key hub in the region, drawing business travelers and tourists alike.
Where is Montevideo?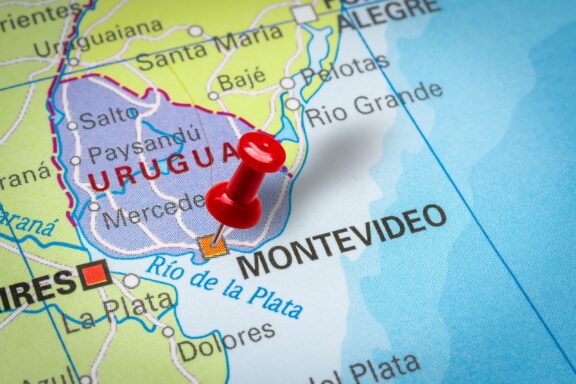 Montevideo is located in the southeastern part of Uruguay, along the northeastern bank of the Río de la Plata. Within the country, it lies close to Uruguay's southernmost point and serves as the capital city.
Globally, Montevideo is positioned in South America, bordered by Brazil to the north and Argentina to the west. It lies at approximately 34.9 degrees South latitude and 56.2 degrees West longitude.
Montevideo is relatively close to other prominent cities and capitals in the South American region. The nearest major city is Buenos Aires, the capital of Argentina, which is about 130 miles (210 km) away across the Río de la Plata. The two towns are connected by frequent ferry services, making travel quite convenient.
History of Montevideo
Montevideo has a rich and complex history that has shaped its identity over the years.
Montevideo was founded in 1724 by Spanish soldier Bruno Mauricio de Zabala. During the Colonial Period (1724-1811), the city was initially established as a military stronghold to counteract Portuguese expansion from Brazil.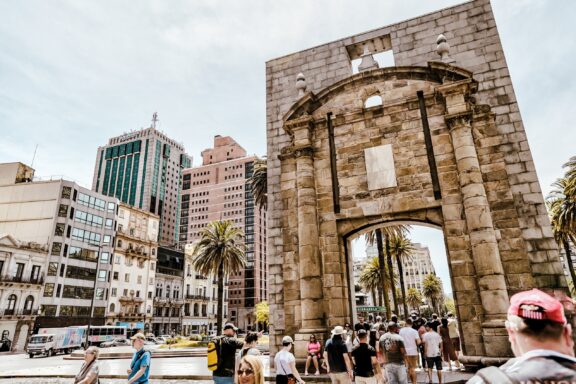 It soon grew into a significant port, with its strategic location along the Río de la Plata making it invaluable for the Spanish Crown. During this period, fortifications like the Montevideo Citadel were built to protect the city.
Independence and Early Republic
The early 19th century was a tumultuous period for Montevideo as it became embroiled in the broader Latin American wars of independence. British forces briefly occupied the city in 1807, but it was retaken by local resistance.
It officially declared its independence from Spain in 1811. Montevideo became a focal point for revolutionary activities, often clashing with Spanish loyalists and experiencing changing allegiances.
Soon after, the Uruguayan Civil War took place. Also known as the Guerra Grande, the Civil War significantly impacted Montevideo. The war was fought between the Blanco Party and the Colorado Party, who sought to control Uruguay's government. Montevideo was besieged for several years but remained a stronghold for the Colorados, who ultimately emerged victorious.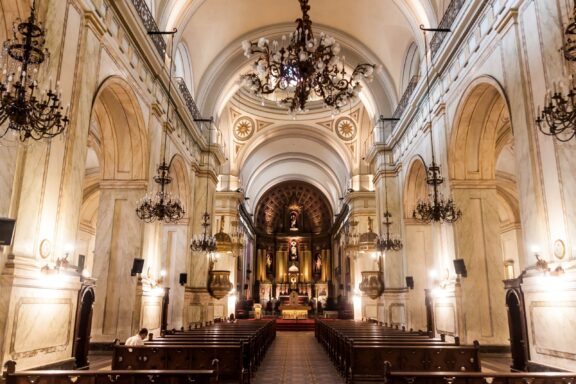 Following the end of the civil war, Montevideo entered a period of relative stability and economic growth. During these years, the city modernized rapidly and became a cultural hub.
European immigrants flooded into the city, enriching its culture and contributing to its development. The construction of landmark buildings and public infrastructure signaled its status as a growing urban center.
Montevideo continued to develop during this period, although it faced economic challenges. Despite these setbacks, the city maintained its reputation as a cultural and intellectual hub. This was a period of relative democracy, preceding the military dictatorship that would later engulf the country.
Montevideo faced dark times during Uruguay's military dictatorship. Civil liberties were suppressed, and many people were imprisoned or disappeared. The city's growth and development were stunted during these years, although resistance movements operated underground.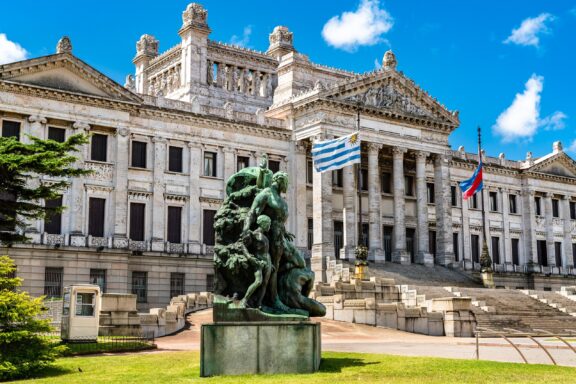 After restoring democracy in 1985, Montevideo has steadily recovered its standing as a vibrant, modern city. Its status as the political, economic, and cultural center of Uruguay has been re-established, and it has regained its place as one of South America's most important capitals.
This chronological narrative highlights the periods that have shaped Montevideo into the city it is today, each leaving a distinct mark on its character and development.
Features of Montevideo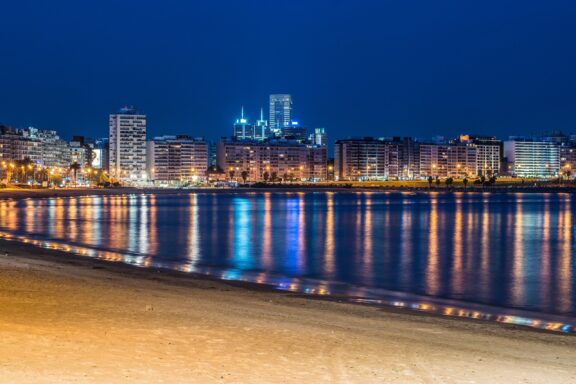 Montevideo is a city where history and modernity coalesce, creating a lively and nostalgic atmosphere. The city's skyline is a blend of architectural styles, where elegant colonial structures are juxtaposed with towering skyscrapers and innovative modern designs.
The city's cultural landscape is equally rich and varied. Montevideo is a hub for tango music, showcased in numerous venues and during different festivals. Art and culture find expression in theaters and museums that display everything from traditional to contemporary art.
Overall, Montevideo captures the essence of Uruguay, blending traditional charm with modern amenities in a setting that invites exploration and appreciation.
Geography and Climate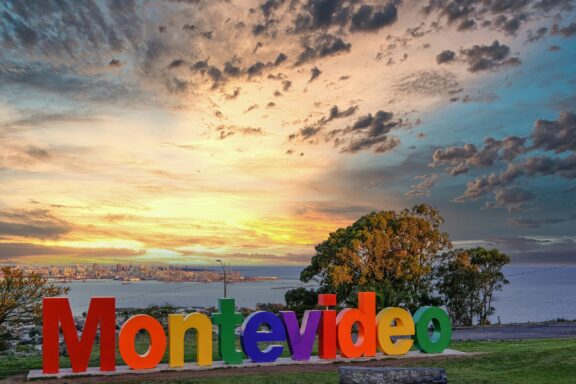 A mix of urban and natural elements characterizes Montevideo's geography. While the city is mostly flat, the Cerro de Montevideo hill is distinctive. The city is graced with numerous beaches along its coast, such as Pocitos and Malvín, where the Río de la Plata meets the Atlantic Ocean.
In terms of climate, Montevideo experiences a humid subtropical climate, with mild winters and warm summers. The city receives a fair amount of rainfall throughout the year, with no distinct dry season. The temperature varies from around 45 °F (7 °C) in winter to approximately 82 °F (28 °C) in summer.
Population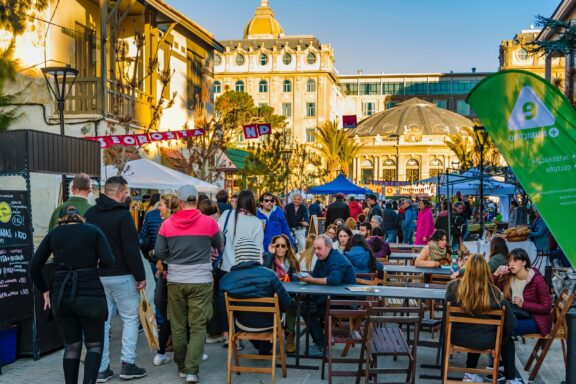 Montevideo is the most populous city in Uruguay, with over 1.7 million residents making up about one-third of the country's total population.
The city is highly cosmopolitan and has attracted diverse immigrants, including Spaniards, Italians, and, more recently, people from other parts of Latin America and the Middle East.
This blend of cultures has resulted in a rich tapestry of traditions, languages, and cuisines, making Montevideo a melting pot in its true sense.
Economy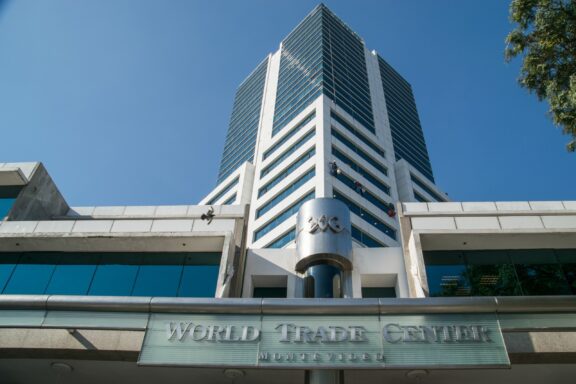 Montevideo serves as the economic hub of Uruguay, contributing a substantial portion to the country's GDP. The city has a diversified economy, with sectors ranging from finance and services to manufacturing and technology. It's a center for banking and finance, hosting the headquarters of many of Uruguay's major banks and financial institutions.
In addition, the city has an active industrial zone where goods, including textiles, chemicals, and processed foods, are produced. Technology and software development have also been emerging sectors, making Montevideo a leading tech center in the region.
Tourism is vital to attracting visitors with its historic sites, beaches, and cultural offerings. This sector provides many jobs and contributes to the city's economic health.
Overall, Montevideo boasts a stable and diverse economy, making it the political and economic heart of Uruguay.
Things to Do and Places to See in Montevideo
1. Ciudad Vieja (Old Town)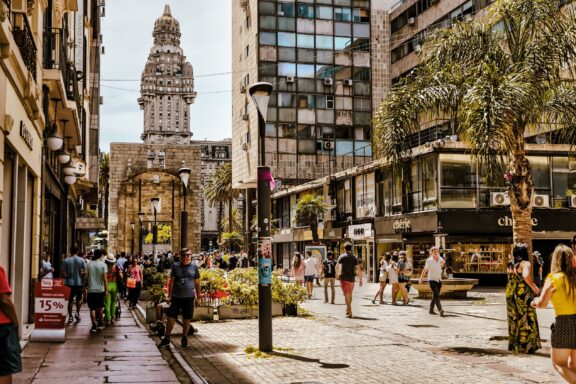 Ciudad Vieja is the historical heart of Montevideo, where the city first took root. Steeped in history and adorned with colonial architecture, this district offers a unique blend of the past and present. With a mix of museums, art galleries, and shops, Ciudad Vieja has something for every kind of traveler.
If you're looking for an authentic Montevideo experience, Ciudad Vieja is a must-visit. The district is teeming with cultural landmarks, such as museums and churches, which offer a window into Uruguay's rich history. The lively atmosphere of its many squares and outdoor markets makes Ciudad Vieja a fantastic place to people-watch or catch an impromptu performance.
2. Mercado del Puerto
Located near the waterfront, Mercado del Puerto is a gastronomic and cultural hub in Montevideo. Established in the mid-19th century, the market has evolved into a lively meeting place where tradition meets contemporary life.
This is the place to experience Uruguayan barbecue at its finest. Beyond the culinary delights, the market also features live music, folk dances, and other local performances, making it a dynamic setting where visitors can engage with Montevideo's rich cultural fabric.
3. Rambla of Montevideo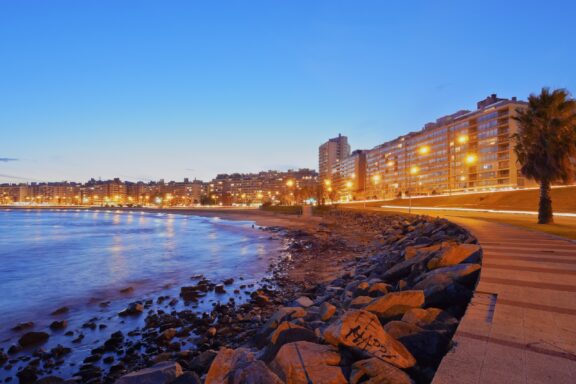 The Rambla of Montevideo is more than just a scenic promenade; it's the city's outdoor living room. Extending along the coast, it's a prime location for active pursuits and leisurely relaxation. Whether you're an early riser looking to catch the sunrise or a night owl interested in stargazing, the Rambla caters to all.
Rambla is also a great place for social interactions, where locals and tourists mingle and enjoy the outdoors. It's a must-visit for anyone keen on capturing the laid-back yet energetic spirit of Montevideo.
4. Solís Theatre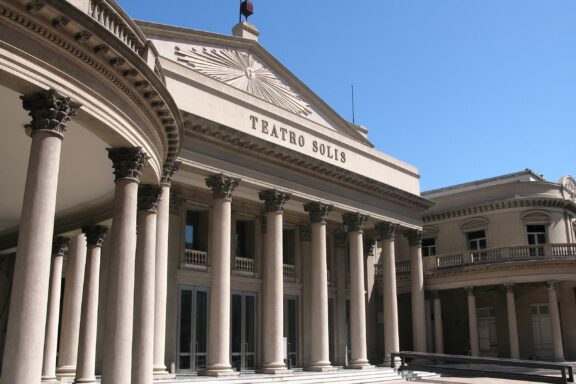 Designed by Italian architect Carlo Zucchi, Solís Theatre is a spectacle. Its interior features lush decorations, opulent chandeliers, and an intricate fresco ceiling. Its acoustics are world-class, providing an optimal setting for performances, from operas to contemporary plays.
Even if you don't have a performance ticket, the theatre offers guided tours that allow visitors to explore its lavish interiors. With its rich programming and elegant ambiance, Solís Theatre is an ideal destination for culture enthusiasts looking for a sophisticated night out.
5. La Carreta Monument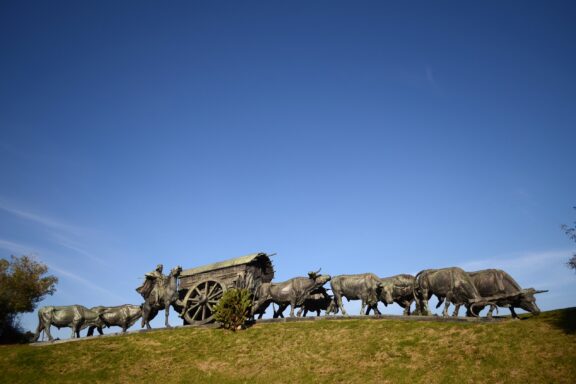 The La Carreta Monument is an iconic sculpture located in Batlle Park. Designed by José Belloni, the monument is a powerful representation of Uruguay's pioneering spirit and its rural roots.
The life-size bronze sculpture portrays oxen pulling a cart, helmed by a "yunta" or farmer. The monument is set against a backdrop of lush greenery, creating a striking contrast and highlighting its intricate details.
6. Mercado Agrícola de Montevideo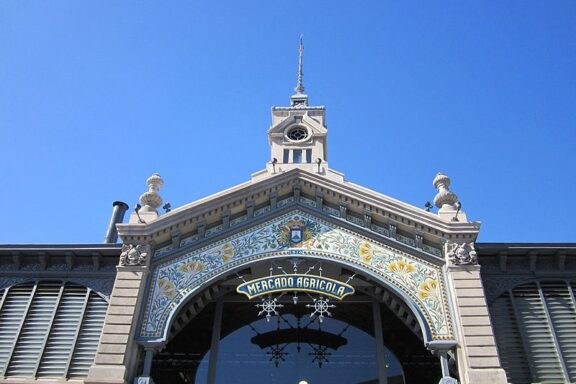 Mercado Agrícola de Montevideo is an expansive space celebrating Uruguay's agricultural bounty. Housed in a renovated early 20th-century building, the market features over 100 stalls. Visitors can find fresh produce, artisanal cheeses, and local specialties here.
The market also hosts a series of workshops and demonstrations aimed at promoting sustainable agriculture. This market offers a unique opportunity to discover Uruguay's farm-to-table movement. Visitors can indulge in gastronomic delights or enjoy the lively atmosphere, punctuated by occasional live music or cooking demos.
7. Parque Jose Enrique Rodó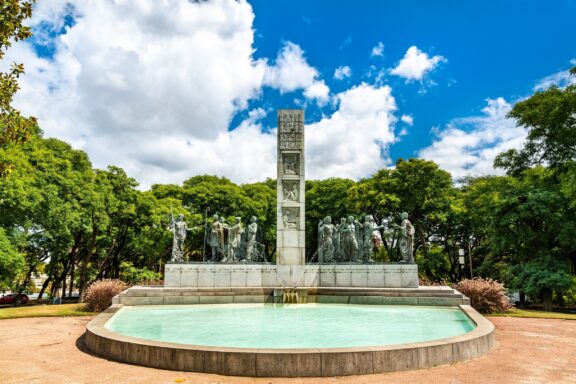 Parque Jose Enrique Rodó is an oasis of calm in the heart of Montevideo, dedicated to one of Uruguay's most esteemed writers. The park boasts a variety of attractions, including a beautiful lake, playgrounds, and open-air theaters.
The park becomes a venue for outdoor concerts, theater performances, and other community events throughout the year. It provides a relaxing retreat for visitors, offering opportunities for picnics, paddle boating, or just a stroll.
8. Museum of Contemporary Art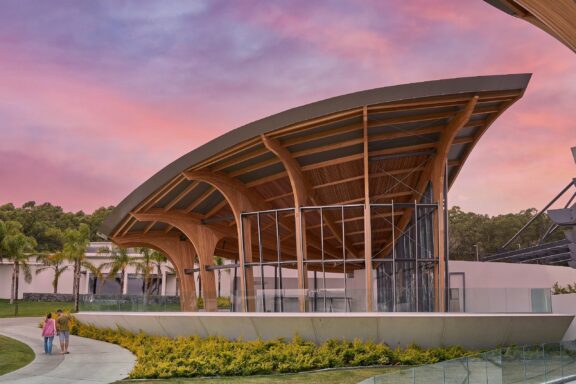 Montevideo's Museum of Contemporary Art is an essential stop for anyone interested in modern artistic expression. It is a platform for emerging and established artists to showcase their work.
The museum's interior is as engaging as the art it houses. High ceilings and spacious rooms offer a clean backdrop for artistic mediums—from painting and sculpture to digital art and installations. Rotating exhibitions ensure that the experience is ever-changing and constantly engaging.
Here, you can expect a thought-provoking journey through contemporary art. With guided tours, interactive exhibits, and often live art demonstrations, the museum is more than just a place to view art—a space for engagement and discussion.
9. Pocitos Beach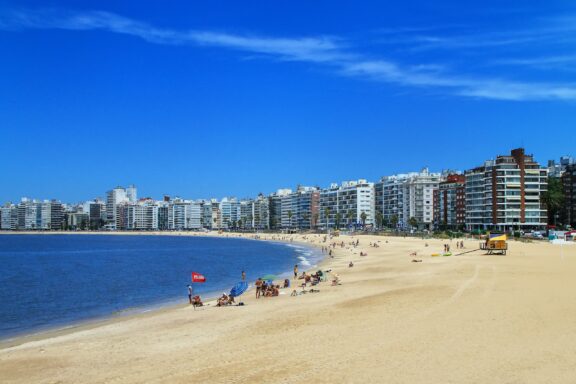 Pocitos Beach is Montevideo's favorite urban beach, offering a refreshing seaside escape within the city's bounds. Nestled in the upscale Pocitos neighborhood, it's a cherished spot for relaxation and water activities.
The beach features fine white sand and calm waters, making it an ideal location for swimming and sunbathing. A lively boardwalk runs alongside the beach, vendors sell snacks and beachwear, and sports enthusiasts engage in beach volleyball or soccer.
10. Plaza Independencia
Plaza Independencia is a hub of activity, culture, and history. Positioned between Ciudad Vieja and downtown Montevideo, it bridges the old and the new. Surrounded by essential buildings such as the Solís Theatre and the Estevez Palace, the square is often adorned with temporary art installations and flower beds.
Local artisans often set up stalls, offering a range of handmade goods, from crafts to traditional Uruguayan food. The square is an ideal starting point for exploring historical and modern Montevideo. Frequent events, such as outdoor concerts and craft fairs, provide an ever-changing and dynamic atmosphere that reflects the city's multifaceted personality.
11. Estadio Centenario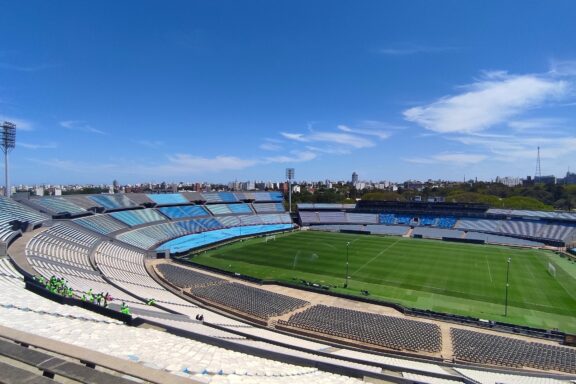 Estadio Centenario is a shrine to football (soccer) fans worldwide. As the first-ever FIFA World Cup venue, it occupies a special place in the annals of sports history. The stadium can hold up to 65,000 spectators and features a unique elliptical shape.
Aside from the main pitch, the complex also contains the Football Museum, filled with memorabilia and information about the sport's history in Uruguay and beyond. Whether you're a die-hard football fan or simply interested in sports history, a visit to Estadio Centenario offers a glimpse into the sheer scale and passion of Uruguayan football culture.
12. Parque Prado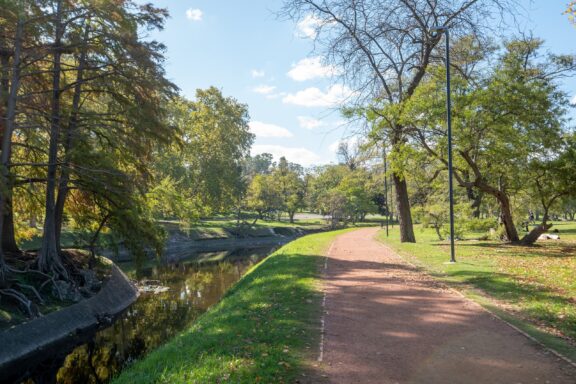 Parque Prado provides a lush retreat from the city's hustle and bustle. It is a favorite among families, nature lovers, and anyone looking to relax outdoors. Within the park's extensive grounds, you'll find themed gardens, meandering paths, and multiple ponds inhabited by local bird species.
One of its highlights is the Rosedal, a rose garden featuring over 12,000 bushes of different varieties. It's a prime location for leisure activities like jogging, picnicking, or bird-watching, and various events, such as flower shows and musical performances, take place throughout the year, making each visit to Parque Prado a unique experience.
13. Montevideo Botanical Garden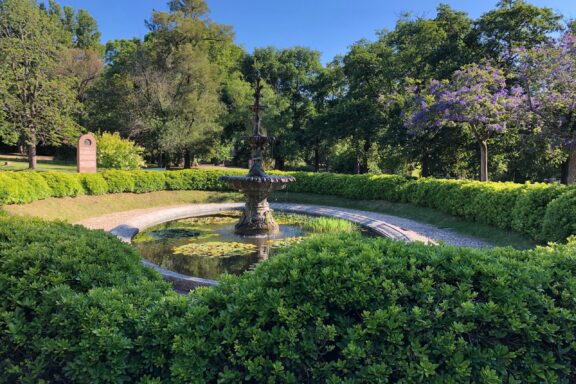 Dedicated to the conservation and study of plant species, the Montevideo Botanical Garden is a hidden gem that offers a peaceful escape and educational experience. The garden spans approximately 30 acres and is home to a wide range of flora, both native and exotic.
The garden is divided into sections, such as the cactus garden, aquatic plants area, and a quote for medicinal plants. Ideal for botany enthusiasts or those seeking a peaceful haven, the garden provides a leisurely setting where visitors can stroll, take photographs, or admire the plant life.
14. Museum of Carnival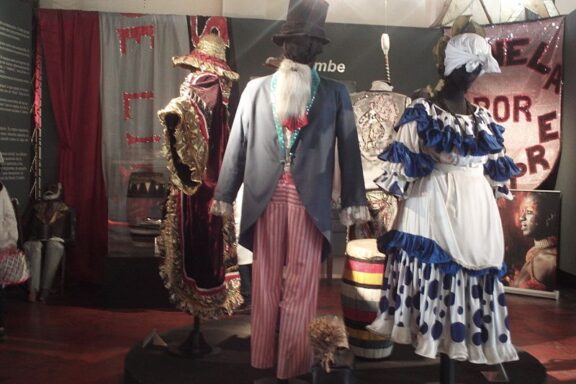 The Museum of Carnival in Montevideo is a vibrant tribute to Uruguay's rich tradition of carnival celebrations. Located in the city's heart, this unique museum captures the essence and evolution of a cultural phenomenon integral to Uruguayan identity.
The museum is a riot of colors, textures, and sounds. It houses many artifacts, costumes, masks, and musical instruments used in traditional carnival parades and events.
Each exhibit is meticulously curated to provide insights into the historical and social aspects of the carnival, from its African and European roots to its contemporary expressions.
Frequently Asked Questions
What's the best time to visit Montevideo?
The city experiences a humid subtropical climate, so it's generally pleasant throughout the year. However, many tourists prefer to visit during the summer, from December to March, when the weather is warm and the beaches are inviting.
Is Montevideo safe?
Montevideo is considered relatively safe compared to other large cities in South America, especially during the day. However, like any urban area, it's advisable to be cautious and aware of your surroundings, particularly in less frequented neighborhoods or after dark.
What is traditional food like in Montevideo?
The traditional cuisine of Montevideo is heavily influenced by its European roots, mainly Spanish and Italian cuisines, as well as indigenous food culture.
The city's location along the Río de la Plata makes seafood a staple. Meat, particularly beef, holds a special place due to Uruguay's extensive cattle ranching.
What are must-try authentic local dishes while in Montevideo?
If you're in Montevideo, there are a few dishes you must experience to get a taste of local flavors:
• Asado: Barbecued beef ribs often cooked on a large grill called a "parrilla."
• Chivito: A sandwich that consists of a thin slice of tender beef steak, ham, cheese, eggs, and mayonnaise.
• Milanesa: A breaded meat cutlet, typically made of beef or chicken, fried or baked.
• Empanadas: Pastry pockets filled with meat, cheese, or vegetables.
How do I get around Montevideo?
Public transportation is widely available, including buses, taxis, and ride-sharing services. The city is also quite walkable, especially downtown and along the Rambla.
Is English widely spoken in Montevideo?
What currency is used in Montevideo?
The Uruguayan Peso (UYU) is the official currency. Credit cards are widely accepted, and ATMs are readily available.
Are there any unique local customs I should be aware of?
Mate (pronounced MAH-teh), a type of herbal tea, is a significant part of Uruguayan culture. You'll often see locals carrying a thermos and a special cup to enjoy this drink.
Can I take a day trip to Buenos Aires?
Yes, Buenos Aires is just across the Río de la Plata, and there are frequent ferries that can take you there in a couple of hours.
Is Montevideo family-friendly?
Absolutely, the city offers various activities for children, including beaches, parks, and family-oriented museums.
Are the main Uruguayan National Football Team matches played in Montevideo?
Yes, the main matches of the Uruguayan National Football Team are primarily played in Montevideo, often at the iconic Estadio Centenario.
Final Thoughts
Montevideo offers a captivating blend of old-world charm and modern amenities, making it a must-visit city in South America. From its scenic beaches and vibrant street life to its rich cultural heritage and delectable cuisine, the Uruguayan capital provides diverse experiences for all kinds of travelers.
Whether you are interested in history, food, sports, or simply soaking up the local atmosphere, Montevideo has something for everyone. It's a city that easily captures the hearts of those who visit, making it a destination well worth your time.