Bangkok is the capital of Thailand. Known in Thai as Krung Thep Maha Nakhon, Bangkok is the most populous city in the country and a central global hub for finance and business.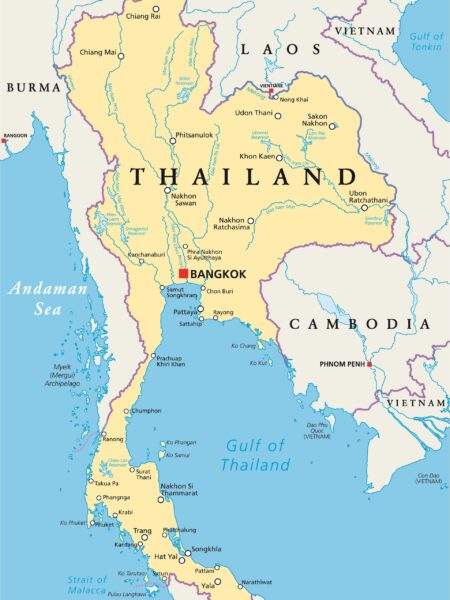 Bangkok is famous for its bustling markets like Chatuchak Weekend Market, floating markets, and street food, giving visitors a taste of the country's diverse and delicious cuisine. The city also boasts a modern side, with high-rise buildings, luxurious shopping malls, and a thriving nightlife.
Where is Bangkok?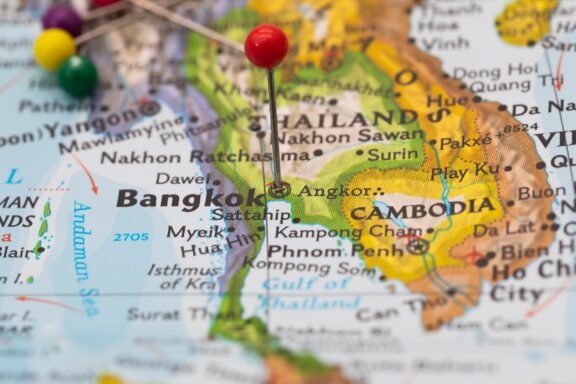 Bangkok is located in the central part of Thailand. It's situated in the Chao Phraya River delta in Central Thailand and is approximately 40 kilometers (25 miles) from the Gulf of Thailand. Geographically, it lies at 13.7563 °N latitude and 100.5018 °E longitude.
The city is surrounded by six other provinces: Nonthaburi, Pathum Thani, Samut Prakan, Samut Sakhon, and Nakhon Pathom. Despite being geographically located in the center of the country, administratively, Bangkok does not belong to any province but is instead a special administrative area.
History of Bangkok
The history of Bangkok dates back to the 15th century, when it was a small trading post during the Ayutthaya Kingdom. It was known as Bang Makok, meaning "place of olive plums." However, the city's history as we understand it today began in 1782.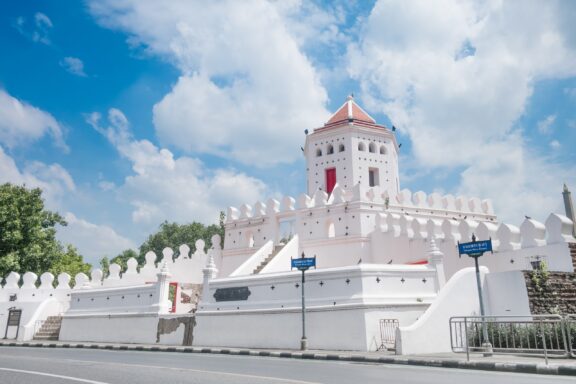 In 1782, King Rama I moved the capital of Siam to its current location and named it "Krung Thep Maha Nakhon," meaning "City of Angels." This move was due to its strategic location, which provided better protection against potential naval invasions. King Rama I also built the Grand Palace, an essential city symbol.
In the 19th century, under the reign of King Rama IV and King Rama V, Bangkok began a period of modernization influenced by Western powers. Infrastructure, such as roads, railways, and public services, was developed. Western-style buildings were also constructed.
The city saw major changes during King Rama V's rule, including introducing a formal education system and healthcare reforms. His reign marked a substantial shift towards modernity for Bangkok and the more expansive Thai kingdom.
The 20th century was a time of rapid urban growth and development. The population grew exponentially, and the city expanded beyond its original boundaries. Economic development led to an influx of people from rural areas. Bangkok experienced considerable political changes during this period, transitioning from an absolute monarchy to a constitutional monarchy in 1932.
After World War II, Bangkok grew and developed, becoming an economic powerhouse. However, this growth was challenging. Rapid urbanization led to traffic congestion, pollution, and a lack of affordable housing.
In the 21st century, Bangkok has established itself as a global city known for its vibrant culture, nightlife, and tourism industry. Despite the bustling cityscape, it has preserved its historic architecture and traditions, providing a unique mix of old and new.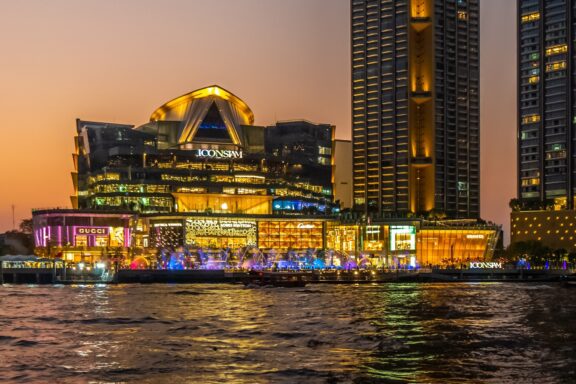 Recent years have focused on improving infrastructure, developing mass transit systems, and addressing environmental concerns. Bangkok is now a significant player in global affairs, hosting numerous international conferences and summits.
However, it faces modern challenges, including political instability, economic inequality, and climate change, as it's considered one of the cities most at risk from rising sea levels. Bangkok remains Southeast Asia's key economic, cultural, and historical hub.
Features of Bangkok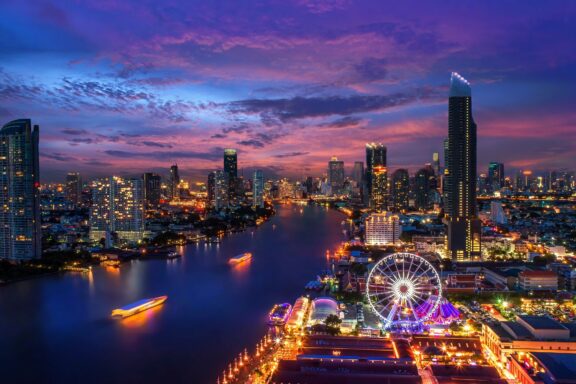 Bangkok seamlessly weaves tradition and modernity into its vibrant urban fabric. As you journey through its streets, you're met with a lively symphony of sights, sounds, and aromas that paint a vibrant portrait of the city's rich culture and way of life.
One of the most notable aspects of Bangkok is its iconic religious, royal landmarks, and stunning architectural masterpieces. Scattered across the city are numerous other temples featuring unique architectural styles and spiritual significance.
In essence, Bangkok is a city of contrasts, where skyscrapers stand alongside century-old buildings and bustling markets just a stone's throw away from high-end malls. These contrasts give the city its unique charm, making it an unforgettable destination.
Geography and Climate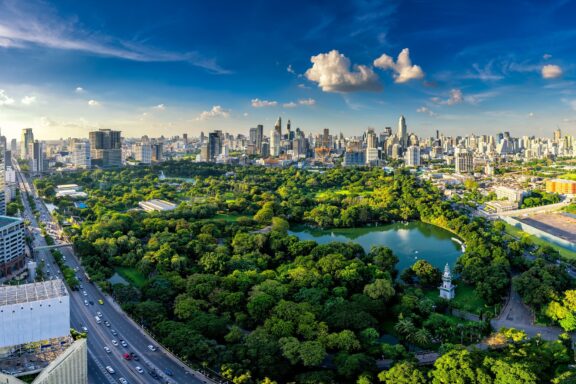 Bangkok is mainly flat, with a slight elevation towards the east. It spans an area of 1,568.7 square kilometers. The city's geography is shaped by the Chao Phraya River, which meanders through it, and a network of canals connected to the river, earning it the nickname "Venice of the East."
Bangkok lies just 2 meters above sea level, making it susceptible to flooding, especially during the rainy season and high tides. The city has made substantial efforts to manage this issue with a complex system of drainage and flood barriers.
The city experiences a tropical monsoon climate. The weather is generally hot and humid throughout the year, with average temperatures ranging from 25 to 35 °C (77-95 °F). There are three distinct seasons: the hot season from March to June, the rainy season from July to October, and the cool season from November to February. However, the term "cool" is relative, as temperatures during this period still hover around 20-30 °C (68-86 °F).
Population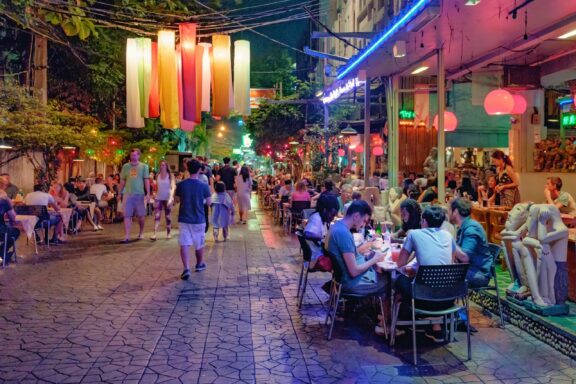 Bangkok's population is over 18 million, making it one of the most populated cities in the world. The city is incredibly diverse, home to people from various ethnicities and nationalities. While most of the population is Thai, there are also significant communities of Chinese, Indians, and Western expatriates.
The Thai people in Bangkok are known for their hospitality and warmth, reflected in the city's welcoming atmosphere. The primary religion practiced is Buddhism, with many temples scattered across the city. However, other religions, like Islam, Christianity, and Hinduism, are also practiced due to the city's multicultural character.
Economy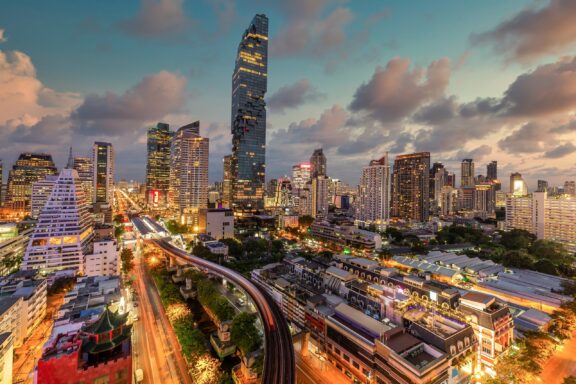 Bangkok is the economic heart of Thailand, contributing to a significant portion of the country's GDP. Its economy is diverse and robust, with key sectors including finance, real estate, manufacturing, and retail.
The city is a regional hub for finance and business services, with many multinational corporations choosing Bangkok as their Southeast Asia headquarters. The Stock Exchange of Thailand is located here, underpinning the city's role as a financial hub.
Tourism is another immediate industry. Bangkok is one of the world's top tourist destinations, attracting millions of visitors annually. The city's historic sites, vibrant nightlife, shopping centers, and culinary scene contribute to a thriving tourism sector that significantly boosts the local economy.
In recent years, Bangkok has seen growth in the tech industry, with an increasing number of startups choosing to base themselves in the city. It's also a major center for the entertainment industry, notably film production and Thai pop culture exports.
Despite the economic successes, Bangkok faces challenges, including income inequality and high living costs in certain areas. The city continues to develop and adapt to maintain its economic growth and tackle these challenges.
Things to Do and Places to See in Bangkok
Bangkok is home to abundant activities and must-see sights to explore. Here are some of the city's most celebrated destinations and attractions.
1. The Grand Palace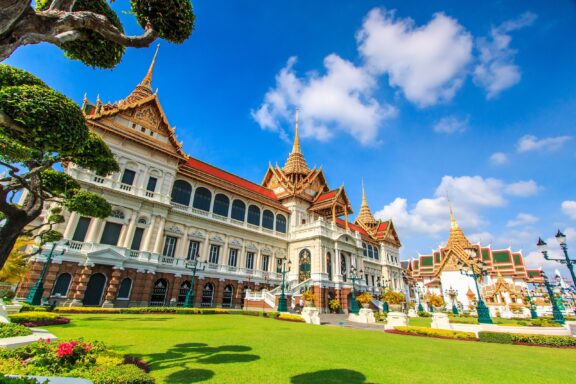 Covering an area of 218,400 sq. meters, the Grand Palace is surrounded by walls built in 1782, and it houses numerous buildings, halls, and pavilions set around open lawns, gardens, and courtyards. Its asymmetry and eclectic styles are due to its organic development, with additions and rebuilding made by successive reigning kings over 200 years of history.
The palace complex is divided into several quarters, and it's partially open to the public as a museum, but it remains a working palace with several royal offices inside. Despite being a significant tourist attraction, the site is also of religious and cultural importance, and visitors are required to dress respectfully, covering their arms and legs.
2. Wat Phra Kaew (Temple of the Emerald Buddha)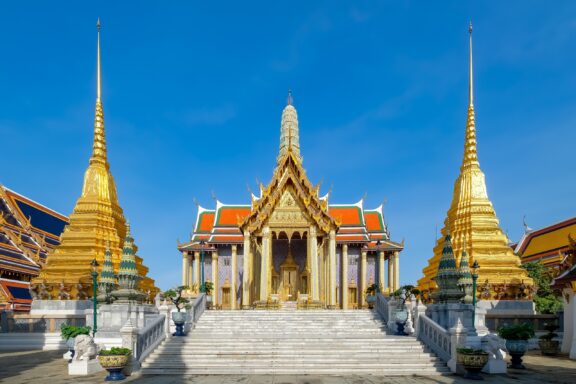 The Wat Phra Kaew housed in the temple is a potent religiopolitical symbol and the palladium of Thai society. The Buddha is carved from a single jade stone (the term "emerald" refers to its green color rather than the stone). It is not large, about 66 centimeters tall, but is greatly revered because it symbolizes the Thai monarchy's legitimacy and is thought to protect the country.
The Wat Phra Kaew complex is lavishly decorated with many colorful and intricate details, including extensive mural paintings, sculptures, and the iconic yakshas (mythical giants) guarding the gateways. The murals covering the temple walls depict scenes from the Ramakien, the Thai version of the Hindu epic, the Ramayana.
3. Wat Arun (Temple of Dawn)
The Wat Arun is located on the west (sunset) bank of the Chao Phraya River, and it's best known for its massive prang, or spire, which is intricately decorated with tiny pieces of colored glass and Chinese porcelain.
The construction of Wat Arun started during the reign of King Rama II in the early 19th century and was completed during the reign of King Rama III. Later, it was restored and enhanced during the reign of King Rama IV in the mid-19th century.
Visitors can climb a steep staircase to reach the two terraces on the central prang for a close-up view of the intricate seashell and porcelain decorations, as well as for a panoramic view of the surrounding area, including the winding Chao Phraya River and the Grand Palace and Wat Phra Kaew on the opposite bank.
4. Wat Pho (Temple of the Reclining Buddha)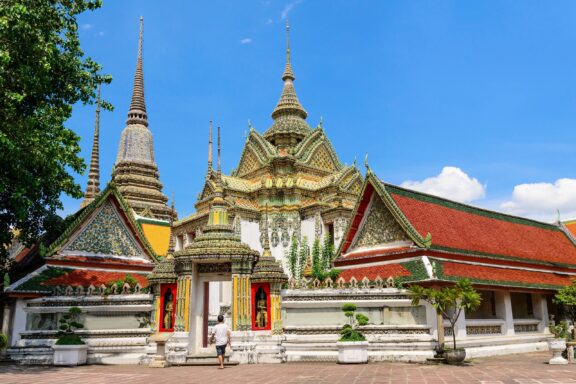 Officially named Wat Phra Chetuphon Vimolmangklararm Rajwaramahaviharn, it's one of the city's oldest and largest temple complexes, and it's a must-visit for anyone interested in Thai culture and history.
The temple is most famous for the gigantic Reclining Buddha statue it houses. The statue measures 46 meters long and 15 meters high and represents Buddha at his death, about to enter Parinirvana. It's one of the largest Buddha statues in Thailand.
The statue is gold-plated and decorated with mother-of-pearl inlay on his eyes and the soles of his feet, which are divided into 108 panels displaying the auspicious symbols by which Buddha can be identified, such as flowers, dancers, white elephants, tigers, and altar accessories.
5. Chatuchak Weekend Market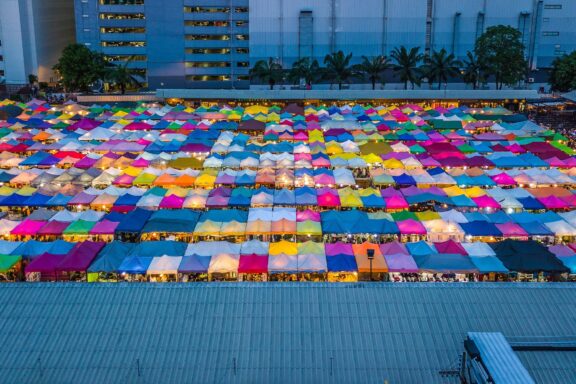 Chatuchak Weekend Market, often called JJ Market, is one of the world's largest weekend markets and a popular shopping destination in Bangkok, Thailand. The market covers an area of 35 acres, contains more than 15,000 stalls, and sees around 200,000 visitors each day it's open.
The sheer scale and diverse collection of merchandise at Chatuchak Weekend Market will bring you a unique and memorable shopping experience. It offers various products, including household items, clothing, Thai handicrafts, religious artifacts, collectibles, foods, and even live animals. Due to the size of the market, it's divided into 27 sections for ease of navigation. Each section has certain types of goods it's known for.
6. Jim Thompson House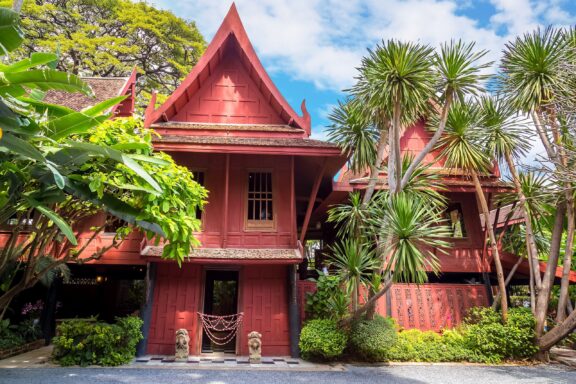 The Jim Thompson House museum in central Bangkok is a beautiful example of traditional Thai architecture. This place is a tranquil oasis amidst the hustle and bustle of the city, a stark contrast to the modern urban landscape surrounding it.
Thompson was also an art collector, and the house is filled with his extensive collection of Asian art, mainly Thai and Southeast Asian pieces. The artifacts in the house range from paintings, ceramics, and sculptures to antique furniture and Buddha images, providing a deep insight into the rich cultural history of Southeast Asia.
7. Asiatique The Riverfront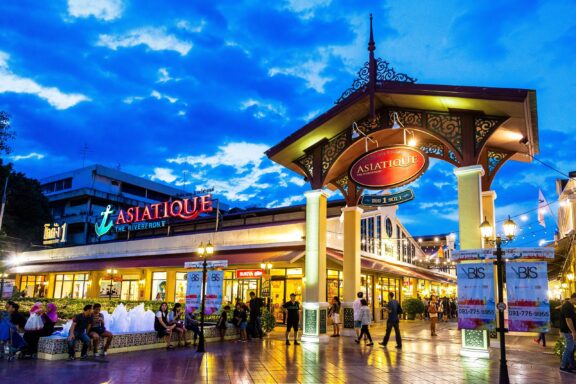 The Asiatique faces the Chao Phraya River and Charoen Krung Road. The complex opened in 2012 after an extensive renovation of the site and features a boardwalk, an ample event space, and two large indoor complexes. It occupies a total area of 12 acres with over 1500 shops and 40 restaurants and bars.
Asiatique successfully combines two of the most popular shopping experiences in the city: a night bazaar and a mall. It's open from 5 pm to midnight, and the cooler night air makes it a pleasant shopping experience.
Asiatique also entertains, such as Calypso ladyboy cabaret and a classic Thai puppet show. One of the prominent landmarks of Asiatique is the giant Ferris wheel known as the Asiatique Sky, which provides visitors with a fantastic view over the river and the city.
8. Chao Phraya River & Waterways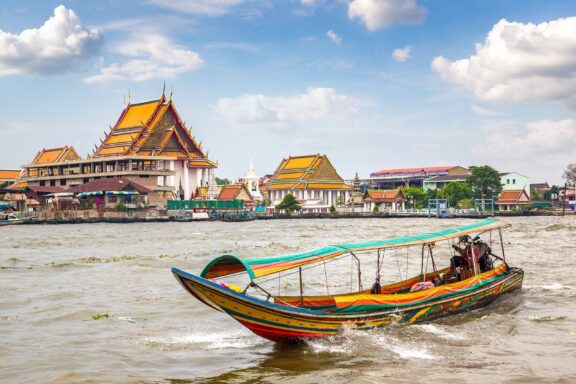 The Chao Phraya River is one of the significant rivers in Thailand, running through the heart of Bangkok before emptying into the Gulf of Thailand. The river is integral to the city and provides many practical, touristic, and cultural benefits.
Chao Phraya River offers an entirely different perspective on the city. Many of Bangkok's significant cultural and historical landmarks are from the river, including the Grand Palace, Wat Arun (Temple of Dawn), and Wat Phra Kaew (Temple of the Emerald Buddha). Several high-end hotels, condominiums, and restaurants have river views and riverfront locations.
9. Bangkok National Museum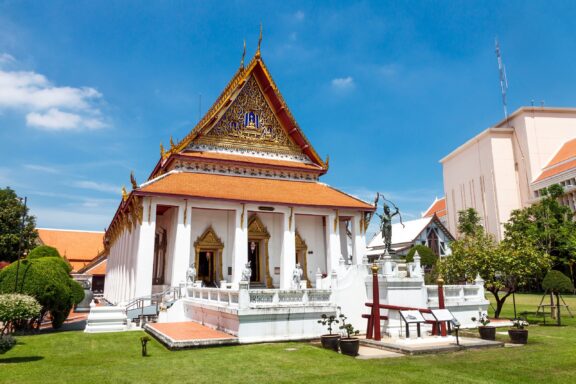 The Bangkok National Museum was originally opened by King Rama V to exhibit the artifacts and relics from his father's reign (King Rama IV). Today, it is a repository of Thai artifacts and historical items and is considered one of Southeast Asia's most comprehensive museums.
The collections of the Bangkok National Museum are extensive and cover Thai history and art from Neolithic times to the present day. It features precious artwork, textiles, clothing, weaponry, musical instruments, royal regalia, and various archaeological and art objects. It's mainly well known for its collection of Buddha images, which trace the various stylistic shifts in Thai representations of Buddha.
10. Wat Saket (The Golden Mount)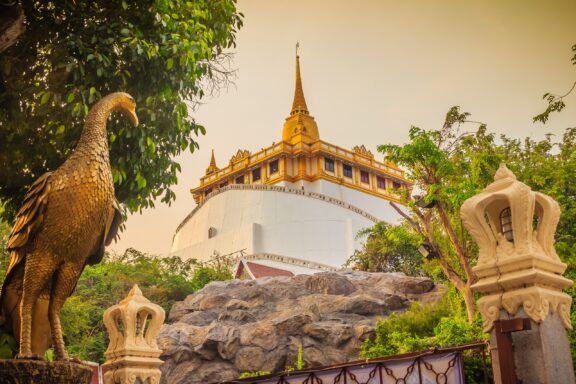 Wat Saket, popularly known as the Golden Mount or 'Phu Khao Thong,' is a historic temple in Bangkok. Most of the current buildings were constructed by King Rama I in the 1800s.
The most notable feature of Wat Saket is the 80-meter high man-made hill topped with a glistening gold chedi or stupa, hence the name "Golden Mount." The hill was created when a large chedi under construction by King Rama III collapsed because the soft soil of Bangkok could not support it.
The Golden Mount is a sacred pilgrimage site during an annual temple fair in November, which lasts a week during Loy Krathong. The temple's compound is known for its tranquility compared to the busy district surrounding it.
11. Lumphini Park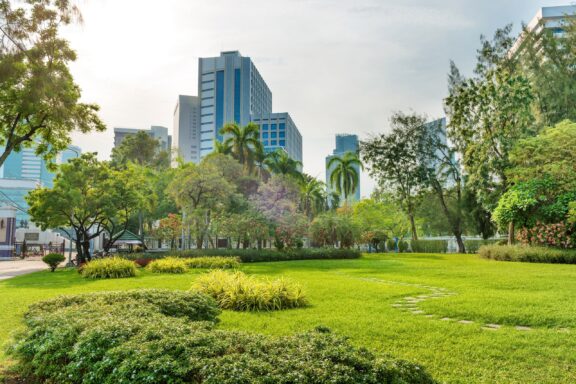 Lumphini Park is a 142-acre park in Bangkok, Thailand, often described as the "green lung" of the city. It offers a rare open public space, trees, and playgrounds in the Thai capital and contains an artificial lake where visitors can rent boats.
The park was created in the 1920s by King Rama VI on royal property and was named after Lumbini, the birthplace of the Buddha in Nepal. A statue of the king stands at the southwestern entrance to the park.
Regarding wildlife, it's common to see monitor lizards basking in the sun by the lake. Various species of birds can also be spotted in the park, making it a point of interest for bird watchers.
12. Yaowarat (Chinatown)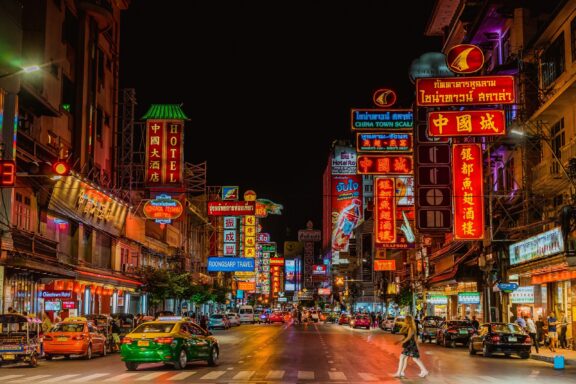 Yaowarat, also known as Bangkok's Chinatown, is one of the Thai capital's oldest and most culturally rich areas. It is centered on Yaowarat Road in Samphanthawong district, which is the heart of the city's Chinese community, and it's been so for over 200 years since Chinese traders moved to this area during the reign of King Rama I.
Chinatown is a treasure trove for those who enjoy exploring streets and markets, offering an immersive experience of sounds, smells, and vibrant colors.
One of the main highlights of Yaowarat is its food scene, especially at night when the main street, Yaowarat Road, transforms into a giant food street. The area is one of Bangkok's street food hotspots, with countless food stands, vendors, and open-air restaurants offering everything from fresh seafood to traditional Thai and Chinese dishes, desserts, and exotic fruits.
13. Siam Paragon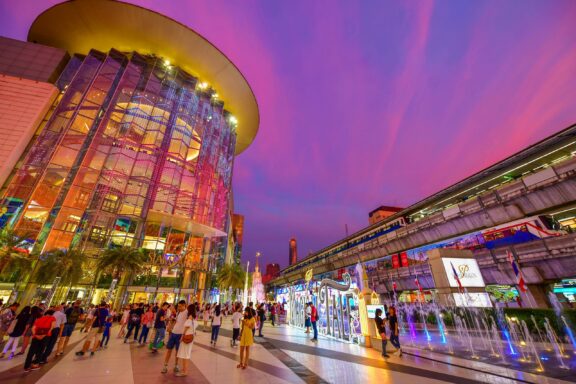 Located in the city's heart, the Siam Paragon is part of the central shopping district and is directly serviced by the Siam BTS Skytrain station. Since its opening in 2005, it has become a symbol of Thailand's luxury retail market.
Siam Paragon is one of the largest malls in Asia, covering an area of about 300,000 square meters. It features a wide range of high-end brands and designer stores, making it a top destination for luxury shopping. But the mall isn't only about shopping. It's a multipurpose complex that offers a variety of other attractions and experiences.
You'll find an impressive gourmet supermarket, food hall, and international restaurants on the ground floor. The mall also features an array of entertainment options, including:
14. MBK Center (Ma Boon Khrong Center)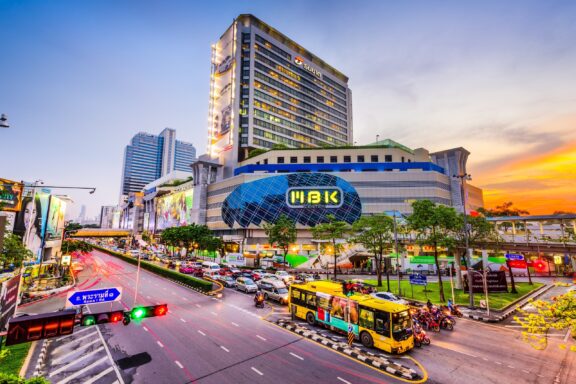 The MBK Center, or Ma Boon Khrong Center, is a large shopping mall in Bangkok. MBK is renowned for its more affordable shopping options and is a favorite among locals and tourists.
MBK is conveniently located in the Pathum Wan district, just a short walk from the National Stadium BTS Skytrain station. With eight floors and over 2,000 shops, MBK offers various products ranging from clothing, fashion accessories, handbags, leather products, and jewelry to electronics, mobile phones, and furniture. It's a great place to bargain, and haggling is common in many shops.
Frequently Asked Questions
What is the best time to visit Bangkok?
The best time to visit Bangkok is between November and February, during the cool and dry season. However, "cool" is relative, with temperatures still hovering around 20-30 degrees Celsius (68-86 degrees Fahrenheit).
How many days should I spend in Bangkok?
A 3 to 4-day trip is usually sufficient to cover the major attractions of Bangkok. However, a week would be more suitable to thoroughly explore the city, including its numerous markets, parks, and lesser-known neighborhoods.
Is Bangkok safe for tourists?
Yes, Bangkok is generally safe for tourists. Like any major city, it has petty crime. Still, tourists can avoid most problems by taking common-sense precautions such as not displaying expensive items, being aware of their belongings, and avoiding less crowded areas late at night. Always follow local guidelines and advice.
What should I wear in Bangkok?
Bangkok has a tropical climate, so lightweight, breathable clothes are recommended. However, modest dress is required to visit temples or other religious sites (shoulders and knees should be covered). Carrying a raincoat or umbrella during the rainy season is also a good idea.
Can I drink tap water in Bangkok?
While locals often drink boiled tap water, tourists should generally drink bottled water, which is widely available and inexpensive.
How can I get around Bangkok?
Bangkok has a range of public transport options, including the BTS Skytrain, MRT Metro, buses, taxis, and river ferries. There are also mobile applications for ride-hailing services. Tuk-tuks are popular among tourists for short distances but agree on the price before the ride.
What are some local dishes I should try in Bangkok?
Bangkok is a food lover's paradise. Be sure to try Pad Thai (stir-fried rice noodles), Som Tum (spicy green papaya salad), Tom Yum Goong (spicy shrimp soup), and Gaeng Daeng (red curry). For dessert, Mango Sticky Rice is a favorite.
Is English widely spoken in Bangkok?
In Bangkok, English is commonly spoken in tourist areas, hotels, and restaurants. However, proficiency can vary, and English might not be widely understood in less touristy areas. It can be helpful to learn a few basic phrases in Thai.
What is the currency in Bangkok, and where can I exchange money?
The currency in Bangkok is the Thai Baht (THB).
Are credit cards widely accepted in Bangkok?
Credit cards are accepted in most Bangkok hotels, restaurants, and shops. However, street vendors, small businesses, and some taxis operate on a cash-only basis, so having a mix of both is good.
Final Thoughts
With its enthralling blend of ancient and modern, Bangkok offers every traveler a unique and unforgettable experience. Whether you're drawn to the historic grandeur of its temples and palaces, the irresistible allure of its vibrant markets and shopping centers, or the compelling variety of its renowned street food, Bangkok provides a sensory feast.
It's a city where tranquility and hustle coexist, every street corner tells a story, and where the warmth and hospitality of its people are as memorable as the cityscape itself. In short, the wealth of experiences that Bangkok offers makes it more than worth a visit – it makes it a destination that you will want to return to time and again.