Monrovia is the capital of Liberia. It's the largest city in Liberia, and it serves as the country's administrative, commercial, and financial hub.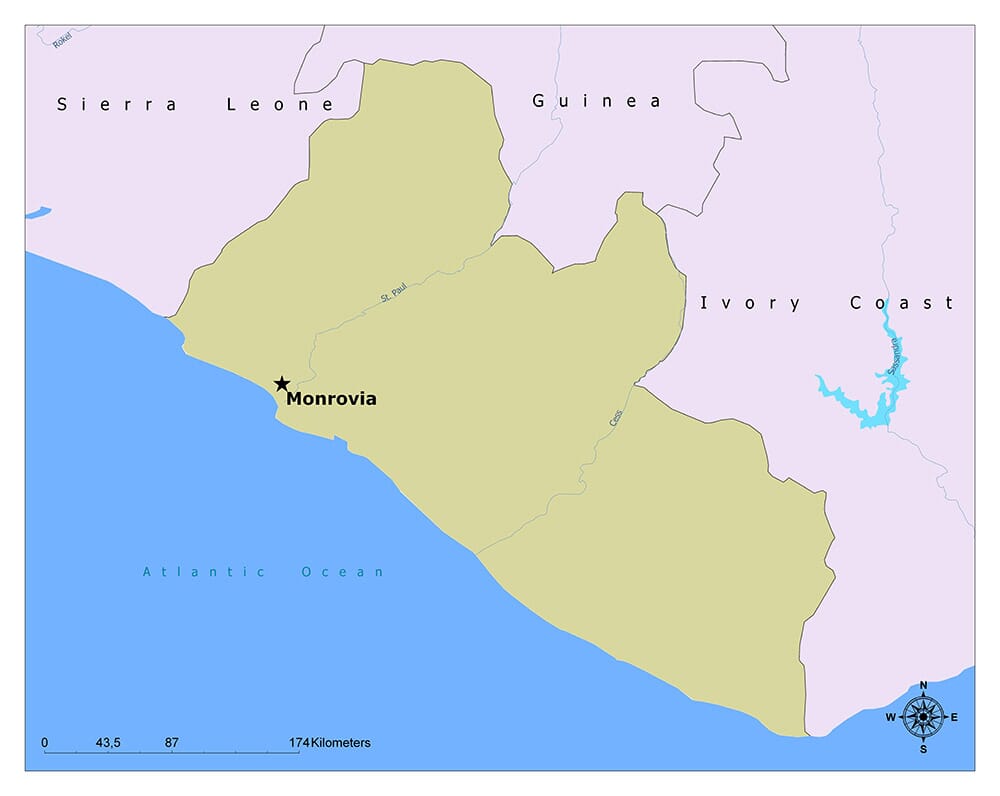 Monrovia was initially a haven for formerly enslaved African Americans from the United States. These settlers, known as Americo-Liberians, governed Liberia for many years and greatly influenced its culture and architecture, often exhibiting an American Southern style.
Where is Monrovia?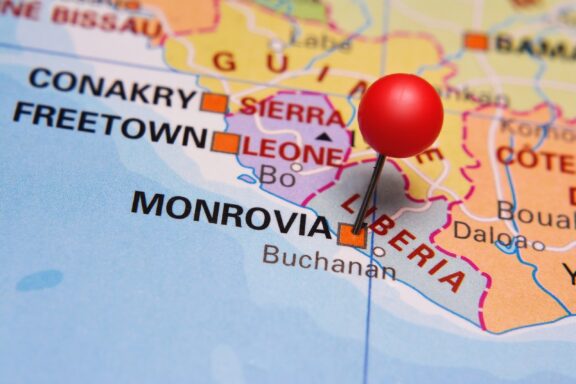 Monrovia is located on the West African coast of Liberia. It's situated at Cape Mesurado along the Atlantic Ocean. This coastal location makes it the main entry point to the country via its substantial artificial harbor. Sierra Leone borders Liberia to its west, Guinea to its north, and Ivory Coast (Côte d'Ivoire) to its east. Monrovia is at the center of the country's coastline, giving it a strategic position for commerce and transportation.
History of Monrovia
Monrovia has a unique history that has shaped its development and growth.
The city was founded on February 6, 1822, by the American Colonization Society (ACS) as a settlement for formerly enslaved African Americans. This settlement was part of an effort to repatriate formerly enslaved people to Africa following a growing abolitionist movement in the United States. The ACS, which included abolitionists and slaveholders, believed that Black people would face better opportunities for freedom and prosperity in Africa than in the United States.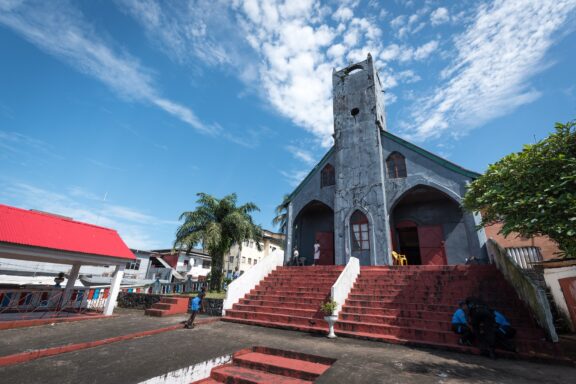 The city was named in honor of James Monroe, the fifth president of the United States and a prominent supporter of the colonization movement. These formerly enslaved people established a new life in Liberia, bringing their experiences and cultural practices from America. The architectural style of many of the city's older buildings is reminiscent of antebellum homes of the American South.
Over the years, Monrovia saw significant growth and development. However, it also became a focal point for the political and social tensions between the Americo-Liberians, who held political power, and the indigenous tribes in the country.
Monrovia suffered greatly in the late 20th century during two brutal civil wars (1989-1997 and 1999-2003) that devastated Liberia. These conflicts resulted in significant loss of life, massive displacement, and extensive damage to the city's infrastructure. During this time, Monrovia was the scene of intense fighting, particularly in the second civil war when rebel forces laid siege to the city.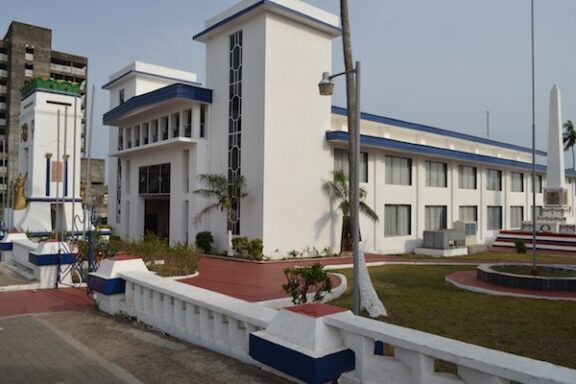 Since the end of the civil war in 2003, peace has returned to Monrovia, and the city has been in the process of rebuilding and recovery. Efforts to restore the city's infrastructure, attract investment, and improve living conditions have been ongoing.
Despite these challenges, Monrovia remains Liberia's important cultural, administrative, and economic center. The city embodies a complex blend of history and cultures, reflecting its hardships.
Features of Monrovia
Monrovia is a city with a distinct character influenced by its historical, cultural, and natural elements.
Geography and Climate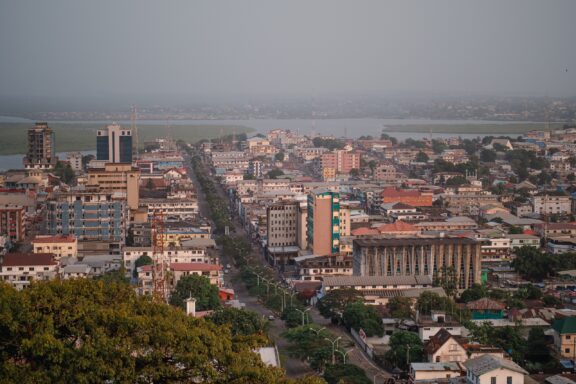 Monrovia spans several peninsulas and islands, with the Mesurado River to the north and the Saint Paul River to the east, shaping the city's geography. The city's landscape is a mix of hills and coastal plains, with some areas offering scenic views of the Atlantic Ocean.
Monrovia is located in the tropical rainforest climate zone. It is one of the wettest capitals in the world, with high rainfall, especially between May and October, during the West African Monsoon. The city's dry season runs from November to April. Despite the high rain, temperatures are relatively stable year-round, with high temperatures typically between 25 to 32 °C (77-89.6 °F).
Population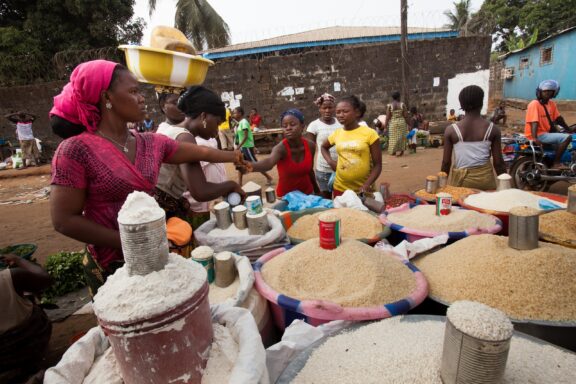 Monrovia has a population of over one million, making it the most populous city in Liberia. The city is a melting pot of various ethnic groups across Liberia, providing diverse cultures, traditions, and languages. English is the official language, but you'll also hear many local languages. Despite their adversities, people in Monrovia are known for being resilient, friendly, and welcoming.
Economy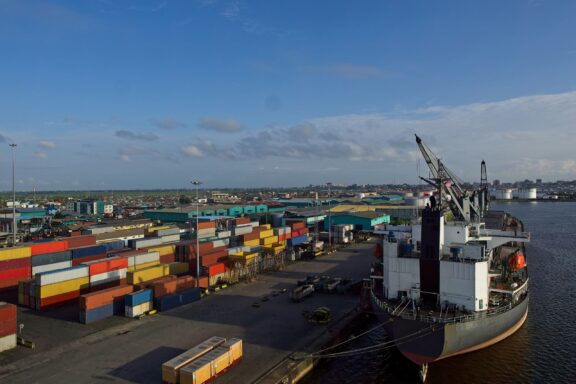 Monrovia serves as Liberia's economic heart. Its economy revolves around its port, the Freeport of Monrovia, one of the largest artificial harbors in the world. The port is a crucial link for trade and commerce, with goods such as iron ore, rubber, palm oil, cocoa, and coffee exported to international markets.
The city has a growing service sector, with banks, insurance companies, and other financial institutions playing a crucial role. The retail industry is also significant, combining modern shopping centers and traditional markets.
However, the economy still faces challenges due to the aftermath of civil wars and the Ebola crisis, including high unemployment rates and a large informal economy.
Things to Do and Places to See in Monrovia
Monrovia offers an array of engaging activities and captivating sights. Let's delve into some of the most sought-after spots and attractions that this vibrant city has to offer:
1. Visit Waterside Market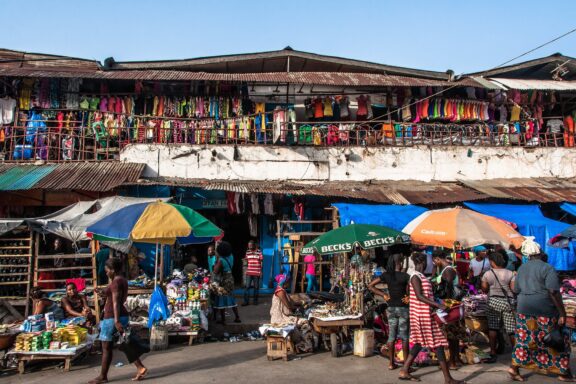 A visit to the Waterside Market offers an authentic immersion into Monrovia's residents' vibrant, day-to-day life. This bustling market is filled with various goods, from fresh local produce to traditional crafts and colorful African fabrics. Here, you can engage with friendly vendors, bargain for unique souvenirs, and experience the dynamic culture of Monrovia.
Walking through the market, you'll also encounter delicious smells of local street food. Sampling some of these delicacies can give you a taste of Liberia's rich culinary traditions. Despite the market's bustling nature, remaining alert and mindful of your belongings is important.
2. Liberian National Museum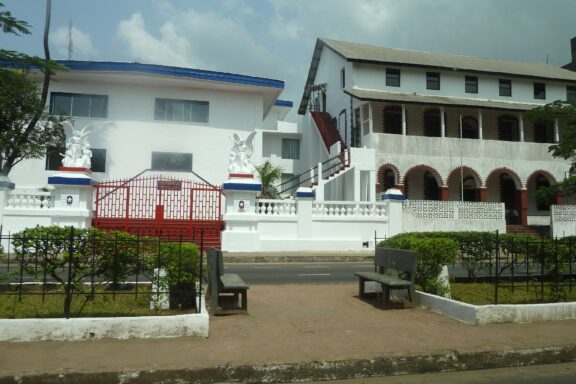 The Liberian National Museum, located in the heart of Monrovia, houses an invaluable collection of items representing Liberia's cultural heritage and historical legacy. Exhibits range from traditional art and crafts, such as masks and sculptures, to historical documents and photographs that narrate the country's past.
Visitors can also see Americo-Liberian furniture and other artifacts that reflect the country's link with the United States. The museum is essential in preserving and promoting Liberian culture, making it a must-visit for those keen on understanding the country's identity and diversity.
3. Relax at a Beach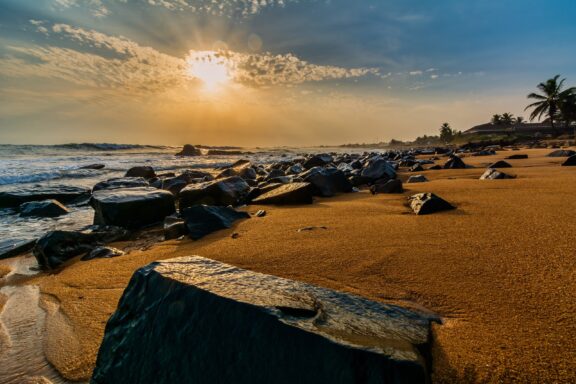 Silver Beach: Silver Beach is a pristine, usually uncrowded beach near the city. This beautiful location offers white sandy beaches, crystal clear waters, and an opportunity to relax away from the hustle and bustle of the city. Beachside bars provide refreshments, and you might also enjoy a Liberian-style beach picnic.
Cece Beach: Cece Beach, located near Marshall, is one of Liberia's most beautiful beach destinations. It's a wonderful place to unwind, soak up the sun, and swim in the Atlantic waters. The beach is surrounded by tropical greenery, often attracting locals and tourists looking for a tranquil beach getaway.
4. Ducor Hotel (Abandoned)
The Ducor Palace Hotel, as it was originally known, was once the first international-class hotel in Liberia. At its opening in 1960, it was regarded as one of the most luxurious hotels in Africa. It featured over 100 rooms, a French restaurant, a nightclub, a swimming pool, and tennis courts.
The hotel was frequented by international visitors, diplomats, and politicians from around the globe. It was the venue for the Organization of African Unity (now the African Union) conference in 1979.
The hotel's structure offers a beautiful view of Monrovia, the Atlantic Ocean, and the Saint Paul River. Renowned Israeli architect Moshe Mayer designed it. The hotel closed its doors in 1989, just before the First Liberian Civil War outbreak. The war resulted in significant damage and looting of the hotel, leaving it in ruins.
5. Grand Lodge of Liberia
Grand Masonic Temple, also known as the Masonic Craft Center and Grand Lodge of Liberia, is located in the Sinkor district of Monrovia. It is the headquarters of the Most Worshipful Grand Lodge of Ancient Free and Accepted Masons of Liberia.
Freemasonry has a long history in Liberia, established in the 19th century by free African American and Caribbean people, many of whom were Masons. The Grand Lodge of Liberia was established in 1867, nearly two decades after Liberia declared independence.
The Masonic Order in Liberia operates like its counterparts elsewhere, with lodges, rites, and ceremonies. It is part of the worldwide brotherhood of Freemasons, a fraternal organization that traces its roots back to the local fraternities of Stonemasons in the 14th century.
6. Balli Island
A short boat ride from Monrovia, Balli Island is an untouched natural paradise. This island is perfect for a day trip, offering visitors the chance to experience diverse wildlife, lush greenery, and beautiful beaches. The island is still relatively undeveloped, adding to its charm and tranquility. Visitors can enjoy birdwatching, fishing, or relaxing by the beach.
7. Birdwatch at Mamba Point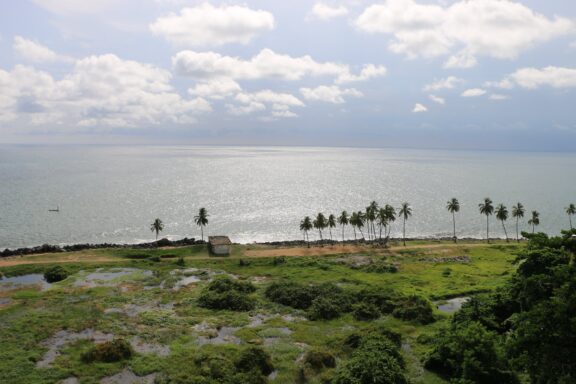 Mamba Point is a rocky peninsula near the city center, known for its stunning views and abundant birdlife. It's a haven for birdwatchers, particularly during the migratory season. Early mornings or late afternoons are the best times to visit for birdwatching. Some birds you can spot here include kingfishers, herons, and egrets.
Frequently Asked Questions
What is the currency in Monrovia?
The official currency of Liberia is the Liberian dollar (LRD).
When is the best time to visit Monrovia?
The best time to visit Monrovia is from November to April in the dry season. During this time, you can avoid the heavy rainfall that characterizes the rest of the year.
What is traditional food and cuisine like in Monrovia?
Due to the historical connection, Liberian cuisine blends indigenous practices and influences from Southern American cuisine. Staple foods include rice, cassava, and fish. A popular dish is jollof rice, a one-pot dish with meat and vegetables.
What's a must-try dish/food in Monrovia?
You should try "Palava sauce," a Liberian stew made with various types of meat thickened with spinach or okra. It's often served over rice.
What souvenirs can I bring home from Monrovia?
Souvenirs from Monrovia could include local handicrafts, such as traditional masks, carvings, or jewelry. Fabrics, especially those with colorful African prints, are also popular.
Is it safe to visit Monrovia?
While Monrovia has made strides in safety following the end of the civil war and Liberia is amongst some of the safest countries in Africa, issues such as crime and occasional civil unrest remain a concern. For this reason, it's advisable to conduct your activities and commitments during daylight hours and avoid solo ventures whenever possible.
How can I get around in Monrovia?
The most common modes of transport in Monrovia are taxis and minibusses. Car rentals are also available, though road conditions can be challenging, especially outside the city.
Is Monrovia expensive?
Monrovia's living cost is relatively low compared to many Western countries. However, prices can vary depending on your lifestyle and spending habits.
Is Monrovia a good town to live in?
Like any city, living in Monrovia has its pros and cons. While it offers a rich culture, history, and warm, friendly people, it also faces infrastructure issues and high unemployment.
Can I drink tap water in Monrovia?
Drinking tap water in Monrovia is generally not advised due to the risk of waterborne diseases. Bottled water or treated water is recommended.
Final Thoughts
With its historical depth, cultural richness, and warm hospitality, Monrovia presents an intriguing destination. It's a city where the resilience of its people shines through despite the adversities faced in the past.
While safety considerations are important, engaging with the city's vibrant markets, exploring its historical landmarks, and enjoying its natural beauty make Monrovia a place worth considering for those seeking a unique travel experience.
A visit to Monrovia offers a glimpse into a part of the world charting its course toward growth and transformation, making it an enriching journey for the thoughtful traveler.