Riga is the capital of Latvia. Riga is the cultural hub of Latvia and the largest city in the three Baltic States.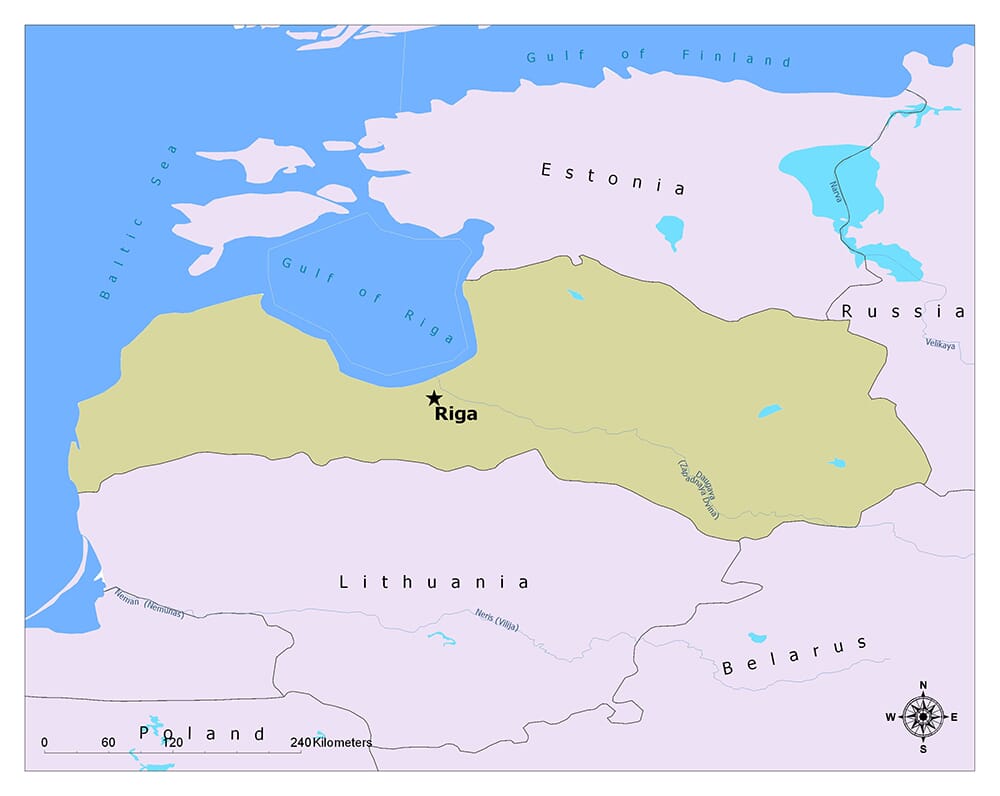 Riga is widely recognized for its eclectic mix of German, Swedish, Russian, and Latvian architectural influences, especially its Art Nouveau architecture.
Where is Riga?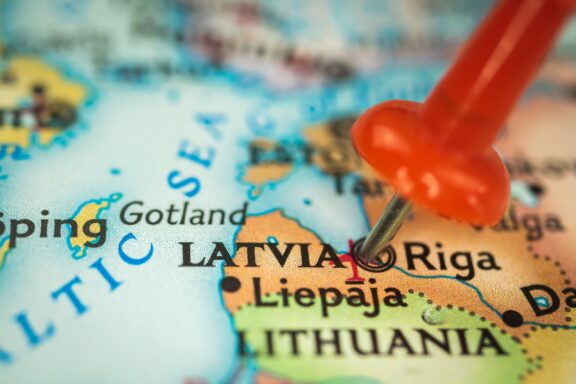 Riga is located in the northeastern part of Europe, in Latvia. Geographically, Latvia is one of the three Baltic States, situated between Estonia to the north and Lithuania to the south. Riga is positioned in the central part of the country, on the southern coast of the Gulf of Riga, which opens out into the Baltic Sea.
The city is located at the mouth of the Daugava River. This advantageous location has allowed the city to serve as a crucial economic hub, connecting various parts of Europe through maritime and overland routes.
Riga's geographical coordinates are approximately 56.9496 °N latitude and 24.1052 °E longitude.
History of Riga
Riga, the capital of Latvia, has a rich and complex history that stretches back to the early Middle Ages.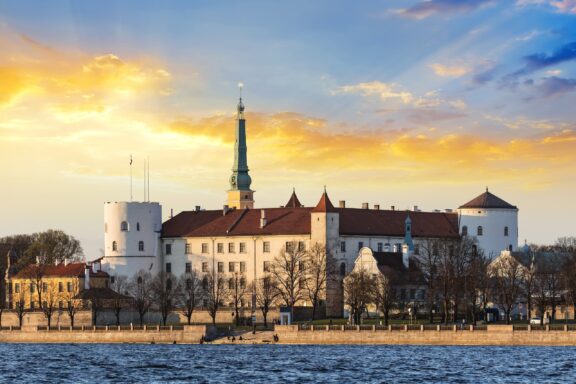 Riga was officially founded in 1201 by Bishop Albert of Riga, who had arrived from northern Germany. He established Riga to aid the Christianization of the native Livonian and Finnic tribes.
The city rapidly developed as a major center of the Hanseatic League, an economic confederation of northern European cities. This brought considerable wealth and influence to Riga, and its growth was reflected in its architecture and the establishment of significant buildings, such as Riga Cathedral and St. Peter's Church.
In 1561, following the Livonian War, Riga and most of Latvia came under Swedish control. This period is often called the "good old Swedish times" and was marked by economic growth and educational development, with the founding of the first Latvian schools and the city's first university.
The Great Northern War ended with the Treaty of Nystad in 1721, and Riga and the rest of Latvia were absorbed into the Russian Empire. The city continued to develop as a significant industrial and administrative center during this period. The 19th century saw a cultural awakening among the Latvian population, which led to the establishment of the Latvian National Theatre and the first Song Festival.
The end of World War I and the Russian Revolution allowed Latvia to declare independence on November 18, 1918. As the capital, Riga became the newly formed country's political, economic, and cultural center. It was a period of significant growth, with a burgeoning cultural scene and improvements in education and social welfare.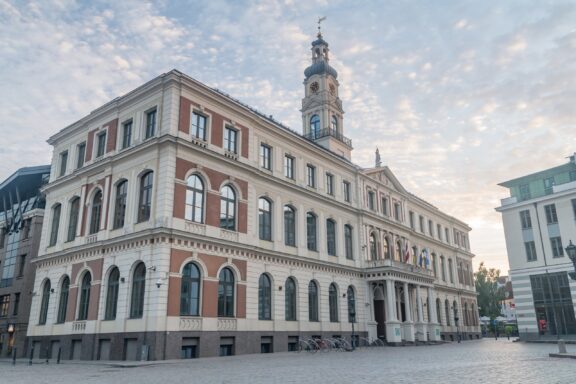 World War II brought significant changes to Riga. The city was first occupied by Soviet troops in 1940, then by the Nazis from 1941 to 1944, and again by the Soviets in 1944. Each occupation brought devastation, including the murder of the majority of the city's Jewish population during the Holocaust. After the war, Riga remained under Soviet control as part of the Latvian SSR until 1991.
Latvia regained its independence following the dissolution of the Soviet Union in 1991. Since then, Riga has undergone significant change, as Latvia moved from a socialist economy to a market economy, joined NATO in 2004, and the European Union in the same year. Today, Riga is a vibrant, cosmopolitan city known for its historic architecture and rich culture and as a significant economic hub in the Baltic region.
Features of Riga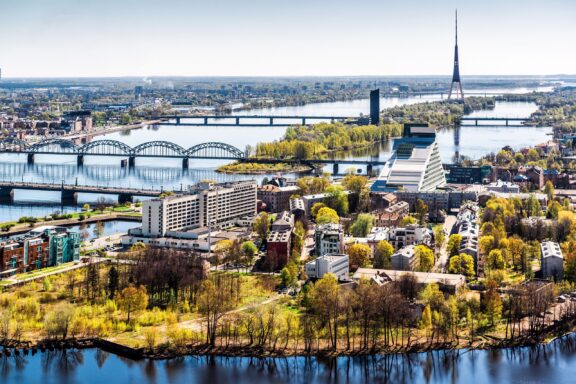 Riga is famous for its well-preserved and diverse architectural styles, particularly its Art Nouveau buildings, which comprise roughly a third of all buildings in the city center.
Riga is a major cultural center in the Baltic region. It is home to several museums and important educational centers. Riga is also known for its growing reputation in information technology and startup culture, contributing to Latvia's emerging status as a Baltic Silicon Valley.
Geography and Climate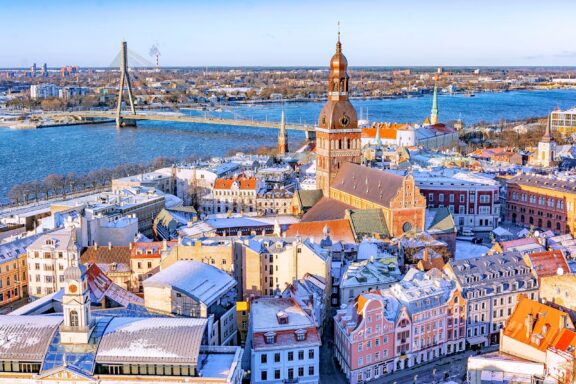 Riga lies on both banks of the Daugava Rive, which has historically made the city a strategic and significant port. The surrounding terrain is generally flat, with the highest point in Riga reaching about 43 meters above sea level. The city also has several islands, the largest being Lucavsala and Kipsala.
Riga has a humid continental climate, although it is close to having an oceanic climate. The city experiences relatively warm summers, with average temperatures in July hovering around 20 °C (68 °F), but temperatures can occasionally rise above 30°C (86 °F). Winters, by contrast, are cold and snowy, with January averages around -5 °C (23 °F) but can fall to below -20 °C (-4 °F). The city receives an average annual rainfall of around 600mm, with autumn being the wettest season.
Population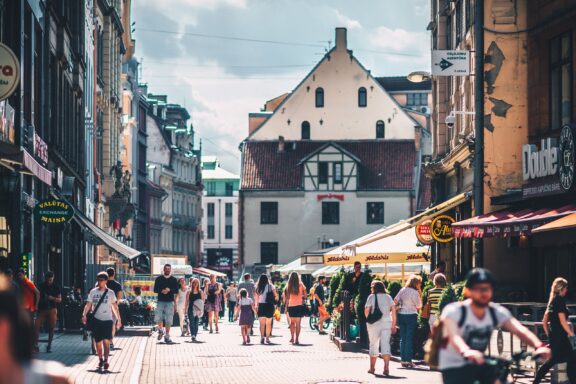 Riga has a population of over 900,000 people. It's the largest city in Latvia and the Baltic states. The population is diverse, with ethnic Latvians around 45%, while ethnic Russians comprise around 40%. Other significant ethnic groups include Belarusians, Ukrainians, and Poles. Latvian is the official language, but Russian is also widely spoken due to historical influences.
Economy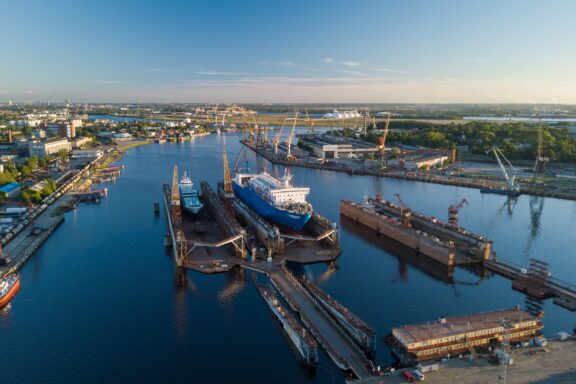 Riga is the economic heart of Latvia, contributing about half of the country's GDP. The city is an important regional player in several sectors. It has a diverse economy with strengths in various areas:
Port and Logistics: The Port of Riga is one of the largest in the Baltic and serves as a crucial logistics hub for the region and beyond, linking trade routes between the East and the West.
IT and Technology: Riga is emerging as a significant location for information technology and startups, with several tech companies choosing to base their operations in the city.
Tourism: With its rich cultural heritage, architectural landmarks, and vibrant nightlife, Riga is a popular destination for tourists worldwide. The tourism sector contributes significantly to the local economy.
Services: The service sector, including finance, business services, and retail, is a substantial part of Riga's economy.
Manufacturing: Riga also hosts various manufacturing industries, including food processing, pharmaceuticals, and timber.
Riga's economy has steadily grown since Latvia joined the EU in 2004. The city is seen as attractive for business and investment due to its strategic location, educated workforce, and robust infrastructure.
Things to Do and Places to See in Riga
Riga boasts an array of activities and sightseeing options. Let's explore some of this vibrant capital city's most sought-after attractions and landmarks.
1. Explore Riga's Old Town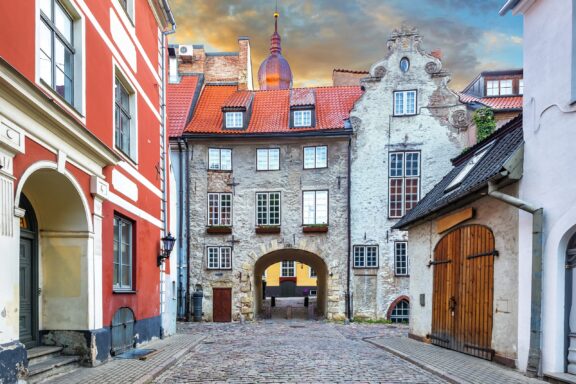 Riga's Old Town is a UNESCO World Heritage Site and a testament to the city's rich history. Cobbled lanes meander past a collection of architectural wonders dating back several centuries. Key landmarks include the House of the Blackheads, Riga Cathedral, St. Peter's Church, Three Brothers Buildings, Swedish Gate, Rozena Street, and more.
The impressive Riga Cathedral, founded in 1211, is another must-see, as is St. Peter's Church, renowned for its towering steeple that provides panoramic city views. The Old Town is also home to various cafés, bars, and restaurants, offering a taste of Latvian cuisine amidst the backdrop of a historical setting.
2. Rundāle Palace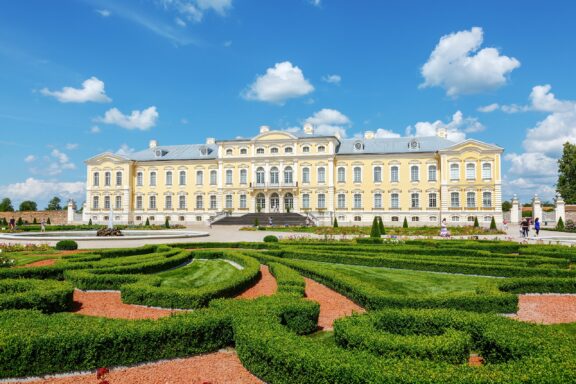 Often referred to as the 'Versailles of Latvia,' Rundāle Palace is one of Latvia's most outstanding Baroque and Rococo art monuments. Located about 80km south of Riga, the Russian court architect Francesco Bartolomeo Rastrelli designed the palace in the 18th century.
The beautifully restored interiors are adorned with elaborate stucco work, ceiling paintings, and period furniture. An exquisite French garden, a landscape park perfect for strolls, surrounds the palace.
3. Riga Central Market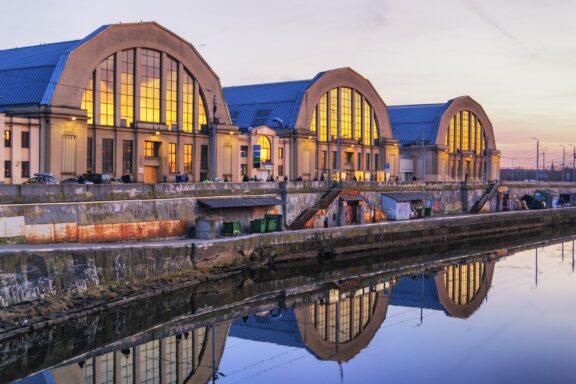 A visit to the Riga Central Market is a sensory feast. Housed in five former Zeppelin hangars, this enormous marketplace is one of Europe's largest covered markets. Each hangar is dedicated to different products; here, you'll find a vast array of meat, fish, dairy, bread, confectionery stalls and numerous vendors selling fruits and vegetables from all over Latvia. The market is a hub of local activity and provides an authentic glimpse into Latvian culture and gastronomy.
4. Latvian National Museum of Art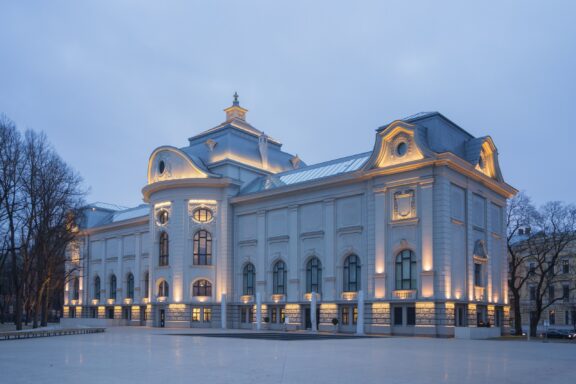 The Latvian National Museum of Art, the largest art museum in the country, is a must-visit for art lovers. It houses a collection spanning the mid-18th century to the present day and includes works by Latvia's most celebrated artists.
The museum is housed in a magnificent building that is a work of art. After extensive renovations, it reopened in 2016 with new, modern exhibition halls and a glass dome offering panoramic views of Riga.
5. Jurmala Beach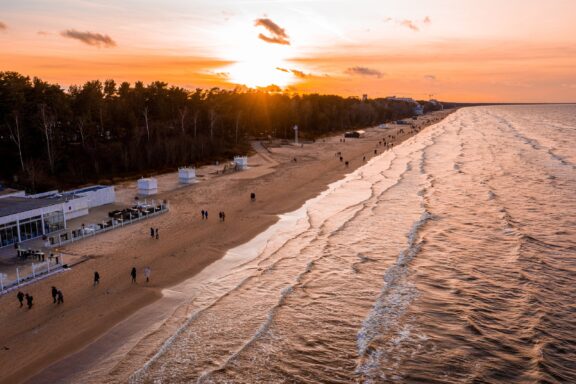 Located a short train ride from Riga, Jurmala is the largest resort town in the Baltic and is famous for its beautiful sandy beach stretching over 25 kilometers. The city is known for its distinctive wooden houses and Art Nouveau architecture. Visitors can dip in the Baltic Sea, explore the Dzintari Forest Park, visit the Jurmala City Museum, or relax in one of the many wellness spas.
6. Kemeri National Park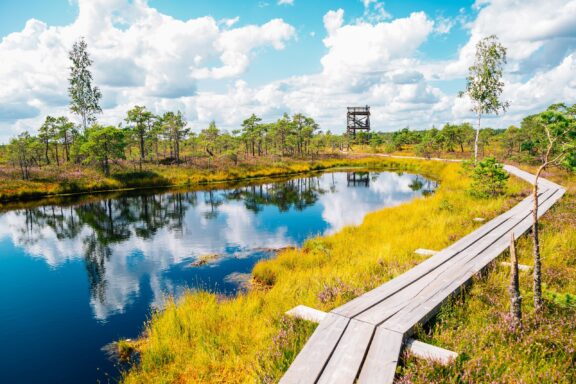 Approximately 50km west of Riga, Kemeri National Park is a nature lover's paradise. The park is known for its diverse ecosystems, which include forests, lakes, wetlands, mineral springs, and peat bogs.
The park is home to a unique, elevated boardwalk trail that winds through its famous swamp, providing a rare chance to explore this distinctive ecosystem up close. Kemeri also has an impressive variety of wildlife and is especially renowned as a bird-watching destination.
7. House of the Blackheads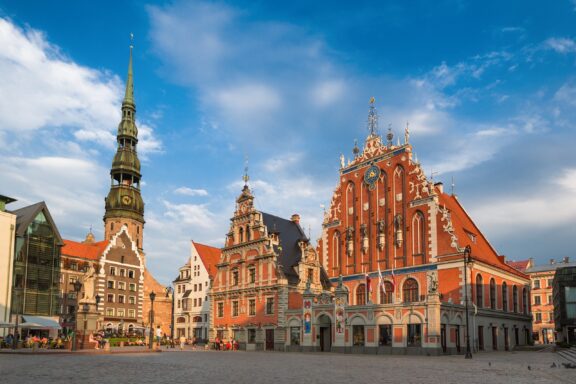 The House of the Blackheads is one of Riga's most iconic buildings. Originally built in the 14th century for the Brotherhood of Blackheads, a guild for unmarried merchants, shipowners, and foreigners in Riga, it was destroyed during World War II and meticulously rebuilt in the late 20th century.
Today, the building's Dutch Renaissance style façade is one of the Old Town's standout sights. The historical interiors have been restored and now house a museum that provides an insight into the rich history of the brotherhood and the building itself.
8. Visit Art Nouveau District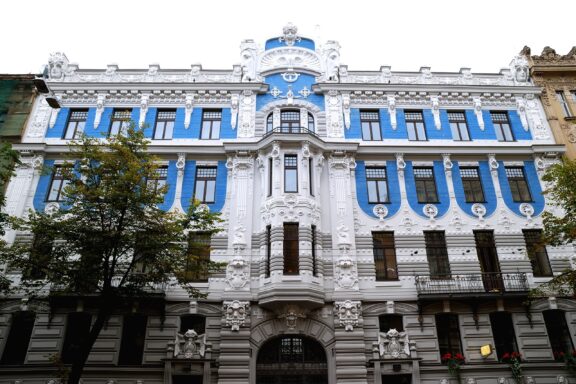 Riga's Art Nouveau District is a treasure trove for architecture and art enthusiasts. Located primarily in Alberta Street (Alberta Iela) and Elizabetes Street (Elizabetes Iela), the district features the highest concentration of Art Nouveau architecture worldwide.
The buildings, dating back to the late 19th and early 20th centuries, are notable for their intricate facades featuring ornamental sculptures, floral designs, and mythological creatures. The Art Nouveau Museum, situated in the former home of Latvian architect Konstantīns Pēkšēns, is a particular highlight, offering insight into the lifestyle of the Art Nouveau era.
9. Sigulda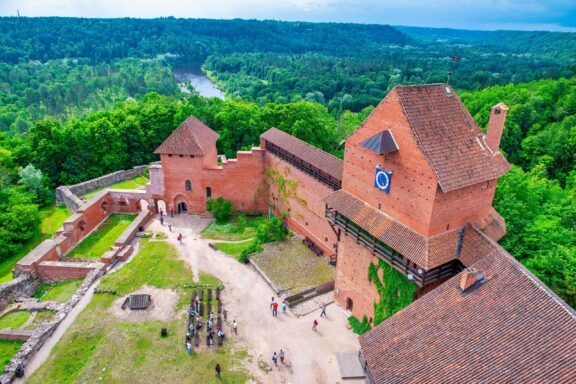 Located about 50km northeast of Riga, Sigulda is often called the "Switzerland of Latvia" due to its hilly landscapes and picturesque vistas. This town is known for its historic castles, including the medieval Sigulda Castle and Turaida Castle, which houses a museum-reserve.
Sigulda offers numerous outdoor activities, such as hiking, biking, and, in winter, skiing. In autumn, it's a particularly popular destination for viewing Latvia's vibrant fall foliage.
10. Explore the area around Freedom Monument
The Freedom Monument, standing tall at 42 meters in the heart of Riga, is a powerful symbol of Latvia's freedom, independence, and sovereignty. Unveiled in 1935, the monument is adorned with numerous sculptures and bas-reliefs that depict Latvian culture and history.
The base of the monument contains inscriptions, with the most well-known one being "Tēvzemei un Brīvībai" which translates to "For Fatherland and Freedom." The woman at the top, affectionately known as Milda, holds three golden stars, each representing one of Latvia's historical regions: Kurzeme, Vidzeme, and Latgale.
11. Latvian National Opera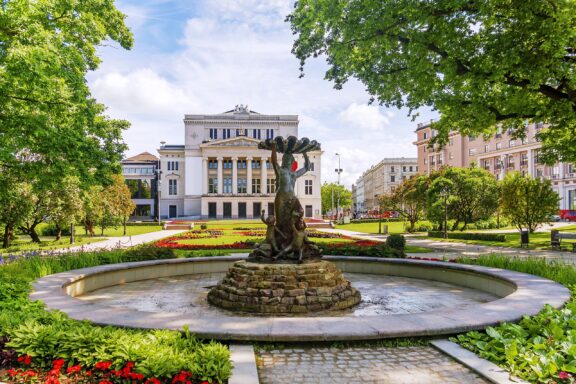 The Latvian National Opera (LNO) in Riga is a prominent cultural institution with a rich history. The opera house was renovated and reconstructed several times. The most severe damage occurred during World War II when the opera house was bombed. After extensive restoration, it was reopened in 1949.
The LNO boasts a diverse repertoire, offering opera and ballet performances ranging from timeless classics to modern productions and works by Latvian composers. The Latvian National Ballet, based at the LNO, is one of the oldest ballet companies in the world, with a history dating back to the 1780s. It's internationally recognized and has toured many countries.
12. Boat Trip on the River Daugava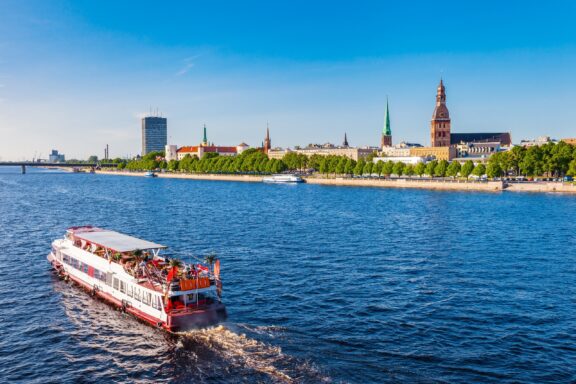 A boat trip on the Daugava, often called the "River of Destiny," is a fantastic way to see Riga from a different perspective. As you cruise the river, you can take panoramic views of the city skyline, including the Old Town, modern skyscrapers, and bridges.
The Daugava has been a significant trading route since ancient times. A boat trip on the river can give you a sense of the historic journey goods, and people might have taken centuries ago. Various companies offer boat tours, ranging from short city tours to longer excursions that extend into the beautiful countryside around Riga.
13. Riga Motor Museum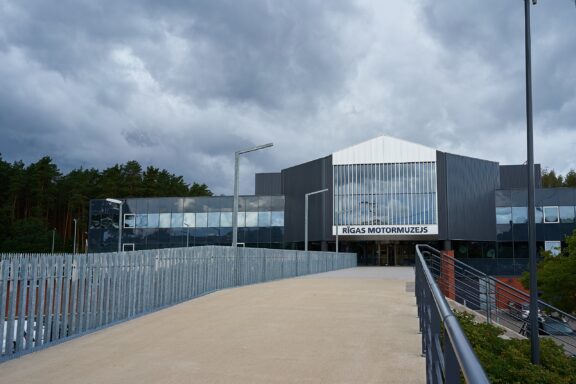 The Riga Motor Museum in Latvia is a haven for car enthusiasts and history buffs. The Riga Motor Museum houses the largest collection of antique vehicles in the Baltics, with various cars from different eras.
The museum's most famous exhibit displays Soviet-era cars, including the armored ZIS-115 Rolls-Royce Silver Ghost that Lenin used and another, the Packard Twelve car, a renowned vehicle of Joseph Stalin. There's also a unique exhibition of cars previously owned by celebrities, including the custom-made Mercedes-Benz 600 Pullman of Elvis Presley.
14. Latvian Ethnographic Open-Air Museum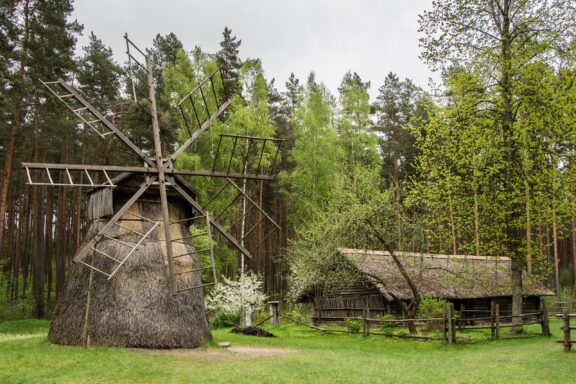 The Latvian Ethnographic Open-Air Museum is one of Europe's oldest and largest open-air museums. Located on the banks of Lake Jugla, just outside Riga, the museum showcases rural Latvian life from the 17th century through to the 1930s.
Visitors can explore more than 100 historic buildings from different regions of Latvia, including farmsteads, windmills, churches, and schools, all filled with authentic furniture and household items. Demonstrations of traditional crafts, cultural events, and festivals held throughout the year bring the past to life and offer visitors a deep dive into Latvia's cultural heritage.
Frequently Asked Questions
Is Riga safe to visit?
Riga, akin to the majority of European capital cities, generally provides a safe environment for tourists. Nonetheless, as with any large city, there are areas where caution is advised. It's essential to stay vigilant in crowded locales such as markets and metro stations to avoid falling prey to pickpockets.
What is the best time of the year to visit Riga?
Riga can be visited all year round, depending on what you want to do. The summer months (June-August) are warm and great for exploring the city and nearby beaches. Spring (April-May) and autumn (September-October) are lovely times to visit, with fewer tourists. The city takes on a festive look with beautiful decorations and markets during the Christmas season.
What souvenirs can I bring home from Riga?
In Riga, popular souvenirs include local artisan crafts like amber jewelry, Latvian mittens with traditional patterns, ceramics, and linen products. You can also consider bringing home Latvian sweets like Laima chocolate, Riga Black Balsam (a traditional Latvian herbal liqueur), or local rye bread.
Is Riga a good city to live in?
Riga offers a high quality of life with its rich cultural scene, beautiful architecture, affordable living costs, and ample green spaces. Its education and healthcare systems are also well-developed. Like any city, however, it has its challenges, such as the need for continued economic development and job creation.
What language do they speak in Riga?
The official language of Riga is Latvian. However, a large portion of the population also speaks Russian due to its history. English is commonly spoken in hotels, restaurants, and tourist areas.
What is the local cuisine like?
Latvian cuisine is typically hearty and based on crops that grow in Latvia's harsh climate — grains, potatoes, and legumes are staple foods. Rye bread is a national food; smoked meats, especially pork, are popular. Due to Latvia's location on the Baltic Sea, fresh and smoked fish are also common.
How can I get around Riga?
Riga has a well-developed public transportation system, including buses, trams, and trolleybuses. The city's size also makes it relatively easy to explore on foot, especially the historic center. Taxis and ride-sharing services are readily available too.
Are there direct flights to Riga?
Riga International Airport is the largest airport in the Baltic states and offers direct flights to many destinations across Europe and beyond.
Can I drink tap water in Riga?
Yes, tap water in Riga is generally safe to drink. If you're unsure, using a water filter or drinking bottled water are good alternatives.
Are the locals friendly in Riga?
Yes, people in Riga are generally friendly and welcoming to visitors. They may come off as reserved initially, which is common in many northern European cultures, but they are usually helpful when approached.
Can I use Euros in Riga?
Yes, Latvia adopted the Euro (€) as its official currency in 2014. Credit cards are also widely accepted in most places.
Is Riga expensive?
Compared to many other European cities, Riga is generally affordable. Of course, costs can vary depending on your travel style and preferences.
Final Thoughts
Riga offers an impressive blend of rich history, diverse architecture, vibrant arts scene, and natural beauty. Riga offers plenty of attractions and sites to explore and appreciate. The city also provides a robust dining scene that caters to every palate, alongside a lively nightlife.
A visit to Riga would only be complete with experiencing its parks, the Daugava River, and the nearby Baltic Sea. Whether you're a history buff, an architecture enthusiast, a nature lover, or a foodie, Riga is a city that can cater to all interests and tastes. In summary, Riga is worth visiting for its cultural richness, historical significance, and the diversity of experiences it offers its visitors.