Bishkek is the capital of Kyrgyzstan. The city is known for its tree-lined streets, Soviet-era architecture, and scenic Tien Shan mountain range backdrop.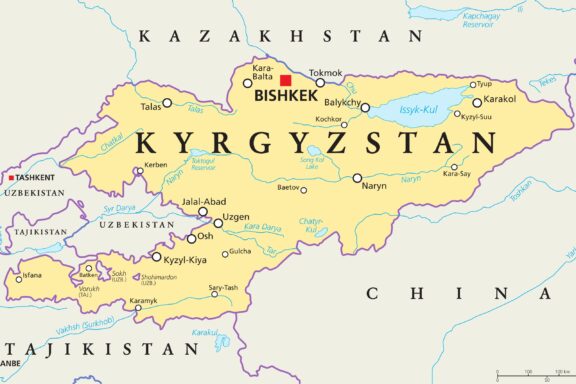 Bishkek is a city that harmoniously combines numerous elements from its rich history with the demands and aspirations of a modern capital and serves as Kyrgyzstan's political, economic, and cultural center.
Where is Bishkek?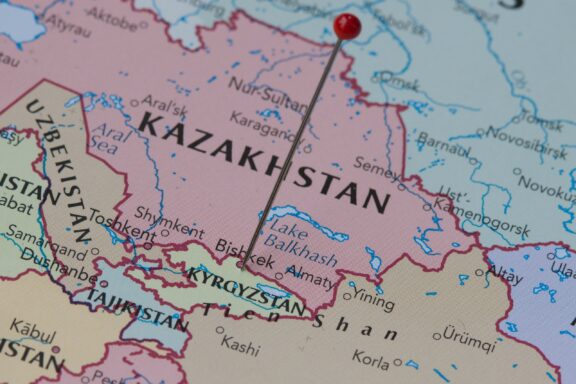 Bishkek is approximately 800 meters above sea level. It is positioned on the eastern edge of the Chuy Valley, which serves as a natural passage between Kyrgyzstan and Kazakhstan. This location has made the city a historical trade and cultural exchange crossroads.
Due to its northern location within Kyrgyzstan, Bishkek is somewhat removed from the country's other major cities, most of which lie further south. The city's coordinates are approximately 42.87 °N latitude and 74.59 °E longitude, placing it in the Eastern Hemisphere.
History of Bishkek
The area where Bishkek now stands was once part of the Silk Road network, serving as a minor hub for merchants and explorers. Although not a major settlement, the fertile Chuy Valley was attractive for nomadic tribes and early settlers, who likely engaged in agriculture and pastoralism.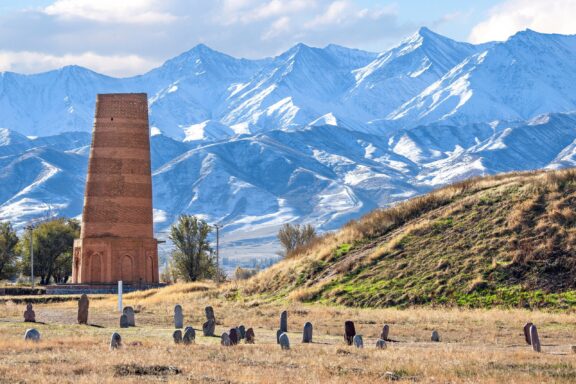 When the Russian Empire expanded its territories into Central Asia, the fortress of Pishpek was established in 1825. Its purpose was dual: military consolidation and administrative oversight.
The fortress facilitated Russia's control over the region and was instrumental in quelling local resistance. The settlement around the fortress grew, attracting Russian settlers and incorporating local nomadic tribes.
The Soviet period brought significant change to the city, including its renaming to Frunze in 1926 in honor of Mikhail Frunze, a Bolshevik leader born in the city. It became the capital of the Kyrgyz Soviet Socialist Republic in 1936.
Soviet investment led to the construction of factories, educational institutions, and cultural centers. Architecturally, the city took on the characteristics of Soviet urban planning, with wide boulevards and standardized building designs.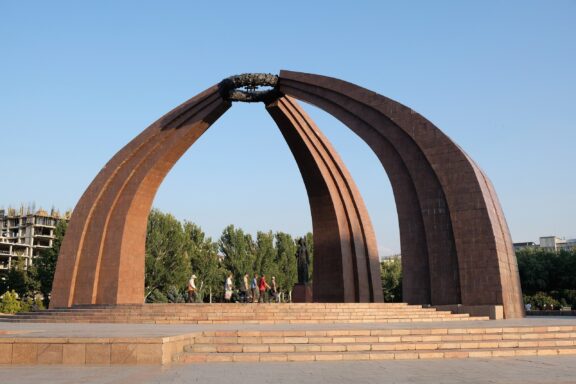 After Kyrgyzstan gained independence in 1991, the city was renamed Bishkek. The post-Soviet period has been characterized by political and economic shifts as the country navigated the challenges of independence.
The city became the stage for political events like the Tulip Revolution in 2005, which led to the ousting of President Askar Akayev, and the 2010 Kyrgyzstani Revolution, which resulted in the toppling of President Kurmanbek Bakiyev.
Economically, Bishkek became a center for foreign investment and commerce, while culturally, it started embracing a blend of traditional Kyrgyz and modern influences.
Features of Bishkek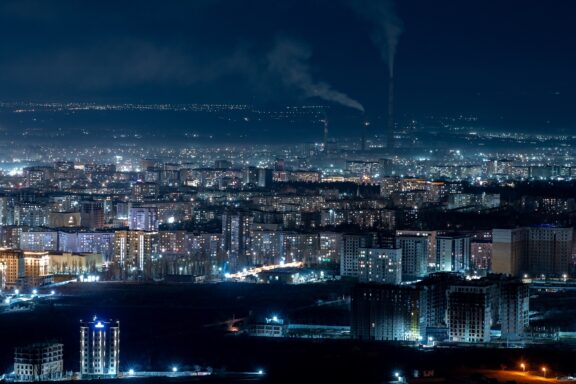 Bishkek is a city of contrasts, where tradition and modernity coexist in an intriguing blend. Its tree-lined streets are adorned with a mixture of Soviet-era and contemporary buildings, giving the city a unique architectural profile.
The city's public spaces, particularly its numerous parks and squares like Ala-Too Square, are the beating heart of Bishkek. They serve as gathering spots for people from all walks of life, providing an inviting and vibrant communal atmosphere.
Geography and Climate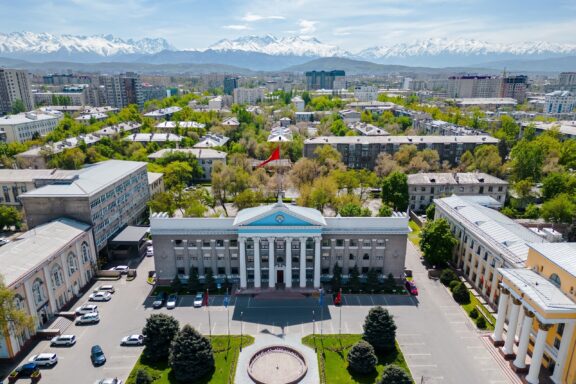 Bishkek experiences a continental climate characterized by hot summers and cold winters. Summer temperatures often reach upwards of 30 °C (86 °F), while winters can be quite cold, with temperatures dropping to as low as -10 °C (14 °F). The city receives moderate rainfall, primarily in spring and autumn. Snowfall is common in winter, adding a picturesque quality to the cityscape.
Population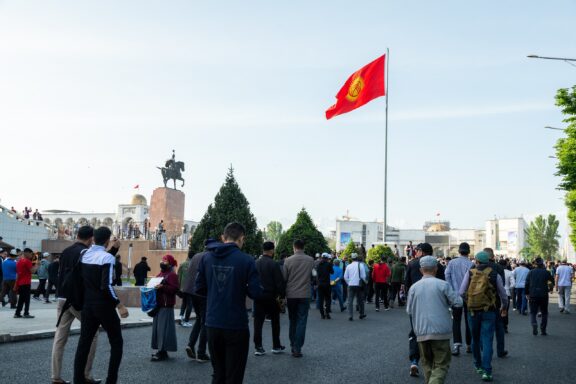 Bishkek has a population of over one million people, making it the largest city in Kyrgyzstan. The city boasts a diverse demographic composition, with ethnic Kyrgyz making up the majority. Significant minority populations include Russians, Uzbeks, and smaller communities from other Central Asian nations.
The city has a youthful energy, bolstered by a significant student population attending its multiple universities and educational institutions. A mix of languages can be heard on the streets, including Kyrgyz, Russian, and occasionally English, especially among younger people.
Economy
Bishkek serves as the economic powerhouse of Kyrgyzstan. Its economy is diverse, encompassing manufacturing, services, and retail sectors. Light manufacturing industries, including textiles and food processing, contribute to the local economy.
The city is also a hub for information technology and startups, attracting domestic and foreign investment. Financial services and banking are other vital sectors, supported by the city's role as the administrative and economic capital of the country.
In addition, Bishkek is a major retail center with numerous shopping malls, markets, and boutiques. Osh Bazaar is a significant marketplace for locals and people from neighboring regions and countries who come to buy and sell goods.
Overall, Bishkek is a dynamic city with a multifaceted economy, reflecting its role as the nerve center of Kyrgyzstan's political and economic activities.
Things to Do and Places to See in Bishkek
Bishkek offers an array of activities and sights for visitors to explore. Let's delve into some of the city's most sought-after attractions and landmarks.
1. Ala-Too Square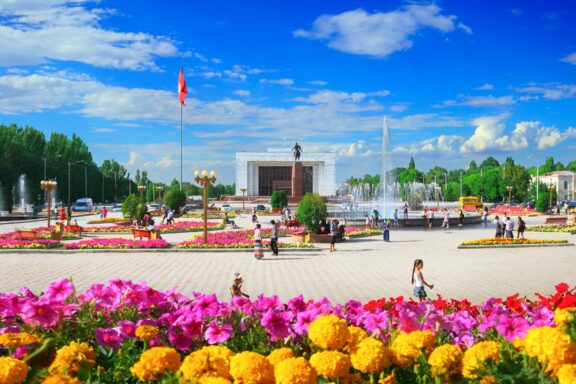 Ala-Too Square, located at the heart of Bishkek, serves as a communal space for the city's people. Events ranging from political demonstrations to cultural festivals unfold here, making it a true civic hub.
This expansive square is paved with white and dark tile patterns, giving it a visually pleasing aesthetic. You can participate in or observe the events that frequently occur here.
Various stalls and carts selling local snacks can often be found, providing tourists with a taste of Kyrgyz cuisine.
2. State History Museum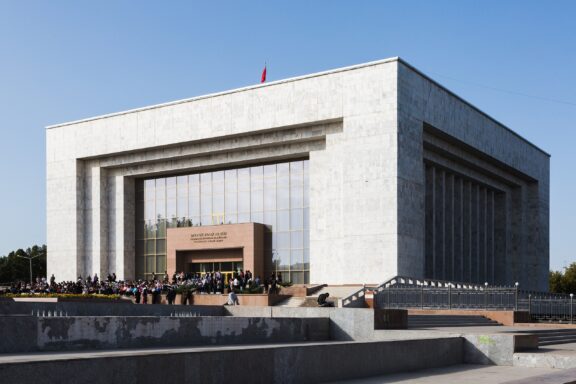 The State History Museum, formerly the Lenin Museum, offers a comprehensive overview of Kyrgyzstan's past and present. It is situated in Ala-Too Square and is one of the city's most informative destinations.
This museum is an invaluable stop for anyone keen on understanding Kyrgyzstan's history and social fabric. English-speaking guides are often available to navigate you through the exhibitions. Temporary exhibitions keep the museum experience fresh, even for repeat visitors.
3. Osh Bazaar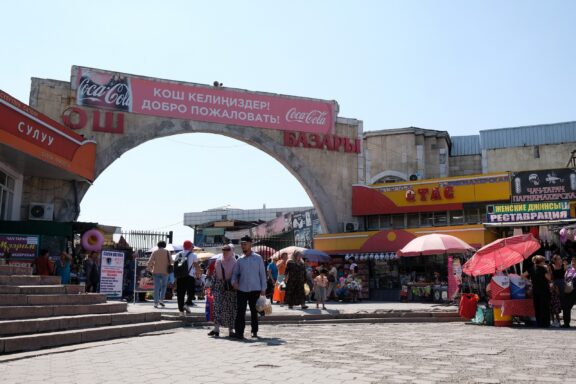 Osh Bazaar is one of the most dynamic and colorful markets in Bishkek. Its labyrinthine alleys and stalls offer a sensory overload and an authentic local experience. The market occupies a large area and is divided into multiple sections.
Osh Bazaar is a microcosm of Kyrgyz life and a haven for unique souvenirs. It's a perfect place for tourists who want to try local foods, engage with residents, and experience day-to-day commerce in Bishkek.
4. Panfilov Park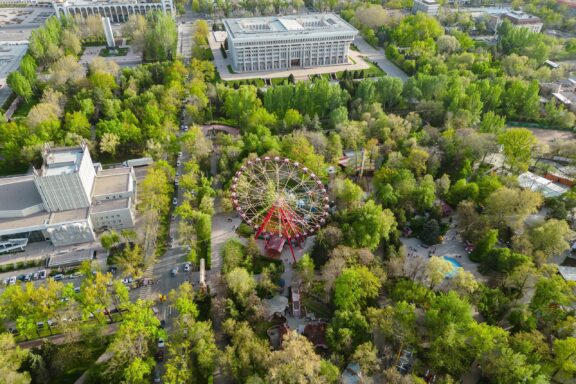 Panfilov Park is one of the city's most cherished green spaces. It provides residents and tourists alike with a refreshing break from urban life. The park features walking paths, benches, and large trees that offer ample shade. Children and families can enjoy the onsite amusement park, while couples often opt for romantic boat rides on the pond.
Whether you're traveling with family, as a couple, or solo, Panfilov Park has something for everyone. The amusement park and boat rides make it especially appealing for families, while those looking for relaxation will appreciate the well-maintained lawns and gardens.
5. Philharmonic Hall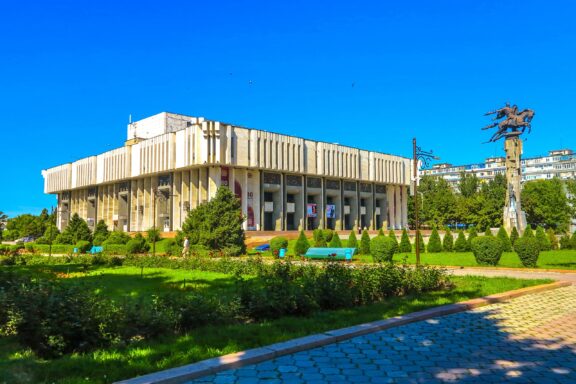 The Philharmonic Hall plays host to a variety of performances ranging from classical concerts to contemporary shows. The building itself is an architectural gem that showcases elements of Soviet design. Inside, the hall is equipped with modern acoustics and seating, ensuring an excellent auditory experience.
The Philharmonic Hall offers a sophisticated evening out in Bishkek. Tourists fond of music should not miss the chance to attend a performance, which often includes traditional Kyrgyz instruments.
6. Oak Park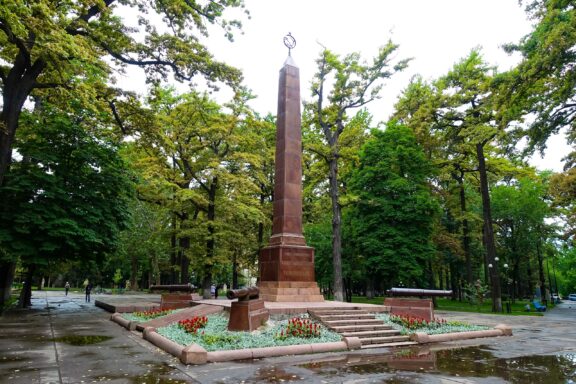 Oak Park is a relatively compact park that features a collection of sculptures by local and international artists. The paths wind through mature oak trees, offering a serene backdrop for the art installations.
Art enthusiasts and nature lovers alike will find Oak Park a compelling visit. It offers an opportunity to engage with the art scene in Bishkek, while also enjoying a peaceful, natural setting.
7. Ala Archa National Park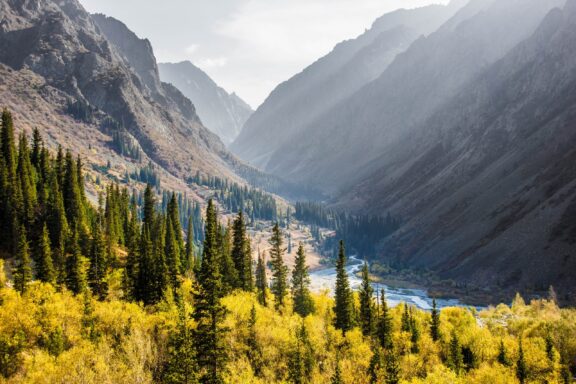 Ala Archa National Park is a popular destination for those wanting to explore the great outdoors of Kyrgyzstan. The park covers an area of about 200 square kilometers and includes everything from lowland river valleys to alpine meadows and mountain peaks.
The park is home to wildlife such as snow leopards and golden eagles. Hiking trails of varying difficulty levels make Ala Archa accessible for novice and seasoned trekkers. In addition to hiking, the park is famous for bird-watching and camping, offering a full outdoor experience near Bishkek.
Frequently Asked Questions
What is the best time to visit Bishkek?
The best time to visit Bishkek is during the spring (April to June) and autumn (September to October) when the weather is mild and the natural scenery is most vibrant.
How safe is Bishkek for tourists?
Bishkek is generally safe for travelers, but it's advisable to be cautious due to the high rate of street crime. Always stay vigilant, especially in crowded areas. If you plan to travel between cities, note that the roads can be hazardous, particularly during winter and at different checkpoints.
Are there any specific local customs or etiquette I should know?
It's customary to remove your shoes when entering someone's home. Also, greeting elders with a slight bow and offering items with both hands is considered polite.
What is traditional food like in Bishkek?
The traditional cuisine in Bishkek is heavily influenced by Kyrgyzstan's nomadic heritage, combined with culinary traditions from neighboring countries like Russia, China, and other Central Asian states.
Meat, especially mutton and beef, is a staple, often cooked over open flames or boiled. Dairy products and bread also play a significant role, reflecting the pastoral lifestyle that shaped Kyrgyz cuisine.
What are must-try authentic Bishkek dishes?
If you're visiting Bishkek, there are several local dishes you shouldn't miss to experience the essence of Kyrgyz cuisine:
• Beshbarmak: Boiled meat served over pasta-like dough, often garnished with onions and broth.
• Plov: A flavorful rice dish cooked with carrots, onions, and meat, commonly seasoned with spices.
• Manti: Steamed dumplings filled with meat or vegetables, similar to Chinese dumplings.
• Shashlik: Skewered and grilled meat, usually served with fresh vegetables or bread.
How do I get around Bishkek?
Is public transportation available?
Public transportation options include buses and shared minivans known as "marshrutkas." Taxis are also readily available.
What currency is used in Bishkek, and where can I exchange money?
The currency used is the Kyrgyzstani som. Money can be exchanged at banks, official exchange counters, and ATMs.
What kind of accommodations are available?
Accommodations range from budget hostels to mid-range hotels and luxury establishments. There are options to suit different budgets.
Final Thoughts
Bishkek offers a unique blend of cultural, historical, and natural attractions, making it a compelling destination. From its diverse culinary scene to its rich tapestry of landmarks, the city provides a multifaceted experience that caters to a wide range of interests.
Whether you're a history buff, an outdoor enthusiast, or someone looking to explore a less-traveled path, Bishkek has something to offer. Overall, it is certainly worth visiting for those interested in a comprehensive and enriching travel experience.