Kuwait City is the capital of Kuwait. It serves as the nerve center for Kuwait's political, cultural, and economic endeavors.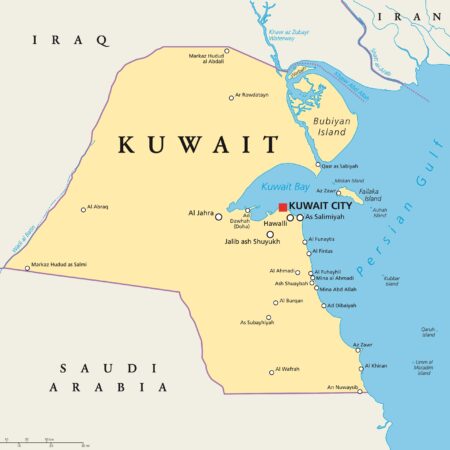 Kuwait City is home to a range of institutions that contribute to the country's governance and economy. Government buildings, foreign embassies, and major corporations are located here.
Where is Kuwait City?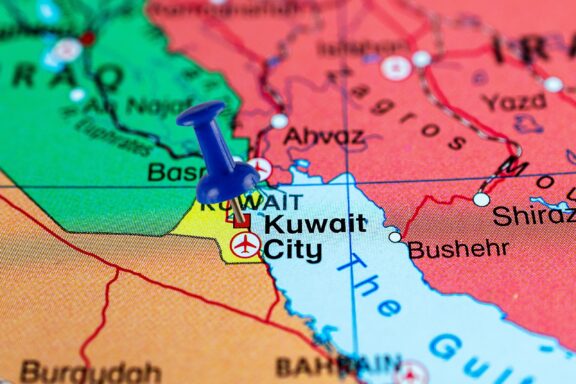 Kuwait City is situated in the eastern part of Kuwait, along the southwestern shore of the Arabian Gulf. It lies in the Middle East, sharing borders with Iraq and Saudi Arabia.
The city is relatively close to other key cities like Al Ahmadi and Jahra, but it remains the most prominent urban center in the country. Its strategic location in the Arabian Gulf also places it at a crossroads between Asia, Africa, and Europe, contributing to its importance on a global scale.
History of Kuwait City
Before the 18th century, the area now known as Kuwait City was a sparsely populated region with fishermen and small traders. It had been under the sway of different ancient empires, from Mesopotamian civilizations like the Sumerians and Babylonians to Islamic caliphates. Traders frequented the strategic coastal location but had yet to develop into a significant settlement.
The Bani Utbah tribe founded Kuwait City in the early 1700s after migrating from the Najd region in the Arabian Peninsula. Initially, the settlement was a small fort near the water, designed for trade and fishing.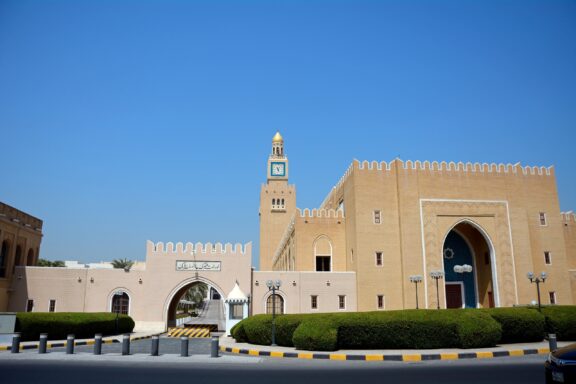 The Al-Sabah family became the dominant rulers during this period and established a dynasty that governs Kuwait today. The city became known for its natural harbor, facilitating trade with India, Africa, and other parts of the Arabian Peninsula.
The 19th century marked a period of prosperity for Kuwait City, primarily fueled by the pearl diving industry and maritime trade. Ships from Kuwait City ventured as far as India and East Africa. However, Ottoman interest in Kuwait prompted the ruling Al-Sabah family to seek British protection.
In 1899, a formal protectorate agreement was signed with the British Empire, significantly influencing the city's governance and international relations.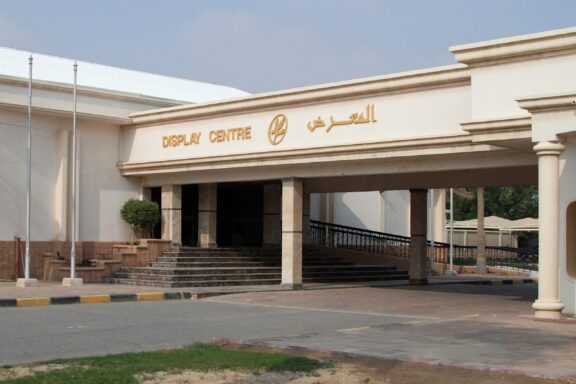 The discovery of oil in the early 20th century brought unprecedented wealth and development. This natural resource was a game-changer for Kuwait City. Roads, schools, and healthcare facilities began appearing, transforming the city into a more modern center.
Yet, this period was challenging. The Great Depression of the 1930s and World War II impacted global trade, causing a temporary slowdown in the city's development.
Kuwait declared independence from British colonial rule in 1961, solidifying Kuwait City's status as the nation's capital. Initial years of sovereignty were marked by rapid development and modernization. However, the city faced a severe crisis when Iraq invaded Kuwait in 1990.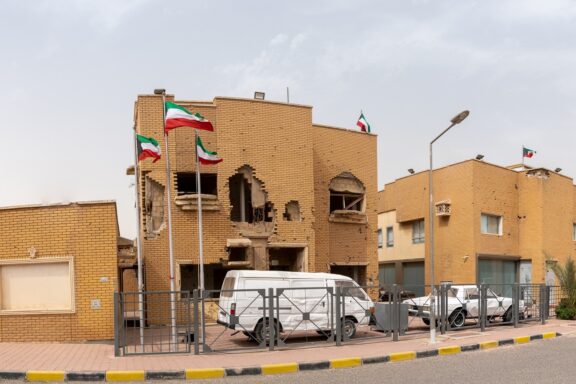 The occupation lasted several months until a U.S.-led coalition liberated the city in 1991 during the Gulf War. The aftermath involved significant reconstruction efforts to repair the damage inflicted during the occupation.
Since the turn of the century, Kuwait City has experienced a rapid phase of modernization. Skyscrapers, shopping malls, and cultural centers like museums and galleries have mushroomed throughout the city.
Public services and infrastructure investments have increased its global profile, making it an increasingly attractive destination for international business and tourism.
Features of Kuwait City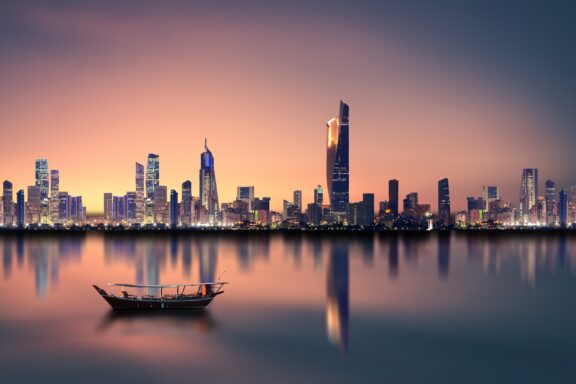 Kuwait City is a multi-dimensional metropolis. It captures Kuwait's essence, reflecting its rich history and modern aspirations. Whether you're drawn by its cultural heritage, contemporary lifestyle, or role as a center of governance and business, Kuwait City offers something for everyone.
Geography and Climate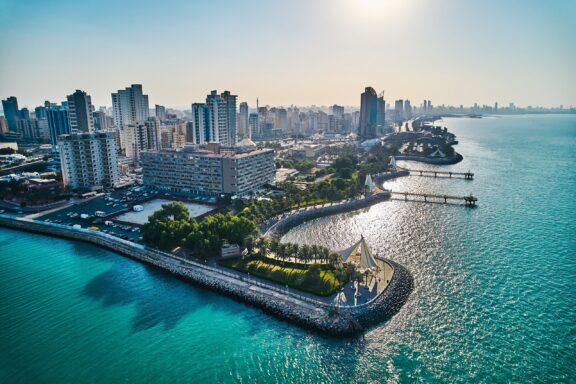 Kuwait City has a desert climate characterized by extremely hot summers and mild winters. Temperatures in the summer can soar up to 50 °C (122 °F), while winter temperatures range between 8 °C (46 °F) and 18 °C (64 °F).
The city receives little rainfall, averaging around 120 mm (4.7 inches) per year, mainly falling between November and April. Dust storms are also common, particularly during spring and autumn transitional seasons.
Population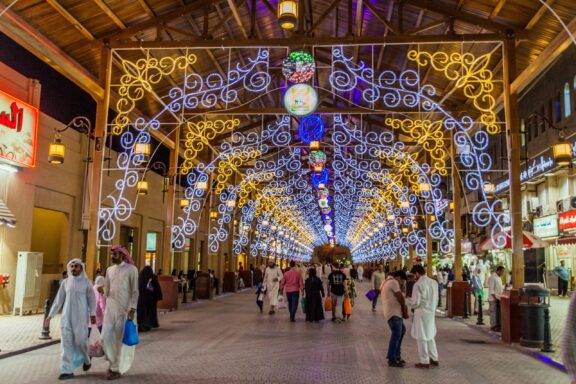 Kuwait City is a cosmopolitan metropolis with a diverse population, home to over 3 million people. The city's population was a mix of Kuwaiti nationals and a large expatriate community, including people from South Asia, other Arab countries, and Western nations.
Arabic is the official language, but English is widely spoken, reflecting the city's international character. Islam is the dominant religion, and the city is home to numerous mosques, including the Grand Mosque, one of the largest in the country.
Economy
Kuwait City is the economic powerhouse of Kuwait. The city's economy is primarily driven by the oil and gas industry, pivotal in its prosperity.
Multiple oil companies have their headquarters here, and the presence of this crucial industry trickles down to other sectors, boosting the local economy. Besides oil, the city has a burgeoning financial sector, with many banks, investment firms, and financial services companies operating here.
Tourism is another growing industry, partly thanks to the city's blend of historical landmarks and modern attractions. Shopping is a noteworthy economic activity, from traditional souks to upscale malls offering luxury brands.
Additionally, real estate and construction have seen considerable growth, with the development of new residential areas, commercial spaces, and iconic buildings like the Al Hamra Tower.
Things to Do and Places to See in Kuwait City
Kuwait City offers diverse experiences, from historical landmarks to modern attractions. Here are some of the must-visit places in the city.
1. Kuwait Towers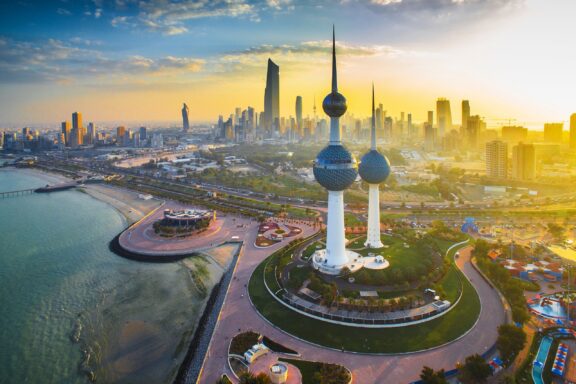 Kuwait Towers represent Kuwait's forward-thinking approach to modernity and its deep-rooted traditions. Rising gracefully above the cityscape, the towers were inaugurated in 1979 and have since become a focal point for residents and tourists.
Tourists visiting the Kuwait Towers can expect a blend of utility and luxury. The Main Tower offers a unique dining experience in its revolving restaurant, where guests can enjoy local and international cuisine while taking in 360-degree views of Kuwait City.
2. Al Shaheed Park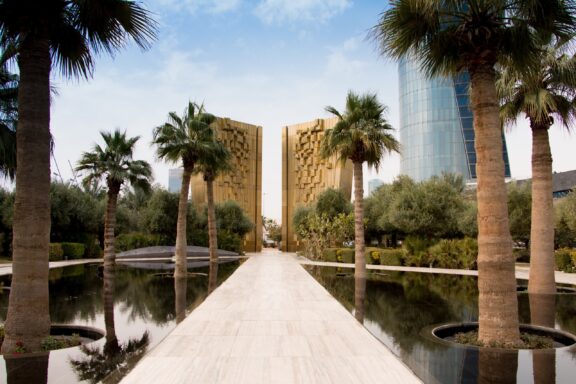 Al Shaheed Park is a dynamic cultural space encapsulating Kuwait's social and artistic pulse. Opened in 2015, it has quickly become a must-visit location for those who crave a blend of nature, culture, and community activities.
With its meticulously landscaped gardens, art installations, and an artificial lake, the park is an oasis of calm and creativity. The park is split into different zones, each with its theme and activities, ranging from skateboarding parks to botanical gardens.
3. The Grand Mosque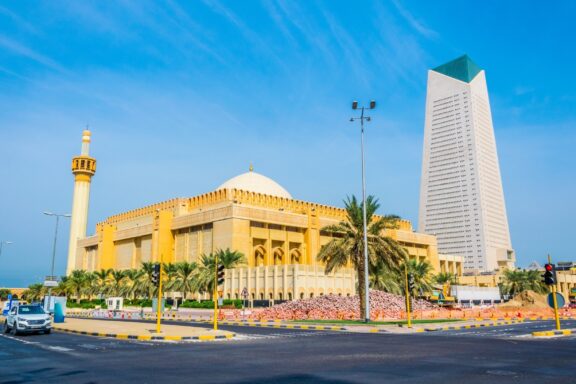 The Grand Mosque is a symbol of Kuwait's rich Islamic heritage and a showcase for its architectural prowess. Completed in 1986, the mosque is a central figure in the religious and social life of the country.
Guided tours of the mosque offer in-depth insights into Islamic culture and architecture. It's not uncommon to see scholars and tourists alike marvel at the mosque's architectural details or engrossed in a study at the Islamic Centre.
4. Souk Sharq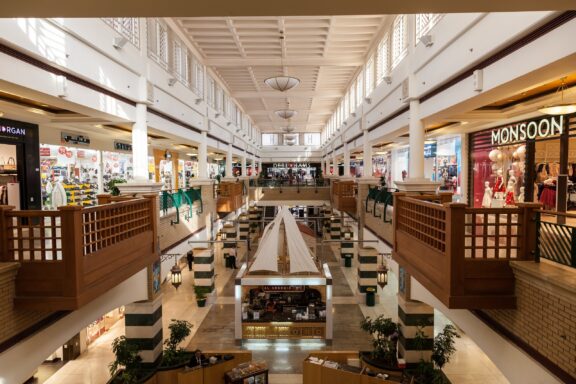 Souk Sharq is a testament to Kuwait's aptitude for blending the old with the new. Located along the waterfront, it provides an eclectic shopping experience that caters to various tastes and preferences.
The souk is a multi-level facility with both indoor and outdoor spaces. Here, you'll find everything from luxury brands to traditional souvenirs. Modern architecture incorporates conventional Middle Eastern elements, such as wind towers for natural ventilation.
5. Tareq Rajab Museum
The Tareq Rajab Museum offers an intimate look at Islamic and Middle Eastern culture, presented through a private collection that has been made public. Established in the 1980s, the museum is a labor of love and a unique cultural asset in Kuwait.
Art enthusiasts and history buffs will find the Tareq Rajab Museum a trove of knowledge and aesthetic pleasure. Special exhibitions and events are also often held, adding to the museum's ever-changing yet deeply rooted character.
6. Scientific Center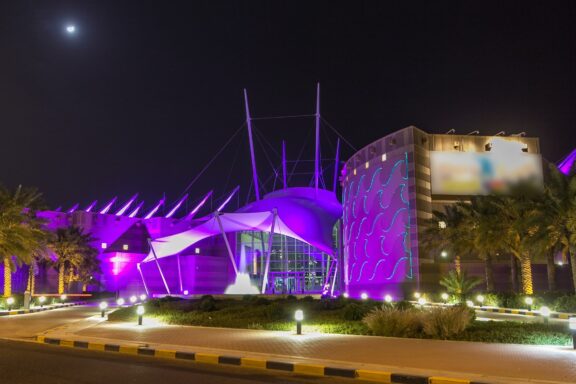 As an epicenter of education and conservation, the Scientific Center in Kuwait stands as a beacon for environmental awareness in the region. Opened in 2000, it draws a diverse crowd interested in learning about natural history and ecology.
From watching 3D documentaries in the IMAX theater to engaging with hands-on exhibits and observing marine life up close, the Scientific Center offers many ways to learn about and appreciate the natural world.
7. The Avenues

The Avenues is not just a shopping destination; it's a social epicenter that encapsulates the lifestyle aspirations of modern Kuwait. Opened in 2007, it has continually expanded to include more shops, dining experiences, and entertainment options.
Whether searching for the latest fashion trends, sumptuous food, or thrilling entertainment, The Avenues caters to various interests. It's a place to shop and a venue to enjoy fine dining, catch the latest movies, or even people-watch in a cosmopolitan setting.
8. Jaber Al-Ahmad Cultural Centre (JACC)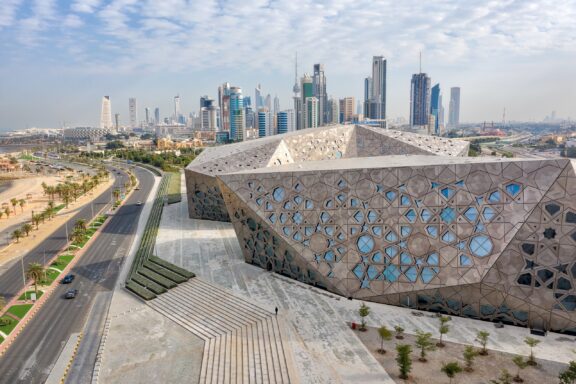 The JACC is not just a building; it's a celebration of the arts and a symbol of Kuwait's investment in its cultural future. Since its opening, the center has been integral to Kuwait's push to become a regional cultural hub.
Whether attending a world-class ballet, exploring an art exhibition, or enjoying a musical performance, the JACC provides a rich array of cultural experiences. Its program is as varied as it is dynamic, ensuring every visit offers something new and exciting.
9. Liberation Tower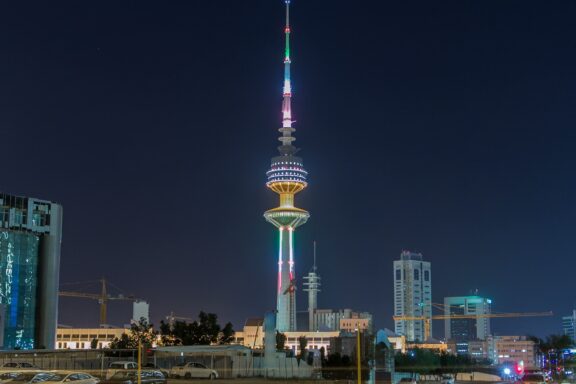 The Liberation Tower is more than just an architectural marvel soaring above the cityscape. It stands as a poignant reminder of Kuwait's resilience and rebirth following the events of the Gulf War.
While the tower is not generally open to the public, its unmistakable silhouette can be seen from various vantage points around the city. It is especially striking when lit at night, providing a visual spectacle and photographic opportunities.
Frequently Asked Questions
What is the best time to visit Kuwait City?
The best time to visit is during the cooler months from November to April. The weather is more temperate, making it easier to explore outdoor attractions.
What's traditional cuisine like in Kuwait?
The traditional cuisine in Kuwait City is influenced by Indian, Persian, and Mediterranean culinary traditions due to its history as a trade hub. Seafood plays a significant role because of the city's coastal location.
Spices like saffron, cardamom, and turmeric are commonly used, owing to historical spice trade routes. The cuisine reflects a blend of various cultural influences, making it diverse and rich in flavors.
What are must-try authentic Kuwait dishes?
When visiting Kuwait City, one should not miss the opportunity to try its authentic local dishes. Here are the top 4 must-try dishes:
1. Machboos: A fragrant rice dish cooked with spices, vegetables, and meat or fish.
2. Al Harees: Made with just wheat, meat, and a pinch of salt, this dish is traditionally associated with the holy month of Ramadan and other festive events in Kuwait.
3. Muttabak: A stuffed pancake-like dish filled with meat, vegetables, or sweet ingredients like dates.
4. Mezze: An assortment of small dishes such as hummus, tabbouleh, and baba ganoush, often enjoyed as appetizers.
Is Kuwait safe for tourists?
Kuwait City is considered one of the safest cities in the Middle East. However, its proximity to conflict zones like Iraq does introduce a level of risk, making it essential to stay updated on current events.
Additionally, tourists should acquaint themselves with local laws and customs, including appropriate dress codes, to ensure a respectful and trouble-free visit.
Are credit cards widely accepted in Kuwait City?
Credit cards are accepted at most hotels, restaurants, and shops. However, carrying some cash for smaller establishments and markets like Souq Al-Mubarakiya is recommended.
Are There Dress Code Restrictions?
While there's no strict dress code for tourists, modest clothing is recommended, especially when visiting religious or culturally sensitive areas.
Final Thoughts
Kuwait City offers a compelling mix of old-world charm and modern sophistication. With its rich history, diverse cultural experiences, and modern amenities, the city provides a unique travel experience in the Middle East.
While it demands a level of awareness of local customs and current events due to its geographical location, its overall safety and hospitality make it a worthwhile destination. Whether you're interested in history, cuisine, shopping, or simply exploring a new place, Kuwait City has something for every traveler.