Pristina is the capital of Kosovo. Pristina is a city in the Balkans that plays a crucial role in Kosovo's political, economic, and cultural affairs. Pristina serves as the administrative center of Kosovo, hosting government offices and foreign embassies.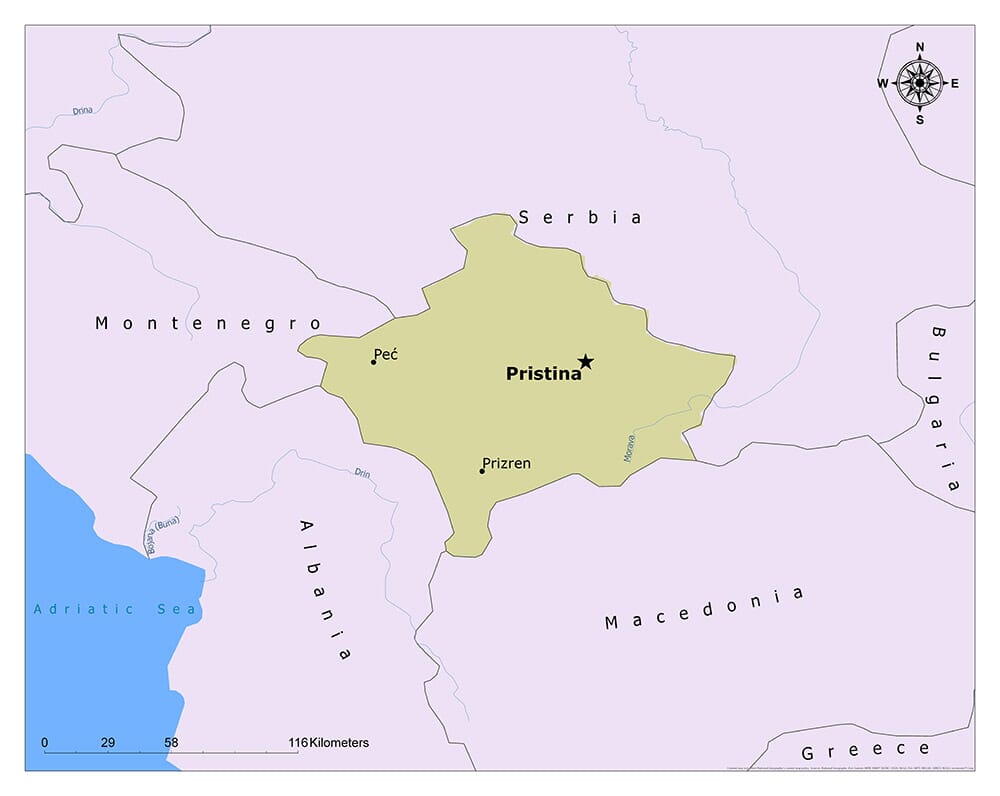 The city is a vibrant hub of arts and culture, hosting numerous music festivals, theater shows, and art galleries throughout the year. Pristina houses many historical monuments and archaeological sites, reflecting its rich history that spans several centuries.
Where is Pristina?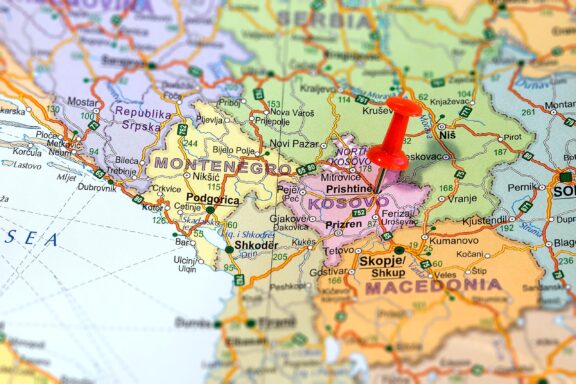 Pristina is located in the northeastern part of Kosovo, a landlocked territory in the Balkan Peninsula of Southeast Europe. Kosovo shares borders with Albania to the west, Montenegro to the northwest, Serbia to the north and East, and North Macedonia to the south.
Pristina lies in the Pristina District and is centrally situated within the country. The geographical coordinates for Pristina are approximately 42.6629 degrees North (latitude) and 21.1655 degrees East (longitude).
The city is built among rolling hills, and a moderate continental climate characterizes it. Its location is a significant crossroads between Central and Southern Europe, the Adriatic Sea, and the Black Sea.
History of Pristina
Pristina has a rich history dating back several centuries. The area around Pristina has been inhabited for nearly 10,000 years, with evidence of Neolithic settlements found in the region. During Roman times, it was a mining center. In the Middle Ages, Pristina was a key city in the Bulgarian Empire and later the Byzantine Empire.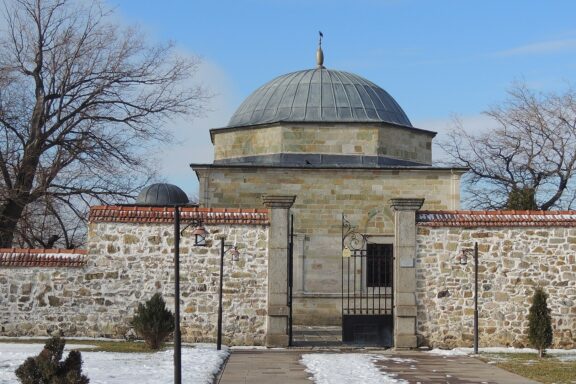 In the late 14th century, the Ottomans conquered the region. Under Ottoman rule, Pristina became an important trade and mining center. Many historic buildings in Pristina, such as the Fatih Mosque, date back to this period.
After World War I, Pristina, like the rest of Kosovo, became part of the Kingdom of Yugoslavia. Following World War II, it was included in the Socialist Federal Republic of Yugoslavia under Josip Broz Tito. Pristina experienced significant development during this period and became the autonomous province's capital within the Socialist Republic of Serbia.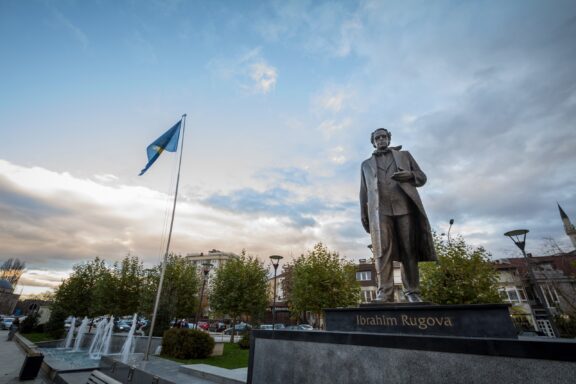 In the late 20th century, ethnic tensions between the Albanian majority and the Serbian government led to the Kosovo War in the late 1990s. NATO intervened in 1999 with a 78-day bombing campaign against Yugoslavia, which led to the withdrawal of Serbian forces from Kosovo. After the war, Pristina was severely damaged, and a period of rebuilding and reconstruction followed under the United Nations administration.
In 2008, Kosovo declared independence from Serbia, a move that Serbia and several other countries did not recognize. Nevertheless, Pristina became the capital of the newly proclaimed Republic of Kosovo and has since been the center of the country's political, economic, and cultural life.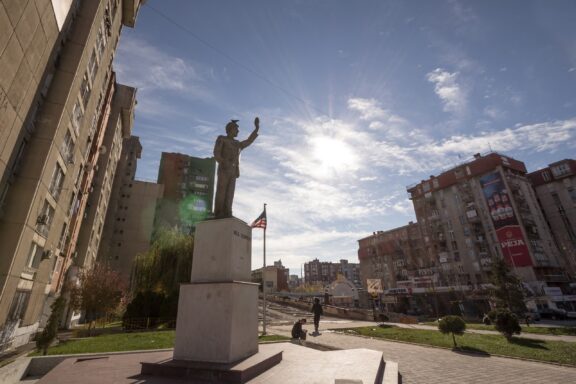 Despite the city's turbulent history, Pristina today is known for its youthful energy, bustling café culture, and vibrant arts scene. The city continues to evolve, balancing its rich history with its aspirations as a modern European capital.
Features of Pristina
Pristina is known for various unique features and aspects that make it stand out. Pristina is a vibrant center for arts and culture, hosting numerous music and film festivals annually.
Despite the damage from past conflicts, Pristina still possesses several historical and architectural landmarks and is home to the University of Pristina, the largest public university in Kosovo. The university plays a crucial role in the city's intellectual and cultural life.
Geography and Climate
Pristina is located near the Goljak mountains. The city is positioned on flat land, making expansion and urban development easier.
The climate of Pristina is a mix of oceanic and humid subtropical, with four distinct seasons. Winters can be cold, with temperatures often dropping below freezing, and it's not uncommon to see snowfall. Summers are usually warm and humid, with temperatures reaching 30 degrees Celsius (86 degrees Fahrenheit). The city receives moderate rainfall throughout the year, with late spring being the wettest period.
Population
The population of Pristina is estimated to be over 150,000 residents in the city proper, but with surrounding areas considered, the number exceeds 400,000. It's worth noting that accurate demographic data may vary due to a high rate of unregistered migration.
The population of Pristina is largely made up of ethnic Albanians, with smaller communities of Turks, Bosniaks, and other ethnic groups. The city has a young demographic, largely because of urbanization, with young people moving from rural areas for education and job opportunities.
Economy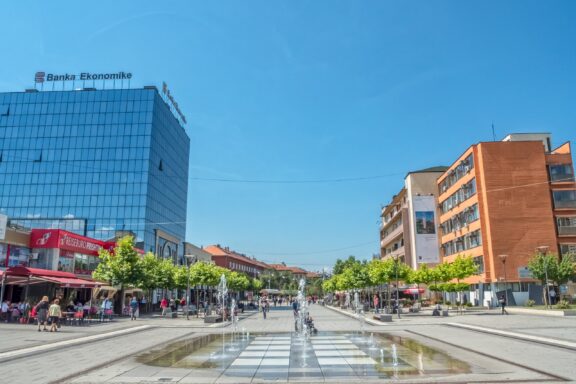 Pristina is the economic heart of Kosovo, and its economy is primarily service-based, including sectors like retail, food services, and telecommunications. Over the years, Pristina has seen significant growth in the construction industry, contributing to urban development and real estate expansion.
The city is also a growing center for information technology businesses and startups, enhancing the country's digital economy. Moreover, Pristina is home to several large companies and international organizations, providing significant employment opportunities.
Tourism is another growing sector in Pristina's economy. The city's historic sites, vibrant nightlife, and cultural events attract domestic and foreign visitors, contributing to the local economy.
While Pristina's economy has seen significant growth, it still needs challenges, including a high unemployment rate, especially among its young and rapidly growing population.
Things to Do and Places to See in Pristina
Pristina offers a diverse array of attractions and activities. Let's explore some of this dynamic capital city's most sought-after sites and experiences.
1. Explore Pristina's City Centre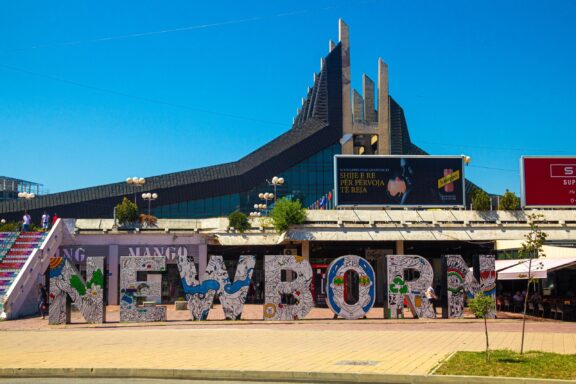 The city center of Pristina is a vibrant mix of old and new, with many shops, restaurants, and cafes. Start your journey with the iconic Newborn Monument and the statue of former US President Bill Clinton. Then, stroll down the lively Nene Teresa Boulevard to soak in the local life.
Each year on the anniversary of Kosovo's independence, the monument is painted white to provide a fresh canvas. Throughout the year, people decorate it with graffiti, messages, stickers, and flags, transforming it into a living, changing piece of public art.
2. Visit the National Library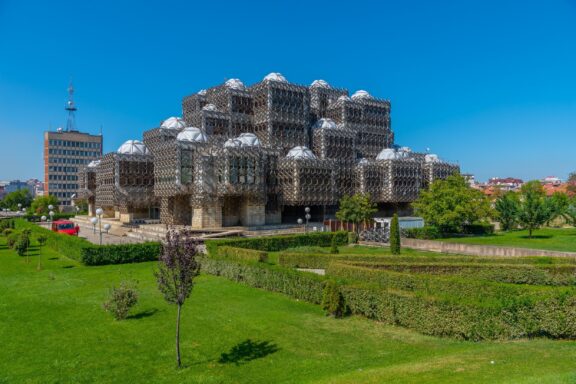 The National Library is an architectural marvel, housing over a million books and historical records. With its brain-like exterior, Pristina's important cultural and educational center is a must-visit for book lovers and architecture enthusiasts alike.
The library is famous (and, for some, infamous) for its unique architectural style. Its design includes a grid of 99 white domes of different sizes, covering a structure wrapped in a metallic net-like skin, which gives it a distinct appearance.
The domes are believed to be an homage to the Ottoman architecture prevalent in Kosovo's history. The metallic "net" enveloping the building is said to symbolize the drapes traditionally used in local homes.
The National Library houses a large collection of books, newspapers, periodicals, maps, and manuscripts. It has over 1.8 million items in its collections.
3. Ulpiana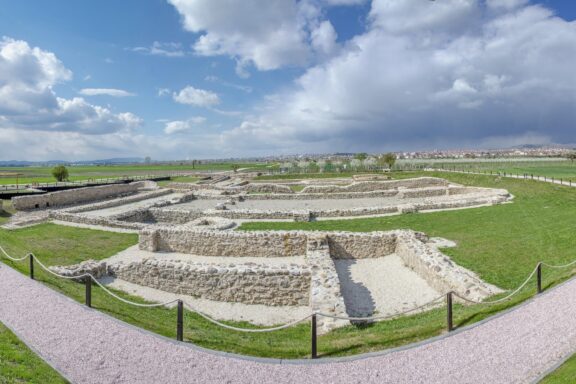 Ulpiana, or "Justiniana Secunda," is an ancient city in modern-day Kosovo. It is considered one of the region's most important Roman and Byzantine-era archaeological sites.
Ulpiana dates back to pre-Roman times, and the city peaked in the 3rd and 4th centuries AD. It was one of the major urban centers in the province of Dardania, a region of the Roman Empire.
The city was rebuilt and renamed Justiniana Secunda after Emperor Justinian I in the 6th century. Several earthquakes damaged Ulpiana during the Roman and Byzantine periods. Additionally, it was destroyed several times due to barbarian invasions, notably by the Goths in 479 AD.
Excavations have uncovered the ruins of many structures, including houses, public buildings, a basilica, and fortifications. These remains provide insight into the city's history, architecture, and urban development.
4. Imperial Mosque
The Sultan Mehmet Fatih Mosque, also known as the Imperial Mosque, is one of the oldest Ottoman-era monuments in Pristina. It was built shortly after the Ottoman conquest of the region. The mosque is named after Sultan Mehmed, the Conqueror (Fatih Sultan Mehmet in Turkish), the Ottoman ruler at the time.
The mosque is a classic example of Ottoman architecture, with a large central dome, a minaret, and an open portico. Over the centuries, the mosque underwent several renovations due to damage from wars and earthquakes. The most recent renovation occurred in the early 21st century and focused on restoring the mosque's original features.
The Imperial Mosque is one of Kosovo's oldest and most significant Islamic sites. It has been a focal point for Muslim worship in Pristina for centuries. The mosque's interior is beautifully decorated with Islamic art, including traditional calligraphy and geometric patterns.
5. Gërmia Park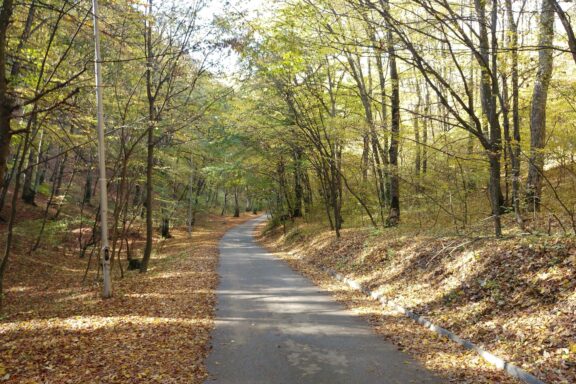 Gërmia Park is a popular recreational area in Pristina, Kosovo's capital. It's known for its natural beauty and variety of outdoor activities. This extensive park in northeastern Pristina offers fresh air with its wide network of trails, an outdoor swimming pool, and picnic areas. It's an ideal place for hiking, biking, and family outings.
Gërmia is one of the largest and most beautiful parks in Pristina. Covering an area of over 1,000 hectares, the park offers substantial green space for locals and visitors. Despite its size and the feeling of being in nature, Gërmia Park is conveniently located near the city center of Pristina, making it easily accessible.
6. Serbian Orthodox Monastery Gračanica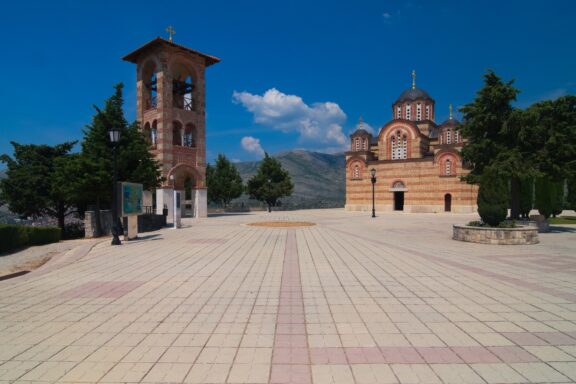 The Gračanica Monastery is an important Serbian Orthodox monastery located in Kosovo. The Gračanica Monastery is part of the "Medieval Monuments in Kosovo" UNESCO World Heritage Site. It is known for its beautiful frescoes and significant historical value.
The original church of the Holy Virgin on which the monastery was built was destroyed. The current Gračanica Monastery was built on its ruins and dedicated to the Annunciation of the Holy Virgin. The Gračanica Monastery remains an active Serbian Orthodox monastery where nuns live, work, and hold daily services.
7. Tour the Ethnographic Museum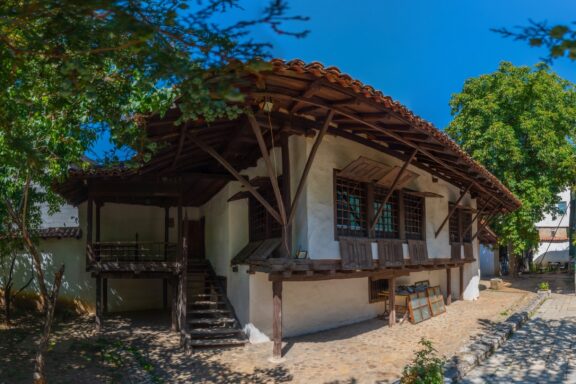 The Ethnographic Museum in Pristina, Kosovo, also known as the Emin Gjiku Complex, is a vital institution showcasing the region's rich cultural history. The museum is named after Emin Gjikolli, also known as Emin Gjiku, who was the last owner of the complex. After his death, the property was nationalized and converted into a museum.
The museum exhibits various artifacts representing everyday life in Kosovo from the 15th to the 20th centuries. This includes objects related to birth, marriage, death, and other social customs. It places a strong emphasis on traditional crafts and occupations. Exhibits include tools, clothing, and household items that illustrate the region's rich tradition of craftsmanship.
8. Gadime Marble Cave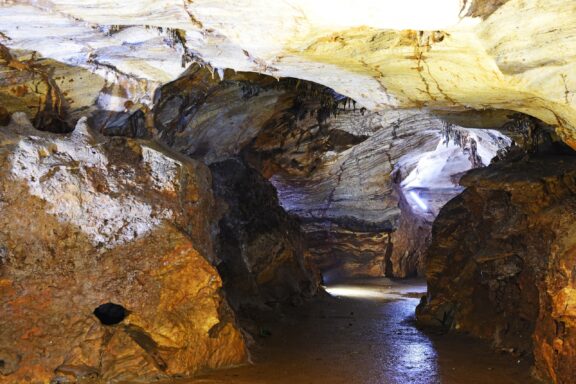 The Gadime Marble Cave, also known as the Gadime Cave or "Gadime Caverns," is one of Kosovo's most popular tourist attractions. It's a stunning natural wonder offering an unforgettable underground experience.
The cave is located in the village of Gadime e Ulët, in the municipality of Lipljan, about 20 kilometers south of Pristina, Kosovo's capital city. The cave extends for more than 4,500 meters, although only around 1,300 meters have been explored and are accessible to visitors.
9. Take a Day Trip to Prizren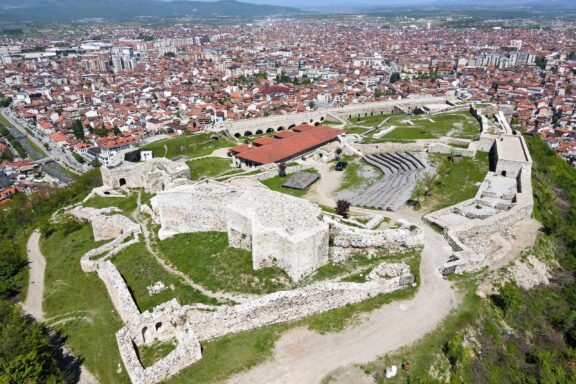 Located just 80 km away, the historic city of Prizren is renowned for its well-preserved Ottoman-era architecture, stone bridge, and Prizren Fortress. It offers a journey back in time.
Prizren has history dates back to the Roman era, a significant settlement in the Byzantine period. The city is known for its cultural and ethnic diversity. Over the centuries, it has been home to various communities, including Albanians, Serbs, Bosniaks, Turks, and Roma.
10. Visit the Bear Sanctuary in Pristina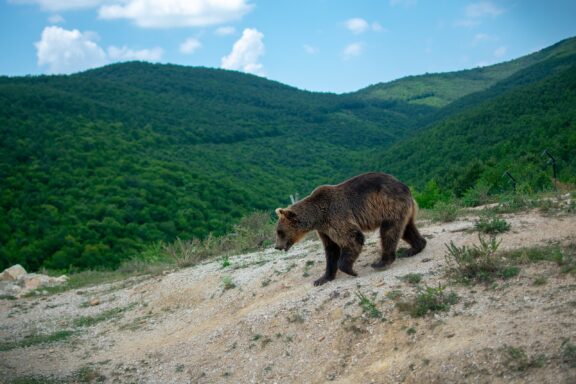 The Bear Sanctuary Prishtina, also known as Bear Sanctuary Prishtina or BearPark Prishtina, is a unique wildlife refuge in Kosovo. It was established to provide a safe and natural home for brown bears that were formerly kept in poor conditions as private pets or restaurant attractions, a practice that was outlawed in 2010.
The sanctuary spans an area of about 16 hectares (or approximately 40 acres), providing plenty of space for the bears to roam freely. The sanctuary is home to around 20 bears. The actual number may vary as the sanctuary rescues and rehabilitates more bears.
The sanctuary rescues bears illegally held in captivity and provides them with a safe and natural environment to recover and thrive. Visitors can also safely observe the bears from the platform and learn more about brown bears and their challenges.
11. Explore the Novo Brdo Fortress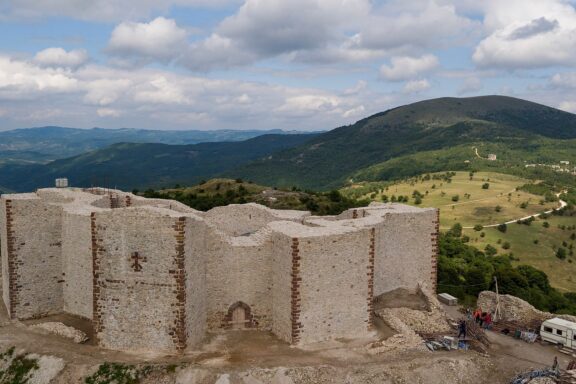 Approximately 40 km from Pristina, Novo Brdo Fortress, also known as Novo Brdo Castle, is a medieval fortification in the municipality of Novo Brdo, Kosovo. The fortress is strategically located atop a hill, offering panoramic views of the surrounding landscape. This was crucial for monitoring and controlling the area during the Middle Ages.
Throughout its history, Novo Brdo Fortress was inhabited by different cultural groups, including Serbs, Saxons, Ragusans, and Turks, reflecting the multicultural character of medieval Balkans. The town of Novo Brdo, beneath the fortress, was an important economic center, especially famous for its silver mines. It minted its coins and had extensive trade networks.
Frequently Asked Questions
What languages are spoken in Pristina?
The official language of Pristina is Albanian, which most people speak. Serbian is also recognized as an official language. English is widely understood, particularly among younger generations, and you'll find that many people also speak Turkish, Bosnian, and German.
What are the top attractions in Pristina?
Notable attractions in Pristina include the Newborn Monument, the National Library, the Ethnographic Museum, the Kosovo Museum, the Fatih Mosque, and the Bill Clinton Boulevard with its statue of the former US President.
What is the currency used in Pristina?
The currency used in Pristina and throughout Kosovo is the Euro (€).
Is Pristina safe for tourists?
Pristina is generally regarded as a safe city, and its inhabitants are known for their hospitable attitude toward visitors. Nonetheless, there have been protests in Pristina and nearby areas recently, which can potentially escalate into violent situations. Therefore, travelers should stay informed about the latest news and developments.
What is the food like in Pristina?
Pristina offers a variety of food influenced by Turkish, Mediterranean, and Balkan cuisines. Local dishes include:
• Flija (a layered pancake).
• Burek (flaky pastry filled with cheese, meat, or spinach).
• Suxhuk (a spicy sausage).
The city also has many coffee shops and is known for its café culture.
Final Thoughts
As the heart of Kosovo, Pristina offers an intriguing blend of old and new. Its rich history, cultural diversity, and vibrant energy make it a fascinating destination for travelers. From exploring ancient Ottoman-era mosques to enjoying the thriving café culture and nightlife, visitors will find a city full of surprises.
Its youthful atmosphere, bolstered by a young population and emerging tech scene, provides a sense of dynamism and innovation. Despite past challenges, Pristina continues to evolve, offering an authentic experience that merges history, culture, and modernity. So, whether you're a history buff, a foodie, or an adventurer, Pristina has something to offer, making it well worth a visit.