When you buy through links on this page, we may earn an affiliate commission. Commission payments do not affect the evaluations of the products.
The USA is home to 63 national parks, each dotted with immense natural beauty, and landscapes so uniquely eclectic, they'll blow your mind with each inch you explore.
If visiting all 63 is one of your life goals, a scratch map is the best, easiest, and most fun way to track and show off those you've visited.
Whether you want one for yourself, or as a gift for your travelling buddy, here are the ten best scratch off national park maps: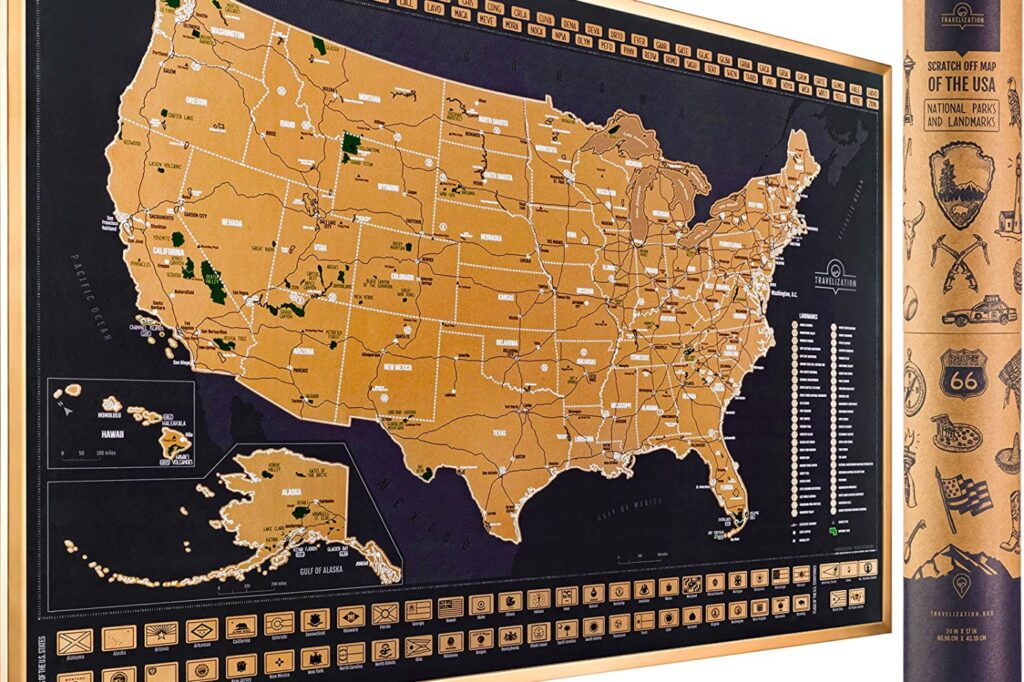 If you're looking for a scratch-off poster with more than just national parks, this Travelization scratch off map might be what you need. It covers all national parks, including the recently updated ones.
It also includes a list of 50 of the most iconic landmarks and a visual list of all 50 state flags.
All 62 parks are highlighted in green and at 24×17-inch, the poster is big enough to seamlessly identify your visited destinations.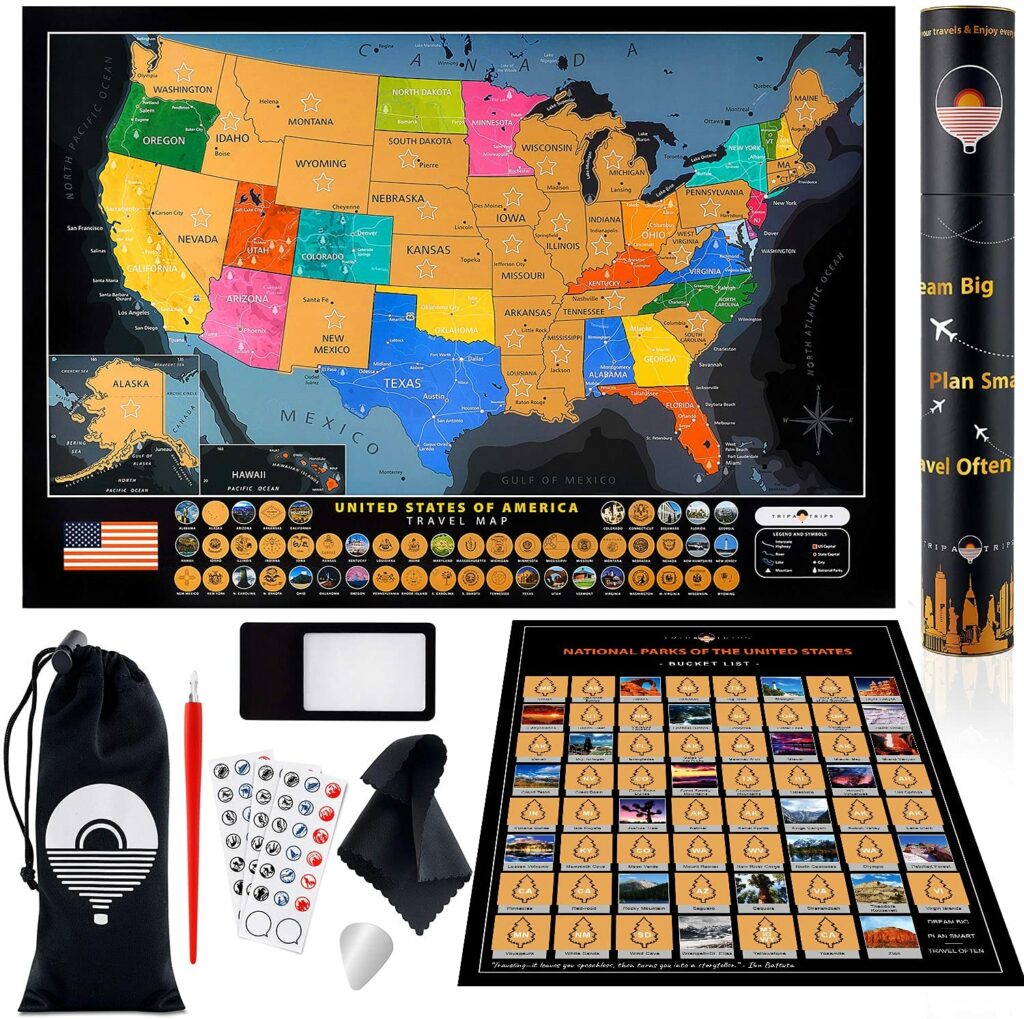 Newverest is renowned for their high-quality scratch off map offerings, and this US national parks map sure lives up to the reputation.
The map is printed on quality, and heavy 250GSM card stock paper which is not only attractive, it's also thicker, and durable.
It highlights all 50 US states, 50 unique landmarks, and 63 national parks (displayed on a separate poster).
The map comes with a gift tube, 2 x Scratchers, a magnifier, a wiping cloth, 54 X adventure stickers & 1 storage pouch.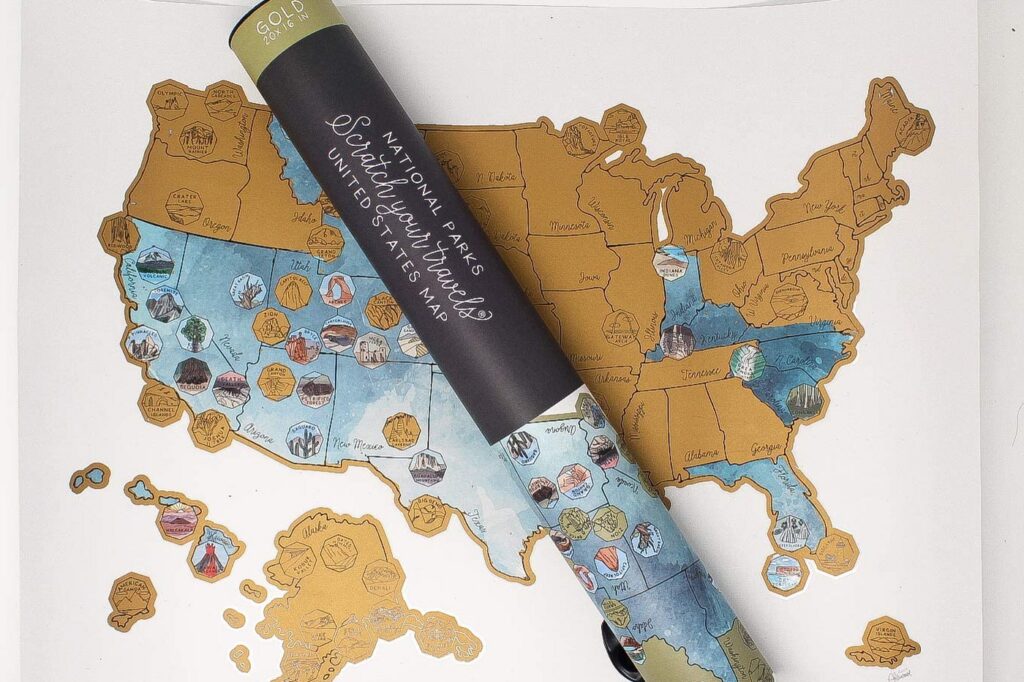 Want to put your artistic precision to the test?
Try the Jetsetter national park scratch off map.
Each park is covered in a brown, hexagon-shaped foil, so you can scratch with precision.
The result? You end up with a neat, artistic, and aesthetically pleasing finish each time you scratch off one more park off the map.
It comes with a scratching tool specifically designed for the foil material for an easier time getting it off.
Also included in the package is a gift tube and an instruction sheet.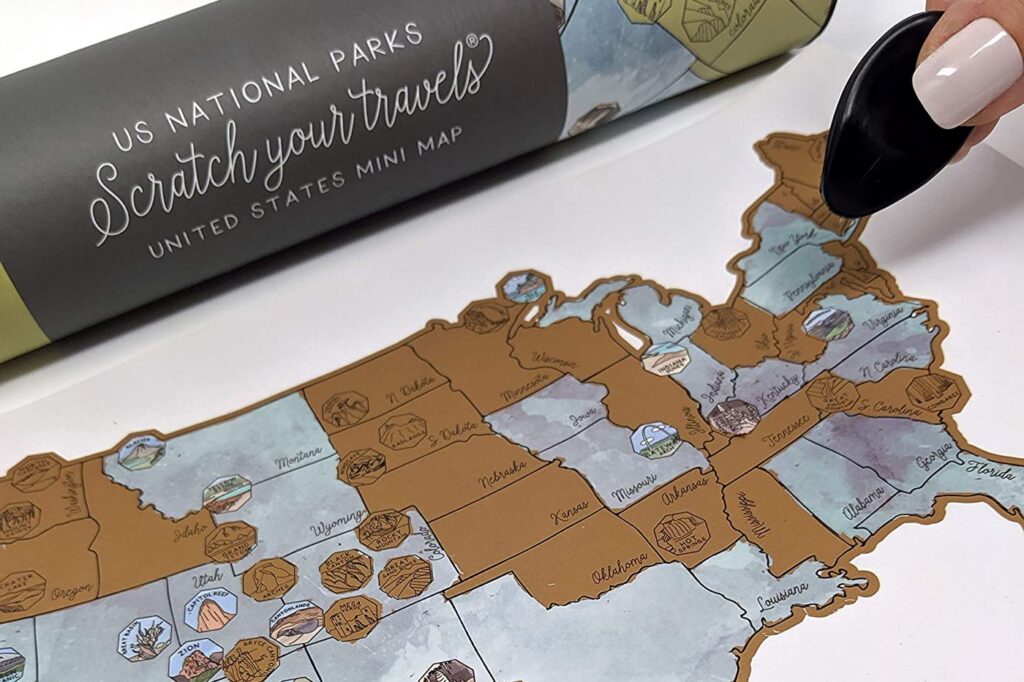 Note, the Jetsetter map is available in a large 20×16 inches size, and a smaller, tabletop 11×8.5 version.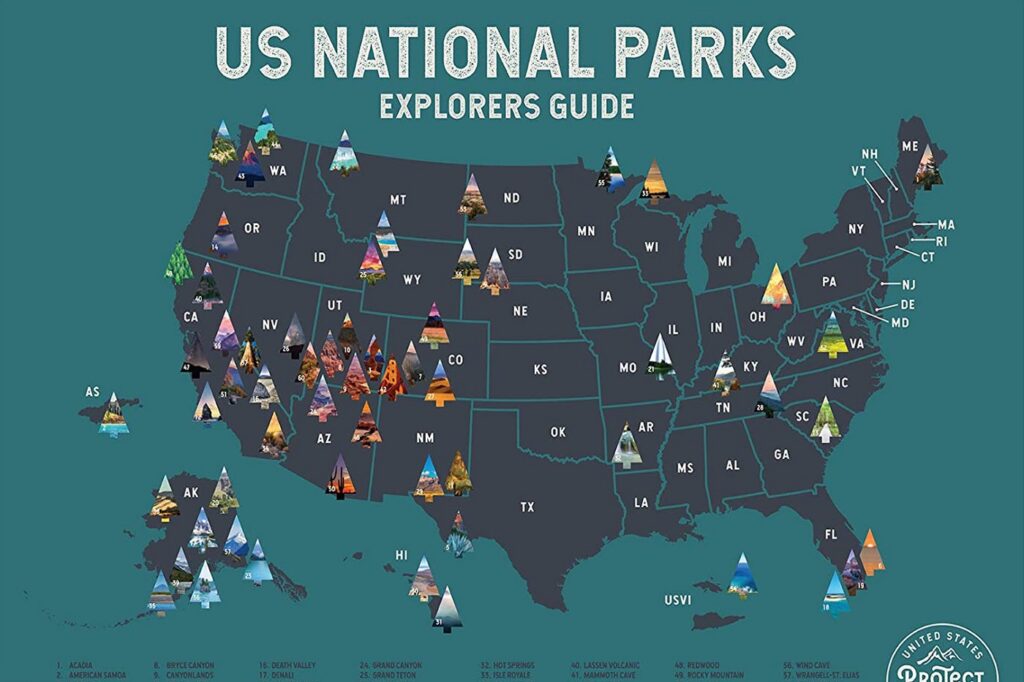 The Epic Adventure USA national park map is an excellent buy if you're looking to make a purchase that will benefit Mother Nature.
In partnership with the National Forest Foundation, the manufacturer plants a tree with each map sold, making your purchase sustainable.
It's available in gray, turquoise blue and beige, and features tree-shaped images of all national parks hidden beneath an easy-to-scratch gold foil.
It's pretty large at 12×17 inch, making it an even ideal option if you intended to frame it.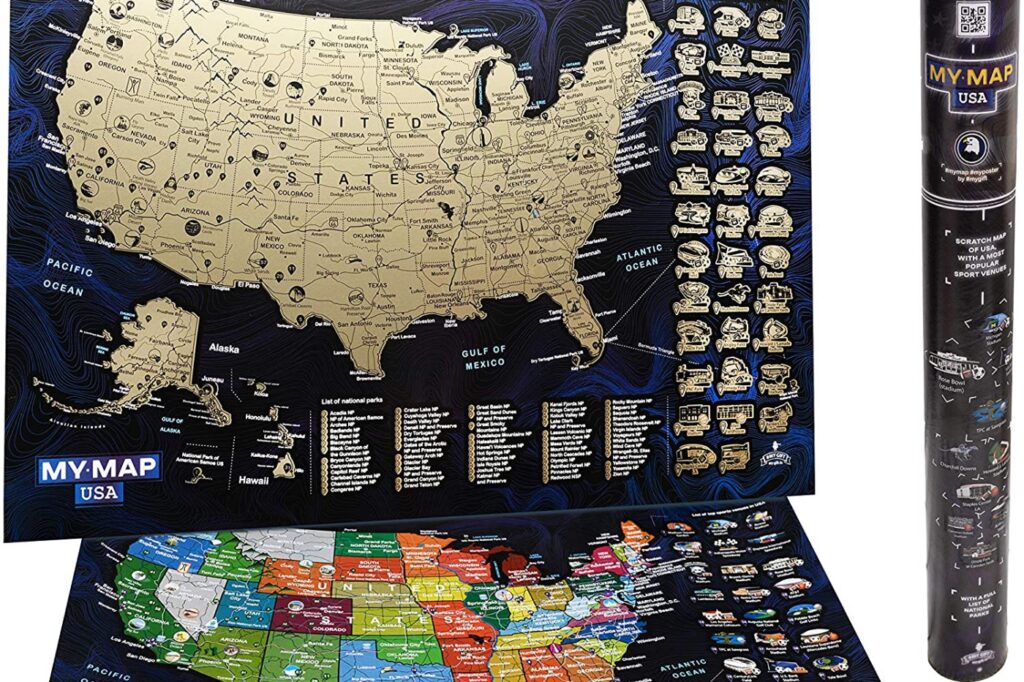 For sport and outdoor-loving travelers, this scratch off map from MyMap is an excellent buy.
It highlights all national parks in a numbered format on the map, and then includes a list of corresponding names.
What's more, the map also highlights all the top sport venues in the country, including top sports like the Rose Bowl and Yankee stadiums.
The map is printed on a laminated glossy paper, and comes with a scratch tool, pins, stickers, a gift tube, and even a gift card.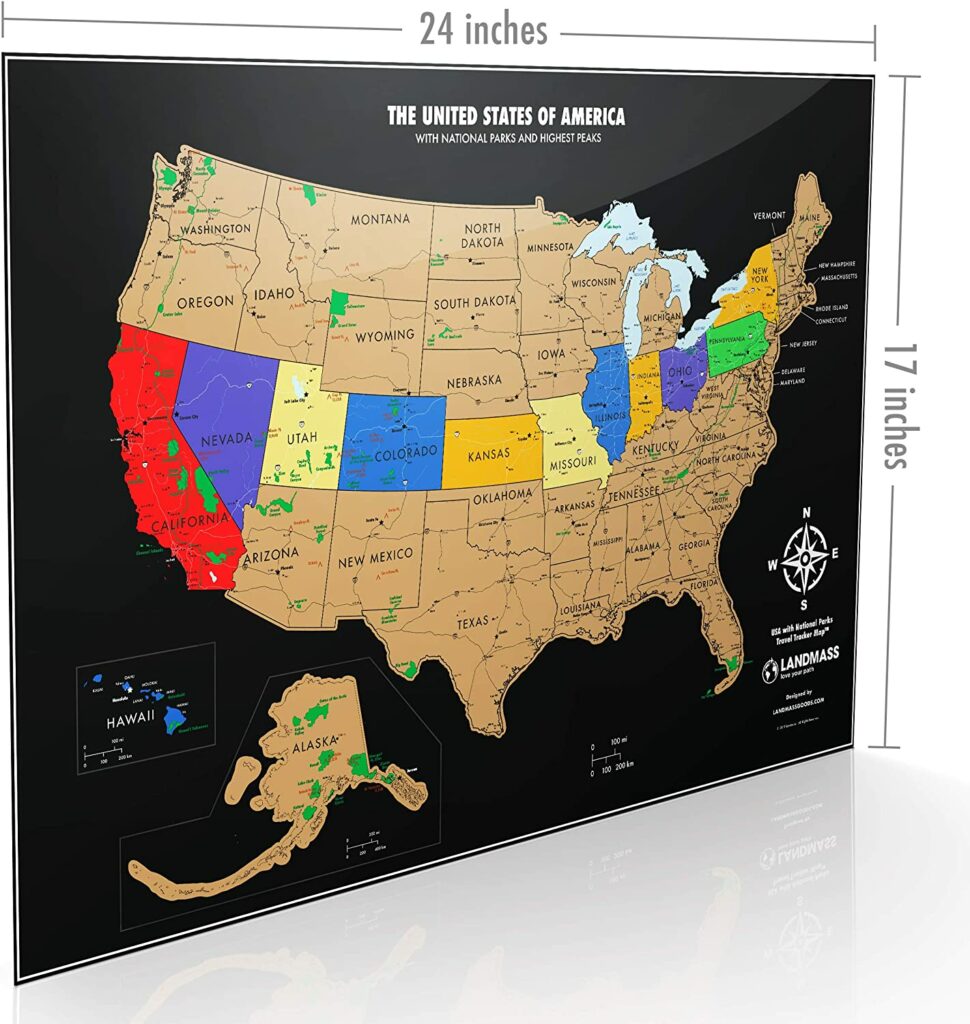 This landmass map is yet another best national scratch map if you're looking for an educative, and interactive one. It comes in at 17x24inch and includes 59 national parks.
It also covers state capitals, the highest peaks in the country, the famous Appalachian Trail, and several notable highways.
Scratching off the golden foil reveals each destination set in bright colors like pink and yellow that pop beautifully against the black, matter background.
You get a scratch true and stickers, and an easy-to-open triangular box that features a list of US National Parks.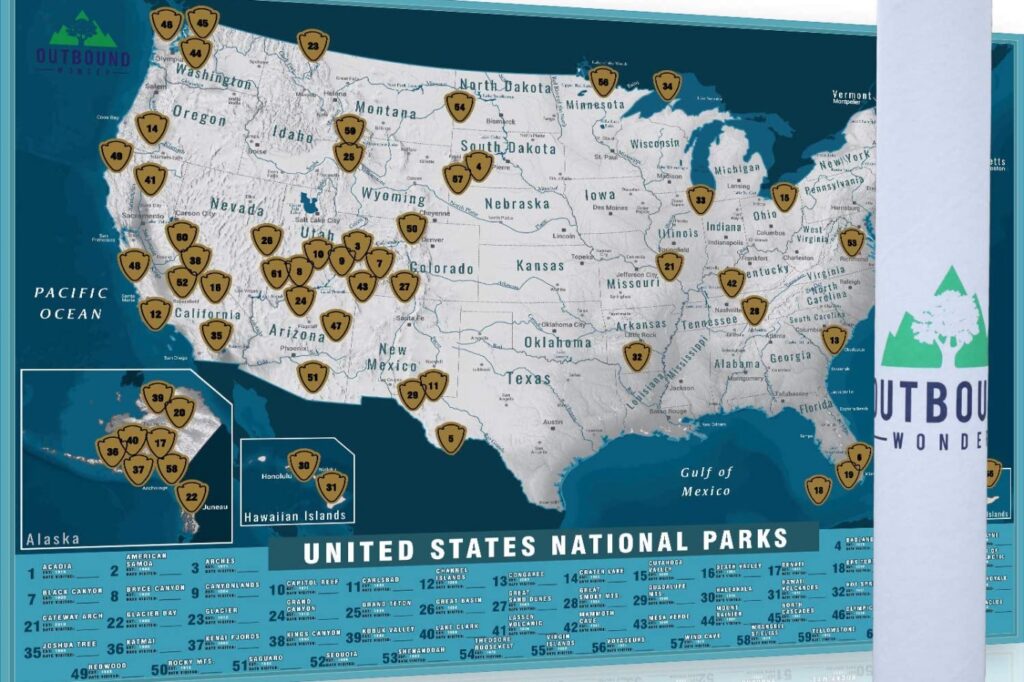 If you intend to explore our country's beautiful parks as a group, this Outbound Wonder map will make the best national park scratch maps for you.
It features a traditional-style map complete with routes to 62 national parks, so everyone can join in planning the next route.
The parks are numbered, so you can seamlessly identify where you've been.
Scratch off the park numbers to unveil a tiny illustration of each park.
Also note, this scratch-off poster also covers Alaska, Hawaii and the Virgin Islands.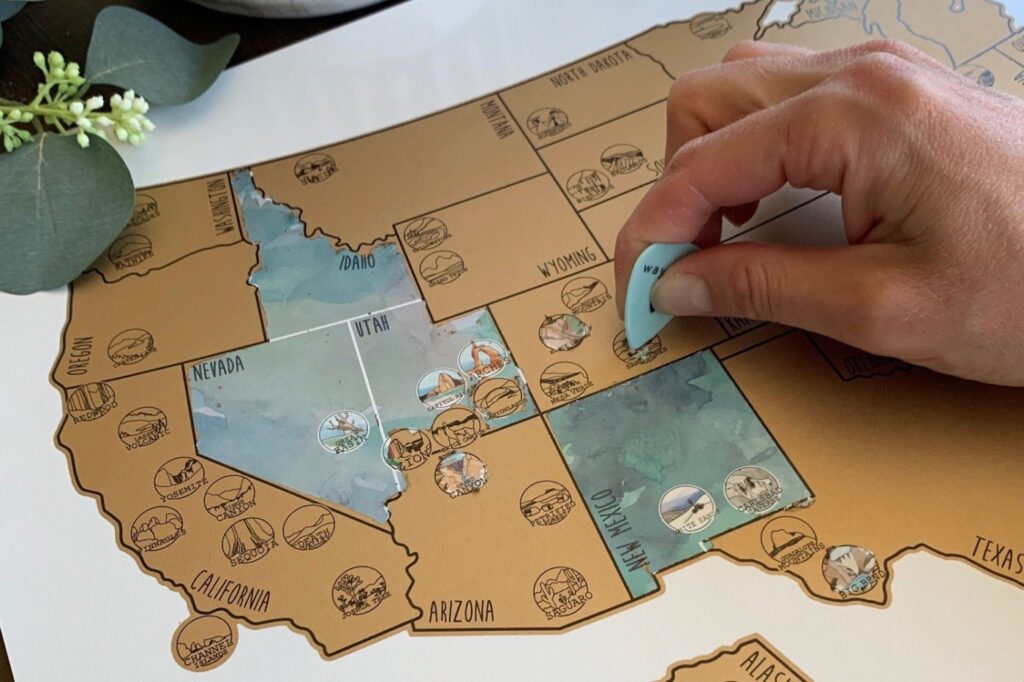 If you're looking for a map you can customize into your own, this Waypoint Wanders might just be the national park scratch map for you.
The Waypoint Wanders National Scratch Off map includes all 62 national parks, scratches away easily, and even comes with a guitar pic to make the task easy. It comes in two foil colors; silver and gold.
This map is design and made 100% in the USA, and at 12×18″ it's pretty easy to carry around.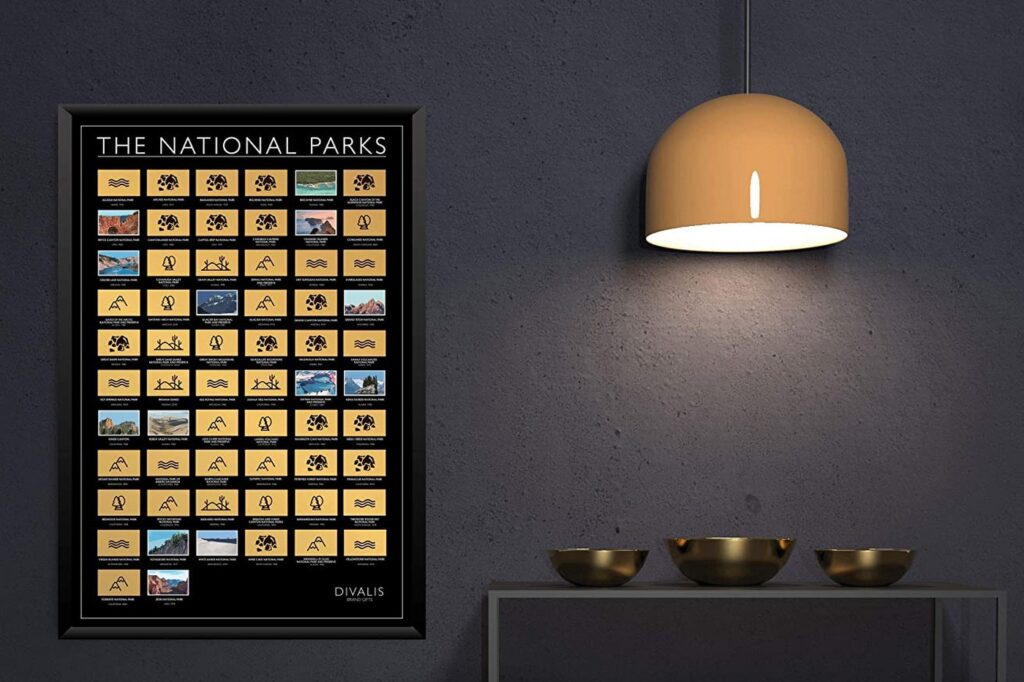 This map is another excellent take on a minimalist map design. It includes all 62 US national parks listed in rows, so you can use it to either plan your travels, or celebrate your travel milestones.
Scratching off the gold layer reveals vibrant-coloured illustrations of each park, set against a black background for visual appeal. The best part is that it comes with a number of accessories, including an eraser and a gift tube.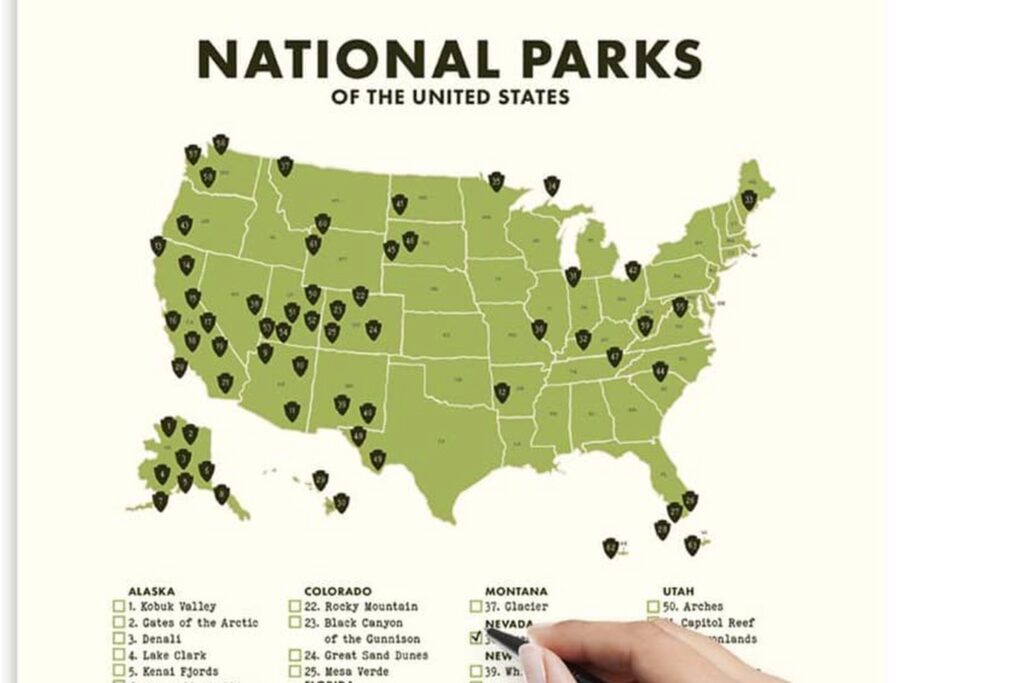 If your goal is to visit national parks one state at a time, this Saturday's checklist poster with a map will make your life a breeze.
This is not a scratch map, more of a poster map with a checklist, but still, it's a great way to keep track of all the national parks you have visited.
It includes all 63 national parks listed as numbers, with a corresponding directory showing parks in each state.
The list also includes tiny boxes where you can check off each you've visited. This makes planning easier since you know the number of parks awaiting exploration in each state.
It measures 12×16 inch, which, although large, is a pretty perfect size for wall-mounting.
---
A scratch map is an easy and fun way to keep track of and highlight your travels. We hope you found the best national park scratch map for your adventures on the list above!