Your life is so bored, your head is very scattered and you feel yourself isolated from the world? From time to time this can happen to all of us, thinking about these issues, we have prepared an article with a few suggestions. Here you have World's Top 10 Meditation Centers. There is also a list below where you can reach their own websites by clicking on it. But before that, we thought maybe you wanted to see them on the map.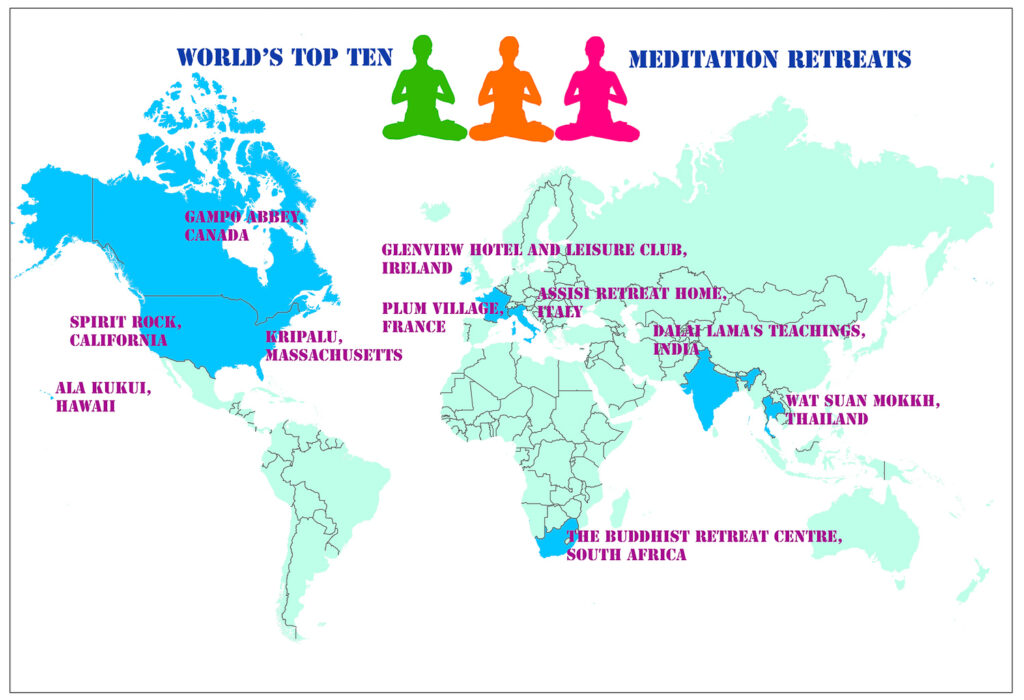 Meditation!
The place that Yoga is supposed to be only of itself, often misguided, but hosts a lot of wrong ideas like I can not meditate!
What is meditation? What is not? How is the meditation done in Yoga?
Are there types of meditation? If so, what are these?
Let's answer one by one now;
Meditation is the moment when one deepens in itself. What does this mean? The person who meditates witnesses events quietly. He follows himself from the outside like an audience.
Osho says that:
"Meditation is a testimony, not a place of inclusion."
The type of meditation we perform during yoga practices is body awareness meditation. In this type of meditation with the name of somatic meditation, the person is seated in a comfortable position and invited to recognize his / her body in the presence of the navigator. Those who practice this kind of meditation on a regular basis have an increased awareness of themselves and their surroundings at the end of a particular workday.
Meditation made in Yoga strengthens the link between the physical body and the etheric body, while there are also types of meditation aimed at strengthening the etheric body. Light meditations, imagery techniques, color meditations are examples of such meditations.
Why Do We Need Meditation?
In fact, there are many scientific studies that have been done in this subject. Scientists keep a close eye on how a human being can live a better life every day. Thank goodness there are some who think of us!
First, meditation is the right place to be able to focus better, to save your mind from the unnecessary mass of thoughts. Focus and clarify the mind as soon as the words pass. However, each type of meditation does not require focus and isolation on the same scale. On the contrary, yoga is carried out by the body awareness, which means "somatic" meditation, which leads us back to the mainstream. It is important to use our body as a tool here. The proponent invites us to notice what is in our entire body down the hill.
So, the only benefit of meditation is to focus?
Even so, it is not a fortunate enough reason! Meditation invites us to realize the moment we live. Thus, we are enjoying what we have experienced in the past, escaping from a lot of unnecessary thoughts that occupy our minds.
According to scientists, individuals who meditate are:
More peaceful by themselves
Know how to live with pleasure every moment
Awareness levels are higher than those who do not meditate
So the perceptions are clear
Because their minds are far from uncomplicated, mental activities are at a higher level
They have more efficient sleep
They feed more regularly, because their bodies are aware of what they need.
IF:
you are having a constant sleep problem,
you have problems such as distractibility and are having problems focusing on your business
your life is chaotic, this can happen to a lot of times
you have an eating disorder and you are suffering from excessive poultness
your physical activity rate is low and you can not find enough enthusiasm for it
and if you have never meditated in awareness before
We recommend you go to the nearest meditation center and give meditation a chance!
Maybe you want to do a meditation holiday here you find the list of World's Top 10 Meditation Centers. You can reach their web sites by clicking on them:
Kripalu, Massachusetts
Gampo Abbey, Canada
Assisi Retreat Home & Hermitage, Italy
Ala Kukui, Hawaii
Wat Suan Mokkh, Thailand
The Buddhist Retreat Centre, South Africa
Mindfulness-based stress reduction at Glenview Hotel and Leisure Club, Ireland
Dalai Lama's teachings, Dharamsala, India
Plum Village, France
Spirit Rock, California