Shoe Brands by Countries. Did you know that Munich was a Spanish shoe brand? Or did you ever hear Hemah? Which one is your fav brand? Did you find in the list? If not, what are your fav shoe brands?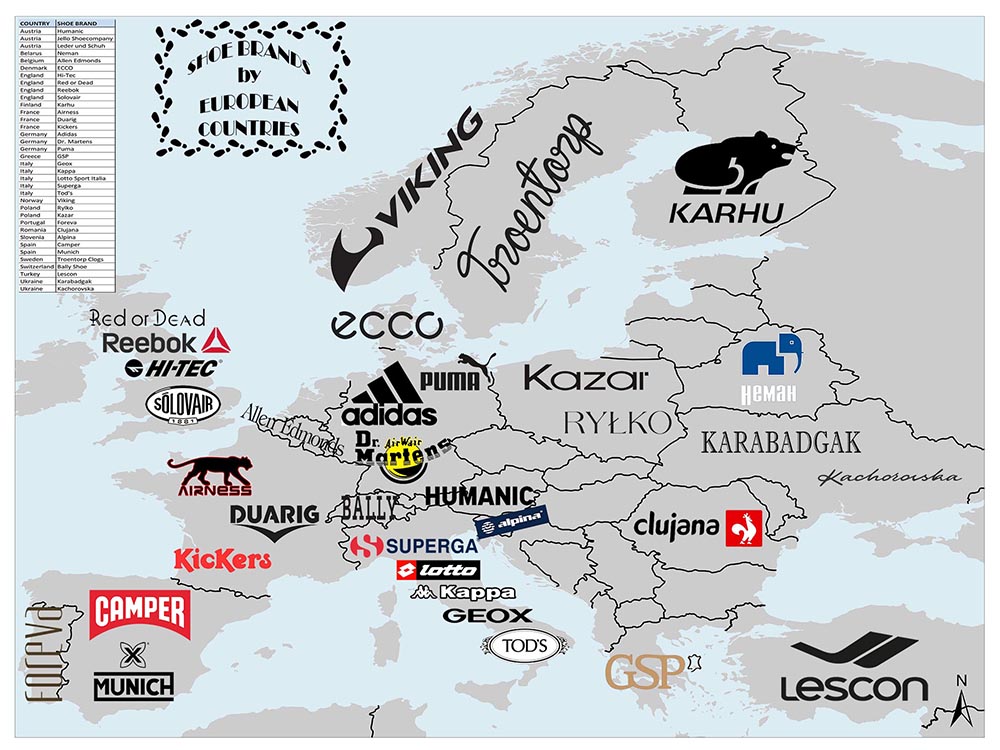 Countries and Some of the Most Popular Shoe Brands
Austria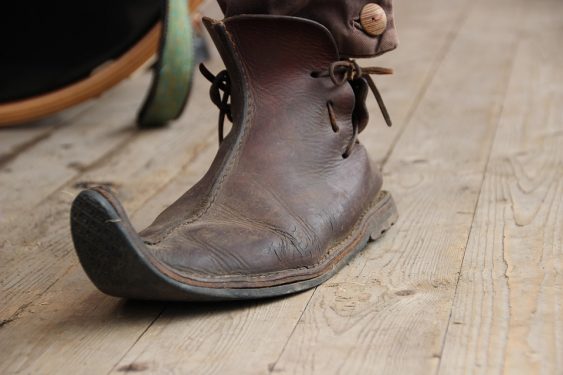 Jello Shoe company – The company was founded in 1872 and their first store was opened in 1989 in Wiener Neustadt.
Leder und Schuh are the most popular shoe brands in Austria.
Humanic is one of the most popular shoe brands in Austria. It opened its first store in 1907 in Vienna.
Belgium
Allen Edmonds is one of the most popular shoe brands in Belgium. It was founded in 1922 in Belgium. In 2016 the company sold it 90% of the shares to an investment firm Goldner Hawn Johnson & Morrison for $100 million.
Denmark
ECCO is one of the most popular shoe brands in Denmark. It was founded in 1963 in Bredebro. Despite it started with only footwear the company expanded its products into leather products and accessories. In 2015 its revenue was 1.5 billion Euro in total.
England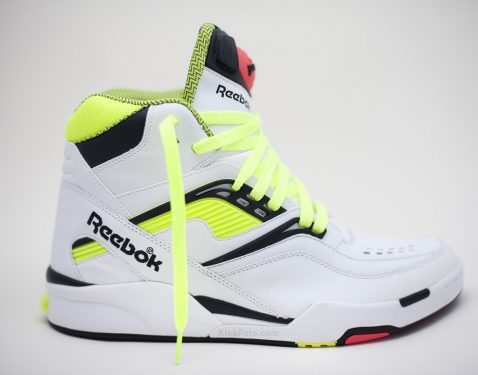 Hi-Tec, Red or Dead, Reebok, Solovair are the most popular shoe brands in England.
Hi-Tec was founded in 1974 by Frank van Wezel in England. In 2012, Hi-Tec's V-Lite Altitude Ultra Luxe boot won a Best Buy Walking Boot award. Moreover, Hi-Tec's ZUUK trainer shoe nominated by the Footwear Product of the Year 2013 at The Great Outdoors Awards. In addition to its success in the previous years, the UK based Hi-Tec office was announced Sports Footwear Brand of the Year 2014 and Outdoor Footwear Company of the Year 2013 at the Footwear Industry Awards.
Red or Dead is between in the popular shoe brands in Englands. In 1982 its story started with a stall opened by Wayne and Gerardine Hemingway for selling their wardrobe.
In one year they opened 16 stalls to sell second-hand clothes. Inspired by the Cold War Slogan "Better dead than red";  the name of the brand is the inversion of the slogan.
Also, it refers to Wayne's "red Indian" ancestors. In 1998 the company was sold to Pentland Group and expanded its products into footwear, clothing, fashion handbags, optical frames, swimwear and "glorious gussets" hosiery.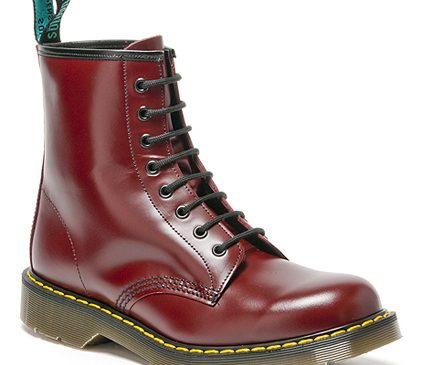 Founded in 1895 by Joe & Jeff Foster Reebok is one of the most popular shoe brands in England as well as in the world. The company operates as a subsidiary of Adidas since 2005.
Solovair is a popular shoe brand, founded in 1881 that produces leather boots. Also, it is one of the few shoe brands remained in England that produces leather products.
Germany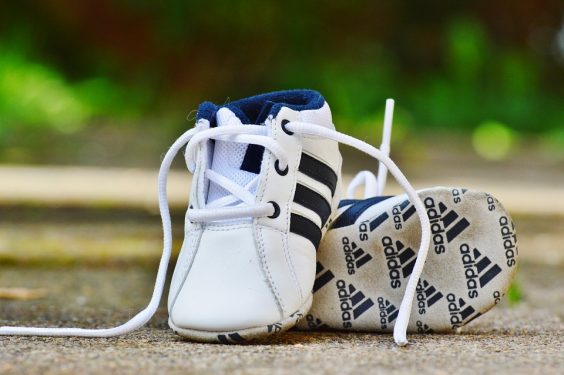 Adidas and Puma are the most popular shoe brands in Germany.
As well as in Germany, Adidas is a very famous shoe brand in all over the world. It was founded in 1949 in Germany as a multinational corporation. The name was coming from its founders, Rudolf and Adolf Dassler brothers. Finally, after a breakdown in between the brothers, Dassler created Adidas, and Rudolf; Puma. Therefore Puma became a competitor towards Adidas.
Italy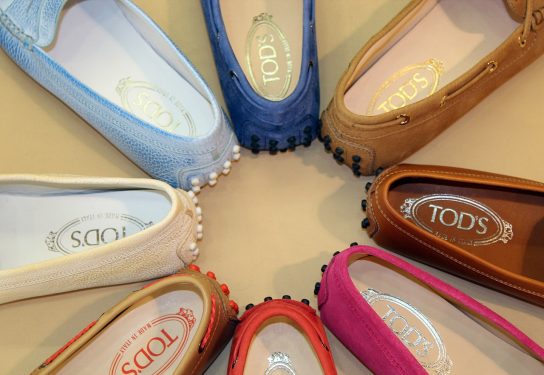 Geox, Kappa, Lotto Sports Italia, Superga, Tod's are the most popular shoe brands in Italy.
Founded in 1995, Geox is one of the most famous shoe brands in Italy. Its revenue was 850.1 million Euro in 2010.
As well as Geox, Kappa is one of the popular shoe brands of Italy.
Lotto Sports Italia was established in 1973 in Montebelluna and a famous shoe brand all over the world.
Established in 1911 in Italy by Walter Martiny Superga is not only popular in Italy but also it is in all over the world. Furthermore, Superga has stores in the United States, Europe, South America, and South Africa
Tod's is a company that produces luxury shoes and leather goods. It was established in 1920 in Italy by Filippo Della Valle.
European Shoe Brands: 2022 Additions
For many people, shoe shopping involves simply going to a store and picking something off the shelf. With the explosion of online shopping, some buyers are even buying shoes online without ever slipping their foot inside!
Buying a good pair of shoes is a need, but it can also be a luxury. To maintain a healthy lifestyle, it is advised to spend between two and four hours on your feet each day. Standing desks and other innovations have recently gained popularity to encourage people to be on their feet.
With all of this discussion about walking and standing more, the type of shoe you are wearing has become more important than ever.
For the most famous and luxurious shoe brands, the experience of shopping for and choosing shoes is a little different than just browsing online. Some of the European shoe brands listed below are not mass-produced, and others are even bespoke.
Bespoke refers to the process of hand-making items to the specifications of an individual person, like a tailored suit or a commissioned wedding dress. Bespoke shoes are one-of-a-kind and carry a very high price point.
Europeans are known for being especially fashion-conscious, so these European shoe brands listed below will often feature luxurious dress shoes, loafers, and heels. These shoes are made with premium materials and are comfortable and easy to wear.
Italy
Ace Marks
This shoe brand was founded in 2012 with a direct-to-consumer model based on an online store. While that sounds like Silicon Valley, Ace Marks shoes are crafted by a fourth-generation family in a family-run manufacturing facility near Rome in western Italy.
Ace Marks designs and manufactures a wide array of different kinds of men's shoes. This Italian shoe brand truly does it all, from gorgeous wingtips in various colors and styles to supple loafers and even fashion-forward sneakers.
Like other online brands, Ace Marks has a sustainability promise for its business practices. This company's website calls itself the only luxury brand with a program to buy back their old shoes. When you buy a new pair, send the old ones in to recycle, and you get an offer for the next pair.
Unlike some other brands on this list, Ace Marks offers a reasonable price point for fashionable, premium shoes. A pair of Ace Marks dress shoes, loafers, or sneakers is about $200 to $350. Boots are on the more expensive side, while sneakers are the least expensive.
Salvatore Ferragamo
A household name, Salvatore Ferragamo has been an icon in Italian fashion for a century. First rising to prominence in the United States during the 1920s, Ferragamo is often credited with setting the standard for Italian luxury in fashion with the American public.
The array of Ferragamo products under this powerful brand is still produced in its original Florence factory. This manufacturing site in Northern Italy has been operating since 1927. Now Ferragamo creates clothing, purses, and jewelry, although they are most known for shoes.
Ferragamo is a "ready to wear" fashion brand. This means the clothing is produced and often displayed on the fashion runway before being sold in stores. This clothing is not bespoke or couture but is still considered a luxury fashion brand.
A pair of Ferragamo shoes can range between $600 and $750 for a pair of sneakers to $2,000 for a pair of Italian wingtip or monkstrap dress shoes. Women's shoes are more expensive, regularly costing well over $1,000 for high heels or boots.
Antonio Meccariello
Antonio Meccariello is a shoe craftsman who has recently established his own brand after paying his dues for other luxury Italian shoe brands. This designer has a short history of shoemaking in his family and hand-makes each pair of his premium footwear.
This shoemaker offers both a ready-to-wear line and a bespoke line. The ready-to-wear shoes feature beautiful loafers, derbies, and wingtips with exceptional attention to detail. Some of the shoes even show the unique wood grain on the bottom of the shoes.
Ready-to-wear shoes can cost around $1,000. Bespoke shoes involve a few personal meetings with the shoemaker for measurements and preferences. The price range for a pair of bespoke shoes was not available online.
England
Gaziano & Girling
This UK shoe manufacturer was recently established in the fashion district of London, Savile Row. Opening in 2006, this brand was made by two men; one is a designer, and one is a shoemaker. This combination has resulted in a successful partnership for beautiful shoes.
Like some other brands on this list who combine ready-to-wear shoe lines with bespoke options, Gaziano & Girling features both an online store and one-of-a-kind bespoke shoes. This brand manufactures oxfords, wingtips, boots, and loafers exclusively for men's fashion.
The ready-to-wear line ranges from about $1,000 for dress shoes or loafers and closer to $1,500 or more for boots or tuxedo shoes.
Joseph Cheaney & Sons
This iconic British shoe brand has been producing beautiful works of shoe art since 1886. This line of men's shoes includes dress shoes, sneakers, boots, and loafers. This heritage brand has a more affordable price point than others on this list, coming in around $300 to $500 per pair.
This brand has had a tumultuous ownership history, merging with another historic brand, Church & Co., in 1966. After the mega fashion brand, Prada, purchased Church & Co. with the Cheaney name attached, heirs to the family name repurchased the brand.
This history shows the glory and legacy of this iconic British shoe brand. Joseph Cheaney & Sons, as it is now known, has retail stores and a robust online website. This company continues to innovate and release new lines for each fashion season.
Spain
Idrese
Idrese is another direct-to-consumer European shoe brand offering both "off the bench" shoes in their online store and bespoke options. These shoes are always made with premium full-grain Italian leather and feature a signature red sole on the bottom of each shoe.
At Idrese, the customizations are not exactly the same as making a one-of-a-kind shoe. But the wide variety of sizes, widths, colors, and styles is pretty close to bespoke for a shoe that is less than $300. This brand is great for someone with feet that are hard to shop for.
Choose from boots, loafers, and dress shoes in popular men's fashions. Each shoe is ready in about four weeks, shipped directly to your door.
Taft
This company is slightly different from the others on this list, as the founders are actually Americans. The Taft factory is operated in partnership with a family in Spain to produce these beautifully crafted shoes.
Taft proudly announces they are "for the bold" with whimsical colors, patterns, and styles complementing the traditional shoe designs and craftsmanship from the artisans. These shoes consistently cost between $300 and $400.
These fun boots, shoes, and sneakers feature panels with brocade or paisley patterns that look like upholstery and surprising fabrics like denim and camo patterns for classic men's oxford shoes. These Spanish-made shoes are sure to make a statement.
France
John Lobb
A more than 150-year-old brand, John Lobb offers a wide array of shoes and other products for both men and women. This heritage brand began as a humble bootmaker but is now one of France's most recognizable and desired brands.
The John Lobb brand features a ready-to-wear line of everything from modern sneakers to an updated country boot and bespoke shoes made-to-order. Sneakers, or trainers, will cost about $1,000, with boots in the range of $2,000.
Currently, this French brand is manufactured in a traditional English factory. However, all of the made-to-order shoes are still handcrafted by Parisian artisans in their traditional French workshop.
Aubercy
This French brand illustrates the importance a single individual can have to a "Living Heritage Company" like Aubercy. Every shoe's welt at this French shoemaker is sewn by one in-house artisan.
While Aubercy does offer a line of ready-to-wear shoes on their website, their attention to detail means everything is a limited edition. This company also offers fully bespoke, made-to-order shoes as well.
These breathtaking loafers, oxfords, and boots are works of art, costing $1,500 to almost $6,000 for one pair of shoes. This company was founded in the 1930s, and you can still find the founders in the workshop some days!
Hungary
Laszlo Vass
This Hungarian shoemaker began business in 1978, focusing on sourcing leather for its custom and ready-to-wear varieties of shoes. Like most of the shoes on this list, Laszlo Vass stays true to traditional shoemaking techniques and contemporary styles.
Explore the stunning boots, slip-ons, and shoes available from this shoemaker on his website, and expect to spend between $600 and $800. You may not know about the Hungarian shoe tradition, but take one look at these gorgeous shoes and find a new appreciation for this art.
Turkey
Maglieriapelle
Even though most of Turkey does not technically reside in Europe, there are still some notable shoe artists in this nation. Turkey and Europe are close not only geographically but also culturally. Many European shoe traditions are reflected in these Turkish designs.
The name of this shoe brand comes from the Italian word for "woven leather," showing the influence of the significant Italian shoemaking tradition on this brand. Husband and wife team Tarik and Gaye Ozkan founded this Turkish shoe company in 2010.
Maglieriapelle is most known for the unique patina, or coloration, achieved on these shoes. This shoemaker hand-paints the patina on each pair of shoes to provide an exceptional finish.
Even though so much care is taken in each pair of shoes, this European shoe brand is a relatively affordable choice for handmade shoes. For a piece of shoe art from Maglieriapelle, you can expect to pay between $400 and $800.
Romania
Saint Crispin's
Do you know who the patron saint of shoemakers is? That's right—it's Saint Crispin. This brand was founded in 1985 and is inspired by the Viennese tradition of shoemaking in neighboring Austria, with German and Mediterranean influences as well.
Romania's Saint Crispin's was a bespoke shoemaker for many years after being founded in the mid-1980s. But by 2008, after designing luxury footwear for other designers for many years, this shoemaker was finally able to establish its own ready-to-wear line in 2008.
This beautiful line of shoes includes traditional classics made to perfection, as well as unexpected colors and designs. Imagine a baby blue-lined loafer or a deep burgundy slip-on oxford with an elastic side lace.
The ready-to-wear line from Saint Crispin's costs around $1,000 or more for these handmade shoes. But don't wait—this company makes only about 1,500 shoes every year.
Poland
Jan Kielman
Another heritage brand, Jan Kielman, proudly represents the Polish tradition of shoemaking. These beautiful shoes have been manufactured precisely to a customer's specifications since 1883.
Visit the shoemaker's website for a step-by-step guide of how these shoes for men and women are made. This brand is clearly proud of its bespoke products that have survived for more than 100 years.
But even though this business has been around a long time, that does not mean their designs are stale! Their online gallery shows some wild leathers and exciting combinations, from bright oranges and bold blues to a python pattern.
Portugal
Carlos Santos
One of the most respected shoemakers in Portugal, this business gets its name from its founder. Carlos Santos started in the shoe industry at the tender age of 14 years old, and he still oversees the operations of his successful shoe empire.
These Portuguese-made shoes contain leather sourced from the most exclusive tanneries globally. These tanneries also provide leather for Hermes and other luxury European brands.
This brand focuses on luxury shoes for men, with lace-up, monkstrap, or boots featuring the best manufacturing techniques.
Conclusion
Europeans are known for their fashion sense, so it makes sense that this list would be overflowing with some of the most beautiful, traditional shoes available in the world.
From Portugal to Romania, these shoes reflect the craftsmanship of European shoe artisans and the creativity of the shoe enthusiasts who order these bespoke and custom shoes.