Maptitude is an advanced mapping software from Caliper. It is a GIS (GeographicalInformation System) that gives businesses a large array of tools to create data maps and understand how geography can impact their operations.
Oftentimes, trying to analyze customer and business data using spreadsheets and databases can be difficult – it can be tricky to spot wider trends, for example. Using Maptitude, you can visualize that data in different ways. Having a geographical map complete with visual data can help spot trends and manage your business in a more efficient manner.
In this Maptitude review, we delve into what you can expect from this GIS mapping software and see what it can offer for medium to large-sized businesses.
Maptitude Overview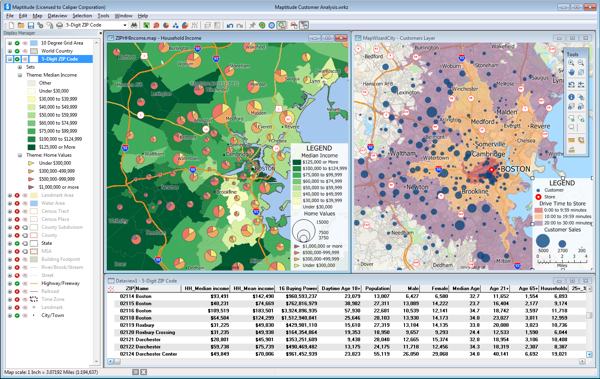 Maptitude is a multi-faceted tool that allows businesses to visualize data via geographical maps. For example, you can create maps of customer sales across the US to see which states you are most successful in.
Also, Maptitude has extensive route managing tools which are ideal for logistics companies and those who often have country-wide deliveries. You can use the tools to manage a fleet of vehicles and plan the most cost-effective delivery routes.
This software also provides detailed geospatial analysis and the data included is excellent. You can look at an array of different data such as demographics, transportation, and population data. All of this can be tailored to individual business needs, and to suit your own business data.
Pros
Has a simple create-a-map wizard for new users.
Excellent routing tools for delivery services.
Also has a large range of mapping options.
Has a relatively easy learning curve.
Can easily import business data from external sources.
Cons
The desktop software requires high specs to run smoothly.
The online software only has simple map creation tools.
May not have extensive environmental analytical tools.
Does lack some GIS tools such as LiDAR.
What to Expect From This Mapping Software?
To give you a great idea of what to expect from Maptitude, we have broken the review into different sections. This includes an overview of the features, and individual aspects such as data mapping, route planning, and online sharing.
Features
So what can you expect from Maptitude? It is an extensive software that does have a huge array of analytical data. It is also highly intelligent and can greatly help in business planning. The following are some features and things you can do using Maptitude:
Create-a-map wizard
Advanced demographic maps
Geospatial tools for advanced map creation
Fleet routing and delivery planning
Add graphs and charts to your maps
Hot spots and heat map visualizations
Shortest path & route plans
Drive time rings around focal points
As you can see, you have a wealth of analytical information at your fingertips. This is all presented via visually appealing geographical maps within the software.
Create-a-Map Wizard
To make the software accessible, and so you can easily create new maps, Maptitude has a Create-a-map Wizard. This essentially gives you a step-by-step process to quickly set up a new map complete with data.
To start, you can choose to import your own data from an external source such as Excel or a database or create a simple United States map. It also allows you to select the level of display on the map such as cities, postcodes, states, and county names.
Once the basic map is created, you can then use the display manager to show different topographical information such as water areas, railroads, building footprints, and more. Although the wizard is relatively basic, it is a great starting point for first-time Maptitude users.
Data Mapping and Map Creation
While Maptitude does provide a host of information and data, its real strength lies in utilizing your own business data. The data handling and mapping is an important part of the software. Essentially, a business can import its own data and use it to create maps that are relevant to them.
Data is imported using a variety of sources including Excel spreadsheets, SQL databases, and even simple text files. Basically, regardless of how your business collects data, you should be able to import it into Maptitude.
Following this, the map creation tools also become incredibly useful. As standard, you can create maps without using your own data. These include simple geographical maps, but also a range of useful demographic maps. Examples of demographic maps include population maps, age maps, and income maps.
Geographic Analysis Tools
One of the best features of Maptitude is the sheer amount of geographic analysis tools available. The following are some of the main examples you can utilize:
Create rings around specific spots i.e. store locations.
Divide maps into specific territories i.e. store coverage areas.
Drive-time rings to show areas that may not be well-served.
Heat mapping and hot spots to show concentrations of things like crime rates.
Trade area planning to show potential spots for new stores/factories.
3D surface analysis to view the impact of a building in its environment.
As you can see, these tools can be incredibly useful for business planning. Of course, to make these geographic analysis tools effective, they are best used with imported business data. However, once you have that data in place, such as store locations, and customer data, you can use the tools to a great effect.
Route Planning
For businesses that utilize their own delivery fleet, Maptitude has various logistics features and a route planner. The route planner itself is relatively simple to use. You can enter a start point and an endpoint. Also, you can add additional destinations i.e. for a multi-drop delivery run.
Aside from this, you can also use the route analysis tool. This uses advanced AI technology to find the most suitable route for the specified number of deliveries and individual stop-offs. You can even account for things like driver rest stops, refueling, and maximum speed limits for vehicles.
The route planning can be as complex or simple as you wish. For example, you could use Maptitude to plan the route of one delivery vehicle to two different stops. Alternatively, you could use it effectively to map the routes for an entire fleet of vehicles.
Map Sharing and Online Accessibility
Aside from the desktop software, Maptitude is also accessible online. This is a paid extra, but it could be useful if you have employees working in remote locations. Also, the public sharing add-on could be beneficial for collaborative work with customers.
The online service has a simple, modern interface that is uncluttered. The homepage provides a simple search function so you can search through your business account to look for maps created by different users.
We also like that there is a teams and users option. This is simple, but you can manage individual users and give them admin status, for example. Also, the teams are great for segmenting your workforce into different departments.
It also has a rudimentary map creation tool, however, this is basic. You can only create a map either via importing a spreadsheet or completing data in the provided spreadsheet. This tool does not have the options and features of the complete Maptitude software.
The main benefit of the online service is that anyone with access to your Maptitude subscription can view, and share map data created in the Maptitude software.
Usability
The usability of GIS software is highly important. Oftentimes this type of software is complex and can be difficult to learn. Maptitude generally provides a favorable UI and a quicker learning curve for those who have not used this type of software before.
Interface
The basic interface of Maptitude is OK. When opening the software, you are given a simple pop-up box that gives you an array of options for opening workspaces and maps. This is a simple but effective touch and allows you to quickly start working.
The main layout of the Maptitude software is also relatively simple. At the top there is the main menu bar – this has features such as tools, selection, and data view. The left-hand side has the display manager. This allows you to filter what is shown on your maps. For example, you can choose to show landmark areas, railroads, and even timezones.
It may take a while to get used to the tools and the layout, but it is not overly complex. Once you know where the different features are, Maptitude does offer a pleasant user experience.
Performance / System Requirements
When working with such large quantities of data, it is important to look at the system requirements of Maptitude. The following are the recommended system requirements as per the Caliper website:
OS: Windows 10
Memory: 4 GB of RAM (8 GB recommended)
Storage: 10 GB
This is for the desktop version. We tested Maptitude on a desktop computer that had 24 GB of RAM, and a quad-core i5 processor. The software ran OK, but loading detailed maps did place a strain on the computer. Obviously, the more detailed maps you work with, the more memory and system resources will be needed.
We would advise that the 4 GB of minimum RAM required is not enough and that you do in fact want at least 8 GB to run the software smoothly. Also, if you are loading business data, a fast SSD or RAID drive will improve performance as opposed to a simple HDD.
Pricing
Caliper has created a simple price structure for Maptitude that is based on the platform you intend to use the software on. To start, you can purchase a license for the software, and there are options to purchase additional users and the online sharing addon. The following are the current licensing costs and addons available for Maptitude:
Desktop software: $695 for a 10-year / 1 user license.
Remote desktop software: $995 for a 10-year / 1 user license.
Enterprise: $9,995 for a 1-year, 10 user license.
If you already have a Maptitude license, you can also buy the online sharing add on:
Online private sharing: $420 for a 1-year 1-user subscription.
Online public sharing: $1,050 for a 1-year 1-user subscription
These prices might seem relatively expensive. However, it is on par and cheaper than some other available software. For example, eSpatial costs $1295 per year for a single-user license which is a similar type of product.
Overall, for the utility Maptitude provides, the cost is warranted, particularly for mid to large-sized businesses who need fleet management or extensive map data analysis.
Maptitude also offers a free trial.
Is Maptitude Worth it?
For medium to large-sized businesses, Maptitude is an excellent GIS tool. The software has a decent learning curve, and it is reasonably priced. The online software also has great functionality for sharing and viewing maps, although it is basic and lacks advanced creation tools.
If you want software that allows you to get advanced analysis from your business data, this is a good choice. The range of analysis and maps you can create is great and it will allow you to manage your business in an effective manner, using real geographical data.