Mapfit was sunset in October 2018. Please see these 16 Google Places API alternatives.
What Was Mapfit Like?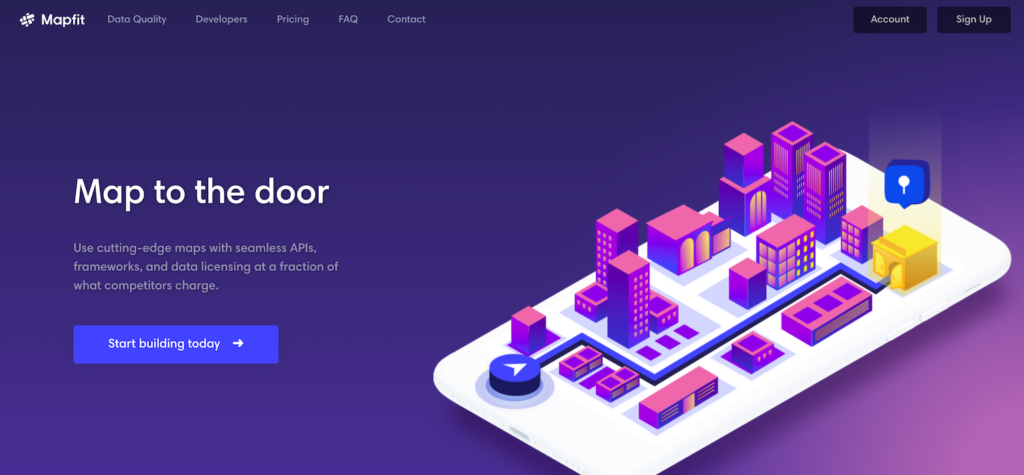 Mapfit claimed to offer the "highest quality location data available to users at all times" and to be "better or equal to Google Maps in accuracy in every country". The company also offered developer APIs "to build the most robust location-based experiences".
The idea behind Mapfit was to offer door-to-door navigation by offering the "highest accuracy geocoder worldwide". Their addresses included entrance definitions, such as primary, secondary, parking garage, and freight docks.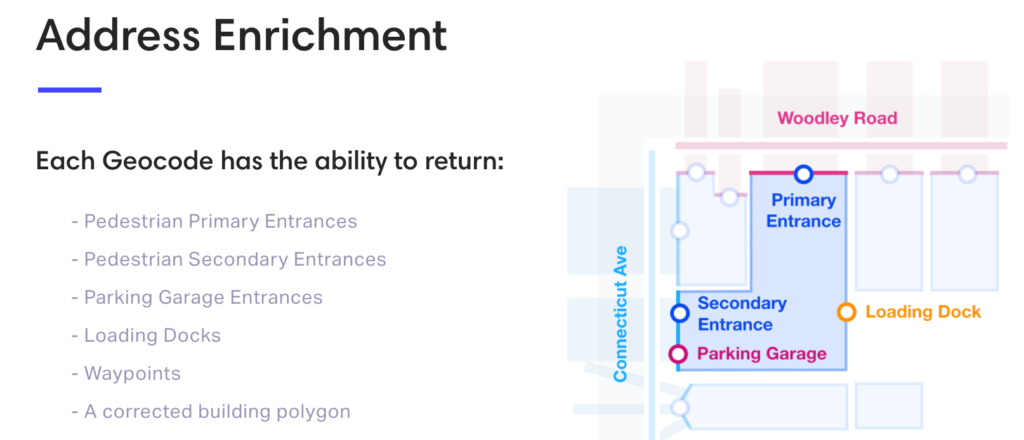 As per the Internet Archive, the Mapfit process was "built on prime commercial data sets, validated open data sets, manually curated data, and imagery and telemetry data".
Other highlighted performance features included:
Mapfit maps that would load at unrivaled speed, be SEO-friendly, and 7x more accurate than any competitor
95% of the building addresses would be mapped within a few steps of the doorway
Their dataset would be updated 24 times a year
Data Sources
Mapfit used these data sources to power their mapping platform:
Prime commercial data sets
Validated open data sets
Manually curated data
Imagery and telemetry data
Mapfit Mapping API
Mapfit offered "comprehensive APIs for web and mobile" and the platform integrations included:
Javascript
iFrame
iOS SDK
Android SDK
REST API Endpoints
WordPress Plugin
API Pricing
Mapfit's was a freemium business model. They had a free tier and a premium commercial plan, which offered additional features and better performance.
The free features included:
Unlimited Vector Map Requests
2,500 API Requests per day
Geocoding, Directions, and adding custom points or polygons to a map
The paid plan offered:
Customized API requests with higher Surge Protection
30 day API Result Cache
Access to Mapfit Slim Vector Tile Server (up to 90% smaller vector tiles)
License to map data sets, reverse-geocoding, building polygons, and area polygons

Mapfit API Features
Map Tile API: Users could spin up their vector tile server with world-wide coverage in just minutes.
Geocoding API: This converted addresses to entrance-aligned latitude/longitude, and helped to find any place, region, or point of interest.
Directions API: Walking, driving and biking directions to/from any address in the world.
Mapfit Early-Stage Funding
According to Crunchbase, Mapfit received a total funding of 6.1 million during the period from late 2016 to mid-2018. A total of 8 investors, including the lead-investor Cavalry, a Berlin-based, early-stage venture capital fund, participated in the funding.
What Happened to Mapfit?
This is what happened to the Mapfit API platform (according to the Mapfit statement in 2018):
"We've […] learned that there are a large number of mapping use cases and features that our small team won't be able to provide in the near term and that would significantly slow down progress against our long-term vision"

Mapfit E-mail send to their API customers in October 2018 (Source: LocationIQ Blog)
And here is a more clear statement from one of the Mapfit API users:
"Unfortunately, Mapfit decided to sunset their mapping platform until October 29, 2018. You will have to use another mapping vendor."

Joblocal, a developer who created Map-Vue by using the Mapfit API and vue.js (JavaScript Framework).
According to Stephanie Golik, the former Director of User Experience at Mapfit, and Armaan Gupta, Growth Product Manager, the company got acquired by Foursquare to "help improve the quality of Foursquare data world-wide."


While there is no public record of Foursquare buying Mapfit, it's very likely that's what happened. In fact, one of the co-founders and former CTO of Mapfit, Philip Zakas, worked for over 2 years at Foursquare as the Head of Places and Venues and Senior Strategy Director just six months after Mapfit shut down its API.
Why Does Mappr Own the Domain Mapfit.com?
In March 2022, we bought the expired domain Mapfit.com because it's a nice six-letter domain name with the word map in it :-).
We may use the domain in the future for a new project. For the time being, the domain mapfit.com will redirect to this page to inform about what happened to Mapfit and the best alternative mapping APIs available in 2022.
Disclaimer: Mappr is not and never was associated to the Mapfit Inc. company or any of the Mapfit Inc. products. While we tried our best to research and write about what Mapfit was like in the past, we assume no responsibility or liability for any errors or omissions in the content on this page. Read more about Mappr.