Colors and the Meaning of the Luxembourg Flag
Flag of Luxembourg consists of three equal horizontal bands, red (top), white (center) and light blue. The flag is similar to the Dutch flag. It was also inspired by the French flag in the design of the flag.
In the Luxembourg flag, inspired by the French flag, the red color represents the spilled blood in wars, and the white color represents peace. The blue color is a reference to France.
History of the Luxembourg Flag
The first known flag was carried by the Count Wilhelm of Luxembourg in 1123. The flag was probably yellow and red in horizontal lines.
The present-day Luxembourg flag is made up of three horizontal stripes in red, white and sky colors. Despite the similarity between the flags of Luxembourg and the Netherlands, the Dutch flag differs with the cobalt blue stripe. Most of the modern blue-white-red flags take these colors more or less directly from the three colors of the French Republic. The Luxembourg flag and the state coat of arms were protected by the State Emblems Act of 23 June 1972.
The colors of the Luxembourg flag were first adopted around 1830 during the Belgian Revolution. Three-color horizontal design was edited on June 12, 1845.
A law governing the Luxembourg flag lasted until June 23, 1972, before it was passed. The same law was valid for the registered aircraft and ships in Luxembourg. An important explanation for this law was that, unlike the Dutch flag, blue was defined as a bright blue. The Luxembourg Flag uses exactly the same design, but the Dutch flag is darker blue and less rectangular in shape.
Neighboring Countries of Luxembourg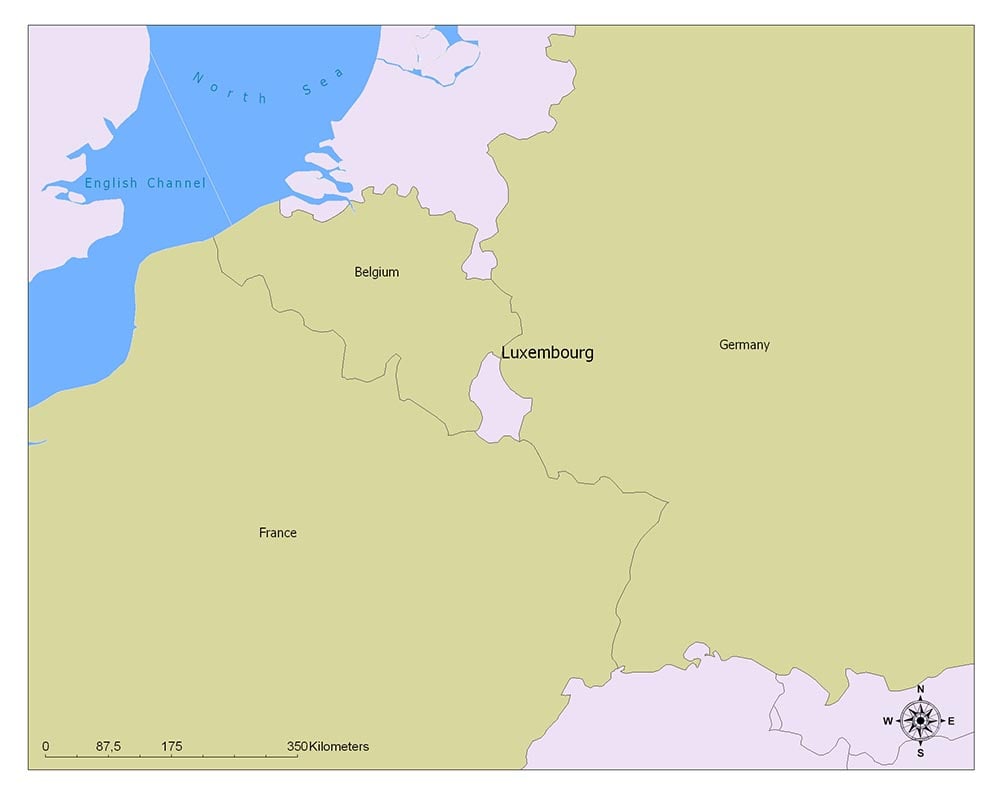 It is a non-coastal country in Western Europe. Its territory is surrounded by Belgium, France, and Germany.
Main Characteristics of Luxembourg
The Grand Duchy of Luxembourg is one of the smallest European countries with a high quality of life. It was included in the World Cultural Heritage List by UNESCO and put under protection. The capital is Luxembourg with the same name. There are three official languages, Luxembourg, German and French. Euro is used as currency.
A temperate climate prevails. There is a great deal of rainfall, even in the driest month. The least rainfall is in April and the busiest rainfall is in December.
| | |
| --- | --- |
| Country | Luxembourg |
| Code | LU (LUX) |
| Calling Code | 352 |
| Capital City | Luxembourg City |
| Currency | euro (EUR) |
| Emoji Symbol | 🇱🇺 |
| Highest Point | Kneiff (560 m) |
| Internet TLD | .lu |
| Population(2017) | 583,455 |
| Total Area | 2,586 km2 |