West Virginia (WV) on the US Map
Map of West Virginia Counties
Below is a map of the 55 counties of West Virginia (you can click on the map to enlarge it and to see the major city in each state).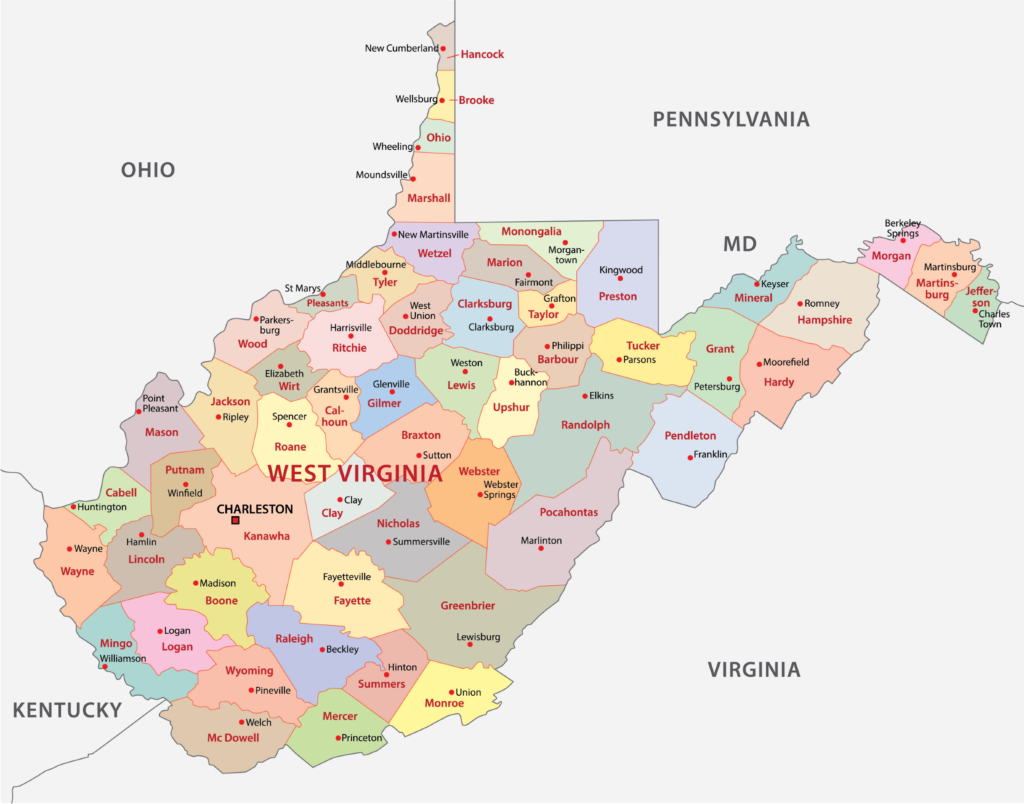 Interactive Map of West Virginia Counties
Click on any of the counties on the map to see the county's population, economic data, time zone, and zip code (the data will appear below the map). Data is sourced from the US Census 2021.
List of the Counties of West Virginia:
| County | Population | Per sq. km | Largest City |
| --- | --- | --- | --- |
| Barbour County | 15,600 | 17.66 | Philippi |
| Berkeley County | 120,460 | 144.82 | Martinsburg |
| Boone County | 22,059 | 16.98 | Madison |
| Braxton County | 12,702 | 9.6 | Gassaway |
| Brooke County | 22,603 | 97.84 | Weirton |
| Cabell County | 94,622 | 130 | Huntington |
| Calhoun County | 6,420 | 8.88 | Grantsville |
| Clay County | 8,176 | 9.23 | Clay |
| Doddridge County | 7,929 | 9.58 | West Union |
| Fayette County | 41,056 | 23.96 | Oak Hill |
| Gilmer County | 7,516 | 8.57 | Glenville |
| Grant County | 11,063 | 8.95 | Petersburg |
| Greenbrier County | 33,307 | 12.61 | Lewisburg |
| Hampshire County | 23,214 | 14 | Romney |
| Hancock County | 29,223 | 136.58 | Weirton |
| Hardy County | 14,269 | 9.46 | Moorefield |
| Harrison County | 66,222 | 61.46 | Clarksburg |
| Jackson County | 28,011 | 23.29 | Ravenswood |
| Jefferson County | 57,542 | 106.15 | Charles Town |
| Kanawha County | 181,953 | 77.92 | Charleston |
| Lewis County | 16,966 | 16.93 | Weston |
| Lincoln County | 20,625 | 18.22 | Hamlin |
| Logan County | 32,786 | 27.9 | Logan |
| Marion County | 56,256 | 70.35 | Fairmont |
| Marshall County | 30,813 | 38.95 | Wheeling |
| Mason County | 25,667 | 23.01 | Point Pleasant |
| McDowell County | 19,334 | 13.99 | Welch |
| Mercer County | 59,892 | 55.19 | Bluefield |
| Mineral County | 27,045 | 31.85 | Keyser |
| Mingo County | 23,821 | 21.74 | Williamson |
| Monongalia County | 105,695 | 113.33 | Morgantown |
| Monroe County | 12,492 | 10.2 | Alderson |
| Morgan County | 17,144 | 28.9 | Bath |
| Nicholas County | 24,770 | 14.79 | Summersville |
| Ohio County | 42,443 | 154.85 | Wheeling |
| Pendleton County | 6,249 | 3.47 | Franklin |
| Pleasants County | 7,623 | 22.62 | St. Marys |
| Pocahontas County | 8,006 | 3.29 | Marlinton |
| Preston County | 34,266 | 20.39 | Kingwood |
| Putnam County | 57,385 | 64.1 | Teays Valley |
| Raleigh County | 74,929 | 47.79 | Beckley |
| Randolph County | 28,150 | 10.45 | Elkins |
| Ritchie County | 8,676 | 7.41 | Harrisville |
| Roane County | 14,129 | 11.28 | Spencer |
| Summers County | 12,125 | 12.98 | Hinton |
| Taylor County | 16,727 | 37.38 | Grafton |
| Tucker County | 6,822 | 6.29 | Parsons |
| Tyler County | 8,397 | 12.65 | Paden City |
| Upshur County | 23,965 | 26.09 | Buckhannon |
| Wayne County | 39,337 | 30.02 | Huntington |
| Webster County | 8,415 | 5.87 | Addison |
| Wetzel County | 14,629 | 15.77 | New Martinsville |
| Wirt County | 5,264 | 8.74 | Elizabeth |
| Wood County | 84,678 | 89.21 | Parkersburg |
| Wyoming County | 21,581 | 16.68 | Mullens |