Louisiana (LA) on the US Map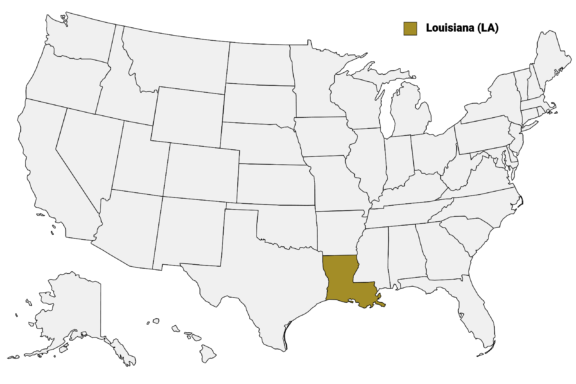 Map of Louisiana Parishes (Counties)
Below is a map of the 64 parishes in stead of counties of Louisiana (you can click on the map to enlarge it and to see the major city in each state).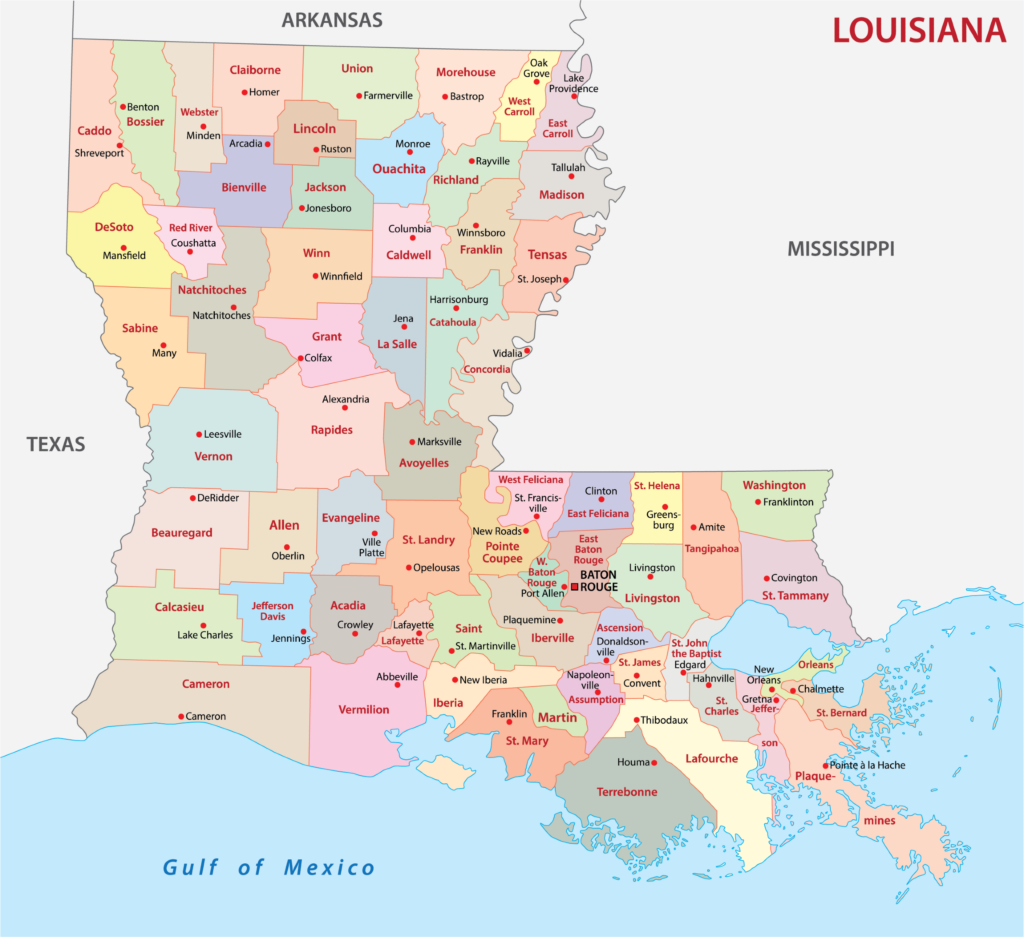 Interactive Map of Louisiana Counties
Click on any of the counties on the map to see the county's population, economic data, time zone, and zip code (the data will appear below the map). Data is sourced from the US Census 2021.
List of the Parishes* of Louisiana:
*Louisiana has parishes instead of counties because of its French and Spanish colonial history.
| County | Population | Per sq. km | Largest City |
| --- | --- | --- | --- |
| Acadia Parish | 58,200 | 34.29 | Crowley |
| Allen Parish | 23,085 | 11.7 | Oakdale |
| Ascension Parish | 125,289 | 166.83 | Prairieville |
| Assumption Parish | 21,366 | 23.98 | Belle Rose |
| Avoyelles Parish | 39,880 | 18.51 | Marksville |
| Beauregard Parish | 36,417 | 12.15 | DeRidder |
| Bienville Parish | 13,130 | 6.25 | Arcadia |
| Bossier Parish | 128,508 | 59.1 | Shreveport |
| Caddo Parish | 239,775 | 105.27 | Shreveport |
| Calcasieu Parish | 212,646 | 77.16 | Lake Charles |
| Caldwell Parish | 9,707 | 7.07 | Banks Springs |
| Cameron Parish | 5,650 | 1.7 | Hackberry |
| Catahoula Parish | 9,117 | 4.97 | Jonesville |
| Claiborne Parish | 14,456 | 7.39 | Homer |
| Concordia Parish | 18,989 | 10.52 | Vidalia |
| De Soto Parish | 26,803 | 11.81 | Mansfield |
| East Baton Rouge Parish | 455,447 | 386.06 | Baton Rouge |
| East Carroll Parish | 7,502 | 6.88 | Lake Providence |
| East Feliciana Parish | 19,588 | 16.68 | Jackson |
| Evangeline Parish | 32,538 | 18.96 | Ville Platte |
| Franklin Parish | 19,964 | 12.35 | Winnsboro |
| Grant Parish | 22,236 | 13.35 | Colfax |
| Iberia Parish | 70,518 | 47.46 | New Iberia |
| Iberville Parish | 30,651 | 19.13 | St. Gabriel |
| Jackson Parish | 15,214 | 10.32 | Jonesboro |
| Jefferson Davis Parish | 32,270 | 19.12 | Jennings |
| Jefferson Parish | 439,402 | 563.73 | Metairie |
| Lafayette Parish | 241,173 | 346.38 | Lafayette |
| Lafourche Parish | 97,677 | 35.32 | Thibodaux |
| LaSalle Parish | 14,770 | 9.13 | Jena |
| Lincoln Parish | 48,415 | 39.63 | Ruston |
| Livingston Parish | 141,057 | 84.03 | Denham Springs |
| Madison Parish | 10,297 | 6.37 | Tallulah |
| Morehouse Parish | 25,852 | 12.56 | Bastrop |
| Natchitoches Parish | 37,896 | 11.67 | Natchitoches |
| Orleans Parish | 383,974 | 874.65 | New Orleans |
| Ouachita Parish | 160,227 | 101.36 | Monroe |
| Plaquemines Parish | 23,536 | 11.65 | Belle Chasse |
| Pointe Coupee Parish | 20,951 | 14.53 | New Roads |
| Rapides Parish | 130,459 | 38.14 | Alexandria |
| Red River Parish | 7,787 | 7.73 | Coushatta |
| Richland Parish | 20,110 | 13.97 | Rayville |
| Sabine Parish | 22,377 | 9.97 | Many |
| St. Bernard Parish | 43,821 | 44.82 | Chalmette |
| St. Charles Parish | 52,411 | 72.86 | Luling |
| St. Helena Parish | 10,881 | 10.28 | Greensburg |
| St. James Parish | 20,390 | 33.1 | South Vacherie |
| St. John the Baptist Parish | 42,704 | 76.88 | Laplace |
| St. Landry Parish | 82,999 | 34.68 | Opelousas |
| St. Martin Parish | 52,222 | 27.34 | Broussard |
| St. Mary Parish | 49,818 | 34.6 | Morgan City |
| St. Tammany Parish | 262,799 | 120.04 | Mandeville |
| Tangipahoa Parish | 132,492 | 64.66 | Hammond |
| Tensas Parish | 4,269 | 2.73 | Newellton |
| Terrebonne Parish | 110,100 | 34.56 | Houma |
| Union Parish | 21,272 | 9.37 | Farmerville |
| Vermilion Parish | 57,775 | 19.01 | Abbeville |
| Vernon Parish | 49,064 | 14.28 | DeRidder |
| Washington Parish | 45,794 | 26.4 | Bogalusa |
| Webster Parish | 37,356 | 24.31 | Minden |
| West Baton Rouge Parish | 27,064 | 54.33 | Addis |
| West Carroll Parish | 9,959 | 10.69 | Oak Grove |
| West Feliciana Parish | 15,334 | 14.68 | St. Francisville |
| Winn Parish | 13,875 | 5.64 | Winnfield |