Connecticut, located in the Northeastern region of the United States, stands as a testament to the country's rich colonial heritage, industrial innovation, and academic prowess.
Known as the "Constitution State," Connecticut has been pivotal in shaping the nation's history, from its role in the Revolutionary War to its prominence during the Industrial Revolution. It's also home to the renowned Yale University, a center for advanced academics and cultural enrichment for over two centuries.
Connecticut comprises eight counties, each with its own historical county seat and unique character. Some boast beautiful coastlines, others exude rural tranquility, and bustling cities and quaint towns are scattered throughout.
Counties in Connecticut no longer have their own governments — local governments in Connecticut exist exclusively at the municipality level and are known as Councils of Government (COGs).
In this post, we'll look at what makes each of Connecticut's counties unique. Read on to find a detailed Connecticut Counties Map and detailed information on each.
Connecticut (CT) on the US Map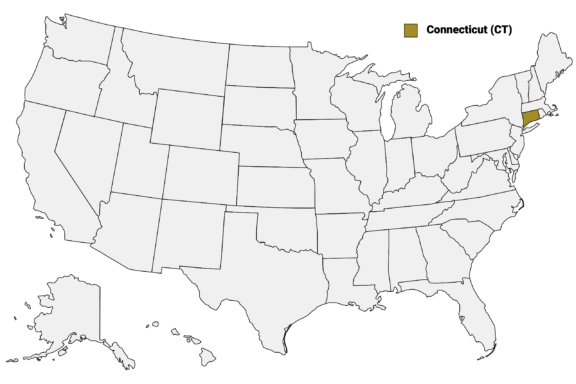 Connecticut Counties Map
Below is a map of the 8 counties of Connecticut (you can click on the map to enlarge it and to see the major city in each state).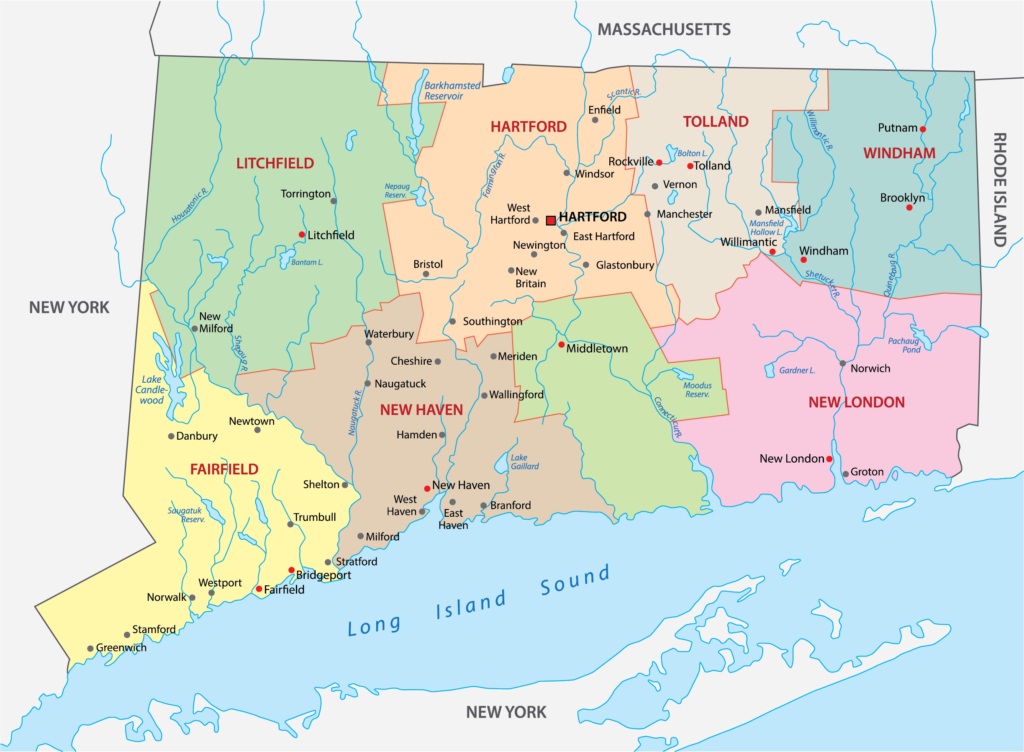 Interactive Map of Connecticut Counties
Click on any of the counties on the map to see the county's population, economic data, time zone, and zip code (the data will appear below the map). Data is sourced from the US Census 2021.
List of the Counties of Connecticut:
| County | Population | Per sq. km | Largest City |
| --- | --- | --- | --- |
| Fairfield County | 956,446 | 590.89 | Bridgeport |
| Hartford County | 898,636 | 472.1 | Hartford |
| Litchfield County | 185,175 | 77.67 | Torrington |
| Middlesex County | 164,568 | 172.05 | Middletown |
| New Haven County | 864,751 | 552.51 | New Haven |
| New London County | 269,131 | 156.24 | Norwich |
| Tolland County | 150,120 | 141.25 | Vernon |
| Windham County | 116,503 | 87.7 | Windham |
Fairfield County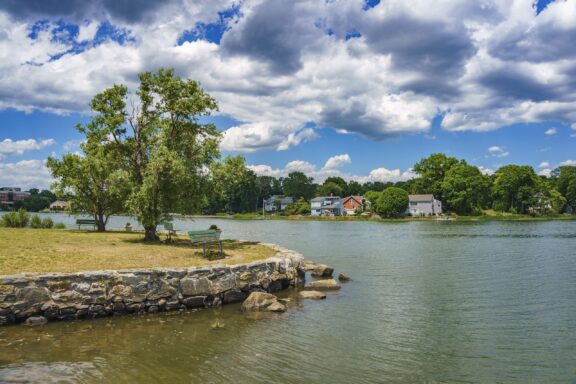 Fairfield County is located in the southwestern corner of Connecticut and is the most populous county in the state. It's bordered by Long Island Sound to the south and New York to the west, situated closer than any other county to the center of the New York metropolitan area.
Four of the seven most populous cities in Connecticut are located in Fairfield County: Bridgeport, Stamford, Norwalk, and Danbury. Bridgefield is the largest city in the county and the state with a population of around 150,000 in 2020.
The coastal area of Fairfield County is often referred to as the "Gold Coast" for being home to a dense concentration of wealth. This area of the county contributes significantly to Connecticut's ranking as one of the most affluent states in the US.
Fairfield County is something of a combination of urban and suburban landscapes, with picturesque coastal towns juxtaposed against bustling city centers.
Additionally, Fairfield County boasts numerous parks, beaches, and recreational areas, making it a haven for outdoor enthusiasts. Among these outdoor spaces is Sherwood Island State Park, Connecticut's first state park.
Several institutions of higher learning also call this county home, such as Fairfield University and Sacred Heart University. They contribute to the county's diverse cultural atmosphere which also includes festivals, theaters, and museums.
Hartford County
Hartford County sits centrally in Connecticut and lies along the state's northern border with Massachusetts. The county is named after its principal city, Hartford, the state's capital, which itself was named after Hertford, England. Hartford is the most populous city in Connecticut.
Hartford County was one of the four original counties established in Connecticut in 1666, and the adjustment leading to the modern county limits was made in 1806.
Today, the county serves as a hub for business, education, and government activities. Several of the nation's leading insurance and financial services companies are also located in Hartford, a fact that has earned the nickname, "Insurance Capital of the World." Towns like West Hartford and Newington are known for their retail and dining scenes.
As the state's administrative center, Hartford hosts numerous historical sites, including the Mark Twain House and the Wadsworth Atheneum, one of the oldest art museums in the US. Other attractions in Connecticut's capital city include the Connecticut Science Center and the Connecticut State Capitol building.
Hartford County seamlessly blends its rich history with modern amenities, offering residents and visitors a unique mix of old-world charm and contemporary living.
Litchfield County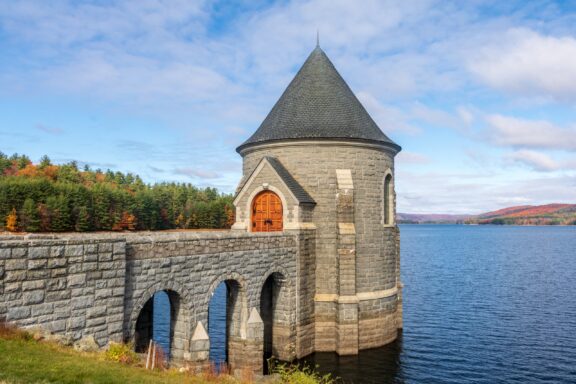 Situated in the northwestern part of Connecticut, Litchfield County is known for its rolling hills, pristine lakes, and historical landmarks. It has more of a rural feel compared to the other counties in the state, offering residents and visitors an escape from the hustle and bustle of urban life.
The county is a haven for artists, nature lovers, history buffs, and residents of New York City looking for a getaway. Towns such as Litchfield, Kent, and Salisbury are brimming with colonial history, art galleries, and antique shops. There are 21 towns in Litchfield County, each with its own landscape and history.
There are a multitude of outdoor activities that are possible in Litchfield County. The Housatonic River and Mohawk State Forest provide ample opportunities for fishing, hiking, camping, and more. These serene landscapes combined with the New England charm of its towns make it a popular destination year-round.
Some annual festivals add to the attractions available in Connecticut's northwesternmost county. The Litchfield Hills Creative Festival is held in August and features a variety of vendors, activities, and performances. Torrington Oktoberfest is another festival held in Torrington that features locally brewed beers and German foods.
Middlesex County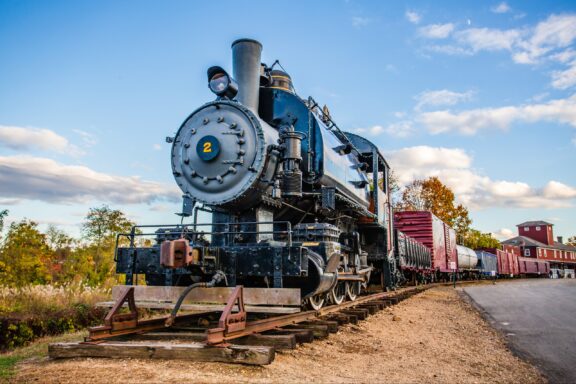 Located in the central part of the state along the Connecticut River, Middlesex County is a blend of coastal towns and inland communities. As is the case with many of Connecticut's counties, it gets its name from a place in England; in this case, the former county of Middlesex, England.
Middletown is the historical county seat and largest city in the county. It's located along the Connecticut River and was incorporated by English settlers in 1659. The town was originally named Mattabesset after the local indigenous people inhabiting the area at the time. The Mattabesett Trail is a hiking trail near the city.
Middletown originally functioned primarily as a sailing port and then an industrial center. Today, it is largely residential. It's also home to Wesleyan University, near which there is a thriving retail and dining scene.
Middlesex County is renowned for its maritime heritage, particularly in towns like Essex, known for the Essex Steam Train & Riverboat. This contributes to the picturesque landscapes, historic sites, and vibrant arts scene that the county is known for.
From the ivy-covered buildings of academia to the tranquil waters of the Connecticut River, Middlesex provides a harmonious mix of natural and cultural beauty.
New Haven County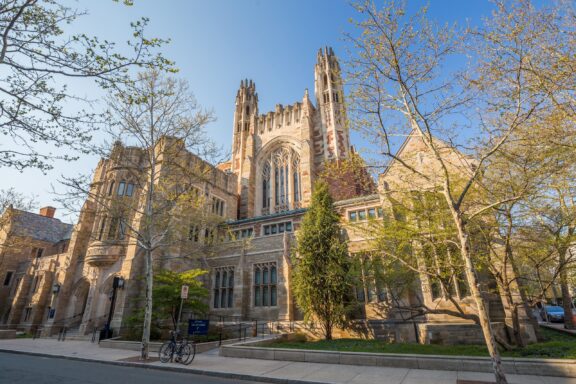 New Haven County is the third-most populous county in Connecticut with a population of 864,751 in 2021. The county borders Long Island Sound to the south and is situated between Fairfield County to the west and Middlesex County to the east.
A mix of coastal cities and inland towns, the historical county seat and largest city in New Haven County is New Haven. The city is famously home to Yale University and is often considered the cultural capital of the state. New Haven was incorporated as a city in 1784 and lays claim to being one of the first planned towns in the country.
In addition to hosting Yale University, the city of New Haven is also home to an eclectic dining scene and world-class museums like the Yale Center for British Art. The city is both an academic hub and an important center for arts and culture in the region.
As far as recreational opportunities, New Haven County boasts numerous parks, beaches, and hiking trails. Hammonasset State Park is located in the county's town of Madison and is the state's largest shoreline park with over two miles of beach.
New London County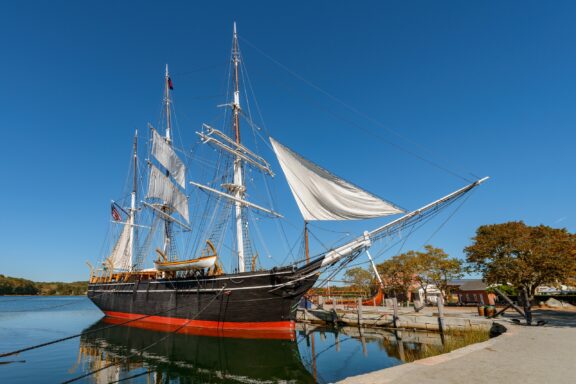 New London County is named after the capital of the United Kingdom and is Connecticut's southeasternmost county. It encompasses New London Harbor, which is where the Thames River meets the Long Island Sound. Before 1960, the city of New London was the county seat, and Norwich is now its largest city.
The reservations of four of the five Indian tribes recognized by Connecticut have reservations in New London County, including the Mohegan tribe, Mashantucket tribe, and Eastern Pequot tribe.
The county also has a rich maritime history, something that can be seen today with the US Coast Guard Academy in New London and the historic Mystic Seaport in Mystic. The latter features a museum with exhibits, workshops, and other events.
A wide variety of activities is on offer in New London County. There are the Mohegan Sun and Foxwoods casinos in Uncasville and Mashantucket for those interested in trying their luck, but there are also the tranquil landscapes found in its rural towns.
The city of New London is an arts and culture hub, hosting various festivals and events throughout the year. One of these is Sailfest, described as Southeastern Connecticut's premiere summertime event.
Tolland County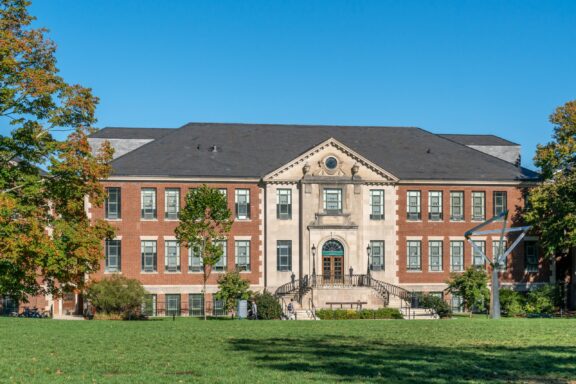 Positioned in the northeastern part of the state, between Hartford and Windham counties, Tolland County is a predominantly rural region known for its natural beauty and charming New England towns. It was established in 1785 and is named after the hamlet of Tolland in Somerset, England.
The most populous town in Tolland County is Vernon, Connecticut, which includes the smaller villages of Talcottville and Dobsonville. Vernon is known for its former railroad lines turned into trails as well as the New England Civil War Museum.
Tolland County is home to the University of Connecticut, whose main campus is located in Storrs and which plays a pivotal role in the county's academic and cultural life.
Nature lovers also have many opportunities to enjoy their time in Tolland County. Activities like hiking, biking, and fishing are possible at the county's numerous state forests and parks like Shenipsit State Forest and Gay City State Park.
Tolland County might be quieter compared to some of Connecticut's other counties, but this makes it an exceptionally good locale for anyone looking for peace in scenic landscapes.
Windham County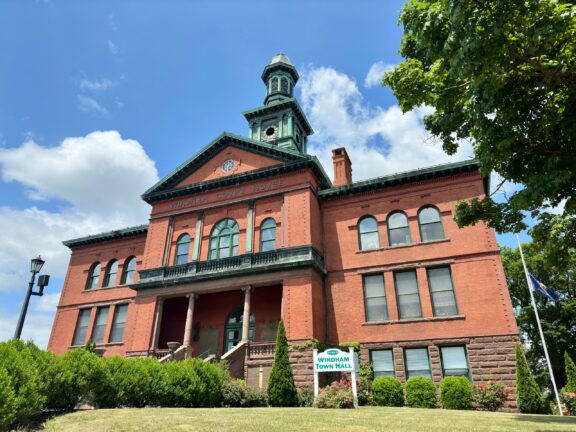 Tucked away in the northeastern corner of Connecticut, Windham County is known as the "Quiet Corner." This nickname comes from the fact that it is predominantly rural and characterized by farmlands, forests, and quaint villages.
The county prides itself on its rich history, which began with its founding in 1726 from parts of Hartford and New London counties. Some of this history can be witnessed at historical sites like the Prudence Crandall Museum in Canterbury.
Willimantic was the historical county seat from 1893 until 1960, following the town of Windham, the prior county seat. Today, Windham is the largest town in the county and contains the former city of Willimantic.
Prior to the arrival of Europeans, Windham County was inhabited by the Pequot, Mohegan, Narragansett, and Nipmuck Algonquian peoples. The Pequot War and King Philip's War saw the end of the Pequot, Narragansett, and Nipmuck tribes, leaving the Mohegans as the only native power in the region.
The Last Green Valley National Heritage Corridor is a place of exceptional scenic beauty in northeastern Connecticut, and cultural festivities in the county like the Brooklynn Fair offer an enriching experience.
FAQS: More About Connecticut Counties
Does Connecticut have counties?
Connecticut has historical counties that were used for local levels of government until 1960. They are now solely historical regions.
Which Connecticut county is the largest by land area?
Litchfield County is the largest county in Connecticut by land area, covering 920 square miles
(2,383 km2).
Which Connecticut county is the best for historical tours?
All of Connecticut's counties have their own rich histories, but Hartford County may offer an exceptionally interesting experience because it hosts the state's capital as well as sites like the Mark Twain House.
Are there vineyards in any of Connecticut's counties?
Yes, Connecticut has a wine trail that spans several counties, with Litchfield County being particularly noted for its vineyards and wineries.
Which Connecticut county is known for its art scene?
Middlesex and Fairfield counties have notable, active arts communities, but New Haven County, especially the city of New Haven, may be best known for its arts and culture scene.