Located in the Southeastern region of the United States, Arkansas is bordered by six other states and is known for its diverse natural beauty. Sometimes called "The Natural State," Arkansas is home to beautiful natural features like the Ozark Mountains, the Mississippi River, the Buffalo National River, and several forests.
Arkansas (AR) on the US Map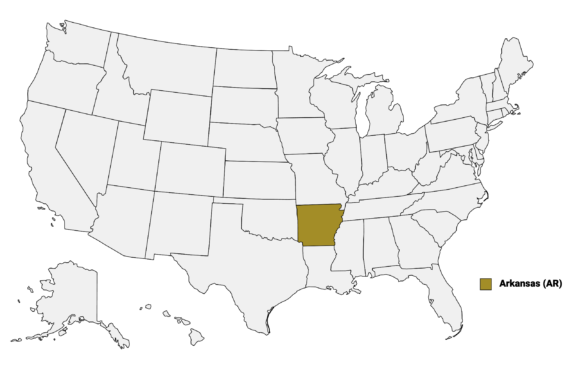 The state's cultural heritage is deeply rooted in the culture of the Southern United States. It also played a significant role in the Civil War and has been a site of important events related to African American Civil Rights. Historical and cultural attractions in Arkansas include Little Rock Central High School National Historic Site and the Clinton Presidential Center.
There are 75 state counties in Arkansas, and each has its unique characteristics and attractions. Each of the state's counties is roughly the same size in total area, but the populations and population densities vary considerably. The state's capital city, Little Rock, is located in Pulaski County, which has the highest population.
In this post, we'll explore the counties of Arkansas, taking a look at the largest and smallest counties by population as well as the state's most notable cities.
Below is a map of the 75 counties of Arkansas (you can click on the map to enlarge it and to see the major city in each state).
Arkansas Counties Map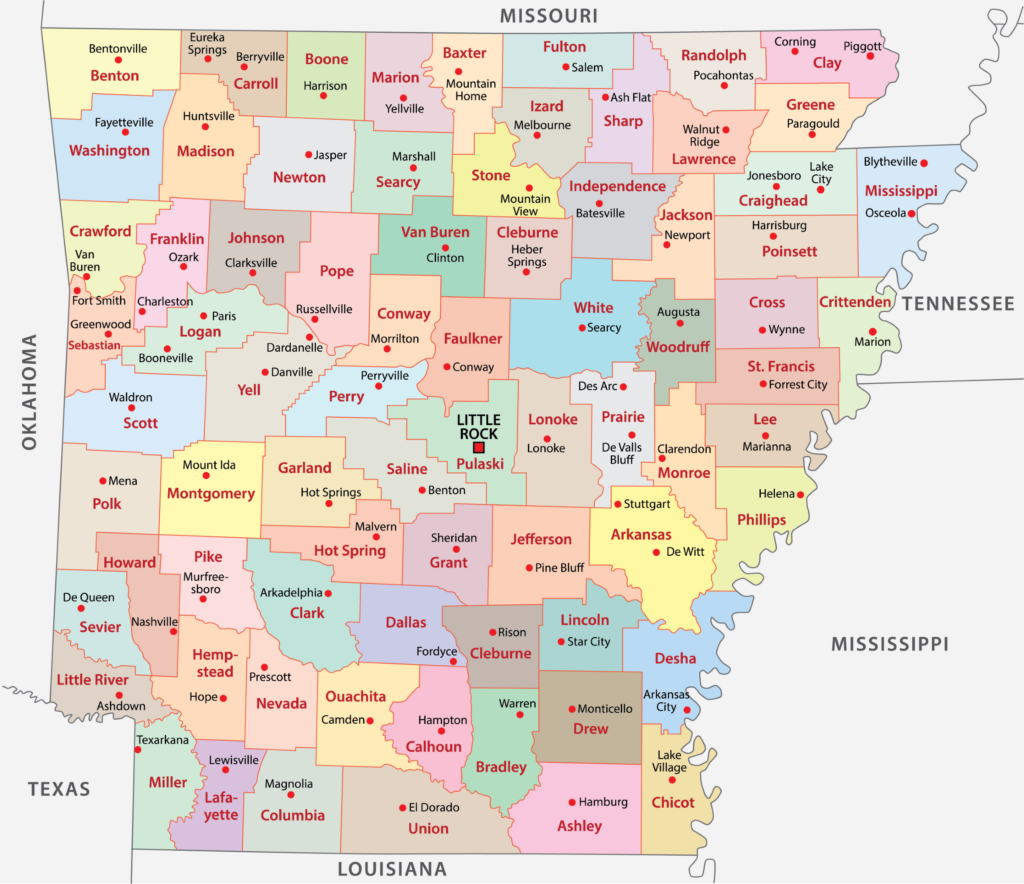 Interactive Map of Arkansas Counties
Click on any of the counties on the map to see the county's population, economic data, time zone, and zip code (the data will appear below the map). Data is sourced from the US Census 2021.
List of the Counties of Arkansas:
| County | Population | Per sq. km | Largest City |
| --- | --- | --- | --- |
| Arkansas County | 17,273 | 6.72 | Stuttgart |
| Ashley County | 19,362 | 8.08 | Crossett |
| Baxter County | 41,476 | 28.91 | Mountain Home |
| Benton County | 278,774 | 126.97 | Springdale |
| Boone County | 37,445 | 24.52 | Harrison |
| Bradley County | 10,597 | 6.3 | Warren |
| Calhoun County | 4,811 | 2.96 | Hampton |
| Carroll County | 28,154 | 17.26 | Berryville |
| Chicot County | 10,405 | 6.31 | Dermott |
| Clark County | 21,569 | 9.62 | Arkadelphia |
| Clay County | 14,661 | 8.86 | Piggott |
| Cleburne County | 24,848 | 17.32 | Heber Springs |
| Cleveland County | 7,632 | 4.93 | Rison |
| Columbia County | 22,947 | 11.57 | Magnolia |
| Conway County | 20,687 | 14.47 | Morrilton |
| Craighead County | 109,875 | 59.99 | Jonesboro |
| Crawford County | 60,483 | 39.23 | Van Buren |
| Crittenden County | 48,338 | 30.45 | West Memphis |
| Cross County | 16,935 | 10.61 | Wynne |
| Dallas County | 6,645 | 3.84 | Fordyce |
| Desha County | 11,530 | 6.01 | Dumas |
| Drew County | 17,511 | 8.16 | Monticello |
| Faulkner County | 123,191 | 73.49 | Conway |
| Franklin County | 17,159 | 10.88 | Ozark |
| Fulton County | 12,072 | 7.54 | Cherokee Village |
| Garland County | 99,694 | 56.81 | Hot Springs |
| Grant County | 17,912 | 10.94 | Sheridan |
| Greene County | 45,665 | 30.54 | Paragould |
| Hempstead County | 20,352 | 10.81 | Hope |
| Hot Spring County | 33,096 | 20.78 | Malvern |
| Howard County | 12,894 | 8.48 | Nashville |
| Independence County | 37,796 | 19.11 | Batesville |
| Izard County | 13,653 | 9.09 | Horseshoe Bend |
| Jackson County | 16,878 | 10.28 | Newport |
| Jefferson County | 68,199 | 30.18 | Pine Bluff |
| Johnson County | 25,853 | 15.1 | Clarksville |
| Lafayette County | 6,373 | 4.65 | Stamps |
| Lawrence County | 16,292 | 10.71 | Walnut Ridge |
| Lee County | 8,832 | 5.69 | Marianna |
| Lincoln County | 13,092 | 9.04 | Star City |
| Little River County | 12,104 | 8.8 | Ashdown |
| Logan County | 21,299 | 11.6 | Booneville |
| Lonoke County | 73,824 | 36.95 | Cabot |
| Madison County | 16,496 | 7.63 | Huntsville |
| Marion County | 16,750 | 10.84 | Bull Shoals |
| Miller County | 42,875 | 26.53 | Texarkana |
| Mississippi County | 41,061 | 17.57 | Blytheville |
| Monroe County | 6,903 | 4.39 | Brinkley |
| Montgomery County | 8,525 | 4.22 | Glenwood |
| Nevada County | 8,340 | 5.21 | Prescott |
| Newton County | 7,343 | 3.45 | Jasper |
| Ouachita County | 22,858 | 12.04 | Camden |
| Perry County | 10,056 | 7.04 | Perryville |
| Phillips County | 16,923 | 9.46 | Helena-West Helena |
| Pike County | 10,234 | 6.58 | Glenwood |
| Poinsett County | 23,212 | 11.82 | Trumann |
| Polk County | 19,476 | 8.78 | Mena |
| Pope County | 63,234 | 30.1 | Russellville |
| Prairie County | 8,306 | 4.95 | Hazen |
| Pulaski County | 397,931 | 202.61 | Little Rock |
| Randolph County | 18,442 | 10.92 | Pocahontas |
| Saline County | 122,308 | 65.27 | Benton |
| Scott County | 9,928 | 4.29 | Waldron |
| Searcy County | 7,872 | 4.56 | Marshall |
| Sebastian County | 127,941 | 93 | Fort Smith |
| Sevier County | 16,074 | 11.01 | De Queen |
| Sharp County | 17,243 | 11.01 | Cherokee Village |
| St. Francis County | 23,623 | 14.37 | Forrest City |
| Stone County | 12,364 | 7.87 | Mountain View |
| Union County | 39,262 | 14.59 | El Dorado |
| Van Buren County | 15,851 | 8.63 | Clinton |
| Washington County | 242,793 | 99.57 | Fayetteville |
| White County | 77,075 | 28.78 | Searcy |
| Woodruff County | 6,333 | 4.17 | Augusta |
| Yell County | 20,489 | 8.5 | Dardanelle |
Largest Counties in Arkansas by Population
With a total population of just over 3 million, Arkansas is the 34th most populous state in the USA. In this section, we'll look at the Arkansas counties with the largest populations.
Pulaski County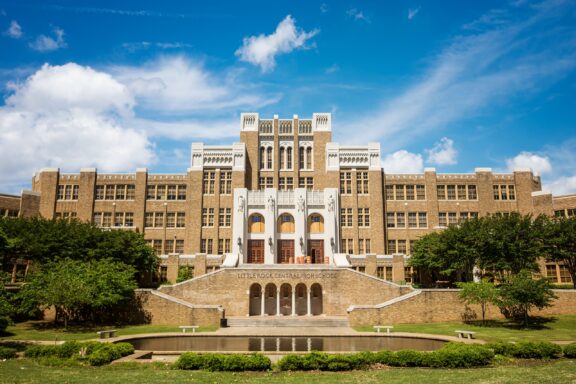 With 397,931 residents and a population density of 202.61 per square kilometer (524.76 per square mile), Pulaski County is the largest county in Arkansas by population. Pulaski County is located near the geographical center of Arkansas and is also noteworthy for its county seat: Little Rock, the capital city of Arkansas.
The Arkansas State Capitol building is located in downtown Little Rock, and this houses the offices of the Governor and other state officials. Visitors can explore the State Capitol on their own or book a guided tour.
Pulaski County was the fifth county to be established in Arkansas in 1818, the same year as Clark and Hempstead Counties. It is named after Casimir Pulaski, a Polish-born general who fought in the Revolutionary War.
Some of the outdoor attractions in Pulaski County are Pinnacle Mountain State Park and Two Rivers Park, both of which offer opportunities for hiking, biking, and picnicking. The county is also home to the Big Dam Bridge, the longest pedestrian and bicycle bridge in North America.
Benton County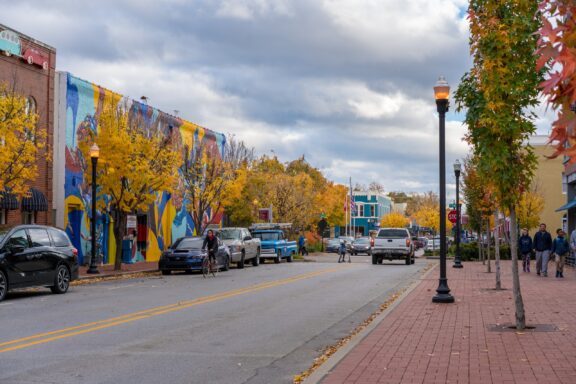 The second-most populous county in Arkansas is Benton County, located in the northwesternmost corner of the state. The county seat and second-largest city in Benton County is Bentonville, which is the tenth-largest city in Arkansas and is famous for hosting the headquarters of Walmart. The county's most populous city is Rogers.
Some of the natural attractions in Benton County are Beaver Lake and the Ozark Mountains. Beaver Lake is a man-made reservoir that provides drinking water to Northwestern Arkansas and is a popular tourist destination.
The Ozarks extend through Missouri, Kansas, Oklahoma, and Arkansas, and this county lies in the Springfield Plateau subregion, which mostly consists of plains and hills. Part of the Ozark National Forest can also be found in Benton County.
Washington County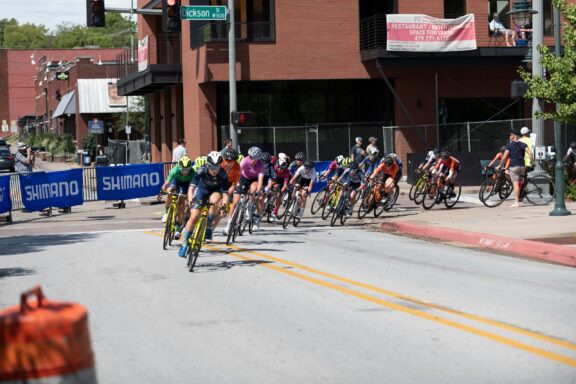 Washington County is located adjacent to Benton County and is home to the vibrant college town of Fayetteville, the hometown of the University of Arkansas. It is the third-most populous county in Arkansas and has a population density of 99.57 per square kilometer (257.95 per square mile).
The name of this county was inspired by George Washington, the first president of the United States, and today it is known as a regional economic, educational, and cultural hub in the region. The county was founded in 1828, previously forming part of the Cherokee Territory and spending several years as Lovely County.
A mix of cultural and outdoor aspects makes Washington County unique. The Walton Arts Center is the state's largest performing arts presenter, and Dickson Street hosts the annual Bikes, Blues, and BBQs bike festival.
Sebastian County
Sebastian County is located in the eastern part of Arkansas along the state's border with Oklahoma. Interestingly, this county has dual county seats, with the cities of Greenwood and Fort Smith both functioning as county seats.
Fort Smith is the largest city in Sebastian County and the third-largest in the state of Arkansas. It's located at the confluence of the Arkansas and Poteau rivers and was established in 1817 as a US military post.
Sebastian County was founded in 1857 when it became Arkansas's 56th county. Its name comes from former United States Senator William K. Sebastian. The county is now home to cultural festivals like the Old Fort Days Rodeo, which celebrates the western heritage of the region, and the Peacemaker Music and Arts Festival.
Faulkner County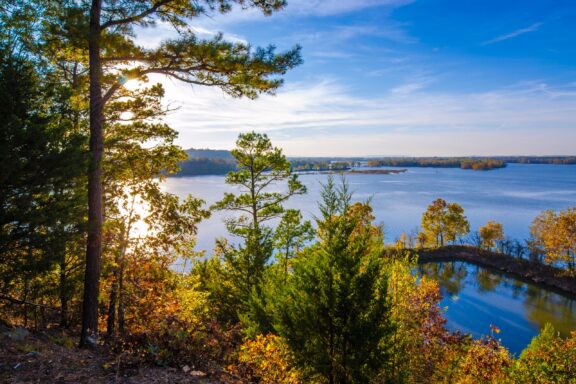 Faulkner County is located in Central Arkansas, just north of Pulaski County. The county was created in 1873 by the combination of former parts of Conway and Pulaski counties. Its name comes from Colonel Sandy Faulkner, a planter, storyteller, and fiddle player known for his popular folk tale, The Arkansas Traveller.
The county seat and largest city in Faulkner County is Conway, which is home to the University of Central Arkansas (UCA) as well as Hendrix College and is referred to as the City of Colleges. Conway is considered a suburb of the larger Little Rock, and it serves as a regional hub for shopping, education, work, healthcare, and more.
Natural attractions in Faulkner County include Lake Conway, the largest man-made Game and Fish Commission lake in the US, and Cadron Creek Settlement Park.
Smallest Counties in Arkansas by Population
Arkansas is also home to exceptionally small counties in terms of how many people live there. These are counties that generally have very low population densities. In this section, we'll take a closer look at some of the least populated counties in Arkansas.
Calhoun County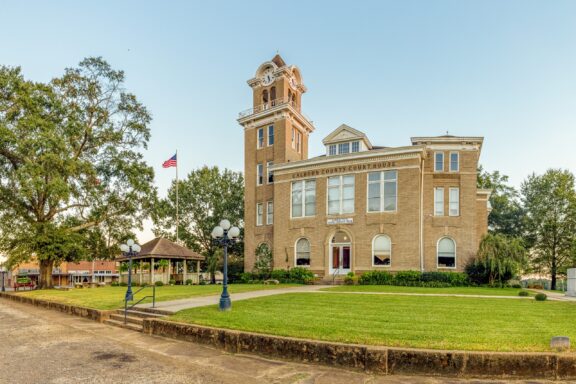 Located in the south-central part of Arkansas, Calhoun County has the smallest population of any county in the state with just 4,811 residents. The population density in Calhoun County is 2.96 per square kilometer or 7.67 per square mile.
The county seat and largest city with a population of just over 1,000 is Hampton, Arkansas. Serving as the hub for commercial and administrative activities in the county, Hampton is a small rural community known for its friendly atmosphere.
Calhoun County was formed in 1850 by the combination of parts of Dallas, Ouachita, and Bradley counties and is named for John C. Calhoun, an American statesman and political philosopher. The county consists of mostly rolling hills and forested areas, including part of the Moro Creek Bottoms Natural Area.
Woodruff County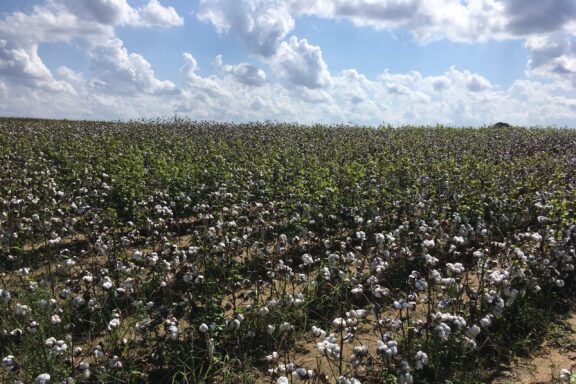 Arkansas's Woodruff County is the second smallest county in the state by population, and it's located in the Arkansas Delta on the eastern side of the state. The county was established in 1862 through the combination of territories taken from Jackson and St Francis counties.
The county seat of Woodruff County is Augusta, a small town situated on the banks of the White River that offers a glimpse into the region's history with the Austra Commercial Historic District, which is listed on the National Register of Historic Places. The district features well-preserved structures that showcase the region's history and heritage.
As a predominantly rural county, agriculture plays an important role in the economy of Woodruff County. The fertile soils of the Arkansas Delta make the land ideal for farming, and some of the most common crops are rice, soybean, cotton, and wheat.
Lafayette County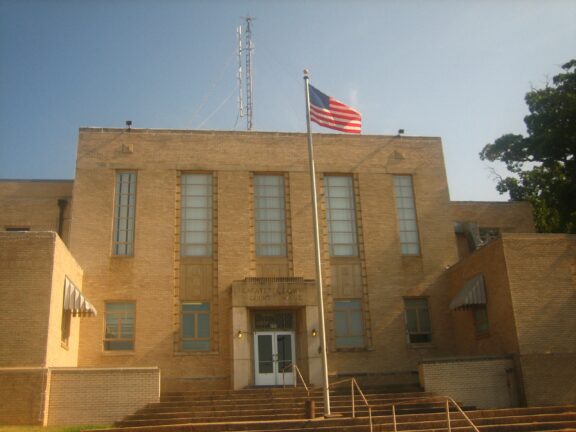 Another county of Arkansas with a population under 7,000 is Lafayette County, found in the southwestern part of the state, bordering Louisiana. Established in 1827, Lafayette County was named after Marquis de Lafayette, a French military officer who fought in the American Revolutionary War.
Lafayette County is known for its natural beauty. Its geography consists of rolling hills, farmland, and forests, and it is bisected by the Bayou Bodcau Reservoir of Louisiana and Arkansas. There are a variety of opportunities for fishing, boating, and observing wildlife.
The county seat and largest city in this county is Lewisville, a small rural community that acts as the administrative and commercial center for the county.
Dallas County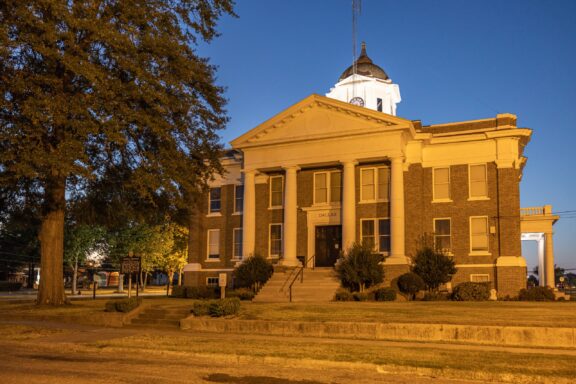 Dallas County lies in the south-central part of Arkansas, bordered by Ouachita and Calhoun counties to the south, Hot Spring and Grant counties to the north, Clark County to the west, and Cleburne County to the east. Dallas County was formed in 1845 and was named after George M. Dallas, Vice President of the United States in 1844.
Forested areas are abundant in Dallas County, and the timber industry has historically been an important economic sector in the region. The abundance of natural areas and low population density of Dallas County also make many outdoor activities like hiking and fishing popular in the area.
The county seat is Fordyce, which is also the largest city in Dallas County although it is a small rural community. The city was named after Samuel Wesley Fordyce and is home to the Dallas County Courthouse, which is listed on the National Register of Historic Places.
Monroe County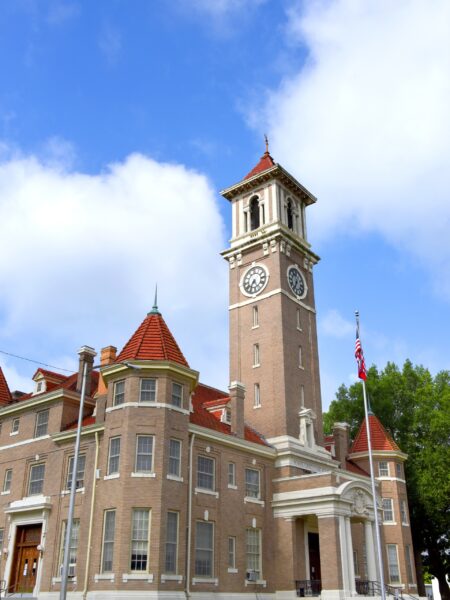 Another exceptionally small county in Arkansas is Monroe County, which is located in the eastern part of the state. It was formed in 1829 and named after James Monroe, the fifth President of the United States.
Brinkley is the most populous city in Monroe County, and Clarendon is the county seat. Brinkley was founded as a railroad town in 1872 and has functioned as a center for transportation and agriculture in the region. The city features the Central Delta Depot Museum, paying homage to its history as a railroad town.
Situated in the Arkansas Delta, Monroe County consists of flat, fertile ground that has been used for agriculture since the arrival of early European-American settlers, who enslaved African Americans to clear the land and farm cotton.
Notable Cities
Little Rock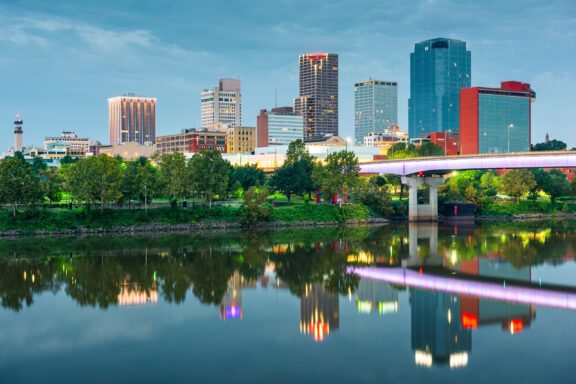 Little Rock is the capital city of Arkansas and is part of Pulaski County. It is located in Central Arkansas, an area that has been inhabited for thousands of years prior to the arrival of Europeans. Some of the historical tribes that called the area home were the Caddo, Quapaw, Osage, Choctaw, and Cherokee.
The city's name came from French explorer Bernard de la Harpe in 1722 after noticing a small outcropping on the Arkansas River and calling it le petit roche, or "the little rock." Little Rock was officially incorporated in 1831, five years before Arkansas became a state.
In modern times, the city is known for its lively downtown area and its role as an economic and cultural center in Arkansas.
Fayetteville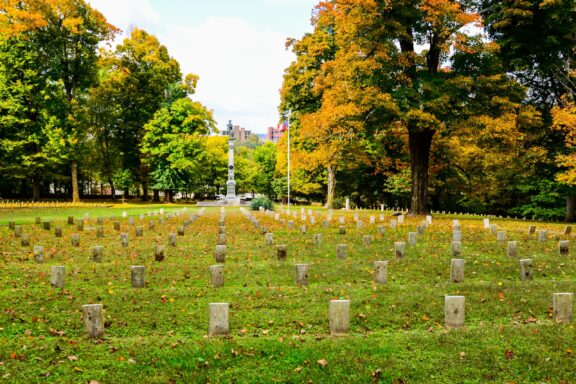 The city of Fayetteville is notable for being the second-largest city in Arkansas, the home of the University of Arkansas, and the county seat in Washington County. In part thanks to hosting the University of Arkansas, Fayetteville is known for its active arts and music scenes. It's the largest city in Northwestern Arkansas and is a cultural hub for the region.
Previously inhabited by Osage and Quapaw tribes, European settlers arrived in the early 19th century. During the US Civil War, Fayetteville was a Confederate supply center before becoming occupied by Union forces in 1862.
Springdale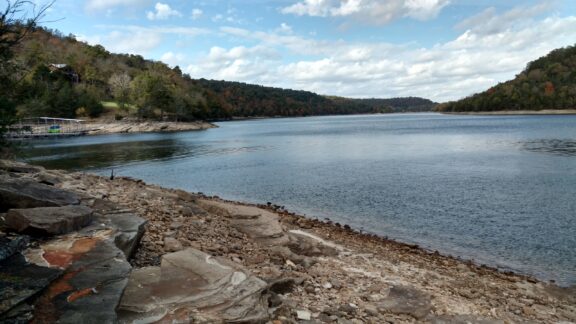 The fourth-largest city in Arkansas is Springdale, which is located in both Washington and Benton counties. Having long been an important industrial center for Arkansas, Springdale is the home of the headquarters for Tyson Foods, the second-largest meat-producing company in the world.
Springdale is surrounded by the Ozark Mountains, and plenty of outdoor activities are easily accessible from the city. Beaver Lake is located nearby, and it's possible to enjoy hiking, fishing, and boating here in nature.
More About Arkansas
How many counties are there in Arkansas?
There are 75 counties in the state of Arkansas, each of which has a county judge and justices of the peace. These counties are further divided into 1,271 subdivisions.
What is the biggest county in Arkansas?
The biggest county in Arkansas by total area is Union County, which covers an area of 1,055.27 sq mi (2,733 km2). The county has a population of 39,262, making it the 19th most populous county in Arkansas.
How many counties in Arkansas have two county seats?
There are ten counties in Arkansas that have two county seats. These ten counties are divided into two districts, each of which has its own courthouse. This means there are a total of 85 counties and courthouses in the state of Arkansas. 
What is the most scenic county in Arkansas?
One of the most famous scenic locations in Arkansas is Whitaker Point, located in Newton County. Newton County may be the most scenic county in Arkansas because it is situated almost entirely within the dramatic and beautiful Boston Mountain range of the Ozarks. 
What is the most livable county in Arkansas?
The best county to live in will vary according to lifestyle and other factors, but Benton County is widely thought to be one of the most livable counties in Arkansas. The cost of living, low crime rate, and quality public schools are all reasons Benton County is a great place to live. 
What is the oldest city in Arkansas?
The oldest city in Arkansas is Batesville. The territory of the city was ceded to the US in 1808 by the Osage people, and it has gone by three different names since: Napoleon, Poke Creek, and Batesville.
The name Batesville comes from James Woodson Bates, an American lawyer and statesman who was the first Territorial Delegate to Congress.