Ashgabat is the capital of Turkmenistan. Ashgabat is not only the political capital but also the largest city in the country, serving as the primary hub for economic, cultural, and educational activities in Turkmenistan.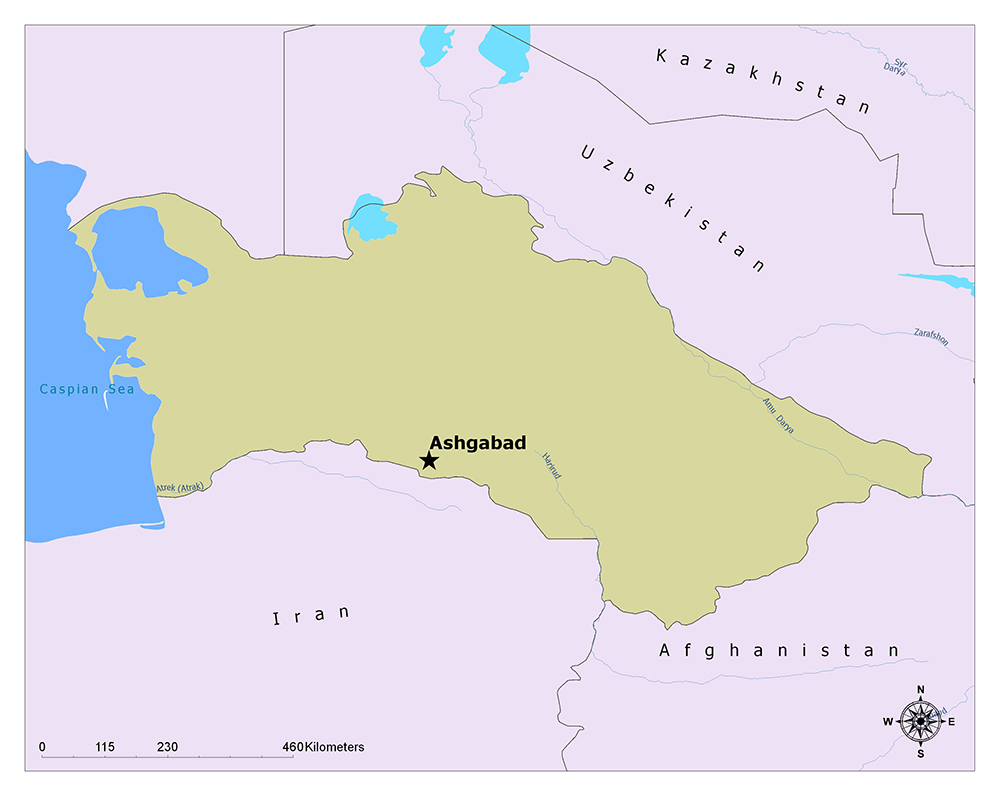 Ashgabat's modern appearance is characterized by extensive use of white marble and grandiose architecture. This distinctive feature earned it a Guinness World Record for having the most white marble buildings in the world. Ashgabat is also known for its numerous parks, museums, and monuments.
Where is Ashgabat?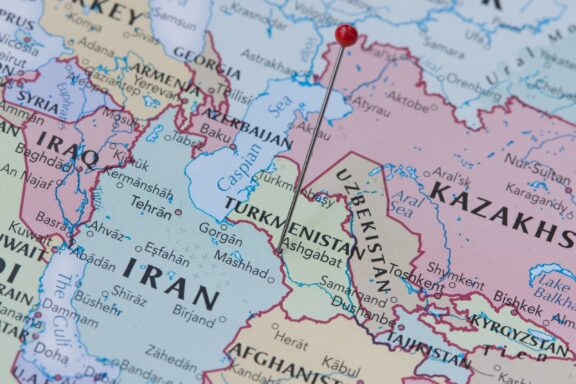 Ashgabat is located in Turkmenistan, a country in Central Asia. Specifically, the city is situated in the southern part of the country, near the Kopet Dag mountain range and only a few kilometers from the border with Iran. Geographically, its coordinates are approximately 37.95 degrees North latitude and 58.38 degrees East longitude.
Ashgabat is situated in a large oasis in the Kara Kum Desert, and the city benefits from the cooling influence of the mountains while also dealing with the challenges of a desert climate.
History of Ashgabat
Ashgabat's history dates back to approximately the 2nd millennium BCE, although the city as it's known today began to take shape in the 19th century.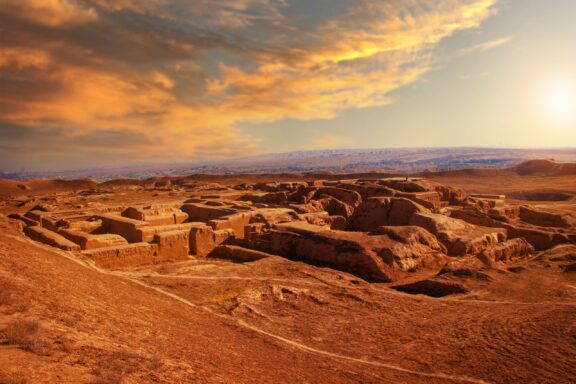 The area around present-day Ashgabat has been inhabited for thousands of years. The nearby site of Anau has archaeological evidence from the Bronze Age, and the city was historically a stop on the Silk Road, a network of trade routes connecting East Asia with the Middle East and Europe.
Ashgabat, originally named Poltoratsk, was founded in 1881 as a Russian military fort following the conquest of Turkmenistan. In 1885, it became the administrative center of the Transcaspian Region of the Russian Empire and was renamed Ashgabat, derived from Persian, meaning "city of love."
Turkmenistan became one of the Soviet Socialist Republics in 1925, with Ashgabat as its capital. The city grew in this period, with Russian-style architecture dominating its cityscape.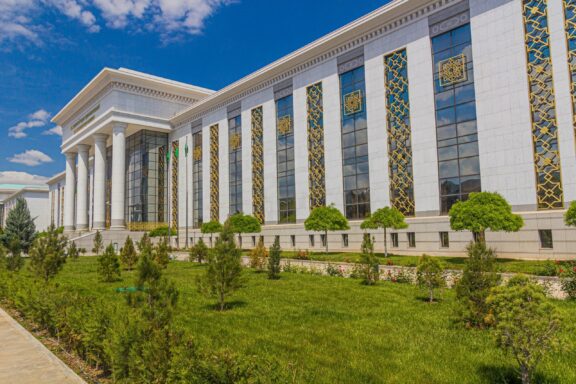 On October 6, 1948, Ashgabat was almost destroyed by a catastrophic earthquake, now known as the Ashgabat earthquake. The 7.3 magnitude quake killed an estimated 110,000 people, two-thirds of the city's population at that time, making it one of the deadliest earthquakes in history.
Post-Earthquake Reconstruction and Soviet Influence
Following the earthquake, Ashgabat was extensively rebuilt in the Soviet architectural style, with wide boulevards and monumental buildings. The city continued to develop and expand as a regional hub during the remaining years of Soviet rule.
After the dissolution of the Soviet Union, Turkmenistan gained independence in 1991. Since then, Ashgabat has been transformed into a showcase city for the independent nation. Under the leadership of Saparmurat Niyazov and his successor Gurbanguly Berdimuhamedow, the city has been reconstructed with extensive use of white marble, earning it a place in the Guinness Book of World Records for the world's highest concentration of white marble buildings.
Modern Ashgabat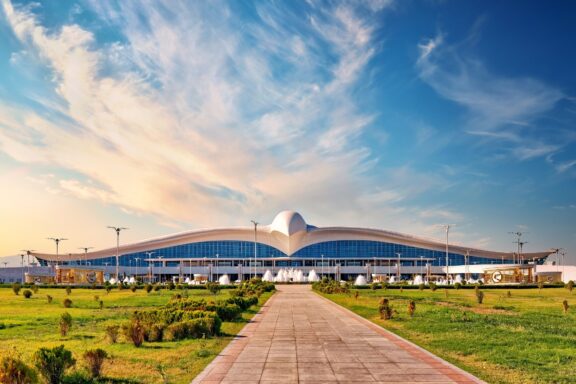 Today, Ashgabat is a rapidly modernizing city, symbolizing Turkmenistan's aspirations on the international stage. It has hosted several high-profile international events, including the 5th Asian Indoor and Martial Arts Games 2017.
This progression has made Ashgabat an intriguing blend of ancient culture and modern architectural marvels, reflecting its journey from a stop on the Silk Road to a 21st-century city.
Features of Ashgabat
Ashgabat is a city that has transformed over time, combining elements of its rich history with a distinctive contemporary appearance. Its modern face, characterized by lavish white marble buildings, wide boulevards, and large-scale monuments, coexists with its cultural heritage in an interesting blend.
Geography and Climate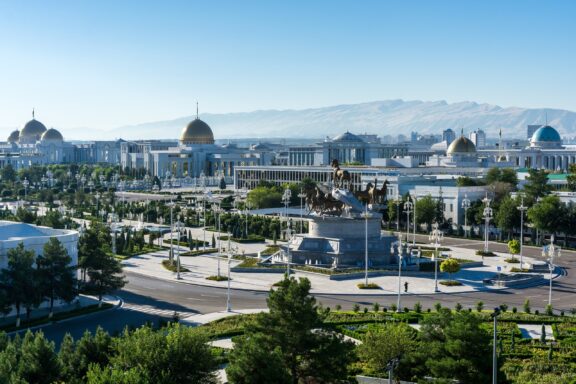 Ashgabat's geographical setting is one of stark contrasts, with the arid expanse of the Karakum Desert on one side and the rugged peaks of the Kopet Dag mountain range on the other. This geographic situation heavily influences Ashgabat's climate, which is classified as a hot desert (BWh) under the Köppen climate classification system.
The city experiences hot summers and mild winters, with the hottest month typically being July, when temperatures can exceed 40 °C (104 °F). Winters, while generally mild, can have periods of cold weather when influenced by the Siberian Anticyclone. As typical for a desert climate, Ashgabat sees very little precipitation, with annual rainfall averaging only around 200 millimeters (7.87 inches). Most of this rain falls in the winter and spring months.
Population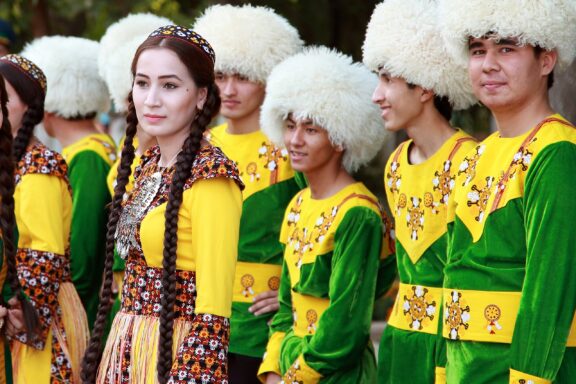 The population of Ashgabat is over 800,000, although current estimates may differ slightly. Most of the city's inhabitants are ethnic Turkmen, with smaller communities of Russians, Armenians, and other ethnicities. The official language is Turkmen, but Russian is also widely spoken.
Ashgabat's residents are predominantly Muslim, as is the case throughout Turkmenistan, with Islam serving as a significant cultural influence. However, the city is also known for its tolerance and diversity, with people of different ethnicities and religions living harmoniously.
Economy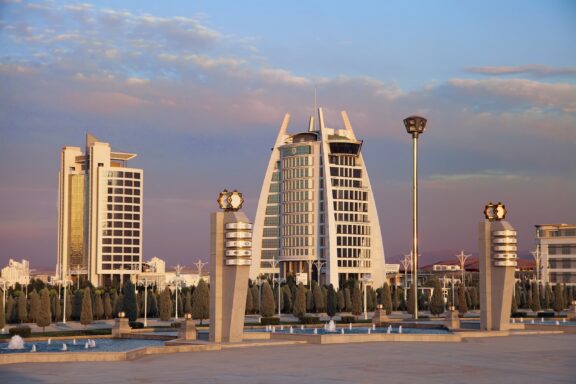 Ashgabat is the economic heart of Turkmenistan, with a diverse economy encompassing various sectors. The country's vast natural gas reserves heavily influence the city's economy, with the energy sector playing a crucial role. Many large, state-owned gas companies have their headquarters in Ashgabat.
Beyond the energy sector, Ashgabat is a significant center for trade and services. Its location along the historic Silk Road has long made it an essential hub for commerce, and this continues today with the city's numerous bazaars and shopping centers.
The city is also home to a growing construction industry driven by the government's extensive infrastructure development projects. This includes constructing numerous marble-clad buildings and other grand structures built by Turkish construction firms.
In addition to these sectors, Ashgabat is also a center for education and healthcare in Turkmenistan, with many schools, universities, and hospitals in the city. These institutions provide services and contribute to the city's economy through employment and other economic activities.
Things to Do and Places to See in Ashgabat
Ashgabat offers an abundant array of activities and sights to explore. Let's explore some of this captivating city's most sought-after destinations and attractions.
1. Turkmenbashi Ruhy Mosque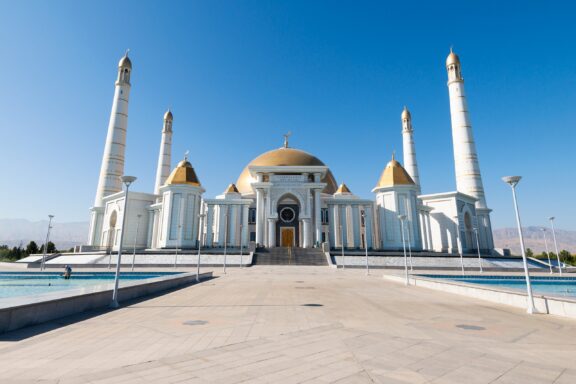 The Turkmenbashi Ruhy Mosque was officially opened in 2004 and has a total area of over 5,000 square meters and can accommodate up to 10,000 worshippers at a time, with the main hall holding up to 3,000. The minarets are about 91 meters tall, and the height of the main dome is approximately 50 meters.
The mosque also serves as the mausoleum of Niyazov, who died in 2006. His tomb is located in the mosque's grounds. The whole complex, with its marble finish and golden domes, is a testament to Niyazov's vision for a modern and prosperous Turkmenistan, although it is also considered a symbol of his autocratic rule.
2. Neutrality Monument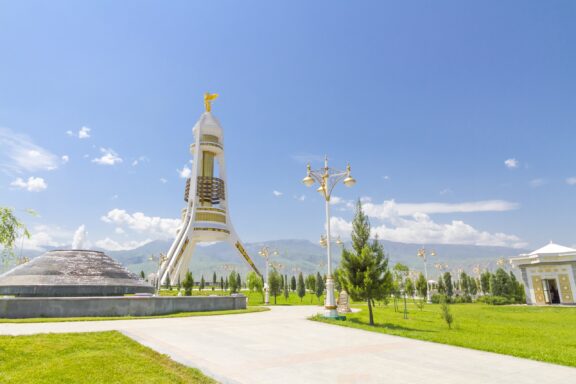 The Neutrality Monument is a significant landmark in Ashgabat, Turkmenistan's capital city. Initially built in 1998, this monument featured a 12-meter tall gold-plated statue of Saparmurat Niyazov, the former president of Turkmenistan, which rotated to always face the sun. The monument was an enormous, three-legged arch topped by this statue. It was 75 meters tall and stood on a central square in Ashgabat.
However, in 2010, under the rule of Niyazov's successor, Gurbanguly Berdimuhamedow, the monument was dismantled and moved to the city's suburbs. The new Neutrality Monument, without the revolving statue of Niyazov, was inaugurated in 2014. It's located at the top of a hill and surrounded by a park.
3. Independence Monument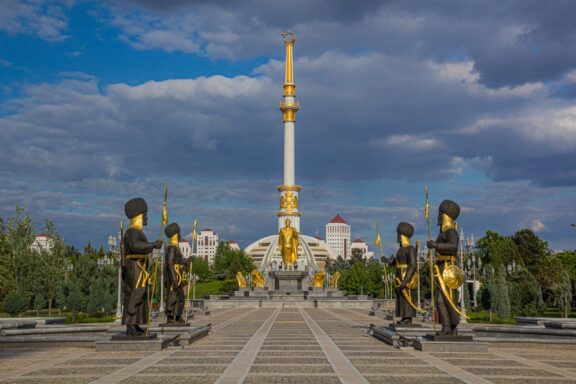 The Independence Monument in Turkmenistan is another significant landmark in Ashgabat. This monument, like the Neutrality Monument, is symbolic of Turkmenistan's national identity and sovereignty. The memorial is 118 meters tall, making it one of the city's most prominent features.
The design of the monument is quite distinctive. The structure is shaped like a traditional Turkmen tent, known as a "yurt," rising from a base that represents a "tusau keser," a traditional ceremony of cutting the fetters of a young foal. The monument is encircled by statues of Turkmen heroes, scholars, and modern soldiers and workers, symbolizing the country's history and future.
4. Turkmen Carpet Museum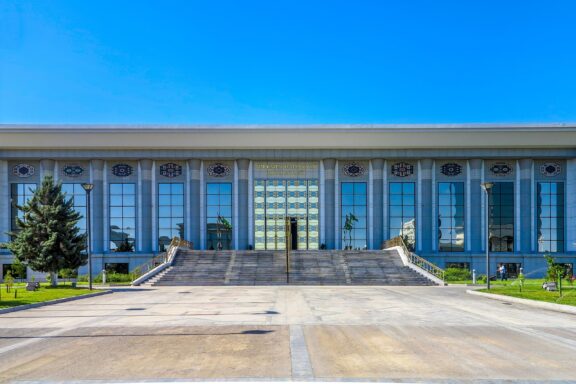 Established in 1993, the Turkmen Carpet Museum houses an extensive collection of antique and modern Turkmen rugs. The collection includes traditional hand-woven carpets, carpet bags, saddlebags, and other woven items from various periods, offering visitors an in-depth view of the history and evolution of Turkmen's carpet weaving.
One of the most significant items in the museum is the world's largest handmade carpet, known as the Qarshi Carpet. It's a mammoth piece that measures 14 by 21 meters and was created by several Turkmen weavers in 2001. This carpet has earned a place in the Guinness Book of World Records.
5. Wedding Palace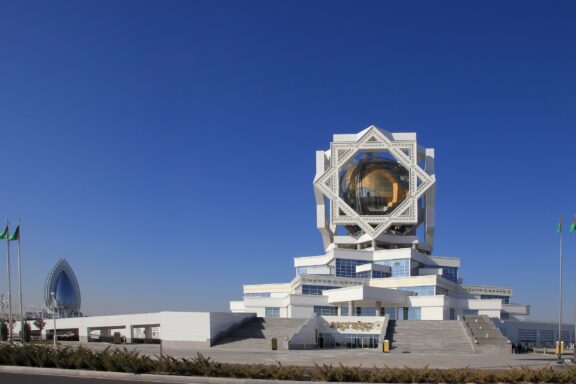 The Wedding Palace, also known as the "Palace of Happiness" or "Ruhyyet Palace," is an iconic building in Ashgabat. The building, inaugurated in 2011, is primarily used for state civil marriage ceremonies, and its unique architecture has made it one of the city's most recognizable landmarks.
The Wedding Palace offers numerous services related to weddings, including registration and celebration of marriage and other services like photography, beauty salons, and banquet halls. Inside the building, there's a large wedding hall, various shops selling wedding attire and accessories, and several luxurious hotel suites for newlyweds.
6. Alem Cultural and Entertainment Center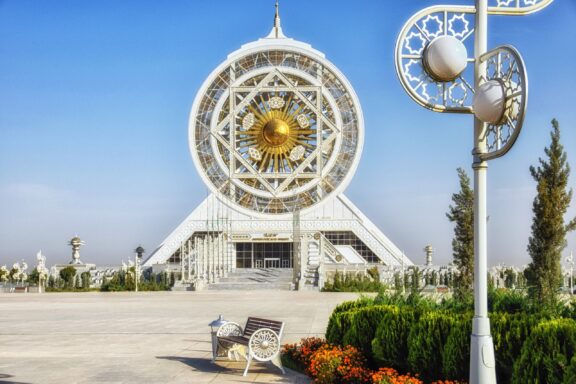 The Alem Cultural and Entertainment Center is designed to promote cultural and recreational activities. It houses various facilities, including a planetarium, a cinema, and a restaurant. There are also halls for multiple games and entertainment, making it a popular destination for both locals and tourists.
The design of the Alem Cultural and Entertainment Center, with its futuristic style and the large glass and white steel Ferris wheel, adds a unique touch to the skyline of Ashgabat. It's a testament to Turkmenistan's efforts to modernize its infrastructure and promote cultural and recreational activities.
7. National Museum of History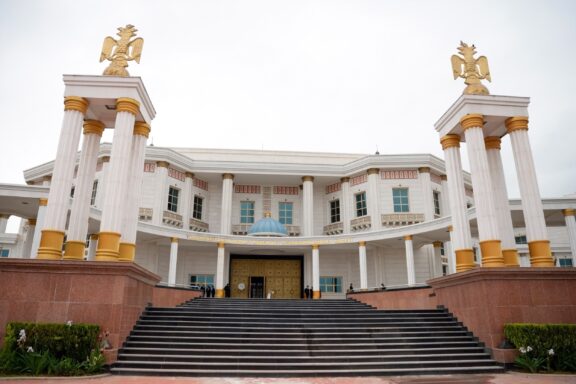 The National Museum of History in Ashgabat is a significant cultural institution with a rich collection of artifacts representing the country's history, culture, and heritage. It's an essential destination for anyone interested in learning about Turkmenistan's past and present.
The museum is organized into several sections dedicated to different periods or aspects of Turkmen history. Exhibits span a wide range, from ancient archaeological finds to displays of the country's modern history.
The antiquities section houses a collection of items dating back to the Bronze Age and includes artifacts from the Parthian and Seljuk periods. Visitors can see ancient tools, jewelry, coins, ceramics, and statues, among other artifacts.
8. Ertugrul Gazi Mosque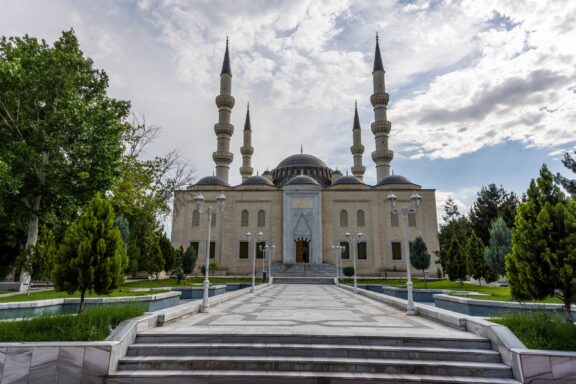 The Ertugrul Gazi Mosque is a testament to the cultural and historical ties between Turkmenistan and Turkey. The mosque was completed in 1998 with financial aid from the Turkish government.
Its large central dome, flanked by four tall minarets, dominates the mosque's exterior. The crown and minarets are a bright white, contrasting with the blue tilework that adorns the rest of the building.
The mosque's interior is lavishly decorated with beautiful tile work, intricate wood carvings, and Islamic calligraphy. The mosque can accommodate up to 5,000 worshippers and has separate prayer areas for men and women.
9. Earthquake Monument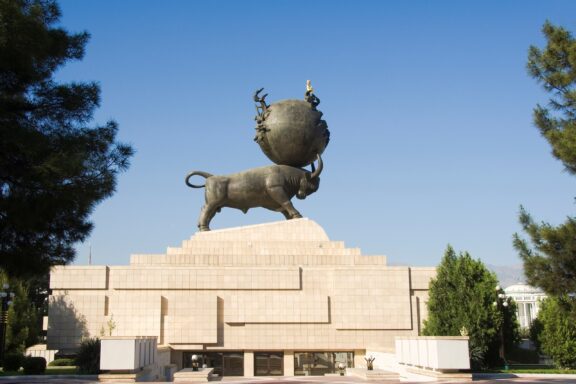 The monument is a dramatic and poignant sculpture featuring a bronze bull (representing the natural disaster) carrying the Earth on its back. On top of the Earth is a woman holding a golden baby high in the air. The baby represents the former President of Turkmenistan, Saparmurat Niyazov, who was an infant at the time of the earthquake and survived the tragedy, though his mother and brothers did not.
The entire structure is located on a platform that resembles cracked earth, symbolizing the destruction caused by the earthquake. The monument's dramatic and symbolic design reminds visitors of the resilience and recovery of the Turkmen people following the earthquake.
Frequently Asked Questions
What is the best time to visit Ashgabat?
The best time to visit Ashgabat is in the spring (April to June) and autumn (September to November), when the temperatures are milder because summers can be sweltering.
Is it safe to visit Ashgabat?
Generally, Ashgabat is considered safe for tourists. However, like anywhere, it's recommended to take standard precautions: be mindful of your belongings, avoid deserted areas at night, and respect local laws and customs.
What is traditional food and cuisine like in Ashgabat?
Traditional Turkmen cuisine, which you'll find in Ashgabat, is primarily based on meats (mainly mutton and chicken), grains, dairy products, and vegetables. Central Asian and Middle Eastern cuisines have influenced it.
What's a must-try dish in Ashgabat?
Plov (pilaf) is a must-try dish, typically made with rice, meat, carrots, and onions. Another specialty is manty, large dumplings typically filled with meat or pumpkin.
What souvenirs can I bring home from Ashgabat?
Popular souvenirs from Ashgabat include traditional Turkmen rugs, silk scarves, silver jewelry, and Turkmen tea. You might also find handcrafted musical instruments or traditional Turkmen hats.
How can I get around in Ashgabat?
Ashgabat has a public transportation system, including buses and taxis. Car hire services are also available. Walking is also an option for shorter distances, as many of the city's main attractions are pretty close to each other.
Is it expensive to visit Ashgabat?
Ashgabat is considered to be moderately priced for tourists. Food, accommodation, and travel within the city can be relatively affordable compared to many Western cities.
Final Thoughts
Ashgabat is a destination worth visiting. It offers an exciting perspective on a country less traveled, a chance to immerse yourself in Central Asian traditions, and to witness firsthand its transformation into a modern metropolis.
While it may not be a conventional tourist destination, Ashgabat provides a distinctive travel experience that rewards those looking for something off the beaten path. If you're searching for a destination that combines a rich history with a strong sense of national identity and evolving modernity, Ashgabat might be the place for you.