Port Moresby is the capital of Papua New Guinea. The city is known for its natural harbors and is critical to the country's trade and commerce.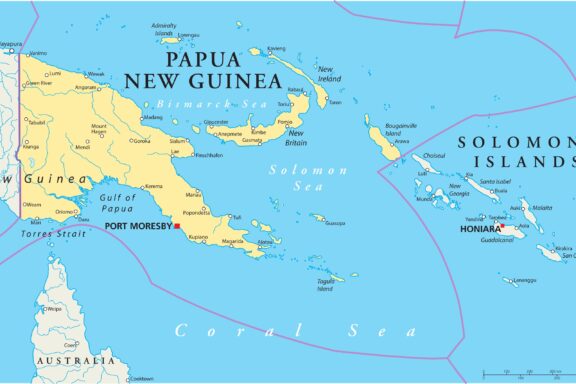 Port Moresby serves as the central administrative and economic hub of the country. It is a visitor gateway, offering a mix of modern amenities and traditional culture. However, safety remains a concern, and the city has been improving its security measures.
Where is Port Morseby?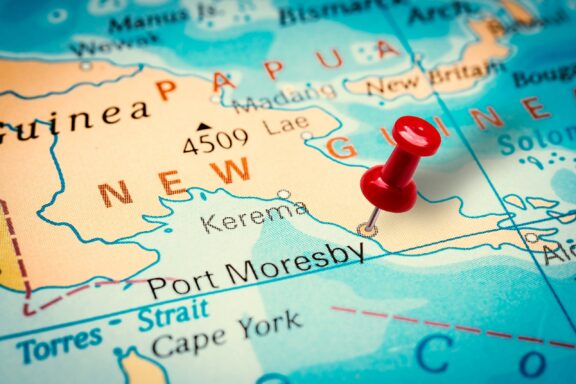 Port Moresby sits on New Guinea's southeastern edge and is part of Papua New Guinea's National Capital District. Located in the southwestern Pacific Ocean, its coordinates are approximately 9.44 °S latitude and 147.18 °E longitude.
The city is nearer to Australia's northern tip, about 200 miles away, than it is to other significant Papua New Guinean cities such as Lae and Mount Hagen. To the south, the Coral Sea provides the city with several maritime connections.
History of Port Moresby
The indigenous Motu-Koitabu people had a significant local trading network, primarily revolving around exchanging sago, pottery, and other goods.
The "Hiri Moale" festival, still celebrated today, commemorates this historic trading journey between the Motu and their neighboring communities.
When Captain John Moresby named the area after his father, Admiral Sir Fairfax Moresby, the British established a protectorate. Initial European settlement could have been faster due to the harsh environment and diseases like malaria.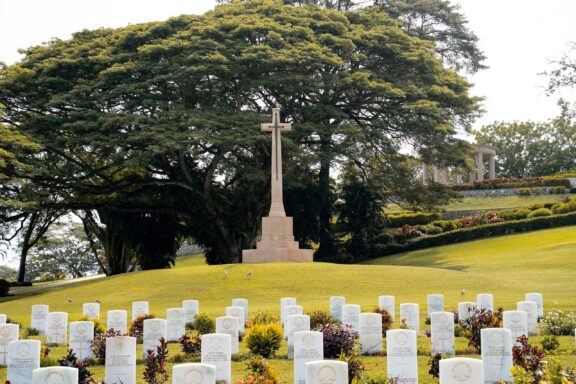 However, with time, the colonial presence increased, especially after the discovery of gold in the region, which drew more settlers.
The strategic importance of Port Moresby was further highlighted during World War II. The city suffered from bombings but never fell into Japanese hands, partly due to the decisive Battle of the Coral Sea.
The city's harbor and airstrips served as important logistics centers for the Allies, and the region became a staging point for several critical military operations, including the battle to retake the Kokoda Track.
After the war, efforts were made to rebuild the city. Infrastructure was improved, and social services expanded. Australia continued its administration, merging Papua and New Guinea Territory into a single entity in 1949.
Port Moresby gradually emerged as the political and economic center, drawing in people from diverse regions of Papua New Guinea for employment and education.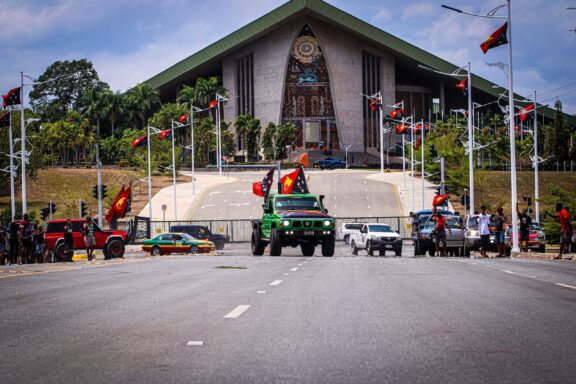 When Papua New Guinea became independent on September 16, 1975, Port Moresby was declared the capital. The city has since witnessed significant changes, including the construction of modern buildings, educational institutions, and cultural centers.
While it continues to face challenges such as crime and social inequality, it is also a city in transformation, increasingly integrating into the global community.
Features of Port Moresby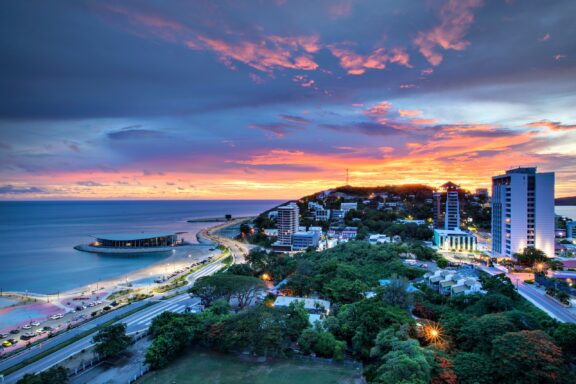 Port Moresby is a city of contrasts whose skyline showcases this duality, featuring modern high-rises and traditional stilt houses known as "Hanuabadas."
Culturally rich, Port Moresby hosts several museums and cultural centers and encapsulates visitors with a glimpse into the country's diverse traditions, arts, and history.
Overall, Port Moresby is a city in transition, aspiring to be a significant player in the region while maintaining its unique cultural and natural heritage.
Geography and Climate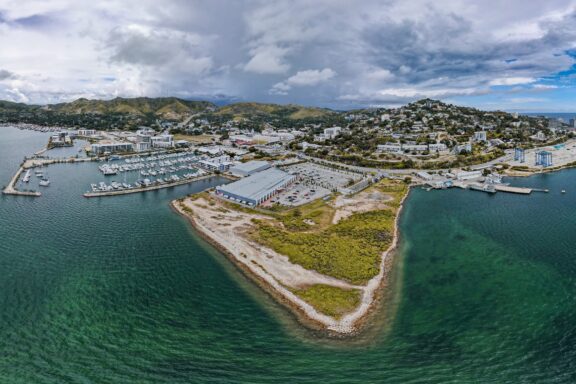 Port Moresby experiences a tropical wet and dry climate, characterized by a wet season from December to April and a dry season from May to November.
The city experiences warm temperatures year-round, ranging from 75 °F to 89 °F (24 °C to 32 °C). Due to its coastal location, the climate is moderated by sea breezes, although humidity can be quite high, particularly in the wet season.
Population
Port Moresby's population hovers around 400,000, making it the largest city in Papua New Guinea. The city is a melting pot of cultures, as it draws people from different parts of the country seeking employment and educational opportunities.
While the Motu-Koitabu people are the original inhabitants, you'll find a mix of other ethnic groups, including the Tolai, Sepik, and Highlanders. This diversity is also reflected in the numerous languages spoken, although English and Tok Pisin are widely used for communication.
Economy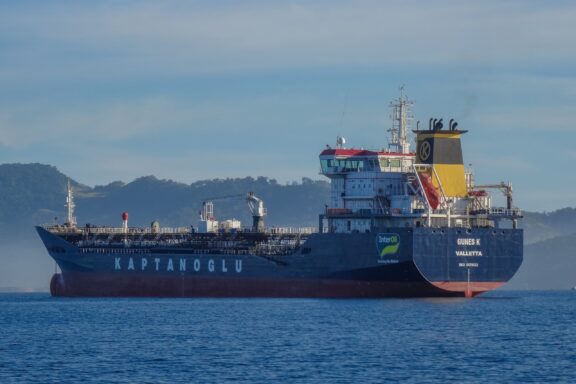 Port Moresby is the epicenter of economic activity in Papua New Guinea. The city has a diverse financial portfolio, including retail, services, construction, and government sectors.
However, its most significant economic drivers are natural resources, particularly oil and gas, facilitated by the presence of companies like Oil Search and ExxonMobil. The city is an important financial hub, housing multiple banks and financial institutions serving domestic and international markets.
It is the country's primary recipient of foreign direct investment, leading to various development projects. Yet, it's worth noting that despite its economic importance, Port Moresby faces challenges such as income inequality and high rates of unemployment among the local population.
Things to Do and Places to See in Port Moresby
If safety concerns don't deter you from visiting Port Moresby, the city offers a range of intriguing tourist attractions worth exploring. Here are some of them:
1. National Museum and Art Gallery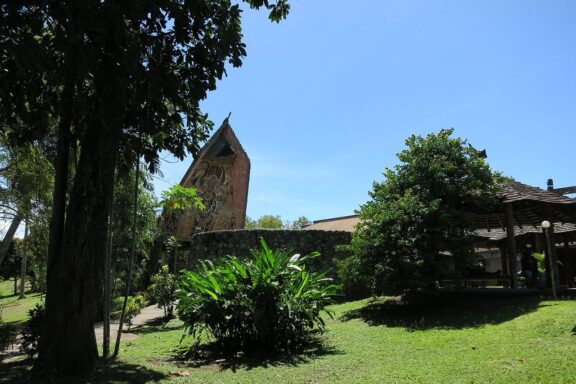 The National Museum and Art Gallery in Port Moresby is a gateway into the rich tapestry of Papua New Guinea's culture and history. Located in the capital city, it's a magnet for those who want to dive deep into the diverse traditions and stories that shape this island nation.
Whether you are a history buff, an art lover, or simply curious about Papua New Guinea, this museum offers an unparalleled look into the nation's multifaceted identity. Guided tours are available, special exhibitions that rotate periodically, and interactive displays to engage younger visitors.
2. Port Moresby Nature Park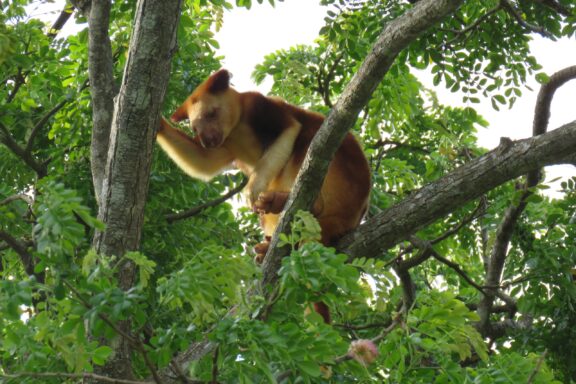 Port Moresby Nature Park offers an intimate encounter with Papua New Guinea's unique flora and fauna. It aims to educate and inspire visitors about the importance of environmental conservation.
The park is ideal for families, photographers, and nature lovers. Aside from enjoying the natural beauty, visitors can attend educational programs, wildlife shows, and gardening workshops. Kids will particularly appreciate the playground and interactive exhibits designed to make learning about nature fun and engaging.
3. PNG National Stadium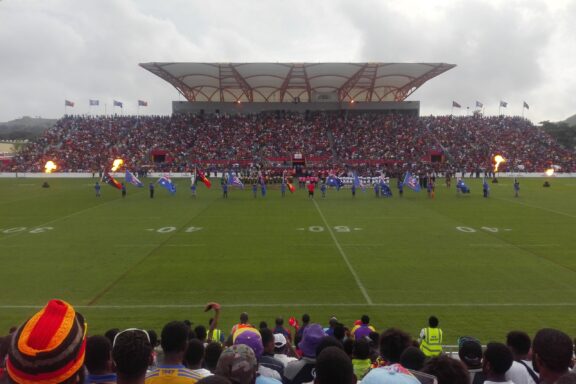 The National Stadium in Port Moresby is the ultimate arena. This modern facility embodies the nation's enthusiasm for sports and serves as a gathering point for sporting events, concerts, and community activities.
The stadium has impressive seating capacity and has top-of-the-line amenities, including VIP boxes, electronic scoreboards, and well-maintained turf fields. It's a state-of-the-art venue designed to host a wide variety of events, from rugby matches to international concerts.
4. Explore the Sunday Market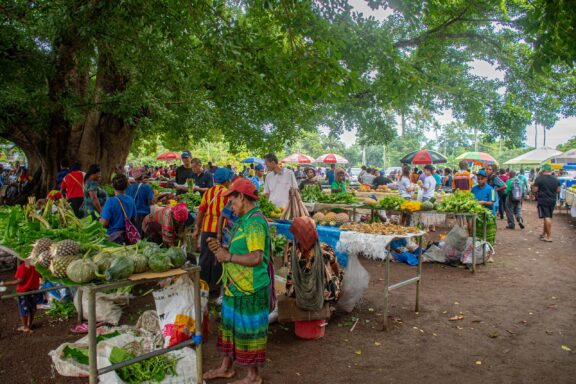 The Sunday Market is a lively gathering that is an authentic snapshot of local life, offering an array of products and a chance to interact with local vendors. Stalls are packed with everything from fresh fruits and vegetables to handcrafted jewelry and textiles.
If you want to shop for souvenirs or sample local cuisine, the Sunday Market is the place to be. It's also a fantastic opportunity to engage with the community, practice your bargaining skills, and perhaps even learn a few words in Tok Pisin, the local Creole language.
5. Ela Beach
One of Port Moresby's most famous beaches, Ela Beach, is where the city meets the sea. Often bustling but never overwhelmingly so, it's a social hub for locals and visitors who enjoy its sandy stretches and ocean views.
Ela Beach is a fantastic place to observe local customs, as it's famous for communal gatherings and sports. Don't miss the opportunity to join in a friendly volleyball game or perhaps enjoy a traditional Melanesian feast, known as a mumu, if you happen upon one.
Frequently Asked Questions
How do I get around Port Moresby?
Public buses, known as PMVs (Public Motor Vehicles) and taxis, are the primary means of public transportation. Renting a car is also an option, although you should be cautious due to varying road conditions.
Is Port Moresby safe for tourists?
Port Moresby is not the safest place for travelers. The city boasts high rates of violent crime, particularly affecting women, and other issues like civil unrest and kidnapping; it's advisable to exercise high caution when traveling to Port Moresby.
What's traditional cuisine like in Port Moresby?
The traditional cuisine in Port Moresby is influenced by the diverse cultures of Papua New Guinea, including the indigenous Motu-Koitabu community.
Seafood, root vegetables like taro and sweet potatoes, and fruits like coconut and banana are foundational ingredients.
The influence of international settlers, particularly Australians, has also left its mark. Over time, these diverse influences have blended to create a unique culinary landscape in the city.
What are must-try authentic local dishes in Port Moresby?
If you're looking to savor the authentic flavors of Port Moresby, here are the top 4 dishes you must try:
1. Mumu: A traditional cooking method where meat and vegetables are slow-cooked in an earth oven.
2. Sago: Often used as a starchy base in various dishes, it can be prepared in many ways, such as sago pudding.
3. Kokoda Fish: A dish featuring raw fish marinated in lime juice and coconut milk, often spiced with chili and onions.
4. Chicken Pot: A hearty stew consisting of chicken, vegetables, and sometimes, coconut milk, offering a flavorful taste of local cuisine.
How expensive is it to stay in Port Moresby?
Port Moresby is relatively expensive compared to other cities in Papua New Guinea, mainly due to its status as the capital. Accommodation can range from budget hostels to high-end hotels.
Are there opportunities for outdoor activities?
The surrounding hills and nearby Varirata National Park offer hiking and bird-watching opportunities. Water activities like snorkeling and diving can be enjoyed in the Coral Sea.
Final Thoughts
Port Moresby is a unique lens through which to experience Papua New Guinea's diverse cultural tapestry and natural beauty.
While safety concerns are valid and should be carefully considered, the city offers an array of attractions that provide valuable insights into the country's history, culture, and landscape.
If you're up for an adventure and willing to take necessary precautions, the city offers a distinctive and enriching travel experience that makes it worth considering for a visit.