Islamabad is the capital of Pakistan. Designed by Greek architect Constantinos Apostolou Doxiadis, Islamabad is known for its high standard of living, safety, and abundant greenery.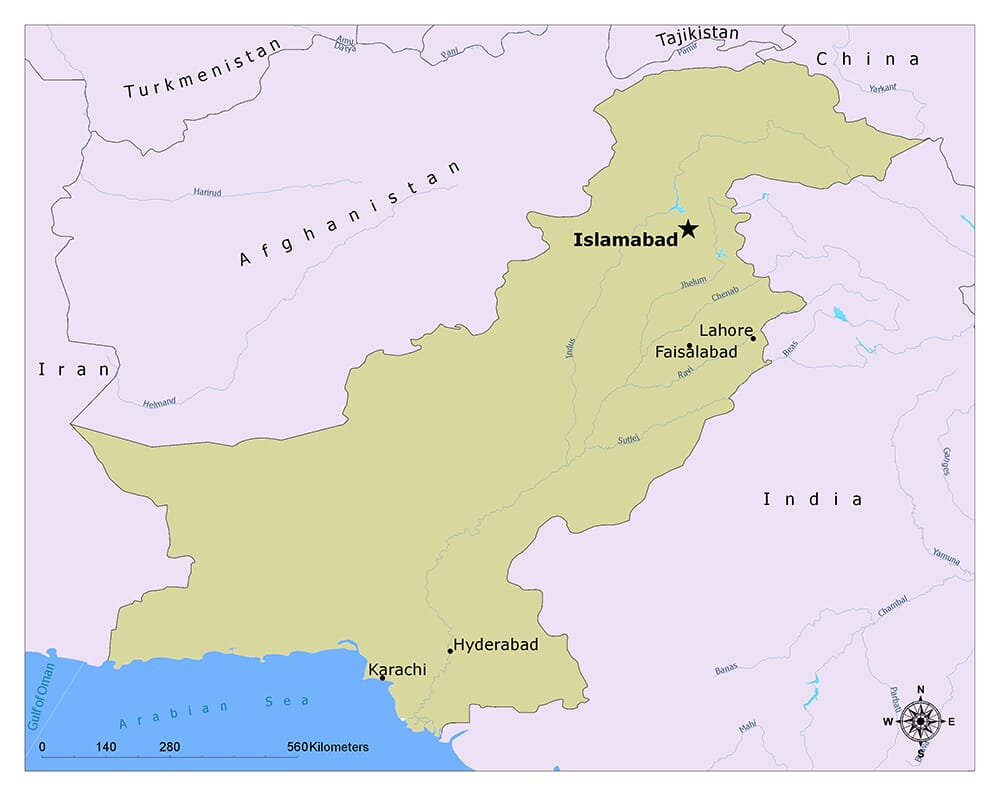 Islamabad has many parks and forests and is divided into several different sectors, each with its shopping areas and gardens, and it's home to some recognizable landmarks and mosques.
Additionally, Islamabad is a center of politics, culture, and education, hosting many universities, research institutions, and numerous local and foreign public and private sector offices.
Where is Islamabad?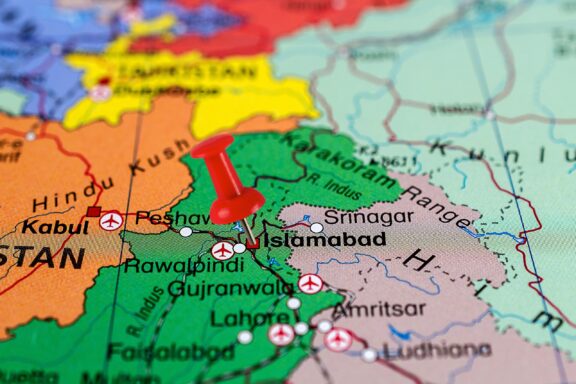 Islamabad is located in northeastern Pakistan, nestled against the backdrop of the Margalla Hills at the northern edge of the Potohar Plateau. It is in the Islamabad Capital Territory, separate from its four provinces.
The city is near the Rawalpindi District, considered its sister city due to the seamless integration between the two urban areas. Geographically, it is roughly halfway between the larger cities of Lahore and Peshawar and is approximately a four-hour drive from each.
Its geographical coordinates are approximately 33.6844 °N latitude and 73.0479 °E longitude. The city's location was chosen for its temperate climate, natural beauty, and central location in the country, making it accessible from all other major cities of Pakistan.
History of Islamabad
The history of Islamabad, the capital of Pakistan, is relatively recent compared to other cities in the region. Still, the area has been a site of human habitation for thousands of years.
Here is a brief historical overview of the city:
The region around Islamabad has been home to ancient cultures and civilizations. Archaeological findings suggest the area was inhabited as far back as the Neolithic era.
One of the most notable archaeological sites is the UNESCO World Heritage Site of Taxila, about 20 miles northwest of Islamabad and an important city in the Gandhara civilization in the first millennium BCE. The city was also an important center of Buddhism.
Pakistan's first capital was Karachi, but in the late 1950s, it was decided to build a new capital due to the geographical disadvantages of Karachi and the desire to create a city that could represent the diversity of the Pakistani nation.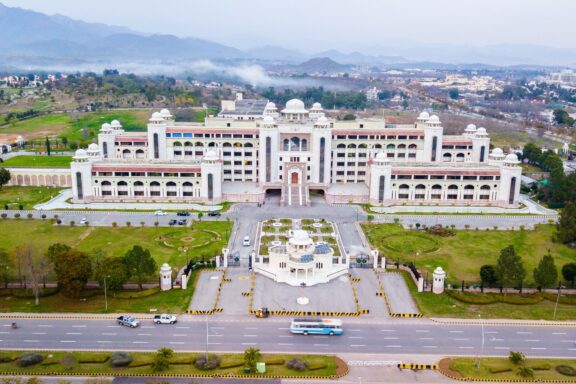 The location of Islamabad was chosen for its strategic position, natural beauty, and cooler climate. Greek architect Constantinos Apostolou Doxiadis was chosen to design the master plan for the city.
The plan divided the city into eight zones: administrative, diplomatic, residential, educational, industrial, commercial, green areas, and a national park.
The construction of Islamabad began in the 1960s, and by 1967, it was officially made the capital. The city's development was relatively slow initially, but it grew rapidly in the 1980s and has since become a symbol of planned urbanization in Pakistan.
Significant events in Islamabad's history include the construction of the Faisal Mosque in the 1980s, which became an iconic symbol of the city, and hosting of the 1989 South Asian Association for Regional Cooperation (SAARC) summit.
Islamabad has also faced significant challenges, including the 2005 earthquake that affected the region, although the city did not suffer extensive damage.
Over the course of its history, Islamabad has evolved into a vibrant epicenter of political, cultural, and educational pursuits. It proudly hosts an array of universities, notably the Allama Iqbal Open University – one of the world's largest Universities – and is also home to numerous research institutions.
It also boasts numerous parks and green spaces, following the original plan to create a garden city. As of 2023, the city continues to expand and develop, with new projects underway to meet its growing population's needs.
Features of Islamabad
Islamabad is an intriguing blend of the old and the new. It radiates the charm of a well-planned city with its neat grid of wide, tree-lined streets and sectors, each designed to be self-sufficient with its markets and parks.
Islamabad is a city that beautifully marries natural beauty with urban development, modernity with history, and cultural diversity with national unity, creating a unique ambiance distinctively.
Geography and Climate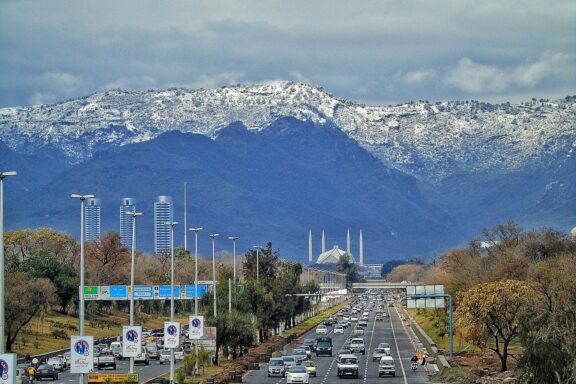 Though Islamabad is a relatively small city in terms of area, it boasts a diverse geography. The Margalla Hills form its northeastern boundary, part of the larger Murree Hills, and the Rawal Lake to the east. The Metropolitan Corporation Islamabad (MCI) has divided the city into several sectors and zones.
Islamabad experiences a hot semi-arid climate, with five seasons:
Winter (November–February),
Spring (March and April),
Summer (May and June),
Rainy Monsoon (July and August) and
Autumn (September and October).
The hottest month is June, where average highs routinely exceed 38 °C (100.4 °F). The wettest month is July, with heavy rainfalls and evening thunderstorms with the possibility of cloudbursts. The coolest month is January.
Population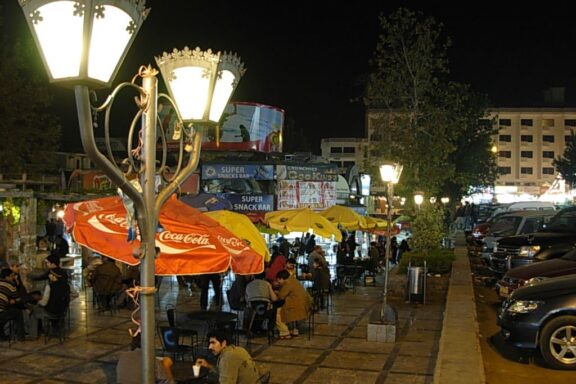 Islamabad has a population of over 1 million. The population is relatively young, with many people under 30. The city is ethnically diverse, with Punjabis forming the largest ethnic group, followed by Pashtuns, Sindhis, and others from various regions of Pakistan.
In terms of religion, the overwhelming majority of Islamabad's residents are Muslim, but the city also has Christian, Hindu, and other religious minorities. Urdu is the national language spoken by most of the population, but English is also widely understood and used in official and business capacities.
Economy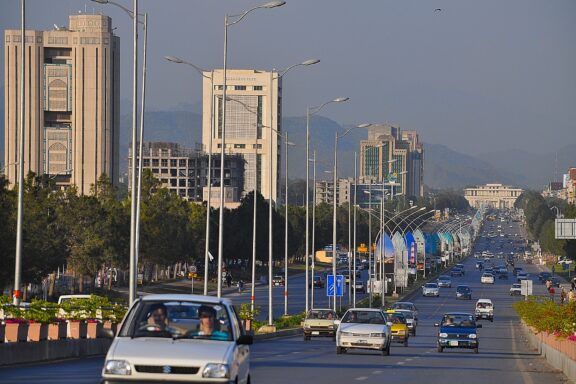 Islamabad, being the capital city, is the economic hub of Pakistan. It has a highly diverse economy with a broad base. The city is home to many governmental organizations, including the State Bank of Pakistan and the Islamabad Stock Exchange. It has a large number of employees in the public sector.
The city also hosts the headquarters of several multinational corporations, and the presence of foreign companies is considerable, reflecting the city's business-friendly policies. Major industries include information technology, retail, and real estate. The city has also seen growth in the telecommunications and software industries in recent years, and many call centers are located in Islamabad.
Moreover, the city has one of the country's highest literacy and employment rates, which fuels its economic activities. The presence of several universities and research institutions also propels the knowledge economy.
Islamabad's economy is considered one of the most stable in Pakistan, with an infrastructure that meets international standards, offering opportunities for investment and business development. The real estate market, in particular, has seen consistent growth, making it a significant contributor to the city's economy.
Things to Do and Places to See in Islamabad
Islamabad, the capital city, is brimming with a multitude of activities and sights to explore. Let's delve into some of Islamabad's most frequented attractions and destinations.
1. Hiking in the Margalla Hills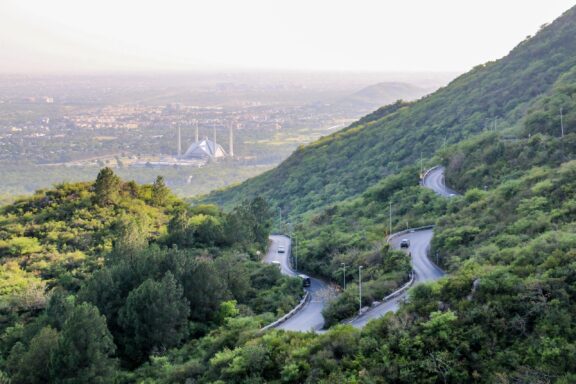 The Margalla Hills provide a stunning backdrop to Islamabad, and exploring these rolling slopes is a must-do activity for any visitor. With well-marked trails catering to all fitness levels, a hike up the hills offers a healthy dose of nature's beauty and stunning panoramic views of the city below. Trail 3, the most popular, leads to Monal restaurant and offers beautiful scenery along a challenging route.
The trails meander through verdant valleys and peaceful forests where you might encounter diverse wildlife, including various bird species, making it a birdwatcher's paradise. An early morning or late afternoon hike provides the benefit of cooler temperatures and a chance to witness the breathtaking sunrise or sunset over the city.
2. Visit the Faisal Mosque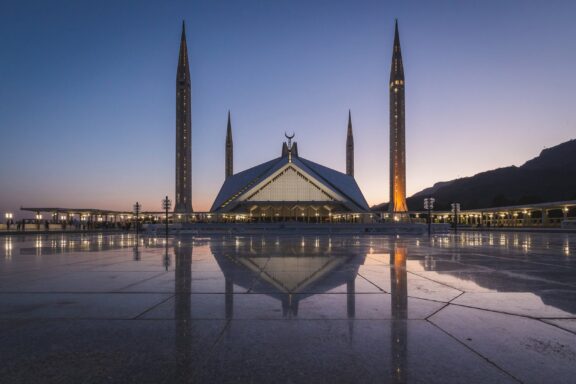 The Faisal Mosque, with its striking silhouette set against the backdrop of the Margalla Hills, is an iconic symbol of Islamabad. This architectural marvel, designed by the Turkish architect Vedat Dalokay, eschews the traditional dome structure of a mosque for a sleek and modern design resembling a Bedouin tent.
As the largest mosque in South Asia, it can accommodate tens of thousands of worshippers. However, it's more than just a place of worship but a major tourist attraction. The mosque's minimalist interior, vast courtyard, and beautifully landscaped gardens exude a sense of tranquility and peace. Visitors are welcome outside of prayer times, and proper attire is required for entry.
3. Explore the Pakistan Monument and Museum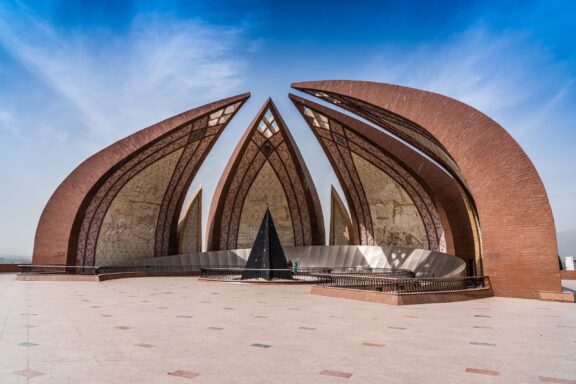 The Pakistan Monument is another iconic landmark of Islamabad that reflects the country's history and diversity. The monument, made of granite, is shaped like a blooming flower, with each petal representing a province or territory of Pakistan.
The surrounding museum offers a deep dive into the country's history, culture, and heritage, with well-curated displays spanning from the Indus Valley Civilization to the present day. The narrative combines visual effects, sound, and life-sized dioramas to create an immersive experience that leaves visitors with a deeper understanding of Pakistan's journey as a nation.
4. Visit the Lok Virsa Museum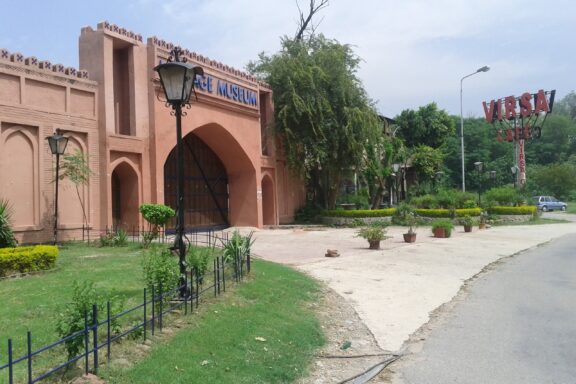 If you're keen to explore Pakistan's rich cultural and ethnic tapestry, visiting the Lok Virsa Museum is a must. Situated near the Shakarparian Hills, this museum offers an extensive display of artifacts from different country regions.
The exhibits include traditional jewelry, pottery, textiles, and musical instruments, offering a glimpse into the diverse artistic traditions of Pakistan. The museum also features a library with an extensive collection of books on folklore, cultural anthropology, and art history.
5. Daman-e-Koh Viewpoint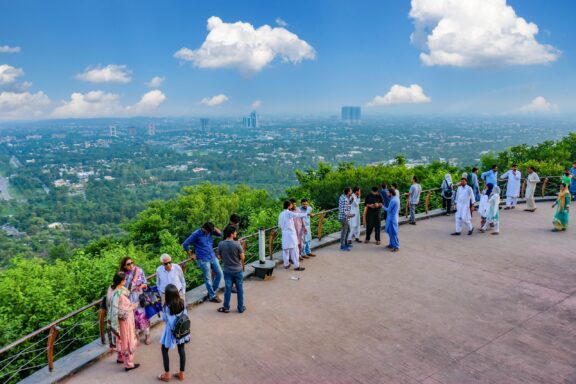 A visit to Islamabad would be complete with a trip to Daman-e-Koh, a popular viewpoint in the Margalla Hills. The viewpoint provides sweeping views of Islamabad and the surrounding hills. The journey up is equally enjoyable, with well-maintained winding roads passing through thick foliage.
On a clear day, one can see the majestic Faisal Mosque and the Parliament House from the top. Daman-e-Koh also has several small shops where visitors can enjoy traditional Pakistani tea or indulge in local snacks.
6. Lake View Park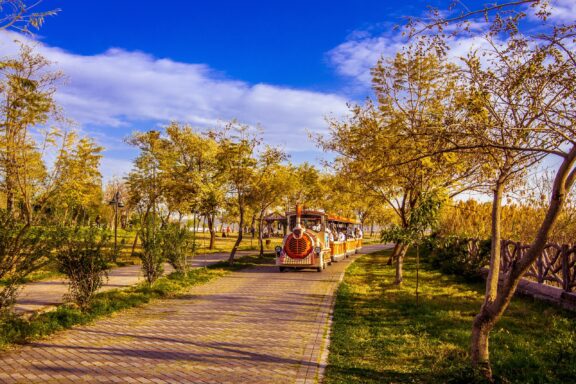 Located on the shores of Rawal Lake, Lake View Park (also known as Rawal Lake View Point or Rawal Lake Promenade) offers many recreational activities for all ages. Visitors can enjoy boating on the lake, explore the bird aviary, or take a stroll through the beautifully landscaped gardens.
There's also a picnic area, perfect for a family outing, and a fun fair for children with various rides and games. This park is an ideal spot for those seeking relaxation amidst nature.
7. Shakarparian National Park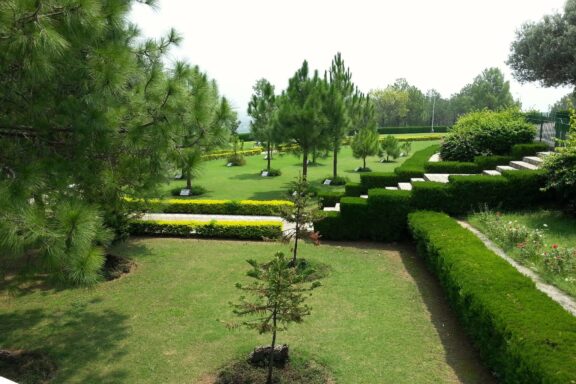 Shakarparian National Park is a verdant oasis offering an escape from the hustle and bustle of city life. The park is home to various plant species, providing a refreshing green space for leisurely walks and picnics. The park's hills offer splendid views of both Islamabad and Rawalpindi. The park also houses the Pakistan Monument and the Lok Virsa Museum, making it a place of natural beauty and cultural significance.
8. Explore Taxila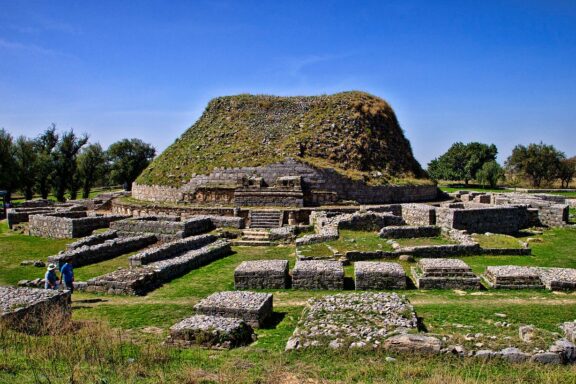 Just a short drive from Islamabad, the ancient city of Taxila is an archaeological treasure. Recognized as a UNESCO World Heritage Site, Taxila was once a major center of Buddhism and a hub of learning and culture in ancient times.
Visitors can explore ruins of Buddhist monasteries, Greek temples, and Persian fortresses, as well as an excellent museum that houses a large collection of Gandhara art. Exploring Taxila is like stepping back in time, offering a fascinating glimpse into the region's rich historical past.
9. Shopping at the Centaurus Mall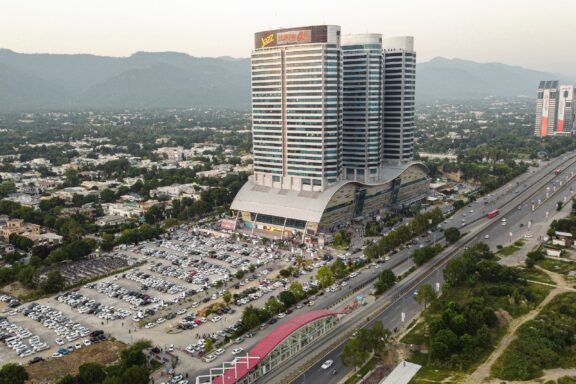 For a more urban experience, the Centaurus Mall offers a blend of shopping, dining, and entertainment options. With impressive architecture in Islamabad's skyline, the mall houses a mix of local and international brands.
You'll find it here whether you're searching for fashion, electronics, books, or home decor. After shopping, you can enjoy a meal at one of the many food outlets, ranging from fast food to fine dining. The mall also features a cinema and a fun city for kids, ensuring entertainment for the whole family.
Frequently Asked Questions
What is the best time to visit Islamabad?
The best time to visit Islamabad is during the cooler months from October to April, when the weather is pleasant, and the city is beautifully lush.
What is traditional food and cuisine like in Islamabad?
Traditional food in Islamabad is primarily Pakistani cuisine, rich in flavors and spices. Popular dishes include Biryani, Nihari, Haleem, and various forms of barbecue like kebabs.
What's a must-try dish/food in Islamabad?
A must-try dish in Islamabad is Nihari, a slow-cooked meat stew typically eaten with naan bread. You should also try local street food like Chaat and Gol Gappas.
Is it safe to visit Islamabad?
Islamabad is generally considered safe for tourists, with a lower crime rate than many other major cities in the region. However, like any city, staying alert and following local advice is always a good idea.
What souvenirs can I bring home from Islamabad?
You could bring home traditional Pakistani crafts like hand-woven rugs, Pashmina shawls, pottery, and jewelry. Local spices and teas also make for great souvenirs.
How can I get around in Islamabad?
Islamabad has several options, including taxis, ride-hailing services like Uber and Careem, and local buses.
Is Islamabad expensive?
Compared to many Western countries, the cost of living in Islamabad is relatively low. However, Islamabad is considered more expensive compared to other cities in Pakistan.
Which currency is used in Islamabad?
The currency of Pakistan is the Pakistani Rupee (PKR).
Is Islamabad a good town to live in? Islamabad is considered one of the best cities in Pakistan thanks to its high standard of living, good infrastructure, cleanliness, and greenery.
Final Thoughts
Islamabad's harmonious blend of historical heritage, modern architecture, natural beauty, and cultural diversity undoubtedly makes for a memorable visit. Whether you're seeking outdoor adventure in the Margalla Hills, historical exploration in the ancient ruins of Taxila, a culinary journey through rich Pakistani flavors, or the buzz of a vibrant urban center, Islamabad has something to offer every traveler.
Its position as the capital adds a layer of intrigue, offering insights into Pakistan's political, educational, and cultural heartbeat. Islamabad is worth visiting with friendly locals, a relatively high safety index, and various experiences. It leaves a lasting impression as a city that beautifully marries tradition and modernity.