Valletta is the capital of Malta. The city serves as the administrative and cultural center of Malta.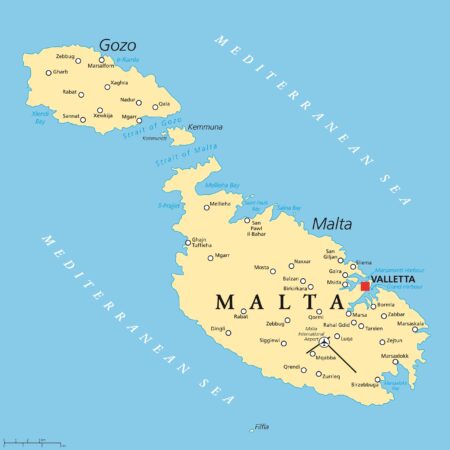 Valletta is flanked by two natural harbors, contributing to its historical significance as a naval base and trade center. Its compact layout makes it easy to explore on foot, offering a mix of history, culture, and modern amenities.
Where is Valletta?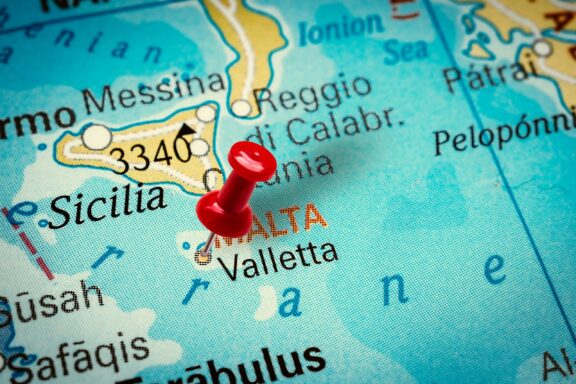 Valletta is located in the southern part of Europe, on the northeastern coast of Malta. Positioned in the central Mediterranean Sea, it is approximately 93 miles south of Sicily, Italy.
Valletta's geographic coordinates are approximately 35.8989 °N latitude and 14.5146 °E longitude. The city is relatively central on Malta's main island, one of the three inhabited islands in the Maltese archipelago.
The peninsula on which Valletta is located is about 1 kilometer long and 600 meters wide, giving the city a compact footprint.
History of Valletta
After the Ottoman Empire failed to take Malta in the Great Siege of 1565, the Knights Hospitaller, led by Jean Parisot de Valette, fortified the island by building a new city. Military engineer Francesco Laparelli meticulously planned Valletta.
The city was designed with defense, featuring a grid system that allowed for more straightforward navigation and fortifications built with advanced military architecture. During this period, the Order invested heavily in the arts, bringing artists like Caravaggio to decorate the city's buildings.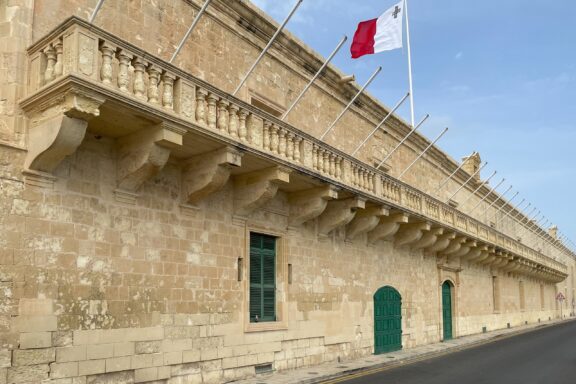 Landmarks like the Grandmaster's Palace and St. John's Co-Cathedral were built, and the city became a cultural hub. Valletta also became an important medical center by constructing the Sacra Infermeria, one of Europe's leading hospitals.
When Napoleon Bonaparte arrived in 1798, he faced little resistance and took control of Malta. His occupation was marred by unpopular measures such as looting churches and imposing new taxes. The Maltese, unhappy with French rule, soon initiated a revolt.
A two-year siege followed, culminating in the French expulsion with the help of British naval forces. This brief period marked a major turning point for Valletta, transitioning it from a religious and military stronghold to a part of a global empire.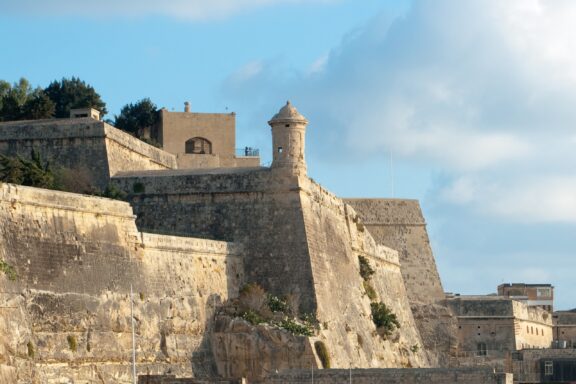 Under British rule (1814-1964), Valletta underwent remarkable modernization. The British navy extensively used Valletta's harbors, strengthening its infrastructure and transforming the city into a critical naval base. The city also received updates like the installation of gas street lighting in the 1850s and electric lighting by the early 20th century.
Moreover, Malta and Valletta played pivotal roles during conflicts such as the Crimean War and, later, the Suez Crisis. The architecture saw influences from Victorian and Georgian styles, while English became one of the official languages, leaving an enduring impact on the local culture.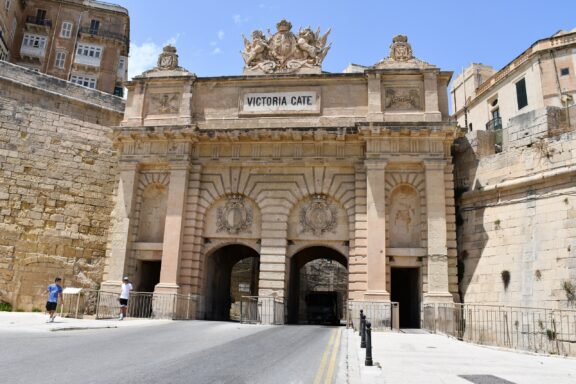 Valletta faced some of its darkest days during World War II. Due to its strategic importance, the city was a frequent target for Axis bombings. An estimated 15,000 tons of bombs were dropped on Malta during the war, causing widespread devastation.
However, the city's resilience shone through, earning the George Cross for bravery, awarded collectively to the Maltese people. Many of the city's historical landmarks were destroyed or damaged but were rebuilt or restored in the post-war years.
After the World War, the Maltese began a movement towards self-governance. Negotiations with Britain were lengthy, but Malta eventually achieved independence on September 21, 1964, and Valletta continued to serve as its capital.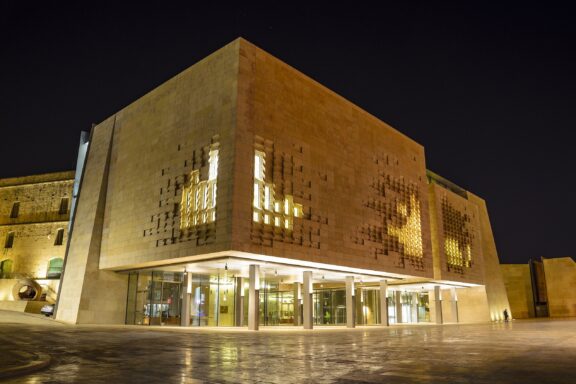 During this period, the city focused on rebuilding and modernizing its infrastructure. The opening of the University of Malta and other educational institutions gave Valletta a role in academia.
In 1974 Malta declared itself a republic, with Valletta remaining the capital. The city has continued evolving, embracing tourism and modern governance while preserving its historical sites.
In 1980, UNESCO designated Valletta as a World Heritage Site, acknowledging its unique historical and cultural landscape. The city has also adapted to the needs of the 21st century, with efforts to make it more sustainable and livable while maintaining its architectural heritage.
Features of Valletta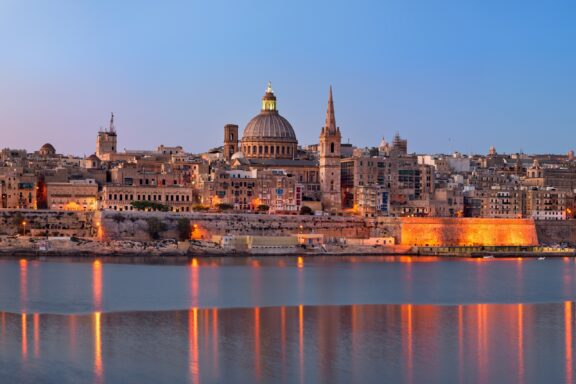 Valletta is a captivating blend of the historic and contemporary, where narrow, cobblestone streets intersect with modern amenities. Walking through the city, you're immediately struck by its architectural grandeur.
Adding to its allure are the natural harbors that frame the city. These watery gateways have long been central to its economy and defense, and they offer stunning vistas, especially during the golden hour when the sun sets over the Mediterranean Sea.
Overall, Valletta is a city where centuries-old palaces coexist with cutting-edge exhibitions and where the energy of a bustling port complements the tranquility of secluded gardens. It's a place that has preserved its unique identity while continually adapting, making it a fascinating destination to explore.
Geography and Climate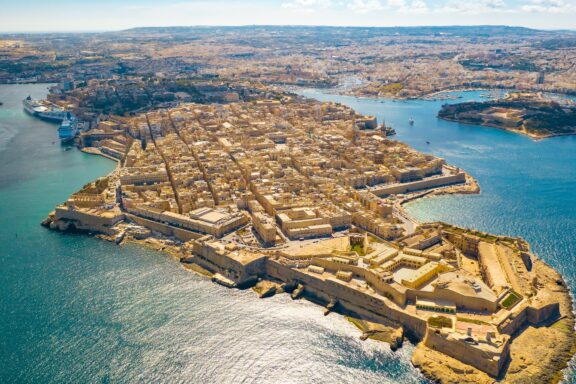 Valletta's geography features a mix of low hills and flat terrain, making it relatively easy to navigate on foot. The city experiences a Mediterranean climate characterized by hot, dry summers and mild, wet winters.
Summer temperatures can soar to around 30 °C (86 °F), while winter months see milder conditions, with temperatures ranging between 10-15 °C (50-59 °F). Rainfall is most common from October to March, but it remains relatively low compared to other European capitals.
This climate makes Valletta a year-round destination, with each season offering its charm—whether it's sunbathing in summer or enjoying mild outdoor activities in winter.
Population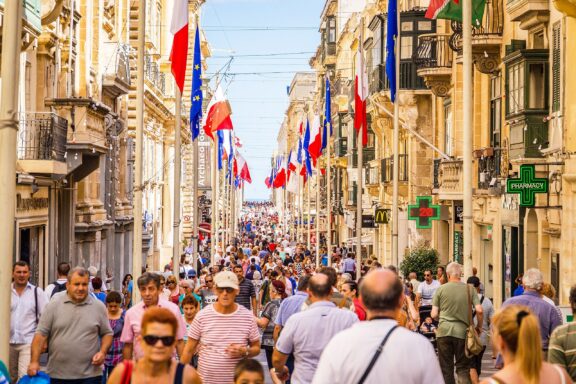 Valletta has a smaller population than other European capitals, numbering around 6,000 residents within the city limits and over 480,000 within the metropolitan area.
The city is quite cosmopolitan, reflecting Malta's long history of trade and immigration. Residents include a mix of native Maltese and people from European, North African, and Middle Eastern countries.
The primary languages spoken are Maltese and English, resulting from British colonial rule. Despite its size, the city is diverse and vibrant, serving as a melting pot of different cultures and traditions.
Economy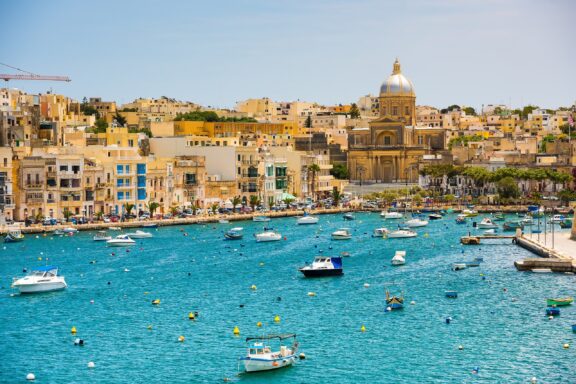 Valletta is a historical and administrative hub and an economic center for Malta. The service sector dominates, including tourism, which is a major contributor to the city's financial well-being.
Visitors experience its historical sites, festivals, and natural beauty, generating considerable revenue. Besides tourism, Valletta is a significant port central to its economy. It is a hub for freight and passenger services, linking Malta with other Mediterranean countries.
Finance and online gaming have also emerged as growing industries, thanks to favorable tax conditions and other incentives offered by the Maltese government. The city's economy is diversified and robust, successfully merging its historical and cultural assets with modern business ventures.
Things to Do and Places to See in Valletta
Valletta offers abundant experiences, blending history, culture, and entertainment. Let's explore some of the city's must-visit locations and activities.
1. St. John's Co-Cathedral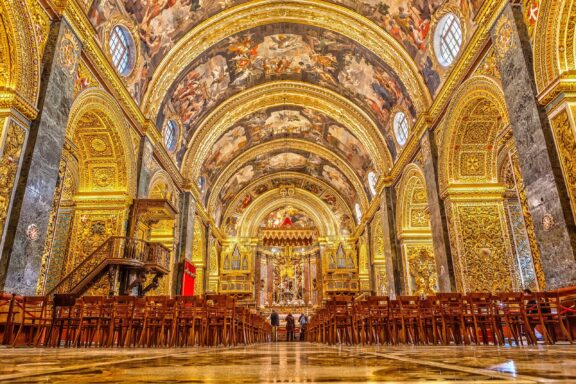 St. John's Co-Cathedral, located in the heart of Valletta, is a Baroque art and architecture masterpiece. Created as the conventual church for the Knights of St. John, this sacred space holds religious importance and significant cultural and historical value. Visitors from all corners of the globe flock to this cathedral to experience its grandeur and delve into its historical context.
St. John's Co-Cathedral occupies a prominent position within Valletta and has a somewhat austere exterior. But don't be fooled by its initial simplicity; stepping inside is like entering a different world. The interior is exceptionally ornate, with each of the Knights' eight langues (sections) having its chapel. Intricate frescoes, marble inlays, and elaborate statues are just a few of the artistic elements that grace this cathedral.
2. Upper Barrakka Gardens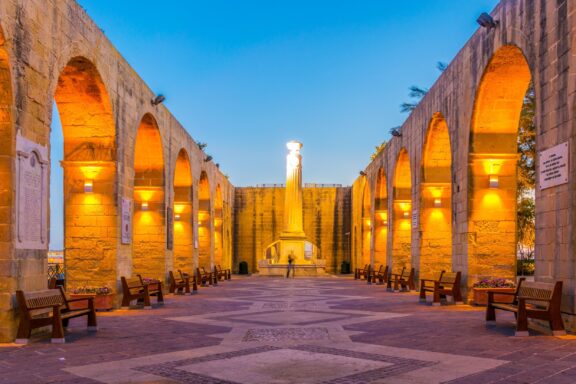 Situated at the highest point in Valletta, the Upper Barrakka Gardens offer a green respite within the stone-clad city. Known for their lush plant life and sweeping vistas, these gardens attract locals and tourists alike.
You won't be disappointed if you come for the view, the peaceful atmosphere, or the historical context. People visit to take photographs, reflect, or enjoy the greenery. The daily cannon firing ceremony is an event that adds a touch of historical spectacle to any visit.
3. Lower Barrakka Gardens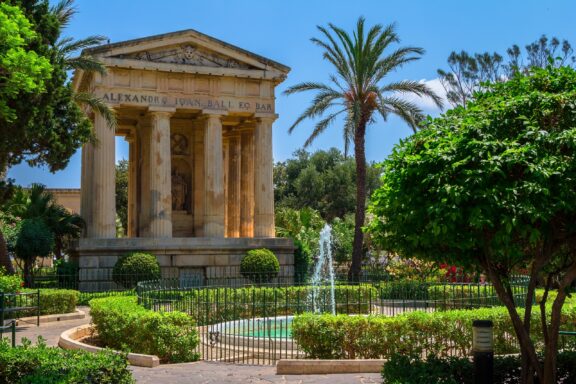 Located on the eastern edge of Valletta, the Lower Barrakka Gardens offer a different but equally enchanting perspective of the city and its surroundings. More tranquil than its upper counterpart, this garden space is perfect for quiet contemplation.
This is an ideal spot for reading, painting, or taking photographs. It's less crowded than the Upper Barrakka Gardens, providing a more serene experience. The views at sunset are particularly stunning, and the temple offers a fascinating glimpse into local history.
4. Grandmaster's Palace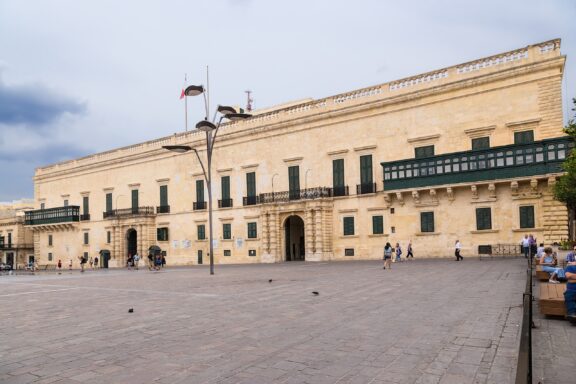 The Grandmaster's Palace, centrally located on St. George's Square, has been the seat of power for centuries. Its importance has evolved with the times, from the residence of the Grandmasters of the Knights of St. John to its current role as the official residence of the President of Malta.
Here, guided tours offer deep dives into Maltese history and the palace's role through various eras. The Armoury is a must-see, featuring an impressive collection of period weapons and armor. Don't miss the stunning frescoes and tapestries in the State Apartments.
5. Fort St. Elmo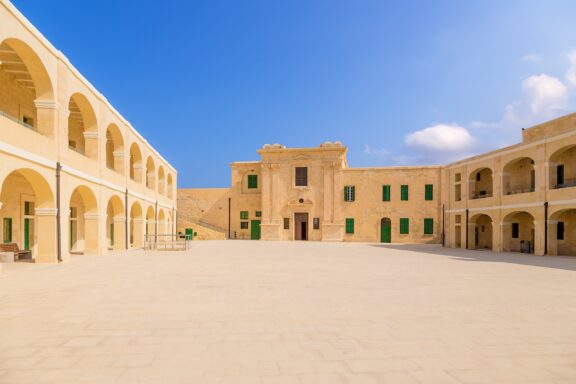 Fort St. Elmo is a star-shaped military stronghold that sits at the tip of Valletta, guarding the entrance to the Grand Harbour. It is best known for its crucial role during the Great Siege of Malta. The fort is an architectural marvel of military design, consisting of various bastions and ramparts.
Fort St. Elmo also houses the National War Museum, which contains artifacts from various periods of Malta's military history. You can wander the ramparts for panoramic views or explore the museum to learn more about Malta's military past. Special events and reenactments occasionally occur here, offering a vivid glimpse into historical military practices.
6. Lascaris War Rooms
Nestled underground, the Lascaris War Rooms are a window into the secret wartime operations that helped shape modern Europe. This hidden gem is a must-see for history enthusiasts.
The war rooms consist of a series of tunnels and chambers that were dug into the limestone rock. During World War II, these rooms were a hive of activity, functioning as the war headquarters for the British. Later, they served as a NATO communication center during the Cold War.
7. Manoel Theatre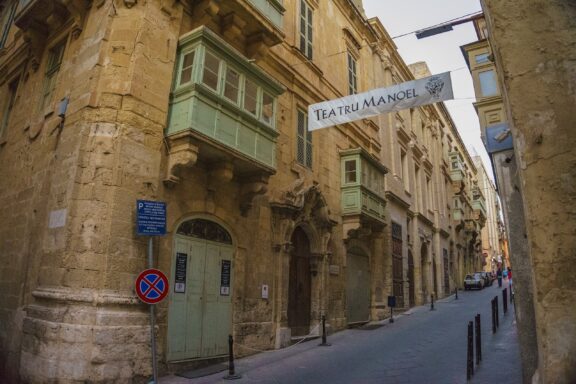 Tucked away on Old Theatre Street, the Manoel Theatre stands as one of Europe's oldest continuously operational theaters. This elegant venue is a cornerstone of Malta's cultural scene, offering diverse performances.
The Manoel Theatre is not just a place to watch a performance; it's an experience. Tours of the theatre are also available, revealing its fascinating history and showing off its architectural features. It is advisable to book tickets for performances in advance, as shows often sell out due to the venue's popularity.
8. National Museum of Archaeology
The National Museum of Archaeology is Malta's ancient history treasure trove. It is a comprehensive guide to the archipelago's rich past, going back thousands of years.
The museum is housed in the Auberge de Provence, a remarkable Baroque building that adds another layer of history to the exhibits. The collections range from prehistoric artifacts, including the famous "Sleeping Lady," to Roman-era relics.
9. Valletta Waterfront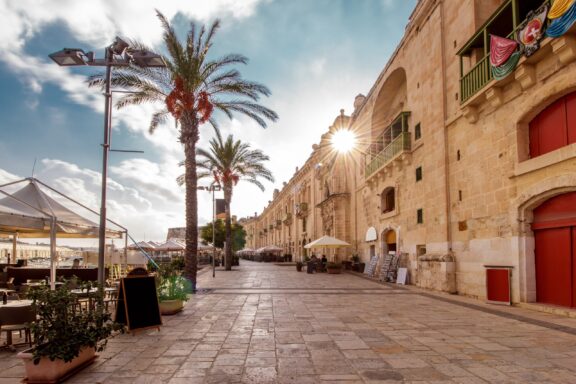 The Valletta Waterfront is a dynamic area along the harbor that beautifully blends the past and the present. This bustling locale offers a taste of Maltese life, from its historical significance as a merchant hub to its current role as a leisure destination.
The Waterfront is lined with a series of 18th-century warehouses, now beautifully restored. Today, these historic buildings house a mix of dining, shopping, and entertainment venues, all set against the backdrop of the Grand Harbour.
10. Casa Rocca Piccola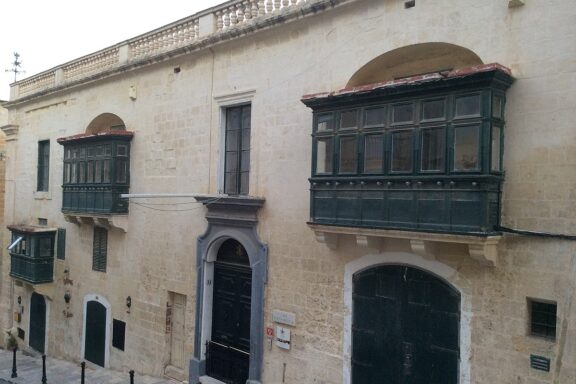 Casa Rocca Piccola is a living museum that offers a rare glimpse into the lifestyle of the Maltese nobility. Located in the center of Valletta, this historical palace is still a family residence but opens its doors to the public.
Guided tours, often led by family members, provide an intimate look into Maltese high society. Visitors can also explore a World War II air-raid shelter beneath the palace. The house even has an aviary and garden, adding to the domestic feel of this historical site.
Frequently Asked Questions
What is the best time to visit Valletta?
The best time to visit Valletta depends on your preferences. Consider the summer months from June to September for warm weather and outdoor activities. Spring (March to May) and autumn (September to November) are excellent choices for a milder climate and fewer crowds.
Is Valletta safe for tourists?
Yes, Valletta and Malta in general, are safe for tourists. However, like in any city, it's always wise to take general precautions, especially in crowded areas or at night.
What is the traditional cuisine like in Valletta?
Valletta's traditional cuisine reflects Malta's diverse history, influenced by Italian, British, and Arabic cultures. Seafood is prominent due to the city's proximity to the sea, while rabbit dishes are considered a national specialty. Spices like cumin and coriander, a nod to North African influence, are often used to flavor dishes.
What are must-try authentic local dishes in Valletta?
When you're in Valletta, experiencing the local cuisine is a must. Here are the top 4 dishes you should try:
• Pastizzi – Flaky pastry filled with ricotta cheese or pea mash.
• Fenkata – A traditional rabbit stew, often flavored with wine and garlic.
• Bragioli – Beef olives stuffed with bacon, breadcrumbs, and parsley, then slow-cooked in a wine and tomato sauce.
• Lampuki Pie – A seasonal fish pie made from the lampuki fish combined with spinach, olives, and capers.
How do I get around Valletta?
Valletta is quite compact and can easily be explored on foot. Public buses and ferries are available for trips to other parts of Malta. Taxis and ride-sharing services are also accessible.
What currency is used in Valletta?
The currency used in Valletta is the Euro (€).
Where can I shop for souvenirs in Valletta?
You'll find numerous shops selling traditional Maltese crafts, art, and souvenirs along Republic Street and Merchant Street.
What are some family-friendly activities in Valletta?
Families can enjoy a day at the National Museum of Archaeology, visit the Toy Museum, or take a harbor cruise to explore the area by sea.
Does Valletta host any famous festivals or events?
Valletta hosts several festivals throughout the year. Notable events include the Valletta International Baroque Festival in January and Notte Bianca, a night-long arts and culture festival in October.
Final Thoughts
Valletta is a captivating blend of history, culture, and modernity, all compactly nestled within fortifications that have stood the test of time. Its narrow streets are a treasure trove of architectural gems, while its museums, art galleries, and festivals offer enriching experiences.
Whether you're a history enthusiast, a foodie, or simply looking to relax by the sea, Valletta has something to offer. The city's diverse attractions and welcoming atmosphere make it worth visiting and a destination likely to leave a lasting impression.