Bamako is the capital of Mali and one of the fastest-growing cities in Africa. Bamako is the largest city in Mali and serves as Mali's administrative center.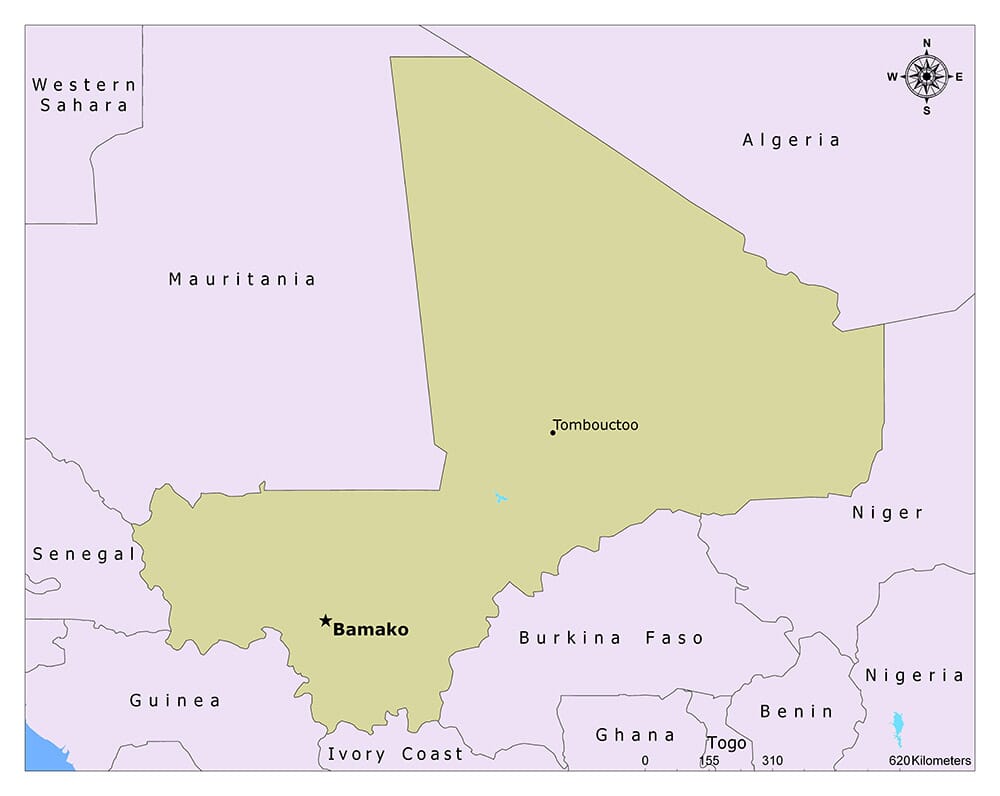 Bamako is a vibrant city with a significant market economy centered around the river port, allowing trade to and from the country's northern parts and internationally. There are numerous markets and craft centers throughout the city where traditional Malian crafts, textiles, and jewelry can be found.
Where is Bamako?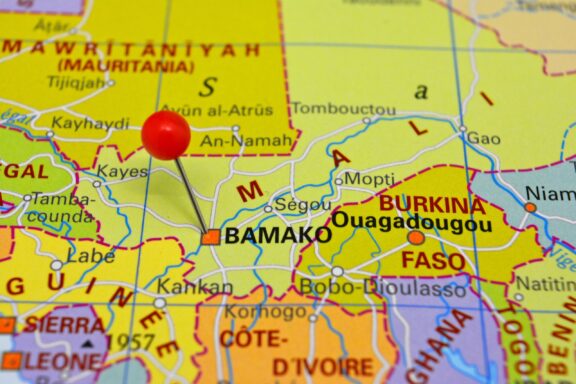 Bamako is located in West Africa, in the Southwestern part of the Republic of Mali. It is situated on the Niger River, near the rapids that divide the upper and middle Niger basins, in the country's southwestern part.
The city is approximately 15 kilometers from the Guinea border and sprawls across both river banks, with the city center on the northern bank. Its coordinates are about 12.6392 °N latitude and 8.0029 °W longitude.
Hills mark the landscape around Bamako, the remnants of extinct volcanoes, and the savannah. The climate is tropical savannah, with a rainy season from June to October and a dry season from November to May.
History of Bamako
Bamako has a history that spans hundreds of years, with each era leaving its mark on the city.
The area of Bamako has been inhabited since the Palaeolithic era, as stone tools and inscriptions suggest. Bamako translates to "Place of the crocodile river" in the local language, Bambara.
The city was initially a small village in the powerful Mali Empire, which controlled West Africa from the 13th to the 16th centuries. Its relative obscurity continued until the late 19th century when the French colonized the region.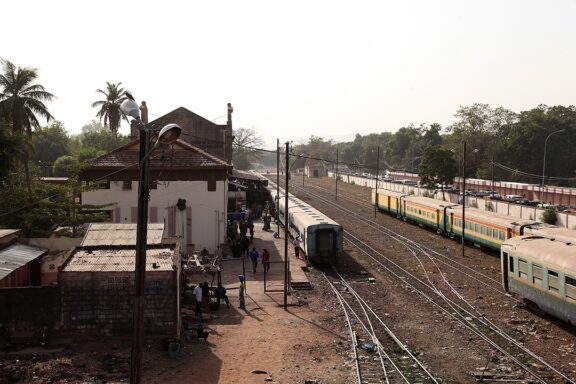 Under French colonial rule, which began in the 1890s, Bamako transformed from a small village into a major city. The French built a bridge across the Niger River in 1903, connecting Bamako to Dakar in Senegal, which spurred the city's growth. Bamako was made the capital of French Sudan, a colony of France, in 1908.
When Mali achieved independence from France in 1960, Bamako remained the capital. The city's population exploded after independence, becoming a bustling city and a major regional hub. The 20th century expanded further by constructing large public buildings, housing projects, and transportation infrastructure.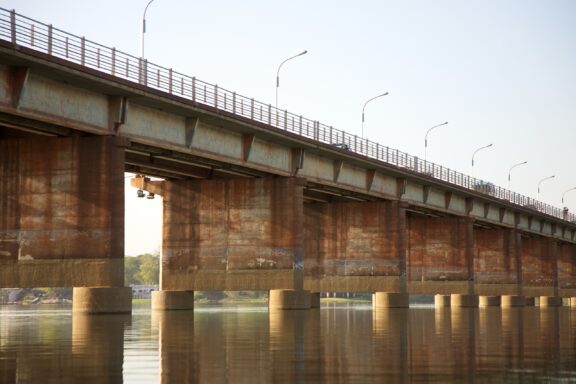 In recent years, Bamako has faced several challenges, including a coup in 2012, terrorist attacks, and ongoing security issues tied to insurgent activities in the northern part of the country. Despite these challenges, the city has continued to grow and develop, maintaining its position as a significant economic, cultural, and administrative center in Mali and West Africa.
Bamako is a city of contrast, with historic neighborhoods alongside modern infrastructure, reflecting its history from an ancient village to a bustling capital city. This rich history contributes to Bamako's unique character as a city that bridges tradition and modernity in the heart of West Africa.
Features of Bamako
Bamako is a city of contrast that features an engaging blend of traditional and modern Africa. Traditional mud-brick homes stand alongside French colonial architecture and modern high-rises. The cityscape is punctuated with bustling markets and colorful stalls offering everything from food and textiles to traditional Malian crafts and jewelry.
The city's cultural scene is vibrant and diverse, with colonial buildings and museums renowned for their extensive collection of African art and historical artifacts, offering a glimpse into Mali's rich cultural heritage.
Geography and Climate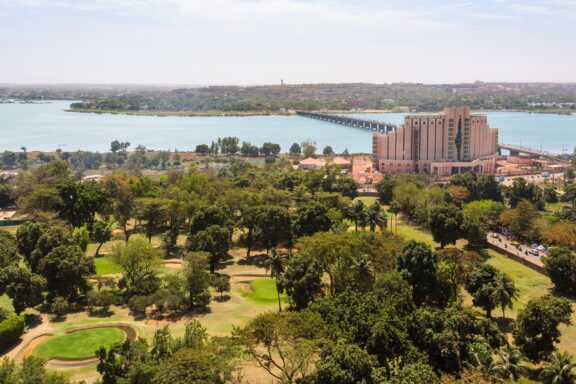 Bamako is set in a valley, nestled between the plateau to the north and rolling hills to the south. This setting provides a beautiful natural backdrop to the city and influences the distribution of its neighborhoods, with the wealthier areas often located in cooler, elevated areas.
Bamako experiences a tropical savannah climate characterized by a distinct dry and rainy season. The rainy season runs from June to October and is marked by heavy, though often brief, downpours, usually occurring in the afternoon. The dry season spans from November to May and is characterized by hot, dry harmattan winds blowing from the Sahara Desert.
Temperatures remain relatively high throughout the year, with average highs ranging from around 33 °C (91 °F) in the cooler months (December to February) to 40 °C (104 °F) in the hot season (March to May), making Mali the hottest country in the world in terms of average temperature across the year.
Even during the rainy season, temperatures often hover around the high 20s to mid-30s °C (mid-80s to mid-90s °F). The weather can be quite comfortable in the morning and evening, particularly in the dry season, but it's often sweltering at midday.
Population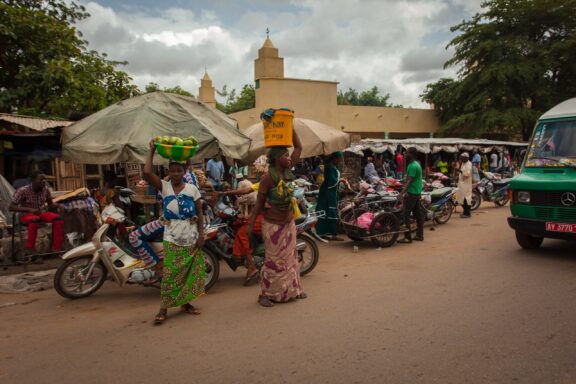 The population of Bamako is estimated to be around 2 million people, making it one of the fastest-growing cities in Africa. Bamako is a multi-ethnic city, with the Bambara ethnic group being the largest.
Still, the city is also home to numerous other ethnic groups, including the Fulani, Tuareg, and Dogon. This diversity is one of the city's strengths, contributing to its vibrant cultural scene and community spirit.
Economy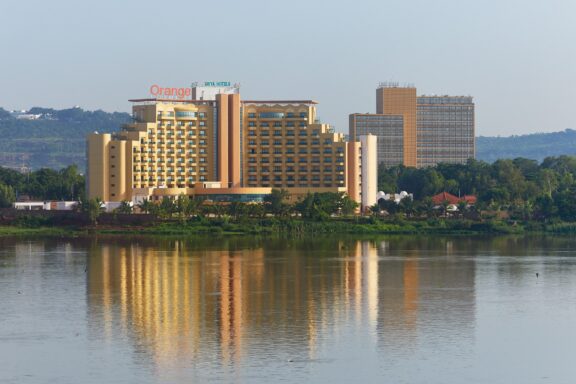 Bamako serves as the economic hub of Mali. The city is central to the country's administration and is an essential center for commerce and industry. Gold mining is a key industry, with Mali being the third-largest gold producer in Africa, and much of the gold trade is managed in Bamako. Cotton, livestock, and grain are other significant agricultural trades managed in the city.
Additionally, Bamako has an extensive informal economy. Many of its residents are involved in small-scale trade and crafts, and the city's markets, selling everything from food to textiles, jewelry, and traditional Malian crafts, are an integral part of this economy.
Tourism also plays a role in Bamako's economy, with visitors drawn to the city's cultural and historical attractions. However, the tourism sector has faced challenges due to security concerns recently.
The city's economy faces several challenges, including infrastructure development, job creation to match its rapid population growth, and managing environmental issues linked to urbanization. Despite these challenges, Bamako plays a crucial role in Mali's economy and development.
Things to Do and Places to See in Bamako
Bamako offers several activities and sights for visitors to enjoy. Let's explore some of this vibrant city's most sought-after destinations and attractions.
1. The National Museum of Mali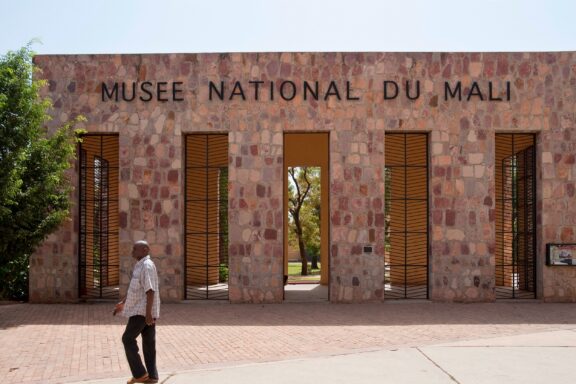 The National Museum of Mali is a cultural treasure when visiting Bamako. Housed in an impressive avant-garde building that blends traditional and modern African architectural styles, the museum showcases Mali's rich archaeological and ethnological history.
The collections include many artifacts, from ancient terracotta statuettes and prehistoric tools to displays of Mali's diverse ethnic groups, customs, and traditional crafts. The museum's extensive textile section displays traditional clothing and textiles from various ethnic groups. There are also musical instruments, ritual items, and agricultural tools, providing an in-depth understanding of the Mali people's rich history and cultural diversity.
2. The Bamako Grand Mosque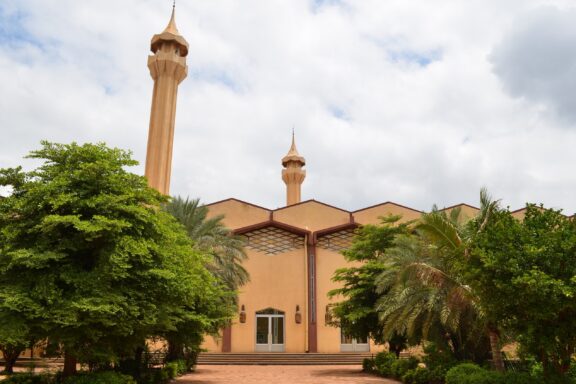 The Bamako Grand Mosque is another essential stop in Bamako. Constructed in the Sudano-Sahelian architectural style, this impressive mud-brick structure stands out in the cityscape with its massive minarets and intricate decoration.
The mosque is an active place of worship and serves as a cultural and religious center for the city's Muslim community. Visitors are welcomed outside prayer times, but respecting local customs and dress modestly is important. The area surrounding the mosque is also interesting to explore, with various shops and markets offering a slice of local life.
3. Bamako Botanical Garden
Bamako's Botanical Gardens offer a peaceful retreat from the bustling city. Established during the French colonial era, the gardens are home to various native and exotic plant species. Well-manicured pathways meander through the lush greenery, past towering trees, blooming flowers, and tranquil ponds.
It's a perfect place for a stroll, a picnic, or a quiet moment amidst nature. The Botanical Gardens also host educational programs and events to promote environmental awareness and conservation, contributing to the city's cultural and scientific life.
4. The Market in Medina (Grand Marche of Bamako)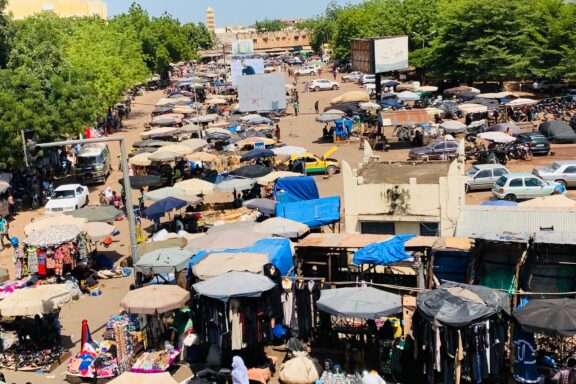 The Market in Medina, also known as the Grand Marché, is a hive of activity and a feast for the senses. It is one of the largest markets in Bamako, offering a wide variety of goods. You'll find everything from textiles, spices, and fresh produce to jewelry, pottery, and traditional Malian crafts.
The market is a lively scene of local life, with vendors haggling over prices and customers browsing the endless stalls. It's a perfect place to pick up souvenirs, try local food, or soak up the bustling atmosphere.
5. The National Park of Mali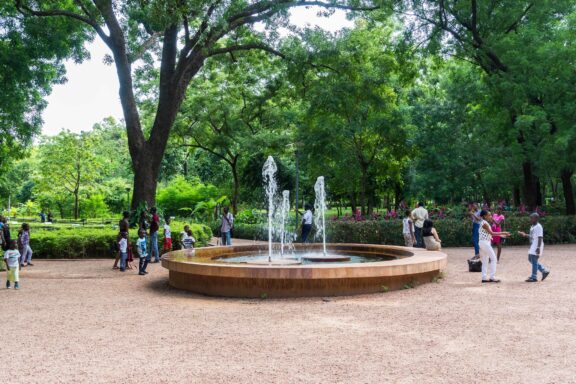 The National Park of Mali, located in the heart of Bamako, is a vast green space providing a refreshing break from the city's hustle and bustle. The park includes a zoo, playgrounds, and well-maintained gardens, offering a variety of activities for visitors of all ages.
The zoo has various African wildlife, including lions, monkeys, and crocodiles. The park also hosts cultural events, concerts, and exhibitions, making it a popular gathering place for locals and tourists.
6. The National Zoo of Mali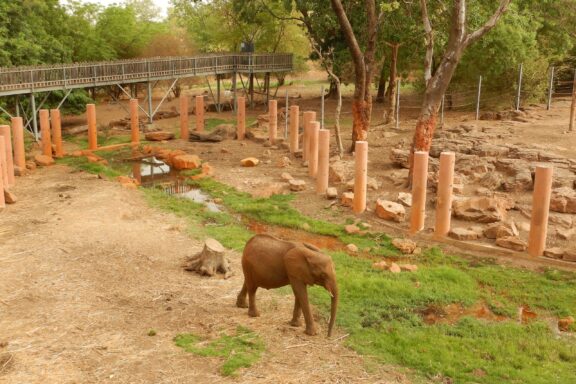 The National Zoo of Mali, located within the National Park, is a popular attraction, particularly for families. It houses various animals native to Africa, including lions, elephants, monkeys, and various bird species.
The zoo is committed to conservation and education, allowing visitors to learn about Mali's rich biodiversity. It's a great place for a family day out, with plenty of spaces for picnics and play areas for children.
7. Cathedral of the Sacred Heart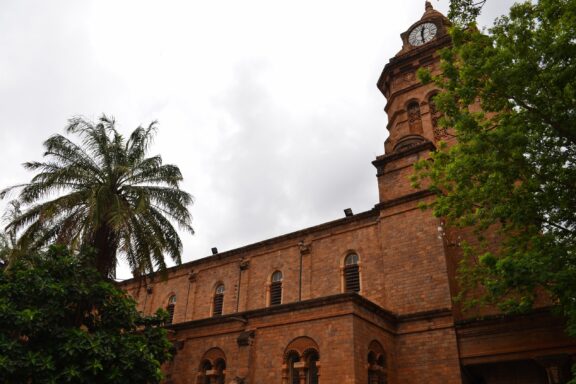 The Cathedral of the Sacred Heart of Bamako is an impressive architectural landmark. Built during the French colonial period, the cathedral stands out with its unique blend of Roman and Byzantine architectural styles.
It features a vibrant red and white exterior and a stunning interior adorned with stained glass windows. The cathedral serves as the main place of worship for Bamako's Catholic community and hosts concerts and cultural events.
8. Modibo Keita Memorial
The Modibo Keita Memorial, dedicated to Mali's first president after independence from France, is an important historical site in Bamako. The memorial is located in the house where Keita lived, and it includes exhibits on his life and his role in Mali's fight for independence. The monument is a testament to Keita's legacy and offers insight into Mali's modern history.
Frequently Asked Questions
What is the best time to visit Bamako?
The best time to visit Bamako is during the cooler, dry season, generally from November to February. The rainy season from June to October can bring heavy downpours, particularly from July to September.
Is it safe to travel to Bamako?
What is traditional food and cuisine like in Bamako?
Malian cuisine is rich and diverse, often based on millet, rice, maize, and peanuts, complemented by various vegetables, meats, and fish. Some common dishes include "tiga diga na," a meat stew with peanut sauce, and "jollof rice," a one-pot rice dish with vegetables and meat.
What is a must-try dish in Bamako?
"Yassa poulet" is a delicious traditional dish with chicken marinated in lemon and onion, then grilled and served with rice. It's a flavorful and satisfying dish that's popular throughout West Africa.
What souvenirs can I bring home from Bamako?
Traditional Malian textiles, such as mud cloth (bogolan), jewelry, leather goods, and musical instruments like the kora, are popular souvenirs. Local crafts and artwork can also make unique keepsakes.
What currency is used in Bamako?
The currency in Bamako and throughout Mali is the West African CFA franc (XOF).
Final Thoughts
Bamako, the heart of Mali, is a bustling city teeming with history, culture, and a lively music scene. It presents a compelling fusion of old and new, where traditional African markets sit alongside French colonial architecture and modern high-rises.
Ultimately, before embarking on your journey to Bamako or any other part of Mali, it's crucial to stay updated on the prevailing safety conditions in the country. Seek reliable advice on ensuring your safety during your stay.