Jakarta is the capital of Indonesia. As the largest city in the country, Jakarta serves not only as the national capital but also as Indonesia's economic, cultural, and political center.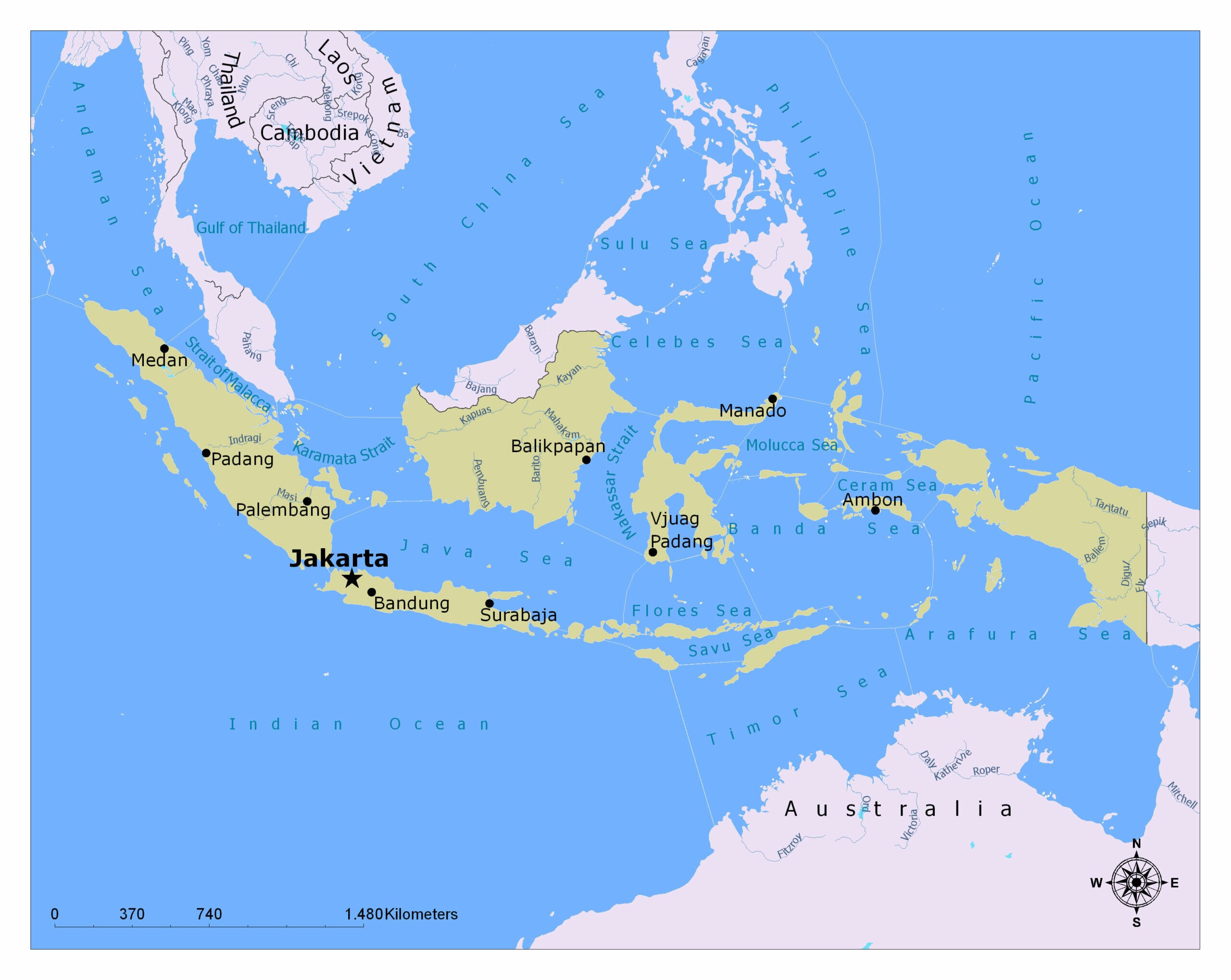 Jakarta is a sprawling metropolis known for its vibrant mix of languages, cultures, and traditions and one of the world's most densely populated urban regions.
Where is Jakarta?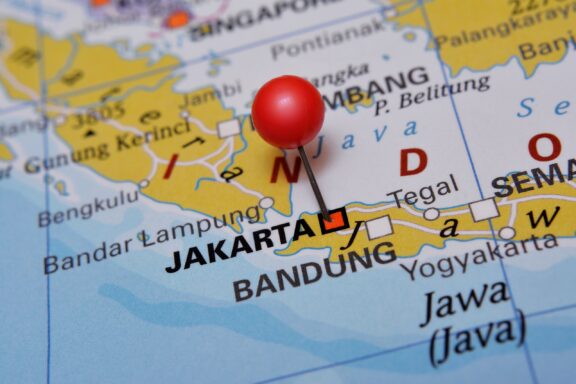 Jakarta is situated in the Southeast Asian region. Java is one of the Indonesian archipelago's 17,508 islands between the Indian and Pacific oceans.
Specifically, Jakarta is near the western coast of Java, positioned at the mouth of the Ciliwung River.f The city is about 1,424 kilometers (885 miles) east of the island of Sumatra and 662 kilometers (411 miles) west of Surabaya, another major city on Java.
Jakarta's strategic location has historically made it a gateway to the rest of Indonesia, and it remains an important port and international hub today.
History of Jakarta
Jakarta has a rich and complex history, marked by foreign colonization, national struggle, and rapid modern development. Its evolution over time has shaped the diverse and dynamic city that Jakarta is today.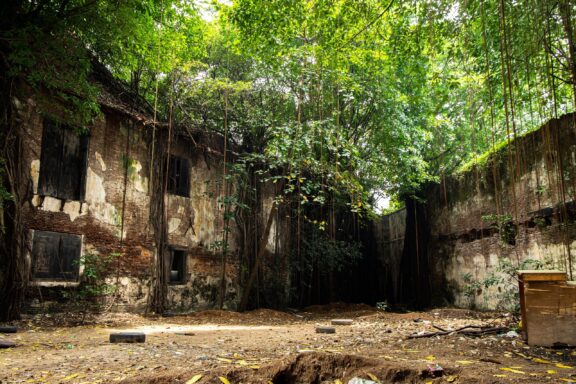 The area of present-day Jakarta has been inhabited for several thousand years, with evidence of human habitation dating back to the 5th century BC. It was an important trading port for the Kingdom of Sunda in the 4th century, known as Sunda Kelapa.
Jakarta's history took a turn in the early 16th century with the arrival of European powers seeking control over the spice trade. The Portuguese were the first Europeans to arrive in Jakarta, but the Dutch ultimately seized control.
In 1619, the Dutch East India Company (VOC) conquered Sunda Kelapa, renaming it Batavia and making it the capital of their Dutch East Indies colony. Under Dutch rule, Batavia became a major trading center with a rigidly segregated society.
Indonesia declared independence from Dutch rule on August 17, 1945, following a brief period of Japanese occupation during World War II. Batavia was renamed Jakarta and became the capital of the new nation. The name Jakarta symbolized a free and independent nation, as it was the historical name used during the brief British occupation.
Jakarta's growth accelerated in the post-independence period, particularly under the leadership of President Suharto, who was in power from 1967 to 1998. Under his New Order administration, Jakarta saw significant infrastructure and economic development, although this era was also marked by corruption and political repression.
The city continued to evolve after the fall of Suharto with democratic reforms and rapid urban development. Jakarta expanded its infrastructure, including building new highways, skyscrapers, and a mass rapid transit system.
Historical landmarks in Jakarta include the "Kota Tua," or Old Town, which contains Dutch colonial buildings; the iconic "Monas," or National Monument, which symbolizes the fight for Indonesia; and the grand Istiqlal Mosque, Southeast Asia's largest mosque. Significant events hosted by the city include the Asian Games in 1962 and 2018.
Today, Jakarta faces numerous challenges, including overpopulation, traffic congestion, and environmental issues. Still, it remains Indonesia's heart and a major player in the Southeast Asian region. Its history continues to shape its vibrant character and diverse population.
Features of Jakarta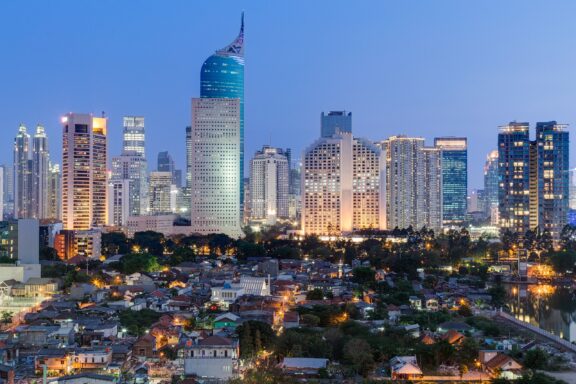 Jakarta is a bustling metropolis with several notable features that make it a unique city in Southeast Asia.
Geography and Climate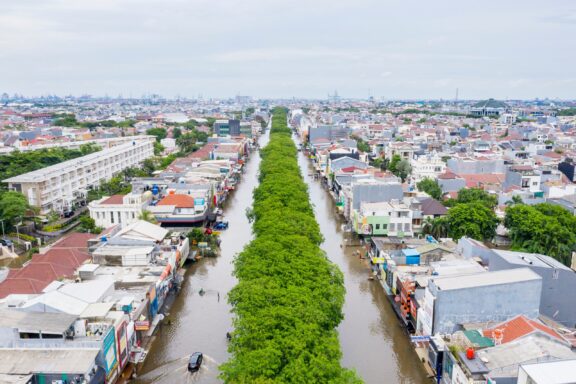 Jakarta is situated on the northwestern coast of Java island, by Jakarta Bay, an inlet of the Java Sea. The metropolitan area, known as Jabodetabek (Jakarta, Bogor, Depok, Tangerang, Bekasi), extends further, encompassing many satellite cities and suburbs.
Flat and low-lying coastal plains characterize Jakarta's geography. This topography and its tropical monsoon climate make the city prone to flooding, particularly during the rainy season.
The city experiences a tropical monsoon climate with high humidity and temperatures ranging from 22 to 33 °C (72 to 91 °F). The wet season typically occurs from November to March, while the dry season spans from June to September.
Population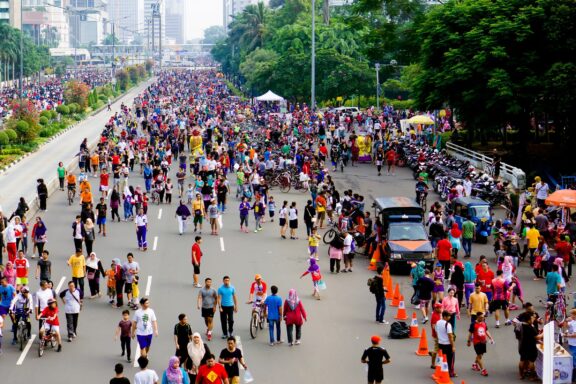 Jakarta is Indonesia's most populous city, with over 10 million residents in the city proper and more than 30 million in the Greater Jakarta metropolitan area.
The city's residents are incredibly diverse, reflecting the various ethnic groups across Indonesia. While the majority are of Javanese, Sundanese, and Betawi descent, many other ethnicities are represented, including Chinese, Indian, and Arab communities.
Bahasa Indonesia is the official language, but several regional languages and dialects, including Betawi, Sundanese, and Javanese, are also spoken.
Jakarta is known for its youthful population, with a median age of around 30.6 years. This young demographic has contributed to the city's dynamic and vibrant culture.
Economy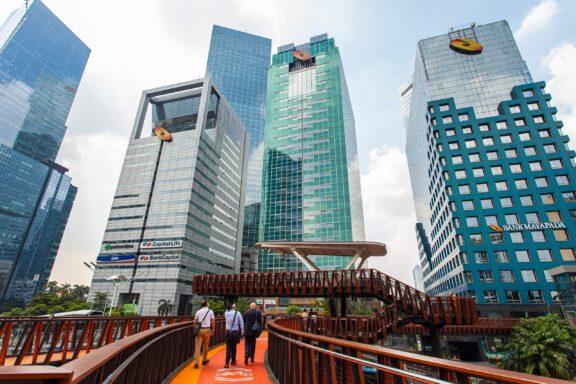 Jakarta is the economic powerhouse of Indonesia. It contributes significantly to the national GDP, with an economy dominated by service sectors such as finance, trading, and tourism. Manufacturing industries, including automotive, electronics, and food and beverage, also play a significant role.
Jakarta is the country's financial center, hosting numerous national and multinational banks, financial institutions, and the Indonesia Stock Exchange. The city also has a thriving startup scene, particularly in the technology sector, earning it the nickname "Silicon Valley of Southeast Asia."
Tourism is another key sector, with the city attracting both domestic and international tourists due to its historical sites, shopping destinations, and culinary experiences.
Despite its economic strengths, Jakarta faces challenges, including income inequality, traffic congestion, and environmental issues. However, the city continues to develop infrastructure and implement policies to address these challenges and promote sustainable economic growth.
Things to Do and Places to See in Jakarta
Jakarta is brimming with diverse attractions and activities. Let's explore some of the most well-known sites, popular attractions, and enjoyable activities that the city has to offer:
1. Exploring Kota Tua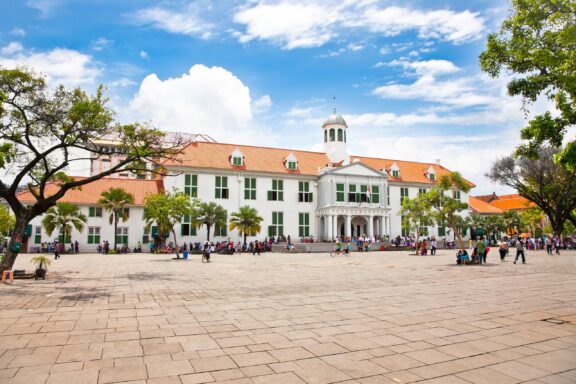 Kota Tua, often called the 'Old Town,' provides a fascinating glimpse into Jakarta's historical past. This district is dotted with well-preserved buildings dating back to the Dutch colonial era, showcasing beautiful European architectural designs. Walking along the cobblestone streets of Kota Tua is like stepping back in time, transporting you to a period when Jakarta was known as Batavia.
The central point of the district is Fatahillah Square, a bustling hub filled with street artists, vendors, and local tourists. It is surrounded by significant landmarks such as the Jakarta History Museum, the Wayang Puppet Museum, and the Fine Art and Ceramics Museum, all housed in historical buildings, making it a perfect place for culture and history enthusiasts.
2. Visit National Monument (Monas)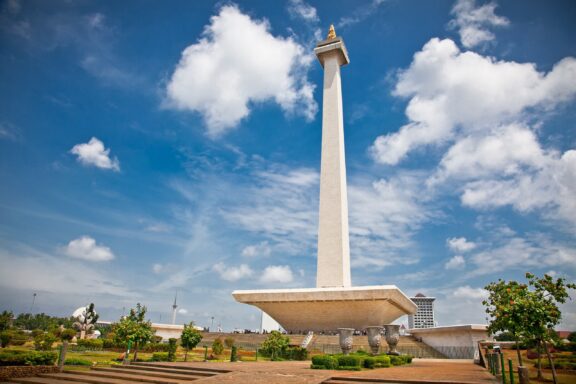 The National Monument, locally known as Monas, is an iconic symbol of Jakarta, standing 132 meters (approximately 433 feet) high in the city's center. It was constructed to commemorate Indonesia's struggle for independence from Dutch colonial rule. Visitors can take an elevator ride to the observation deck, which offers a panoramic view of the sprawling cityscape.
The base of Monas houses the National History Museum, showcasing dioramas depicting historical events from different periods of Indonesia's history. The monument is surrounded by a beautifully landscaped park, a popular spot for locals to relax and enjoy recreational activities.
3. Sunda Kelapa Port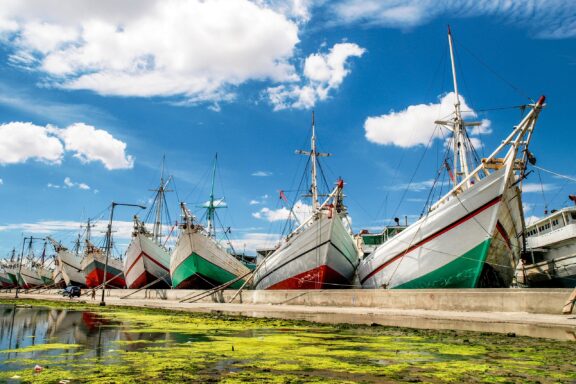 Sunda Kelapa is a historic Jakarta port that starkly contrasts the city's modern skyline. As one of the city's oldest areas, Sunda Kelapa Port remains a vital hub for the inter-island trade, where traditional wooden Pinisi schooners dock and unload their goods.
A stroll along the harbor offers a unique experience, a glimpse into the city's maritime heritage, bustling with activity as workers load and unload goods. You can also take a boat tour to get a different perspective of the port and its surroundings.
4. Taman Mini Indonesia Indah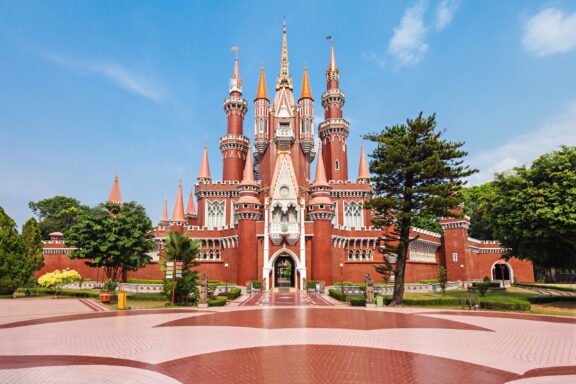 Taman Mini Indonesia Indah, which translates to "Beautiful Indonesia Miniature Park," is an expansive park that showcases the cultural diversity of Indonesia. It features traditional houses, clothing, and artifacts from Indonesia's provinces, effectively offering a tour of the country in one day.
The park also includes museums, gardens, theaters, and a large lake where visitors can rent a paddleboat. It's a fantastic place to immerse yourself in the rich cultural tapestry of Indonesia.
5. Thousand Islands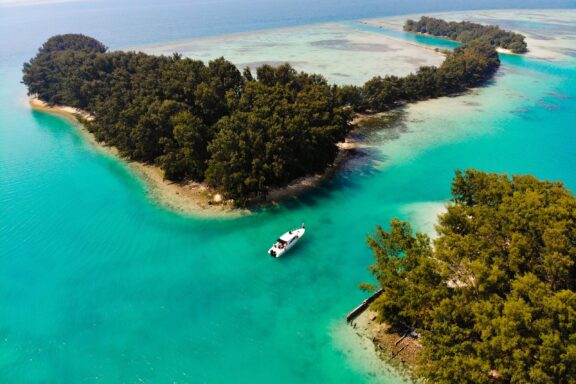 Just off the coast of Jakarta in Jakarta Bay, the Thousand Islands (Kepulauan Seribu) offer a delightful escape from the city's bustling pace. It's a chain of islands featuring pristine beaches, clear waters, and diverse marine life, making it a popular destination for snorkeling and diving.
Some islands also house luxury resorts, while others are conservation areas for marine life and endangered species. Whether relaxing on the beach, exploring the underwater world, or enjoying water sports, the Thousand Islands provide a refreshing retreat.
6. Istiqlal Mosque and Jakarta Cathedral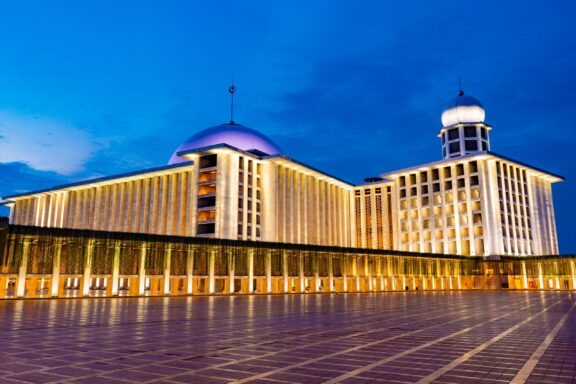 A testament to Jakarta's religious diversity, Istiqlal Mosque, and Jakarta Cathedral stand proudly across each other in Central Jakarta. Istiqlal Mosque, the largest mosque in Southeast Asia, is an architectural marvel with its minimalistic yet majestic design.
It can accommodate up to 200,000 worshippers. Its spacious interior is adorned with geometric patterns, high ceilings, and grand marble columns, providing a serene atmosphere for prayer and contemplation.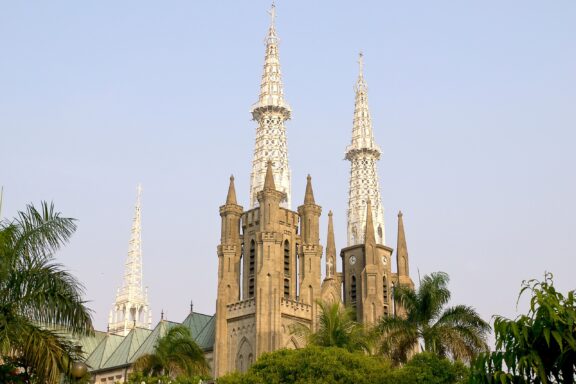 Across the road, Jakarta Cathedral, officially known as the Church of Our Lady of Assumption, is a stunning neo-gothic church dating back to the Dutch colonial era.
Its three spires reach up into the Jakarta sky, and inside, the cathedral is filled with beautifully crafted religious iconography, statues, and stained glass windows. These two religious monuments symbolize the city's rich cultural and religious diversity and tolerance.
7. The National Gallery of Indonesia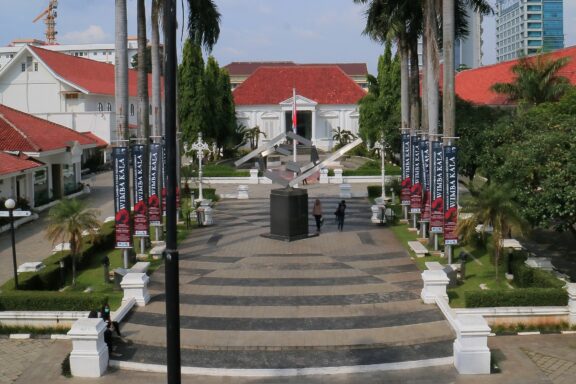 The National Gallery of Indonesia is an artistic treasure trove in central Jakarta. Established in 1999, it acts as a hub of art and culture, hosting a vast collection of over 1700 artworks by Indonesian and international artists. These artworks span a range of styles, periods, and mediums, including paintings, sculptures, ceramics, and photographs.
The gallery is a museum showcasing historical and contemporary artworks and an active venue for vibrant art exhibitions, cultural performances, and art-related seminars and workshops.
8. Taman Impian Jaya Ancol and Jakarta Aquarium & Safari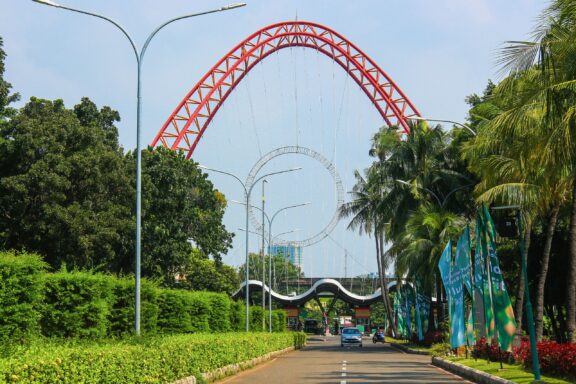 Taman Impian Jaya Ancol, often called Ancol, is an integrated resort offering various attractions, making it a perfect destination for a family day out. It includes the Dunia Fantasi theme park, SeaWorld Ancol, a golf course, a marina, and several hotels and restaurants. It's also home to some of Jakarta's best beaches.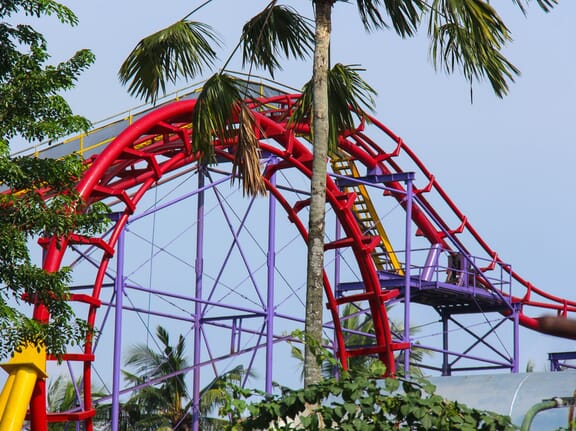 Dunia Fantasi, often called "Dufan," is one of Indonesia's most popular amusement parks. Located in Ancol, North Jakarta, it offers various rides and attractions suitable for all ages.
From adrenaline-pumping roller coasters and thrill rides to kid-friendly carousels and water rides, Dunia Fantasi promises a fun-filled day for everyone. The park is divided into various zones, each representing a different continent, with themed rides and attractions.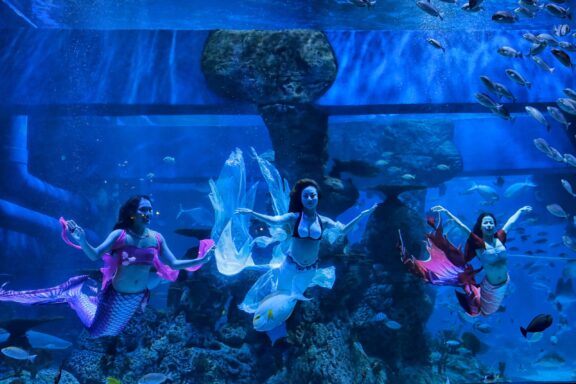 Within Ancol, the Jakarta Aquarium & Safari is a world-class marine and freshwater aquarium featuring species from around Indonesia and the world. It offers interactive exhibits and educational shows, making it a great destination for children and adults.
9. National Museum of Indonesia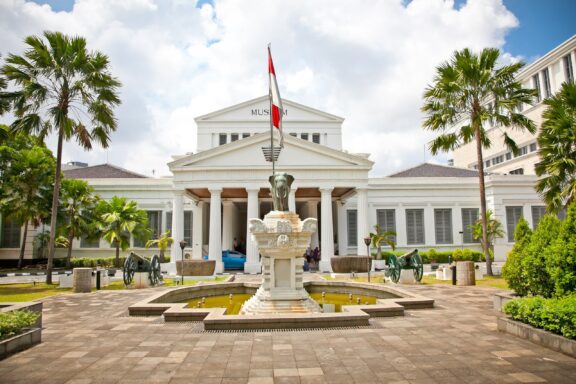 This is a large shopping mall in Jakarta, the capital city of Indonesia. It is a part of the mixed-use development of Casablanca City by the Pakuwon Group. Kota Kasablanka has several areas, including a shopping mall, an office tower called EightyEight@Kasablanka, an apartment complex, and a hotel.
The mall houses various shops, restaurants, and entertainment facilities, making it a popular destination for locals and tourists.
Also known as Museum Nasional, it is one of Indonesia's most important cultural institutions. Established in 1778, it's considered one of Southeast Asia's most comprehensive museums. The museum is located in Central Jakarta and boasts an extensive collection of historical and cultural artifacts from various periods and regions of Indonesia.
The collection includes prehistoric artifacts, Hindu-Buddhist art, Islamic art, ethnography, ceramics, and many others. The museum is important not only for its readers but also for its role in research, education, and preserving Indonesia's rich cultural heritage.
10. Jakarta Textile Museum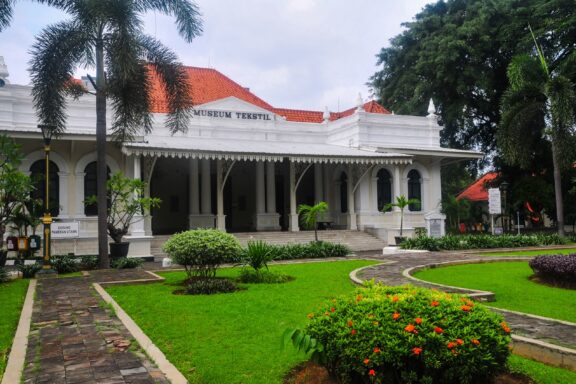 Located west of the city, the Jakarta Textile Museum, or Museum Tekstil Jakarta, offers a fascinating insight into Indonesia's textile industry. Housed in a restored 19th-century building, the museum displays an impressive collection of textiles from the Indonesian archipelago.
Visitors can explore a variety of traditional fabrics, including batik and ikat, and learn about the processes of making these textiles through demonstrations. The museum also hosts workshops, allowing visitors to try creating their batik, thus promoting and preserving this traditional Indonesian art form. The museum's lush gardens and the colonial architecture of the building itself are also worth admiring.
11. Ragunan Zoo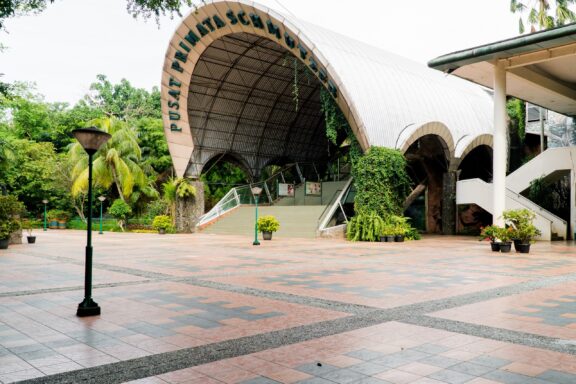 Ragunan Zoo, situated in South Jakarta, is one of the oldest zoological gardens in Indonesia, having been established during Dutch colonial rule. It is home to over 3,000 animals, including many native Indonesian species like orangutans, Komodo dragons, and Sumatran tigers, as well as various international species.
The zoo also features a large aviary and a primate center, known as the Schmutzer Primate Centre, one of the largest of its kind in the world. With its vast collection of flora and fauna, Ragunan Zoo offers an engaging and educational experience for families.
12. Jakarta Art Building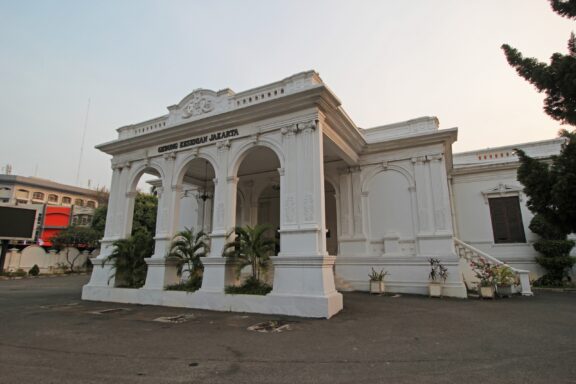 The Jakarta Art Building, locally known as Gedung Kesenian Jakarta, is a historical and cultural landmark in Jakarta. The Jakarta Art Building was built during the Dutch colonial era and featured a neoclassical style that has been a platform for performing arts since the 19th century. The building has an intimate theatre that hosts a range of performances, including drama, musical concerts, dance, and even puppet shows.
Its colonial-style architecture, high ceilings, and intricate detailing add to the cultural and artistic experience. The Jakarta Art Building continues to be a significant venue for promoting and preserving Indonesian art and culture.
13. Kota Kasablanka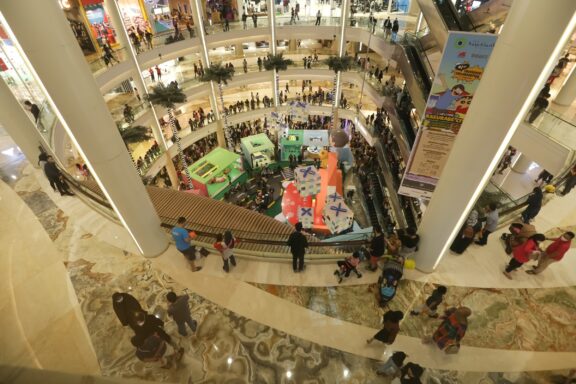 This is a large shopping mall in Jakarta, the capital city of Indonesia. It is a part of the mixed-use development of Casablanca City by the Pakuwon Group. Kota Kasablanka has several areas, including a shopping mall, an office tower called EightyEight@Kasablanka, an apartment complex, and a hotel.
The mall houses various shops, restaurants, and entertainment facilities, making it a popular destination for locals and tourists.
This is a large shopping mall in Jakarta, the capital city of Indonesia. It is a part of the mixed-use development of Casablanca City by the Pakuwon Group. Kota Kasablanka has several areas, including a shopping mall, an office tower called EightyEight@Kasablanka, an apartment complex, and a hotel.
The mall houses various shops, restaurants, and entertainment facilities, making it a popular destination for locals and tourists.
Frequently Asked Questions
What is the best time to visit Jakarta?
The best time to visit Jakarta is during the dry season, from June to September, when rainfall is lowest. However, the city is a year-round destination, with indoor activities to enjoy even during the wet season.
What is the traditional food in Jakarta?
Jakarta offers a variety of Indonesian and local Betawi dishes. Popular ones include:
• Nasi Goreng" (fried rice)
• Satay (skewered grilled meat)
• Ketoprak (tofu, vegetables, rice cake, and rice vermicelli served in peanut sauce)
• Soto Betawi (a hearty soup with beef and offal cooked in coconut milk)
What is the best way to get around Jakarta?
While Jakarta is known for its traffic congestion, several options are available. The city has a TransJakarta Busway and Mass Rapid Transit (MRT) systems. Taxis and online ride-hailing services like Gojek and Grab are also widely used. Renting a car with a driver is another common option.
Is Jakarta safe for tourists?
Generally, Jakarta is relatively safe for tourists. However, as with any big city, minor offenses like pickpocketing are still encountered at popular tourist locations, and in areas with heavy foot traffic, such as marketplaces and public transportation systems, so be especially cautious there.
What can I bring back as souvenirs from Jakarta?
Consider bringing back Batik (a traditional Indonesian cloth hand-dyed using a wax resist technique), Wayang (conventional Indonesian puppets), Indonesian coffee, local crafts, or spices.
Can I drink tap water in Jakarta?
Drinking bottled water in Jakarta is generally recommended, as tap water isn't safe for consumption without boiling or treatment.
What currency is used in Jakarta?
The currency used is the Indonesian Rupiah (IDR).
Where can I try local street food in Jakarta?
There are many street food stalls across Jakarta, but some famous areas are Jalan Sabang, Jalan Pecenongan, and the Blok S area.
Final Thoughts
Jakarta, Indonesia's bustling, multicultural capital, presents a dynamic blend of traditions, cultures, and modernity. Its rich history, architectural diversity, vibrant arts scene, and delicious food make it a destination worth exploring.
Despite its frenetic pace, Jakarta offers pockets of calm within its beautiful parks, historic squares, and along its waterfront. The city invites visitors to dive into its past at museums and historic sites, indulge in culinary delights, and revel in the local art and culture.