Reykjavik is the capital of Iceland. It is the country's most populous city and the world's northernmost capital.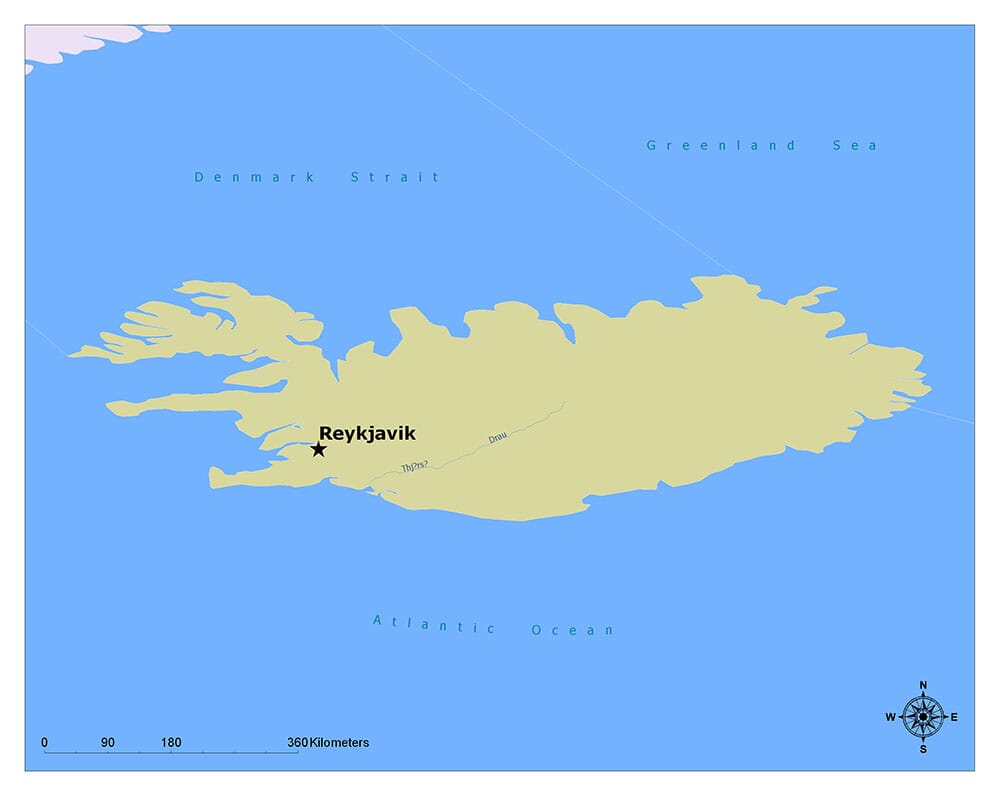 Reykjavik is renowned for its striking landscapes, hot springs, and abundant geothermal energy. Its modern Nordic architecture adds to the city's unique charm. With a reputation for being the safest country in the world, clean, and a vibrant city, Reykjavik offers a high quality of life and a strong sense of community.
Where is Reykjavik?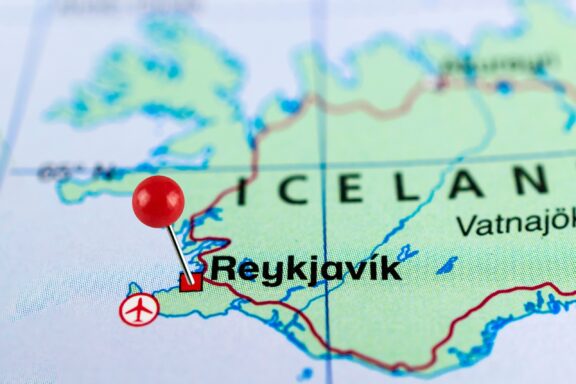 Reykjavik is located in the southwestern part of Iceland, on the Seltjarnarnes peninsula. It's situated by Faxaflói Bay and surrounded by a waterfront offering picturesque views of the mountains and the North Atlantic Ocean.
The city is close to the Arctic Circle, about 64 degrees north of the Equator. Despite its northern latitude, which makes it the world's northernmost capital city, the Gulf Stream helps create a milder, maritime temperate climate than expected.
Reykjavik is the starting point for most of the country's infrastructure, with road and air connections radiating from the city to the rest of the island. The international airport in Keflavik, about 50 kilometers (31 miles) west of Reykjavik, is the main hub for international travel.
History of Reykjavik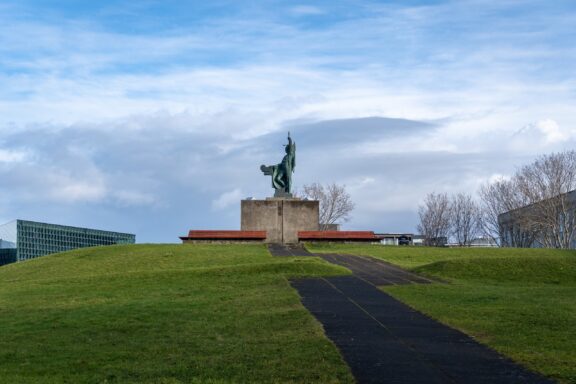 Reykjavik's history stretches back to the settlement of Iceland in the late 9th century. According to the Icelandic sagas, particularly the Landnámabók or "Book of Settlements," the area was first settled around AD 874 by Ingólfr Arnarson, a Norwegian chieftain. He named the location Reykjavik, which means "Bay of Smokes," inspired by the geothermal steam he observed.
For much of its early history, the area was primarily farmland with little urban development. This began to change in the 18th century. In 1752, the Danish monarchy, which ruled Iceland at the time, established wool workshops in the area, marking the start of Reykjavik's development as a town.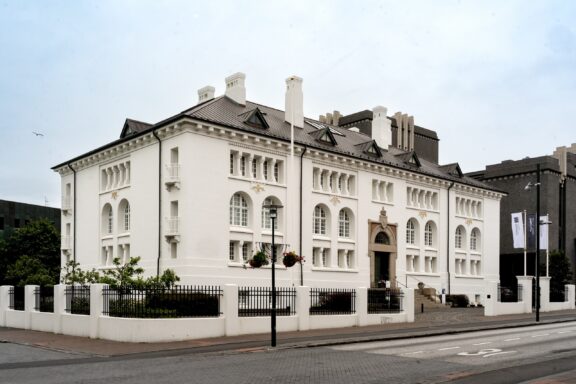 The 19th century brought significant changes. The National Library of Iceland (now part of the University of Iceland) was established in Reykjavik in 1818, and the National Museum of Iceland opened in 1863. These institutions played a vital role in preserving the Icelandic language and culture during intense Danish influence.
In 1845, the Althingi (parliament), which the Danish king had disbanded in the 18th century, was re-established in Reykjavik, further increasing the town's importance. However, it was not until 1918 that Iceland gained independence from Denmark, with Reykjavik becoming the capital of the newly autonomous nation.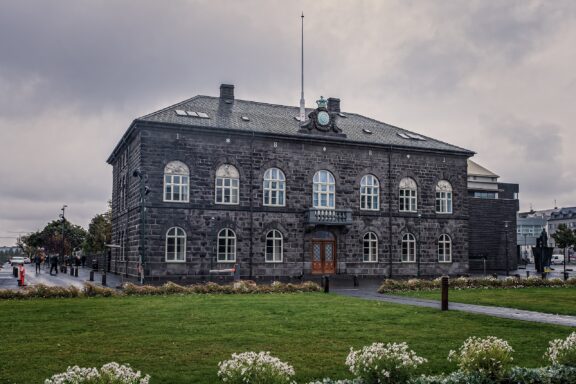 The 20th century was a period of rapid growth and modernization for Reykjavik. The city expanded significantly due to urbanization and industrialization. Infrastructure was developed, including roads, an airport, and a geothermal heating system. The University of Iceland was founded in 1911, enhancing the city's status as a cultural and educational hub.
World War II brought unexpected changes when the British and later the American military occupied Iceland to prevent it from falling into German hands. This resulted in a boom in construction and a surge in the economy, leading to increased prosperity.
After World War II, Reykjavik continued to grow and modernize, with the city's population increasing significantly and committing to sustainability, using geothermal energy for much of its heating and electricity needs.
Historically significant events hosted by the city include the 1986 Reykjavik Summit, where U.S. President Ronald Reagan and Soviet leader Mikhail Gorbachev held talks that marked a turning point in the Cold War.
Today, Reykjavik reflects its rich history and a modern, progressive outlook. It has become a popular tourist destination, known for its historic sites, vibrant culture, and the natural beauty of its surroundings.
Features of Reykjavik
Reykjavik is a city of contrasts, where cutting-edge modernity meets rich historical heritage, and natural beauty complements the urban style.
Geography and Climate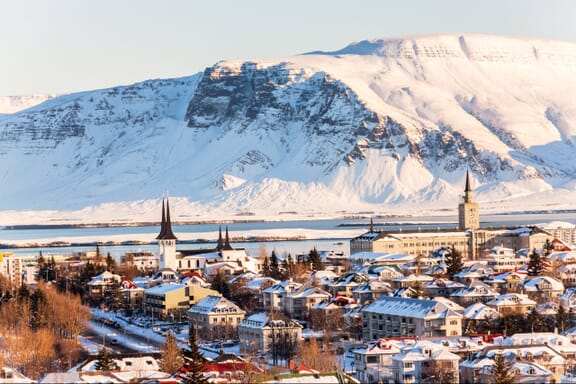 Reykjavik's terrain features a mix of peninsula, islands, and coastal lowlands, with a few hills, the highest of which is Mount Esja, located north of the city. Reykjavik is also near several geothermal areas, which supply much of the city's heating and hot water.
Reykjavik experiences a subarctic maritime climate, with cool summers and relatively mild winters, thanks to the influence of the Gulf Stream. The city experiences long days in the summer, with almost 24 hours of sunlight at the summer solstice, and short days in the winter, with only about four hours of daylight at the winter solstice.
Population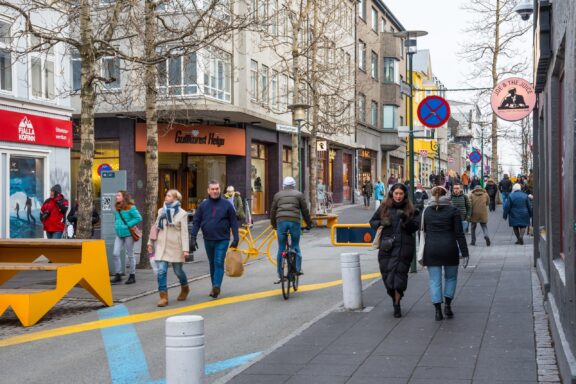 Reykjavik has a population of over 130,000 inhabitants, with the Greater Reykjavik Area (which includes six neighboring municipalities) hosting more than 220,000 people – over 60% of the entire population of Iceland.
The city provides an exceptional standard of living and fosters a profound communal spirit. While the vast majority of Reykjavik's residents are ethnic Icelanders, there is a growing diversity in the city with increasing numbers of foreign-born residents. The official language is Icelandic, but English is widely spoken, especially among younger generations.
Economy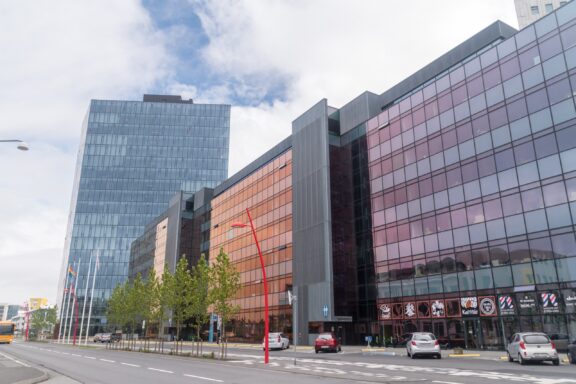 Reykjavik is the economic heart of Iceland. It is a business, finance, and governmental hub, with many national institutions and companies headquartered in the city. Key sectors include retail, healthcare, education, and social services. There is also a significant presence in software production, biotechnology, and finance industries.
Tourism also plays an increasingly important role in Reykjavik's economy. The city is a gateway for tourists visiting Iceland, and it offers a variety of attractions, from its rich cultural heritage and architectural landmarks to the surrounding natural wonders.
Reykjavik has made significant strides in innovation and technology, with a thriving startup scene that has given rise to successful companies, particularly in software development and biotechnology. The city's commitment to sustainable development and renewable energy makes it an attractive location for businesses and researchers interested in these fields.
Despite these strengths, like any city, Reykjavik also faces economic challenges, including the high cost of living and the need to diversify its economy to reduce reliance on tourism. However, the city's strong financial base, well-educated workforce, and focus on innovation continue to drive its economic growth and resilience.
Things to Do and Places to See in Reykjavik
Reykjavik is brimming with numerous activities and sights to explore. Here are some of the most sought-after attractions and experiences that make Reykjavik a fascinating destination:
1. Hallgrímskirkja Church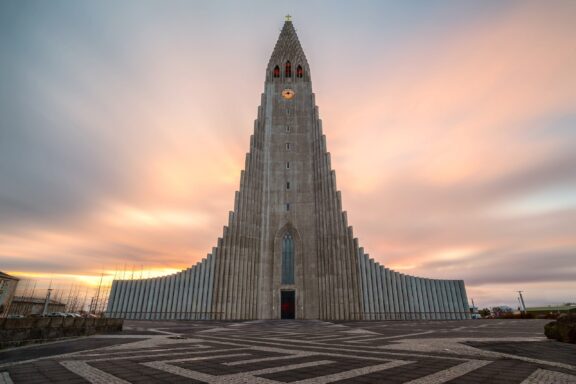 Hallgrímskirkja is the tallest church in Iceland and one of the most recognizable landmarks in Reykjavik. Named after the 17th-century poet and clergyman Hallgrímur Pétursson, the church's unique architecture is a spectacle. It was designed in a style that reflects the landscapes of Iceland, with a facade resembling basalt lava columns.
Inside, you'll find a spacious, serene sanctuary with a minimalist design. Another highlight is the grand pipe organ, designed by the German organ builder Johannes Klais of Bonn. With a trip to the top of the church tower, you can enjoy a panoramic view of Reykjavik and its surroundings, making it a must-visit for photographers.
2. Harpa Concert Hall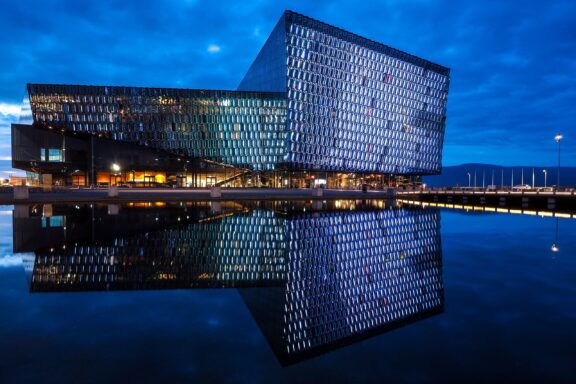 Harpa Concert Hall is one of Reykjavik's architectural gems by the old harbor. This award-winning structure, designed by Danish-Icelandic artist Olafur Eliasson and Henning Larsen Architects, stands out with its honeycomb-like glass exterior that reflects the city and the surrounding landscapes.
Inside, Harpa houses multiple performance spaces and regularly hosts a variety of concerts, from classical to contemporary, and is home to the Icelandic Symphony Orchestra and the offices of the Icelandic Opera. The concert hall also houses restaurants and shops, making it a lively spot for locals and tourists. Tours of the building are available for those interested in its architectural and artistic details.
3. Explore the Old Harbour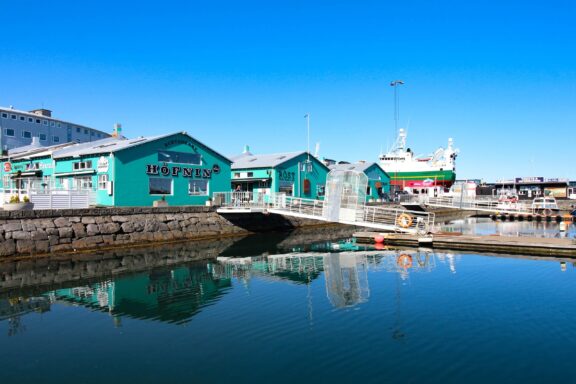 The Old Harbour area is one of Reykjavik's most picturesque districts. Originally constructed as a trading port in the 1910s, it is now a bustling spot full of charm and history. Today, it serves as a hub for whale-watching and puffin-spotting tours, with several operators based here. The harbor is also home to a vibrant culinary scene, with some of Reykjavik's best seafood restaurants, trendy cafes, and bars.
The nearby Grandi area, a transformed fish packing district, has emerged as a food and design hub, boasting gourmet shops, innovative eateries, and boutique shops. The Reykjavik Maritime Museum is also located here, showcasing the history of Iceland's maritime industry and its importance to the nation's culture and economy.
4. Stroll around Laugavegur Street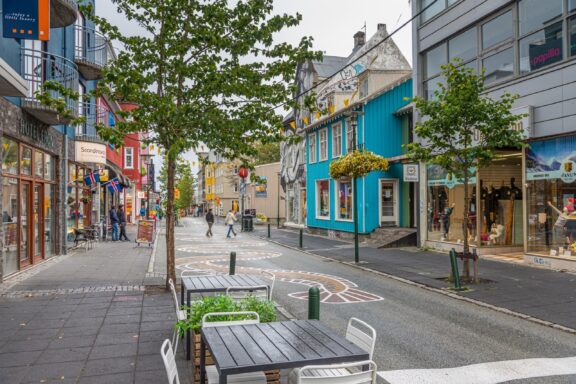 Laugavegur is Reykjavik's main shopping street and one of the oldest streets in the city. This vibrant artery of downtown Reykjavik is brimming with boutiques selling local design, vintage clothes shops, souvenir stores, art galleries, and various restaurants and cafes.
From high-end fashion to quirky second-hand finds, Laugavegur offers a shopping experience to suit every taste. When night falls, the street becomes a lively hub with numerous bars, clubs, and music venues providing entertainment into the early hours.
5. National Museum of Iceland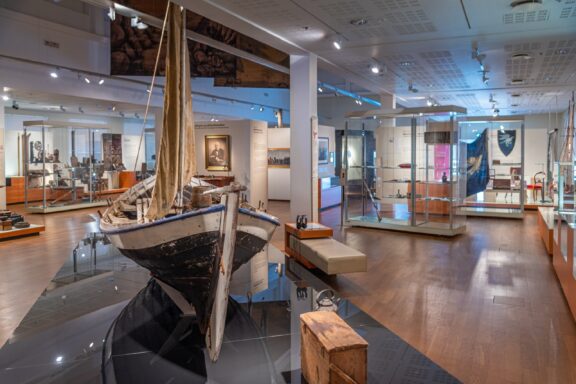 The National Museum of Iceland offers a comprehensive look into Iceland's history from the Settlement Age to the modern era. The museum's permanent exhibition, 'The Making of a Nation,' showcases a collection of 2,000 artifacts and 1,000 photographs, telling the story of Iceland's journey from Viking settlements to contemporary times. Highlights include:
Medieval wooden church doors carved with scenes from Leifur Eiríksson's journey to the Americas
Viking-era tools and weaponry
Traditional Icelandic clothing and textiles
Interactive displays and multimedia presentations provide engaging ways for visitors of all ages to learn about the country's rich heritage.
6. Blue Lagoon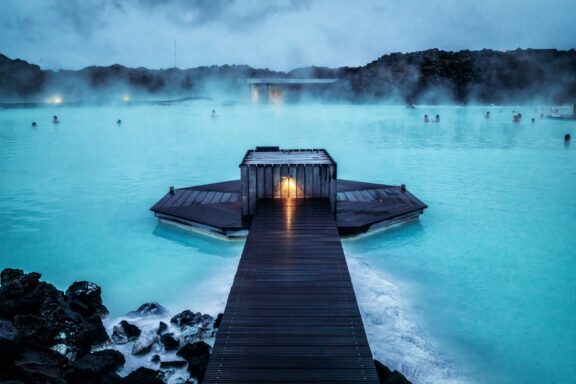 The Blue Lagoon, one of Iceland's most popular tourist destinations, is a 40-minute drive from Reykjavik. This geothermal spa is nestled in a lava field and is renowned for its mineral-rich, milky-blue waters, naturally heated by the earth's geothermal activity.
The water in the lagoon is rich in silica and sulfur, and it's said to have healing properties, particularly for skin conditions. The site offers other amenities such as a sauna, a steam room, and a luxury spa offering various treatments. With its stunning views of the lagoon, the on-site restaurant provides a chance to savor Icelandic cuisine after a relaxing soak.
7. Golden Circle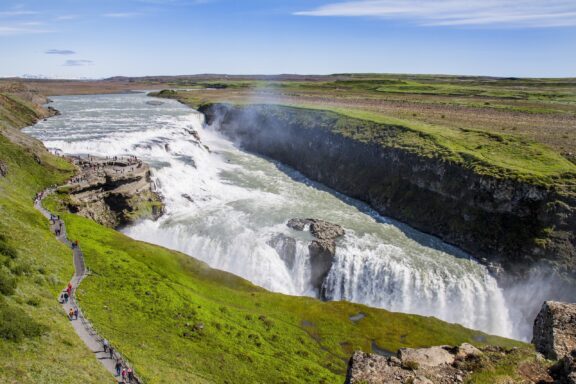 The Golden Circle is a popular tourist route encompassing three major attractions: Thingvellir National Park, the Geysir geothermal area, and the Gullfoss waterfall. This excursion tastes Iceland's stunning natural landscapes, including geysers, waterfalls, and tectonic rift valleys.
Thingvellir is a UNESCO World Heritage Site and the original home of the world's longest-running parliament, the Althingi, established in 930 AD. Geysir is a geothermal area known for its active geysers, including Strokkur, which erupts regularly. Gullfoss, or the "Golden Waterfall," is a powerful two-tiered waterfall that offers stunning views and photo opportunities.
8. Reykjavik Art Museum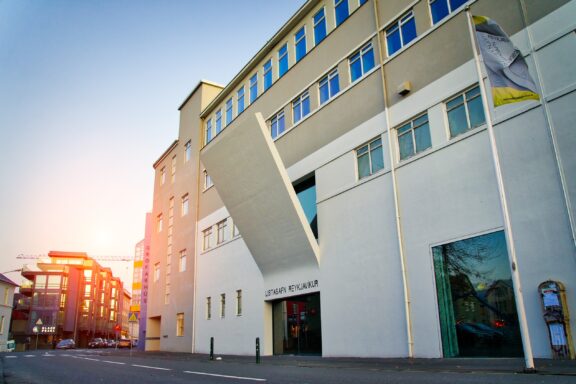 The Reykjavik Art Museum is Iceland's largest visual art institution, spanning three buildings: Hafnarhús, Kjarvalsstaðir, and Ásmundarsafn. Each venue offers a different experience. Hafnarhús, located in the city center, showcases contemporary art.
Kjarvalsstaðir, named after one of Iceland's most beloved painters, Jóhannes S. Kjarval, exhibits both Kjarval's and contemporary art. Ásmundarsafn, dedicated to the sculptor Ásmundur Sveinsson, displays his sculptures and works in a building formerly the artist's home and studio.
9. Aurora Reykjavík – The Northern Lights Center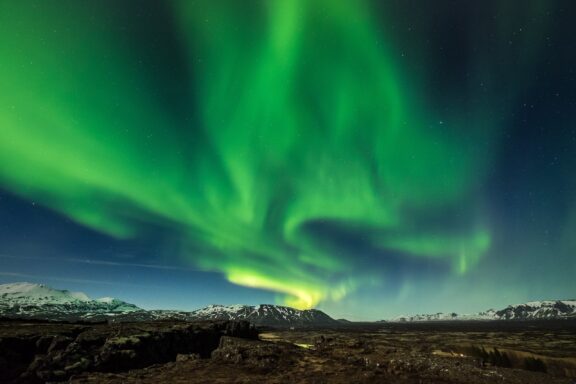 The Aurora Reykjavik is a museum and educational center dedicated to the Northern Lights or Aurora Borealis. Here, you can learn about the science behind this natural phenomenon, its mythology, and tips for photographing the lights.
The center's highlight is a panoramic, high-definition film of the Northern Lights, allowing visitors to experience this natural wonder even if the weather doesn't cooperate during their stay.
10. Sun Voyager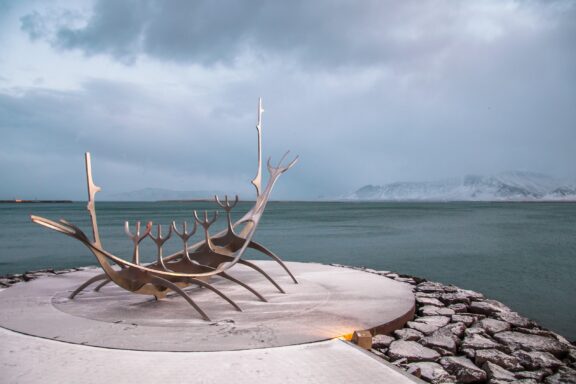 Sun Voyager is a stainless-steel sculpture by Jón Gunnar Árnason on the Reykjavik seafront. Resembling a Viking ship, the statue is, in fact, an ode to the sun, symbolizing light, hope, and the promise of undiscovered territories. Its beautiful waterfront location offers spectacular views, particularly during sunrise or sunset.
11. Thingvellir National Park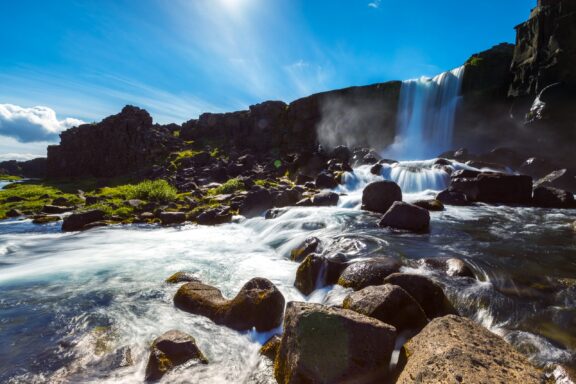 Thingvellir National Park, part of the Golden Circle route, is a UNESCO World Heritage site of great historical, cultural, and geological significance to Iceland. It was here that the Althingi, one of the world's oldest functioning legislative assemblies, was established in 930 AD.
Geologically, the park is located in a rift valley caused by the separation of two tectonic plates, offering dramatic landscapes, including the largest natural lake in Iceland, Thingvallavatn. The park is also a popular destination for diving and snorkeling due to the clear waters of the Silfra fissure.
Frequently Asked Questions
What is the best time to visit Reykjavik?
The best time to visit Reykjavik depends on what you want to experience. For mild weather and long days, visit in the summer (June to August), whereas dark winter (September to March) is best for Northern Lights viewing.
Is Reykjavik expensive?
As a Nordic country, Iceland is generally considered more expensive than many other countries in terms of food, accommodation, and certain activities. However, many natural attractions are free, and there are ways to explore Reykjavik on a budget.
What is traditional food and cuisine like in Reykjavik?
Traditional foods in Reykjavik include dishes like:
• Kjötsúpa (Lamb soup)
• Skyr (a creamy dairy product similar to yogurt)
• Hákarl (fermented shark)
• Seafood, especially cod, and salmon
What is a must-try dish in Reykjavik?
A must-try dish in Reykjavik is Pylsur, or the Icelandic hot dog, often served with a combination of fried and raw onions, ketchup, sweet brown mustard, and remoulade.
What souvenirs can I bring home from Reykjavik?
Popular souvenirs from Reykjavik include Icelandic wool products like sweaters and blankets, lava rock jewelry, Björk liqueur, and local music. You can also find unique Icelandic design items, from home decor to fashion.
Is it safe to visit Reykjavik?
How can I get around in Reykjavik?
Reykjavik is a walkable city, especially in the downtown area. For longer distances, there's a reliable public bus system (Strætó). Taxis are available but can be expensive. Many visitors also rent a car, particularly for trips outside the city.
Can I drink the tap water in Reykjavik?
Yes, the tap water in Reykjavik is not only safe to drink but is often considered among the cleanest in the world.
How is the nightlife in Reykjavik?
Reykjavik is known for its vibrant nightlife, with a plethora of bars and clubs that stay open well into the early morning, especially on weekends.
What cultural customs should I be aware of when visiting Reykjavik?
Icelanders appreciate punctuality, respect for nature, and personal space. Tipping is not customary, as service charges are included in the bill. It's also normal to remove your shoes when entering someone's home.
Final Thoughts
Reykjavik, with its unique fusion of cosmopolitan charm and breathtaking natural beauty, offers an exceptional experience that makes it well worth a visit. The city offers something for everyone, from its rich historical tapestry to its lively arts scene and picturesque cityscape to its dramatic surrounding landscapes.
Whether exploring the city's diverse architectural wonders, delving into its captivating history at the museums, soaking in the geothermal Blue Lagoon, or embarking on a day trip to explore Iceland's renowned natural phenomena, Reykjavik promises a memorable journey.