Saint George's is the capital of Grenada. It is known for its horseshoe-shaped harbor and colonial architecture.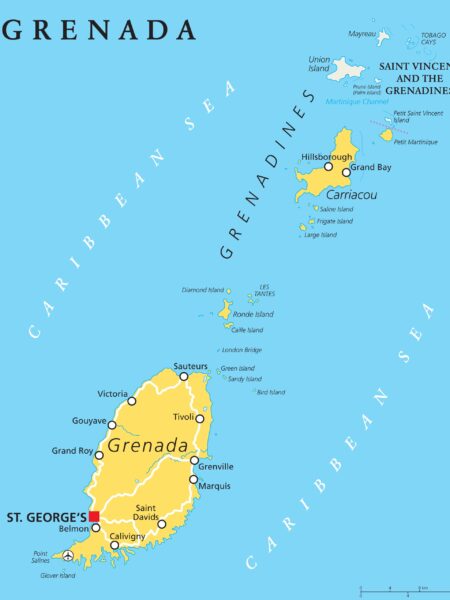 St. George's serves as Grenada's political and commercial center and is a popular destination for visitors interested in history, culture, and natural beauty.
Where is St. George's?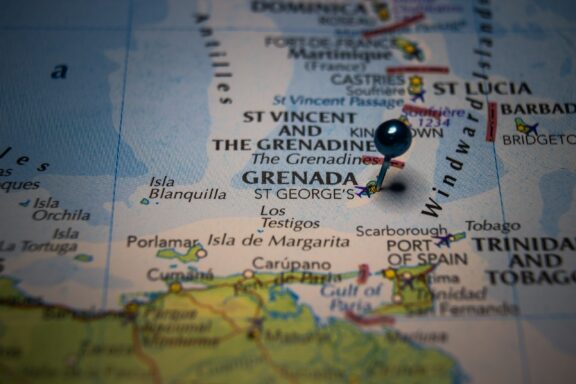 St. George's is on the southwest shoreline of Grenada, a Caribbean island nation. It occupies a unique geographical spot on a peninsula. In the broader context, the capital and its nation are part of the West Indies, located not far from the equator.
St. George's sits roughly 12 degrees north latitude and 61.75 degrees west longitude. Situated near the southern tip of the Grenadines, this chain of islands is part of the Caribbean landscape.
The city belongs to the Lesser Antilles, an island group that delineates the eastern edge of the Caribbean Sea, where it meets the Atlantic Ocean.
History of St. George's
Before the arrival of Europeans, the island was inhabited by indigenous Arawaks and later the Caribs. These communities engaged in fishing, agriculture, and trading with neighboring islands, laying the early foundations for the region's culture and economy.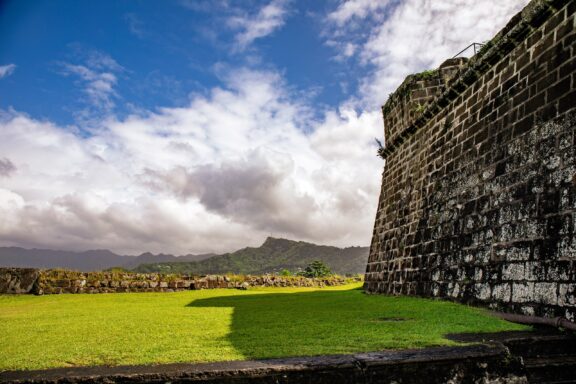 In 1650, Jacques-Dyel du Parquet, the French governor of Martinique, acquired Grenada from a French company and founded a settlement in St. George's.
This era saw the introduction of sugarcane plantations and the initial building of fortifications to protect French interests from rival European powers.
After several conflicts between the British and French over the island, the Treaty of Paris in 1763 ceded Grenada to Britain. The British renamed Fort Royal as St. George's and added to the fortifications, such as Fort Frederick.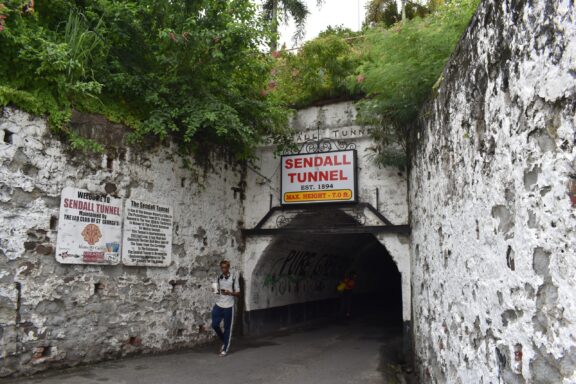 The British colonial administration also introduced new crops like nutmeg, greatly impacting the island's agriculture.
Later, in the 19th century, the city witnessed a major transformation, beginning with Grenada's incorporation into the British Windward Islands Administration in 1833. British-operated slavery was officially abolished in 1834, although the last enslaved African descendants gained their freedom in 1838.
These individuals became increasingly important in the local economy after their emancipation. During the same period, the city witnessed a surge in spice cultivation, particularly in nutmeg and cocoa, which became essential exports via St. George's port.
This era also saw the expansion of spice cultivation, with nutmeg and cocoa becoming vital exports through the port of St. George's.
During World War II, St. George's served as a refueling stop for Allied vessels, leading to some infrastructural developments in the city.
The latter half of the century saw political shifts, including a brief period of Marxist governance under the New Jewel Movement from 1979 to 1983. This era introduced new social programs but was also marked by internal strife.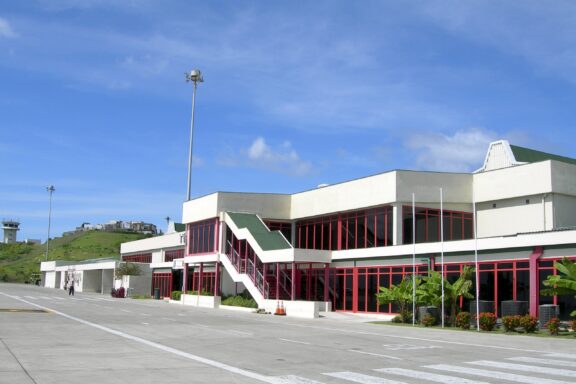 Operation Urgent Fury in 1983 led to the overthrow of the Marxist regime. St. George's was at the center of this conflict, with pivotal battles and the subsequent establishment of a U.S.-backed interim government.
This event shifted the political landscape of Grenada and paved the way for democratic governance.
St. George's today reflects its layered history. It serves as the political capital and as a center for tourism, with visitors drawn to its historic sites, local cuisine, and natural beauty.
The city successfully blends elements of its colonial past with a modern, cosmopolitan atmosphere.
Features of St. George's
St. George's seamlessly blends history with modernity, forming an inviting and captivating atmosphere. Historic forts stand as testaments to the city's strategic significance during the age of European colonization and conflict.
Yet, the city is far from a relic of the past; it pulses with a contemporary beat. The inclusion of St. George's University infuses an international vibe that enriches the city's cultural variety. The dynamic local markets also serve as windows into everyday Grenadian life, allowing visitors to explore the island's rich culinary traditions.
Geography and Climate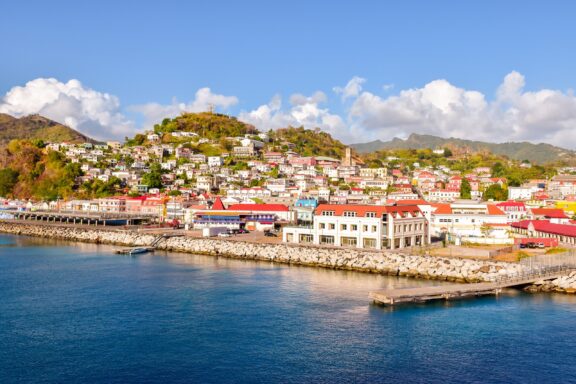 St. George's enjoys a tropical climate with warm temperatures year-round and a distinct wet and dry season. The wet season typically runs from June to December, bringing heavier rainfall, while the dry season spans from January to May.
The city is sheltered by hills and mountains to its north, contributing to its generally stable weather patterns.
Population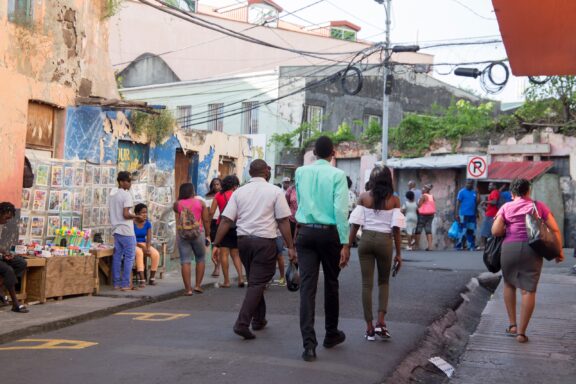 The city has a diverse population, estimated to be around 34,000. The community is primarily made up of people of African descent, reflecting the island's history of colonization and slavery.
There is also a noticeable influence from East Indian, European, and indigenous Caribbean cultures. English is the official language, but you'll often hear a local Creole dialect spoken among residents.
The presence of St. George's University also brings in an international student body, adding to the city's multicultural atmosphere.
Economy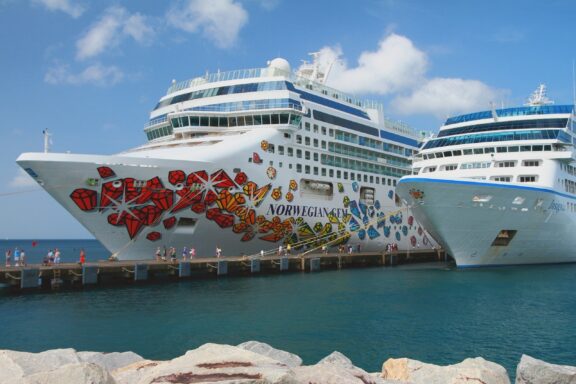 St. George's serves as the economic heart of Grenada. Tourism is a substantial industry, with the city acting as a gateway for travelers exploring the island's beaches, spice plantations, and scenic locales.
Besides tourism, the city strongly focuses on education, anchored by St. George's University, a major employer and contributor to the local economy.
Agricultural products, particularly spices like nutmeg and mace, play a considerable role. These spices are often processed in the city before being exported. Fishing is another traditional industry, with the day's catch frequently sold at local markets.
More recently, there has been a growing focus on small-scale manufacturing and information technology services. The port of St. George's is a significant part of the city's economy, facilitating tourism and importing and exporting goods.
Overall, St. George's enjoys a diversified economy, blending traditional industries with emerging sectors, making Grenada a vital and adaptable economic hub.
Things to Do and Places to See in St. George's
An array of activities and sights await you in St. George's. Here's an overview of some of the city's top sought-after attractions:
1. Fort George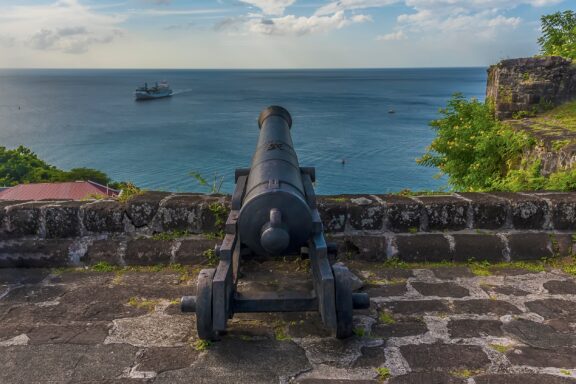 Fort George serves as a living testament to the island's multifaceted history. While it continues to operate as a police station today, it remains a popular tourist attraction, inviting visitors to delve into its complex past and appreciate its strategic significance.
Tourists visiting Fort George can look forward to guided tours that unravel the layers of Grenada's history, from colonial rule to modern-day governance. You can wander through the maze-like structures, admire the military architecture, and capture breathtaking views from its ramparts.
2. The Carenage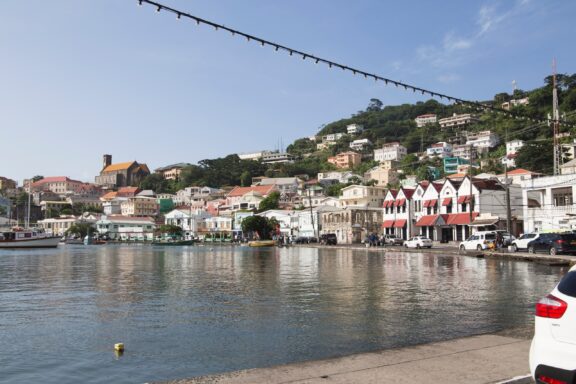 The Carenage is a historical harbor and one of St. George's most picturesque areas. Once a cornerstone of Grenada's trade economy, the Carenage has evolved into a lively waterfront teeming with activity, seamlessly combining the old and the new.
Today, the Carenage is lined with colorful buildings that house shops, restaurants, and bars. Its colonial-era warehouses, now transformed into modern commercial spaces, juxtaposed against the backdrop of fishing boats and yachts moored along the quayside.
3. Grenada National Museum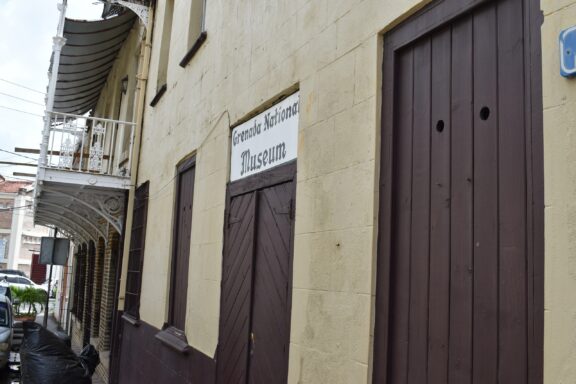 The Grenada National Museum offers a deep dive into the island's rich cultural, social, and political history. Situated in a historic structure, the museum presents a compelling narrative of Grenada through its carefully curated exhibits.
The Grenada National Museum allows visitors to immerse themselves in interactive exhibits, discover artifacts and antiquities, and attend workshops and special lectures. It's an enlightening experience that provides educational and cultural value, making it a must-visit for history buffs and curious travelers.
4. Cathedral of the Immaculate Conception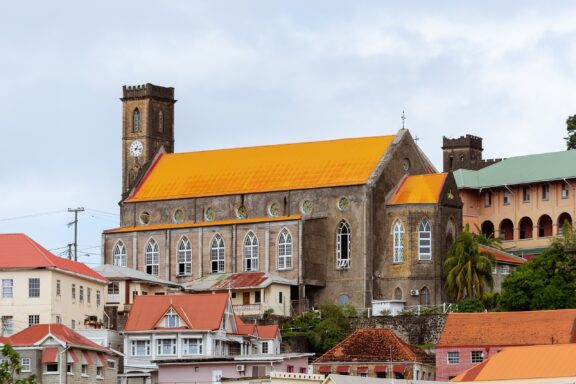 The Cathedral of the Immaculate Conception is an architectural jewel encapsulating centuries of religious devotion and artistic inspiration. As one of the island's principal places of worship, the cathedral draws both the faithful and tourists interested in religious architecture.
Boasting an eclectic mix of Gothic and Romanesque elements, the Cathedral of the Immaculate Conception features tall spires, intricate woodwork, and remarkable stained-glass windows. The interior is just as captivating as its exterior, with a grand altar and a serene atmosphere conducive to reflection.
5. House of Chocolate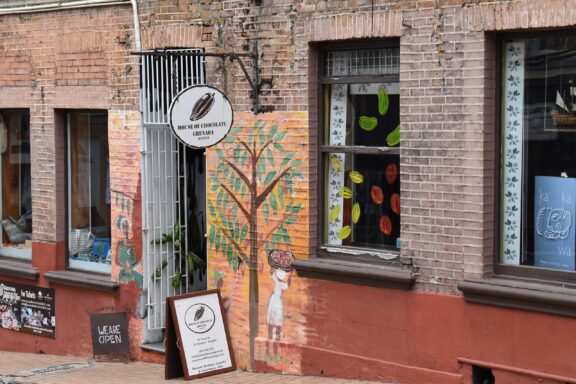 The House of Chocolate serves as an indulgent experience and an educational journey into the world of chocolate. This unique establishment lets visitors see the intimate connection between the cocoa bean and the finished chocolate product in the country where the cocoa is grown.
Upon visiting, you can expect a multi-sensory experience that includes sampling fine Grenadian chocolates, enjoying cocoa-infused beverages, and even participating in chocolate-making workshops. It's an irresistible attraction for chocolate lovers and anyone interested in the agricultural roots of this beloved treat.
6. Grand Anse Beach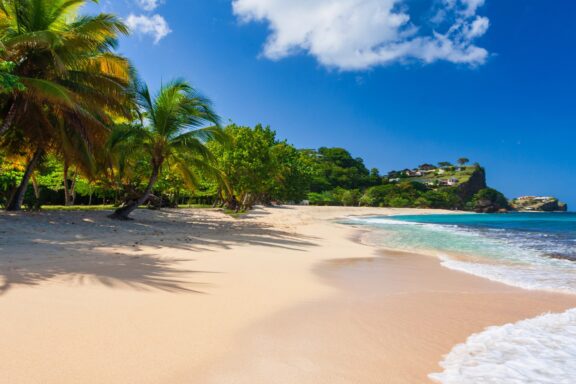 Grand Anse Beach is an iconic landmark that epitomizes Caribbean beach culture. Located just a short drive from St. George's, this pristine shoreline attracts everyone from honeymooners to families looking for a day of sun and surf.
Turquoise waters frame the beach on one side and a backdrop of coconut palms and beach bars on the other. The soft, powdery sand makes for excellent lounging, while the calm, clear waters are perfect for swimming and snorkeling.
7. Annandale Falls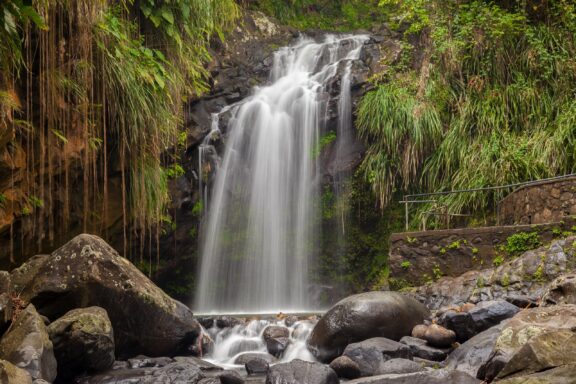 Annandale Falls is a natural oasis that offers a refreshing escape from the coastal heat. This waterfall has become a popular stop on island excursions, attracting nature enthusiasts and those looking for a serene retreat.
A trip to Annandale Falls allows for a refreshing swim in the cool, natural pool at the base of the falls. Visitors can also enjoy a picturesque setting perfect for photos or sit and appreciate the tranquility of nature. Guided tours often include informative narratives about the local ecosystem and folklore tied to the waterfall.
8. Belmont Estate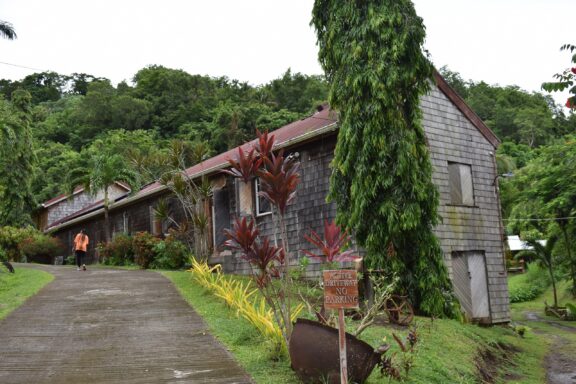 Belmont Estate is a tribute to Grenada's agricultural heritage, offering a comprehensive agritourism experience. This 17th-century plantation has been revitalized to educate visitors about sustainable farming practices and the significance of agriculture in Grenadian history.
The estate spans hundreds of acres and includes spice gardens, cocoa groves, and livestock farms. There's also an on-site restaurant that serves dishes made from locally sourced ingredients, capturing the essence of Grenadian cuisine.
Frequently Asked Questions
Is St. George's safe for tourists?
Yes, St. George's and Grenada are among the safest places in the Caribbean. In fact, Grenada has a lower crime rate than major U.S. cities like New York and Los Angeles.
While crime levels have fallen in recent years, as with any travel destination, it's advisable to exercise basic safety precautions. Specifically, it's recommended to avoid walking alone in less populated areas.
What is the best time to visit St. George's?
The dry season from January to May is the best time to visit, as the weather is generally sunny and less humid.
Where can I find authentic Grenadian souvenirs?
Market Square is great for local crafts, spices, and other authentic Grenadian souvenirs.
What is the traditional cuisine like in St. George's?
The traditional cuisine in St. George's is a blend of African, French, and indigenous Carib influences. It heavily relies on locally sourced ingredients like fresh fish, root vegetables, and various spices such as nutmeg.
Over time, East Indian elements have also been integrated, resulting in a rich and multifarious culinary landscape.
What are must-try authentic local dishes in St. George's?
If you're visiting St. George's, don't miss the chance to try its authentic cuisine. Here are the top 4 must-try dishes:
1. Oil Down: A hearty one-pot dish featuring breadfruit, salted meat, and coconut milk.
2. Roti: A flatbread filled with curried meat or vegetables.
3. Callaloo Soup: A creamy soup made from callaloo leaves, often with added crab or pork.
4. Fried Jackfish: A local fish marinated and fried, often served with plantains or breadfruit.
How important is chocolate to Grenada?
Chocolate is special in Grenadian culture and economy, introduced during the early 18th century. The island, including the area around St. George's, is known for its high-quality cocoa beans.
This led to artisanal chocolate-making as a significant local industry, attracting locals and tourists interested in chocolate tours and tastings.
Are any annual events or festivals in St. George's worth attending?
The Grenada Spice Mas Festival in August is a major cultural event featuring parades, costumes, and traditional music.
Final Thoughts
St. George's offers a captivating blend of history, culture, and natural beauty, making it a must-visit destination for travelers seeking a diverse experience.
Whether you're interested in exploring historic landmarks, sampling local cuisine, or simply enjoying the pristine beaches and water activities, the city has something for everyone.