Tbilisi is the capital of Georgia. Tbilisi is not only the largest city in Georgia, but it also serves as its economic, cultural, and political center.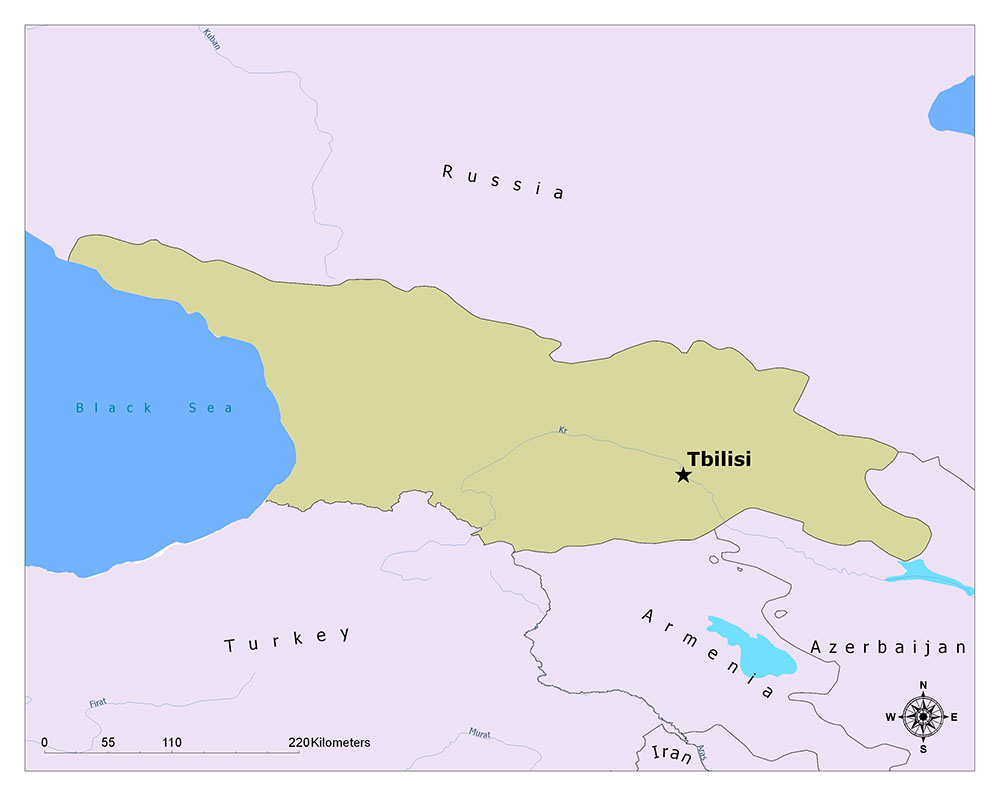 Boasting a robust blend of historical grandeur and contemporary growth, Tbilisi thrives as an energetic modern city with a rapidly expanding economy. It is a pivotal hub for various sectors, including finance, international commerce, music, and film.
Additionally, it pulses with the vibrant rhythm of Georgian culture, orchestrating an array of music, theatre, and art events all year round.
Where is Tbilisi?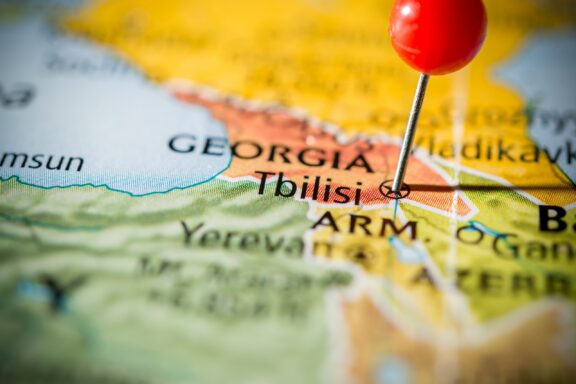 Tbilisi is located in the eastern part of Georgia, at the intersection of Eastern Europe and Western Asia. It's nestled in the South Caucasus region, flanked by the Black Sea to the west, Russia to the north, and Turkey and Armenia to the south.
The city straddles the banks of the Mtkvari (Kura) River, which flows through it from north to south. Tbilisi is primarily surrounded by hills and mountains, contributing to its picturesque landscape. The city's location has made it a key transit route for various energy and trade projects, connecting East and West.
History of Tbilisi
Tbilisi's history dates back to the 5th century when it was founded by King Vakhtang I Gorgasali of Iberia (Eastern Georgia) because of its numerous sulfuric hot springs. Tbilisi derives from the Old Georgian word "tbili," meaning warm.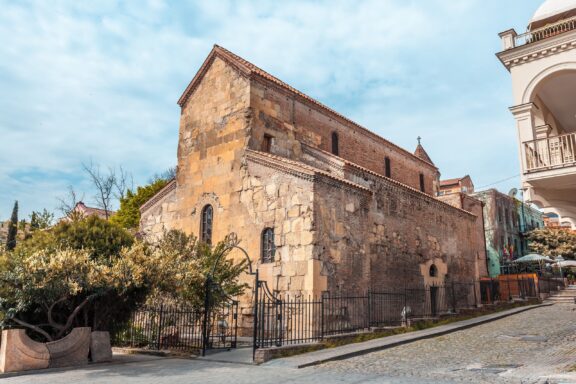 Tbilisi's strategic location between Europe and Asia has made it a highly coveted city throughout history. Over centuries, it has been ruled by the Persians, Arabs, Byzantines, Mongols, and Ottomans. Each period left its mark on the city, contributing to its eclectic mix of architectural styles.
In the 12th century, under the rule of King David IV and Queen Tamar, Tbilisi became an important political and cultural center known as the "Golden Age" of Georgia. It was during this period that Tbilisi started to become a cosmopolitan city.
However, the city faced numerous invasions in the following centuries, which led to periods of decline. It was part of the Russian Empire in the 19th century and subsequently part of the Soviet Union in the 20th century. Soviet rule greatly influenced the city's development, contributing to its urbanization and industrialization.
When and how did Tbilisi become the capital of Georgia?
Tbilisi became the capital of Georgia in 1801 when the Russian Empire annexed the kingdom of Georgia. Despite the turbulent periods of history that followed, including Georgia's incorporation into the Soviet Union and its eventual independence in 1991, Tbilisi has retained its status as the capital.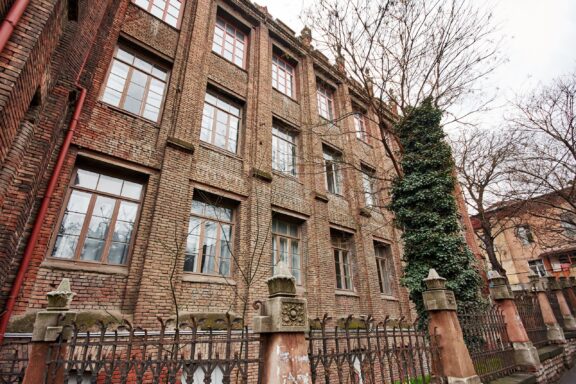 Today, Tbilisi's rich and diverse history is evident in its architecture and culture, which combine elements of the East and West. The city continues to grow and modernize while preserving its historical identity.
Features of Tbilisi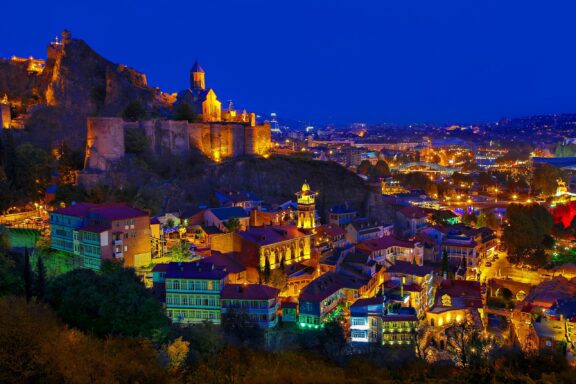 Tbilisi is a vibrant city that harmoniously blends the old and the new. It is known for its distinct architectural style, a fusion of medieval, classical, and modern influences that reflect its rich and diverse history.
Tbilisi pulsates with a dynamic arts and culture scene, positioning itself as a crucial nexus for music, theatre, and art. It continually celebrates a multitude of festivals and events all year round. Furthermore, it houses various esteemed museums, enriching its cultural depth and diversity.
Geography and Climate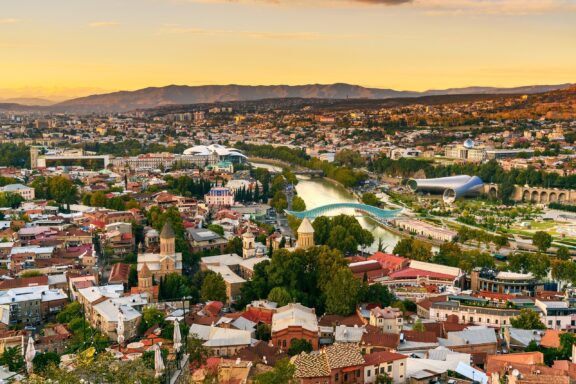 Tbilisi's location along the banks of the Mtkvari (Kura) River and the hills and mountains provides a picturesque landscape. The city has a diverse topography with flat and hilly areas, and a mix of natural and urban spaces characterizes it.
The city's climate is moderately humid, with significant continental influences. It experiences hot summers and mild winters. Average temperatures range from around -1 °C (30 °F) in January, the coldest month, to about 24 °C (75 °F) in July, the hottest month. Precipitation is relatively evenly distributed throughout the year, though May and June often see the most rainfall.
Population
Tbilisi has a population of over 1.1 million people. The city is notably diverse, with ethnic Georgians making up most of the population. There are also communities of other ethnicities, including Russians, Armenians, and others.
The official language is Georgian, but English, Russian, and other languages are also commonly spoken. The city is known for its hospitality and its people's warm, welcoming nature.
Economy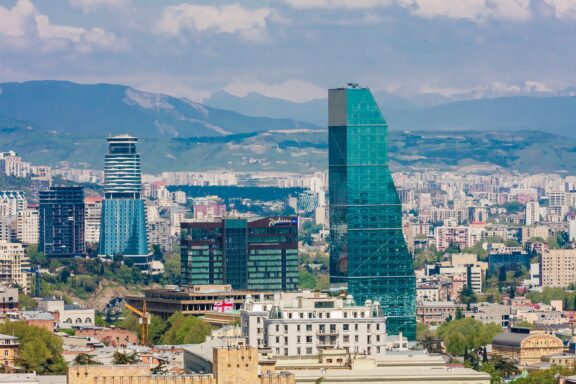 Tbilisi serves as the economic heart of Georgia. It is a hub for many sectors, including finance, international trade, music, film, and information technology. Many of Georgia's most prominent companies have their headquarters in Tbilisi, and the city attracts both local and international businesses.
The service sector plays a significant role in Tbilisi's economy, encompassing banking, retail, hospitality, and tourism. Tourism has become increasingly important to the city's economy in recent years, with Tbilisi attracting visitors with its rich history, diverse architecture, and vibrant food and wine culture.
Moreover, Tbilisi has several industrial zones, with food and beverage production, tobacco, textiles, and metalworking contributing to the city's economy.
Things to Do and Places to See in Tbilisi
Tbilisi is brimming with exciting activities and sightseeing spots. Let's dive in and discover some of the city's most beloved attractions:
1. Tbilisi Old Town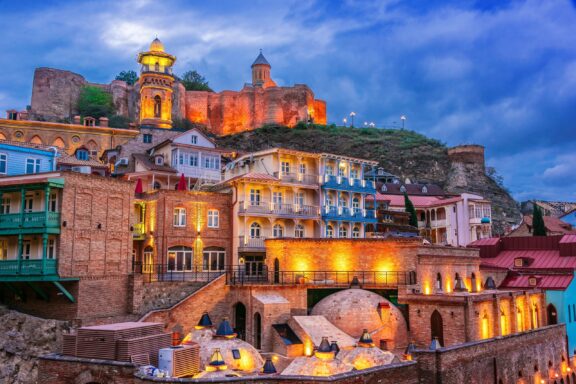 Known as the city's historical heart, Tbilisi Old Town is a maze of narrow streets where wooden balconies, ancient brick houses, and hidden squares create a charming atmosphere. You'll find attractions such as the Sulfur Baths, known for their healing properties, and numerous ancient churches.
Meandering through its alleyways reveals surprises at every corner—artisan workshops, traditional bakeries, antique shops, and cafes serving local Georgian cuisine.
The multicultural history of Tbilisi is also reflected here, with the presence of religious buildings from different denominations, such as the Synagogue, the Mosque, the Armenian Church, and the Orthodox Georgian Churches.
2. Narikala Fortress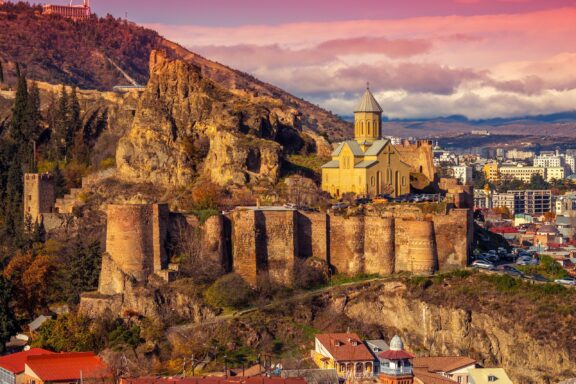 Overlooking the Old Town and the Mtkvari River, the Narikala Fortress symbolizes Tbilisi's defense. The fortress was established in the 4th century, though most existing fortifications date back to the 8th century.
The fortress offers breathtaking panoramic views of Tbilisi. Inside the fortress walls, you'll find the recently restored St. Nicholas Church, originally built in the 13th century.
3. Holy Trinity Cathedral (Sameba Cathedral)
Towering over Tbilisi, the Holy Trinity Cathedral, also known as Sameba, is the main cathedral of the Georgian Orthodox Church. One of the most significant religious buildings in the world by total area, it's a monument to Georgia's post-Soviet religious revival.
The cathedral complex includes the main cathedral, a free-standing bell tower, a residence of the Patriarch, a monastery, a theological academy, and several other buildings. The cathedral's golden dome is imposing, and the views of Tbilisi from the grounds are stunning.
4. Mtskheta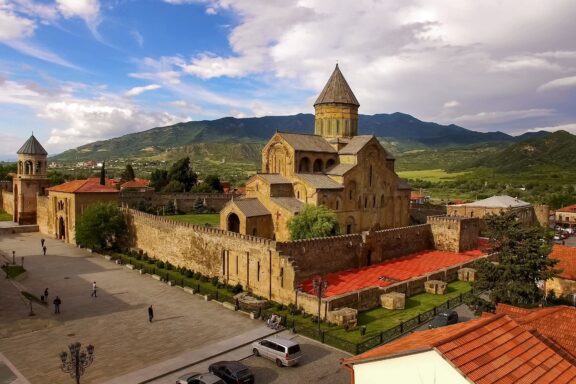 Mtskheta is located approximately 20 kilometers north of Tbilisi and is one of the oldest continuously inhabited cities, often referred to as the spiritual heart of Georgia. Two main attractions in Mtskheta are must-sees:
Svetitskhoveli Cathedral: This architectural gem from the Early Middle Ages is a UNESCO World Heritage Site and stands as Georgia's second-largest ecclesiastical construction. The cathedral is steeped in religious importance as it is reputed to be the burial site of Christ's robe.
Jvari Monastery: This late 6th-century edifice, also granted the status of a UNESCO World Heritage Site, symbolizes Georgia's Christian heritage. Perched on a mountain peak at the confluence of the Mtkvari and Aragvi rivers, it offers breathtaking views of Mtskheta. As per historical narratives, Saint Nino placed a large wooden cross at this location, eventually becoming the monastery's site, attracting pilgrims from across the Caucasus region.
The old town of Mtskheta is charming, with its narrow streets filled with traditional houses, some of which have been converted into cafes and souvenir shops. You can try some local dishes or buy traditional Georgian crafts here.
5. Georgian National Museum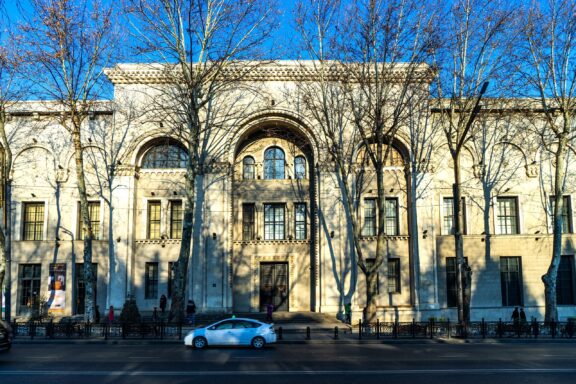 The Georgian National Museum is a unified system of museums that provides a comprehensive introduction to Georgia's history and culture. The Museum's collections include:
Georgia's archaeological treasures
A vast array of ethnographic and medieval art
Rich paleontological and natural exhibits
The Museum also houses the treasury, exhibiting unique jewelry specimens, weapons, and religious relics from the Bronze Age to the early 20th century. A visit here will take you on a journey from the earliest human ancestors in Eurasia to the colorful and rich world of Georgian culture.
6. Mtatsminda Park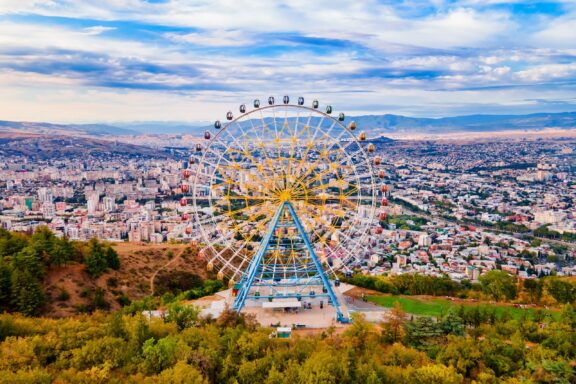 Situated on the top of Mount Mtatsminda overlooking Tbilisi, Mtatsminda Park is the highest point in the city. A funicular railway can reach the park, offering an exhilarating ride up the steep mountain slope.
Once at the top, visitors will find an amusement park filled with various rides and games, cafes, and restaurants. The highlight, however, is the breathtaking panorama of the city sprawled out below. For those interested in television history, the park also houses a TV broadcasting tower symbolizing Tbilisi.
7. Tbilisi Open Air Market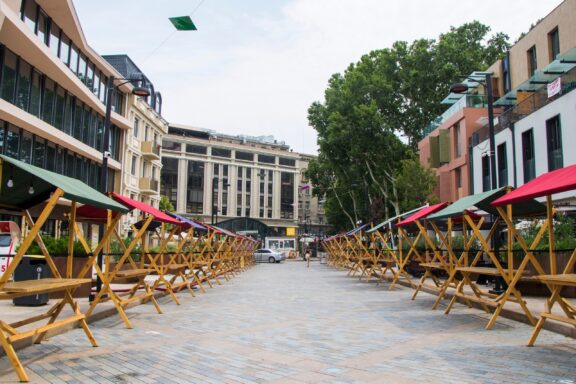 The Open Air Market, or the Dry Bridge Market, is a treasure trove for curious travelers. Vendors sell various items, from vintage jewelry and Soviet-era memorabilia to carpets and vinyl records.
Even if you're not looking to buy anything, it's an excellent place to get a sense of Georgian history and culture. The eclectic mix of items often reflects the country's past, especially its years under Soviet rule. Here, you can soak up the bustling atmosphere and chat with friendly vendors about the stories behind their goods.
8. Uplistsikhe Cave Town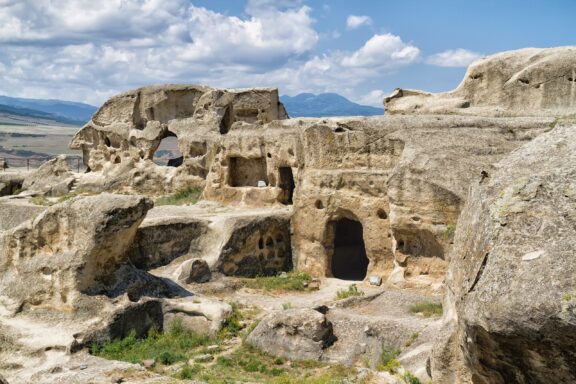 Not far from Tbilisi, Uplistsikhe is an ancient cave city that harks back to the Iron Age. As an integral center of paganism, it boasts a captivating fusion of architectural styles and cultural influences. Carved directly into the sandstone cliffs of the eastern shore of the Mtkvari River, Uplistsikhe comprises a complex of churches, dwellings, tunnels, and halls on different levels.
Among its prominent structures is a distinctive basilica church from the 9th-10th centuries. Exploring the caves provides a direct connection to Georgia's ancient history and offers insight into the life of the early inhabitants of this settlement. Visitors can enjoy stunning views over the river and surrounding landscapes from this elevated location. It's a remarkable place that uniquely merges nature, history, and architecture.
9. Chronicle of Georgia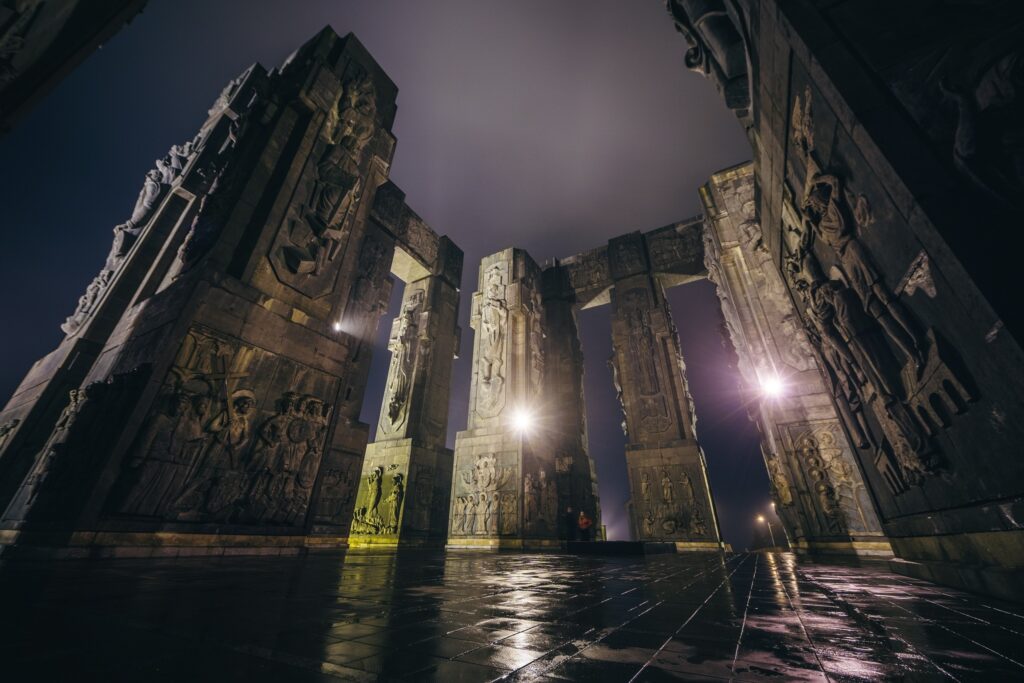 The Chronicle of Georgia is a hidden gem on the outskirts of Tbilisi, near the Tbilisi Sea, a large reservoir. Known locally as the "Stonehenge of Tbilisi," this monument is a colossal 30-meter tall structure made of steel and faced with bronze that depicts the history of Georgia in high relief scenes and statues.
The upper part portrays the kings and queens that shaped Georgia's history, while the lower part depicts stories from the life of Christ. The location offers stunning views of the Tbilisi Sea and the surrounding landscape, making it an ideal spot for photography enthusiasts.
Visiting the Chronicle of Georgia is a journey into the country's rich past, perfectly combined with an opportunity to appreciate the stunning beauty of its landscape.
10. National Botanical Garden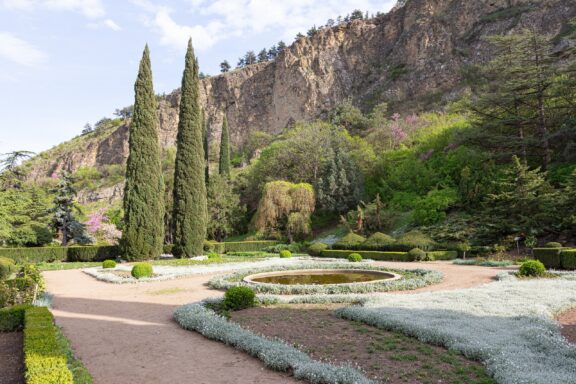 Nestled on the southern slopes of the Narikala Fortress in the heart of Tbilisi, the National Botanical Garden of Georgia is a serene green space that spans over 161 hectares. It's a natural oasis in the city where you can escape the hustle and bustle.
The garden boasts over 3,500 species of plants, including various trees, shrubs, and flowers worldwide. A beautiful waterfall, several bridges, and an ancient fig tree add to the garden's charm. Whether you're interested in botany, looking for a peaceful place to relax, or want a pleasant walk amidst lush greenery, the National Botanical Garden of Tbilisi is a perfect choice.
Frequently Asked Questions
Is Tbilisi safe for tourists?
Yes, Tbilisi is generally safe for tourists, and people are often praised for their friendliness and hospitality. However, like in any major city, there have been instances where foreign visitors were targeted for pick-pocketing and burglary. It's wise to be extra vigilant, especially in tourist hotspots.
What is the best time to visit Tbilisi?
The best times to visit Tbilisi are spring (April to June) and autumn (September to November) when the weather is pleasant. However, each season has its charm and unique festivals.
What's a must-try dish/food in Tbilisi?
In Tbilisi, you absolutely must try Khachapuri and Khinkali.
• Khachapuri is a delicious cheese-filled bread often topped with a runny egg and a pat of butter. Each region of Georgia has its variant of this dish.
• Khinkali are juicy dumplings typically filled with spiced meat and broth. When eating Khinkali, it's traditional to hold them by their twisted topknots and take a bite, sucking out the broth before eating the rest.
Remember to pair these dishes with some traditional Georgian wine!
What currency is used in Tbilisi?
The currency in Tbilisi, and all of Georgia, is the Georgian Lari (GEL).
How can I get around Tbilisi?
Tbilisi has a public transportation system that includes buses, mini-buses called "marshrutkas," a metro system, and cable cars. Taxis and ride-hailing services are also widely available.
What cultural customs should I be aware of when visiting Tbilisi?
Georgians are known for their hospitality, and being invited into homes for a meal is common. If you're invited, bringing a small gift for your host is polite. Also, Georgians are pretty religious, with the majority belonging to the Georgian Orthodox Church, so respectful behavior in and around churches is essential.
Is Tbilisi expensive to visit?
Compared to many European destinations, Tbilisi can be pretty affordable. Costs will depend on your preferences for accommodations, dining, and activities.
Final Thoughts
Tbilisi is a city that beautifully marries the old and new, the East and the West, creating an allure that is hard to resist. Its rich history, culture, gastronomic delights, and warm hospitality offer an unforgettable experience to all who visit.
Whether you're a history buff, a food lover, an adventure seeker, or a casual traveler, Tbilisi has something to offer for everyone, and it's a destination that will surprise, delight you, and leave you with memories to cherish forever.