Andorra la Vella is the capital city of the Principality of Andorra. Andorra is located on the European continent and it's a tiny European principality, trapped between France and Spain.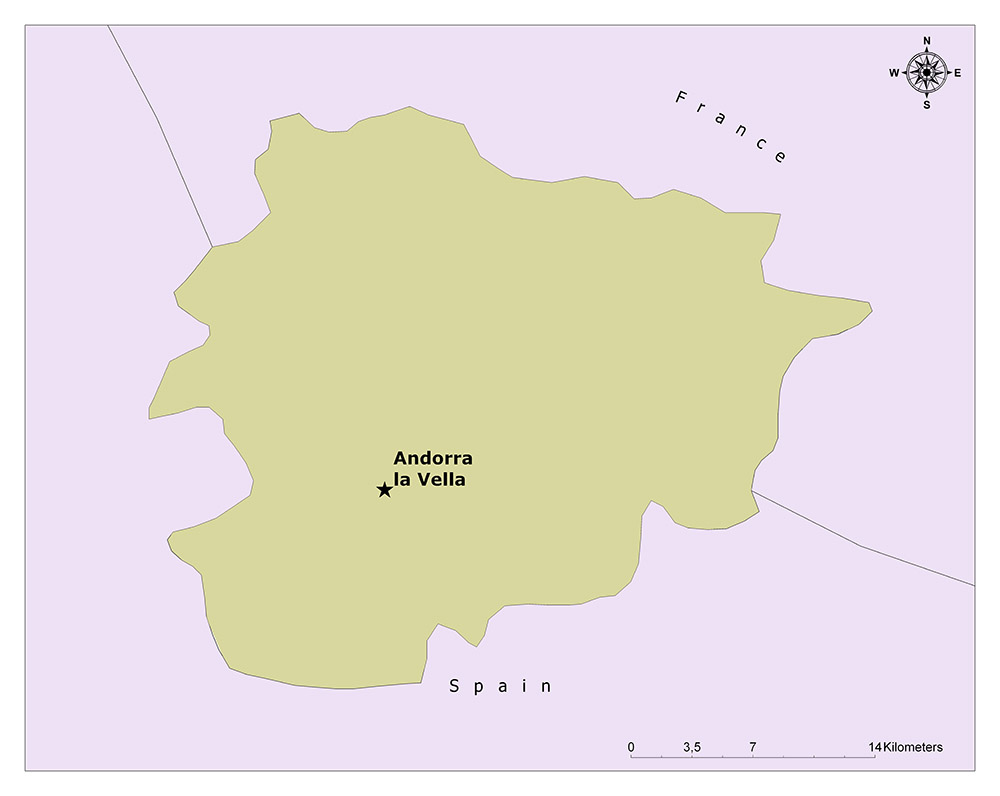 Where is Andorra la Vella?
Andorra la Vella is located in the southwestern part of Andorra, between France and Spain, at the junction of two mountain rivers, Valira del Nord and Valira del Orient, in the eastern part of the Pyrenees.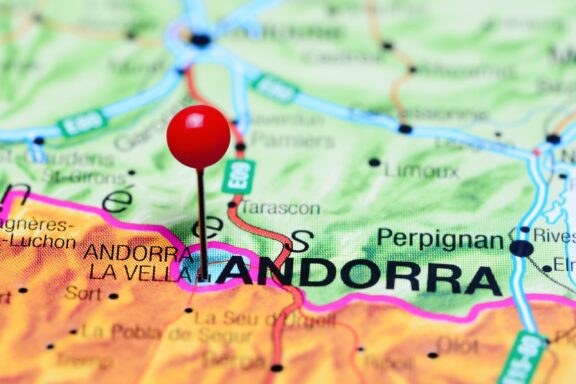 Andorra la Vella is the capital city of the Principality of Andorra, a small country nestled in the Pyrenees Mountains. It is located between France and Spain in southwestern Europe. Known for its vibrant shopping scene and beautiful natural surroundings, it is the highest capital city in Europe, at an elevation of about 1,023 meters (3,356 feet) above sea level.
History of Andorra la Vella
The historical roots of Andorra la Vella – and the Principality of Andorra as a whole – are shrouded in the mists of time, making it difficult to pinpoint a precise date when the city became the capital. That being said, Andorra la Vella has been the region's principal city since the medieval period, long before the modern principality was established.
Some evidence suggests that the area was settled as far back as the Neolithic period (4,300 BC down to 2,000 BC)—however, the first written records mentioning Andorra la Vella date back to the early Middle Ages. The area came under the influence of the Counts of Urgell, and eventually the Bishops of Urgell, in the 9th and 10th centuries.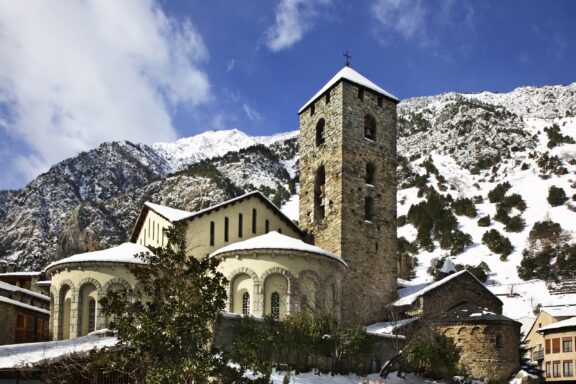 Andorra la Vella's importance was further cemented in the late 13th century when the principality was officially formed. The Paréage of Andorra, signed in 1278, was a feudal charter that established joint sovereignty over the territory by the Bishop of Urgell (in Catalonia, Spain) and the Count of Foix (in France). This unique arrangement persists today, with the Bishop of Urgell and the President of France serving as Co-Princes of Andorra. Since then, Andorra la Vella has served as the country's primary political, cultural, and economic center.
It's worth noting that while Andorra la Vella is often referred to as the "capital," the principality does not have an official capital like most countries do. The term is more colloquial than official.
Features of Andorra la Vella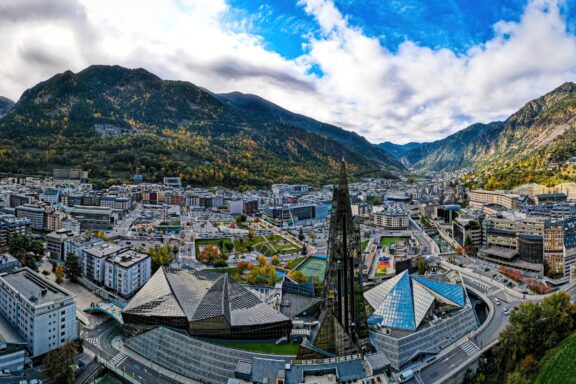 Andorra la Vella, nestled in the eastern Pyrenees between France and Spain, is a vibrant city known for its unique blend of natural beauty, rich history, and bustling commerce. Andorra la Vella is well known for shopping, historical sites, its natural beauty, hot springs, cuisine, multilingualism, financial services, and more.
Geography and Climate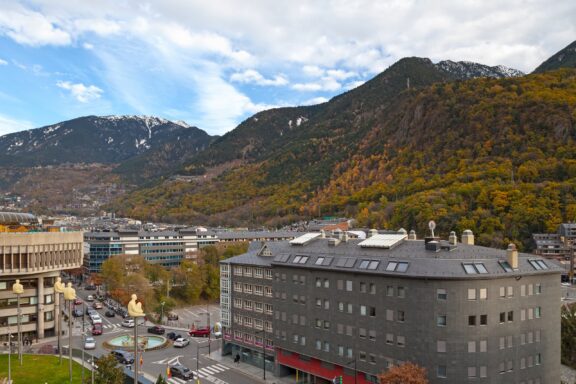 Andorra la Vella is located between France and Spain in the eastern Pyrenees mountains. Its elevation makes it the highest capital city in Europe, approximately 1,023 meters (3,356 feet) above sea level.
The geography is characterized by rugged mountain terrain, with the Valira River running through the city. The city and its surroundings are green and lush in the summer and typically snow-covered in the winter, offering a picturesque setting throughout the year.
Population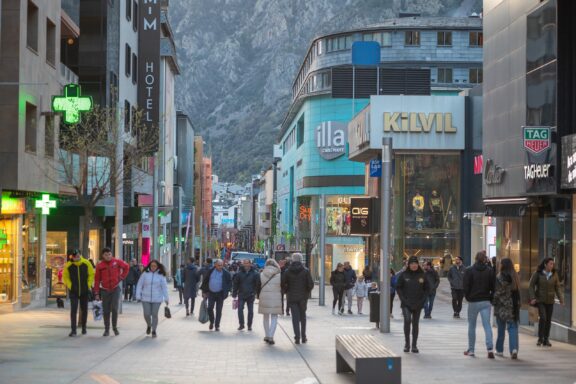 Andorra la Vella has an approximate population of around 22,000. The city is home to a mix of Andorrans and residents of various other nationalities, with a significant number of Spanish, Portuguese, and French citizens. Catalan is the official language of Andorra, but Spanish, French, and Portuguese are also widely spoken due to the city's diverse population and its proximity to Spain and France.
Economy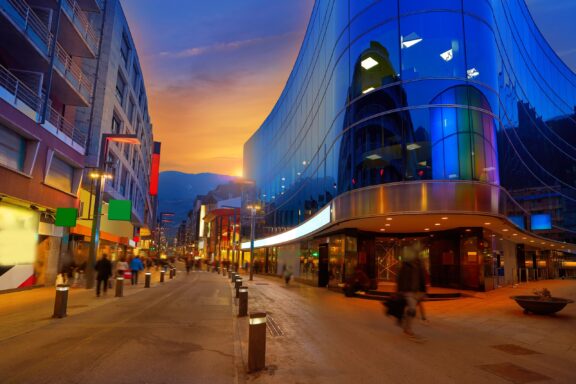 Like the more expansive country, the economy of Andorra la Vella is relatively diverse, with substantial contributions from the tourism, retail, and banking sectors.
Tourism plays a crucial role, as the city draws millions of visitors yearly for shopping, winter sports, and mountain tourism. The ski resorts in the surrounding mountains are particularly popular. Moreover, the city's many duty-free shops attract tourists, as do the historical sites and natural attractions.
The banking sector is also vital to the city's economy. Despite being a small country, Andorra has a robust banking industry with a focus on private banking.
Lastly, the retail sector in Andorra la Vella is quite strong, driven by duty-free shopping. This sector includes many businesses, from small boutiques to large shopping centers, selling everything from luxury goods to electronics.
Things to Do and Places to See in Andorra la Vella
Andorra la Vella is a treasure trove of captivating activities and extraordinary landmarks. Let's delve into some of the city's most popular and highly recommended attractions and destinations:
1. Casa de la Vall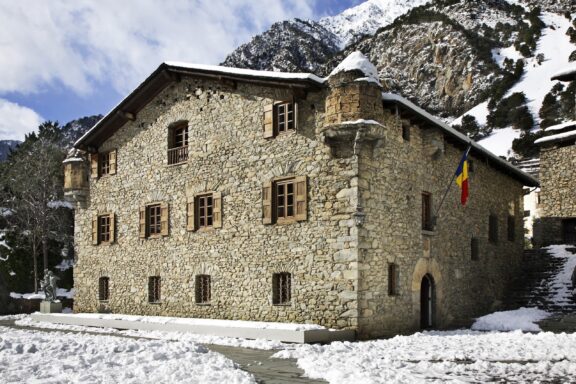 Casa de la Vall is a historic house and former parliamentary building in Andorra la Vella. Built in 1580, this iconic stone house served as the Andorran Parliament (the General Council of the Valleys) until 2011. The building features a tower, a chapel, and several rooms displaying historical artifacts.
The coat of arms of Andorra is depicted on a plaque on the building's facade. Guided tours of Casa de la Vall are available, giving visitors a fascinating glimpse into Andorra's past.
2. Church of Sant Esteve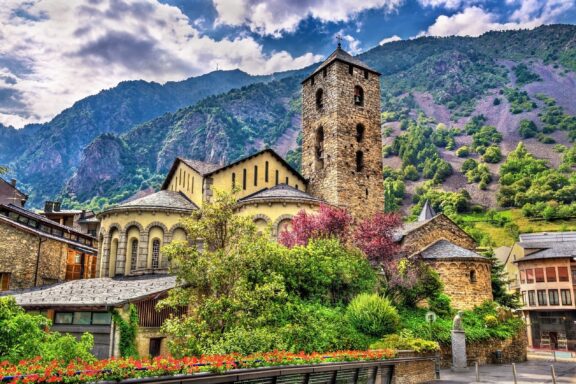 This beautiful Romanesque church is located in the old town of Andorra la Vella. Dating back to the 12th century, the Church of Sant Esteve features a rectangular nave and a semicircular apse, characteristic of Romanesque architecture.
The bell tower was added in the 20th century. The church's austere exterior contrasts with its richly decorated interior, making it a must-see attraction for visitors interested in history and architecture.
3. Caldea Spa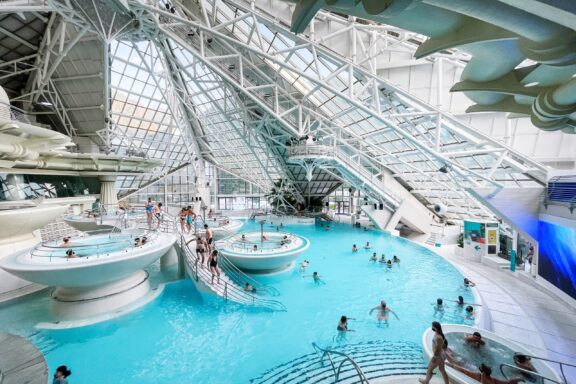 Located in Les Escaldes, adjacent to Andorra la Vella, Caldea Spa is Europe's most significant health spa. It's renowned for its thermal waters, which are rich in minerals and have a naturally high temperature due to geothermal activity.
Visitors can enjoy various wellness treatments, including baths, massages, and beauty therapies. The spa's modern, striking glass and steel architecture is also highlighted.
4. Shopping in Andorra la Vella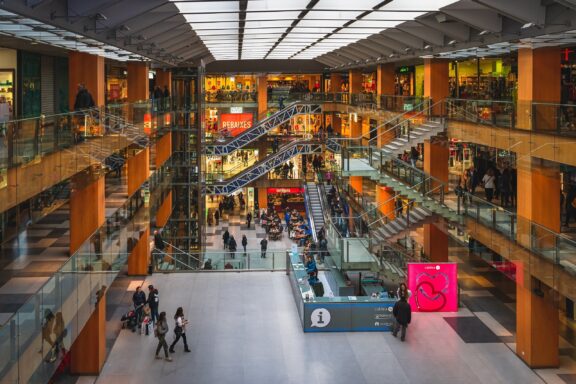 Andorra la Vella is well-known for its duty-free shopping. Avinguda Meritxell, the city's main avenue, is lined with shops selling everything from electronics and jewelry to perfumes and designer clothes.
Shopping in Andorra la Vella is a popular activity for tourists and residents from nearby regions who take advantage of the city's wide range of products and lower prices.
5. Hiking and Skiing in Andorra la Vella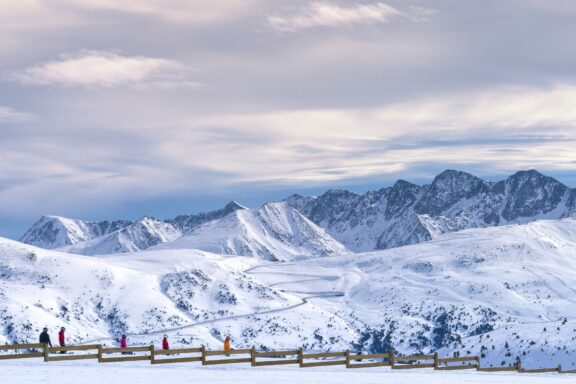 Thanks to its location in the Pyrenees, Andorra la Vella offers excellent opportunities for outdoor activities. In the winter, visitors can enjoy skiing or snowboarding at one of the nearby ski resorts, such as Vallnord and Grandvalira.
In the summer, the snow gives way to lush greenery, making the mountains a perfect location for hiking, mountain biking, and other outdoor adventures. The breathtaking panoramic views are a significant draw for nature lovers and adventure enthusiasts.
6. Explore Andorra from Barcelona
If you're already in Barcelona and wish to get a brief yet comprehensive glimpse of Andorra, we highly recommend embarking on a guided day trip. This trip spans three countries – Spain, Andorra, and France.
Starting from Barcelona, the tour ventures into Ax-les-Thermes in the French Pyrenees, renowned for its ski resorts and soothing hot springs. Here, you'll have a chance to savor local delicacies before moving on to the Pas de la Casa, distinguished for the Grandvalira winter sports station.
Next, explore Andorra la Vella, witnessing landmarks like Casa de la Vall and Sant Esteve Church. Enjoy local food and shopping on Meritxell's Avenue before returning to Barcelona.
This tour provides an exciting blend of natural beauty, culture, and history. Remember to bring your passport and comfortable attire. Note the 4-hour bus rides to and from Andorra, and significant walking involved, making it less suitable for those with mobility impairments.